When I meet travellers on the road, those who've never visited Singapore before often ask me to share what it's like from a local's perspective and what I recommend visitors to check out. I did an interview with The Simple Things magazine where I introduce Singapore to their readers, so I thought I'd share with you my local's guide to Singapore, aka what my personal recommendations are on things to do in Singapore.
This interview was an interesting reflection not just on what Singapore means to me, but how I tell people about Singapore. I thought sharing my answers to this interview in this local's guide to Singapore would be useful for anyone looking to visit in future.
From my experience, those who have travelled to Singapore before often gush about their favourite Singaporean food that they want to eat again. But there's a lot more about Singapore to see beyond our awesome food and our typical tourist sights which I hope to show in this article.
A reminder that these thoughts are purely from my perspective and I doubt that my take on Singapore is the most representative or typical. All I can offer is my one view of Singapore as a Singaporean. Also, I've adapted some of the original questions and my published answers to give a bit more context that the original publication could not fit in.
This article was first published in the Jan 2020 print issue of The Simple Things and republished here with permission and some amendments. See the original article in PDF format here.
How long have you lived in Singapore?
I'm Singaporean born and bred. I've lived here all my 30+ years. I really can't think of anywhere else I'd call home.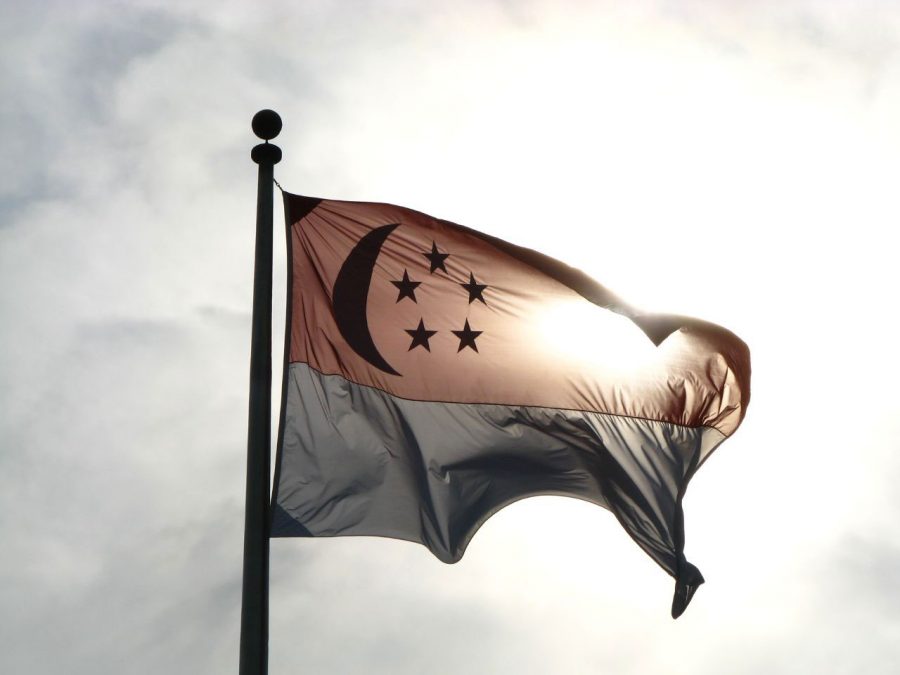 Tell us what makes Singapore unique?
Singapore's diversity is something I've grown to appreciate the more I've travelled – so many nationalities and ethnicities living peacefully together in one tiny country. I love how you can find temples next to churches, people with different skin colours having a conversation in shared languages and speaking each other's dialects.
Life in Singapore is not always perfect harmonious living – I'm aware of our growing xenophobia, but no country is perfect and compared to many other places, I think Singapore's done a pretty decent job of having different ethnicities co-exist most of the time.
And related to the melting pot of cultures, the variety of food available is something I took for granted until I realised that it's not always easy to find this hodgepodge of food choice in one place, and at an affordable price to boot.
what time of day do you most enjoy and why?
I've always been a night owl so to me, Singapore is at its prettiest in the evening just after the sun sets. The temperature then is not as swelteringly hot, and I love how the cityscape is transformed into a sea of lights. If you've watched the Singapore leg of the Formula 1 race on TV, that's probably the main reason it's held at night here – it's prettier and no one wants to be out under the afternoon sun.
There's something special about the quiet stillness in the wee hours of a perpetually busy city like Singapore.
What's nature like in Singapore?
Singapore is a concrete jungle filled with tall buildings to house its population of almost six million, but it is also very much a garden city. Many might think that doesn't count as proper nature, but I appreciate the trees lining our expressways and the flowers on our overhead bridges – small pockets of greenery like these make a big city much more liveable and friendly.
Not all the nature has disappeared from Singapore though, and I'm slowly rediscovering these places even as a city girl. I visited Kranji in the north-western corner of Singapore and found a cluster of Singapore's last-remaining farms as well as Sungei Buloh Wetland Reserve, a lovely mangrove forest area with a well-maintained boardwalk where I came up close with hornbills. I also went to Pulau Ubin and found a couple of wild boars and hawks.
Another time in one of the nature parks, I saw a rare pangolin waddling by among joggers and cyclists and spotted colugos hanging out in the tree tops. I'm not saying where exactly because our guide said poachers have used the internet and social media to hunt down these endangered animals, but I'm happy to tell you where if you drop me a note.
But if you really can't take the tropical heat, the domes at Gardens by the Bay are what I think Singaporeans wish its climate could be like, with beautiful flowering greenery and perpetually cool air. Touristy as it may get, the otherworldly-ness of the SuperTrees and the indoor waterfalls are pretty spectacular and a great sightseeing option whether it gets too hot or too rainy.
What are your favourite outdoor spaces in Singapore?
I will admit I don't always spend a lot of time outdoors because Singapore is pretty hot throughout the year – you can tell who the tourists are as they're usually lounging in the parks at midday while the locals make a beeline for the air-conditioned shopping malls.
When I do venture out, I prefer to stick to the city and do some street art hunting. I like walking around the Kampong Glam area for its mix of history, culture and street art. I love that two back alleys were recently converted into an outdoor gallery. Little India, Chinatown, and Bugis-Bras Basah near the museums are also great spots for walking around, but recently I've started to suss out street art in our heartland neighbourhoods like Jurong West and even Katong and Joo Chiat.
Tell us about the light and colours of Singapore
When I think about describing Singapore in colours, other than the obvious red-white of our flag that's omnipresent every National Day, I think of a light green for the trees and plants that Singapore has planted within its city infrastructure and parks.
I also think of Singapore in various shades of yellow because of our perpetual sunny weather, whether it's a harsh searing yellow of the midday sun or the warm pink-orange glow of the occasional picturesque sunset.
Tell us about the people who live in Singapore
Singapore has approximately 5.5 million people currently. Half of this population are descended from the indigenous Malay folk or intrepid immigrants who first found their way here generations ago, largely from around the Malayan Peninsula, China, India and as far as the European continent. The other half of the population have come here to work from all around Asia and the rest of the world.
The official Singaporean nationalities are Chinese, Malay, Indian and Others, and race is something we are acutely aware of in Singapore as it's often something you have to check off in official forms and is printed on our IDs. To be honest, as I grew up as part of the majority race in Singapore, I never used to think this type of racial identification was unusual until I started travelling more.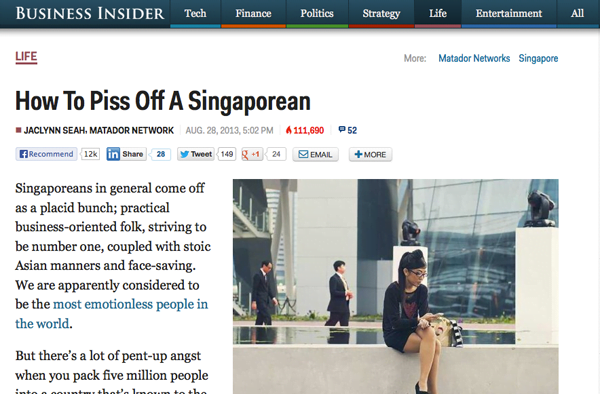 What are your favourite places to gather with friends?
Going out these days typically involves finding a nice restaurant or café, or heading to a movie or festival. As my group
has grown older, our afterwork drinks hangouts have shifted to chilling at someone's house with a takeout.
(Of course, this was written in late 2019 for publication in January 2020 pre-COVID days, going out these days is a much more furtive and quick affair, and yes chilling in a small group at someone's house is much more comfortable than being out in public these days)
Favourite spots for a drink: Ice Cold Beer @ Emerald Hill (days of my youth), Level 33 (for the view, but go at happy hour because $$$$), Druggists @ Jalan Besar (so many taps!), Smith Street Taps @ Chinatown Complex (craft beer in a hawker centre, what's not to love)
What's eating in Singapore like?
Singapore's hawker centres are our version of street food, except that the government moved all the street stalls into centralised indoor areas for hygiene reasons. Hawker centres (or food centres) typically refer to the open-air ones found throughout the island, and food courts refer to the air-conditioned ones you find usually in shopping centres. These food centres are the best places for cheap, good quality food – it's getting harder these days but you can still find lots of good Singaporean food for under S$5.
The Singaporean mantra when it comes to what's good: look for the longest queue and be prepared to wait as it's bound to be special.
Singaporeans talk about food all the time. I don't know if it's just a Singaporean thing or maybe an Asian culture thing which tends to place a high importance on shared meals, but it's true that at breakfast we'll be discussing what to eat for lunch, and at lunch there will be a debate on where to go for dinner.
Favourite hawker centres to bring my overseas guests to: Old Airport Road Food Centre (good selection, not too touristy), East Coast Lagoon Food Centre (nice ambience + seafood), Gluttons Bay @ Esplanade (for sheer convenience and location/view)
What's your favourite way to get around Singapore?
I usually drive the family car because I have dibs, and where I live isn't near a transport hub – getting around by public transport for me often involves feeder buses and a fair bit of walking.
For visitors, I always recommend taking the subway which is known as the MRT (Mass Rapid Transit). You can get just about anywhere on the subway. I even wrote a guide on how to explore Singapore via MRT.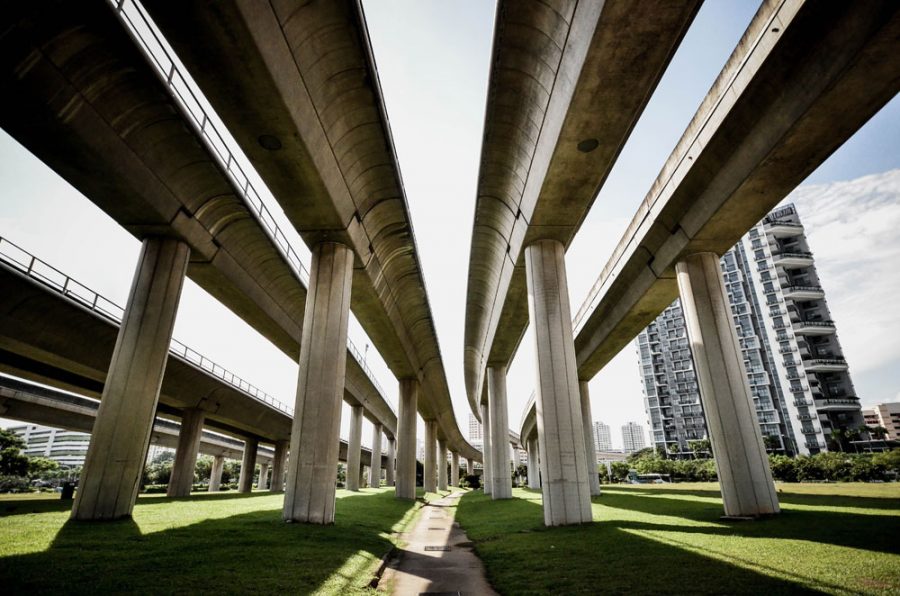 What type of shops do you like in Singapore?
Singapore is the land of shopping malls – Orchard Road is lined with malls in all shapes and sizes. I remember it more fondly from my teenage days because my school was located nearby and I spent a lot of time hanging out in the malls along Orchard Road. I hardly go these these days though unless there is a specific reason to – most neighbourhoods now have their own mall where locals flock for groceries, meals or to escape the heat.
I personally prefer the small boutiques and pop-up markets that showcase local designers and brands – they do cost more than fast fashion, but I either try to buy off-off-season sale or really only pick items that I want. I don't shop that much these days though – happy to pay for quality over quantity now I can afford it.
Some Singaporean brands I love: AnotherSole (really comfortable shoes that I wear all the time), Perk by Kate (for the lingerie lovers who want comfy bralettes), Weekend Sundries (simple staples, really nice materials), Sabrina Goh (have been a longtime fan), BooksActually (if you want local literature, this is a great place to check out)
Where do you like to escape to in Singapore?
It surprises a lot of people to know that Singapore is really an archipelago of more than 60 islands. Sentosa is the tourist island, with a theme park and our nicest beaches – but to really get away from it all, you can just hop on a boat to Pulau Ubin, Kusu Island, Saint John's Island or Lazarus Island, where it's a lot quieter. I've even gone scuba diving at Pulau Hantu.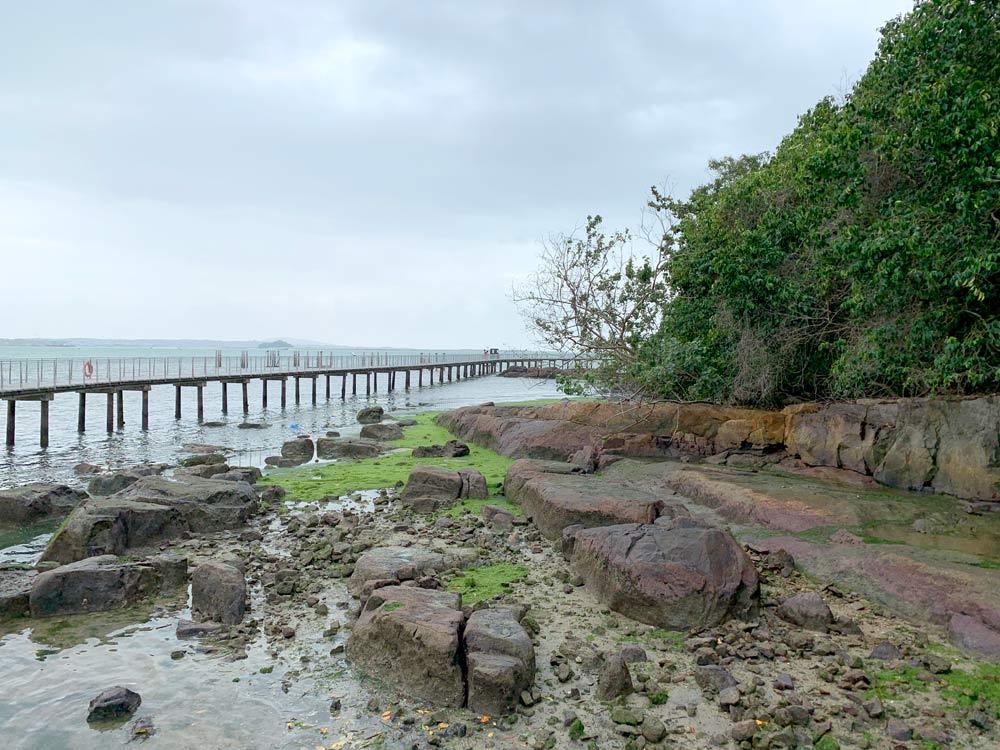 Alternatively, many people head across the causeway to Malaysia, where strong Singaporean currency makes a seafood dinner, massage, shopping or café-hopping really affordable. I'm too lazy most of the time, and we'll need to wait for COVID rules to relax before those nearby jaunts to Malaysia are possible again.
What has been your best discovery about Singapore?
Despite Singapore's fearsome reputation for strict regulations, we have some talented street artists and great art in our streets. I've spent many hours hunting down cool murals and graffiti, which I've documented on my blog and on Instagram @singaporestreetart. I may not be much of an art connoisseur but I love how good murals and art can really change a neighbourhood.
What do you miss most about Singapore when you've been away?
I spent six months in Europe and South America and anyone who met me then can attest to how much I missed Asian-style soup noodles when the discussion somehow turns to Singaporean food.
When I get back from trips, I usually head straight for my local favourites: Hainanese chicken rice, peppery bak kut teh (pork bone soup) and savoury roti prata with curry. Singaporean food isn't really done right outside of Singapore. Also, Singapore noodles is an abomination and one of those things that doesn't actually exist here!
What would surprise a newcomer to Singapore?
Some people are surprised that most Singaporeans speak English well, and that's because it's the main language of education and business in Singapore, and the school system emphasises bilingualism so most young people learn English and another language. I used to be a bit baffled and even offended when congratulated about my English standard (like, it's native for me, why wouldn't I speak it well) but it really is a bit unusual in Asia where most of the countries around us have their own native language.
What really surprises most people is Singlish – an English-based creole language with regional slang words and a very distinct Singaporean accent. My foreign friends have told me that when they hear Singaporeans speaking Singlish, they aren't very sure if we're actually speaking a form of English at all.
I've also learned that my Singaporean accent comes and goes depending on who I'm speaking with and what I'm listening to. On my career break, I was told that I sounded both America and British, or in the words of my sister when I returned home "Why do you sound so weird?" – it took a few days for my accent to adjust back to 'normal'.
If you could change one thing about Singapore
I wish Singaporeans would be more environmentally aware. Singapore has a reputation for cleanliness, but only because we have a lot of bins, cleaners and stringent laws – often it's not because people genuinely want to keep the place clean as they care about the environment or are civic conscious (e.g. Japan).
I think Singapore is more accurately a cleaned city, rather than one that is organically kept clean by its people.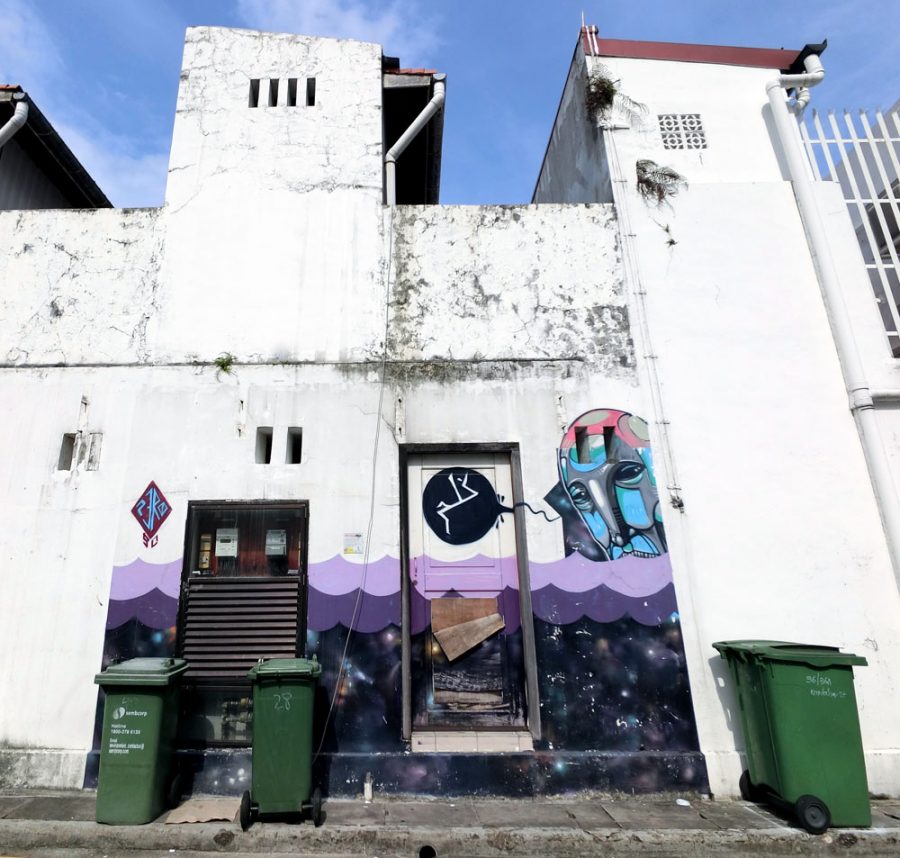 Where would you recommend someone to stay in Singapore?
Singapore is quite small in that a half an hour car ride will get you across the island so it really doesn't matter so much. Most tourists stay in the Orchard Road or Marina Bay area where the major hotels are, but I would recommend Bugis or Chinatown for sheer convenience to tourist attractions, or neighbourhoods like Little India or Jalan Besar for something a little more colourful.
The Amoy Hotel is a rather unusual boutique hotel in Chinatown connected to one of its oldest temples, and even our world class Changi airport has some pretty cool digs, like the Crowne Plaza with a runway view or the YotelAir with a view of Jewel.
What keeps you in Singapore, and where would you live if you couldn't live in Singapore?
My family, my friends and everything that I know keep me here. I'd like to go overseas for a year or two, but I think I'd always want to come home. I really can't think about anywhere else I could call home at this point.
---
Curious about Singapore? Here's a look at some other things to do in Singapore: