Singapore's Changi Airport is world-famous and practically a destination in itself, especially in 2019 with the opening of the Jewel extension, a fancy shopping mall with an impressive indoor waterfall and landscaping. One of the places I was keen to check out was the new YotelAir Changi Airport, the second Yotel hotel in Singapore after the one that I first reviewed along Orchard Road. Here's a review of the new YotelAir in Changi Airport and what travellers can expect from it.
Location: in Jewel
YotelAir Changi is located on the 4th floor of Jewel Changi Airport. It is located on landside (i.e. before immigration) and closest to Terminal 1, though you can walk over to Jewel via link bridges from Terminals 2 and 3, or take a shuttle bus from Terminal 4.
Since the hotel is located right within the airport, staying at YotelAir is most convenient for passengers who have a long transit in Changi Airport and don't want to bother leaving the airport at all.
For visitors looking to explore Singapore, Changi Airport is located in the far eastern end of Singapore and about 20-30 minutes away from the touristy downtown area by taxi and about an hour via the MRT station located between T2 and T3. Do note that for taxis, there is an additional airport surcharge of $3-$5 for trips originating from Changi Airport. Considering how small Singapore is, it really isn't that far from tourist attractions, but it's not the most convenient/central option if you plan to spend a few days in Singapore.
---
YotelAir Room review
There are 130 rooms in YotelAir Changi spread across two levels. I stayed in Room 167, a Premium Queen Cabin for 2pax. The listed room size is 10sqm, and it really is quite snug. I spent most of my time on the queen bed as it takes up most of the room space.
The bed has buttons that let it transform into a sofa of sorts so you can comfortably watch shows on the wall-mounted TV at the foot of the bed. Some people say the reclining feature reminds them of hospital beds, I think it's a pretty good idea as it does make sitting up in bed more comfortable.
There is a fold out table and a foldable stool stashed by the bedside so you can do some work, and some shelves with plug and USB outlets, and that's all the furniture there is in the room. No cupboards – make do with the shelves or hang your stuff up on the hooks behind the door. There is some space underneath the bed to kick your shoes or stash some bags, but that's really about it.
The bathroom is what really surprised me – it takes up about 1/3 of the entire room area, and is quite spacious in comparison to the rest of the room. If you're tired from a long flight, it's great being able to wash up in something larger than a boxy cubicle.
The YotelAir room is definitely snug, and because there are no windows whatsoever, it's easy to completely lose track of time in here and some might feel a bit claustrophobic. My verdict is that while it's not the type of hotel room I would want to lounge around all day in, it's perfectly serviceable for sleeping and resting in.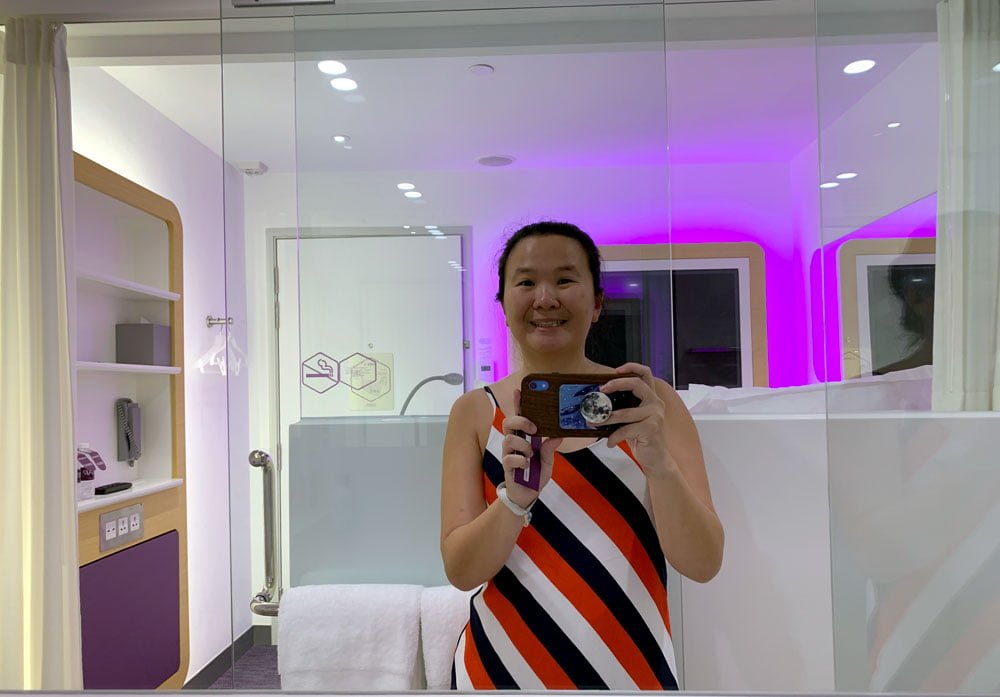 ---
YotelAir Facilities
Self Service Check-In
Yotel promotes self-service check-in, and there are 3 iPad counters in the lobby for you to do so, from scanning your credit card and ID to creating your own key. There are a manned reception desk and staff stationed nearby who can help you if you need. They will come over to verify your self-check in efforts anyway.
Lobby and Lounge
The Lobby and Lounge areas are open to the public, but you need keycard access to access the rooms in the back, as well as that of the Gym. YotelAir also offers the use of shower facilities and that also requires keycard access.
There is a little balcony area that my friends and I hung out in after we were done exploring Jewel. The room was definitely too small for us to chill out in comfortably, so we ended up sitting around this lounge area instead. You can see and hear the light show in the center of the Jewel that takes place every hour at night from here, but if you want an unblocked view, it's better to walk closer to the fountain instead.
Gym
Those who need a workout can head to their little gym. I'm no gym bunny, and while the gym isn't very large, it looks well equipped enough for those who need to break a little sweat.
---
Cost
For overnight stays, the press release announced prices for the Premium Queen Cabins would start from S$140++ per night, though a quick check on the website shows an opening rate of S$102 (non refundable, no breakfast) and S$135 (free breakfast, free cancellation 48 hours before check in)
If you are looking at short term stays for a layover, the Day Let rates are for a minimum 4-hour block at S$80++, and every 2 hours after that is charged at S$25++. At this point you can't pre-book this via the website, so I guess you have to either contact them directly or just turn up at the hotel and make your booking there and then.
---
Other hotels nearby
The other hotel located at the airport is Crowne Plaza Changi Airport over at Terminal 3. I have stayed there before and it has a very different vibe from YotelAir which is a lot simpler and more functional. If you are looking for more luxurious rooms with great vacation vibes and are willing to pay more, Crowne Plaza would probably be more suitable as it has more typical hotel rooms, an impressive view of the airport runway and a lovely pool.
If you want to leave the airport premises, another interesting option also in the Changi district is the Village Hotel Changi. It's not as conveniently located, but it definitely doesn't feel like the rest of Singapore, a great option if you want to check out some lesser-known spots like Pulau Ubin and Changi Boardwalk, or eat local at Changi Village. Great rooftop pool with a view of the coast as well.
---
Have you been to Jewel Changi Airport or stayed at YotelAir Changi? Share your thoughts in the comments below.