I often describe Singapore as a concrete jungle with lots of tall buildings, but did you know that Singapore actually has a bunch of quarries that were used in local construction in the early 1900s? Because most of our building material is imported from around the region, most of these disused stone quarries have since been converted into scenic nature parks and make for a nice escape from busy city life. The Bukit Batok quarries are easy to access too – I explored three different quarries in Bukit Batok on my own and put together this guide on what to expect and how to visit these quarries in Singapore.
A little about quarries in Singapore: many of these quarries were located in the Central/Western Bukit Timah and Bukit Batok region which is where the bulk of the granite rock can be found, but they were gradually shut down due to the dangers of quarry mining and the urban sprawl of residential neighbourhoods nearby. If you're curious about the history and geology of Singapore's quarries, there are more details in the resource section below.
Singapore Quarries in the West
Bukit Batok Nature Park
Bukit Batok Nature Park is not only home to a scenic quarry but also Bukit Batok Hill, remembered in Singapore's history as a place where much warfare occured during World War II, with some memorials that you can still see today.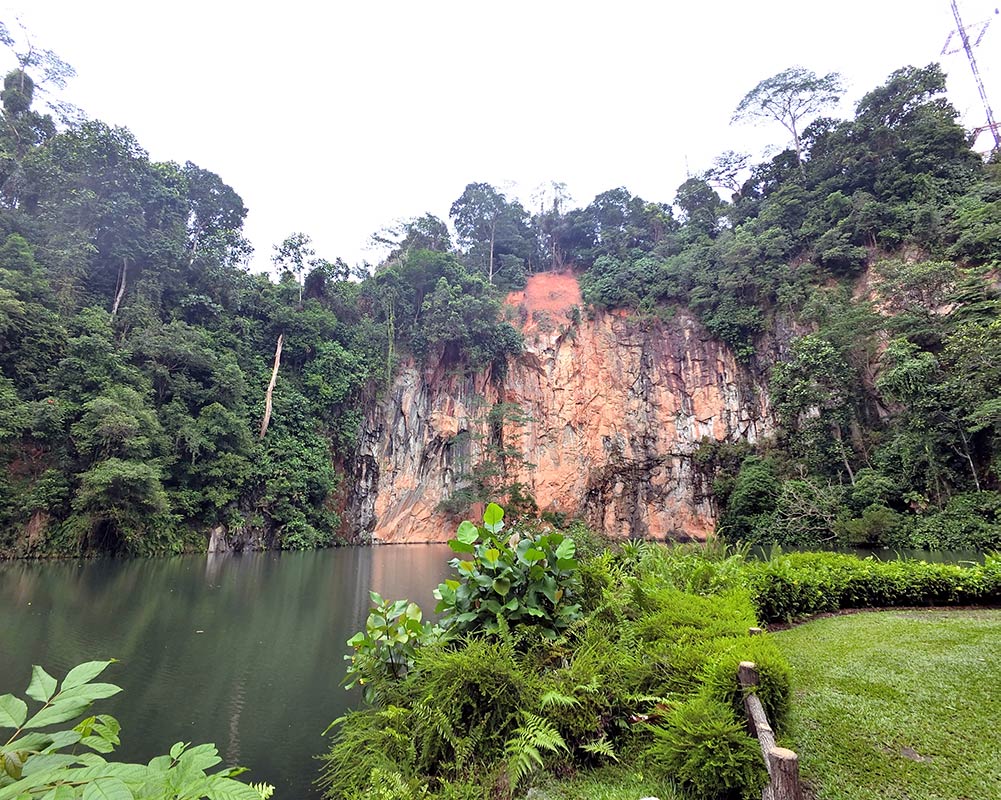 History amidst nature
This was the site of the former Poh Hin quarry (or Poh Kim? I'm not sure if these are different spots but the National Archives features a Poh Hin quarry so I'm going with that) which mined Bukit Timah Granite. It stopped operations in the 1970s as they started to build up the Bukit Batok residential area and was filled in with water to create the current quarry pool.
At the northeastern corner, there is a staircase path leads you up Bukit Batok Hill which will bring you to another flight of steps at Lorong Sesuai. These lead to the current twin transmission towers today but formerly led to the Syonan Chureito, a memorial built during the Japanese occupation by the Japanese army to commemorate those who fell in the Battle for Bukit Timah. There was also a memorial for the British featuring a cross, though both were destroyed or removed after the Japanese surrendered at the end of World War II. All that remains today is a large bronze marker shaped like a book on the staircase.
If you are into more of Singapore's WWII history, the Former Ford Factory is nearby along Upper Bukit Timah Road and is the location of the British surrender back in 1942. You can walk around the exhibits or take a tour to learn more.
This place is pretty popular with locals for exercise because of the well-maintained trails and facilities like playgrounds and exercise corners. I took a guided nature walk here in the evening some time ago and spotted some pretty interesting wildlife as well, including colugos and a pangolin!
How to get to Bukit Batok Nature Park
The entrance to the park is located on a slight incline near the junction of Bukit Batok East Ave 2 and Ave 6. Follow the paved road into the park where you'll run into lots of people exercising and lined with a row of tall trees. About 5 mins walk or so will bring you to the quarry pool.
The closest MRT Station here is Bukit Batok MRT Station, you can take a 10 min bus ride from there to the park or walk about 20 minutes or so. If you're coming from exploring the other quarries in Bukit Batok on this list, Bukit Gombak MRT Station is about 15-20 mins walk away.
Public buses that stop here:
Bus Stop 43221 (Blk 267) or 43299 (Opp Blk 266) along Bukit Batok East Ave 2: 970, 985
Bus Stop 43191 (Blk 288C) or 43199 (Church of St Mary) along Bukit Batok East Ave 6: 61, 66, 157, 174, 178, 852
---
Bukit Batok Town Park / Little Guilin
Formerly known as Gammon Quarry, this quarry is also known as Little Guilin or Xiao Guilin, a reference to how the cliff faces resemble the limestone karsts found in Guilin, China. It's probably the most recognisable of all the quarries in Singapore: older Singaporeans might remember seeing this quarry on TV as it was often used as a location on Channel 8 Chinese period or Wuxia dramas filmed in Singapore when they wanted to showcase sword fighting scenes.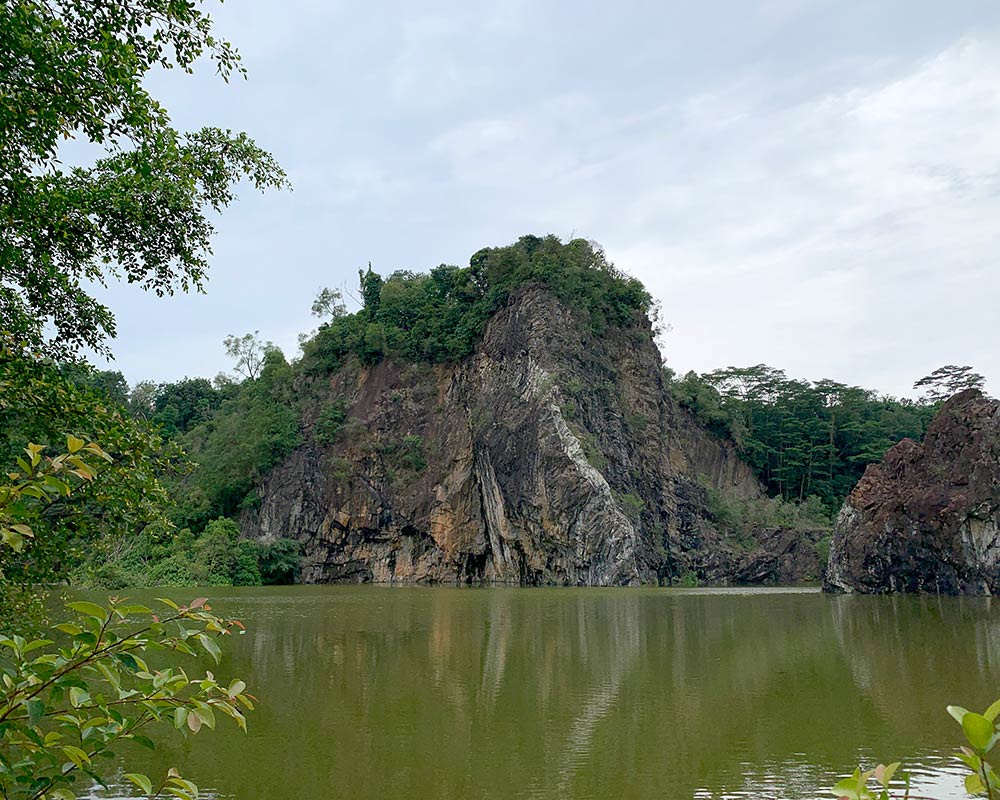 Source of Gombak Norite
What makes Xiao Guilin a little different from the other quarries around the area is that while most of the rock here is the same Bukit Timah Granite found in this area, it also includes some darker streaks of Gombak Norite or Gabbro. I found out most of this information while researching for this article – head down to the Resource section for some links if you want to geek out about geology, but for the layperson though, I'm not sure you can actually see the difference, so just enjoy the view. Xiao Guilin's highest point at 133m is the 2nd highest peak in Singapore after Bukit Timah Hill.
How to get to Little Guilin
From Bukit Gombak MRT Station, walk along Bukit Batok East Ave 5. The stadium and sports facilities are to your left so you can work out with a view, and about 5 minutes walk will bring you to the western edge of Bukit Batok Town Park and you can see the quarry pool and cliffs already. There are several options of viewing spots around the pool if you keep walking down Bukit Batok East Ave 5.
Bukit Gombak Neighbourhood Centre is right across the road from the MRT station, perfect if you want to grab a bite before or after your exploration. If you want something a little more off the beaten track, you can also check out the nearby Seng Chew Quarry which I'll talk about below.
---
Seng Chew Quarry
For something a little more offbeat, you can find another hidden quarry pond right next to Bukit Gombak MRT Station. While it's marked on Google Maps, there aren't any physical signs to get here as it's one of the few quarries in Singapore that has been mostly left untouched.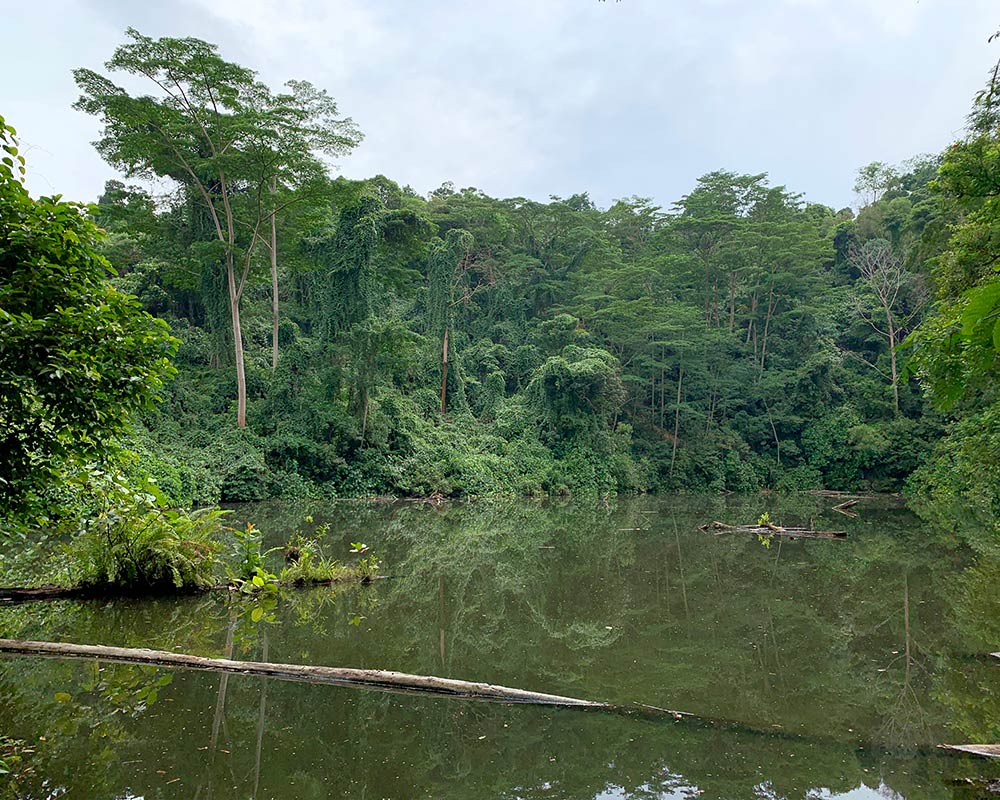 A real hidden spot
Like the other quarries on this list, Seng Chew Quarry was used to extract granite from the Bukit Timah granite strain around this area and closed when they started building up the neighbourhood for residents. It was filled up with water to form a quarry pond but remains mostly undeveloped. It's just fascinating to me that you can find this hidden bit of history so easily as it is practically next to Bukit Gombak MRT Station, just hidden by the dense foliage.
I ran into a group of hikers who had done more serious hiking at the Bukit Timah/Dairy Farm side where they had spend the morning jungle bashing and even doing a bit of abseiling and found their way through the forest here – they in turn were pretty surprised to see me rock up on my own looking very casual.
How to get to Seng Chew Quarry
There are no signs leading you to this quarry, but it is marked on Google Maps and not difficult to find as it really is only about 5-10 mins walk from Bukit Gombak MRT Station. Walk past Bukit Gombak Sports Hall towards Blk 383A Bukit Batok West Avenue 5 from the MRT Station – the forested hillside should be on your right. Look for a manmade path that brings you up the slope and leads you into trees. Follow the drain, you'll pass a fallen tree and soon enough you'll find a gate with a 'deep water' sign on it. There should be an opening to the left where you can see the quarry pool.
If you enjoy these sort of off-map hidden sights in Singapore, check out my post on Keppel Hill Reservoir, a reservoir that was actually forgotten and left off local maps for over 50 years!
---
Other quarries in Singapore
Bukit Timah Nature Reserve
Nearby Bukit Batok is the more popular Bukit Timah Nature Reserve, and here you have even more quarries to visit. I haven't had the chance to go see them yet, but will add to this list of quarries in Singapore to check out in future:
Hindhede Quarry in Hindhede Nature Park
Singapore Quarry in Dairy Farm Nature Park
Dairy Farm Quarry is also located in Dairy Farm Nature Park, but unlike the other quarries on this list, it was filled up with earth and not water and is more popular for mountain biking and rock wall climbing
Pulau Ubin
Disused granite quarries can also be found on Singapore's offshore island Pulau Ubin as well – Read more on Nparks or check out my post on Pulau Ubin to learn more.
Ubin Quarry when viewed from the peak of Puaka Hill is probably the most impressive of Pulau Ubin's quarries
Pekan Quarry is the easiest to get to right in front of Butterfly Hill
Ketam Quarry towards the west is close to those headed for the Ketam Mountain Bike Park
Balai Quarry can be seen on the way out from Chek Jawa.
Read more about things to do on Pulau Ubin
---
Resources
---
Which of these quarries in Bukit Batok have you already checked out? Tell me if I missed something super cool, or see some other interesting nature spots in Singapore here: