Last Updated on 28 January, 2022
The bulk of Singapore's tourist sights are located in the downtown heritage areas, but for a district with a unique history and strong food culture, head east to Tanjong Katong and Joo Chiat. This area is known to locals for maintaining its Peranakan heritage – Peranakan being the blended culture borne from the intermarrying of of indigenous Malays with nomadic Chinese and Indians that found their way to Southeast Asia back in the day. There has also been an uptick in mural creation in this area, so here's my guide on where to find street art in Tanjong Katong and Joo Chiat.
Post updated with new works along Joo Chiat Road
Street Art Projects
Katong Joo Chiat Art Circuit
Most of the murals here are a result of the Katong Joo Chiat Art Circuit (KJC Art Circuit) organised by The Admin SG – same folk who set up Gelam Gallery in the back alleys of Kampong Glam – and commissioned by the Singapore Tourism Board to revitalise this area.
They created this self-guided walking circuit for visitors to learn more about the neighbourhood's heritage and see some of its interesting historical and culture artefacts at the same time. You can read more about the murals and designs here. This map by URA is also a pretty good guide.
Brilliant Corners
Brilliant Corners was a project that involved 5 Singaporeans artists painting around the Mountbatten, Katong and Joo Chiat area as a part of the Arts in Your Neighbourhood initiative by the National Arts Council in Nov 2020. The artworks were a result of the artists' conversations with the residents and even collaborating with some of the students. Besides murals, there are even curated playlists to listen to while you view the works.
---
How to get there
Tanjong Katong
For the Tajong Katong Road works, you have two options:
Start from Mountbatten MRT (CC7) on the Circle Line. Walk south along Mountbatten Road towards Goodman Arts Centre. From there, you can follow the Geylang River Park Connector eastwards to the next work at Dakota Crescent.
Alternatively, start from Dakota MRT (CC8) on the Circle Line to see that work at Dakota Crescent, then walk along Dunman Road to Tanjong Katong Road which has more of the Brilliant Corners works, and then walk south towards Mountbatten Road.
Joo Chiat
If you are continuing your journey from the Tanjong Katong works above, keep walking east till you hit Joo Chiat Road, turn left and head north. Most of the works from the Katong-Joo Chiat Art Circuit here are along or just off Joo Chiat Road.
The last work is at Joo Chiat Complex which is close to Geylang Serai Malay Market and Food Centre, and from there you can walk to Paya Lebar MRT (EW8/CC9) or Eunos MRT (EW7).
If you are looking for street art works in other parts of Singapore, check out my instagram @singaporestreetart, or see the other street art guides for Kampong Glam, Little India, Chinatown, Bugis-Bras Basah and even heartland areas like Jurong West and Ang Mo Kio.
---
Tanjong Katong Road
Most of the Tanjong Katong works can be found along Tanjong Katong Road, but you can also find some murals in Goodman Arts Centre as well as at Dakota Crescent. Random note: I used to work around here so I'm pretty familiar with the area, and if you are into architecture there are some seriously big, glitzy and garish mansions in this estate, including one I call The Mausoleum.
Goodman Arts Centre
Location: 90 Goodman Road is accessible from a side gate along Mountbatten Road.
Goodman Arts Centre is housed in what used to be an old school complex with several blocks, and today is home largely to the National Arts Council office as well as many art studios and facilities. The grounds are usually open to the public during the day and if you wander around the place.
There used to be quite a lot more murals within the compound back when I worked there, but just a handful are left today. Regardless, you might still see some interesting installations or exhibitions while you're there anyway.

---
Dunman Road
Location: Geylang Park Connector Underpass beneath Dunman Road, next to Blk 62 Dakota Crescent
Singaporeans might recognise the Arowana, an ornamental fish that can be quite large and cost a pretty penny as Chinese people consider it a lucky fish, but you've probably never seen it flying in the air like this! This whimsical work was created by Didier Jaba Mathieu, the Colombian artist who spent some time in Singapore and has some iconic works in Kampong Glam's Haji Lane as well as in Little India, after a conversation with local residents where he learned about the fish.
The location of the artwork is quite interesting, in an underpass that leads under Dunman Road – here's a cool time lapse of the creation process. Those jogging along the Geylang River park connector will surely be surprised to come across this random fish taking flight.
---
Swanage Road / Wareham Road
Location: this work is in two parts: Part I is behind Danji Korean BBQ Buffet located at 188L Tanjong Katong Road, next to a door behind the restaurant facing Swanage Road
This work is in two parts and created by Kiat, also the curator of the Brilliant Corners project. The first artwork features the hummingbird, which I never knew actually doesn't exist in the wild here in Singapore.
Location: Part II is a street away on the side of Teo Hin Tyres located at 190 Tanjong Katong Road, along the wall facing Wareham Road
One street away on the side of a tyre shop is a matching bird – this is the sunbird which you can find in the wild, and through conversations with the residents, Kiat realised that some people had mistaken the sunbirds for hummingbirds, which is why he decided to put both of them in his work.
I kinda like the contrast of the works – the sunbird with the surrounding foliage does look like the bird is in its natural habitat, while the hummingbird's style hints more to the fact that it's a bit of a myth here in Singapore.
---
Branksome Road
Location: Vets for Life Animal Clinic located at 330B Tanjong Katong Road, on the side of the wall facing Branksome Road
Aptly positioned outside a vet clinic, the animals featured here are based on actual pets of residents in the area, like the Netherland Dwarf rabbit, White Samoyed It's just a bright, happy and feel-good piece.
---
Joo Chiat Road
Most of the works in this area are found along or off the main Joo Chiat Road. It's a pretty charming area that was once quite low key, but the increasing awareness of the district's Peranakan heritage and the tourism board's push for more 'local experience' has it gentrifying quite quickly, though it's still managed to retain most of its charm. Probably helps that it's not directly on the MRT route… yet. (Thomson-East Coast Line is on the way!)
East Coast Road
Location: Back alley behind Rumah Bebe (113 East Coast Road) – there is an entrance along East Coast Road next to Kim Choo Kueh Chang as well as behind AlibabaR Hawker Bar at the junction
This work shows a row of dancing ladies wearing the traditional Nyonya Kebaya, which typically consists of a sheer fitted top paired with a colourful floral batik sarong wrap skirt. There are also some other traditional motifs often used in Peranakan decor, like the peony flower and the Chinese-style lion. Apparently this mural was painted by the owner of Rumah Bebe.
Next to Rumah Bebe is this work by Dyn who also did the giant Indian lady's face at Little India's Clive Street – this one shows a girl dressed in the Nyonya Kebaya holding up some balloon dumplings, probably because this is the back of the Kim Choo Kueh Chang store. It's simple and whimsical and really stands out against the white wall.
Just around the corner from Peranakan Culture, a very narrow alleyway connects the back alley to the sidewalk along East Coast Road. Here are some bright and cheery yellow walls covered with mosaics in the shape of a pair of wings. The tiles here are the Majolica tiles you find in old shophouses in Singapore and again covered with Peranakan motifs, and meant to reflect the diversity of the area as well as Peranakan culture. I like how they tried to use this rather awkward alleyway with the wing shape and bright colours.
Location: 150 East Coast Road, wall on side of Yong's Teochew Kueh
A short walk from these murals is another one located on the side of the Yong's Teochew Kueh East Coast outlet, appropriately directly opposite the Mount Pleasant Vet Centre. Turtle Cape by Ink and Clog (known separately as Inkten and Clogtwo) shows a large turtle swimming on a blue wall. It's actually a callback to the name of the area Tanjong Katong, which translates into Turtle Cape.
Also, this actually used to be a coastline before land reclamation, and turtles would lay their eggs on the shore here. If you take a stroll further down this road, that's the reason why these colourful old-style houses here are also slightly raised to protect against the rising tides.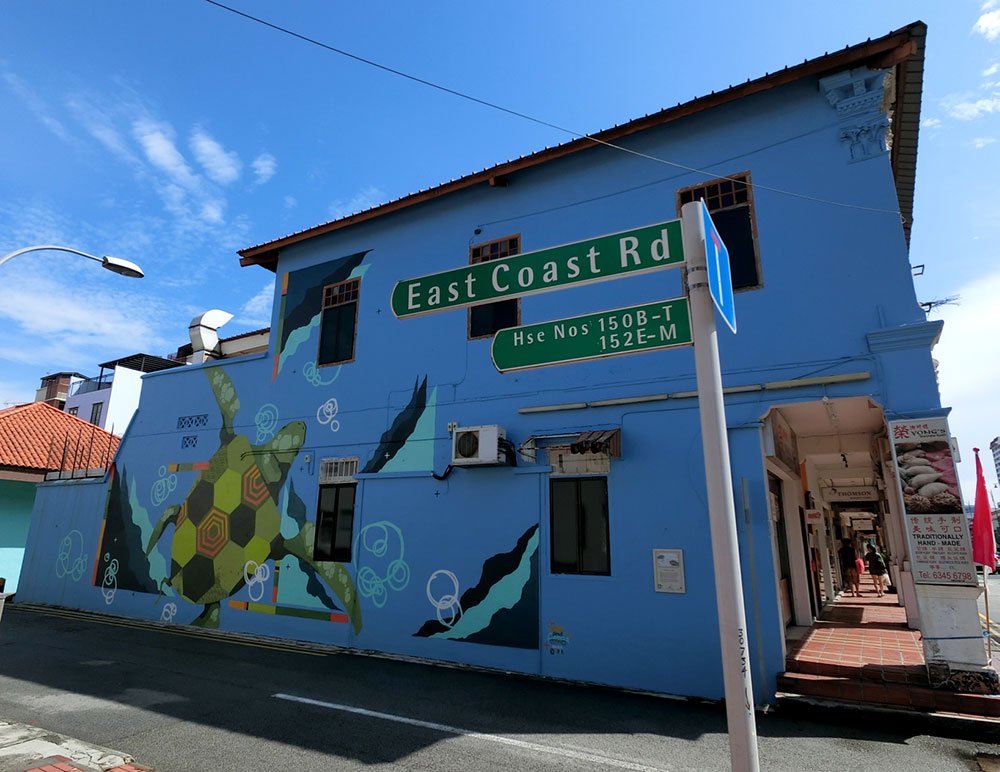 ---
Joo Chiat Road
Location: 451 Joo Chiat Road, Katong Point back wall
This mural is hidden behind Katong Point building – there's a small alleyway between Katong Point and Joo Chiat Community Centre that leads around the back and where these walls are. These walls seem to be commissioned by Mox Coworking space and change periodically, though now that the company has left the building, who knows what will happen next?
The artists are Anacathie and Freakyfir who work together as Studio Moonchild and have a very distinct Japanese anime style that you can easily spot around Singapore – quite often you'll see their stuff on Kampong Glam's Black Book graffiti walls. Anacathie's the one doing the anime ladies while Freakyfir does the mecha. I love the vibrant colours and distinctive style!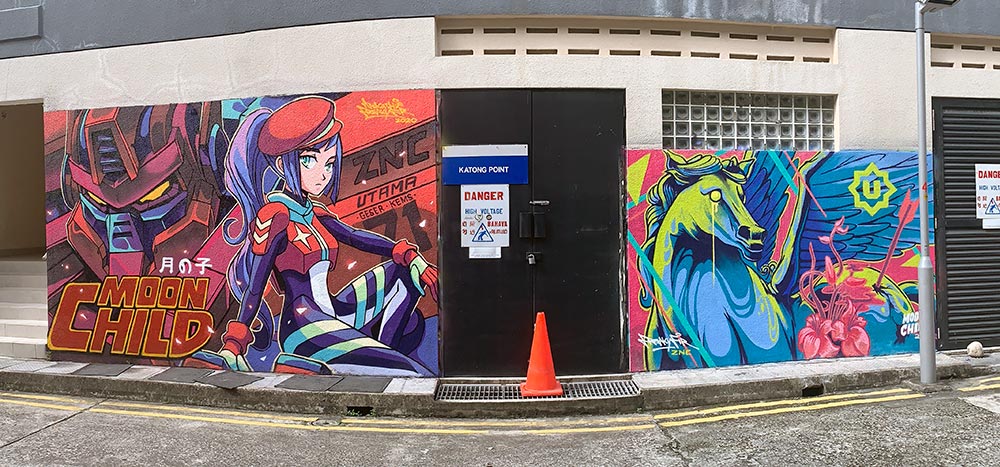 Location: 357 Joo Chiat Road, side of Astons Specialities, wall at public carpark entrance
Right at the entrance of the public carpark, is a mural by Didier Jaba Mathieu aka Jaba, the guy responsible for the iconic Aztec murals in Kampong Gelam. This piece was for Artwalk Little India's 2022 edition which also included Joo Chiat for some odd reason. Jalan Jalan (Malay for Walk Walk) shows a sassy cat gang taking a stroll and no prisoners while they are at it. The funky colours were inspired by Peranakan style ceramics.
Location: 341 Joo Chiat Road, Scanteak showroom, wall at public carpark entrance
Facing the Jalan Jalan mural is a slightly older work from 2019. Located on the side of the Scanteak showroom at the entrance of the public carpark, this mural is by design house Tell Your Children. Titled 'A History of Healing', it actually tells the history of this building which used to be a maternal and child health clinic to deal with high infant mortality in Singapore's early days – I never knew that this building existed until I read up about this mural.
Location: 333 Joo Chiat Road, side of Braseiro
I came across this particular mural by Ink & Clog quite by accident in Oct 2021 while walking down Joo Chiat Road and couldn't quite make head or tail of it. Was it finished? Why are the Peranakan lady's eyes in white? Is The Ferryman some new cafe? Turns out that this is part of a promo of an iQiyi series called The Ferryman: Legends of Nanyang which involves a guy who can see spirits – the mural directly references episode 3 where there is a Peranakan lady spirit, and the 2 guys are the main characters on the show. Interestingly enough as part of the promo, a walking tour 'The Ghost of Rumah Katong' was organised.
Location: 321 Joo Chiat Road, narrow alleyway
Also for Artwalk Little India 2022 is this piece by Boon that features the phoenix, peonies and is also quite visibly inspired by Peranakan crockery. I love how he's made it look quite 3D by having the piece look like a shard on the wall. Lovely bright and colourful piece! I actually caught Jaba and Boon's works in progress in late 2021 while walking around the area.
---
Koon Seng Road
Location: 341 Joo Chiat Road, Scanteak showroom, wall at public carpark entrance
Further down Joo Chiat Road are the famous Koon Seng heritage shophouses, a colourful row of pre-war houses that showcase classic Peranakan or ornate Chinese-style architecture and feature very heavily on tourism literature. While they are occupied by residents, lots of people come here to take photos because they are so pretty, kinda like our own version of San Francisco's Painted Ladies.
In a back alley just before the shophouses is a long orange wall with a work by Hélène Le Chatelier. It actually starts from inside the alleyway and takes the form of visual poem, using text written by local poet and resident of the area Christine Chia. The work references the high tides and flooding that happened quite often in this area, as well as pink mempat trees that are rapidly disappearing from Singapore.
---
Everitt Road
Location: 95 Joo Chiat Road, Kway Guan Huat Popiah storefront
Popiah is a Fujian-style spring roll which sees whole bunch of vegetables and some meat wrapped in a thin skin. The Kway Guan Huat Popiah Stall is a long-standing icon in the community having been in business since 1938! The murals here by Jaxton Su (who also did the Race Course Road mural in Little India) depict the traditional way of hand-making popiahs that the family still follows today. Unfortunately the stall was closed when I visited…
Location: Junction of Joo Chiat Terrace and Everitt Road, facing Joo Chiat Terrace Park
This work was actually done back in 2013 by Ernest Zacharevic as a private commission by local residents – his other works in Kampong Glam are more well-known because this particular one is a bit out of the way in a private housing estate. Style Wars shows two children having an imaginary battle on painted steeds and battling with a paint roller and mop. I love how big and whimsical it is.
I actually saw this work way back in 2014 and took a shot then before finally returning in 2020. The work has definitely faded a fair bit since then but is still relatively intact.
---
Joo Chiat Complex
Location: Wall near Joo Chiat Complex Food Court
This work by artist couple Ink & Clog is supposed to be the cross section of the inside of a shophouse. Honestly it's not like you can really tell, but the 2 kitties and the overall decor does look pretty nice. They also had kids from the Jamiyah's Children Home help paint this mural.
Location: Wall near Lorong 101 Changi
This particular work I came across completely by accident when I was looking for Ink & Clog's work. Nearby is an alleyway where the smokers go, and I found this Kampung scene on the wall. No idea who it belongs to though because I couldn't find a tag, anybody know the artist?
Looking for more street art in Singapore? Check out my other Singapore street art guides for more cool murals and artwork around Singapore.