The bulk of Singapore's tourist sights are located in the downtown heritage areas, but for a district with a unique history and strong food culture, head east to Katong and Joo Chiat. This area is known to locals for maintaining its Peranakan heritage – Peranakan being the blended culture borne from the intermarrying of of indigenous Malays with nomadic Chinese (mostly) and Indians that found their way to Southeast Asia back in the day. There has also been an uptick in mural creation in this area, so here's my guide on where to find street art in Katong and Joo Chiat.
Street Art in Katong and Joo Chiat
Katong Joo Chiat Art Circuit
Most of the murals here are a result of the Katong Joo Chiat Art Circuit (KJC Art Circuit) organised by The Admin SG – same folk who set up Gelam Gallery in the back alleys of Kampong Glam – and commissioned by the Singapore Tourism Board to revitalise this area.
They created this self-guided walking circuit for visitors to learn more about the neighbourhood's heritage and see some of its interesting historical and culture artefacts at the same time. You can read more about the murals and designs here. This map by URA is also a pretty good guide.
If you are looking for street art works in other parts of Singapore, check out my instagram @singaporestreetart, or see the other street art guides for Kampong Glam, Little India, Chinatown, Bugis-Bras Basah and even heartland areas like Jurong West.
How to get to Katong / Joo chiat
Right now this location is a little less convenient because there is no direct MRT service here. The closest MRT station is Eunos (EW7) on the East-West Line or Dakota (CC8) on the Circle Line, but you will need to hop on a bus or walk around 25-30mins to reach.
That will change in future when Marine Parade Station on the Thomson-Northeast Line is completed, estimated in 2023.
Alternatively, lookout for free shuttle bus services to Katong V, i12 Katong (temporarily closed till 2021 for renovation) or Parkway Parade to save you a little bit of walking.
---
East Coast Road
Location: Back alley behind Rumah Bebe (113 East Coast Road) – there is an entrance along East Coast Road next to Kim Choo Kueh Chang as well as behind AlibabaR Hawker Bar at the junction
This work shows a row of dancing ladies wearing the traditional Nyonya Kebaya, which typically consists of a sheer fitted top paired with a colourful floral batik sarong wrap skirt. There are also some other traditional motifs often used in Peranakan decor, like the peony flower and the Chinese-style lion. No idea who did this mural though, I'd have to pop in and ask one day.
Next to Rumah Bebe is this work by Dyn who also did the giant Indian lady's face at Little India's Clive Street – this one shows a girl dressed in the Nyonya Kebaya holding up some balloon dumplings, probably because this is the back of the Kim Choo Kueh Chang store. It's simple and whimsical and really stands out against the white wall.
Just around the corner from Peranakan Culture, a very narrow alleyway connects the back alley to the sidewalk along East Coast Road. Here are some bright and cheery yellow walls covered with mosaics in the shape of a pair of wings. The tiles here are the Majolica tiles you find in old shophouses in Singapore and again covered with Peranakan motifs, and meant to reflect the diversity of the area as well as Peranakan culture. I like how they tried to use this rather awkward alleyway with the wing shape and bright colours.
Location: 150 East Coast Road, wall on side of Yong's Teochew Kueh
A short walk from these murals is another one located on the side of the Yong's Teochew Kueh East Coast outlet, appropriately directly opposite the Mount Pleasant Vet Centre. Turtle Cape by Ink and Clog (known separately as Inkten and Clogtwo) shows a large turtle swimming on a blue wall. It's actually a callback to the name of the area Tanjong Katong, which translates into Turtle Cape.
Also, this actually used to be a coastline before land reclamation, and turtles would lay their eggs on the shore here. If you take a stroll further down this road, that's the reason why these colourful old-style houses here are also slightly raised to protect against the rising tides.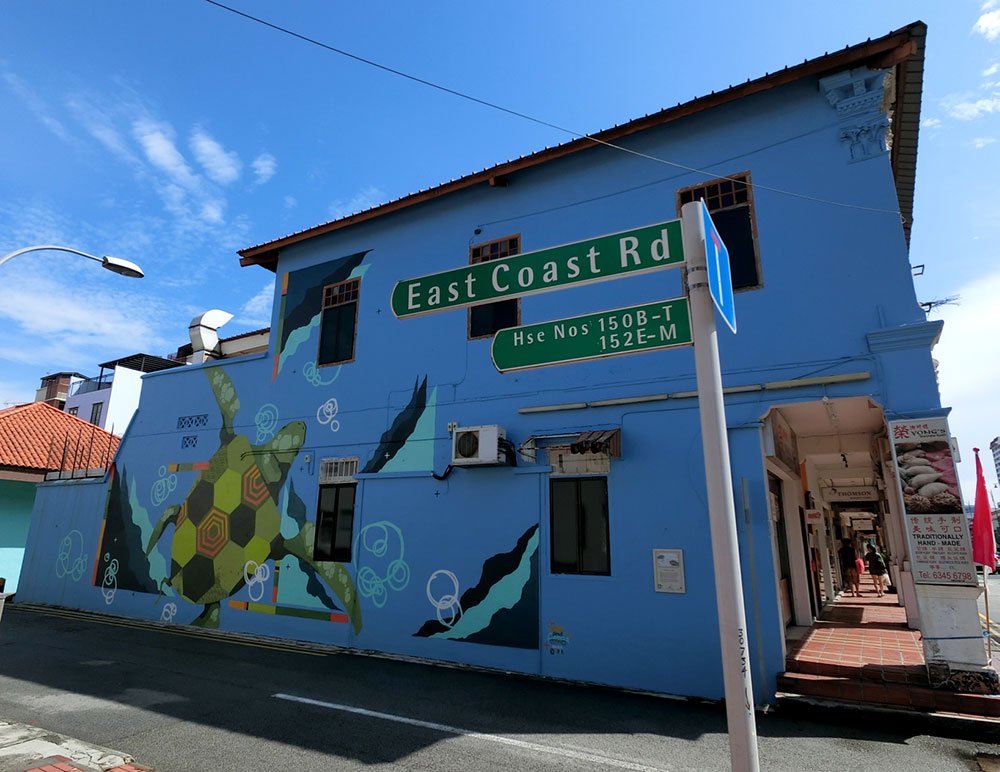 ---
Joo Chiat Road
Location: 341 Joo Chiat Road, Scanteak showroom, wall at public carpark entrance
If you walk down Joo Chiat Road from East Coast Road, you'll spot this large mural as you walk closer. Located on the side of the Scanteak showroom at the entrance of the public carpark, this mural is by design house Tell Your Children. Titled 'A History of Healing', it actually tells the history of this building which used to be a maternal and child health clinic to deal with high infant mortality in Singapore's early days – I never knew that this building existed until I read up about this mural.
Koon Seng Road
Location: 341 Joo Chiat Road, Scanteak showroom, wall at public carpark entrance
Further down Joo Chiat Road are the famous Koon Seng heritage shophouses, a colourful row of pre-war houses that showcase classic Peranakan or ornate Chinese-style architecture and feature very heavily on tourism literature. While they are occupied by residents, lots of people come here to take photos because they are so pretty, kinda like our own version of San Francisco's Painted Ladies.
In a back alley just before the shophouses is a long orange wall with a work by Hélène Le Chatelier. It actually starts from inside the alleyway and takes the form of visual poem, using text written by local poet and resident of the area Christine Chia. The work references the high tides and flooding that happened quite often in this area, as well as pink mempat trees that are rapidly disappearing from Singapore.
Everitt Road
Location: 95 Joo Chiat Road, Kway Guan Huat Popiah storefront
Popiah is a Fujian-style spring roll which sees whole bunch of vegetables and some meat wrapped in a thin skin. The Kway Guan Huat Popiah Stall is a long-standing icon in the community having been in business since 1938! The murals here by Jaxton Su (who also did the Race Course Road mural in Little India) depict the traditional way of hand-making popiahs that the family still follows today. Unfortunately the stall was closed when I visited…
Location: Junction of Joo Chiat Terrace and Everitt Road, facing Joo Chiat Terrace Park
This work was actually done back in 2013 by Ernest Zacharevic as a private commission by local residents – his other works in Kampong Glam are more well-known because this particular one is a bit out of the way in a private housing estate. Style Wars shows two children having an imaginary battle on painted steeds and battling with a paint roller and mop. I love how big and whimsical it is.
I actually saw this work way back in 2014 and took a shot then before finally returning in 2020. The work has definitely faded a fair bit since then but is still relatively intact.
---
Looking for more street art in Singapore? Check out the other locations below or see all my street art guides around the world for more.