Last Updated on 28 July, 2022
I've put together a Street Art in Kampong Gelam guide to help you uncover all the cool murals and street art in and around this funky neighbourhood. Kampong Glam or Kampong Gelam is known as the heritage Arab/Muslim quarter in Singapore and one of my places to find street art in Singapore. It's home to the beautiful Sultan Mosque and has quite an unusual mishmash of cloth merchants, Middle Eastern restaurants and hipster shops all rolled into one heritage district, and it's also one of the few places in Singapore where you can find more graffiti styles of street art instead of just murals.
Kampong Gelam is also one of my favourite places in Singapore to hang out and bring visitors. I used to work around this area and spent many days walking up and down these streets, so I will always be fond of it though I think it's gentrified and I'm not as fond of the current shop mix in recent years. I love that it's one of the first places that street art became hip.
You'll see the place also referred to as Kampong Glam which is I've always known this place as (Say 'Glum' and not glam like glamorous), but it seems like official tourism is moving back to calling it by its proper name Kampong Gelam, which stems from the Malay word Gelam, a reference to the Gelam tree.
How to get to Kampong Gelam?
The closest MRT stations to Kampong Gelam are Bugis (East-West, Downtown Line) or Nicoll Highway (Circle Line) and about 5-10mins walk away.
I've split this guide into 4 major areas where you can check out street art works. Use the map to help you navigate. Street art is ephemeral by nature so it's always changing. I update when I can. Check out the self-guided audio tour version of this Kampong Glam street art route that I developed for Voicemap here.
---
Victoria Street
This stretch between Victoria Street and North Bridge Road is where you'll find most of the commissioned street art works by Ernest Zacharevic in Singapore – he's the guy whose works help make Penang's Georgetown a street art destination – but also in recent years more murals from other shops in the area.
Arab Street
122 Arab Street, alleyway nex to Bazuka Rooftop bistro
This work is one of Didier Jaba Mathieu's newer works put up in January 2020 and showcases more of his signature portraits that can also be seen in his works at Piedra Negra on Haji Lane (see below). You can see a face through the archway if you approach from North Bridge Road, and it's a nice surprise when you realise that he's actually painted most of the wall in this really narrow back alleyway.
Jalan Pisang
1 Jalan Pisang, outdoor seating of Chix Hot Chicken
Nashville-style chicken restaurant commissioned three orange coloured works in this alleyway. All these artists have works in the nearby Gelam Gallery (see below) as well.
Jalan Pinang
9 Jalan Pinang, Hotel NuVe entrance
Jalang Pinang is home to YipYC's Satay Club and Kampong Gelam murals painted in 2016 for budget Hotel Nuve. These heritage murals reference a popular area for eating satay that used to be on nearby beach road as well as the Gelam trees that Kampong Gelam was named for – you can read more about that here.
Jalan Kledek
Wall between Jalan Pisang and Jalan Kledek, facing Victoria Street
At the Victoria Road-Jalan Pisang junction, it's hard to miss Ernest Zacharevic's Girl with Lion Cub which is quite a large piece. He did a number of works along the Victoria Road stretch that you will see below. Pretty impressive looking work.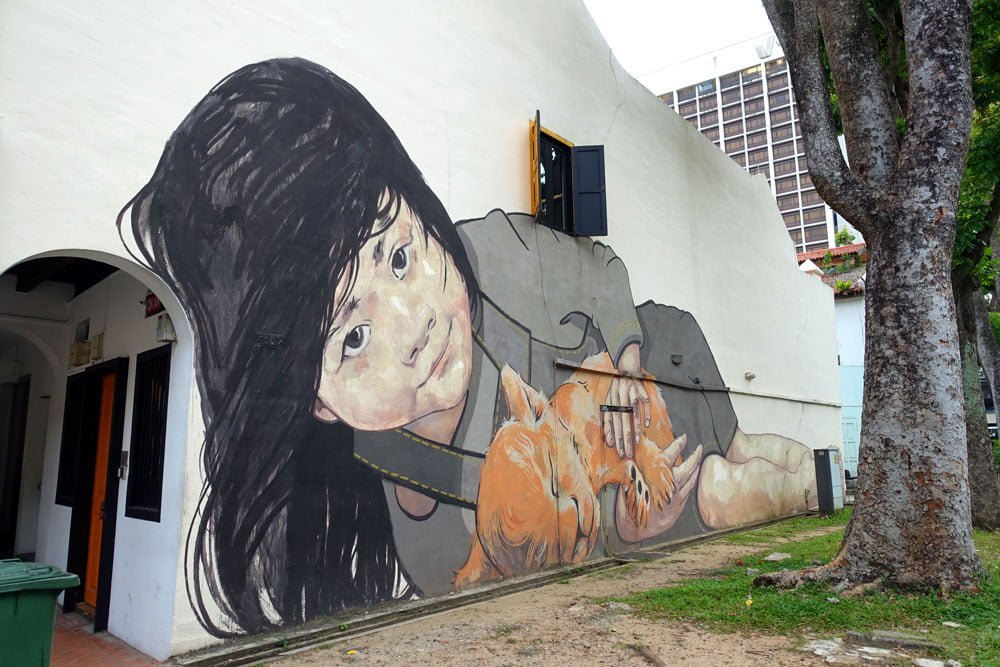 8C/D Jalan Kledek, side of Camera Museum facing Victoria Street
A little further down from the Lion Cub mural is the Vintage Camera's Museum which has a portrait of a camera-wielding guy done by Singaporean artist Ceno2 whose distinct portrait style can be seen in many places around Singapore, including other spots in Kampong Gelam. This particular piece was done in collaboration with two younger female artists Bunga and Kare.
Jalan Klapa
Walls between Jalan Klapa and Jalan Sultan, facing Victoria Street
Further down Victoria Street and you can see more of Ernest Zacharevic's commissioned works from his time in Singapore in 2013. These kids in supermarket trolleys attracts a lot of people taking photos because of the actual supermarket cart attached to it, you're likely to see lots of ridiculous photos in action here.
A little further down on the side of the AMC building is this giant exclamation mark with two kids that was revamped in 2020 as a collaborative mural.
Here's how it used to look like before:
Jalan Sultan
Wall at corner of Jalan Sultan and Victoria Street junction
Keep walking down Victoria Street to the junction of Jalan Sultan and you'll see the last Ernest Zacharevic piece: A boy peeking out a window along a stretch of blank wall. I think this piece was updated or repainted at some point because my old pix from 2014 had a grey wall/white window, but this latest shot in 2019 has a white wall/grey window
---
Aliwal Street – Sultan Gate
Most of the works at Aliwal Street can be found at the Aliwal Arts Centre which houses many different arts groups, including one of Singapore's more popular street art crews RSCLS (say Rascals) on its second level. These walls are unusual because the works here change pretty often, a rarity as most walls in Singapore are commissioned fixed projects. Read more about what Singapore's street art scene is like.
Cuturi Gallery
Alleyway between 65-67 Aliwal Street on side of Cuturi Gallery
This work by Jaba was commissioned by the Cuturi Gallery in Jan 2021 and I was actually pretty lucky to actually see him working on this! He took about 2 weeks just to paint this and it's pretty impressive. It's an interesting mix of history and futurism – shipbuilding was quite a flourishing trade by the early Bugis community who were seafaring folk and settled around the Kampong Gelam area though I'm sure the boats weren't flying back then.
Go around the corner and you'll see more of Singapore's wildlife that's quite cleverly hidden by the wall angle, perhaps a commentary about how that's true in real life as well. I recognised some of the animals like the pangolin and colugo!
Aliwal Arts Centre
20 Aliwal Street
This is actually the wall next to the Aliwal Arts Centre, but it is at the entrance that leads to the side and back alleys. This colourful piece is Singaporean artist Slacsatu called AlphaBatik for Aliwal Urban Arts Festival 2019 that's based on traditional Indonesian Batik prints. I really love the colours and vibrancy – you'll see various renditions of this work all over Kampong Gelam, as well as the OG work which I'll point out further down.
Head around the side and back alleys to see the artwork – the side alley is where motorcycles are parked, and the back alley is a very large wall that usually has some quite impressive works. These works change often, so I'm just showing you some works that I have seen in the past.
Sultan Arts Village
71 Sultan Gate (in front of entrance to Malay Heritage Centre)
This rather obscure little building is easy to miss, a tiny arts enclave just a few roads down from Aliwal Arts Centre and in front of the entrance to the Malay Heritage Centre. It is home to The Black Book, a shop run by local graffiti crew ZincNiteCrew (aka ZNC), which sells spray paints and apparel. They also run the occasional graffiti battle here, so keep checking out their practice walls. There is art on the walls all around Sultan Arts Village building.
The front of Sultan Arts Centre where most of the shops have their entrances has a painted sign on the wall. No idea who painted it though.
If you go around to the side of the building that faces Pahang/Baghdad Street, you can see this female Malay dancer – has been there for awhile and I don't know who did it either. The batik is all Slac, though in this version you can actually make out distinct objects. Curious to what those objects are? They are traditional Malay instruments! I think I can spot a Gedombak and Gendang, as well as the brass chimes of the Gamelan. They actually show what used to be on the wall before – scroll down to see.
---
Baghdad Street
Baghdad Street cuts across Kampong Gelam connecting Aliwal Street to Arab Street and Haji Lane – this is where they sometimes hold weekend car-free bazaars. Now you can find several works in the lanes and alleys off this stretch of road.
Sultan Gate
29 Sultan Gate (side wall facing towards Beach Road)
Down the road from Sultan Arts Village is a little alleyway where you can find this mural called Coffee Story by Yip Yew Chong aka YipYC. It was commissioned for the coffee house A.R.C. located on that corner (2019 update: the cafe itself seems to have closed and moved, but the mural is still there) and depicts various ways you can get your coffee in Singapore, from the traditional teh tarik and sock-filtered to the modern cafe and barista style. Look out for the little cat under the teh tarik man's window on the left!
Off Bussorah Street
Down the road from the Coffee Story piece is a new larger mural by RSCLS. It's not complete at this point – the RSCLS folk said this is an independent project so they work on it when they can. You can see lots of things from around the neighbourhood – there's a bunch of fishing shops, the teh tarik man, chickens running around and the shophouse with the r is along Aliwal Street.
Right opposite the work is this mural by Slacsatu for Juggernaut Fight Club's back entrance grills. The quote reads "It ain't about how hard you hit, it's about how hard you can get hit and keep on moving forward!"
Alleyway
Alleyway off 12-14 Baghdad Street near junction of Arab Street
This small alley between shops along Baghdad street now has a bunch of new works. This piece by TraseOne is titled Bejeweled: An Homage to Kampung Intan and was commissioned for the Singapore Heritage Festival in March 2019 – check out his very cool timelapse of painting this work in just 36 hours! The artwork was apparently inspired by the fact that Baghdad Street (once known as Kampung Intan) was once a popular trading spot for jewels and precious stones – Intan means Diamond and you could find Intan jewellery makers and goldsmiths around the area as well.
This work further inside the alleyway is by Zero from Nov 2018 and shows some of the many typical things you can see around the Kampong Glam neighbourhood – recognise any familiar objects and landmarks?
Look out for this wall facing the TraseOne piece and adjacent to Zero's work. It's part of the Gelam Gallery which I will talk a little bit more about below.
Muscat Street
There are two alleyways, one on either side of the mosque. These are the back alleys of the shops along Arab Street – Bussorah Street, and Bussorah Street – Kandahar Street. Google has both these streets listed as Muscat Street.
In July 2019, Gelam Gallery was created along 2 streets on either side the pedestrianised Bussorah Street that leads to the mosque.These lanes used to just be back alleys and where the dustbins are located, but has since been transformed into what they are calling Singapore's first outdoor art gallery, and it's a little different from your usual street art and murals as there are little artist plaques at the side of each work.
Gelam Gallery was set up by The Admin, the same people who run the weekend market in this same area, and last I checked with them they mentioned that they may refresh these works but not on a frequent basis. Right now you'll find a mix of artists here, from known street art names like SlacSatu to up-and-coming artists fresh from local art schools like LaSalle and NAFA. I'm not putting up all the works here because there are too many, just some of my favourites: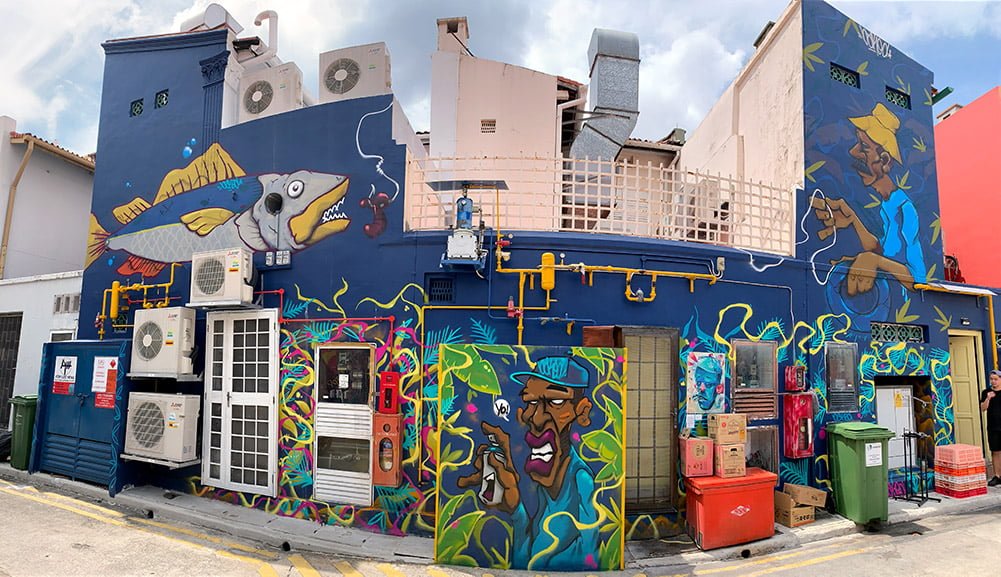 ---
Haji Lane
This lane is more famous for its hipster shops and attracts photographers looking for a colourful yet traditional shophouse backdrop; it is one of the spots in Singapore which had street art and murals before it was the hip thing to do. You'll see more works by ZNC here, and quite a lot by JabaOne concentrated at the buildings on the Beach Road end leading up to the alleyway linking Arab Street and Haji Lane. Some of the other shops have got into the act as well, with artwork on their shopfronts, it's definitely a visually exciting place and always quite bustling.
Arab Street-Haji Lane Linkway
Alleyway linking Arab Street and Haji Lane (opposite junction of Arab Street and Baghdad Street)
This alleyway used to have some pretty iconic works that have sadly been removed (see those works in the Removed section below). Currently the only one up is this mural by DPLMT featuring Ultraman and a reimagined Merlion which was part of a Singapore Tourism Board campaign in 2022 to mark the 50th birthday of the Merlion (and 55th year of Ultraman!).
Haji Lane
Juice Clinic, 27 Haji Lane (cross junction of linkway and Haji Lane)
There are a whole bunch of works by Didier Jaba Mathieu or Jaba in this area commissioned by the owners of Piedra Negra. This area sees so many tourists and photographers, but it is one of the prettiest and most colourful parts of Kampong Gelam.
Junction of Haji Lane and Beach Road, side of Piedra Negra restaurant facing Haji Lane
This particular Aztec piece from 2011 is pretty impressive and possibly the most iconic mural that people remember Haji Lane for. It's quite impossible to photographin full because the alleyway is so narrow – check out Jaba's photos for a montage of the full artwork. I love the vibrancy and the bold style.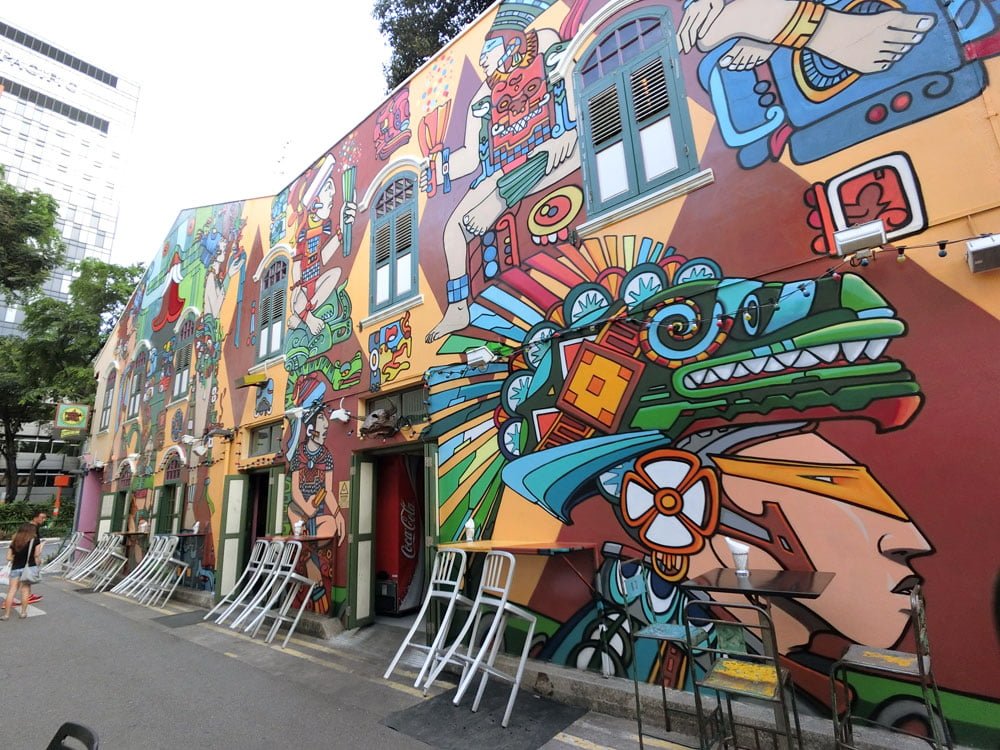 Blu Jaz, 11 Bali Lane
Blu Jaz is a pretty popular drinking hole and has another Jaba work, this one a giant face on a yellow background.
Ophir Road
Junction of Ophir Road and Beach Road, facing Ophir Road
Jaba has another giant wall, this time facing Ophir Road. It was painted in phases and fully completed in May 2018, check out Jaba's instagram for better pictures. It was partially blocked by trees and currently blocked by all the road works in the area, but you really need to take a few steps back to appreciate the grandeur of this work. It's reminiscent of the work further up Arab Street.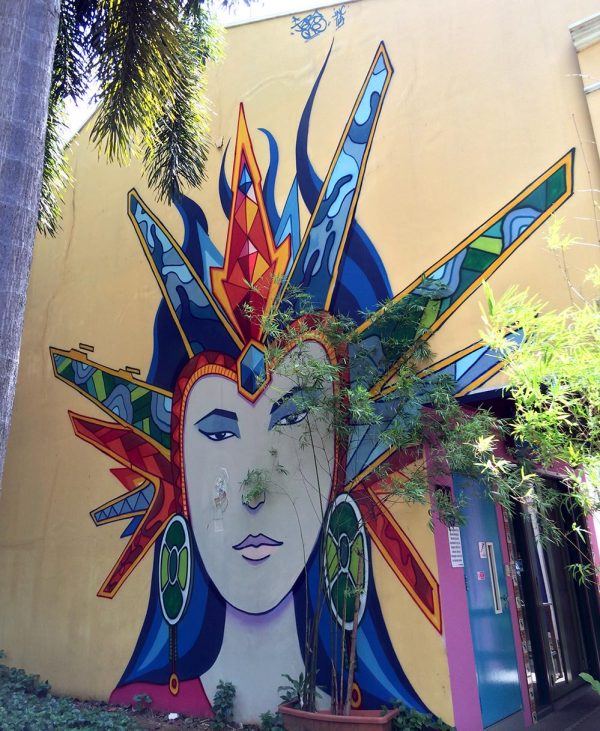 Graffiti Hall of Fame
There's been a lot of construction and road works happening along Ophir Road and a long stretch of hoarding was put up. Rather than leave it empty and boring, Singapore's street artists came together to work with the One Kampong Gelam association to create the Southeast Asian Graffiti Hall of Fame – it's basically a who's who of works all along both sides of the hoarding.
---
No Longer There
Here are some of the older street art works that I liked but have either been painted over or removed, thought I'd keep them here for posterity.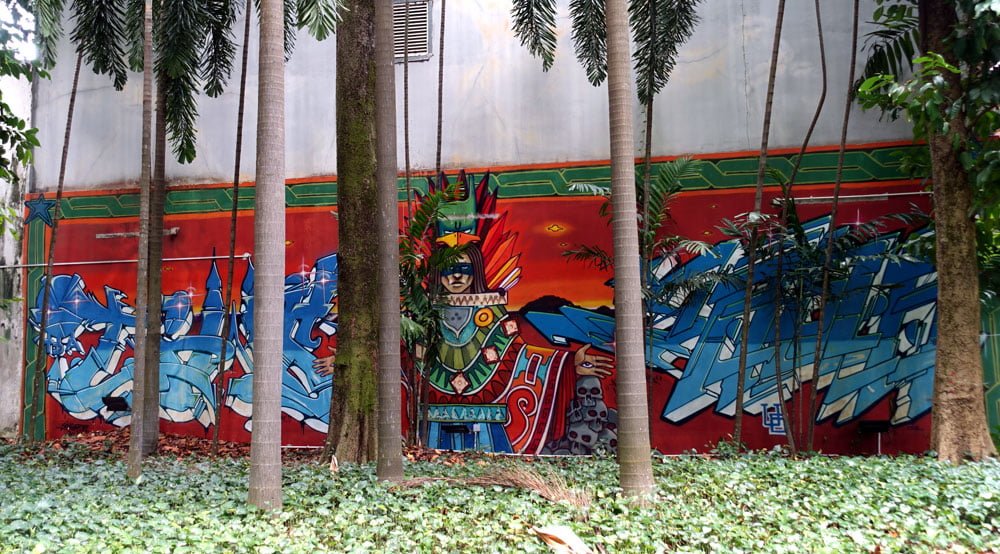 ---
Do check out my side project Singapore Street Art on instagram @singaporestreetart – it aims to document all past and present street art in Singapore. Hashtag #singaporestreetart if you find anything cool that should be featured here.
Looking for more street art? See the full list here or check out these other street art locations in Singapore.