Last Updated on 5 December, 2021
Singapore has become a lot more colourful in recent years as it started embracing street art and using murals to enliven public spaces. To date, most of Singapore's street art is concentrated in more central and touristy spots: heritage districts like Chinatown, Little India and Kampong Glam, or the museum and cultural belt of Bras Basah. For residential heartland areas, public art tends to be focused around community murals or the occasional sculpture though areas like Ang Mo Kio, Hougang and Katong have some cool murals these days. This time, we head to the far western end of Singapore to an area better known fas an industrial area to check out the street art and murals in Jurong.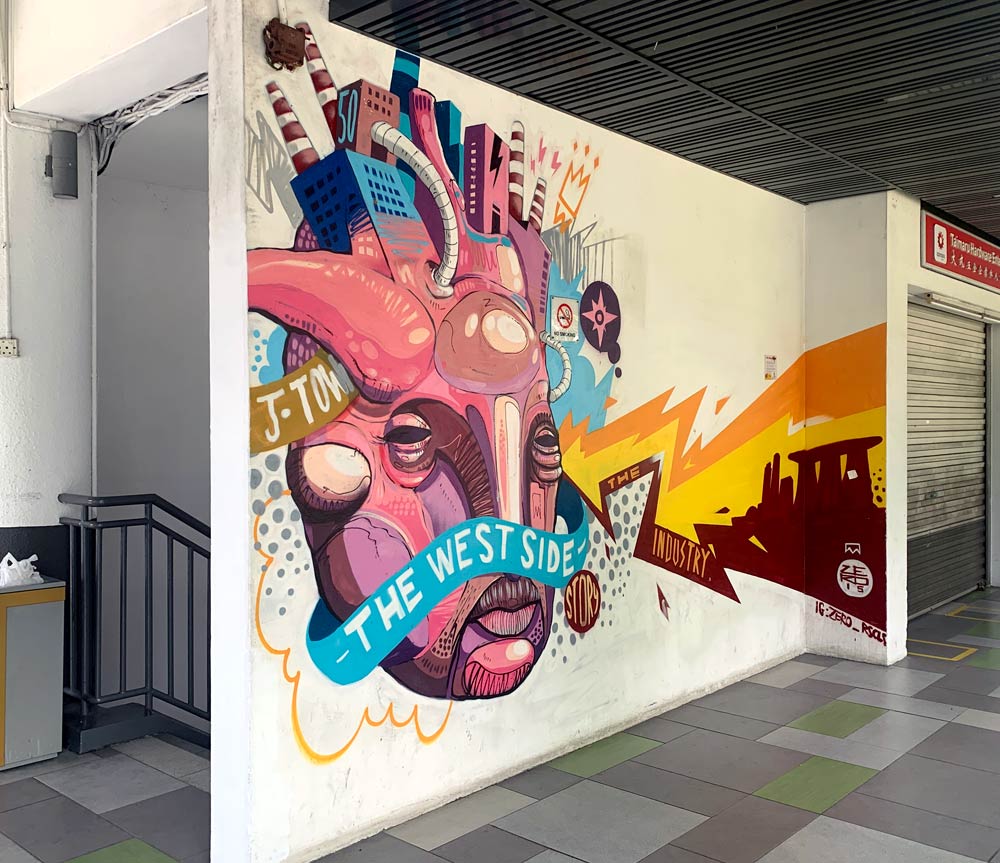 A bit about Jurong
While Jurong does have some attractions, it isn't going to be on the itinerary of most visitors who just want to see Singapore's main sights. But if you're looking for a peek into local Singaporean life, experience a different side of Singapore and don't mind travelling a fair bit, I thought I'd recommend some other things you can do in Jurong so you can make a proper day of it. For Singaporeans, there's a surprising amount of history here in Jurong if you dig a little deeper.
To be fair, Jurong is about 30-60 mins away from the downtown area depending on how you travel – that's not far by international standards, but I've always stayed in the Northeast area of Singapore so Jurong was always pretty out of the way and foreign to me, and the sheer distance often felt like I was going to Malaysia because it's not far from the Second Link in Tuas.
Street art projects in Jurong
Here are some of the major art projects in Jurong that helped boost the number of murals you see there today:
50 Bridges
In 2015, Singapore celebrated SG50 its 50th year of independence, and also the 50th year of a happy bilateral relationship between Singapore and Australia. The Australia High Commission in Singapore organised 50 Bridges, where 50 murals were painted throughout Singapore by a selection of Singapore and Australian street artists. They painted works in many heartland neighbourhoods, and many of those in the west ended up in Taman Jurong Shopping Centre and Jurong West.
I have actually documented most of these works on my Singapore Street Art Instagram account before.
Of Gardens and Dreams
Of Gardens and Dreams tours itself as Singapore's first residential public art gallery curated by Shophouse & Co, the works here are from various projects by Our Gallery @ Taman Jurong, National Heritage Board, National Arts Council and even National Environment Agency's Our Hawker Centres art and heritage project. What's useful is that they created two art trails that you can follow to explore Taman Jurong and see these artworks – head to the link to download the PDF brochure.
A Fisherman's Dream
A Fisherman's Dream is an art trail curated by Tell Your Children for Arts in your Neighbourhood (Nov 2021) in the Jurong East Central area, with 8 different murals and installations that showcase the history of the district around J-Connect, the neighbourhood centre next to J-cube and the Jurong Regional Library. I learned quite a lot of history about the Jurong area through their murals.
Singapore Street Art Map
Here's a handy Google map of all the street art I've found in Jurong listed in this post.
---
Taman Jurong
Taman Jurong was a residential estate that sprang up to serve the workers in the Jurong industrial area in the 1950s. The Taman Jurong Art Walking Trail in Of Gardens and Dreams covers some of these murals and other artworks including sculptures and art installations, but my focus is on the nicer murals and street artist works.
Fun fact: 'Taman' is a Malay word that translates to parks or gardens. If you're curious about the way the roads are named here – Lots of XX Chings (Views) and Yung XX (Eternal) roads – check out this post which explains it in a bit more detail.
The estate is located right next to the Jurong Lake Gardens, the revamped park that includes the Chinese and Japanese Gardens. The closest MRT station is Lakeside (EW26) on the green East-West Line, but still requires a 20-minute walk from the station unless you take a feeder bus service in.
Taman Jurong Shopping Centre
399 Yung Sheng Road
Taman Jurong Shopping Centre is a small suburban open-air mall in the centre of Taman Jurong. These works here are from 50 Bridges in 2015, and fun fact: I compared the pix I took in 2020 to those that I first took back in 2015, and again when I was in the area in 2017 and found very little changed.
Location: Right of entrance facing Yung Sheng Road / Taman Jurong Market and Food Centre
Tom Civil is an Aussie artist based in Melbourne, and his works usually feature his signature 'stick folk' characters. That's pretty evident in this work called 'Gatherings' which show little stick folk coming together in groups and circles. It's located near some benches at the entrance to the mall, which is kind of a gathering point of sorts. I love the vibrant and warm colours that really stand out amidst the neutral greys of most buildings.
I first saw Tom Civil's works in Chinatown but he actually did 5 works in total when he was in Singapore for 50 Bridges. The other works are really deep in the heartland areas: I saw his non-stick folk work at Telok Blangah Rise Market, but not the ones at Woodlands Mart and Vista Point. See his blogpost for more about his works.
Location: Left of entrance facing Yung Sheng Road / Taman Jurong Market and Food Centre
Trase-1 aka Ts1 or TR853-1 is a pretty prolific Singaporean street artist – In particular I like his colourful works in Little India, but he covered many locations around Singapore for 50 Bridges and other projects. I love the subtleties in his work.
He has 2 works here in Taman Jurong – the first is of this ATM queue line next to a spot where there are actually ATMs. When this work first went up, there was a POSB ATM next to the UOB one so it wasn't so far away, but angle it right and it does look pretty realistic.
When I first saw this, I was of course distracted by the cat, but kept thinking that the guy in front reminded me a lot of a younger Lee Kuan Yew. The queue does portray the multi-racial makeup of Singapore, but is the order of the queue also a subtle commentary on the role race plays in Singapore? Make what you want of it, I just think it's a pretty cool work regardless.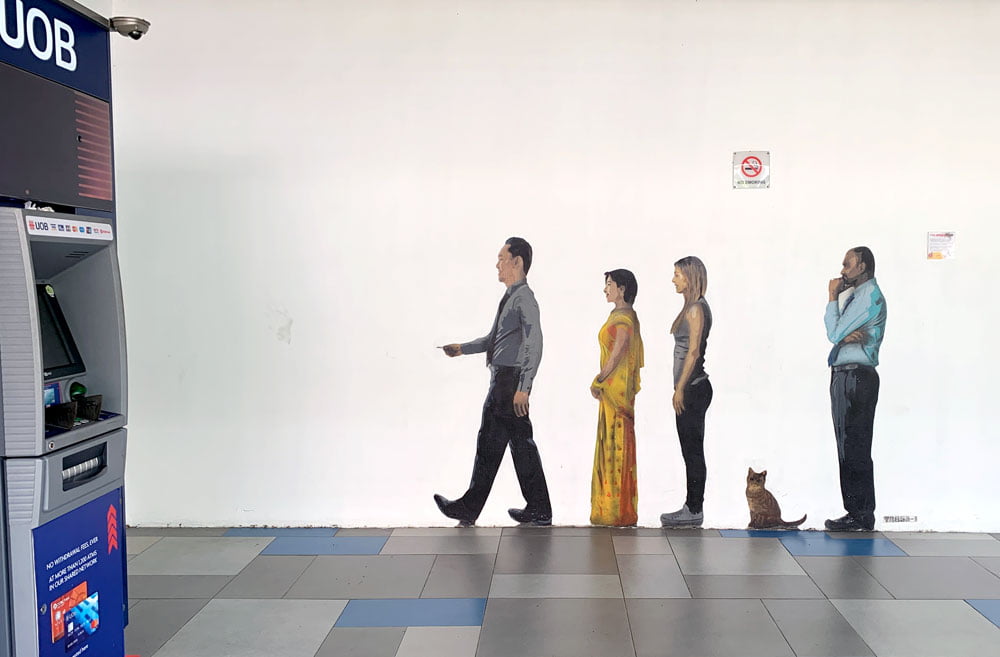 Location: Close to #01-01 near the loading bay entrance
Trase's other work is this skateboarder jumping up onto the handrails. I don't think there's any deep message hidden in here, but it's just a pretty fun work.
Location: Next to #01-34, right of entrance near Corporation Road/Yung Sheng Road junction
This piece is by Zero, leader of the RSCLS crew whose works are often seen in Kampong Glam. This is one of his signature faces and like Trase, just one of several works he did for 50 Bridges all over Singapore. The chimneys and buildings reference the industry around Jurong away from the Marina Bay skyline in the distance.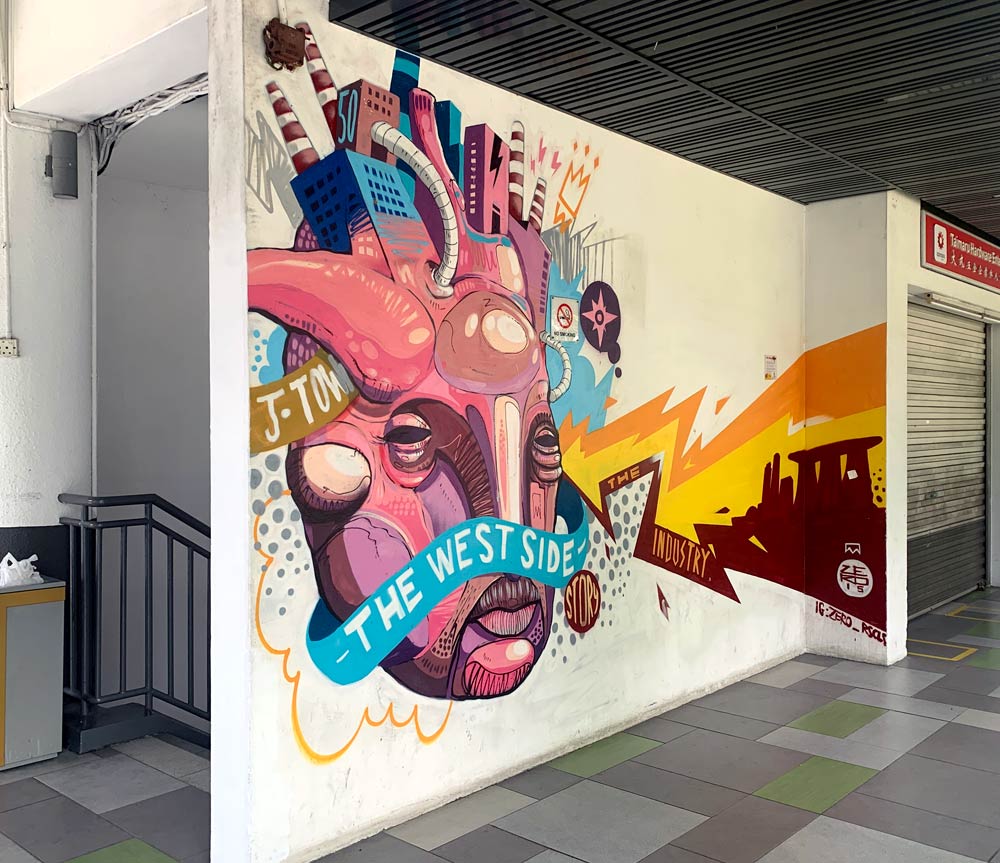 Location: Next to #01-38, close to NTUC Fairprice
Two of the works here are by Sheryo and The Yok – Sheryo's Singaporean while The Yok is Aussie, so they're actually the perfect duo for 50 Bridges. You might have seen their stuff at Bras Basah as well. This smiley face work is the only one in the shopping centre's interior (i.e. not facing the entrances) and you might miss it if you're just passing by.
Location: Next to #01-57, right of the entrance facing Yung An Road
The odd thing about this other work by Sheryo and The Yok is that I couldn't find any archival of it on either of their Instagrams nor their website because I was trying to find if this creature had a particular name – is it a dragon? Or a twisted Merlion? Who knows! And yes it's two identical figures next to each other, not me doing a collage.
Taman Jurong Community Centre
1 Yung Sheng Road
The Taman Jurong Community Centre is where Our Museum @ Taman Jurong, Singapore's first Community Museum was also located. Opened in 2013, it seems to have quietly closed in recent years and disappeared without a trace. Regardless, there are a handful of works around here.
Location: Level 1, next to POSB
Can you see the whale? It's actually made out of plastic bottles in a bid to promote recycling and awareness of plastic pollution. It also houses a drinking fountain in the droplet hole. The artist Ernest Goh worked with youth in the area to create this community piece for Of Gardens and Dreams and his own Ayer Ayer project.
Location: Wall in empty space between Community Club and Food Centre buildings
Singaporean street artist Slacsatu leads the long-running ZNC crew and created this work 'The Storyteller' for an Arts in Your Neighbourhood project by the National Arts Council. It features his signature batik design in a more muted colour tone, but if you look closely it's a lot less abstract than the pieces you see in Kampong Glam as these feature Jurong landmarks and was done with the help of the youth community in Taman Jurong.
On the other side of the wall are some other visual depictions that I'm guessing are of Jurong's landmarks and history. I haven't found any info about this yet, but I believe this was probably commissioned by NHB / Our Museum @ Taman Jurong. I probably should have looked for more clues but it was a blazing hot day when I snapped this shot.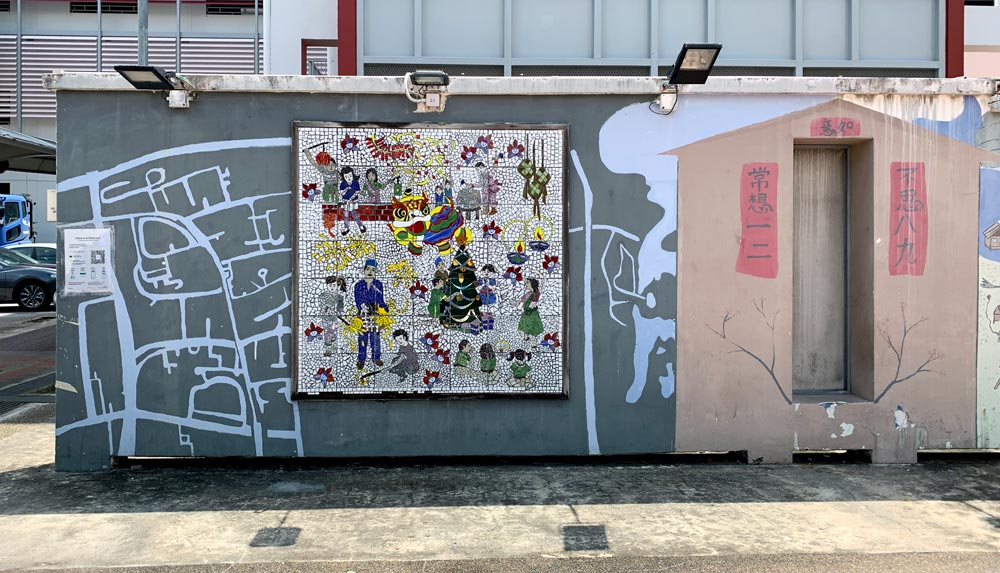 Kang Ching Road
Location: Blk 339D Kang Ching Road, void deck
This is a surprisingly old work by Slacsatu dating back to 2013, a community project commissioned by HDB that saw Slac design 3 murals and work with the residents and students – it was even filmed for TV. This mural theme is a pretty typical nation-building type of mural that the Singapore government likes, featuring icons of yesteryear, group activities featuring a multi-racial cast, and the vision for a vibrant future Singapore, but it has hints of the style and shading you see in his batik work.
Tah Ching Road
Location: Blk 323 Tah Ching Road, exterior wall facing the mini circus
Another community mural, this time led by the RSCLS crew, this one features icons that the youth associate with Jurong. What's unusual about this mural is that it's not just paint – some bits of the mural like the cat ears on the left and the W sign are made of wood giving it a bit of 3D texture.
Yung Loh Road
Location: Blk 158 Yung Loh Road, void deck
This collaborative work by artist Chai Chee Seam with the residents is a more abstract piece with different animals and raised painted portions in the void deck of this HDB block.
Yung Ping Road
Location: Blk 163 Yung Ping Road, void deck
Not really a mural or street art piece per se, but I'm just always impressed by works like these because of the effort required to put them together. The towers featured in Guo Yixiu's Memories of Home can be found in the neighbouring Jurong Lake Gardens, but make sure to get up close to see the individual mosaic pieces!
Ho Ching Road
Location: Blk 111 Ho Ching Road, exterior facing the mini circus
This community mural features leaves from the nearby Jurong Lake Gardens painted by the artist Haikel Yusuff and Taman Jurong Residents. What's cool about A Leaf A Day is that it is an Augmented Reality (AR) work – scan the QR code next to the artworks and an IG stories filter pops up which sees the leaves spinning around and moving.
---
Jurong West
Besides the collection of works in Taman Jurong, some other hidden gems in the surrounding Jurong West area to look out for:
Gek Poh Shopping Centre
Location: 762 Jurong West Street 75, next to #01-322 on wall facing Jurong West St 75
AdNate is an Australian street artist who specialises in these beautiful and very realistic portraits of people – this work on level 1 of Gek Poh Shopping Centre is perhaps a bit more unusual because it focuses on hands instead of faces. Makes you wonder whose hands these are and what they are asking for?
Besides another work he has nearby which I'll talk about below, he also has another very impressive 12-storey high work on a Clementi HDB Block. All these works were created in 2015 for 50 Bridges.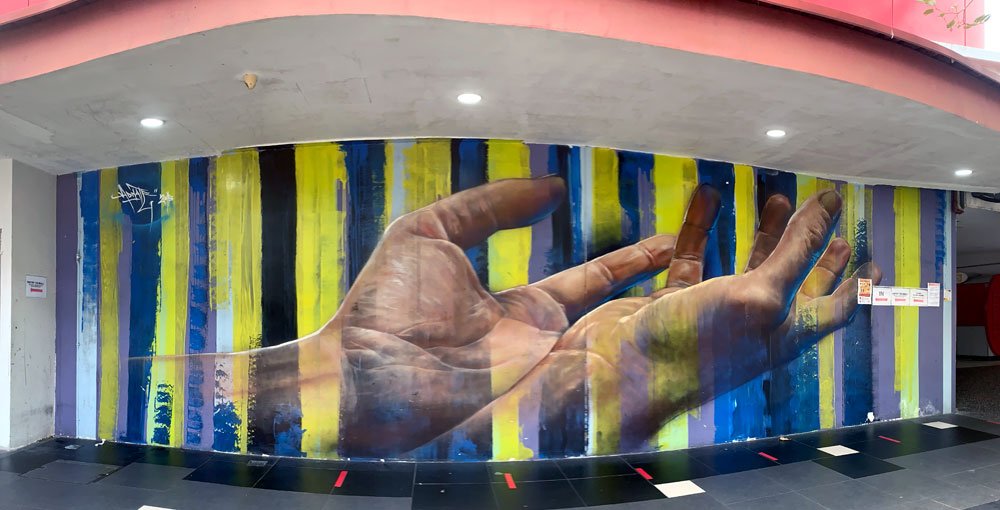 Picasso/Cubism void Deck Art Gallery
Location: Blk 749 and 750 Jurong West St 73, void deck closer to Gek Poh Shopping Centre
Some of Singapore's ubiquitous HDB blocks have been jazzed up with interesting designs and murals, but this particular endeavour is quite unusual. Non-profit group Social Creatives transformed a portion of the void decks of Blocks 749 and 750 Jurong West St 73 into a community art gallery. There are several similar void deck art galleries located around Singapore (like a pop art one in Holland, a Van Gogh one in Macpherson), but this one is focused on Spanish painter Picasso and the cubism art style.
I thought the choice of Cubism was a bit random – I kinda wish they picked more Asian/Local art styles to feature because Singaporeans know very little about our own art history (Given they are in Jurong West not far from Nanyang Technological University, the Nanyang art style would have been apt), but cubism definitely is an eye catching style, and they did make it more local by choosing local subjects to feature.
Pioneer Mall
Location: Blk 638 Jurong West St 51, exterior wall facing Jurong West St 61 next to loading bay/carpark entrance
Another work by AdNate, and this time it's one of his signature portraits. He usually paints a lot of indigenous Australian people, but for Singapore his chosen muse was a Singaporean polytechnic student – read more here – how cool is it to have your portrait immortalised on a giant wall by a famous artist?
---
Jurong East
Jurong East Central
November 2021 saw a fresh slew of murals added to Jurong East Central thanks to Arts in your Neighbourhood. Curated by design agency Tell Your Children, this project is meant to convey the history of the Jurong area through the murals found around the town centre.
Location: Blk 21 Jurong East Central 1, side wall of Jurong Regional Library facing J-Cube
Wu Yanrong's mural of a giant prawn is a callback to this area's history of prawn farms that were set up in the nearby rivers and spanning up to 500 acres in the 1950s – Fishing was big business in Jurong back in the day! I love the Chinese calligraphy feel which is a style often seen in her other work – check her out on IG painting this piece with an actual broom as a brush.
Location: Blk 135 Jurong Gateway Road, in front of Cash Converters #01-135
This cheery dragon is a representation of the dragon kilns that were used to fire bricks and earthenware found in the Jurong area. There were 20 kilns at its peak and now there are just 2 left – Thow Kwang and Jalan Bahar Clay Studios (former Guan Huat) – which are mostly used to fire ceramic pottery. The artist Nur Aida Sa'ad who also goes by Yellow Mushmellow is a pretty prolific illustrator with a very cute style.
Location: Blk 133 Jurong Gateway Road, near #01-277 (facing Blk 135)
One landmark that is very iconic in Jurong is the Jurong Bird Park at Jurong Hill, covering just over 20 hectares though and is the largest bird sanctuary in Asia. With 50 years of history to its name, it will sadly be rebranded as Bird Paradise in the near future and move to Mandai with the rest of the Zoo properties. Visual artist Mightyellow aka Adeline Tan's mural is inspired by Jurong Bird Park and showcases a number of the birds that you can find there. I'm loving the overall colour palette here.
Location: Blk 133 Jurong Gateway Road, near #01-303 (near Western Union)
What looked to me like a forest at first glance turned out to be another dragon, yet another reference to the dragon kilns which are also referred to as sleeping dragons. Interestingly, this particular piece by Phua Juan Yong isn't painted directly on the wall nor on a canvas – it's printed out because he's actually a digital artist who created this in VR and managed to mimic traditional hand painting techniques quite realistically!
Location: Blk 130 Jurong Gateway Road (open air carpark, loading bay area)
Lee Wan Xiang's mural is a tribute to the early days of Jurong when it was more agricultural and covered with plantations before the factories and industrialisation moved in. Some of those plantations can be seen here: Gambier, nutmeg, pineapple and pepper. It's really hard for me to imagine nowadays what Jurong must have looked like back then.
Location: Blk 131 Jurong Gateway Road (pillar facing CPF building)
Tell Your Children have a pillar with 3 sides with various scientific themes like nature, space and electricity that pay subtle homage to another landmark in this area that most Singaporean students would have visited at some point in their lives: The Singapore Science Centre that was first opened in 1977.
Location: Blk 130 Jurong Gateway Road (carpark entrance)
The main carpark entrance to the J-Connect area has 2 murals on either side. Chong Wah's mural here is a tad more abstract but sharp-eyed folk might be able to recognize some of the major landmarks from around the Jurong area here. Things like Raffles Marina Lighthouse, Jurong Bird Park, Jurong Town Hall, Jurong East MRT Interchange…. anyone spot anything else?
Facing it is this work by Jufri Hazhar or Has Juf which has quite a lot going on in it – can you spot the way the characters form the word 'Jurong'? It's also meant to show a portal of present day Jurong (left) connecting with the past (right) though quite honestly it's a tad abstract to me.
---
Works I missed
Verdant Monsters and Free Robots Playground by RSCLS + SPAZ: The courtyard of the famous diamond block (actually not 1 but 4 blocks – 63-66 Yung Kuang Road. It also has a rather morbid reputation) where there is a work by RSCLS was not accessible when I popped by in Aug 2020. I thought perhaps it was undergoing construction but apparently they've been empty for awhile and are now used to house foreign workers during the whole COVID situation? That would explain the security on site…
Taman Jurong Market and Food Centre: There are apparently 3 murals from the NEA Our Hawker Centres project here – they're not listed in the e-book but they are featured in the Of Gardens and Dreams brochure. I couldn't find them on levels 1 and 2, maybe they are on level 3? I was pretty beat by the time I made it back here so I forgot to check…
---
Other things to do in Jurong
For foreign visitors or even local Singaporeans who want a reason to visit the west, some other things to do in Jurong that you can add to your itinerary. It's not the most convenient spot if you don't live close by, so why not make a day of it and check out some other sights. Check out the Jurong Heritage Trail map to see some of the historical spots around here.
My personal recommendations:
Jurong Lake Gardens – I will admit that I haven't visited the revamped gardens properly, but from what I've read about it, it sounds like a beautiful place for a ramble. I'd mostly known about it as the Chinese Gardens, but it's a lot bigger than I expected.
Jurong West Swimming Complex and Jurong East Swimming Complex – for those of you looking to cool off on a hot day, these public swimming complexes are a cheap and fun option to consider. I hardly swim unless I'm in the sea these days, but when I was researching for my other articles I found out that these public swimming complexes have SLIDES. and LAZY RIVERS. It's not an adventure theme park but if you're on a budget or your kids are too young to really enjoy thrill rides, this isn't a bad option.
---
Looking for more street art in Singapore? Check out my Singapore street art guides below for more, or see where else in the world I've found amazing street art.