Last Updated on 2 January, 2023
I'm a big fan of hot springs and onsens in general – trips to Taiwan and Japan aren't complete without soaking in nature's hot tubs of mineral goodness. But did you know that tiny Singapore has its very own natural hot spring? You have to go way up north to find it though, and it isn't quite like other hot spring facilities that I have visited overseas, so I put together this little guide about Sembawang Hot Spring Park to tell you how to get there and what you need to bring with you.
Before we dive into things: don't go up to Sembawang Hot Spring Park expecting a hot spring resort, or even pools for bathing in. This spot used to just have a tap in the ground, but the National Parks folk have spruced it up into something a little nicer when they refurbished and reopened it in early 2020. The park is also pretty ulu (out of the way) for most people, so I'll recommend some other things to do in nearby Sembawang and Yishun that you can consider doing to make a day trip of it.
Want to see what else there is in Sembawang? Read my post about the history, nature and other things to do in Sembawang
Note that the park may be affected by COVID regulations. For official information, check out the Nparks Sembawang Hot Spring Park page.
There is no better time to explore Singapore a little more and show you guys some of the more unusual sides of my home country. For fellow grounded Singaporeans who might not be able to travel and are wanderlusting hard, take the time to appreciate some of our own sights in the meantime.
What's so special about Sembawang Hot Spring?
Sembawang Hot Spring is actually one of two natural hot springs in Singapore, but the only one that is publicly accessible. The other natural hot spring is located on Pulau Tekong, an offshore island used for military training.
The hot spring has had a fairly colourful history since its discovery in 1909 which you can read more about on the history on Infopedia, where the water was bottled for sale and briefly turned into an actual Japanese bathhouse during World War II. The hot springs were nearly closed when they wanted to expand the neighbouring Sembawang Air Base, but public outcry persuaded them to leave the area alone. Have a look at some fascinating old photos of the hot springs on Remember Singapore and see how the hot springs have been developed since its early beginnings as a well and a couple of taps.
The water is apparently safe for drinking, with old reports describing the water as an 'alkaline siliceous type with a trace of lithia' and similar to other types of mineral water springs around the world. More recent tests by The Sunday Times in 2002 show that the water is indeed more alkaline thanks to higher concentrations of chloride and sulphide. I didn't actually try drinking the water here but there aren't any signs dissuading you from it…
The local belief is that the minerals in the water have curative and medicinal qualities and cure ailments like rheumatism, arthritis and even skin problems like acne, which is what keeps some Singaporeans coming back here religiously. Others believe having a soak would bring them good luck when betting in horse racing.
My intrigue with Sembawang Hot Spring was piqued because I've always associated hot springs with countries that have more plate movement and volcanic activity, so for Singapore – famously safely sheltered from most tectonic natural disasters – to have a hot spring was a fascinating idea to me. I'd heard about the place before the recent redevelopment but never actually got around to exploring it because I couldn't be arsed to find my way there for the sake of seeing a tap in the ground, and I've also been spoiled by places like Taiwan and Japan which have absolutely spiffing hot spring experiences. I do think it's nice that they've spruced up the area into a park yet made efforts not to over-commercialise it either.
Where is Sembawang Hot Spring Park?
Sembawang Hot Spring Park is located at the junction of Sembawang Road and Gambas Avenue in Singapore's north, not far from Chong Pang Town Centre. It's actually closer to Yishun than Sembawang in my opinion.
This area is mostly residential with nearby estates like Yishun, Chong Pang and Canberra, or military with Sembawang Air Base right next door – there were chinooks and other helicopters flying overhead throughout the morning I visited. Khatib and Chong Pang army camps are nearby as well. Foodies will also know some famous eateries to visit in the Chong Pang area which I will detail further down in this post.
Address: Gambas Avenue
Opening Hours: 7am to 7pm daily.
Handy Google Map with some of the landmarks mentioned in this post marked out for you:
---
Sembawang Hot Spring Park Features
I visited the Sembawang Hot Spring Park with my family in September 2020. It was both a Friday and a school holiday so there were lots of children about, but thankfully it wasn't crazy crowded because of its remote location and the ongoing COVID concerns. We reached the park at about 845am and left around 10am because we had to run some other errands, but we probably could have stayed a little longer though it was starting to get pretty hot.
If you're planning to visit for yourself, here's a rundown of what you can see at the park starting from the entrance, as well as my personal tips for a better experience.
Floral walk
There is a single paved and wheelchair-friendly pathway complete with imprints of leaves that leads from the main road entrance into the actual hot spring area. This Floral Walk was a part of the NParks revamp and highlights various edible plants and fruit trees that were commonplace in Singapore's villages back in the day – my mum could easily identify many of these plants, but for the rest of us city-kids, the plants are labelled so you can learn the names of the plants you are looking at.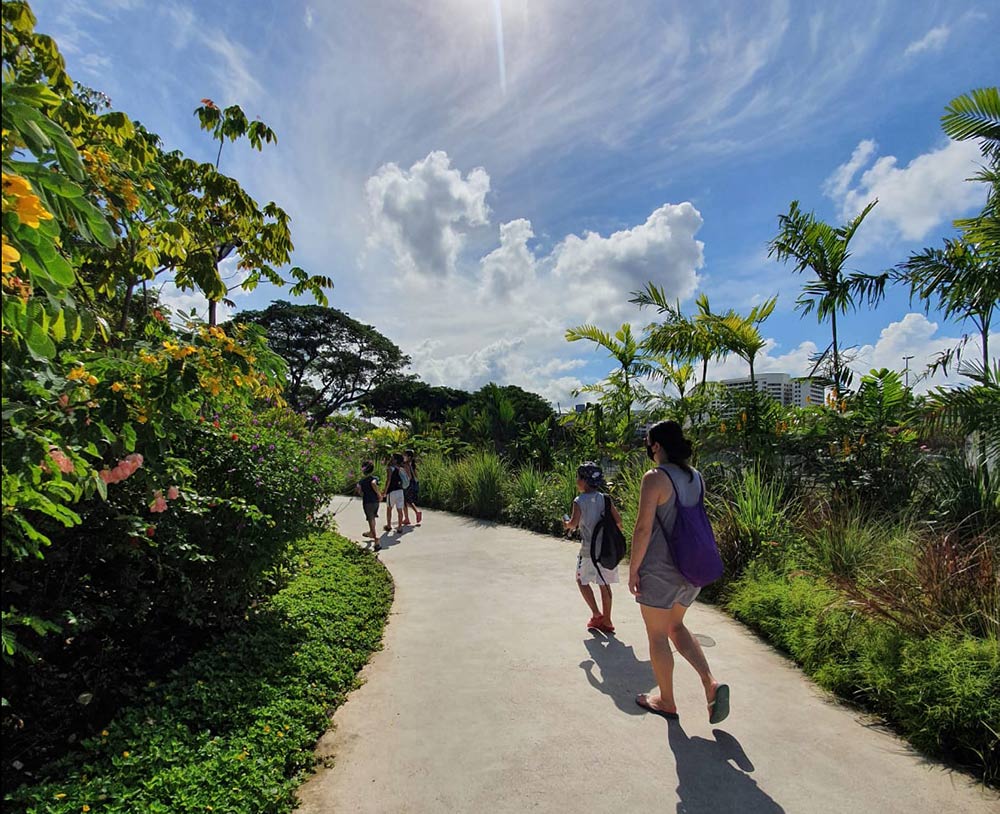 Take some time to poke around the site and enjoying the landscaping. While the flowers and lush greenery are pretty, there is one very large banyan tree that you can't miss as you approach the foot bath area purely because of its impressive display of hanging aerial roots. If you are limber enough you can even climb up a little, but most people prefer to sit around underneath the tree and the surrounding lawn area with their buckets of water.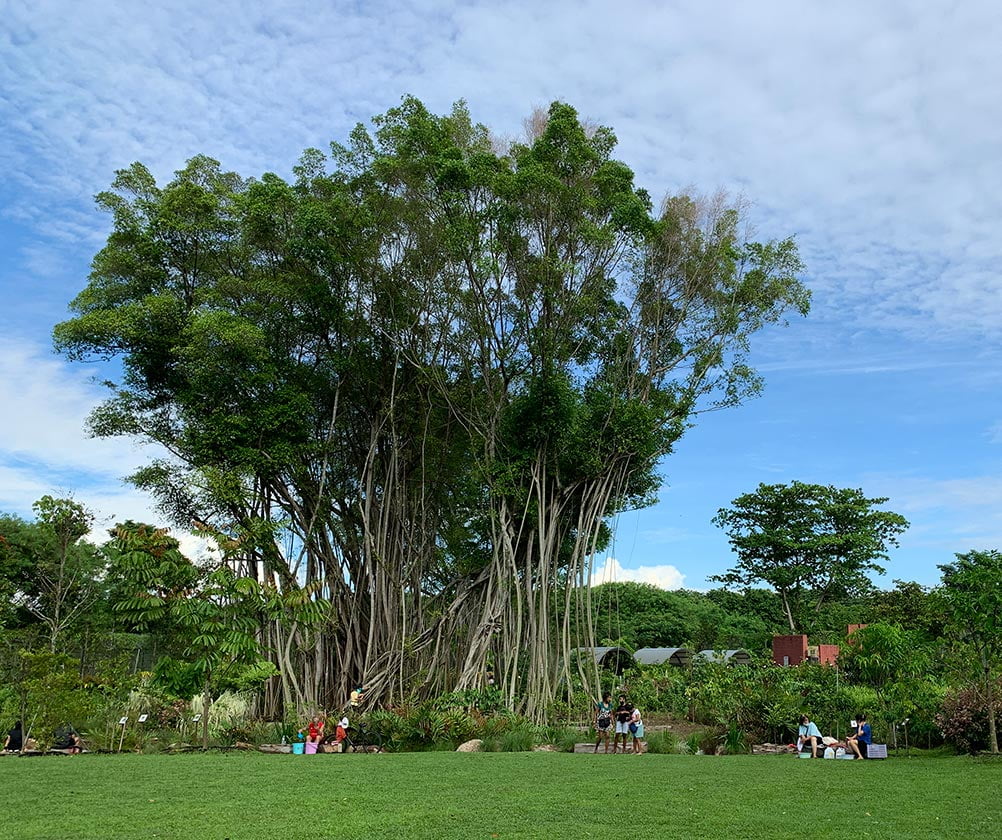 Sembawang Eating House
Along the Floral Walk is a little building with glass walls that houses the Sembawang Eating House, a small eatery where you can get simple local tze char dishes like pan-fried beehoon and fried rice as well as stir-fried veggies and a variety of seafood and meat platters to sate your hunger after a pleasant foot bath. You can also rent/buy a bucket here if you forget to bring your own (It's pretty expensive though, definitely recommend bringing your own bucket if you can), or purchase raw eggs to cook at the hot springs.
I was a bit short on time that day, but they have quite a wide selection of food and prices from their online menu look pretty reasonable. It does look like a nice place to eat and chill out at while enjoying the greenery.
Opening hours: Tuesdays to Sundays, 815am to 8pm.
Other amenities: Toilets, bicycle parking
Cascading foot bath pool
The foot bath is the main highlight of the park, and if you're lucky you can score yourself a seat right around the bottommost pool to sit around and soak your feet (no bathing in the common pools allowed! This is not an onsen). With social distancing right now, there aren't that many seats available, so you either need to wait around a bit or scoop the water into your bucket and find your own corner of the park to enjoy your soak.
Hot tip: There are some shelters next to the pools, and other assorted benches and seats scattered around the park, but some of these spots are shadier and more coveted than others, so keep an eye out for where the older folk who look like regulars are seated because they know where the best spots are. Also, bring an umbrella along just in case because boiling both your feet and your face at the same time isn't that fun.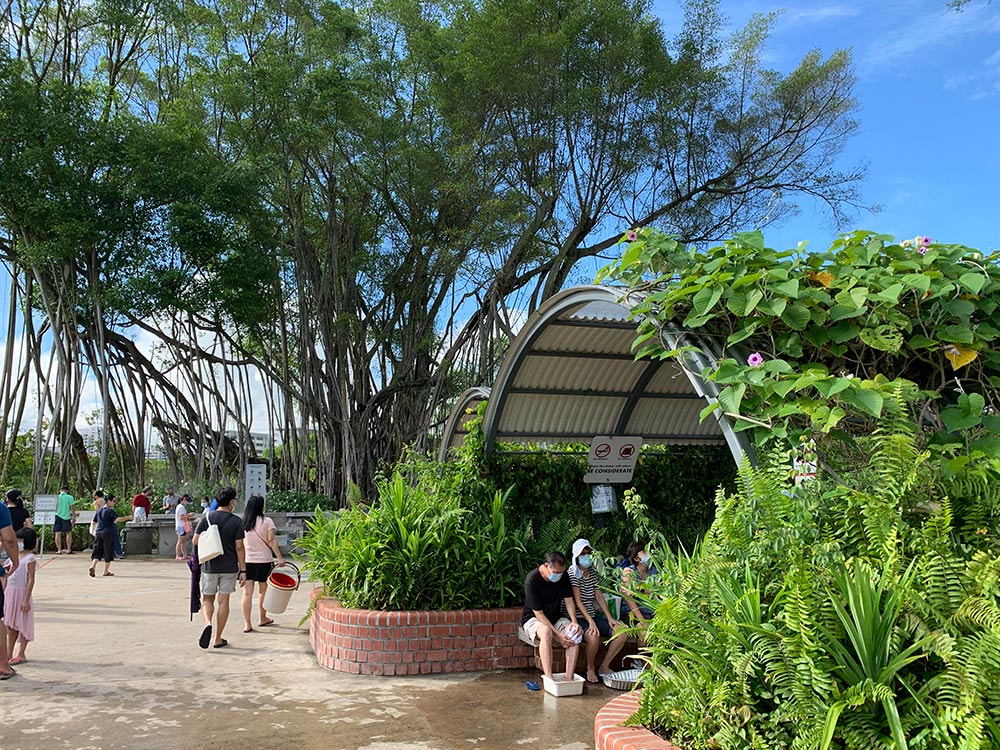 Note that the cascading pool design isn't just for aesthetic purposes – the water that is drawn up directly from the ground is about 70ºC, and as the water cascades down to larger and shallower pools, the temperature of each pool drops incrementally until it is a rather balmy 40°C at the lowest level, which is where you can sit and stick your feet in. Personally I find it's still a tad too hot for my liking (especially in our tropical climate), but it is bearable enough for me to stand in for awhile.
Actual hot tip: The information above is important especially if you're scooping water for your own bucket – if you don't want to cook your own feet or spend a long time trying to cool down your water, I'd suggest sticking to scooping from the lowest two levels (40ºC and 45ºC respectively). Otherwise you'll be like the family sitting next to me that filled an actual portable bathtub full of 50ºC water and spent more time trying to cool the water than anything else. There are taps with non-hot water around the park that you can use to rinse off or help adjust the water temperature to your liking.
Egg cooking station
Further inside the park is another stone structure with taps of flowing hot spring water at 70ºC that you can use to cook eggs. In other hot springs overseas I've seen people cook vegetables and even prawns as well, but here it seems to just be eggs. You will need to bring your own raw eggs to cook, and I highly recommend bringing a few extra eggs even if you are on your own just in case you are clumsy and can afford a bit of room for error (real story: I brought 2 eggs to a hot spring in Taiwan and dropped one of them and was mildly devastated).
Hot tip: You will need your own container to hold the eggs, ideally a cup or container with a long handle so you don't burn yourself extracting your eggs from under the taps.
Depending how you want your eggs done, it can take quite awhile to cook as the water isn't quite boiling temperature. We put our eggs under one of the taps for about 20 minutes and had some lovely runny half-boiled eggs, but if you want something more cooked it'll probably take around 30 minutes or more. Again, bring your own soya sauce and pepper, as well as a bowl/spoon to eat with.
---
How to get to Sembawang Hot Spring Park
By car
If you are driving, note that there is no parking at the park itself.
You will need to park at the open-air public carpark at Blk 114 Yishun Ring Road. From there, walk towards the major road junction where you should see small brown signs pointing you towards the hot spring park. Just cross the road towards Gambas Avenue and you should spot the entrance on your left. It's about 400m walk from the carpark, an easy 5-10 minute stroll and you'll probably spot other hot spring goers by the buckets that they are carrying.
By MRT
The closest MRT options are Canberra (NS12) or Yishun (NS13). You can then walk about 20-25 minutes from either station (roughly under 2km) to the hot springs park.
If you want to take a bus to save yourself some walking, head to Yishun MRT and take either 858 or 969 for 4 stops to the bus stop opp Blk 115B Yishun Ring Road (Bus Stop 57121).
By bus
The closest bus stops are along Sembawang Road:
Bus Stop 57129 – Blk 114 Yishun Ring Road
Bus Stop 57121 – opp Blk 115B Yishun Ring Road
Buses that serve these stops:
167 / 167E
800
811A
856
858A
859
969
980
By cycling
Cycling is a pretty popular way to visit the parks – there are yellow boxes within the Sembawang Hot Spring Park near the toilets and the bathing pool where you can park your bicycle. If you are looking to link up to the Park Connector Network, head down Yishun Avenue 7 towards the elevated MRT tracks where you can get on the Yishun Park Connector near Yishun Neighbourhood Park.
---
What's nearby
I've added these landmarks to the Google Map on the top of the post to help you plan your route. Also, check out my post about things to do in Sembawang, including hunting down some WWII artefacts and visiting one of Singapore's last natural beaches.
Heritage / Activities
The National Heritage Board has a pretty detailed guide to Yishun and Sembawang with background about landmarks and history in the area. This area was formerly full of rubber plantations and there are several small shrines and buildings scattered around; while it might not attract international visitors looking for more wow-type attractions, local Singaporeans looking to learn more about the area and heritage may find it interesting.
You could sign up for a guided historical walking tour to learn more about Yishun and Sembawang on Klook [affiliate link].
Those who like architecture might enjoy taking a stroll in the neighbourhoods on either side of Admiralty Road East to see the Colonial Black and White bungalows en route to Sembawang Park. These bungalows used to house commanders from the nearby naval base and shipyard. Read more about which roads to check out here.
Cycling
NParks has a Northern Explorer Loop Guide that covers cycling around Admiralty, Woodlands, Sembawang and Yishun along the Park Connector Network if you want to explore more of the northern district. You could technically cycle from the Central Catchment area near the Singapore Zoo in Mandai all the way up to Sembawang Park on the Northern Coast and get a good workout with a stopover at the Sembawang Hot Springs along the way.
Nature
Some parks worth checking out in the area include:
Sembawang Park: Next to Sembawang Shipyard and home to one of the few natural beaches left in Singapore and the colonial-style Beaulieu House which now houses the Beaulieu House Restaurant and a view of the Johore Straits. Read more in this post.
Yishun Park: Built on an old rubber plantation, Yishun Park is also home to the Dipterocarp Arboretum, which is basically a fancy way of saying they have over 800 Dipterocarp trees spanning 70+ species growing in the park
Yishun Dam: It's also known as Seletar Dam because it spans the mouth of Seletar Reservoir connecting Seletar to Yishun. It's a pretty picturesque spot
Lower Seletar Reservoir Park: Lots to do for those who like water sports as well like kayaking and fishing [Water activities currently suspended due to COVID, check website for updates]
You can join a half-day kayaking tour that starts from Sembawang Beach to get a different view of Sembawang [Klook affiliate link]
For something more unusual, sign up for a mangrove kayaking session with Kayakasia to explore the waterways of Sungei Khatib Bongsu – this actually looks pretty cool and something I'd consider doing!
Food
If there's one thing Singaporeans are willing to travel for, it's food! Sembawang Hot Spring Park is located close to famous local food spots worth checking out. Take a food tour and end it off with a nice foot bath:
Chong Pang Nasi Lemak: It's a popular supper spot because it opens from 5pm to 7am the next morning, and famous for their crispy chicken wings. 47 Sembawang Road, Singapore 758404
White Restaurant: They are known as the original creators of the Sembawang White Beehoon dish and are especially packed on weekends. So popular that there are now several outlets across Singapore. The white beehoon is pretty yummy and surprisingly filling! 22 Jalan Tampang, Singapore 758966
Beaulieu House Restaurant: Located in Sembawang Park, this restaurant is housed in a beautiful old Colonial building that's over 100 years old. Has a mix of Chinese and Western cuisine and considered a bit pricey. The ambience and view of the Johore Straits is the main draw.
Ice cream: If you need an ice cream treat to cool down, you have several artisanal options here: Daily Scoop is near Chong Pang Nasi Lemak, Holy Cow Creamery close to Yishun Park and Just Because Creamery near White Restaurant
What did I miss out? Let me know so I can add to this list!
---
Can't get enough of Sembawang? Check out my post on the heritage and nature that you can find in Sembawang. If you are looking for more unusual places to explore in Singapore, check out some of my recommendations below, or see all my Singapore posts.