The local Peranakan culture has always been a little bit foreign to me – it's a unique part of Singapore's multi-racial diversity, a result of Chinese immigrants intermarrying with the local Malay residents found in the Malayan straits, developing an distinctive culture that included strong European and western influences from colonisation during that period.
I'm a 3rd generation Singaporean whose family is pretty western-influenced and my ancestry is mainly Chinese from the southern and eastern ends – I knew some bits of Peranakan culture that have woven themselves into Singapore's cultural fabric, like walking around the Joo Chiat area and eating delicious colourful kueh-kuen desserts, and of course watching the uber-popular Little Nyonya TV show back in 2008, but I probably wouldn't have been able to tell you very much more than that.
When I was invited to visit The Intan a few weeks ago, I was quite keen to check out this Peranakan museum for myself – The Intan recently won the 2016 Singapore Tourism Award's best tour experience for its Intan Signature Tea Experience, so I was curious to see what visitors looking to get a more local insight to Singapore would see.
One expects a museum to have a certain sort of grandeur – expansive high ceiling galleries, chambers with echos, a certain grandeur. But when you visit the Intan located at 69 Joo Chiat Terrace, you'll find instead a rather unassuming looking house with a mish-mash of potted plants cluttering its front yard, nothing quite like a stereotypical museum at all. The only sign that something is a little different about this shophouse is an actual old Singapore road sign – JLN INTAN – posted right above the doorway.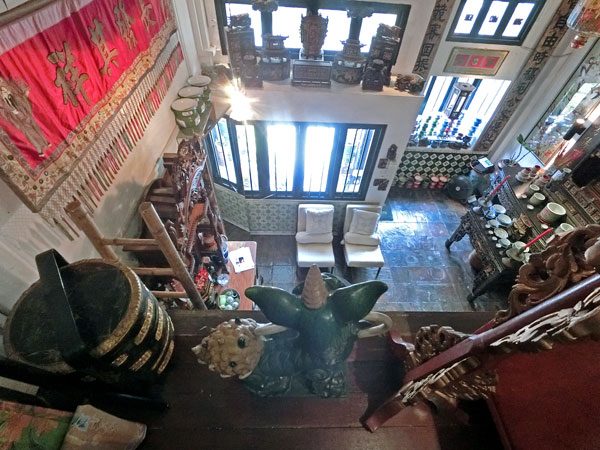 As you step into the doorway of the Intan, it feels a little bit like finding your hoarder Grandma's secret stash of antiques – multiplied by a hundred-fold. The open layout and mirrors create a sense of space in an otherwise narrow 2-storey shop house unit, but the sheer amount of things you can see at a glance is fairly astounding. Two neat rows of pots and enamelware line the stairs in lieu of a railing, dark wooden cupboards and sideboards inlaid with mother-of-pearl and ornate carvings are filled with figurines, and the kitchen ceiling is covered entirely with a sea of traditional tingkats.
Welcome to The Intan, Singapore's smallest museum and as its owner Mr Alvin Yapp likes to say, a bit of an accidental one at that. What started out as his hobby of collecting old Peranakan antiques at the young age of 15 and a way to explore his roots has morphed into something far more than he could have ever imagined. After numerous requests from friends and family to show and tell about his growing personal collection, Alvin decided to turn his home into a museum back in 2003, though it was only 4 years later that he would move to the current premises in Joo Chiat Terrace, not coincidentally located in a traditionally Peranakan neighbourhood
The Intan is a museum, but what distinguishes it from any other establishment is that it is a lived-in home – Alvin's home. Unlike traditional museum galleries, there are no placards or signs up to give you more information about the various artifacts all around the house, but ask Alvin about anything you see and he'll gladly tell you all about them, whether it's how he came to acquire the item or what the item's significance to Peranakan culture is. The tour-portion of this experience is less an information session about the Peranakans and more a collection of Alvin's stories and insights on Singapore's history and the art of antique collecting through his artifacts.
It seems like you can find just about everything in his house – look out for the rows of intricately beaded Peranakan slippers, and stop to consider which cultures exactly influenced the different furniture around the house. Unfortunately, few of the items in Alvin's collection actually belonged to his family – nostalgia and preservation was not as important as it is today – but the amount of history in the memorabilia that surrounds you is quite something.
Most people's favourite part of the hour-long Peranakan Tea experience is after the tour bit, where you get a chance to sample traditional Peranakan snacks like nyonya kueh and kueh dada prepared lovingly by Alvin's mother, and served on dainty crockery which feels almost too pretty to eat off. If Alvin is in the mood and his sister Cheryl is around, you might even get him jumping onto the piano and a local song or two.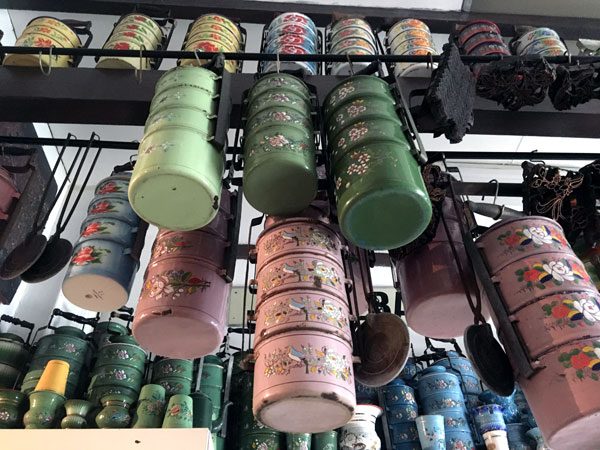 For visitors to Singapore looking for a truly local experience with a personal touch or even local Singaporeans who want to learn more about Peranakan culture, I highly recommend you give the Intan a shot. It's less a typical museum and very much more a short immersion into a part of Singapore's culture, so good for those who want more personal stories in an intimate and authentic setting.
The Intan is only open by appointment – It costs $45 per person for a min group of 6, so you need to book ahead to ensure availability of slots or that Alvin is in town – see contact details here. The Intan also conducts customised experiences for private events as long as they are Peranakan related!