The last time I was anywhere near Tioman, I was doing a live on board scuba diving trip on a dinky little boat. Cramped down in the hull in a bunk bed dorm next to the hum of the engine, I've since decided that I'm a little more willing to pay for some comfort these days. So when the Berjaya Tioman Resort invited me to check out their refurbished hotel, I was definitely excited to make a long awaited trip back to Tioman and see what it'd be like living the high life on this beautiful island for once.
My stay at the Berjaya Tioman Resort was sponsored by the hotel. All opinions are my own.
I wrote about things you can do on Tioman besides scuba diving for The Straits Times – read the online article at ST [paywall].
Location
South Tekek
Berjaya Tioman Resort is located in Tekek, the largest village in Tioman and where most of the administration and amenities are located. The resort takes up about 200 acres of land to the south of the village.
The resort is easy to get to as the public ferries (Bluewater & Cataferry) stop at Tekek. It's definitely more convenient compared to some of the other resorts in more remote villages that require a separate water taxi transfer or private ferry arrangement.
The resort is about 20mins walking distance from the ferry terminal, though I wouldn't say it's easy to walk and and from the village as there's a small steep hill in between. The hotel can drop you via car/van at the ferry terminal and main village area if requested.
Hotel
Kampung Style
Berjaya Tioman Resort opened back in 1985 so it is one of the older villages on the island. Occupying a massive area along the Tekek coastline, the resort is practically a village in itself which is what I think the design was inspired by.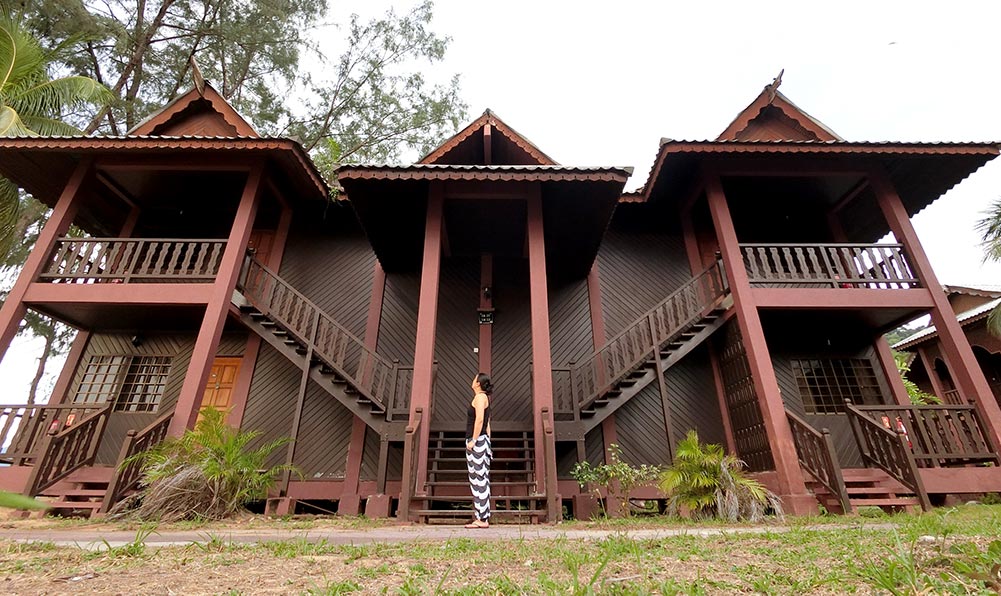 The main building and the individual chalets and duplexes are built like typical wooden Malay houses with sloping roofs and raised floors on stilts and seem to be grouped in little clusters, which makes it great for families and groups booking multiple rooms as there are no large family-style suites or rooms – each room only houses 2 people though you can add 1 extra bed if you need to.
*That said, there are 2-bedroom chalets marked on the resort's map though it's not reflected in the website
Even if you can't get a beachfront view which are the most expensive rooms, the mountain view or garden chalets has a nice green view, though some of the Garden rooms are quite far away from the main reception and required buggy transfers if you don't want to walk.
Room
Comfortable
I stayed in Room 103, a Garden Premier Terrace room which was in the same block as the reception area. It's one of the larger rooms available and I liked that it was close to reception and most of the resort's amenities without having to call a buggy.
The room itself was spacious with two queen beds and a sofa set to rest on. There was a small table in the corner where I spent some late nights banging out some writing, and for entertainment there is a large tv with Netflix. One sign of the resort's age is its power outlet situation – there were outlets at both the work table and the dressing room table, but not any right next to the bed, nor any sign of USB outlets either.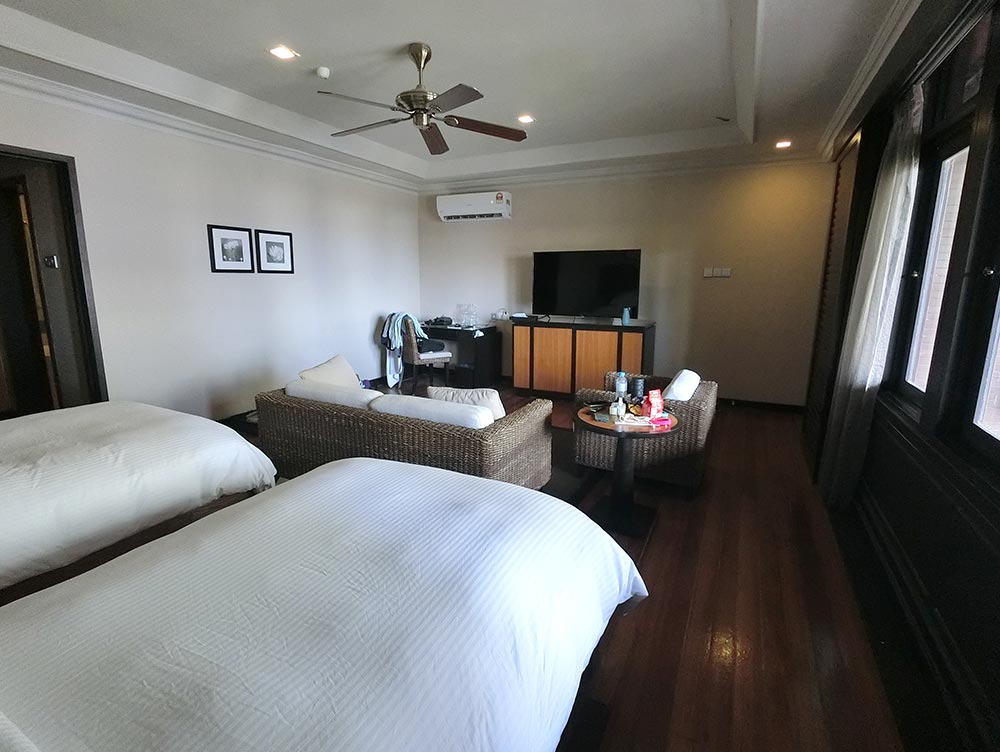 The toilet was long and spacious with an oddly large dressing room area where the wardrobes are. It had both bath tub and shower, 2 sinks, a sitting toilet and bidet next to it.
I like that the room had a nice outdoor terrace with chairs, but the sea view was mostly blocked by the very large recreation hall right in front of it. Also, would be nice if they had a rack to hang wet clothes out to dry on the terrace so we don't have to drape clothes on the railing.
Dining
Berjaya Tioman's main restaurant is the ASEAN All Day Dining where you can get breakfast on a basic package. I got to try the resort's new premium all access package (additional 500 RM per day) where you can get all three meals and tea including free flow drinks (beers, house pour wines and some hard liquors included!) – if you don't intend to venture out of the resort at all, this is something you can consider. The buffet dishes change every day and there is a variety of Malaysian and western dishes on the buffet and a la carte menu.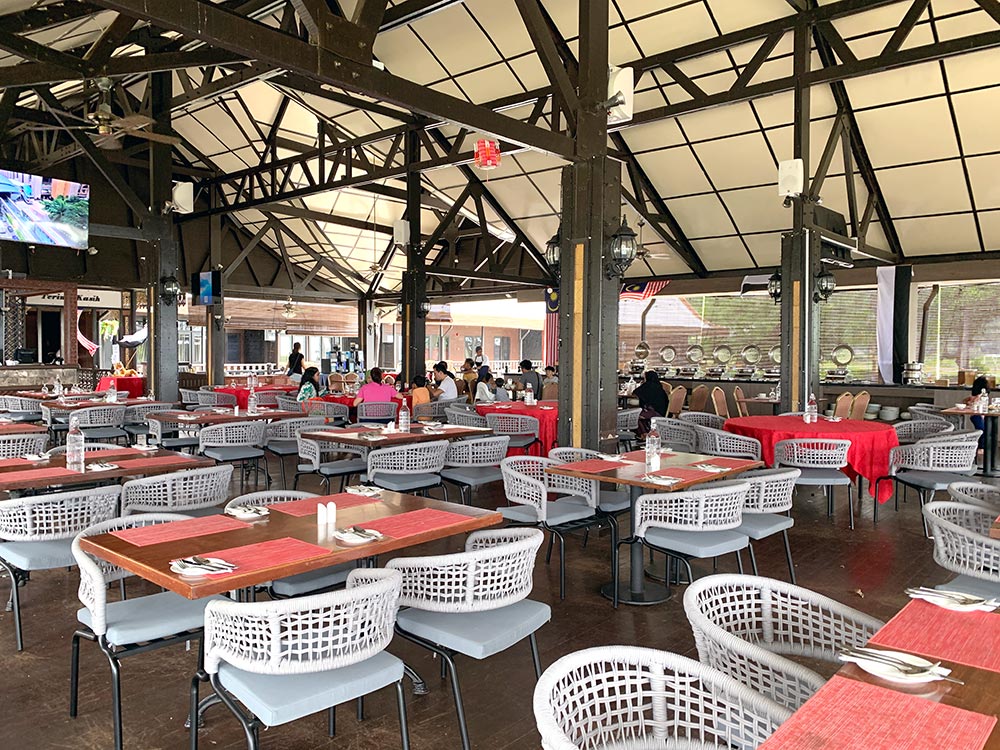 On Friday and Saturday nights, dinner is a more raucous affair as they have live BBQ grills with meat and seafood instead of the usual buffet food. The smell is pretty amazing throughout the resort then. Also, look out for the staff performing an actual fire show!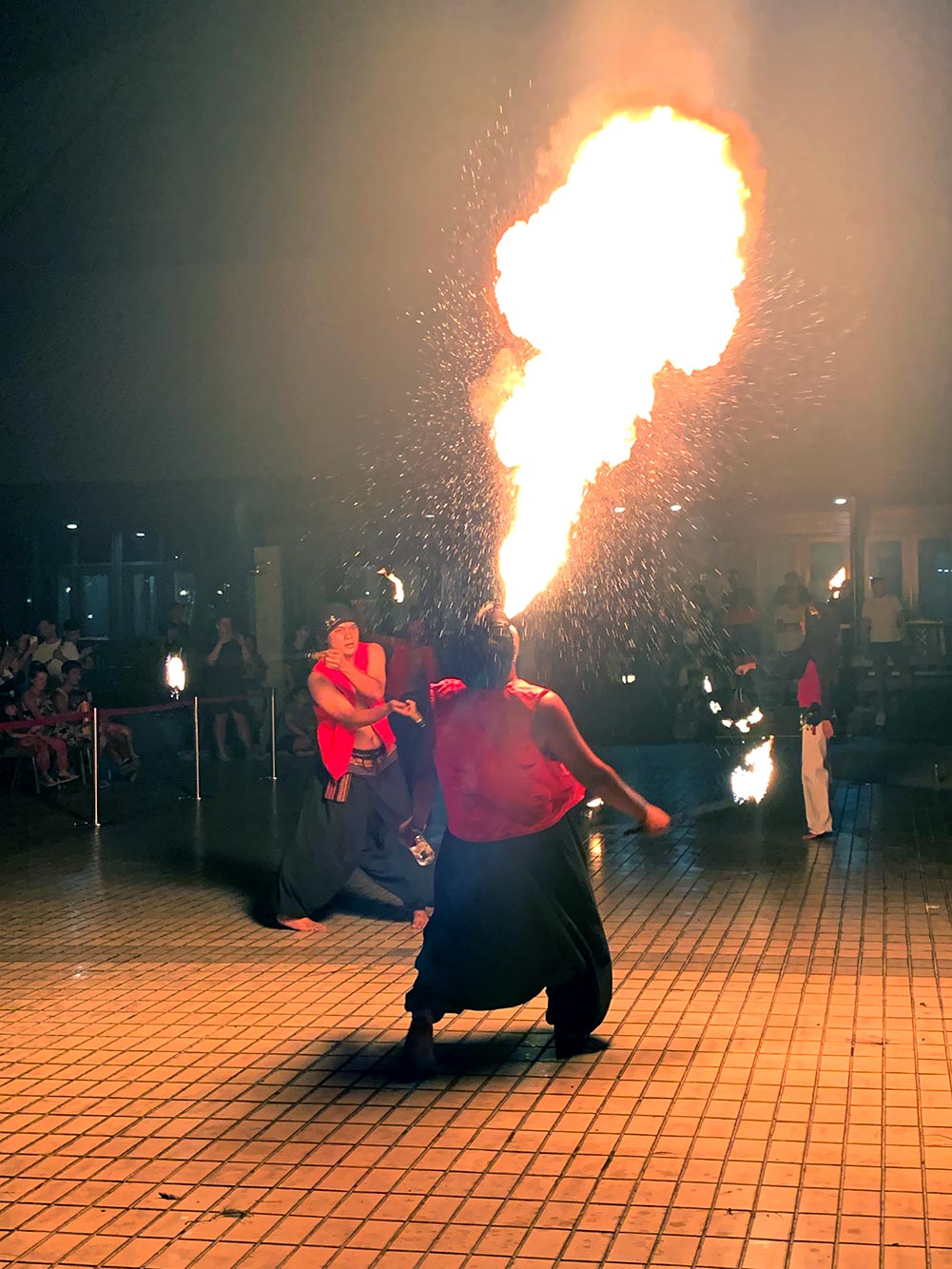 If you're in the resort for a special occasion, the resort can also customise some special meals for you. They kindly let me experience some of these too. First, breakfast on the beach if you're a morning person:
Berjaya Tioman Resort faces the west coast and its sunsets are its most spectacular natural sight. There is a little elevated space above the pool that's perfect for small parties or private dinners, where they'll even throw in some decorations along with a 3-course plated meal.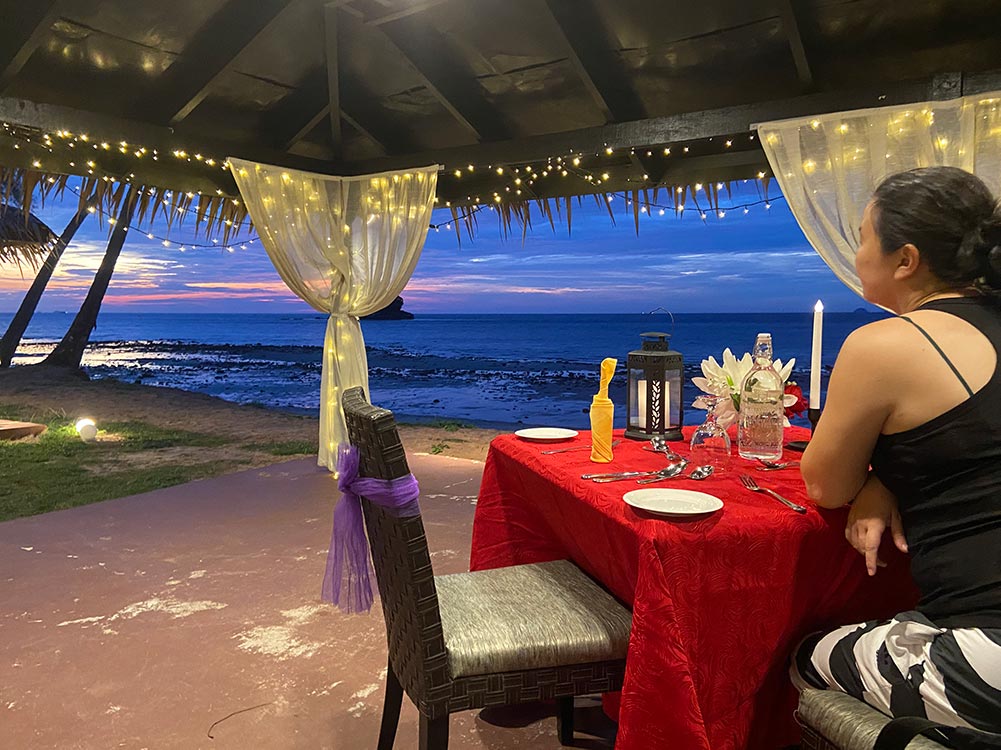 Beach + water activities
The beach is of course the main highlight of Tioman, and the resort has a great stretch of private white sand beach, though for all the beaches in Tioman: BEWARE OF SANDFLIES. The resort has a bunch of sprays with homemade sandfly repellent near the sand – spray that liberally on any exposed body parts. I mostly sprayed my feet but my upper thighs, arms and shoulders ended up quite itchy >_<
You can also rent a kayak or SUP board if you want a bit more of a workout, but I was happy enough just wading in the beautiful blue waters. You can also rent snorkelling equipment, though I'd recommend taking a snorkelling trip to nearby Renggis Island or somewhere further for better fish spotting.
Scuba Diving
The resort has started its own dive centre and one of its highlights is being just a literal stone's throw away from Renggis Island, one of the best spots for scuba diving and snorkelling in Tioman. Sea turtles and black-tipped sharks are regularly spotted in these shallow waters here that are about 10-15m deep.
I've dived in other parts of Tioman before and only had time for 1 dive on this trip, but still managed to see some turtles and make friends with some sociable pufferfish. The visibility was not super high, maybe 10-15m? Lots of small fish shoals as well here at Renggis Island.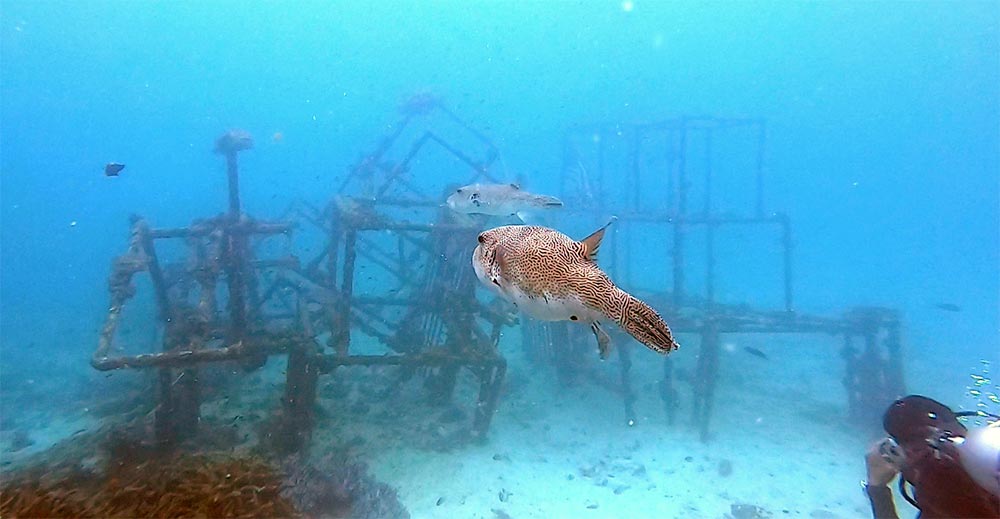 Tioman honestly is not a bad place to get your dive certification because there are enough fish and corals to interest newbies and water conditions usually aren't too difficult. Those interested in scuba diving usually stay along the west coast of Tioman – Salang up north is closer to more of the dive sites, though you can find lots of dive shops in Tekek, ABC, Paya and Genting as well.
Swim in the beachfront pool
If you're not a fan of sand, there is a lovely swimming pool area that faces the beach so you can enjoy a soak while still taking in the coastal views. There is a swim up bar so you can grab a drink while in the water, and deck chairs for lounging around the pool.
Other land activities
Yoga by the beach
One free thing you can do in the resort every day is to take a morning or evening yoga class in the beachfront pavilion. Just sign up, turn up and enjoy a serene stretch with sea views and hill views to wake you up. We did a 1-hour yoga session in the morning which was a refreshing way to start the day.
Movies on the beach
Tioman doesn't have much nightlife, so if you get bored at night, you could pop out to the movie nights that they organise on the beach. Just pull up a mat and some beanbags and catch what's playing – we had The Secrets of Dumbledore running when we popped by. There is Netflix in your room with a large TV if you want better resolution and sound, but it's nice just chilling out under the stars on the beach.
Taaras Spa
Kick off your trip with a relaxing massage, body scrub or wrap at the hotel's Taaras Spa. I had a pretty good 1hr deep tissue massage, though you can opt for aromatherapy as well. There is a cute little jacuzzi pool in the middle of the spa's garden area which was being cleaned when we were there unfortunately, but otherwise it has a really nice view of the mountains where you can soak and relax.
ATV Rides
You can rent bicycles, e-scooters and quadricycles to better explore Berjaya Tioman Resort's massive 200 acre compound, but I thought the ATV ride was actually one of the more fun things you can do. We got a quick primer on how to handle the ATV right at the start, and then we followed our guide south past the golf course…
… all the way to the Condotel property at the end of the mostly paved road. From there things get a bit dicier as the gravel road becomes more rocky and you have to be quite careful to not steer yourself off the downward sloping path.
But in the end, you are rewarded with a lovely secluded beach known to the locals as Bunut Beach, though it was renamed TAT Turtle Sanctuary later on. There's no sanctuary here now though – you have to head to Juara if you want to see the actual turtle centre. There is an abandoned hut here so maybe there were activities here before, but now it's just a very lovely quiet stretch of beach where you can attempt to ride your ATV on sand (just don't get stuck in a sand pit like me…)
You can't ride your ATV beyond this beach area because of the thick forests. More on that next…
Jungle Trekking
One of the things I was definitely curious about was jungle trekking in Tioman. I've spent way more time underwater than on land in Tioman to date, so it was nice to be able to actually explore its forests. Because of our limited time, the resort arranged for one of their staff to take us on a short hike from the southern end of the resort to the neighbouring village Paya.
This particular hike is something you'll probably only be able to do with the Berjaya Tioman Resort as it passes through their private property, but some of the other villages are linked by jungle paths as well.
We saved a fair amount of walking by getting a lift on the buggy as far as the Condotel property that's perched on the cliffside, and from there we walked along the dirt paths, past Bunut beach until we reached the forested area. This part requires some climbing, but there is a trail marked and some handholds and ropes at the steeper bits to help.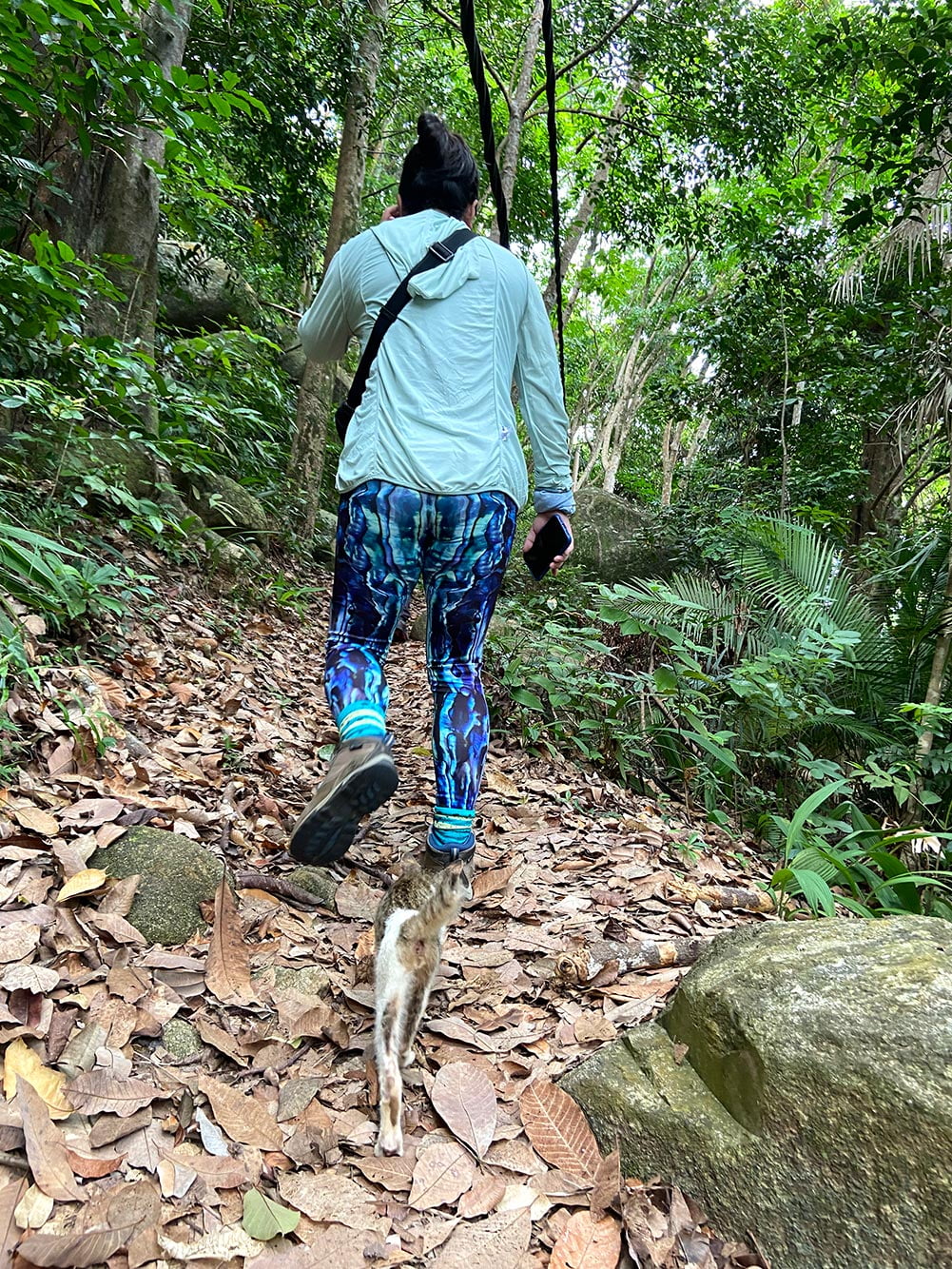 The crossing didn't take that long – about 20-30 minutes of walking and climbing up and down the hilly forested ridge later, we found ourselves in the village of Paya!
Over there, we took another trek to see some interesting things around the area. First up: the rock falls.
After a longer walk through the forest (ATV is also an option if you don't want to walk so much – there's a rental place at the village area at the start of the path), we made it to Mother Willow, a huge tree on top of a rock that's apparently over 300 years old! You can climb up via a ladder built into the side of the rock for a nice high view of the forest floor.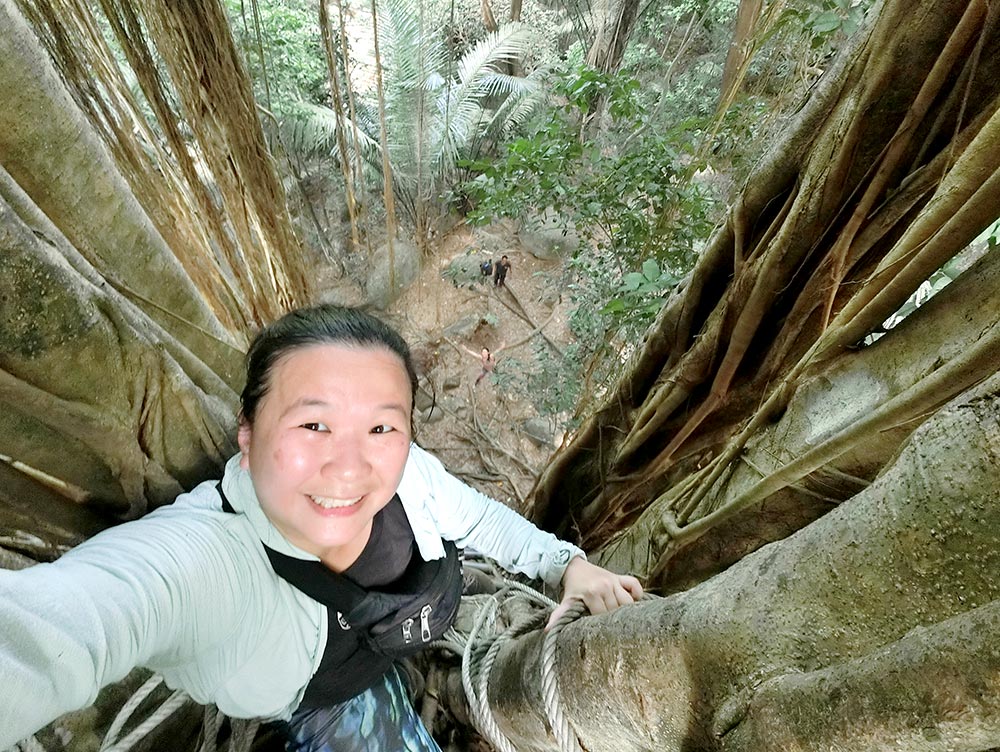 There are other treks available – there is a more hardcore trek from Tekek to Juara, and a more wildlife focused one around Tekek to look for Rafflesia flowers. If you're really into trekking, Mukut down south is where you can climb the twin peaks, or scale Tioman's highest peak Gunung Kajang, 1000m high between Paya and Juara.
Best time to visit Tioman
Tioman's high season is from March to October, when the weather is generally drier and seas are calmer so you can do all the outdoor activities as compared to November to February when it's monsoon season. However, it's not that you can't visit Tioman at all during the wetter months. Berjaya Tioman Resort offers a fine weather guarantee where you may get night extensions or discounts if your trip is affected by perpetual rain. Also, the rain in these tropical parts is intermittent and generally you will still get some sun even during the rainy season – having a larger resort like Berjaya with many activity options lets you tide over those rainy moments in between.
How to get from Singapore to Tioman
Despite its relative distance from Singapore, Tioman is actually a bit of a pain to get to from Singapore, mostly because there are no direct options from Singapore to Tioman.
You have two options:
Cheaper: Bus to Mersing, Ferry to Tekek Jetty
KKKL has a coach service from Kovan Hub (6am) or Tan Quee Lan Street (630am) to Mersing Ferry Terminal. The journey usually takes about 3-3.5 hours but depends on how fast you get through customs. I visited over the school holidays and only reached Mersing at around 1130am.
The bus is comfortable and a guide hops on after you pass Malaysian customs who will brief passengers on what to expect at the ferry terminal.
A one-way bus ticket on KKKL costs $39 and can be booked at kkkl.com.sg or subsidiaries like Busonlineticket or Easybook.
An alternative is to arrange for a private car transfer from Singapore to Mersing. It may be more expensive but offers more flexibility and may be worthwhile if travelling in a large group. Sgmytaxi.com has cars that start from $440 per car (round trip).
The bus drops you in front of Mersing Ferry Terminal, but you will need to cross the road to Mersing Harbour Centre to pick up your ferry tickets if you haven't already printed them out, as well as to pay the mandatory Tioman Marine Park Fee. Look for the Taman Laut Malaysia sign. The fee is RM30 ($10) for non-Malaysians and a receipt is issued that you need to show with your ferry ticket when you board.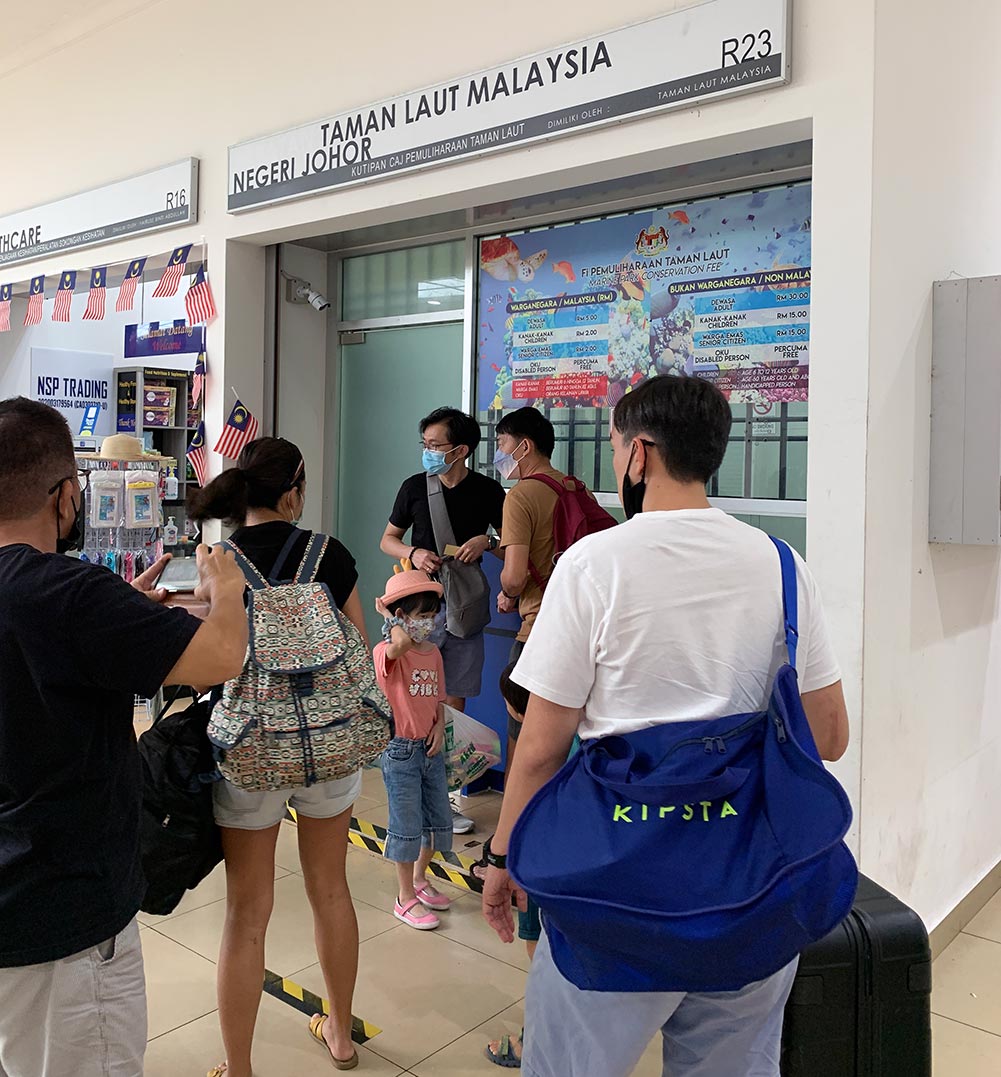 There are two ferry options from Mersing to Tioman: Bluewater Ferry is older and their seats are more rundown and has one standard price of RM65 ($20). Despite the number on the ticket, it's free seating so hustle on board for a good seat. Cataferry is newer and has a nicer ambience with assigned seating and a premium option on the upper deck.
The ferries typically make stops at the villages in a loop: Genting, Paya, Tekek, Air Batang (ABC) and Salang before returning to Mersing. Pay attention to the place names that are shouted out and alight promptly when the boat is in dock. Some villages like Juara, Nipah and Mukut are not on the public ferry route and require special arrangements to connect.
A one-way ferry ticket on Bluewater Ferry costs RM65 ($20) and can be booked at bluewater.my or Easybook.
Cataferry tickets have variable prices from RM40-300 ($12-94) depending on the day and seat class. Book tickets at cataferry.com – they are known to run promos where prices drop as low as RM5, so book as early as possible.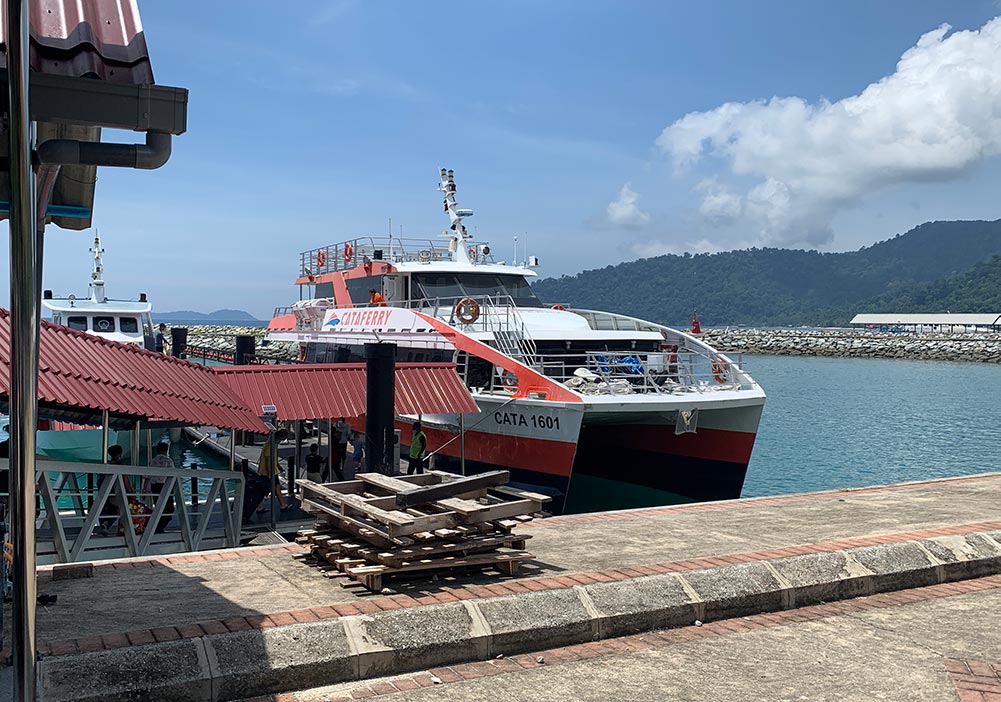 A note that buses and ferries do connect to Tioman from Tanjung Gemok as well, which is further from Singapore, so your bus ride is roughly half an hour longer, and the ferry ride correspondingly shorter. There are less ferry connections at Tanjung Gemok compared to Mersing, so in the event of missed connections, you have a better chance of rebooking at Mersing.
Expensive: Flight to Subang Airport, Flight to Tioman Airport
If you get seasick or are willing to pay for it, you can fly from Seletar Airport to Subang Airport in Kuala Lumpur. There are two flights per day that you can then take to Tioman's airport in Tekek, but note that the plane is very small so there are very strict luggage limits (10kg max).
Firefly Airline international flight from Singapore Seletar Airport (XSP) to Sultan Abdul Azziz Shah Airport (SZB) in Subang, Selangor (1hr 20 mins) – estimated $200-250 round trip cost.
SKS Airways domestic flight from Sultan Abdul Azziz Shah Airport (SZB) to Tioman Airport (TOD) in Tekek (1hr 30 mins) – estimated cost 600-1,000RM ($180-$320) depending on fare title
I've not tried this for myself, but given the timings of the flights and the need to transit in the airport, it seems like it'll take about the same amount of time as taking the bus/ferry – the earliest you'll arrive in Tioman is on the 2nd SKS Airways flight
---
Looking to visit more of Malaysia's islands? Check out more posts here: