As a traveller based in Singapore, flying to the United States always seemed to me like a daunting task. It usually takes around 20 hours minimum including stopovers, and when you have such limited days of leave, that and the timezone difference is one major deterrent against visiting USA if you want to maximise your leave time on exploring and not being in transit.
So when United Airlines invited me to check out their new Singapore-San Francisco nonstop flight, I was pretty stoked. The last time I visited the states was back in 2000 when I visited New York with the family – it's been more than a decade since I stepped foot on American soil. This would be a 15-16hr nonstop direct flight to San Francisco on the west coast, 4 hours shorter than if you took their usual transit flight that stops over in Hong Kong or Japan.
Singapore hasn't had a direct nonstop flight to the United States in awhile – there used to be a Singapore Airlines flight nonstop to New York and Newark, but it was stopped in 2013. This flight from Singapore to San Francisco which was launched on 3 June 2016 is one of the few direct flights to the USA, and the first one linking Singapore and San Francisco.
Also, I'd never flown United Airlines before this. Quite honestly I've heard some pretty mixed reviews about UAL both online and offline – so would I survive such an intensely long flight with them? The only way to know was to try for myself, and of course share my experience with you guys. AND even better? YOU have the chance to win a return flight from Singapore to San Francisco for yourself [CONTEST ENDED]
For the record, I was invited to cover the flight as media and the flights and travel expenses were covered by UAL, but other than taking us on a tour of the UAL Terminal 3 facility at the SFO airport, there wasn't anything else to mark me as media during the journey itself, lest you think they rolled out a special red carpet for me.
Looking for things to do in San Francisco? Here's a look at whether the touristy stuff is worth checking out, and a guide to the street art in the Mission District.
The Flight
SIN > SFO : UA2 0845-0915 (15+ hrs flight time)
The morning flight time is early but not insanely so, and according to United, timed optimally for business people and those looking to catch connecting flights in SFO as you reach in the morning at 915am. It takes about 1 hour to get into downtown San Francisco by public transport (half the time if you get an Uber or taxi) so it leaves you lots of time to go exploring on your first day in. The only thing is that you might need to arrange an early check in to your accommodation or find somewhere to leave your bags (and golly this city does not have lockers at train stations which is a bit of a pain!).
Hopefully you can sleep on planes better than I do – I got perhaps 2 hours of sleep in total (due to kicky toddler next to me) so my first morning went by in a bit of a blur. I did manage a short nap and still have time for a nice afternoon walk though!
SFO > SIN : UA1 1125-0615 (+2 days, 16+ hrs flight time)
The night timing means you can maximise your day in San Francisco, heading to the airport after you've had an early dinner (or you could eat at the airport itself if you have lounge access). You do lose an incredible 2 days flying back westwards to Singapore though, and you arrive in Singapore pretty early in the morning as well.
The Plane
The plane that you get to ride is the Boeing 787-9 Dreamliner – and you might already have seen from my previous review of the Jetstar flight to Melbourne that I am a big fan of the Dreamliner as compared to other planes. At time of writing, the -9 series is newest Dreamliner plane on the market. I'm not much of an aviation geek, but honestly I get pretty happy when I see that I'm on a Dreamliner flight, some key features that I want to point out:
Huge tinted windows – as a big window seat person, nothing beats having giant windows to look out of. Also, playing around with the tint never gets old
Quiet – I never really thought about how noisy plane rides were until I tried noise cancelling earphones. The Dreamliner is made of composite materials as opposed to standard aluminum in older planes, which honestly doesn't matter to the average person, but what that translates into is a much quieter ride
Less Drying – I definitely feel less parched when I'm on a Dreamliner flight, which I found out had something to do with the higher cabin pressure as compared to older aircraft, another thing made possible by the technology.
I was in seats 20A and 19A for my trips, which I found out were actually Economy Plus seats that offer an extra 7.6cm legroom. I found the seats fairly comfortable. Lots of space under the seats as well – no weird boxes that you sometimes get under your seat so I could put my backpack underneath easily.
On the way up, I did a bit of live blogging of my trip on instagram and facebook, and for the first time ever in my life, I shelled out for inflight wifi. I'm pretty used to being cut off completely when I'm on the plane – I'm not so addicted to the internet that I have to be connected 24/7 – but being able to chat with friends on whatsapp and check my social media accounts was pretty cool. I got to follow live updates of my friend's impending birth while in the air (congrats J!) and surf the net for random reading material when I needed a break from TV shows and movies. I'm pretty sure this contributed to my lack of sleep though – it's easier to fall asleep when you are bored…
UAL is pretty proud of their satellite wifi which uses satellites instead of land based towers to transmit data and is apparently more stable. I don't really have anything to compare with, but despite some occasional dropped connections intermittently, I found the internet use pretty smooth. It cost US$16.99 for the entire trip, which works out to a little over a dollar per hour of your trip which is not too shabby at all, especially if you need it for work or just get really, really bored on planes.
The entertainment system is a touch screen TV on the back of the seat rest – no buttons or control panels. What I do appreciate is that this is a touchscreen that works – I absolutely hate some of the older systems I've encountered where you have to jab really hard at the screen for any selection be made, which can be really annoying if your seatmate behind you is especially fussy and jabbing the headrest the entire way! Decent selection of new and old movies and TV shows available – I watched the latest Star Wars Episode 7 (and they have the entire collection of episodes 1-6 as well if you are a fan) and a bunch of Brooklyn 99 and Friends. Interestingly, the movie and TV selection on the outbound and inbound flights were a little different, so you do get a little bit of variety.
There is a USB port right below the screen which is awesome for charging your phone, as well as a headphone jack which is the standard single pin and not the weird 2/3 pin combi I've seen in other planes, so you can use your own fancy headphones if you please!
There was food on the plane, though in terms of quality I don't think it was anything to shout about. There were two meals served, as well as a snack, and they distributed small bottles of water to keep you from getting too parched on the trip.
And how about the service? I found it quite decent – basic perhaps. You never can really know how good service is until you get into a pickle, and my flights went pretty smoothly so nothing to complain about there!
The Cost
Based on the United website, round trip economy tickets are going at about $2,000 all in if you opt for the cheapest economy prices. The flexi economy puts you at about $2,700 all in. You can upgrade your seat to economy plus for a small fee as well if you need the extra legroom.
A quick search on Skyscanner has SIN-SFO flights with 1 or 2 stopovers going from $1,500+ to $3,000.
Giveaway [Now Closed]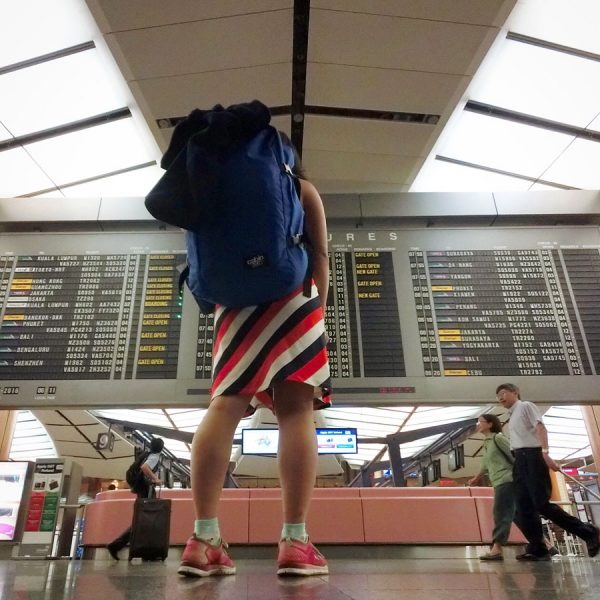 Who wants to win an economy class return round ticket from Singapore to San Francisco? I have one round trip ticket for this direct Singapore-San Francisco flight to giveaway! All you need is to take part in the Rafflecopter draw here – I'll pick a winner randomly from all the entries submitted, and you can do so in several ways:
*there was an option earlier to leave a comment about the one thing you want to see in San Francisco but it appears my comments are being quite wonky now >_<
Note: this contest is open to residents of Singapore only (sorry everyone else around the world!) – I will need verification of a valid Singaporean address from the winner.
You have till 22 Jun 2016 0000hrs (Singapore time) to participate… good luck!
Looking for things to do in San Francisco? Here's a look at whether the touristy stuff is worth checking out, and a guide to the street art in the Mission District.