My visit to world renowned dive site Sipadan was a  really quick one, unfortunately a little rushed, but we were still able to enjoy the splendour that Sipadan has to offer. It truly lives up to its reputation as an amazing dive site – I'd never seen a live wild shark before this trip – I definitely saw enough sharks on this trip to make up for it!
Looking for more scuba diving stories? Other spots I've dived in Malaysia include Tioman and Dayang.
GETTING TO SIPADAN
We flew Air Asia to Kota Kinabalu (KK) in the evening and stayed overnight in Borneo Global Backpackers for the night. They were supposed to pick us up from the airport, but our flight was delayed by an hour so we only reached KKIA T2 (domestic) past midnight. Luckily, KK is a pretty small place and it takes only 15 minutes to get into town by taxi, which was readily available at the airport – all you had to do was buy a coupon at the taxi counter.
We found the backpackers easily, and slept pretty quickly because we had to catch our flight to Tawau the very next morning. The room we stayed in was pretty basic – 4 bunk beds, ceiling fans and unfortunately, no windows or linen, but it was very cheap (like, SGD$4 each when we booked through hostelworld.com) and we really just needed a bed for the night.
Next morning we headed back to the airport to catch our Air Asia flight to Tawau. Tawau is the nearest airport to Semporna, which was our base for diving Sipadan and the other islands. Another option would be taking a bus from KK, but an 8-hour bus ride vs a 50min plane hop? It was a no-brainer for us, even though it meant we had to wait at least 12 hours before we could consider diving.
Other options of getting to Tawau from Singapore include taking a direct flight from JB or KL. Perhaps it might have saved us a day/night but we'd already booked our tickets…
We took a cab from Tawau airport to Semporna (also a coupon system, 95RM, I like not getting ripped off by cab drivers), it took about an hour or so before we reached our destination.
WELCOME TO SEMPORNA
We stayed at Sipadan Inn, a pretty nice place which was right next to the dive center we signed up with, so that was convenient. Aircon room with attached toilet, some cable TV even, and computers in the lobby, it wasn't very big but it was quite decent for us. We balked at the extra 21RM per night for the mattress we needed (there were 3 of us), so we decided to save the money and just share the 2 beds and we were quite comfortable really.
Semporna is a little poky town. All those reviews on the net that talk about it being boring and having a permanently fishy smell? Well they're not wrong. Semporna is one of the bases to go diving at Sipadan and the other islands, and besides diving there really is absolutely nothing to do there. You need to arrive there either quite early or quite late – we made the mistake of arriving there about noon time, and we couldn't even go snorkeling to pass the time because most of the day trips and boats were out. Of course if you pay for it there's no problem, but it really isn't worth it… so we spent most of day 1 just getting our dive equipment settled and bumming around and having a really, really early night. We walked around a little, though there really isn't much to see.
Scuba Diving at Sipadan
We dived with Sipadan Scuba, which had pretty decent reviews online. Their equipment was quite new and working well, which was great because we'd heard some things about shoddy equipment at other places. Initially we booked for Sibuan and Sipadan, but they changed our first dive to Mabul-Kapalai instead, which wasn't a big deal for us but it would have been nice if they'd asked first.
Day 1 of diving started out a little gloomily. It POURED the night before, and it was still pretty cloudy when we set off, but thankfully the weather got better as we started our first dive. We dived first at Kapalai before going to Mabul's Ray Point and finally ending under the Seaventures Oil Rig (you can stay there too, though I'm not sure how nice it is) off Mabul. I think if I were to come here again, I would like to stay on Mabul. Looks like a nice place, and it saves the daily travelling time, which is about 40 mins from Semporna by boat.
Mabul and Kapalai are considered 'muck diving', which is really just a fancier way to say diving with sandy seabeds (disturbing the seabeds renders visibility very poor). The stuff we saw here, compared to the next day's dive at Sipadan were really quite different.
Some stuff we saw at Mabul-Kapalai: Big, huge, gigantic fishes like giant garoupa and sweetlips, squid, trumpetfish, box fish, pufferfish, sea snake, crocodilefish, small stingrays, giant clam, ribbon eel, lionfish, black frogfish, moray eel… man there was a lot of stuff!
I did also get stung by some misc jellyfish species under the oil rig, which left a 'bracelet' of 10 or so red dots on my left hand. According to the guide they are pretty camouflaged, and we dived in shorties so it can be hard to avoid, I guess I must have crash full fledged into this one to get such big stings, but it's no biggie, 3 days later they're mostly fading away now.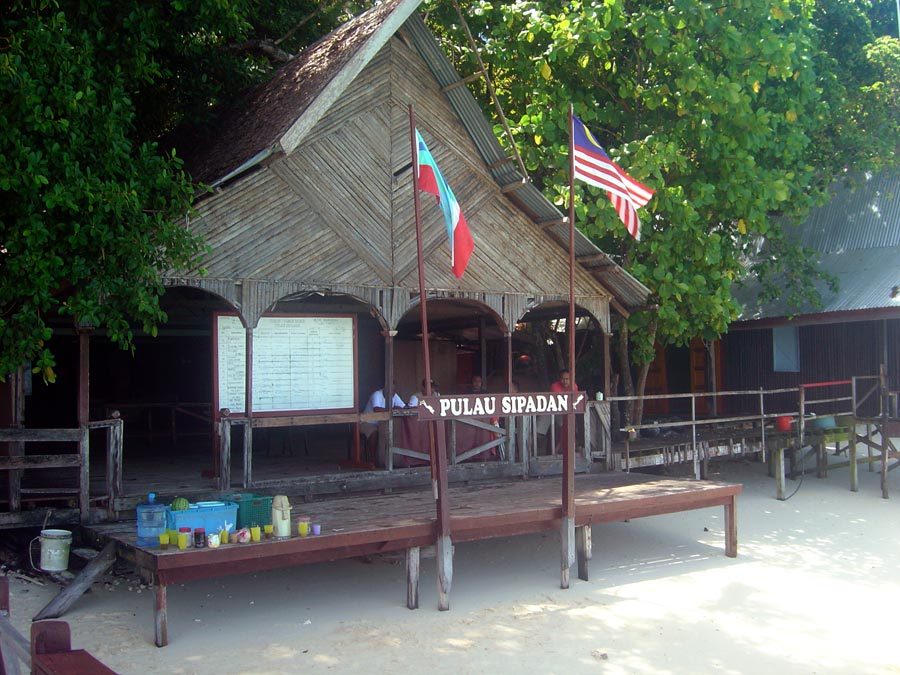 The next day was Sipadan, and what a fantastic day it was. Bright and sunshiney, a perfect day for diving. The only pity was that the water wasn't super clear because it'd be raining the days before that and there was still sediment in the water, but we still managed to see quite a lot of stuff.
You have to book Sipadan in advance because the dive centers need to apply for permits. There are 12 dive ops there, and each share 120 permits per day amongst them, which takes 48 hours to apply. It also costs more than diving at the other spots, but it's pretty worth it.
Sipadan is like a shark heaven. Sharks are seriously everywhere, and you'd have to be blind not to see one here! I hadn't seen a shark before this, but all the sharks I'd seen here have totally made up for it. Majority were white-tipped and grey reef sharks, though apparently there are leopard sharks and hammerhead sharks around as well. We even saw a school of about 12 sharks swimming together, which was really cool and little bit worrying because there's just something about sharks that make you think that they're going to eat you (I blame you, Jaws and Deep Blue Sea).
Another highlight of Sipadan are the giant shoals of Barracuda, and we got lucky on our first Sipadan dive. Our guide zoomed off into the sea, away from the reef wall and we followed closely, and what looked like the shadow of a boat on the water turned out to be a huge school of Barracuda circling! We somehow ended up in the middle of the school, flanked on both sides by the Barracuda and my instructor took some swell pix for me.
Also in Sipadan, turtles galore! There is a place called the turtle tomb, a dark cavern of tunnels where turtle bones can be seen! We only entered the cave mouth for a looksee, but man it looked dark. We saw plenty of live turtles as well – green turtles and hawksbill turtles gliding through the water or scratching their shells on coral. Green Turtles apparently love getting their shells scratch, and some are friendly enough to let divers do so!
Besides the big stuff like Sharks, Barracuda and turtles, we also saw schools of Jacks, a Napolean Wrasse, a small paperfish and unicorn fish.
In between dives we docked at Sipadan island and lounged on the beach and swimming in the crystal clear waters. No one but some troops live on Sipadan Island now after the Malaysian authorities closed it down some years ago, and we're only supposed to stay on the main beach area.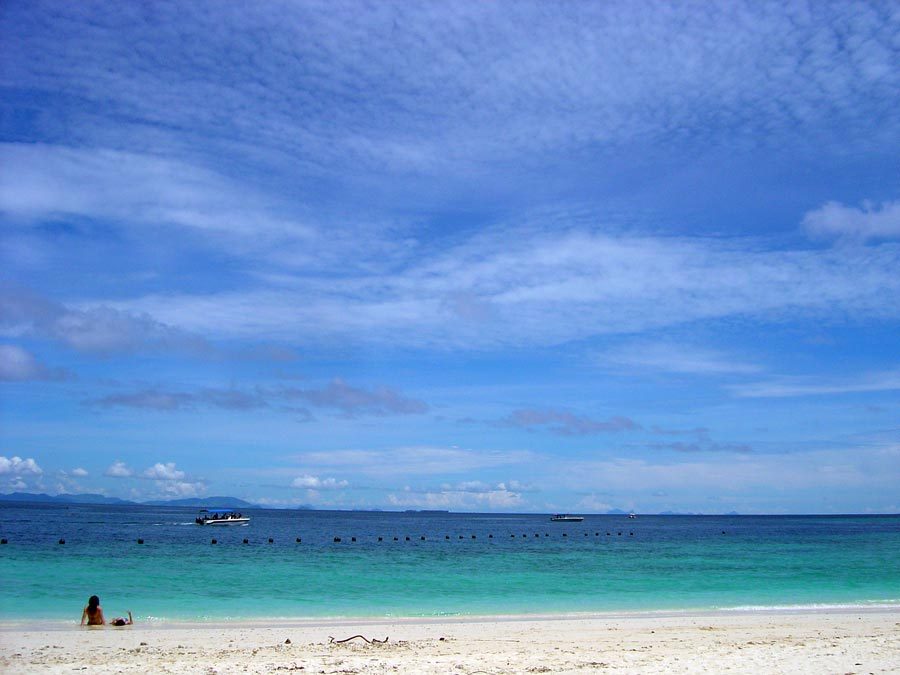 At low tide, turtles came into the shallow waters to feed on sea grass, and we could practically walk right up to them. They kinda look like big rocks from a distance until they start moving. Also spotted, a shark that came into the shallows.
Headed home!
All in all, the diving was pretty awesome, so I'm glad we came here instead of the initial plan to dive at KK. Food wise also was good – we had our breakfast at the same place each day (I never got the name of the place, just that it's the only one its stretch open each morning and its between Scuba Junkies and Sipadan Scuba…). Lunch was packed by a guy who also sold sashimi and calamari amongst other things during the night (and was really insistent on us getting dinner from him…), and dinners we had with our dive instructors at some chinese zhi-char places in another part of Semporna (nearer to Lee's guesthouse, also affiliated with Sipadan Inn) and we spent the evenings chilling out at Mabul cafe, where the food was so-so but the wooden balcony and open structure were perfect for chilling out at.
Finally we left Semporna and shared a cab with another couple to Tawau airport. Poor driver got booked by the traffic police because there were  5 of us, hope he didn't get into too much trouble though. We took a flight back to KK and with about 5 hours between flights, decided to head out to KK city center for abit. There is a place to leave your luggage at at KK airport, which was convenient, and we took a cab to Warisan Square for some shopping. Managed some cheap buys, and also headed out to the handicraft market by the water front, but all the stores looked like they were selling the same thing after awhile. Next to it is a wholesale market where you can get all sorts of traditional Sabah snacks to bring back with you. Then we headed back to the airport and back to Singapore in the evening.
I definitely want to go back to Sipadan again some day, with more time to spend there. It was a very quick 2 days of intensive diving, and though I was pretty tired by the end of the 2nd day, it would have been great to have had more time there, or perhaps stayed at one of the islands instead of Semporna.