There's plenty to do in the city of Taipei itself, but if you are looking to explore a little further afield, one easy day trip option is to head up to Taiwan's North Coast in New Taipei City. One of the more popular things to do on Taiwan's North Coast is to visit Yehliu, a world-famous geological site, but I thought I'd introduce you to some other cool things to do in the Wanli 萬里 district, from coastal attractions like paragliding over a beach and eating super fresh seafood to exploring an abandoned UFO village.
Looking for more day trips from Taipei? Check out nearby Jinshan 金山 which has a nice old town area and the Juming Museum, or head towards Keelung for more coastal attractions and Miaokou Night Market. Yilan in the Northeast is also a great easy day trip from Taipei.
---
Admire rocks at Yehliu Geopark 野柳地質公園
Yehliu Geopark 野柳地質公園 is one of the most popular tourist attractions along Taiwan's North Coast. It's a long cape of about 1700m protruding out into the sea and famous for its geological features and interestingly shaped rocks.
I actually visited Yehliu way back in 2007 on my grad trip in Taiwan and revisited it again on my Career Break trip while exploring the North Coast. Tourist crowds aside, it's a really beautiful scenic place and the rock formations are quite unusual and have been given quite descriptive names. Bring a cap and sunglasses as it can get quite hot and there's hardly any shade at all.
I walked the full length of the cape all the way to the lighthouse observation deck right at the end. The pathways are fairly well paved but you are going uphill so it's a little tiring but not too bad. Most of the tourists stay around the lower levels so it's nice to get away from the crowds for a bit.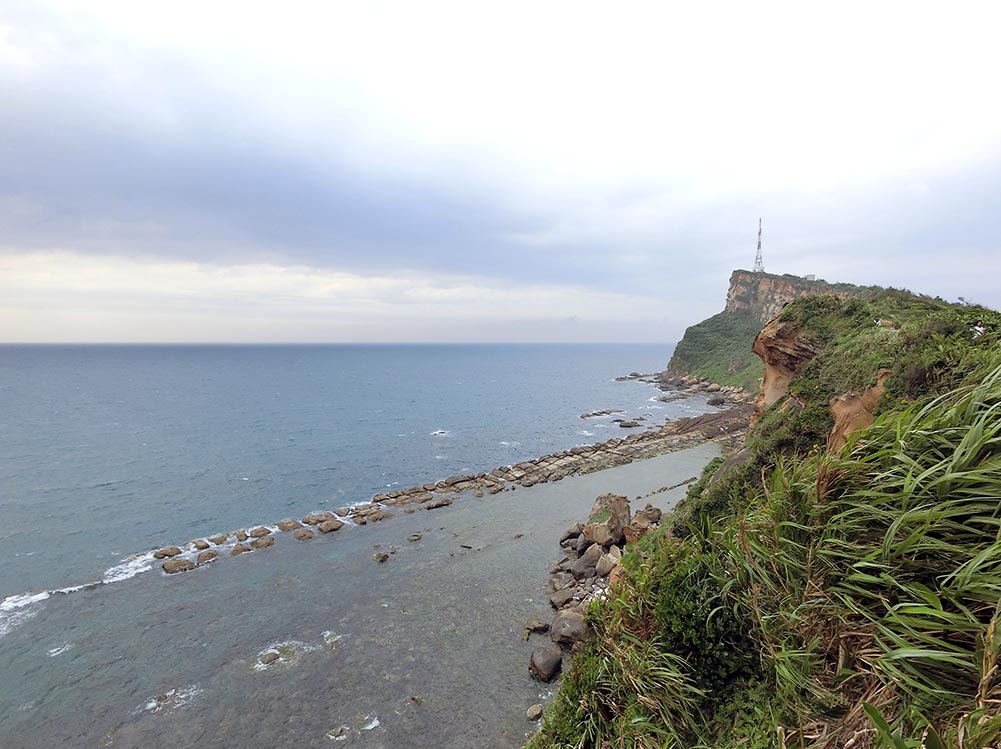 The most famous rock here is the Queen's Head Rock 女王頭, and from the right angle it really does look like the silhouette of a queen's head. Who knows how long it'll stay up for though – experts are worried that the rock might break off at its slender 'neck' some day from weathering.
I spent about 2 hours exploring Yehliu. Try to find an off peak time to visit as it is one of the more popular tourist things to do around Taipei.
Yehliu Geopark is located in Wanli [Google Maps]. Opening hours from 8am – 5pm. Tickets for adults cost 120NTD.
Eat Wanli crab at Guihou Fish Market 龜吼漁夫市集
A short distance away from Yehliu is Guihou Fish Market 龜吼漁夫市集, and this is apparently the place to go to eat Wanli crab. Wanli is a prime crab fishing area, and peak crab season happens in Autumn (Look out for a major crab festival that happens in October), but you can get crab here any time of the year.
Wanli crabs consist of three types of crab – Three Spot Crab (which has three obvious black dots on its shell), Flower crab (with a patterned shell) and Stone Crab and you'll find them readily available for sale here. Besides a wet market where you can buy all manner of seafood, there is also a food centre where you can enjoy your crabs on site. Taiwan Panorama has an interesting article about how the local association branded Wanli Crabs and made it a local specialty.
I visited at a slightly weird time in between meals so I didn't manage to sit down for a crab meal, though my hosts did buy some 3-spot crab to cook for dinner that night. Here's a pretty good account of eating Wanli crabs by Places and Foods that you can check out. Hopefully I can return one day for some delicious seafood!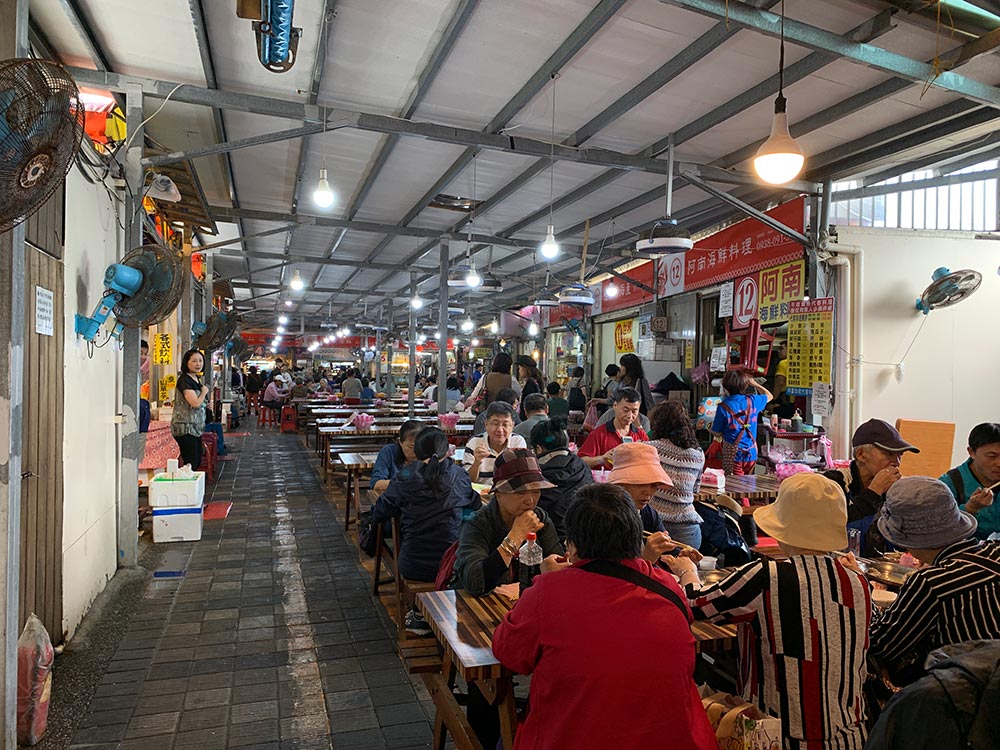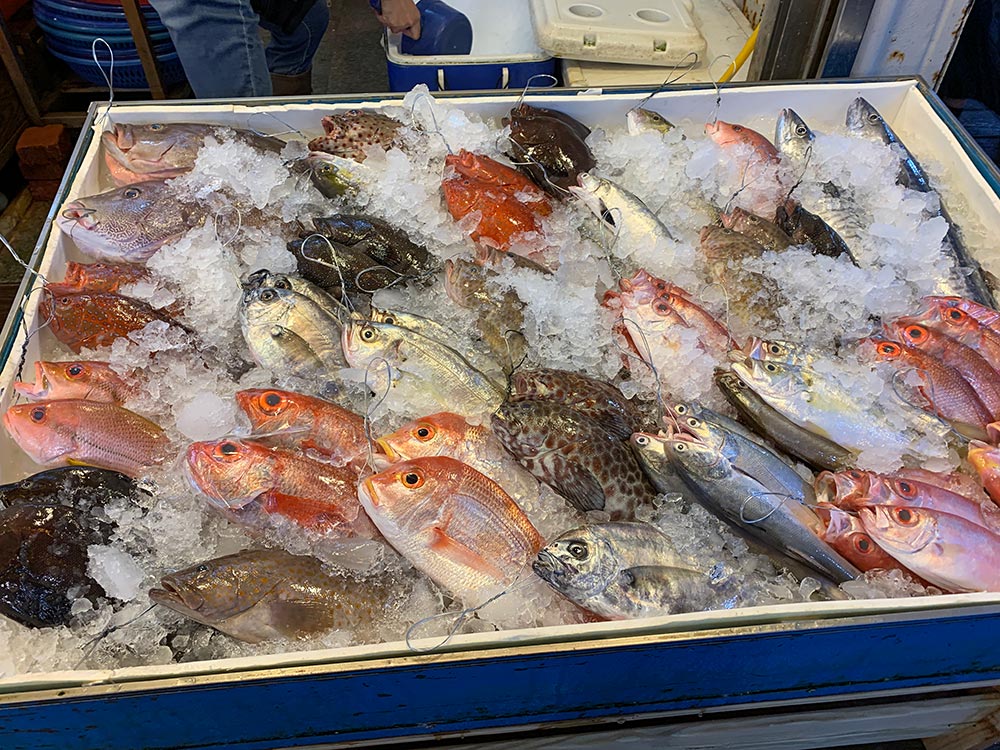 The food stalls are typically open from around 10am – 7pm but it depends on each stall. See store details at Wanli Crab.
Paraglide over Feicuiwan beach 翡翠灣海灘
Located east of Yehliu, you can admire the Green Bay or Feicuiwan Beach 翡翠灣海灘 view here from up high by tandem paragliding.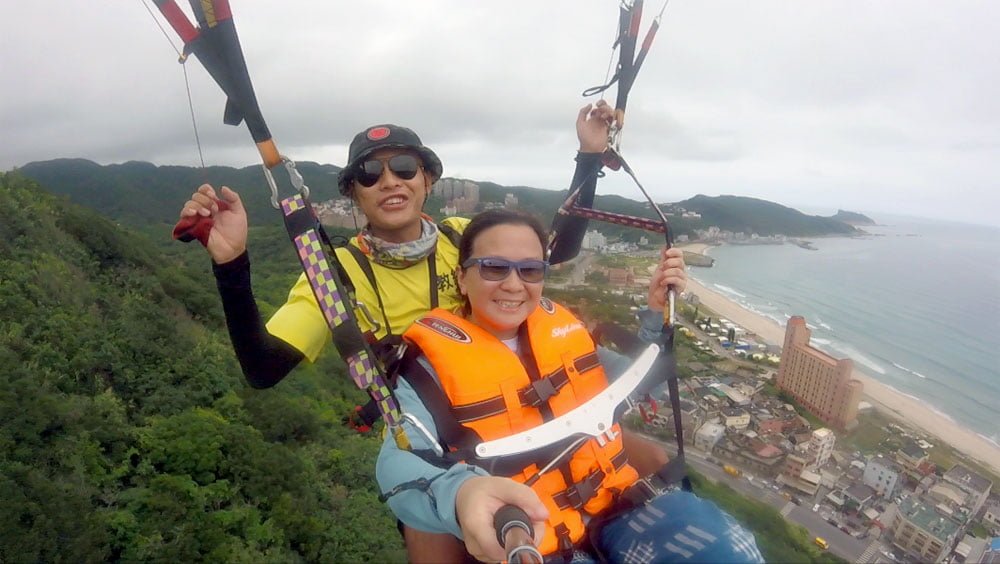 Mustang Paragliding Club 野馬飛行傘俱樂部 regularly does short paragliding flights over Green Bay and the surrounding hills.
Fun fact: they used to take off from the hills but nowadays they do a beach take-off and landing – you are hooked up to a jetski to give you some lift and take off over the sea. Flights usually take about 10 minutes altogether depending on the wind conditions.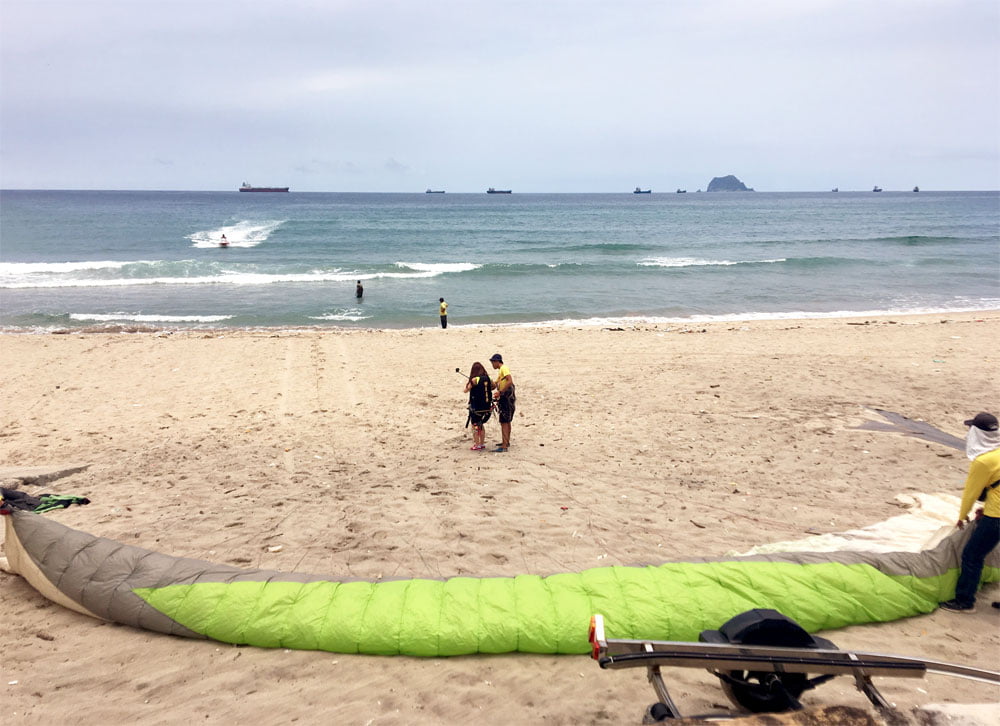 My instructor was a friendly young local guy called Ah Zhe who lived in nearby Keelung who had a nice chitchat with me and pointed out far they would fly on their own as well as some landmarks around the area. As part of the experience, you are loaned a GoPro camera to capture your entire flight and given the 16GB SD card inside it at the end.
You can fly any time of the year as long as it's not raining and the winds are not too crazy, but summer is usually the best time because the winds are the most steady.
Mustang Paragliding Club 野馬飛行傘俱樂部 are best contacted via Facebook Messenger or Whatsapp – drop them a note to find out which dates they plan to fly, and on the morning of the day to see whether the weather conditions on that day are optimal for flying. Expect cancellations if the winds are too strong or there is rain! A flight costs 2,000 NTD and you only register and pay on the spot at Green Bay / Feicuiwan Beach – take a queue number and pay ASAP so you don't have to wait for too long as it's 1st come 1st serve.
Explore the abandoned Wanli UFO village
Something else you can do while at Green Bay Beach is to explore something the locals call the Wanli UFO Village. This a collection of weird looking flying saucer and rounded-box houses along Riguang Road 日光路, directly behind Green Bay Beach. I could see them from the air while paragliding and popped over to check them out after.
The round flying saucer like houses are called Futuro Houses, while the squarish ones with rounded corners are called Venturo Houses. They were conceived by a Finnish architect Matti Suuronen in the late 1960s, and were apparently quite popular for a few years before an oil crisis in the 70s made production costs super expensive so they fell out of favour.
Apparently a rich businessman imported several of these pods to Wanli with the intention of setting up a fancy seaside resort, but unfortunately the houses were badly hit by the extreme typhoons in the day and eventually abandoned. You might notice that there are a few units which have been cleaned up and inhabited today though I honestly am not sure how legal that is, but I'd keep a low profile regardless and not disturb the residents.
Since the place is mostly abandoned, you can wander around and poke about. It's a popular place for some cool Instagram photos for sure. The Futuro interior actually looked quite cosy, though everything is rounded and you have no corners. The interior I saw had half the house made out of a curved living room and a kitchen-bar, with the other half is a bedroom and a toilet. The Futuro pods are raised above ground and some had stone benches directly underneath the pods.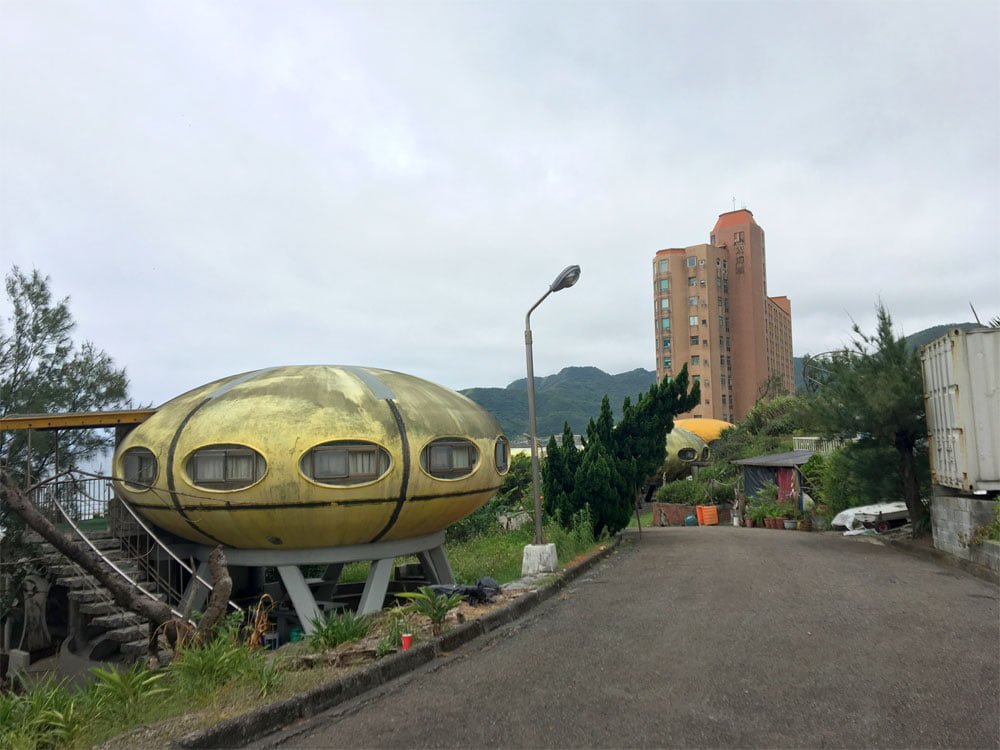 I first wrote about paragliding and exploring the UFO village in this article about things to do in Taipei during the summer.
How to get to Wanli
Wanli is a part of New Taipei City along Taiwan's North Coast located between Jinshan and Keelung, roughly 50 mins away by driving from Taipei City. I took buses to explore this area on my own but if you are tight on time or have people to split the cost with, consider hiring a taxi for the day to get around.
I would recommend doing a full day trip exploring Wanli alongside Jinshan since they are right next to each other, and then ending the day off in Keelung City's Miaokou night market before heading back to Taipei.
By bus from taipei
Bus stop at Yehliu [google maps] or Green Bay / Feicuiwan stop 翡翠灣 [google maps]
Bus 1815: from Kuokuang bus terminal at Taipei Station East Gate (located on the east side of Taipei Main Station) to Jinshan – stops at Yehliu and Green Bay. This is your fastest option as you go direct from Taipei City to Jinshan in about 1.5 hours.
Bus 862: from Tamshui MRT Station 捷運淡水站 to Keelung Train Station – stops at Yehliu and Green Bay [Taipei e-bus route]. This is a longer route that takes around 2 hours as it runs along the whole north coast. You could also take this bus if you are coming from Keelung instead.
Bus 716 Crown Northern Coast Shuttle Bus: From Tamshui/Danshui 捷運淡水站 to Yehliu (does not go to Green Bay). This tourist shuttle leaves every hour from 8am to 3pm and passes through other popular tourist spots like Fugui Lighthouse, Laomei Green Reef, Jinshan and the Juming Museum. You can use Easycard like usual, or buy a 1-day bus pass for 160NTD for unlimited hop on and off for the day – useful if you plan to stop at more than one spot. More information here. It should take about 1.5 hours.
Other buses
Bus 790: from Jinshan Nanshih 金山(南勢) to Keelung Train Station – stops at Yehliu and Green Bay [Taipei e-bus route]
Bus 953: from Jinshan Nanshih to Taipei Da'an – stops at Yehliu and Green bay [Taipei e-bus route]
This bus guide by North Coast and Guanshan National Scenic Area is quite a useful overview of the various bus options.
---
Looking for more cool things to do near Taipei? Check out these posts or see more guides for Taiwan's North Coast.