If you need a break from the regular tourist sights or want to escape from the tall buildings and fast-paced city life for a bit, why not check out some of Singapore's most popular Southern Islands – St John's Island, Lazarus Island and Kusu Island can be easily visited in a single day. Here's how you can plan a Southern Island day trip even as a solo traveller.
Looking for other offshore islands in Singapore to visit? Why not check out the nature reserve and quarries on Pulau Ubin in the north or do an intertidal walk or go scuba diving off Pulau Hantu, or take a tour to one of Singapore's oldest lighthouses on Pulau Satumu.
---
About the Singapore Southern Islands
What's surprising to a lot of visitors is that Singapore is just one in an archipelago of over 60 islands – most of these offshore islands are located in the south, with the most famous one being Sentosa Island which is a tourist favourite with the Integrated Resort, Universal Studios and lots of activities – you can easily get to Sentosa by bus, monorail, cable car or even on foot.
The other Southern Islands you can visit are called the St John's Island Complex, which consists of St John's Island, Lazarus Island, Seringat Island and Kias Island which have been combined through land reclamation. The other island that can be visited is Kusu Island just a short distance away.
Pulau Tekukor is a small uninhabited island between Sentosa and St John's Island. It was formerly an ammo dump and currently closed to public.
Sisters' Islands are two islands to the west of St John's Island that have been designated Singapore's first marine park. The smaller of the islands is closed for conservation, while the larger one is usually open, it's also undergoing works right now and only slated to reopen around 2024. There is a turtle hatchery here, and Singapore's first underwater dive trail for scuba divers.
---
How to get to Singapore Southern Islands
The cheapest way to visit Singapore's Southern Islands is to hop on a ferry from Marina South Ferry Terminal which is conveniently located on the North-South MRT Line (NS28). There is some parking at the ferry terminal if you are driving.
A round-trip ferry ticket for the Southern Islands costs S$15 for an adult. The usual ferry route is a loop from Marina South to St John's Island, then to Kusu Island, and back to Marina South. Sometimes there are special direct routes to and from St John's or Kusu Island during the holiday season.
You can get ferry tickets either directly from Singapore Islands Cruises or Marina South Ferries, or buy through aggregators like Klook: Singapore Island Cruises or Marina South Ferries [affiliate links] which sometimes offer discounts or packages that include food or bubble tea coupons. You can also buy tickets on site at the ferry terminal, but I highly recommend getting your tickets online if you plan to visit on the weekends when it tends to be crowded.
Getting around the islands
In general the islands are pretty small and very walkable as long as you have decent shoes. Mostly flat as well except for bits of St John's Island where you might have a few upslopes, but nothing crazy.
You can bring along your bicycle on the ferry for free if you want to explore St John's and Lazarus Island more quickly. There is a bike rental kiosk (GoGreen Southern Island Bicycle Rental) which I used when I first visited St John's Island. You don't really need a bicycle to get around to be honest, but it will speed up exploration especially in bits where it's mostly forest and not much else.
---
St John's Island
I visited St John's Island twice – the first was on my own but unfortunately I got rained out in the afternoon so I didn't get to explore St John's much, and the second time was on a tour with My Community Festival where an ex-resident of St John's Island showed us around his old home before he was relocated to the mainland.
St John's Island formerly known as Pulau Sekijang Bendara (Red deer flag island) has had quite a colourful history – apparently back in the day it was the first place that Sir Thomas Stamford Raffles landed at having mistaken it for mainland Singapore, though he was eventually corrected and found his way to the mainland the following day.
Since then it has been used for several different purposes: a quarantine area for new immigrants to prevent the spread of diseases to the main land, holding camp for Southeast Asian refugees, a recovery facility for opium addicts and even a prison for political dissidents in the British colonial days.
There were once villages and communities on this island, and while some of the old structures have been preserved, not much is left. There is some signage but may not be a lot of historical context to abandoned structures if you wander around on your own.
Arrive at the jetty
St John's Jetty is the main landing point for St John's and Lazarus Island via the public ferry and most boats to the island.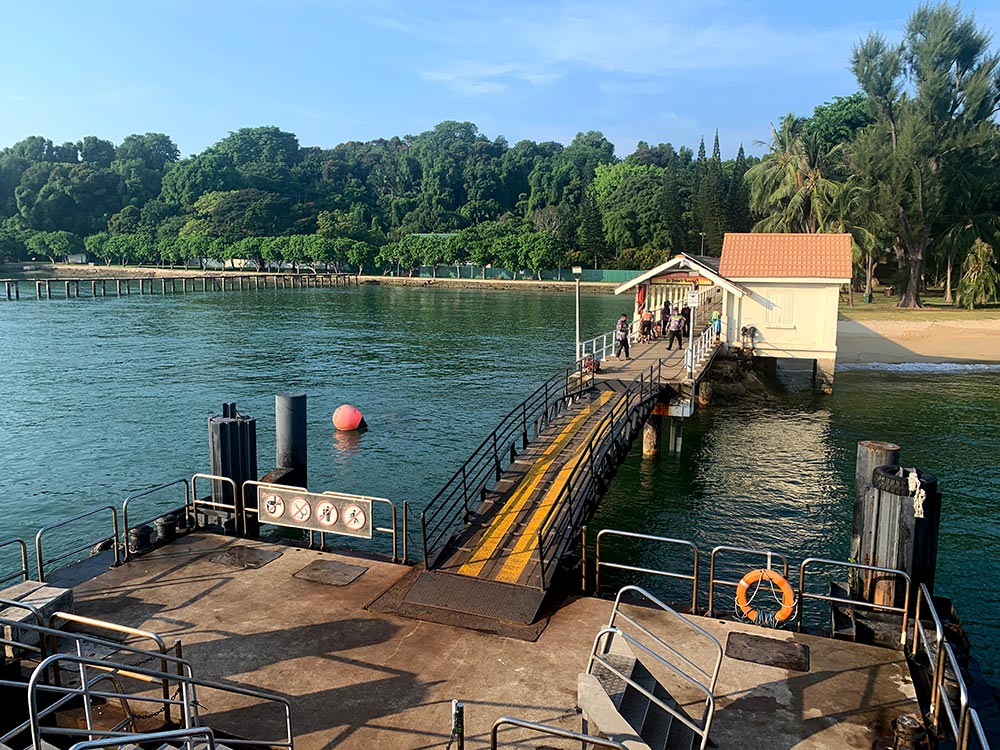 This simple jetty actually stands on a base of coral. As you exit the boat, you might notice another derelict wooden jetty to your left – this was the original jetty.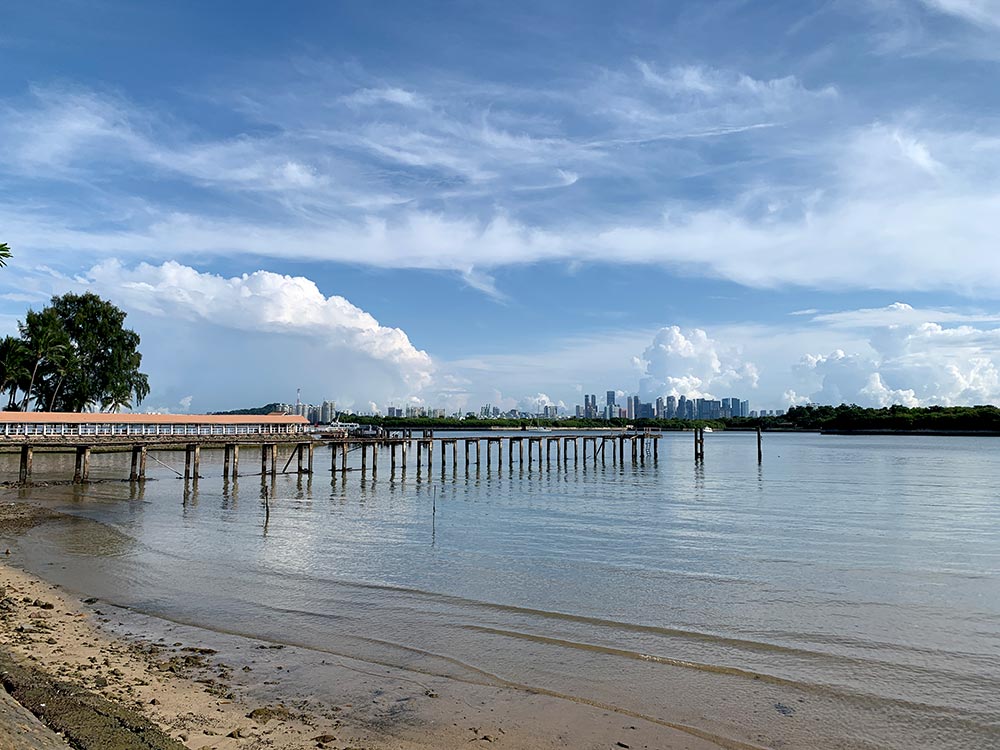 Stroll along the beach
If you turn right as you exit the jetty towards the northern end of the island), there is a small stretch of beach and a nice little cove for chilling out at. Lots of people have picnics at the benches or grass stretch along the coast. There is a staircase next to the large St John's Island sign leading up to a small house which apparently used to belong to the Governor of the islands back in the day. If you come during low tide, you can do a bit of intertidal exploration here as the waters are quite shallow.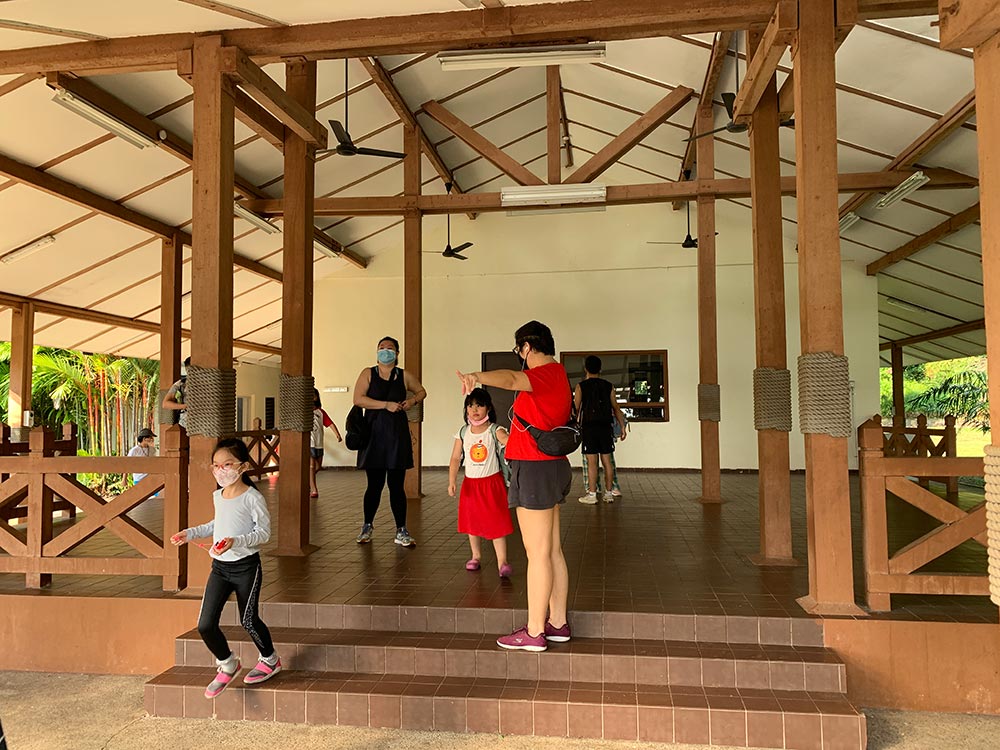 See remains of the old settlements
Follow the paved road around the center part of St John's Island that starts from around the Govenor's House, past the former holding centres and downwards the southeast where the Marine Lab is located.
St John's and Lazarus Islands both had their own villages complete with schools and other facilities. Some of these old structures have been torn down, others boarded up and left in disrepair. It was nice on my walking tour to have a former resident point out things like where the island minimart used to be, or the field where they all used to play soccer in.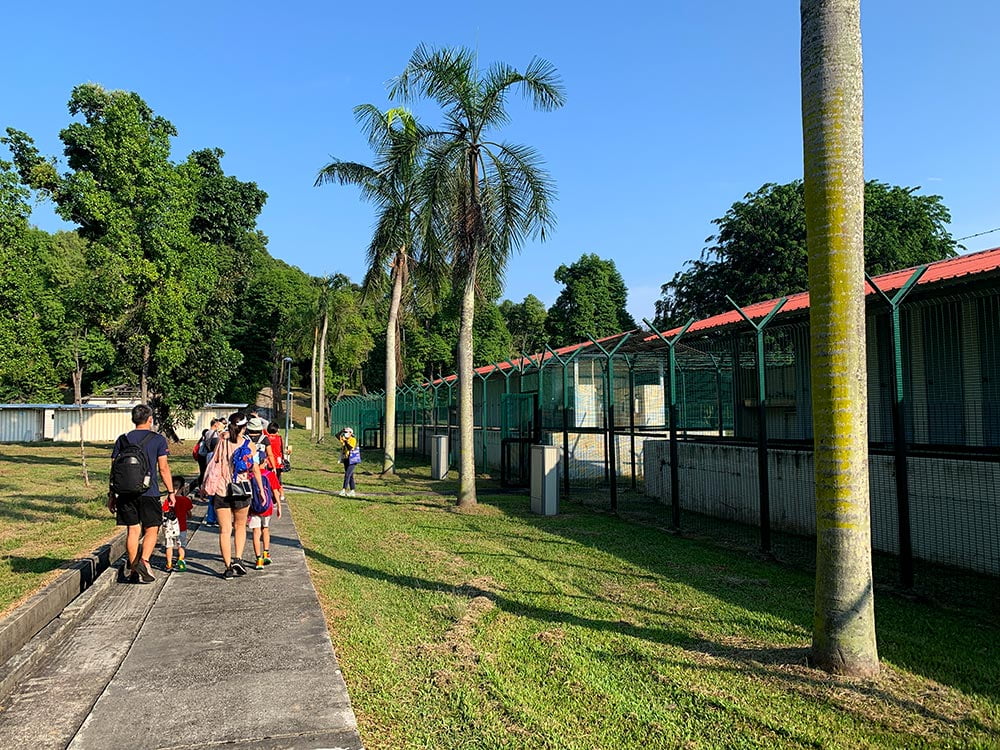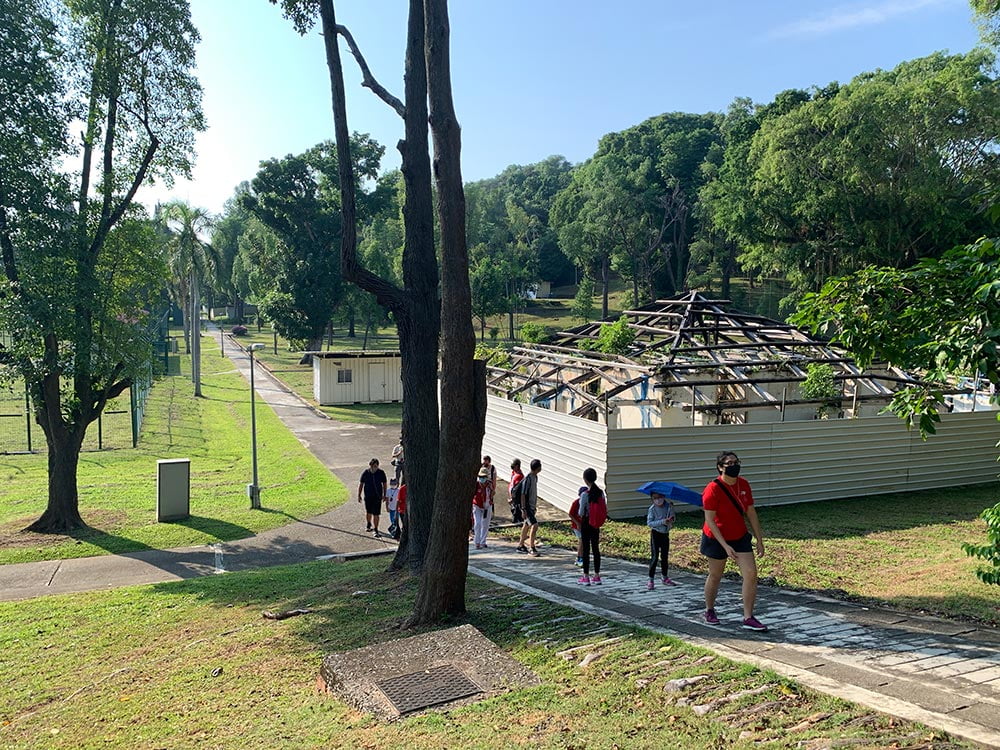 Somewhere in the center of the island is a crossroads that was one of the main meeting points for islanders back in the day. They apparently used to call this place 'Orchard Road' though there are no malls anywhere nearby like the actual Orchard Road – they had street vendors selling snacks instead.
Interested to learn more about St John's Island from an expert? NParks conducts free guided tours on the 1st Sunday of each month. More details about the tour and how to sign up here. It's very limited and tickets disappear extremely quickly, so set a timer for when tickets are released!
Visit the Sisters Islands Marine Park Gallery
The eastern side of St John's Island is dedicated to the St John's Island National Marine Laboratory which is Singapore's only offshore marine research centre. Most of the grounds are closed to public, but they do have a small gallery – Sisters' Islands Marine Park Public Gallery that showcases Singapore's marine biodiversity since the neighbouring Sisters' Islands is a restricted area. It sounds pretty cool to check out but they have very limited opening hours, just for 2 hours in the morning on the eves of public holidays.
Another area that's closed on the east side of St John's Island is Bendera Bay which has been fenced up. This was where the island's school kids used to practice their swimming – they were national champions because their training ground had natural currents! They've kept it closed for conservation purposes and to better study the rocks, coral and marine creatures found here.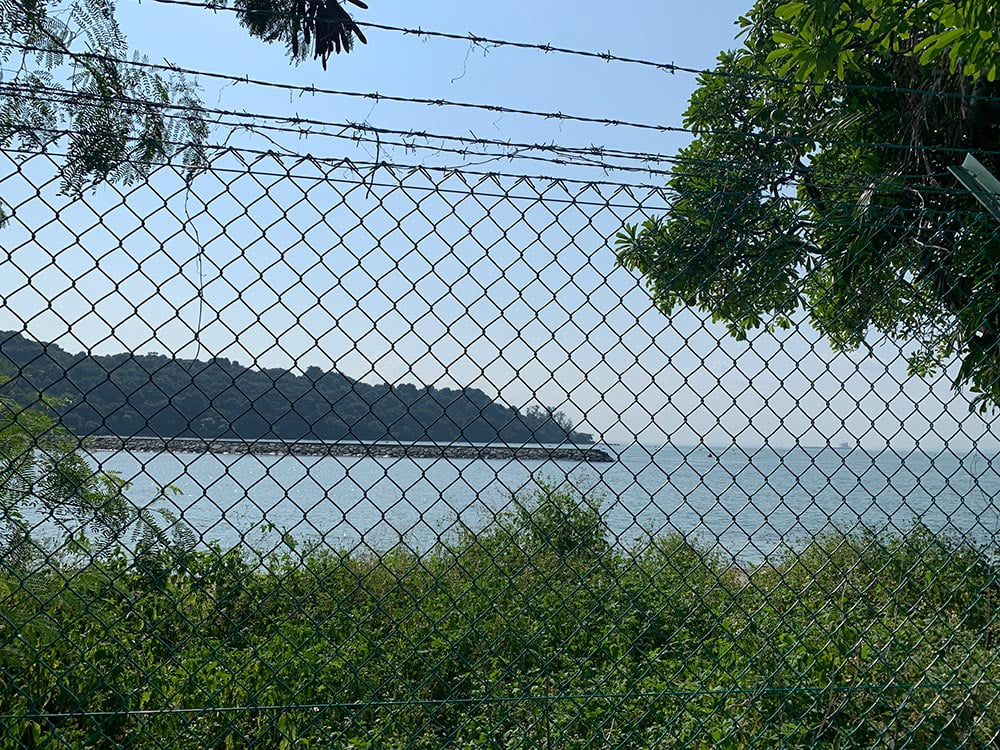 Stay overnight at St John's Island Lodge
If you're up for a little camping, you can actually stay overnight in St John's Island Lodges. The former holding camps on the western side of the island have been turned into sleeping shelters (some with beds, others with raised platforms you need a sleeping bag for) and camping facilities, and there is a bungalow right at the pier area that can also be rented for overnight stays for up to 10 pax.
Find out more information about camping on St John's Island at SLA. You will need to apply for a Temporary Occupational License (TOL) via the SLA website with a Singpass login (The applicant has to have Singapore residency, and for the rest you will need Name, IC and contact for all participants involved) and pay a deposit.
---
Lazarus Island
What we think of as Lazarus Island (formerly Pulau Sekijang Pelepah) today is really made up of 3 islands that have been joined together by land reclamation: the original Lazarus Island, Kias island and Seringat Island. This was all part of early plans to make the Southern Islands into a more touristy place like Sentosa, but those plans never really went anywhere. Lazarus Island was where they used to bury those who died in the St John's camps.
Cross the Causeway
Lazarus Island is connected to St John's Island by a short causeway which is not far from the ferry terminal – turn left as you exit the pier or just follow the crowds.
Frolic on Lazarus Beach
Lazarus Beach is a short 10 minute walk away from the St John's jetty area – most of the people coming off the ferry make a beeline to Lazarus Beach so they can get first dibs on what is probably the nicest beach in Singapore. This crescent cove is on the east side of the island (facing Kusu Island) and has beautiful (imported) white sand. The water in general is pretty shallow and gently sloping.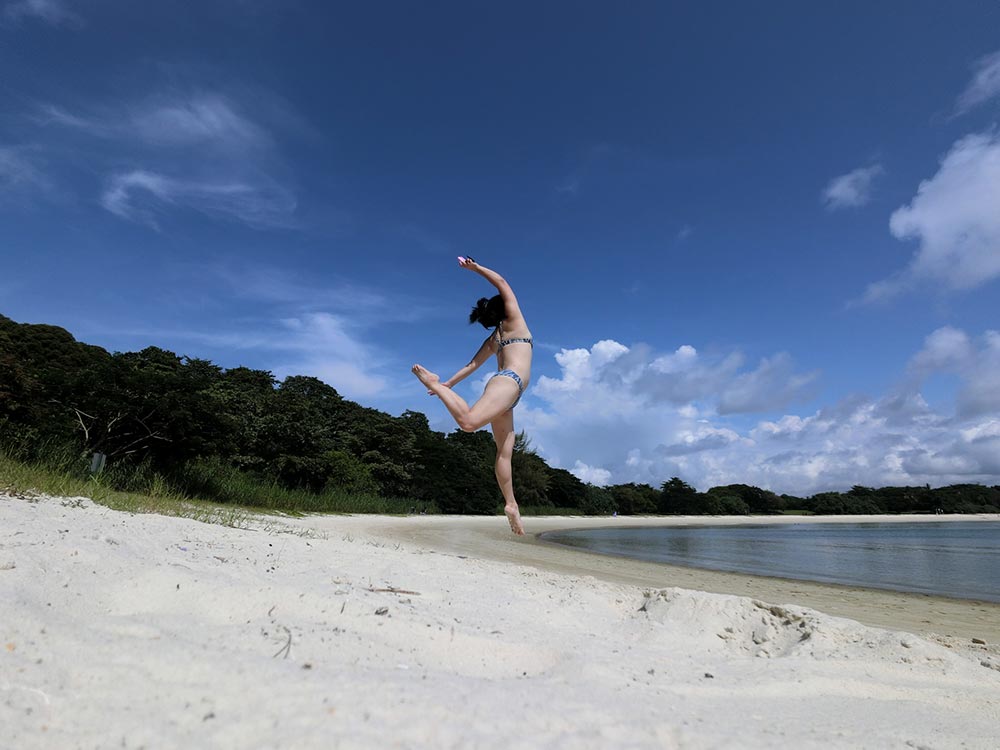 A note that there isn't any shade on the beach itself – there are some trees away from the shore and more empty grass patches on the ends of the cove, so I'd suggest bring your own tent to stay out of the sun. On the northern end there is a small pavilion for shelter – I know this because it started pouring pretty suddenly in the afternoon and I hid there for a bit.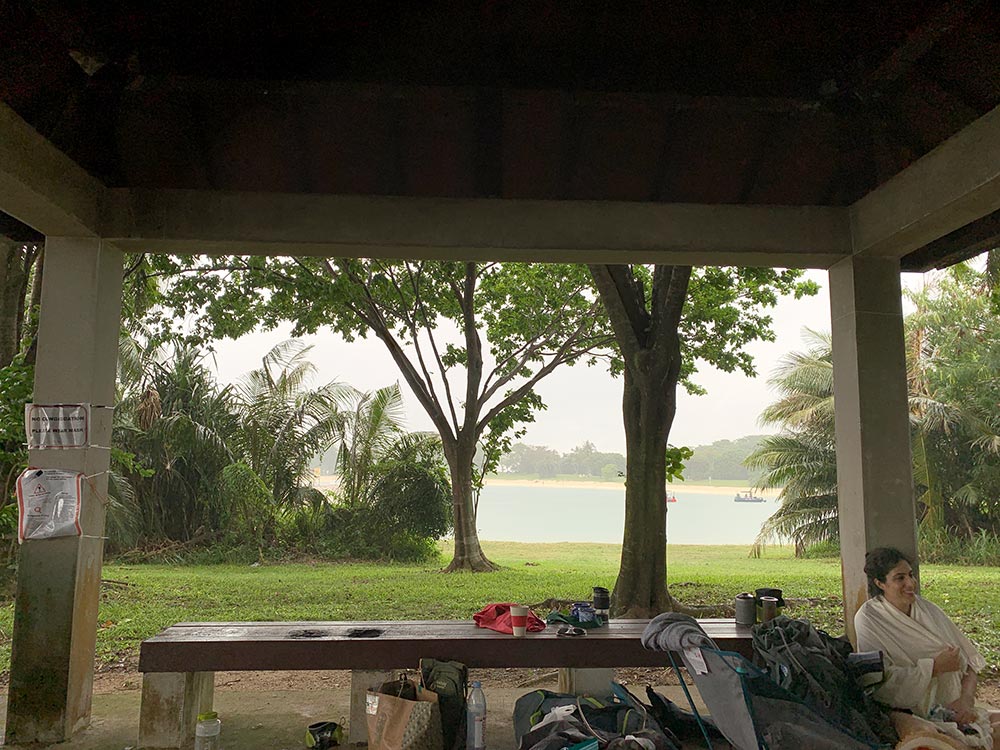 Seringat Island
Seringat used to be a separate island, but is now located north and west of Lazarus Beach. You can follow the paved roads but there's not much here other than trees and a nice coastal view. If you want a quiet spot with a nice view and you hate sand, Seringat Beach on the north side of the island facing Singapore does have some nice views and little pavilions you can chill out at.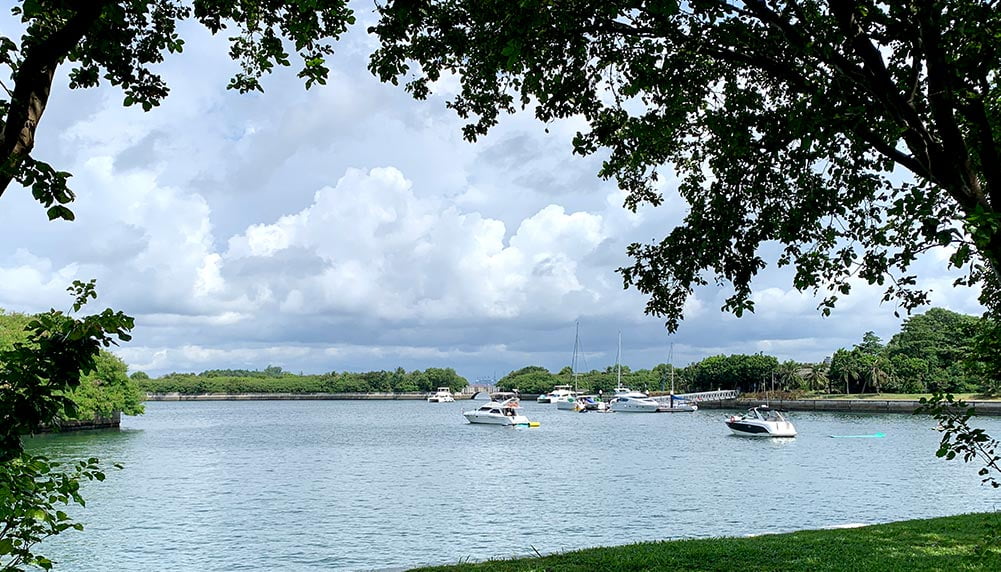 Kias Island
Kias Island also used to be a separate island that is now the northwestern tip of this combined island. It actually barely used to be seen, only revealed at low tide, but during land reclamation, they installed a power generator here that is linked undersea to Sentosa Cove. There is a causeway that links out to the edge of the island but there isn't much here except for a nice vie of Pulau Tekukor.
---
Kusu Island
Kusu Island or Turtle Island 龟屿岛 was previously known as Peak Island, is located just east of Lazarus Island. There are many legends as to how this island got its name, most popular of which being that a giant turtle transformed into an island to save some drowning sailors – because the sailors were Malay and Chinese and thus the temple and keramats were built.
Kusu Island was apparently once shaped like the turtle it was named after, although after some land reclamation it doesn't look remotely turtle-like anymore. Unfortunately when I visited Kusu Island it was still raining on and off so I didn't get to explore it as much as I wanted and you can see a lot of rain in my photos, but I'll update it again when I go back!
Pray at the Chinese temple
The main feature of Kusu Island is the Chinese Taoist temple dating back to 1923 when it was built by a wealthy Chinese businessman. This temple is dedicated to Tua Pek Kong (Da Bo Gong) who people pray to for health and wealth, as well as Goddess of Mercy Guan Yin that couples like to pray to for fertility.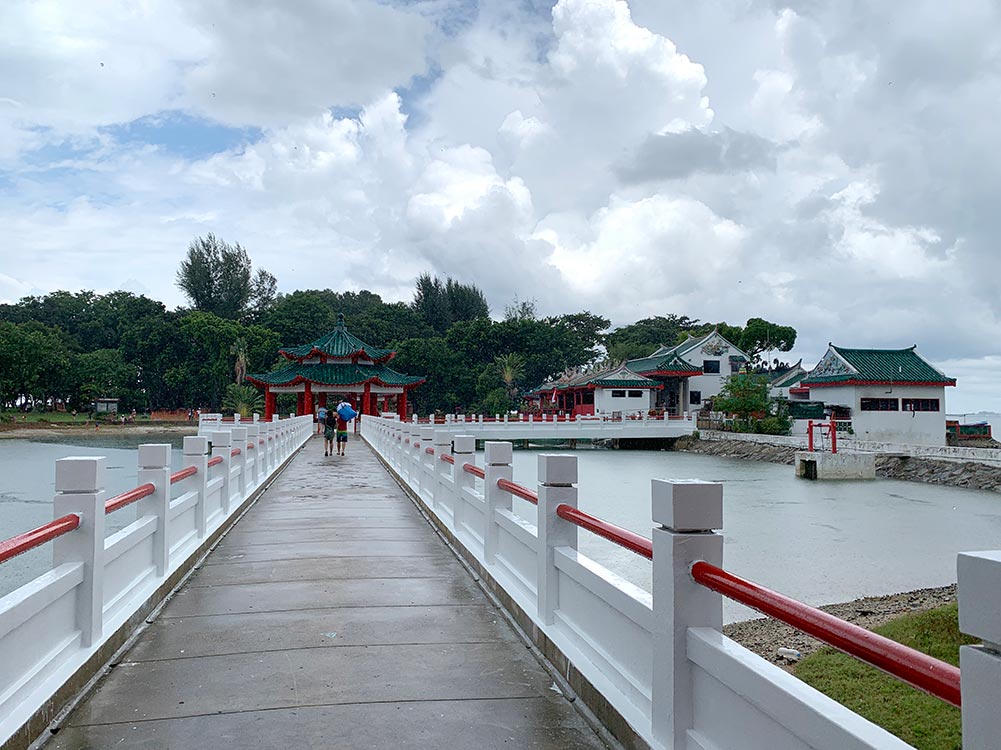 On a normal day, this temple located on the south coast of the island is generally quiet and easy to wander through, perched over a picturesque little pond. However, it is especially busy during the 9th lunar month (September or October) when devotees make a pilgrimage to the temple for Tua Pek Kong This is when you definitely need to book your boat tickets in advance, and there are special direct boats to Kusu Island available.
Climb up to the Malay keramats
On the east side of the temple is a stairway leading up 152 stairs to 3 Malay Keramats or holy shrines which are over a century old. Muslim devotees had to make the climb to prove their piousness. Unfortunately the keramats were closed when I visited, and earlier in 2022 they caught fire and were destroyed, so I'm not sure if they have been restored yet.
Pop by the tortoise shelter
Somewhere in the centre of this tiny island is a red tortoise-shaped tortoise shelter over a pond with lots of tortoises in it. Many Chinese temples keep tortoises on ground as they consider it a sacred animal in Chinese culture and a symbol of fortune, longevity and often used to tell the future.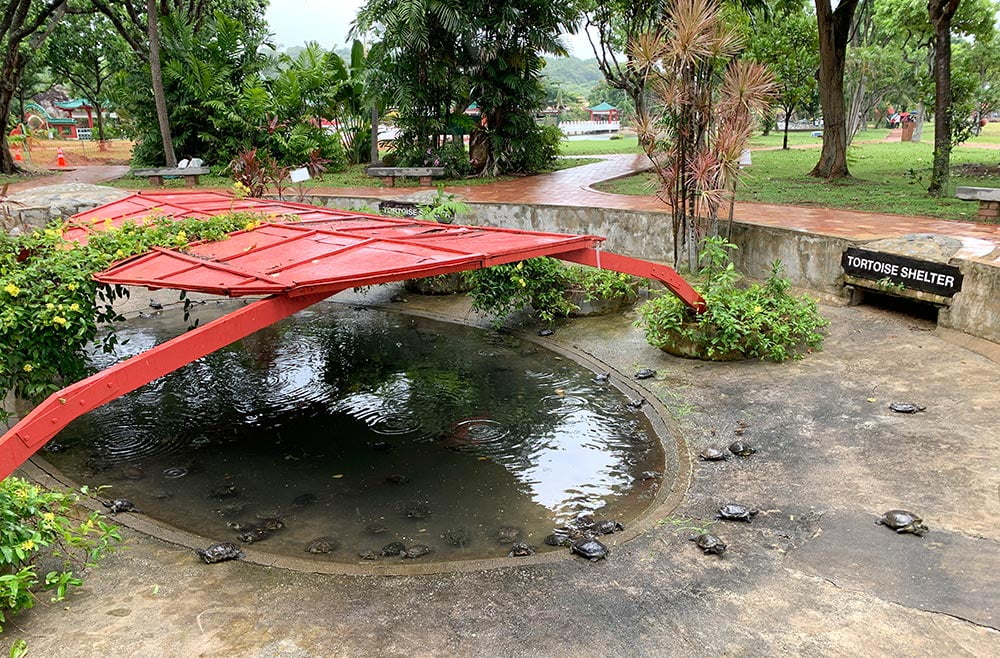 Swim at the beach
The rest of Kusu Island is pretty flat all around, with lots of picnic tables and pavilions scattered about the grassy bits for people to relax at. There are also lots of little coves and beaches that are perfect for a little dip. No camping on this island though!
---
Travel Tips
Bring your own food: there are no food stalls on any of the islands. Make sure you pack enough food and drinks to picnic on the islands and clear your trash when you leave. The Marina South Ferry Terminal does have some small shops selling bottled drinks, snacks and hot food if you need some last minute eats.
Bring your own shade & mats: there are some benches and pavilions on the islands, but you'll want your own shade and mats just in case it's crowded or the good spots are taken up. Lazarus Beach in particular has very little shade on the beach itself. Bring a hat and slap on the sunblock! Singapore also tends to rain a fair bit though it doesn't usually last for too long.
Buy your ferry tickets early: weekends are particularly crowded, so get your tickets online early to guarantee a seat. In particular, the 9th lunar month (around September/October) is particularly busy for Kusu Island as its worshippers go to pay pilgrimage during this period. The ferry schedules may include some direct to Kusu Island journeys, and may not cover the usual St John's and Kusu Island route, so be sure to check during this particular time.
---
Looking for more unusual things to do in Singapore? Check out the other offshore islands like Pulau Ubin, Pulau Hantu and Pulau Satumu, or get some ideas to get off the beaten path a bit: