Over the Good Friday long weekend, I packed my bags and headed out with travel buddy A to the little island paradise of Bali, favourite of Singaporeans for a quick weekend getaway. If you've been following the blog, you'll know that while I'd never been to Bali before 2013, for some bizarre reason this was going to be my 4th trip in 2 years. The central touristy part of Bali is not large – Kuta and Seminyak start to feel familiar after awhile, and even traipsing over to Jimbaran and Ubud.
But this time around I was headed out to Nusa Dua, an area of Bali I had not visited yet and is known for fancy resorts. The folks from the Grand Mirage Resort Bali had asked me quite early on to come check out their space, and after much coordination I was finally headed their way!
I was also quite lucky to have the Casio people loan me an Casio EXILIM EXZR3500 camera which I used to take my pictures for most of this trip. I love the convenience of my camera phone, but I'll let you gauge the quality of the Exilim photos for yourself – I didn't have to edit most of the Exilim pix except to downsize them for the blog, so you can be the judge for yourself of the quality of the camera. Also awesome – wifi capabilities so I could easily bluetooth transfer the photos to my phone to upload on instagram, as well as browse camera photos on my phone.
GETTING THERE
Nusa Dua is south of the airport, about 30mins by car if traffic is decent. If you look at the picture below, you will notice a bit of highway going across the water on the right – that's the main highway that we took to reach the Nusa Dua area.
From there we headed up North into this little finger of land called Tanjung Benoa, which is that whole stretch you see in the picture below and you can also see the entire beachfront is just lined with resorts.
If you're intending to use Nusa Dua as a base, note that you probably will need to cater in more travelling time, because most of the stuff to see is in the central/northern area.
ALL INCLUSIVE STAY
With just a short extended weekend to check out the place and get my R&R in, I didn't actually leave the resort at all (except to go surfing!). There's not much to see in Nusa Dua itself, but part of that was also due to the Grand Mirage Resort's all-inclusive package, which basically sums up to full room and board throughout your stay. You are free to order drinks (and drink from the minibar!) anywhere in the resort, have meals at any one of their four restaurants and even.
My usual hotel stay etiquette means not touching the mini-bar and popping out to the nearby mini-mart to stock up on snacks, so having that freedom to just eat and drink as I pleased throughout my stay was quite a novelty. Other perks of the all-inclusive include use of the non-motorized water sport equipment, laundry and with some T&Cs, check out the full list here.
It's a great idea if your plan, like me, was to just relax fully and not have to think about stuff. If you plan to eat and drink with abandon as well as make full use of their facilities, definitely something to consider.
THE ROOM
We had a Deluxe Ocean Room on Level 4 – Room 4452 to be exact. The bedroom area itself is quite large and spacious, and there is a small balcony enough for 2 chairs with an ocean view. Tanjong Benoa is on the Eastern coast, so make sure you wake up for sunrise on at least one day!
The attached bathroom had a bathtub as well as a shower. It's not a modern fancy luxe type of place; there's a more lived-in feel to the rooms which I think fits what families might be looking for – not too chichi where you're always worrying if your kids are going to break something, but comfortable and spacious enough.
THE HOTEL
Our host Stella took us on a bit of a walkabout. The hotel in itself isn't very big – you can stroll around it quite easily.
We had a chance to eat in most of the restaurants on site – there is a Chinese restaurant called Chopsticks further down the beach in another property but we weren't in the mood for Chinese food. Overall food was quite decent, and all-inclusive definitely makes you feel like you're eating free food. You can order food and most drinks to your hearts content!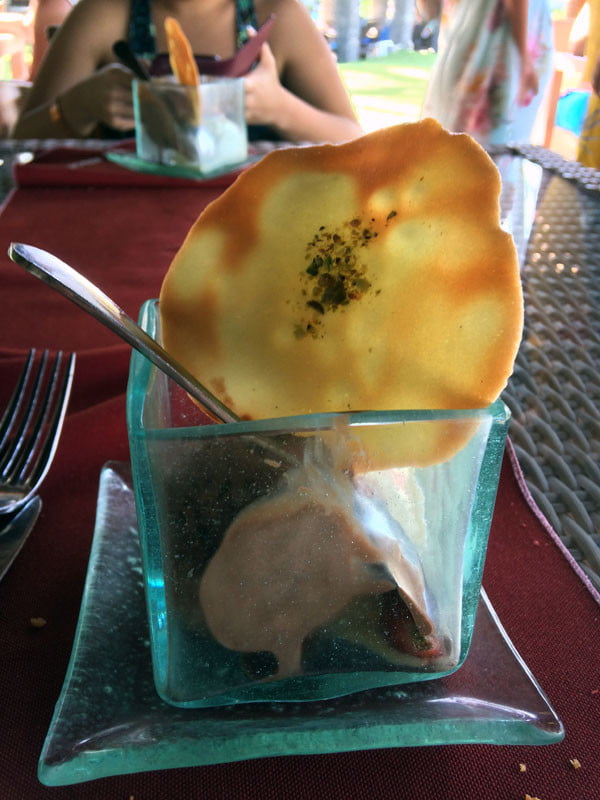 THINGS TO DO
Laze by the beach
And of course the main reason you're at any sort of beach resort – let me dazzle you with the stretch of Tanjung Benoa beach right past the pool area and where you were most likely to find me hanging out.
The water wasn't as calm as I thought it would be – it's still a little choppy so I would be careful with smaller children. Quite a lot of seaweed but very clear water.
Pampering at Thalasso Spa
Thalasso Spa is connected to the hotel, even if it is actually a separate property. It is one of the larger spas I've seen, with 16 unique themed rooms and an aquamedic pool (didn't take any pix because there were people in it) which is a heated seawater pool with minerals in it, various stations for pampering and exercise.
The place definitely has quite a lovely decor so wandering around in it feels a bit surreal. I had a decent Balinese massage and while I think the ambiance is nice, it might be considered pricey at US$48 for what I had if you are comparing this to other cheaper massage options you might be able to find outside the resort.
Seawalking
Seawalking, or helmet diving as it is also known is the easiest way for you to be underwater without having to actually get a scuba diving license. At this point, it had been more than a year since I last dived, so I was just very happy to be going underwater again.
The idea is very simple – you put on a giant super heavy 30+kg helmet that traps an air bubble around your head. Air is pumped in to replenish the air that you are breathing in while the weight of the helmet keeps you from bobbing up.
As everybody descends to the bottom of the sea, you each hang on to a large metal stick that the guide is holding on to, and he leads you around a rather small area – the hoses on the top of your head will only stretch so far, so don't think about wandering off!
The waters in general around the area are very clear, but perhaps because this area sees more tourists, it's actually a little bit murky. There are fishes which you can feed and they will swarm around you so it feels like you're in a reverse aquarium, and there are some coral as well, but remember it's an area that sees a lot of activity so don't expect something super pristine out of National Geographic.
Perhaps if you've never dived or snorkelled in your life, it might be quite an amazing experience being underwater and breathing for the first time – A doesn't scuba dive though she did do this in Boracay as well and enjoyed it more. I've done a fair bit of scuba diving so that novelty perhaps is lost on me!
Normal price is US$75/pax (though there are cheaper rates for online/early bird) – it's still cheaper than scuba diving or getting a license, but personally I'd save my money for that! Novel experience though and something to tick off the bucket list.
Parasailing
This isn't actually offered by the hotel, but there are folk who wander along the beach offering you fun seasport activities in the afternoon while the tide is high. On Sunday there were at least 10 parasails in the air at any one point, so while we were keen, we decided to pass in favour of lazing by the pool.
And a good thing too because on Monday, the same guy was there, but this time he had a much reduced offer because of the slower weekday crowd – just 150,000 IDR (around S$15!), which is almost half of the weekend rate!
After paying up, we were zoomed off on a speedboat in a 5 min ride to a neighbouring beach where the parasailing took place. For this price, you get just one round (which feels like 5-10mins) in the air. I couldn't bring up any cameras, but trust me when I say the view was GORGEOUS. You can see exactly how clear the water is as well! I wish I was up there for much longer, but for the price we paid, that wasn't too bad :)
Also worth checking out is their games room, which includes a pool table and Karaoke room. I would have done a spot of kayaking and windsurfing (free for all-inclusive) as well if I had a bit more time and wasn't feeling so lazy!
PRICE
I checked the price for a weekend in June – the cheapest rooms (garden facing, no breakfast) go for just under S$100. If you are looking for a similar experience to mine though (deluxe ocean room, all inclusive), the day rate was around S$315. Without the all-inclusive, inc breakfast it was S$135, so while I like the idea of the all-inclusive, I think it's only worthwhile if you intend to spend all your time in the resort and eat and drink to your hearts content!
From my experience there, I'd recommend the Grand Mirage Resort for family travellers – there's a lot happening in the resort to entertain the young and active, while there's enough R&R options for the parents who just need a break. There always seems to be something happening around the place, but you can still always run off to the beach to chill out.
If you want something more luxurious, head on over to Samabe Bali in Sawangan for an amazing tranquil seaview stay.
What was your Nusa Dua experience like? Leave a comment for fellow trip planners so they know what to do or avoid in Nusa Dua!