Exploring Tioman was quite an eye-opener for me because I'd only ever associated this Malaysian island with my scuba diving trips before. One of my favourite discoveries was that you can actually spend an afternoon cycling in Tioman from the village of Tekek to Air Batang, which is a delightful way to explore a little bit of the island. Here's a little bit about my experience, how to rent a bicycle in Tioman and what you can see along the way.
I stayed at the Berjaya Tioman Resort at their invitation during this trip to Tioman, but this side adventure was something I did and paid for on my own with my travel buddy Y.
Roads in Tioman
I didn't think cycling in Tioman was going to be possible because Tioman's villages are mostly not well connected by road. This island is one where you traditionally get around by little boats, or do some intense hiking through the forested hills to get from village to village. Even today, there are basically two main roads in Tioman:
Tekek-Juara: A road from Tekek cuts over the hills eastwards to Juara and requires a 4×4 to navigate the extremely steep hill in the middle. I wanted to visit Juara but unfortunately didn't have the time. There are some private ferries that go to Juara but most of the time visitors take the ferry to Tekek and then the 4×4 to Juara.
Tekek: Tekek as the largest village on the island has a paved tarmac main road that runs parallel to the coastline from Berjaya Tioman Resort in the south all the way up to the Marine Park in the north, right on the edge of ABC village
However, in 2017, a small promenade was built that connects Tekek to ABC by an actual pathway that did not require forest hiking. Technically this path forbids motorcycles to use it, but it's ok for bicycles as long as you can squeeze pass the bollards at the end, so cycling from Tekek to Air Batang does make for a nice way to while away an afternoon.
The only cars/minivans that you will see in Tioman besides the 4x4s to get to Juara are owned by the resorts, usually used to ferry guests to and from the property. Berjaya Tioman Resort for example is about 10mins by car from the ferry terminal. The rest of the locals ride scooters and motorbikes, with the tourists renting either motorbikes or bicycles. There aren't even any petrol kiosks here in Tioman – you get fuel from the minimarts in plastic bottles!
Cycling from Tekek to Air Batang (ABC)
The full length of the road from Tekek to Air Batang is about 4.5km one way which took me about 1 hour at an easy cycling pace with some small photo stops. Renting the bicycle for about 2 hours minimum would be ideal, but if you plan to stop at the beach or have lunch along the way, consider a whole day rental. Here's what you can see along the way.
Tekek South
Tekek South is a patch of beach right next to the ferry terminal. My liaison at the resort brought us out for dinner one night and we ended up here at Tioman Cabana Village. It's a cute little beach front guesthouse that's also a dive lodge and has a western-style cafe on the 2nd level. It's quite cute, definitely a sort of place that westerners in particular will enjoy the 'chill beach-like' vibe from.
The menu food is a mix of western and local-style food. Hamburgers, pizza, rice, curries… I ordered garlic butter lemon prawns and rice which were pretty tasty, but note that prices are a little steeper compared to local food. My dish cost 35RM which was one of the more expensive dishes – local rice/noodles cost about 15-25RM.
Just be warned that their kitchen is pretty small so if the place is busy like it was when we had dinner, your food might take quite a while to be served. But hey, it's island time – order a drink and just wait it out.
Tekek Ferry Terminal / Tekek Airport
Keep cycling northwards and you'll pass by the major ports of entry into Tioman – Tekek Ferry Terminal as well as tiny Tekek airport. The runway honestly doesn't look very long, so it's no wonder only small planes can land here and are prone to cancellation if the weather is bad.
You can also find the duty free shop here – Tioman is where you can load up on cheap alcohol and chocolates and stuff, but note that by right you're only supposed to be consuming all these goods here.
Tekek Public Beach (Pantai Kampung Tekek)
Right past the airport, there is a long stretch of public beach that you can enjoy. As with all beaches in Tioman, beware of sandflies! There are some photo-spots here for your IG shots, but what I thought was really interesting is that if you visit this place in the late evening and look up at the trees, you'll notice something like a few hundred bats perched upside down to nap!
Esplanade / Tiong Point
Past Tekek Beach, there is a stretch of boardwalk that is called the Esplanade, and it's marked by a statue of a very large mynah, or what the locals call a Tiong, atop a I Heart Tioman sign. Again, no idea what makes this bird so significant to Tioman as it's a pretty common bird – we have them everywhere here in Singapore as well, but it's just something fun to snap.
Marine Park / Pusat Taman Laut
Right after the esplanade at the northern end of Tekek is an area called Pusat Taman Laut or the Marine Park. There is a building complex here which apparently holds an information centre with some exhibitions about Tioman's coral and marine life, but it didn't look open when we went by so we didn't pop in.
Most of the visitors here are on the beach and in the water, and you'll find many pushcarts selling snorkelling gear and snacks in this vicinity.
Link bridge between Tekek and ABC
The linkbridge entrance to ABC can be found here. Metal bollards have been put up to stop scooters going through (though we did see some very small ones manage to squeeze through), but if you're on a bike you can just push it through. You can stroll along the bridge as well, but if you're feeling like roughing it out, the original staircase to the jungle path along the slope is also open.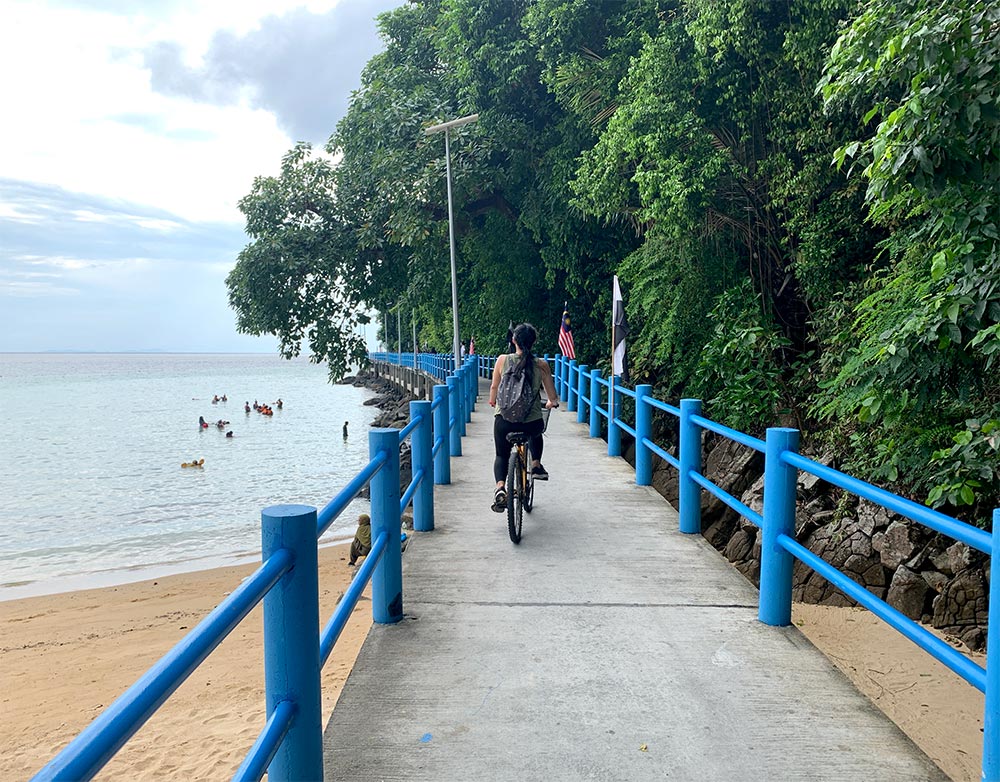 Air Batang (ABC)
Once you round the corner to ABC, it's almost like a different world as the noise of the snorkelers and beach goers at the Marine Park fade away. The path here is still paved but is very narrow, and there aren't any cars here either though there might be an occasional motorcycle.
There are some beaches here at ABC but these seem very much quieter than those at Tekek. Both sides of the small road are lined with little huts that are either chalets, dive schools or the odd restaurant or two where you can stop for a snack or drink. Nazri's is one of the more famous restaurants here.
End of the road
We cycled as far as we could good, and the road stops fairly abruptly at a slope, where a sign leads up winding stairs for intrepid trekkers looking to head to Monkey Bay or Salang in the far north of Tioman.
Here we found a little resort called Bamboo Hill Chalets which has just 5 rooms and the owner is a nice lady who's lived in Tioman for a long time. She came out to chat with us and even offered us some of the spring water collected from the nearby spring.
---
Where to rent bicycles in Tekek
There are several shops around the ferry terminal in Tekek where you can rent bicycles from. Some of the resorts also have bicycles of their own for guests. (Side note: if you are in Berjaya, their property is so big you're not allowed to take the bicycles out from their grounds.)
I rented my bicycle from the minimart called Cheers Chalet & Souvenir at Tekek South which also rents out motorbikes and has guesthouse rooms for those on a budget. The going rate for bicycle rental cost was RM5/hour, and RM15-25/day depending on the shop. Motorbike prices start from RM15-20/hour. The bicycles here were of varying quality – definitely test before you leave, but ultimately you'll probably only be cycling for 1-2 hours in total.
---
What other cool activities have you done in Tioman? Tell me more in the comments. Meanwhile here are more posts on visiting islands in Malaysia.