Jeju may be an island, but it is South Korea's largest island and a lot bigger than what most people might imagine – it's more than twice as big as Singapore! Most people recommend self-driving around Jeju for the most flexibility and so you can reach more remote places around the island, but renting a car may not be the cheapest or most practical option especially when on your own. I visited Jeju solo in September 2022 and took a combination of buses and taxis to explore, and thought I'd share my tips on taking public transport in Jeju and exploring Jeju without a car for anyone planning to do the same.
Looking for more posts on Jeju? Check out my guide to northwest Jeju's Aewol and Hallim, or what you can see on the island of Biyangdo.
Why I chose not to drive in Jeju
I have a Class 3 car driving license in Singapore and while I'm open to the idea of driving in foreign countries to get around, I usually avoid renting a car if I'm travelling solo because I get a bit nervous at the idea of driving alone in an unfamiliar place. Oddly enough I'm happy to jump on a scooter (especially on cute little islands with little traffic), but not so much on my own.
Expensive for one person: on average, renting a car was going to cost me at least 120,000 KRW (S$120) per day. This cost is definitely okay with you have at least one other person to split it with, but not something I was willing to pay on my own.
Heavy traffic: Jeju traffic can be quite heavy especially in and around the major city areas like Jeju City and Seogwipo. You will run into peak time traffic jams in these areas. Isn't it always better to be able to space out in a traffic jam than have to drive through it?
Unfamiliar roads/signage: Korea drives on the right side of the road, whereas Singapore drives on the left side, so it would take some adjustment for me to get used to the direction changes. Also I would have to rely on GPS to navigate and I think I'd be stressed out trying to find my way and unable to just appreciate the scenery and drive. I'd be ok to drive with at least one other person with me to help me out, but I didn't want to do this on my own.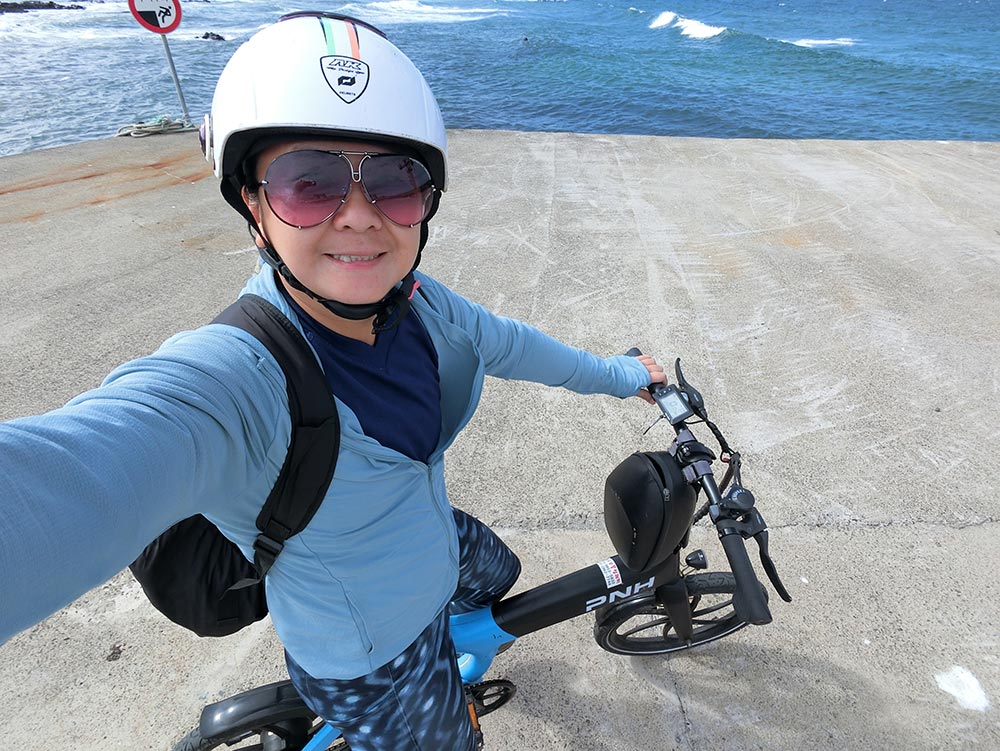 A note that you will need to apply for your International Driving Permit (IDP) if you plan to drive in Korea – pop by AA and it's done pretty quickly for $20. I got mine done for this trip but ended up not using it.
Another thing about Korea is that for international licenses, you absolutely cannot rent a motorbike/scooter (A class on the IDP) with just a car license (B class on the IDP) unfortunately, which was a problem for me on the island of Udo where the main mode of transport are these electric scooters/bike cars.
Where I travelled in Jeju
Can you explore Jeju without a car? I did it! I spent 10 days in Jeju and split up my trip into different segments so I could reduce the amount of long transits crossing the island. For example, getting from Aewol to Seogwipo takes at least an hour even by car.
Day 1-4: 3 nights in Aewol and exploring the northwest region (Aewol, Hallim, Biyangdo) – see my guide to Northwest Jeju
Day 4-7: 3 nights in Seogwipo exploring the south coast up to Seongsan Ilchulbong in the east
Day 7-9: 2 nights in Udo
Day 9-11: 2 nights in Seoul
Day 11-12: 1 final night in Jeju City to catch my morning flight back to Singapore
Public buses in Jeju
The cheapest and easiest way to get around Jeju is to hop onto one of their public buses. Jeju has a fairly extensive network of buses categorised into 4 different bus types with their own assigned colour.
Red: Express intercity buses – if you're based in Seogwipo, this is the fastest way for you to get from Jeju airport.
Blue: Intercity buses – these go between cities but stop at many small stops along the way. The buses that I took the most were probably 201 and 202 that circle the island along the coast from Jeju City to Seogwipo – 201 covers the east side while 202 covers the west side. They are not a bad way to enjoy seeing the island for cheap, but they can be quite slow as they stop at every stop along the way.
Green: City buses – these cover shorter routes with the city
Yellow: Tourist buses – these stop at major tourist stops around the island. There is a west loop and an east loop
If you are commuting to or from the airport, I took one of these buses and it even had a multilingual guide on board who helped passengers sort out which stop they needed to stop at.
Learn more about Jeju's bus system or search for Jeju's bus routes to plan your journey.
Signage at jeju bus stops
Bus stops in Jeju can range from basic signposts with some paper schedules, or fancier covered shelters with an interactive touch screen that shows you the arrival of the many buses at the bus stop, and you can use it to look at other bus routes. Ideally you'd want to have Naver Maps (more on that below) on hand so you aren't stuck without a clue even if you are at a basic bus stop with no digital signage.
Remember to hail your bus: Buses may not always stop at all stops, so make sure to flag down your bus if you see it coming.
Signage on Jeju Buses
Jeju's buses are pretty excellent for tourists even if they don't understand Korean. Most buses have a TV screen in front that automatically announces the next stop's name and shows the route and following stops. For certain stops there are even English announcements, so it's pretty easy to keep track of where you are especially if you have Naver Maps to help you see if you are approaching your destination.
How to signal your stop: when you hear your stop being announced, hit the stop button and start preparing to disembark.
Ring Routes: 201 and 202
The buses that I took the most often were probably 201 and 202. These are blue intercity buses that circle the island along the coast from Jeju City to Seogwipo – 201 covers the east side while 202 covers the west side. They are not a bad way to enjoy seeing the island for cheap, but they can be quite slow as they stop at every stop along the way.
Tip: if you are planning to travel a long distance along the coast, it might be much cheaper to take a bus rather than a cab that takes about the same amount of time. For example, I took the bus back from Seopjikoji Beach (east) to Seogwipo (south) – the journey by taxi would have taken about 1 hour and cost about 39,000 KRW, while the bus ride took just 10 minutes longer and cost just 1,200 KRW.
How to take public bus in Jeju
Use Naver Maps to check bus routes and arrival times
In Jeju, Naver Maps is essential for taking public transport as it works out the distance by driving, as well as the bus timings, arrival and connections. It's useful to gauge how long or difficult it might be to get to a certain place.
There is an English map interface that you can use to search, but sometimes the spelling/spaces of the English names aren't always accurate, so having the Hangul name or address on hand to search is also useful, or you can do so visually if you can kinda read Korean. I usually bookmark the location once I have found it.
How to access Naver maps: Download Naver Maps app from the Apple App Store or Google Play store. You'll need to sign up for a Naver account to use it but it's free and easy to do. WIth an account, you can also save locations to lists and rename them to a more familiar/English name if you need to.
Get a T-Money Card to pay for bus rides
Having a T-Money card is essential for taking the bus anywhere in Korea. You preload the card with some cash and tap on the reader as you enter and exit the bus. You can pay with cash on the bus if you do have to, but fumbling with money at the door is no fun at all.
Besides being more convenient, the T-Money rate is usually slightly cheaper than the cash rate (about 100 KRW cheaper for adults) and you can get transfer discounts within half an hour if you have to do a few bus hops – just make sure to tap out at the exit.
A T-Money card is cheap – the standard rate is 2,500 KRW (fancier designs may cost more) and it doesn't expire either so you can always reuse it on future trips. Foreigners can also get the Korea Tour Card for 4,000 KRW which you can use as a T-Money card and gives you additional attraction perks. (If you have an Android phone, there is a Korea Tour Card app which lets you use the card on your phone, but the reviews look… not great)
How to charge T-Money card in Jeju: Because there are no subways here, you will need to find a convenience store (CU, 7-eleven etc) to charge your T-Money card, which for some odd reason can only be done in CASH at the counter (it is one of the few things you'll need physical money for in all of South Korea, more info here) and you charge in increments of 1,000 KRW. Check out the KTO site for a detailed rundown on the use of transportation cards in Korea.
Where to buy and charge T-Money card at Jeju Airport: If you intend to take the bus as soon as you touchdown at Jeju Airport, there are CU and 7-eleven stores within the building on the upper levels where you can buy a T-money card and charge it. Make sure you have cash for that.
Taxis in Jeju
Sometimes buses aren't the most efficient way to get around, especially in more remote areas where there's a long wait for the next bus or the bus takes a very winding route. I was carrying a larger suitcase on this trip and a taxi definitely was a more comfortable way to travel.
I had no problems getting a taxi throughout my time in Jeju, nor was it too expensive. My most expensive rides were roughly hour long journeys from Gwakji Beach to Seogwipo (about 43,000 KRW) and Seogwipo to Seongsan Harbour (about 46,000 KRW). My other shorter trips ranged from 5,000-15,000 KRW.
How to take taxi in Jeju
Use Kakao T App to book taxis
Kakao T is a really useful app where you can easily book a taxi. You can key in the information or set location via map so you won't even have to worry about communication issues with the driver and you can track the route on your phone. It has a whole host of functions but I've really only used it for getting a taxi.
If you've used Grab or Uber before you'll find it similar – enter your destination, request your taxi and you can see how far/near the driver is and track your route as well.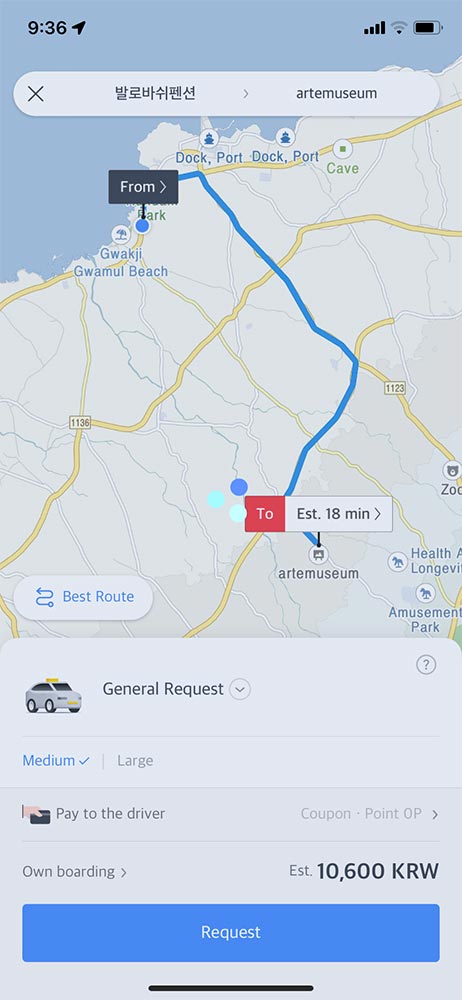 Download Kakao T from Apple App Store or Google Play store. You'll need to download Kakao Talk and sign up for a free Kakao account to use, and you can use your own phone number (no need Korean number) as well to verify the account.
Pay taxi fare with credit card
In terms of making payment, select Pay Direct to Driver when you make your booking because you won't be able to link your credit card directly without a Korean ID. All the taxis I took were able to take credit card, so you don't have to worry about handling cash either – my Wise card [referral link] worked in most places all across Korea including the taxis and I liked how easy it was to convert SGD to KRW and the rates were much better than the money changer.
Stay connected: Data options
I cannot stress how important it is to have data when trying to navigate in South Korea – I got an unlimited data plan so I never had to worry about using maps and translations or trying to hail a rideshare.
Data isn't that expensive and there are plenty of websites offering different plans and ways to connect. See what works best for you, but here's a quick run-down of what's available:
eSIM cards: My current go-to option for data overseas because you can easily install a data plan without removing your existing SIM card, have access the moment you touch down and no need to worry about where to pick up the card. Cons are that you don't usually have a Korean phone number which may be an issue if your taxi driver is trying to call you, but it's not a big issue in my opinion. Here's the unlimited data Frewie eSIM I used from Klook [affiliate link] that cost about S$38 or you can check out eSIM sites like Airalo [affiliate link] though I found those plans a tad pricier.
Prepaid SIM card: SIM cards are usually the cheapest option with a variety of plans/time-periods available and you can often pick up in both Korea (mobile stores and at the airport), or Changi Recommends has several Korean SIM card options that you can pick up at the Singapore airport – for some reason most of their SIMs only have an Incheon pickup. I'd get this if I was on a budget or needed a local Korean number, but check as not all SIM cards offer domestic calls/texts. Klook has a KT-Olleh 4G LTE unlimited data-only SIM card [affiliate link] that allows you to top up 11,000 KRW (about S$11) for some voice calls.
Portable Wifi Device: Good if you are more security conscious and have multiple devices like tablets and laptops to connect, or you're travelling in a group and looking to save money but can be cumbersome because it's an additional device to carry around that needs to be charged, and you have to pickup/return usually at the airport if you use Changi Recommends.
---
Have you taken public transport around Jeju? Share your experiences here.
Stay tuned for more articles on Jeju, but in the meantime here are more articles on places that I've visited in South Korea.