One of my favourite places in the world is Lyudao 綠島 or Green Island, a tiny island off the eastern coast of Taiwan. I think of it as one of the prettiest parts of Taiwan, and this tiny island encompasses everything I love about travel – it's easy enough for me to poke around on my own, a whole lot of natural beauty on display and many surprising things to discover and experience all in one little destination.
I first visited Lyudao back in 2007 as part of my grad trip with my university friends. Back then I was happy to let my friend do all the planning and just tag along, and it ended up being some of the most memorable bits of our trip.
9 years later in 2016 as I embarked on my career break and headed back to Taiwan, Lyudao was definitely on my list of places to revisit. Would it live up to my rosy memories? I was curious to see how Lyudao had changed in almost a decade, and I'm quite glad that while it had definitely modernised – especially compared to neighbouring Lanyu aka Orchid Island that I also visited – a lot of Lyudao remained changed from my first visit.
So, if you want to head to Taiwan Green Island and see this lovely offshore island for yourself, here's everything I know to help you get there. For more stories, here's an article I wrote for the Straits Times about Green Island (ST Paywall – click here if you don't have a subscription) if you want to read more.
Last Updated on 9 March, 2023
Here's a handy Google Map for you:
---
How to get to Green Island/Lyudao
The journey to Lyudao is a little notorious and highly dependent on the weather. The best time to visit Green Island is in Summer around April to June when the weather is generally drier and warm. Later in the year, you'll run into monsoons around July to August, and winter in general the seas are even more choppy.
Luckily, Lyudao is located fairly close to mainland Taiwan. The ferry ride takes you just one hour so even if you get seasick, it's not so dire (unless you are on a particularly pukey boat). There are two ways to get there I've listed them here but you can also find more details and contact numbers on the Taitung tourism website.
By Plane
The fastest way to get from the mainland of Taiwan to Lyudao there is by plane, you'll need to:
For International Arrivals or Taipei: Fly from Taipei's Songshan Airport to Taitung Airport – 50mins
For Domestic Flights: Fly from Taitung Airport to Lyudao Airport – 15mins
The only airline that does the Taitung-Lyudao hop is via Daily Air. There are 6 flights in a day, though flights are often cancelled or delayed if the weather is bad, especially during monsoon season. More on their website here (mostly in Chinese).
The planes are really small (19 seaters) and are often fully booked months in advance. What a lot of people do (especially when they are trying desperately to fly off the island) is put their name down on the waiting list for the date they want to leave as soon as they arrive. After that it's a bit of a waiting game to see if you can get on a flight.
It costs about NT$3,000 (around S$133) in total for a round trip flight, but I'd only recommend this is you are really, really prone to seasickness, as you do save a fair bit as compared to the ferry. Booking in advance is highly recommended to ensure you get a seat.
By Land / Ferry
The ferry ride from Taitung to Lyudao takes a little longer but is a more budget option as it is about half the cost of flying.
Get to Fugang Fish Harbour in Taitung – You need to take a taxi or bus from Taitung Train Station
Take a ferry from Fugang to Lyudao Nanliao Harbour – 1 hour
The round-trip ferry ride cost me NT$920 (about S$40). The boats are considerably bigger than the planes so there are more seats and hence a higher chance you can get on a boat last minute as compared to a flight. I bought my tickets directly at the harbour previously, but you can book ferry tickets to Green Island via Klook [affiliate link] now which makes it so much more convenient.
The ferry ride should take about an hour at most, depending on the sea conditions. The first time I took the Lyudao Ferry, I had a combination of really choppy waters and terribly sick people retching all around me in the cabin, so while I wasn't seasick, it was not a pleasant journey. It's an enclosed cabin and unfortunately you don't have the option of going outside.
On my return trip in 2016, I found that the boats had much better air circulation and more comfortable seats, so my journey was (thankfully) quite uneventful. Ferries may also be cancelled if the weather is bad and seas are deemed too rough.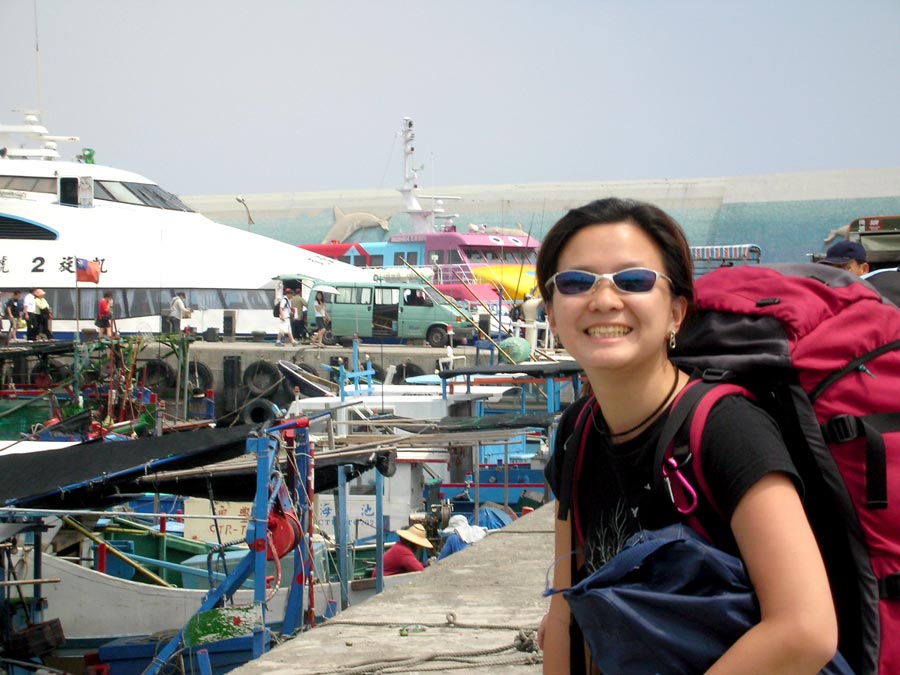 ---
Can you go from Lyudao to Lanyu or vice versa?
My original plan was to go from Lyudao directly to Lanyu and hopefully save myself some ferry time (Lanyu is 3 hours by ferry from Taitung) but the short answer to this question is – don't count on it. You'll need to ask the locals or the ticket office if any ferries are making any trips during that period during the busy summer period, but the likelihood is still quite low.
Also the funny thing is that while there may be a chance to go from Lanyu to Lyudao, you can't get from Lyudao to Lanyu by ferry directly unless you go back to Taitung first.
Updated 2019: Klook now offers a round-trip ferry package [klook affiliate link] that takes you from Taitung/Kenting to Lanyu, then to Lyudao, and then back to Taitung/Kenting again. I've not tried this for myself and you do need to indicate the dates of travel, but this would have been so useful for me if they had in back in 2016.
---
Where to stay on Green Island/Lyudao
I stayed at Love in Sanasai or Sanasai Inn [booking.com affiliate link], which is designed to look a bit like Oia in greece with its blue domes and white walls. I like its proximity to the ferry terminal – even though it's so close by and I was planning to just walk over, the owner had a sign to greet me and gave me and my backpack a lift back to the hostel on the back of a scooter.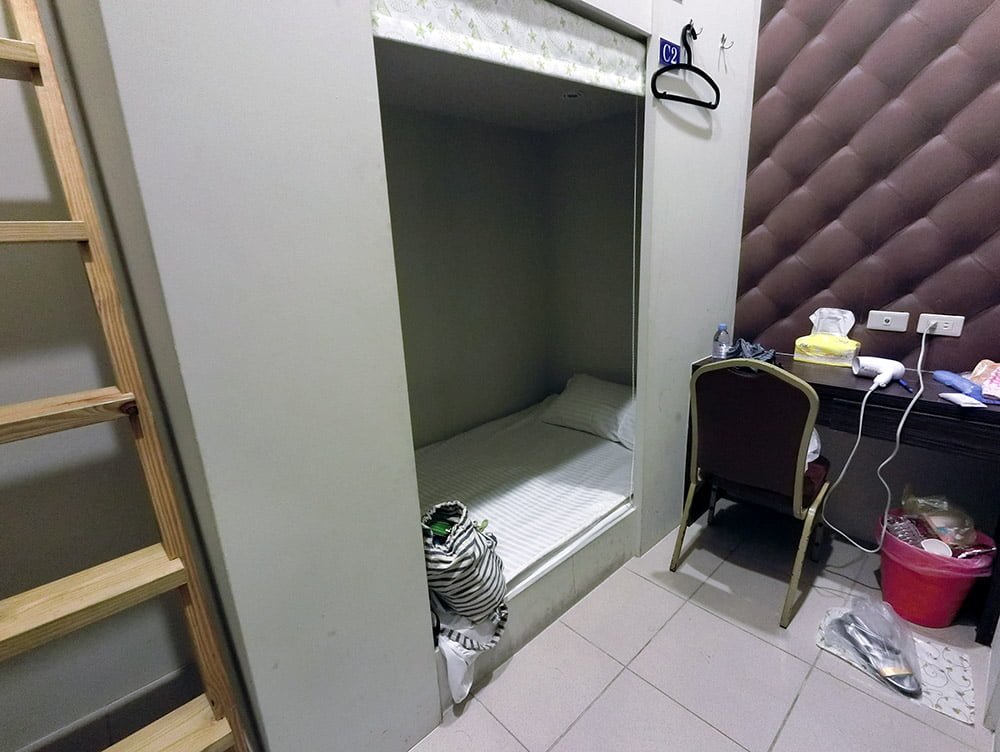 I stayed in the 4-bed girls dormitory which was really comfortable – fixed bunk beds with a lot of headroom, your own cupboard to stash your stuff in and curtains you could pull so it was almost like a cubicle. Also, aircon! Definitely recommended – more here! It cost me 600NTD per night – that's about S$25 via booking.com.
What's great was that they had their own electric scooter rental which made it super convenient for me to arrange transport, and they even sold tickets to the hot spring directly.
Check out Love in Sanasai or Sanasai Inn on booking.com [affiliate link]
---
Getting around Green Island/Lyudao
Lyudao is a really small island, especially if you compare it to the neighbouring Lanyu – you could circle Lyudao in about an hour of continuous riding one main road called the Huan Dao Lu 環島路. I feel the best way to get around the island is by electric scooter as you don't even need a driving license to rent one, and you don't have to top up fuel either – just change the battery pack or recharge.
Electric scooters technically have a maximum speed of 40km/h, and you could rent a normal scooter if you wanted to – there are rows and rows of scooters available for rent right outside the Ferry terminal. Cars are also available – we rented one the first time as we were in a group and not all of us could ride. It feels more free to just ride solo on a scooter around the island, so I'd recommend this as the most fun way to get around.
I rented my scooter from my guesthouse at NT$600 per day. It came with a spare battery in the seat and I could swap out the batteries whenever I needed – it was nice not having to pay for fuel.
---
Things to do on Green Island/Lyudao
Lyudao is a small island that I think is great for a little exploration. Here is a list of things to do on Lyudao that I think are worth checking out. I'll start from the harbour area in the west and move clockwise around the island. Refer to my Google Map on the top of this article for more detailed pins.
WEST 西
Nan Liao Harbour 南寮漁港
If you take the ferry to Lyudao, this will be where you arrive and depart from. If you need to rent a scooter, you can do so just outside the harbour area quite easily.
Nan Liao Village 南寮村
Just north of the harbour area is the main Nan Liao village where you can find food and shops. The 7-11 and Family Mart are along this stretch as well if you want to pick up snacks or find an ATM, and the one petrol station on the island is around here too. There's a lovely promenade of sorts where you can take a stroll along the water's edge and admire the view while sitting on wooden benches facing the sea, it's great for sunset! Most of the times I had meals along this stretch.
Airport 綠島機場
Lyudao Airport (GNI) can be found in the north west corner of the island. It's very tiny and mostly consists of a counter and a security area.
Lighthouse 綠島燈塔
Just off Chai Kou Village is a road that leads you to the lighthouse area. It's free to enter, and while you can't actually climb to the top of the lighthouse as it's still functional, you do get a nice view of the surrounding area. There is a pretty nice pool right next to the lighthouse, good for a dip!
NORTH 北
Chai Kou 柴口
This is a popular spot for snorkelling and diving – I love how you can see the shore and rock pools when the tide is low – there's a special stone path that you can walk on to prevent harming the rocks.
Human Rights Memorial 綠島人權文化園區
Lyudao had an infamous prison that was once used to house political prisoners during the 'white terror' period from the 1940s to the 1980s. The jail is now empty and has been transformed into a museum and memorial located in the Lyudao Culture Park area. Look out for the large rock formations around here. This old jail is now empty, instead filled with information boards about its history, as well as life-sized standees of people reenacting life in the jail as you peek through the doorways and windows.
There is still a working jail located near Zhong Liao Harbour – don't try to enter this area.
Huandao Road splits into two here – the rather unpaved road leads you to Swallows Grotto or Yan Zi Dong 燕子洞, which is supposedly an impressive cavern by the seaside. I have no idea why I missed this though – somehow I thought I'd seen it previously but looking at pictures online I actually haven't! >_< . Regardless, the other fork in the road goes inland and uphill, and will bring you to the eastern part of the island.
EAST 東
Niu Tou Shan 牛頭山 / Ox Head Hill
Located in the northeastern corner of the island, the path to Niu Tou Shan is easy to miss – look for a little sign and parking area. You need to park your scooter and then walk on paths and grass towards the coast, where you will be rewarded with some amazing greenery and coastal views.
It is apparently named because if you approach the base of the hill from Gong Guan village 公館村, it looks like a Ox head with curling horns. I missed this area the first time I was in Lyudao and was very glad to discover it this time around.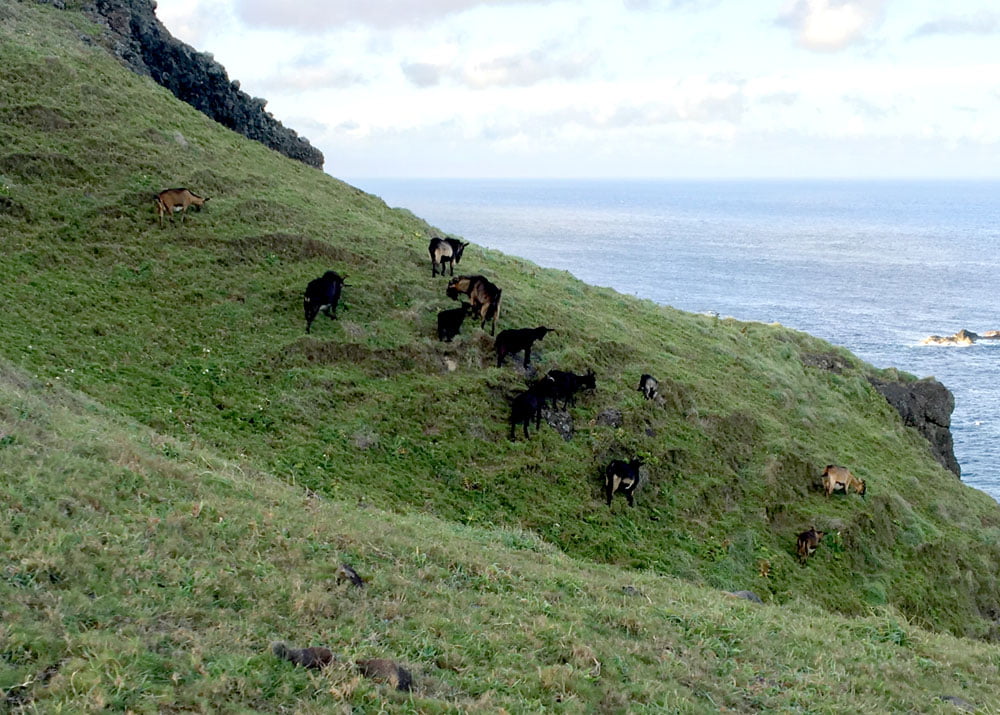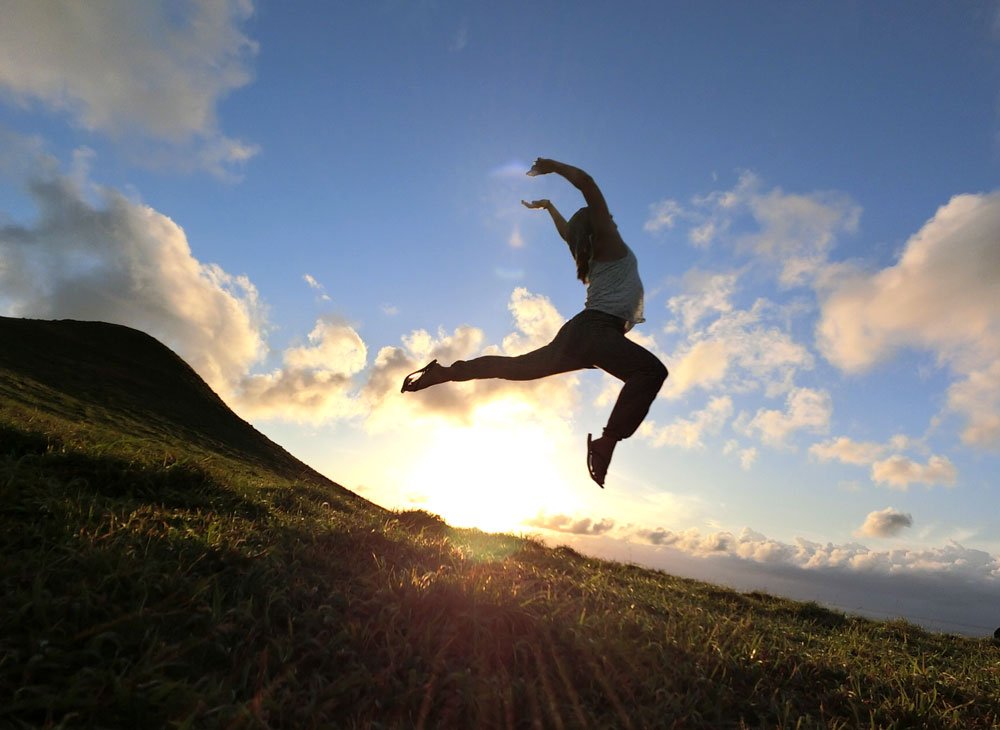 Guan Yin Dong 觀音洞
This limestone cave is pretty small and has a stone Guan Yin (Goddess of Mercy) statue in it. Personally I don't think it's that interesting and that you don't need to spend that much time here. But legend has is that while lost at sea, some fishermen followed a fireball that led them to safety and to this statue, so they set up an altar here for their offerings.
You Zi Hu 柚子湖
This abandoned little village is at the bottom of a cliff – you need to ride quite carefully down a very narrow gravel path on your scooter to get to this spot. It's mostly stone structures left amidst flourishing greenery and a stunning beach and sea view. These ruins are supposed to be prehistoric and many fossils and relics were dug up here, but the village itself isn't protected in anyway – you are quite free to check them out and I even spotted a rather eye catching graffiti here.
Apparently there is a waterfall nearby which I didn't know about! This blog post has more info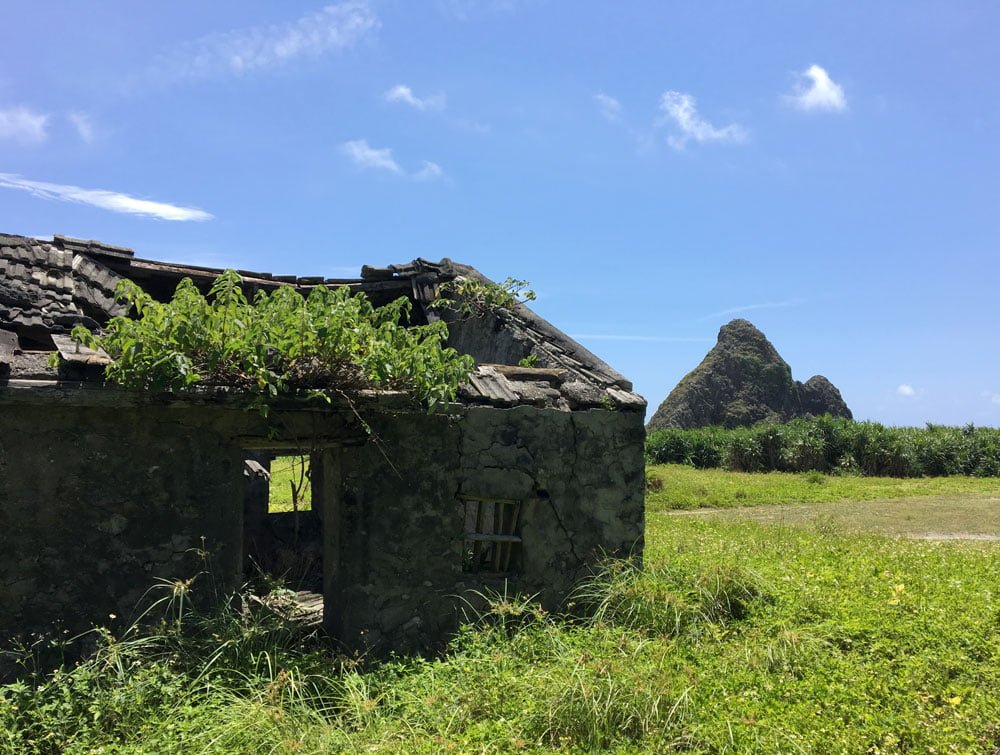 Hai Sheng Ping 海參坪 / Xiao Chang Cheng 小長城
The Hai Sheng Ping bay is probably my favourite place in Lyudao, mostly because it has an amazing view overlooking the famous Pekinese Dog and Sleeping Beauty Rocks. The path that leads to the viewing towers is called Xiao Chang Cheng, which translates into Little Great Wall. It's an easy climb though, and I'd take some food along and have a little picnic at the viewing terraces because it's just so pretty!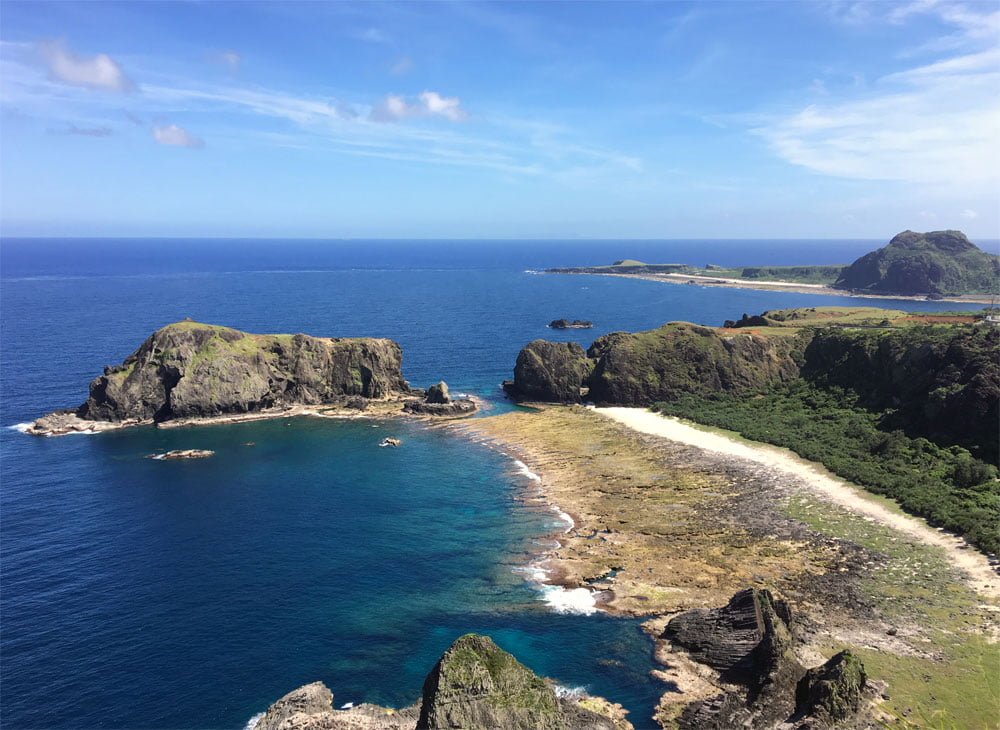 SOUTH 南
Zhao Ri Hot Spring 朝日溫泉
Zhaori is one of my favourite hot springs in the world. This is one of the few saltwater ones by the sea, and commands the most amazing sunrise view if you make your way to the outermost pool. Don't bother going too early as they will only let you in closer to sunrise, but if you are quick enough you can save yourself a nice scenic spot to soak. Entrance is NT$200 and you can buy it at the door – I got mine directly from my hostel owner the day before though you can buy your tickets at the door as well.
There is a trough where you can cook some food in hot spring water. You can easily buy eggs or vegetables or even prawns from the town, but make sure to bring some extras so you can test out optimal boiling time. I only had 2 eggs and dropped 1 of them >_< You need to soak your eggs for about 12-13 minutes.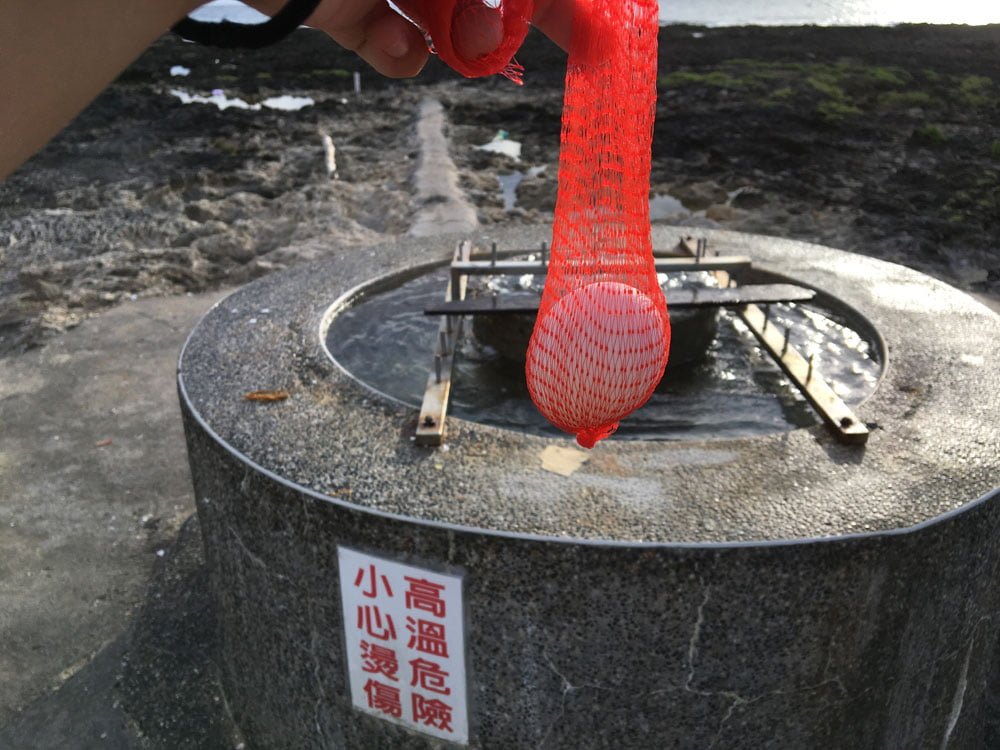 Fan Chuan Bi 帆船鼻
This viewpoint is right next to the Hot Springs, so if you rather not pay to enter the Hot Springs, head up here instead. It's a short climb up some stairs and you have an entire green patch of grass to loll about on.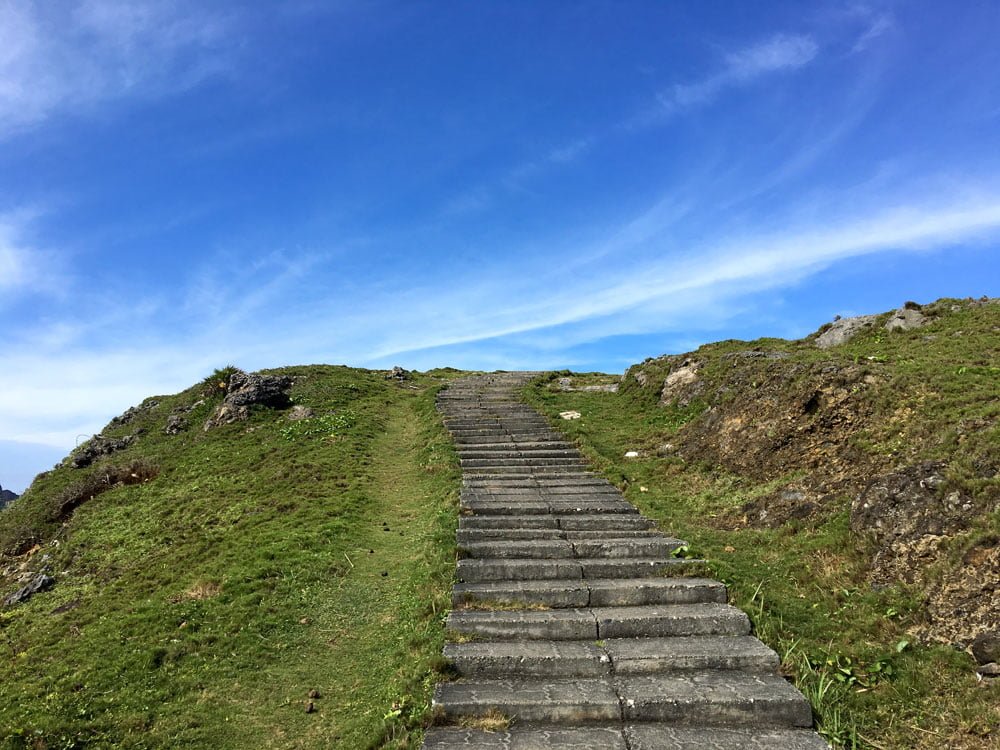 Da Bai Sha 大白沙 / Great White Beach
This is what I think is the prettiest beach on Lyudao with lovely white sand, good to just chill out on. It's also nice for snorkelling and has a long platform like the one in Chai Kou.
---
Experiences on Green Island/Lyudao
Here's a list of fun experiences you can have on Green Island besides your own exploration.
Snorkelling
Snorkelling is fairly common and easy to arrange. You usually get a wetsuit and snorkel and the guide will pull you along on a floating ring. Or consider renting or bringing your own gear and just heading out on your own to snorkel at Chai Kou or Da Bai Sha Beach
Scuba Diving
I managed to find some time to do a little diving here and saw the famous Mushroom Rock while it was still standing. It has since fallen over unfortunately!
It cost me NT$3,650 for 2 dives. Klook has a Green Island diving package for advanced divers and for noobs without a diving license, the discovery diving activity basically involves you being all suited up like a diver, but you don't get your own fins and an instructor tows you around underwater like a balloon. [affiliate links]
Night Tour with a Local Guide
Explore the island by night and check out the wildlife. I did this tour the first time I was here and we basically tailed after a local guide in our car and he introduced us to the local sights including some of the animals like sika deer, frogs and even an endemic stick insect.
Eat a local delicacy: Flying fish
Summer is flying fish season and you should definitely order a lovely deep-fried flying fish dish for dinner. Lyudao is also famous for seaweed so make sure to have some when you visit.
---
I hope this little guide helps you get to Lyudao aka Green Island. It's definitely seeing more tourists than when I first visited back in '07, especially during the summer season. But its relative remoteness means that Lyudao still is not crazy crowded and you can find lots of quiet spots to chill out at away from the crowds.
Have you been to Green Island? Drop a comment here if you have and share this with your friends that you want to visit Taiwan with.
Taiwan is one of my favourite countries to visit. Check out my other posts for more ideas on things to do in Taitung or in Taiwan, or check out the other Taiwan offshore islands that I visited as well: