Thailand is a favourite destination for Singaporeans, especially Bangkok which is fairly cheap and easy to reach from Singapore. But I've been looking for alternative and less touristy locations in Thailand to check out, so I was pretty stoked when the Radisson Blu folk invited me up to check out their new beachfront resort in Hua Hin, 3 hours south of Bangkok. Here's my review of the Ace of Hua Hin Resort (previously known as the Radisson Blu Resort Hua Hin).
Looking for things to do in Hua Hin? Check out my quick guide for things to do in Hua Hin if you have just one weekend.
First things first, my all-time favourite thing about the resort…
This fat bird mascot of sorts for the resort has a Thai name that translates into safety and security, which is a nice attribute for any hotel to have. It's a cute chubby bird that pops up all over the hotel and a fun Easter egg to spot around the premises.
Anyway, onward to the rest of this review.
---
From Bangkok to Hua Hin
Where is Hua Hin exactly? It is about 150km away from Bangkok and took us about 3 hours of driving south-east to reach.
Have a little more time? You pass through Samut Songkhram along the way so you can go check out Amphawa and its famous train market and floating market as well.
By Train
The traditional way to get from Bangkok to Hua Hin to take the train, and the train station is quite a pretty popular tourist attraction in Hua Hin. One would imagine that the train would be the best option because you can avoid Bangkok's notoriously bad traffic, but the train journey actually clocks in at around 4 hours, longer than the 2.5-3 hour journey it would take on average by road without any major traffic snarls. The train also doesn't have a reputation of being the most efficient, so while it is cheaper, do it only if you are on a real budget and have time to spare.
By Bus
The fastest way would be to either take a bus from the Suvarnabhumi Airport directly or from the Southern Sai Tai Mai bus terminal in Bangkok or arrange for a private car transfer directly to the resort. The resort does run shuttles to downtown Hua Hin which about 10mins drive.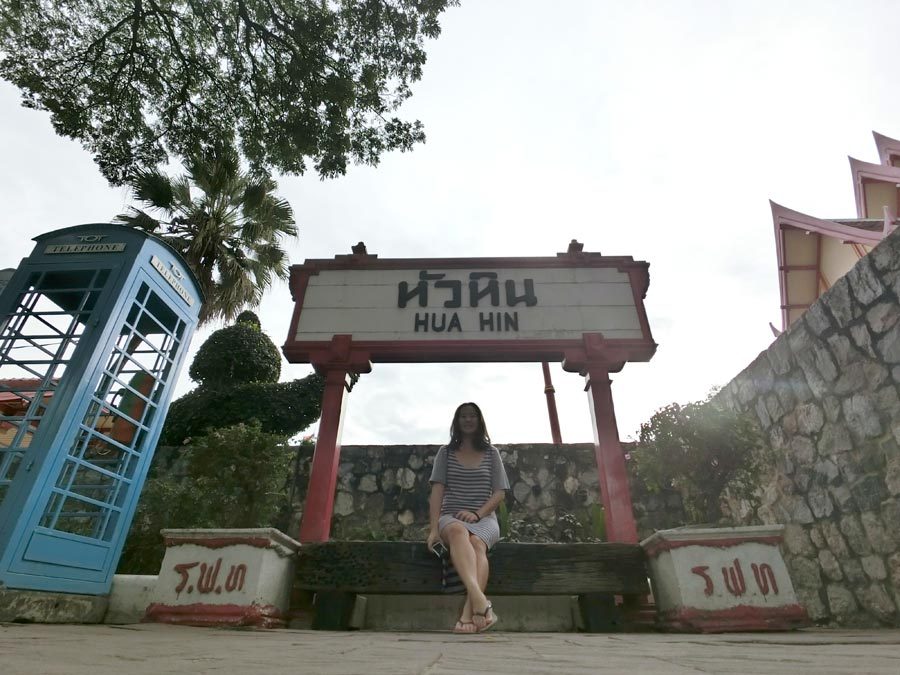 ---
The room
I had a deluxe room which was spacious and comfortable and decked out with lots of personal touches and blue decor.
I suggest for those who want easy access to the pool to get the deluxe rooms with pool access on Level 1 – your balcony opens up directly to the water so you can pop in and out of the pool without leaving your room. There is a common access deck so that other guests on the higher levels can access the pools as well though, so perhaps these rooms might lack a bit of privacy, but it is made up for on extremely hot days when you just want a quick dip.
If you can afford it, splash out for the suites with their own private pools so you don't have to share with others.
---
Facilities
One of the most distinctive features of the resort is this sunken pathway that cuts from the entrance to the beachfront. Guests will typically walk up and down it a few times a day – I love the custom tiles that line the side of this pathway and couldn't resist some dramatic insta-worthy shots:
If you want a larger pool with a better view of the sea, it gives you an infinity view of the beach front. It's right next to the Ivy Lounge where you can enjoy grilled seafood or a nice cocktail. Perfect sunrise spot as well from the other media who dragged themselves out of bed at 5am+ (not me haha). I can't say the same for sunsets because we had really grey skies when we were there and no decent sunsets.
The resort has a great little beachfront. Generally quiet and nice white sand, you can stroll along and see all the other beachfront resorts along this stretch. If you come here at night, you can also see all the squid fishing boats floating on the water with their ghostly green lights, and on a good clear day, you can apparently see all the way to Pattaya.
Some other spots in the resort worth checking out:
---
Dining

For me, Thailand is all about the cheap good Thai street food and you can pop into downtown Hua Hin and check out their night market for some typical Thai dishes, but if you are planning to spend most of your time just relaxing in the resort, there are 2 options to consider.
Ivy Lounge
The Ivy Lounge by the common pool area is nice to get some food or enjoy a cocktail. The resort went all out to welcome us with a special seafood grill dinner set up on the beach, but the usual dining area is sans sand and still offers a great view of the sea. Grilled fish, prawns, squid, mussels… yum!
The Exchange
Breakfast is held at The Exchange, the restaurant located right by the hotel's reception area, and was also a place we had Thai food for dinner one night as well. There is a bar with a pool table here, and you should probably check out the hotel's signature Aloha Blu cocktail.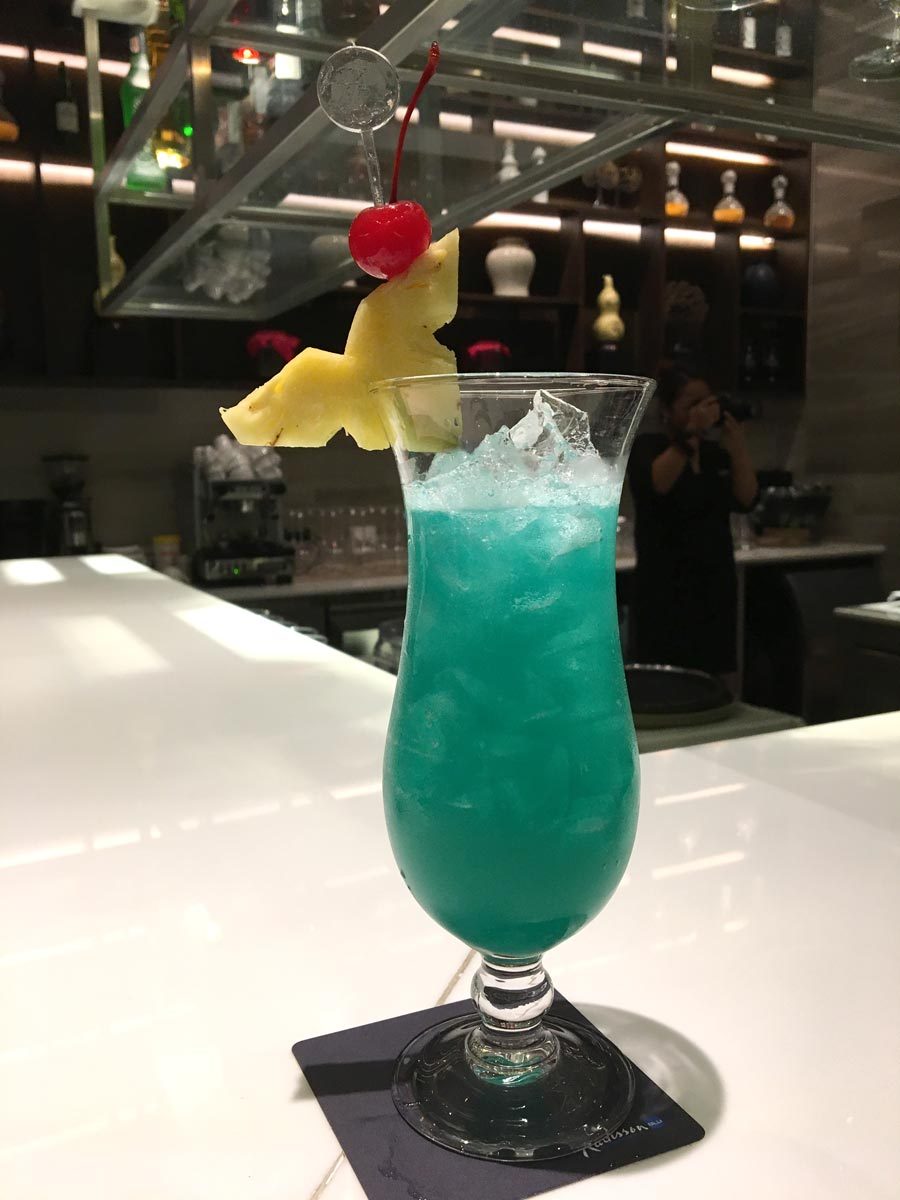 Like what you see? Check out the Ace of Hua Hin Resort on booking.com [affiliate link] – booking through the link might give me a small % of earnings at no cost to you whatsoever, think of it as helping me to keep this site going.
Check out my guide on things to do in Hua Hin, or if you want to explore other lesser seen spots in Thailand, why not check out Amphawa or Khanom, see all my Thailand posts.
This trip to Hua Hin and accommodation was sponsored by Radisson Blu – I was invited up by the Carlson Rezidor folk when the resort was still known as the Radisson Blu Resort Hua Hin. Flights sponsored by Thai Airways. All opinions in this article are my own.