My first trip of 2016 saw me heading to Bali thanks to the good folk of Casio Singapore who wanted me to check out their Casio Exilim FR100 camera. I'd previously tried out the ZR3500 selfie camera last year when I was in Bali as well, so was quite curious to see how this one would measure up.
I'm someone whose primary mode of taking photos is with my phone because I'm usually too lazy to carry around an additional device. But I scuba dive semi-frequently and I'm always game for some physical adventure, which makes the phone as a camera less practical – I am all sorts of paranoid about dropping my iphone down a ravine or dunking it in water – so having a tougher action camera on hand makes capturing the adventurous memories much easier.
The Casio folk brought a bunch of bloggers to Bali for some adventure so we could test out the camera for ourselves – as with all things, the FR100 has its pros and cons, but I was impressed at some of its capabilities. I'll let you judge for yourself how well it could work for you. I left all the pix in this post taken by the FR100 unedited (except for resizing to fit the blog) so you can see the photo quality for yourself.
Here's what we did:
Quad Biking with Bali Quad – we did a two-in-one adventure where we went quad biking in the morning, had lunch back at the base, and then went canyon tubing in the afternoon. The journey out from Kuta to Payangan (close to Ubud) took about an hour – it's surprisingly cooler in Payangan as we were up in the hills. You'll need river shoes Bring a change of clothes
Snorkelling – for the life of me, I can't recall the company we went snorkelling with, except that we left from the Tanjung Benoa / Sanur Beach jetty where they are based. We took about half an hour's boat ride out to Nusa Lembongan, where we snorkelled in 2 spots – Crystal Bay off Nusa Penida (way choppy in the afternoon) and another spot further away with great coral
ONE + ONE = MORE
The most obviously unusual thing about the FR100 camera is the fact that the lens and viewfinder can be split into 2 separate pieces that connect to each other via bluetooth. This makes for some interesting shot opportunities that might be harder to manage with say, a GoPro which you have to shoot blind with.
But because the camera is technically two units, that means when it comes to charging the battery, you will need to charge both the lens and viewfinder unit separately, which can be a pain if you only have one outlet, so it helps to have a power supply along with extra wires. Also, most of the work is being done by the Lens unit as it contains the Micro SD card, so the lens unit is more liable to run out of juice faster than the viewfinder unit.
Casio also provided us various accessories (sold separately from the camera) to play around with on the trip – One easy thing to do is to mount the lens on the selfie stick. But also useful are the various straps and clips of different sizes, so get creative.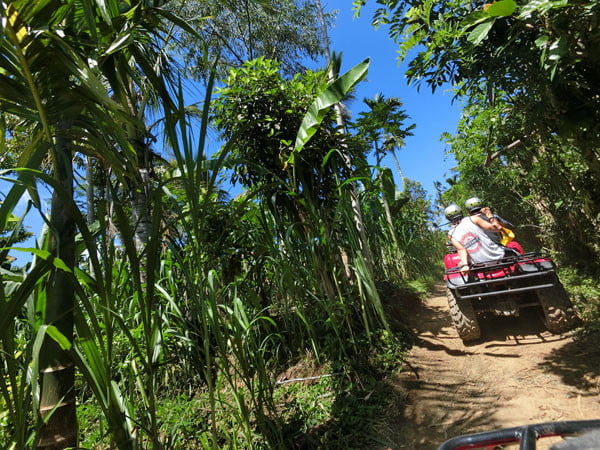 CATCHING THE MOMENT
I probably used the burst mode most on this trip – that's 30 fps (frames per second) which lets you capture the best in-action moments. Naturally, that resulted in me doing a ton of jumpshots, because when you leave bloggers to entertain themselves, that's kinda what happens. So much sea water in my sinuses from jumping into the water on our snorkeling day, but hey quite a lot of great photos came out of that!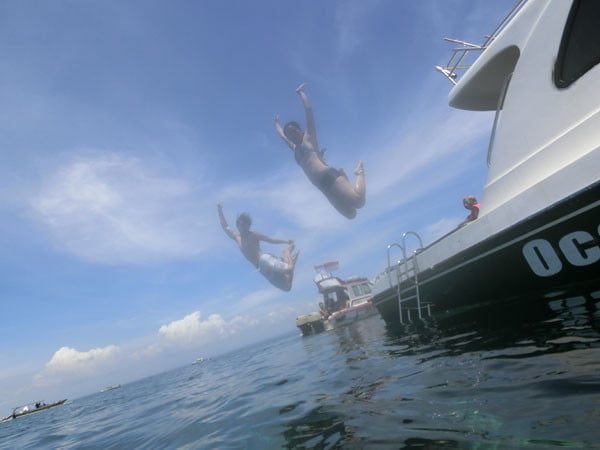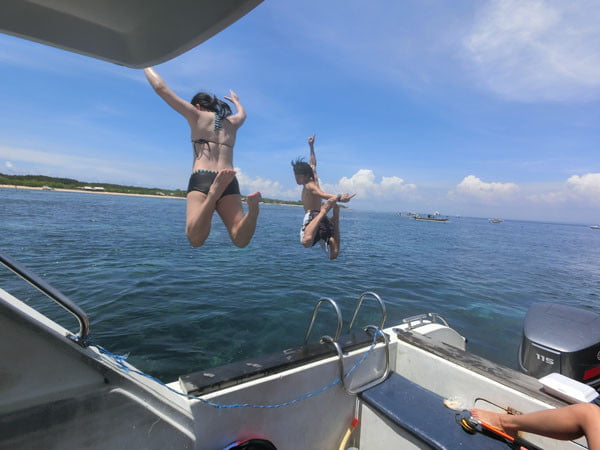 A TOUGH NUT TO CRACK
The FR100 is an action camera built to be tough – so it should be able to handle a bit of bumping around. Officially it can handle drops of 1.3m (all the nitty gritty here). I mostly carried it around on a carabiner strapped onto my bag, or clipped to the belt loop of my shorts or lifejacket.
It also works underwater – official capability is up to 2m without the underwater casing, and up to 20m with the casing. The lens and viewfinder units need to be connected together if you want to use the viewfinder as the bluetooth connection doesn't work underwater. Obviously the touchscreen doesn't work underwater either, and I found that it's also not very reactive when you are on the surface and when the screen / your fingers are damp, so trying to change modes quickly while bobbing in the water was a trying experience. Ideal situation would be to use the video recording, or pick one mode and stick to it while you are in the water.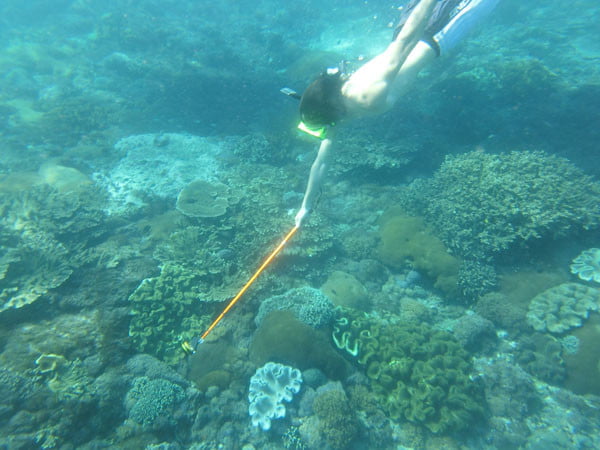 Here's a clip of what canyon tubing looks like if you are curious:
AUTOMATIC HIGHLIGHT REELS FOR LAZY PEOPLE
One function that I thought people would find quite helpful is the Highlight Video  – what you can do is put together your video/photo clips for the day or from certain shots into a short video, complete with a selection of music. I tend to take a lot of footage but get too lazy to edit at the end of the trip, so having this function makes it easy to do a daily round up of your day's shots. See the clip from the day we went snorkeling below:
Instead of compiling videos by day, you can also select to do this by interval – that means you set the camera to take a photo at a set timing (every 15 seconds, or every minute), and then you can compile all these pix together into shorter instagram-ready videos of your jumpshots, or timelapse videos of longer journeys quite easily without any additional software, which is always a plus for me!
The system itself is also pretty smart – you can 'train' the camera to pick up your favourite clips by using the star system to upvote or downvote particular pictures and videos. If not, the camera does automatically 'sieve' out photos and videos which are blurry on its own, but as with automation, the final product can be quite a hit or miss affair. I have a video from the day we went quad biking which mostly shows torsos and crotches because of some rather unfortunate angling and because I didn't down vote those videos/photos.
Also useful – the EXILIM mobile app that lets you easily transfer photos from the camera direct to your phone for social media uploading. Setting up the app is a bit of a pain as you figure out toggling between bluetooth and wifi, but once you have it set up, transferring photos is a breeze! You can even set up an auto transfer mode where any photos you take on the camera get automatically sent to your phone, but that really eat your p hone and camera's battery life.
Casio EXILIM EX FR-100 Camera is currently retailing at S$699 in Singapore – check out the page on Casio's website and the detailed tech specs here.
Big props to my fellow travel mates on this trip for making it a ball of a time – first time I've travelled with travel bloggers that I know prior to the trip, and pretty awesome making new friends as well! Check out their blogs or social media sites for their reviews on the camera if you are looking for more opinions. We didn't get to keep the cameras unfortunately~
Added Apr 2016: Casio sponsored me a white Exilim FR100 for my very own! Check out my blog posts and instagram and you will see many example of pix! I'm quite fond of it now :)
Quad biking buddy Lydia from Lydiascapes who also arranged for some swanky opps (more on that later) [REVIEW]
One half of the adventurous Sunrise Odyssey and ANTM wannabe Daniel [REVIEW]
The tech guru Justin writing for Asia361 who was always there to troubleshoot when I had tech issues [REVIEW]
Keith aka Jumpshot King from Travel Inspiration 360 [REVIEW]
The lovely artistic (sketchy? haha) Miao for The Travel Intern [REVIEW]
The perky couple Maybeline and James who are really friendly and always selfie ready [REVIEW]
Wonderful Vivian (I still don't know why you are a potato but you are a lovely one I'm sure) for capturing our highlights
And of course the long-suffering TJ who took care of all of us on the trip and made sure we knew what we were doing