One tip I had from a lot of people when I visited Portugal last year was to check out nearby Sintra while I was in Lisbon. Sintra is a small UNESCO World Heritage town that's less than an hour away by train from Lisbon's city centre, and it's a popular day trip option for those who want to leave the buzz of busy Lisbon behind for history, green hills and fairytale-like castles.
I'd done a little research beforehand and planned the day trip on a Monday, where lots of tourist stuff in Lisbon tends to be closed. We ended up making an unexpected detour to Cabo da Roca, but all in all it was a pretty fun trip.
Here is a rundown of what I saw there, and some tips for planning your own Sintra day trip. You can also check out all my other Portugal posts to see where else I went on this trip.
CASTELO DOS MOUROS (MOORISH CASTLE)
Our first stop was Castelo dou Mouros aka the Moorish Castle, which turned out to be the building that we spotted from the ground. You can't quite see the castle from the entrance – it takes a relatively pleasant walk in the shaded foliage of the Sintra-Cascais National Park or Serra de Sintra before you reach the actual castle walls. (side note: there are stairs that run up the cliff side which indicate that you could hike up to the Castle if you were so inclined. I am not inclined. At all.)
You'll pass by some historical bits and archaeological digs in your walk, and it is kinda hilly in bits, but trust me when I say the climbing is only just beginning…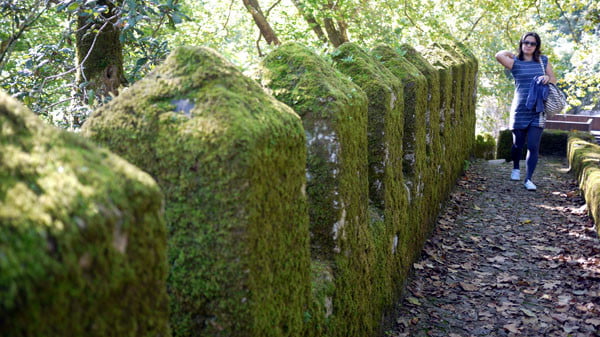 Finally at the walls of the castle, you are rewarded with an amazing panoramic view of Sintra and its surroundings. Absolutely worth the walk for!
You can sit in the turrets of this old fortress and enjoy the magnificent view, and walk the length of the walls to reach its highest point. Again I reiterate, there is A LOT of climbing involved on old narrow stone stairs, make sure you have some good walking shoes, pace yourself and just take the time to soak in the view.
After that exhausting climb, we took a bit of a break in the cafe. It's nothing special, but I just wanted to share a pic of this really friendly cat giving me a very judgmental look when I fished out my phone instead of the snacks it was hoping for:
NATIONAL PALACE OF PENA
After the Moorish Castle, we take a 10min walk upslope towards the Palácio Nacional da Pena (National Palace of Pena) – you could hop onto the bus 434 again if you're feeling tired but it's not that far off, really. You can't quite miss the distinct bright hues of the palace walls, making it seem almost toy-like from a distance.
Once more, slopes abound as you make your way from the entrance to the palace on top of the hill. There is a bus within the palace compound to take you up the slope but it costs a little extra and I honestly don't think worth paying for unless you really need the help. The Pena Palace is the 2nd highest point in the Sintra hills, so you'll have an even more panoramic view (if that is even possible) of the surrounding areas.
After walking around the outside of the palace, take a stroll inside the compound because the interior is super intricate and is a great mix of that Gothic Manueline (similar to the Jeronimos Monastery in Belem) and the colourful Moorish styles. This was the summer palace of Portuguese Royals back in the day.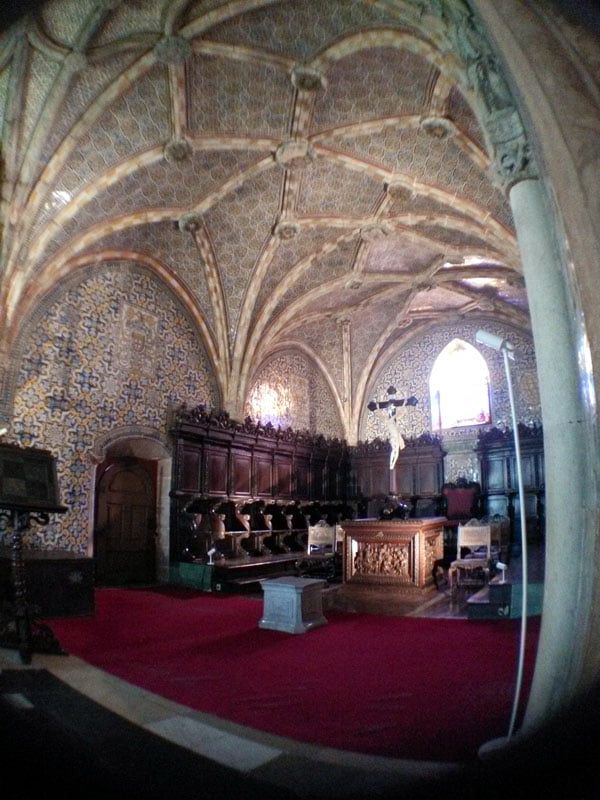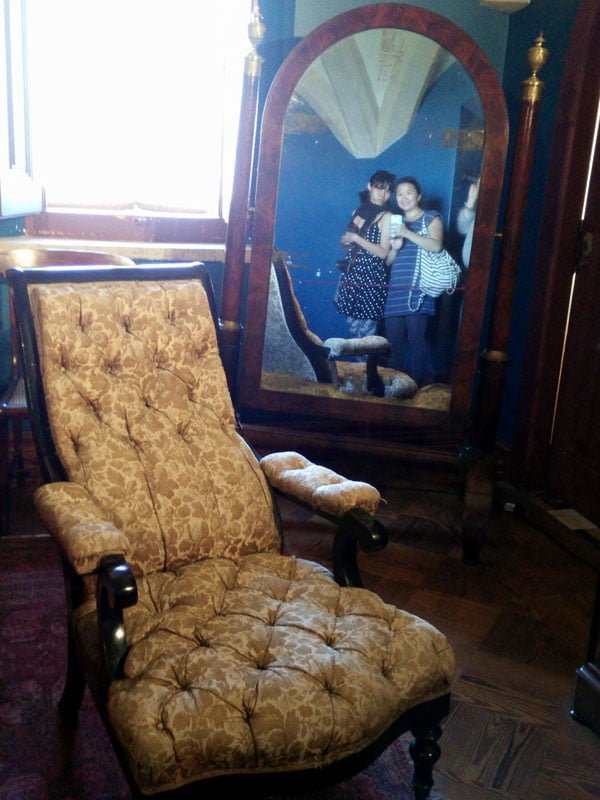 After visiting these 2 places, we decided to head to Cabo da Roca, the Western-most point of the Europe/Asia landmass which you can read more about here, and then from there we headed to Cascais and then back to Lisbon at night.
There are other monuments in the Sintra area which we didn't visit given that we only had one day and these were the easiest to get to. I think without the bus delays, we might have been able to squeeze in a visit to the National Palace in the city centre, or possibly have had more time in Cascais before it got dark…
GETTING THERE AND AROUND
Sintra is around 40mins by CP train from Lisbon. There are frequent trains that leave every hour from Rossio Station (the ornate station right next to Restauradores). From Sintra's train station, you either take the Scotturb bus or a slow walk (15mins or so?) to the historical centre where all the action is. We reached Sintra about 10am-ish and visited the Moorish Castle and Pena Palace. It was about 3pm-ish when we headed off to Cabo da Roca.
If you are going to follow what I did, which is basically use the CP train and Scotturb bus a whole lot, I suggest getting the 1-day bus/train pass for 15euros from the ticket office. It saves you a lot of trouble from having to buy individual tickets when taking the Scotturb bus services around Sintra (5 euros hop on hop off). The ticket out of Sintra's town centre is 3.35 euros/adult
You can drive as well – though parking is a bit of a headache in the historical centre with very limited lots and the roads in the hills are quite narrow, but it's one way to avoid the often crowded buses that result in you either having to wait for the next bus (Europeans aren't big on squeezing Asian-subway-style) or standing precariously as the bus winds its way around the hills.
Driving gives you much more flexibility when headed out of the city centre and it's much more pleasant in the hills with less traffic and you don't get stuck waiting around. We waited over an hour for the bus from Cabo da Roca to Cascais… not fun!
COSTS
Here's what I spent – happy to hear if anyone else has better ways to save some money!
Combined ticket for Moorish Castle + Pena Palace – 18 euros/adult. (Moorish Castle only – 7.50 euros, Pena Palace only – 14 euros. If you are planning to see more than one place, consider a combined ticket
1-day Bus/Train Pass (buy from Rossio ticket office) – 15 euros – this covered the CP train rides Lisbon(Rossio)>Sintra and Cascais>Lisbon(Cais de Sodre), as well as the various Scotturb bus rides within Sintra, to Cabo da Roca and finally to Cascais.

For CP train, a single one-way ticket from Lisbon>Sintra costs 2.15 euros
For Bus 434, a single loop ticket (hop-on/hop-off) costs 5 euros while a single trip (from point A to point B) costs 3 euros. See this useful guide for details.
If you have tips for visiting Sintra, please share them here! My experience is only so limited and it seems like there's so much more to see in this region so I have to go back again some time :)