Taiwan is one of my all-time favourite places to visit – I first took a trip to Taiwan in 2006 and since then have been there several more times, especially in recent years for projects like #TaiwanderingWithScoot and part of my solo career break. I had another trip due for 2020, this time with plans to hit Hualien that I last visited in 2007 and more of Taiwan's east coast area. Obviously that didn't happen and since it looks like travel is going to take some time to recover again, I ended up working together with the Taiwan Tourism Board in Singapore to explore and see how I could possibly recreate a trip to Taiwan in Singapore.
Last Updated on 25 May, 2022
Let's be realistic: Singapore will never be able to completely replicate actual Taiwan sights – we just don't have that type of rugged mountainous landscape, and our tropical climate will never replace the cool seasons Taiwan has to offer. But if you're as starved for travel as I am in these trying times and miss Taiwan a lot, here are some ideas on some Taiwan things to do in Singapore to give you a little taste of Taiwan.
This post is sponsored by the Taiwan Tourism Board of Singapore. Some of this content was gathered and documented on my Facebook and Instagram as sponsored posts tagged #JacTaiwanInSG where I took a '5-day-Taiwan holiday' in Singapore. You have no idea how much lu rou fan and milk tea I drank within this period – see all the Taiwanese food that I ate.
---
Get a taste of Taiwanese breakfast: True Breakfast 初早餐
I'm much better about waking up early when I travel as compared to when I'm in Singapore because I'm all ready to go exploring, and I love starting off a morning in Taiwan with some classic Taiwanese breakfast: Taiwanese omelette aka danbing 蛋餅. My danbing of choice is usually with pork chop, though common ingredients include pork floss, ham and cheese, luncheon meat and tuna.
True Breakfast初早餐 is a little shop hidden in the basement of Cuppage Plaza, and you know it's good because I arrived 6 mins after it opened on a Sunday and there was already a queue! They only have 7 tables and it is a pretty small shop with an open kitchen so you can see them prepping everything on site, so be prepared to wait a little bit.
Nonetheless, my pork chop danbing was served piping hot and fresh with nice thin skin that's just the slightest bit crispy, definitely 10/10, made me wish I ordered more food but I was just one person and didn't want to overdo it! I probably want to go back again and try their breakfast sandwiches, thick toast and other snacks in future. They also serve rice and noodle bowls during lunch and dinner time.
初早餐 True Breakfast: Cuppage Plaza B1-19/20, 5 Koek Road. Closed on Tuesdays
This was my favourite of the Taiwanese breakfast shops in Singapore that I tried, but you can also check out:
With several outlets around Singapore now (NEX, PLQ, Westgate), Fong Sheng Hao does awesome Taiwanese breakfast sandwiches and their milk tea has the most legit tea taste. Their lu rou fan available for lunch is also pretty good.
---
Learn about a revolutionary figure in Taiwan's history: Sun Yat Sen Nanyang Memorial孙中山南洋纪念馆
Dr Sun Yat Sen is regarded as Taiwan's founding father as he was the leader of the KMT and one of the main instigators of the 1911 revolution in China. The Sun Yat Sen National Memorial was completed in 1972 in Taipei's Xinyi district – today you can see Taipei 101 in the background – and back in 2016 I popped in for a quick look-see, but didn't stay too long because this memorial was pretty large!
Sun Yat Sen did a lot of work in the South East Asian region garnering support from the overseas Chinese people for his cause, and Singapore was actually his main base and HQ for doing so. Many of the early Chinese pioneers who had settled in Singapore gave money, effort and other resources to support the revolution, and you can learn more about that at the Sun Yat Sen Nanyang Memorial Hall 孙中山南洋纪念馆, a serene bungalow in the Balestier area which was one of the places that Sun Yat Sen stayed in on during his time in Singapore.
The house itself is known as Wan Qing Yuan 晚晴园 and belonged to Teo Eng Hock, a rubber magnate in Singapore back then who bought and named this villa for his mother. There are some very informative galleries across the 2-storeys of this bungalow with a focus on Sun Yat Sen's work in Southeast Asia as well as the Chinese pioneers here in Singapore who supported him so you learn about Singapore's history as well. I like the mix of multimedia and exhibition boards, and you get some temporary exhibitions related to the Chinese in Singapore here and celebrations during Chinese festivals too.
Sun Yat Sen Nanyang Memorial Hall 孙中山南洋纪念馆 (Wan Qing Yuan 晚晴园): 12 Tai Gin Road (next to Zhongshan Mall), closed on Mondays
If you're visiting this area around lunch, I recommend you go check out the nearby Nantai Eating House for a Taiwanese style lunch. This little eatery in a shophouse row really has that hole-in-the-wall Taiwanese diner ambience. Food wise I tried their lu rou fan which felt very homestyle and portions were quite generous. See my full review in this article about Taiwanese food in Singapore.
---
Visit an offshore turtle island: Kusu Island
I'm a big fan of Taiwan's offshore islands and visited Turtle Island off the northeastern coast of Yilan. Known as Guishan Island 龜山島, this Taiwanese island was once home to villages and the military though it is now abandoned. I did a hike up to the highest point of the island and enjoyed the unusual scenery including the yuanyang sea. Read more in my detailed guide on Guishan Island.
Singapore is home to its own turtle island which is known as Kusu Island 龟屿岛, off the southern coast of Singapore. Several versions of the folklore behind the island claim that it was named for a giant turtle that turned itself into an island to save drowning people, though because of land reclamation it doesn't remotely look like a turtle anymore. Kusu Island is most famous for its small Tua Pek Kong temple and 3 Malay Keramat (shrines) which are popular places to pray for fertility, but there's not much else besides some small beaches and pavilions and a collection of turtles. It's nice for a relaxing afternoon though!
Kusu Island can be reached by a short ferry ride to the Southern Islands after stopping over at St John's and Lazarus Islands first. Public ferries generally cost $15 but you can also hire private boats if you want to spend the day at sea.
Singapore's offshore islands are the quickest way to feel like you're overseas without a passport. Here are some other islands worth checking out as well:
Located off the northeastern coast of Singapore, this island feels like a step back in time to Singapore in its early days. Lots of interesting nature including a mangrove nature reserve, quarry hikes and mountain bike trails. Read my guide to Pulau Ubin for more.
ST John's Island + Lazarus Island
These islands are part of the southern islands ferry ticket with Kusu Island so definitely take some time to check them out as well. The islands aren't very big, and my favourite part is probably Lazarus Beach on Lazarus Island, a relatively quiet beach with super white sand. Bring your own shade and food/water and you're good!
---
Feast on Taiwanese street food: Eat 3 Bowls Station呷三碗
How can a Taiwanese trip be complete without some amazing Taiwanese food? Many Singaporeans go to Taiwan with the sole purpose of eating good food: from xiaolongbao to luroufan, brown sugar milk tea to crispy chicken cutlets, I do miss being able to just stroll around a Taiwan night market and see what everyone else is eating.
There are some really nice Taiwanese restaurants to be found in Singapore (look out for a separate Taiwanese food in Singapore post with more details coming soon), but out of all the Taiwanese food I've eaten so far in Singapore, my favourite spot with the right Taiwanese flavour and ambience is Eat 3 Bowls 呷三碗. When I was asking around for recommendations on good Taiwanese food in Singapore, this name came up quite a lot.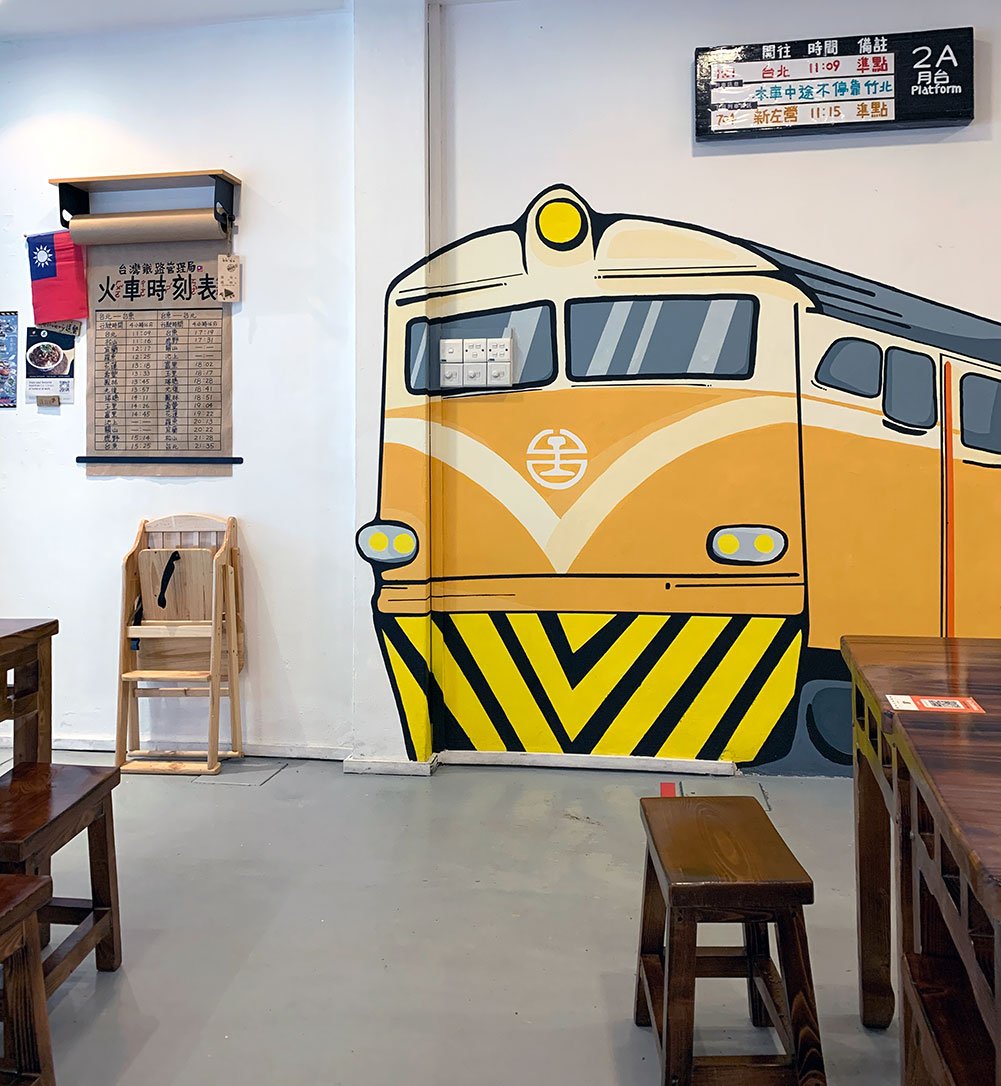 Thankfully the eatery lived up to its hype and I thought its food really brought me back to Taiwan for a bit. The menu covers the main Taiwanese street food stuff – the lu rou fan here felt pretty authentic, in a fairly small bowl and covering the rice with lots of delicious gravy and minced meat, exactly how I love it. I had mine with some salted chicken and bubble tea. Hopefully in future I can try their 3 bowls set that includes lu rou fan, shredded chicken rice and oyster mee sua.
Eat 3 Bowls Station 呷三碗: 103 Pasir Panjang Road. Closed on Tuesdays. There is another outlet at Crawford Lane.
Here are some other Taiwanese eateries in Singapore worth checking out as well. Again it's not an exhaustive list of all the Taiwanese food in Singapore, and it's based on my personal preferences and experiences, but I think they definitely have the right flavours and feel going for them. Check out my full post on Taiwanese food in Singapore for more.
East Coast Road / Selegie
Though it has a Japanese sounding name, the menu here is all Taiwanese and quite extensive. Also love the blue and white modern design of this eatery. The pork chop and Guan Miao noodles were pretty good as was the lu rou fan, though I'd pass on the moon shape prawn cake.
Lengkok Bahru
Hidden in the Lengkok Bahru HDB Estate, this little eatery serves up Taiwanese food with a bit of a hipster twist. The signature Gua Bao had a generous slab of meat and the dumplings were also quite large. I topped off my meal with the ice cream peanut roll you often find at night markets. They also have some interesting craft beers available!
Kovan / Jalan Besar
Not the most convenient location without a car, but this little eatery serves up some solid Taiwanese street food, bubble tea and desserts. I had the mee sua and salted chicken and washed it all down with yuzu. Their lu rou fan isn't the typical Taiwanese style that I love though.
---
Say a little prayer: Thian Hock Keng 天福宫
I'm not religious whatsoever but I somehow end up in a lot of religious buildings when travelling because many of these temples, mosques or churches are national treasures. Naturally in Taiwan I've checked out some of their major temples: Taipei's iconic temples like Longshan Temple in Wanhua is one of the oldest in Taipei, and close to sights like Bopiliao and Huaxi Night Market. Ciyou Temple in Songshan is a towering 5-storey temple right at the entrance of the Raohe Night Market and Rainbow Bridge. I also checked out Xiahai City God Temple on Dihua Street, a popular temple to pray and drink a blessed tea for love (nope, hasn't worked on me).
In contrast I hardly ever visit religious buildings here in Singapore, but if there's only one temple that you have time to check out in Singapore, Thian Hock Keng 天福宫 is one of Singapore's oldest and grandest temples built in 1840. Patronised by the Hokkiens from the Fujian province, this temple was originally dedicated to the sea goddess Mazu and where new immigrants would give thanks when they stepped foot onto Singapore's shores. These days you can pray to 12 different deities including Guanyin and the City God.
Thian Hock Keng is apparently built without using a single nail, and has undergone several major refurbishments to date. The intricate decor and ornamentation is the work of specially imported materials and Chinese artisans who were invited to Singapore to do up the temple. The upturned roofs are also quite classic Minnan architecture, something you can see in parts of Taiwan as well.
You're not allowed to take pictures of the inner hall, but it's definitely worth checking out in person to get a better look at the intricate details.
Thian Hock Keng 天福宫: 158 Telok Ayer Street
Singapore has quite a wide variety of religious institutions, and even within Chinese style temples there are many different styles and deities. Here are two others that I checked out recently:
Toa Payoh
I'd always passed by this monastery but never thought to step in until this project. Located in the Toa Payoh heartlands, this monastery built in the early 1900s is surprisingly big and has some pretty interesting architecture, a mixture of Fuzhou, Quanzhou and Zhangzhou architecture.
Philip Street, CBD
Another temple I've overlooked, this one is similar to Dadaocheng's Xiahai Temple in that it has become a popular place to pray to Yue Lao for love and good matches. It's a small place but I love the intricate roof and how this tiny temple is just towered over by the massive skyscrapers all around it.
---
Cycle along the river: North Eastern Riverine Loop
One thing I really enjoy about Taipei is how easy it is to hop on a bike and cycle around the city. The YouBike system is very easy to use, even for tourists like me – all you need is data, the YouBike app and an EasyCard – and it was easy enough to just rent a bike for a bit and go cycling at one of Taipei's many riverside parks.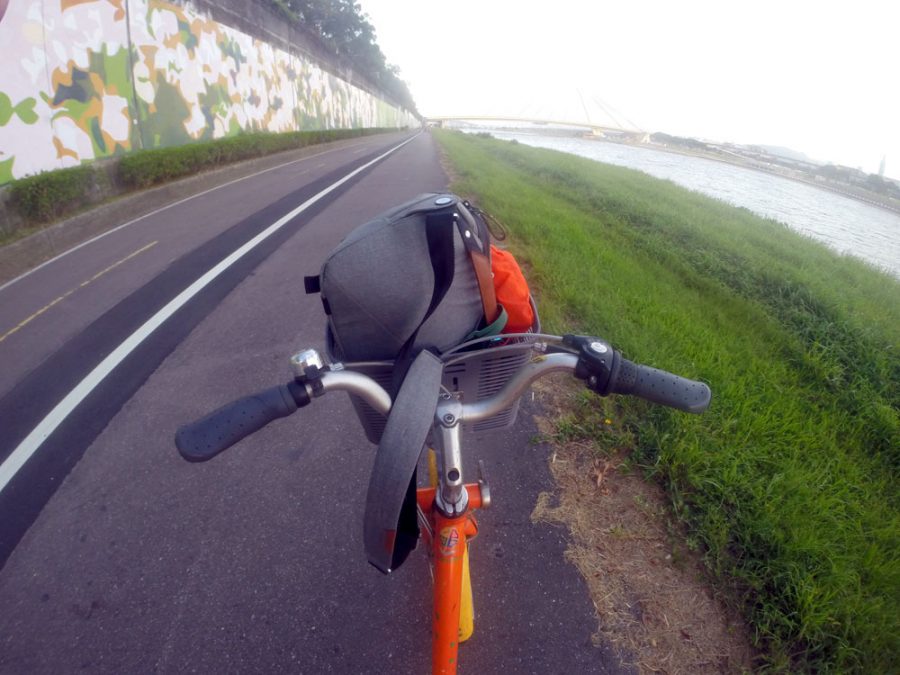 Back in Singapore, I looked up our current bike sharing options and was pretty dismayed to see the abysmal ratings and recs from friends for services like SG bike. My alternative plan was then to head to Punggol Park where I rented a bike from the GoCycling kiosk and checked out the North Eastern Riverine Loop. This is a part of Singapore I honestly hadn't really explored much at all, here are some highlights of my route:
Cycled from Punggol Park up north via Punggol Promenade Riverside Walk
Crossed the red Lorong Halus Bridge and checked out Coney Island's little beaches and trails
Reached Punggol Point Walk and took in the view at Punggol Jetty
Headed back down towards Sengkang Riverside Park
Finally headed back to Punggol Park
All in all it took about 3 hours? I would have gone at a more leisurely pace but we had to return the bikes by 7pm so the latter half was a bit of a blur for me – we cycled past Kampung Lorong Buangkok on the way back, another place I'd love to just see because it is the last remaining village left in Singapore. I'd suggest for something more relaxing to just return your bike at GoCycling's other kiosk at Punggol Jetty!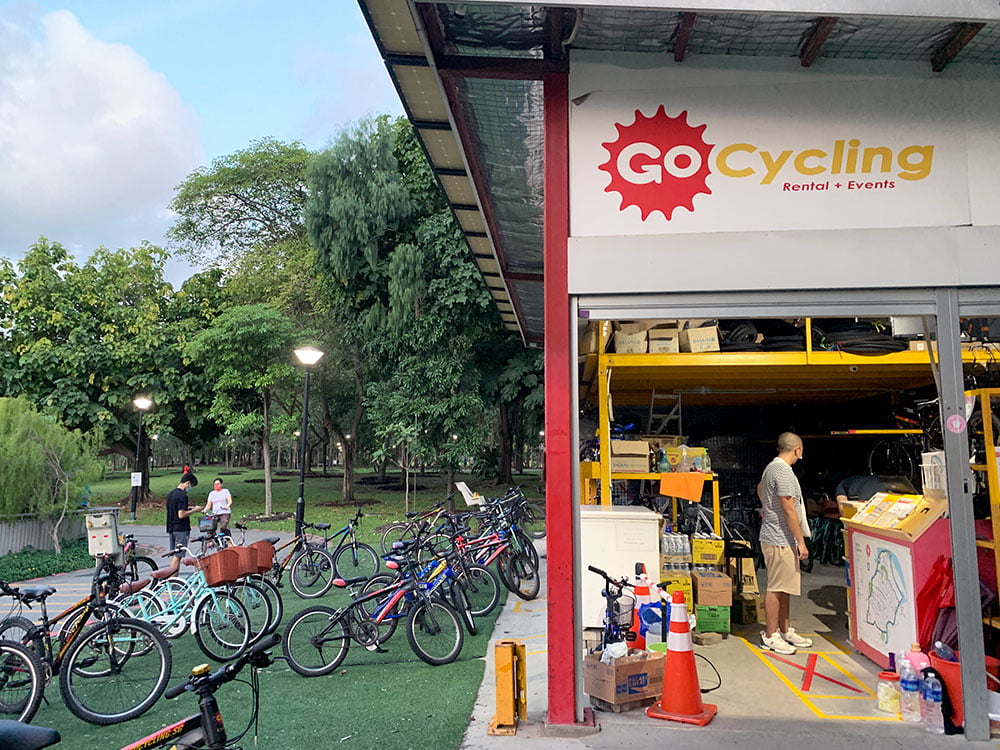 North Eastern Riverine Loop is part of the NParks Park Connector Network. Check out their website for more possible cycling routes. More about bike rental at GoCycling.
---
Buy some Taiwanese snacks: Isle Provisions 食嶼商行
One thing I usually do when returning from a Taiwan trip is to buy some Taiwanese snacks to enjoy back in Singapore. Now Singapore is a pretty international country so you can sometimes find imported Taiwanese food in the local supermarkets, but I found some smaller shops that specialise in bringing in Taiwanese import goodies.
I found Isle Provisions 食嶼商行 online, a little shop that curates and brings in Taiwanese food goodies. If you're craving things like noodles, rice, soya sauce and even fresh produce from the provinces of Taiwan, you just might find it at Isle Provisions if you are lucky! I was surprised to see that they actually had a physical store in Tiong Bahru* though it's only open on Sunday mornings. It's definitely worth popping by if you want to browse or pick up your orders directly – the owner Matt was really helpful and friendly in recommending stuff and even gave me some ideas for this JacTaiwaninSG project.
*Isle Provisions is no longer at Tiong Bahru Market and now operating fully online.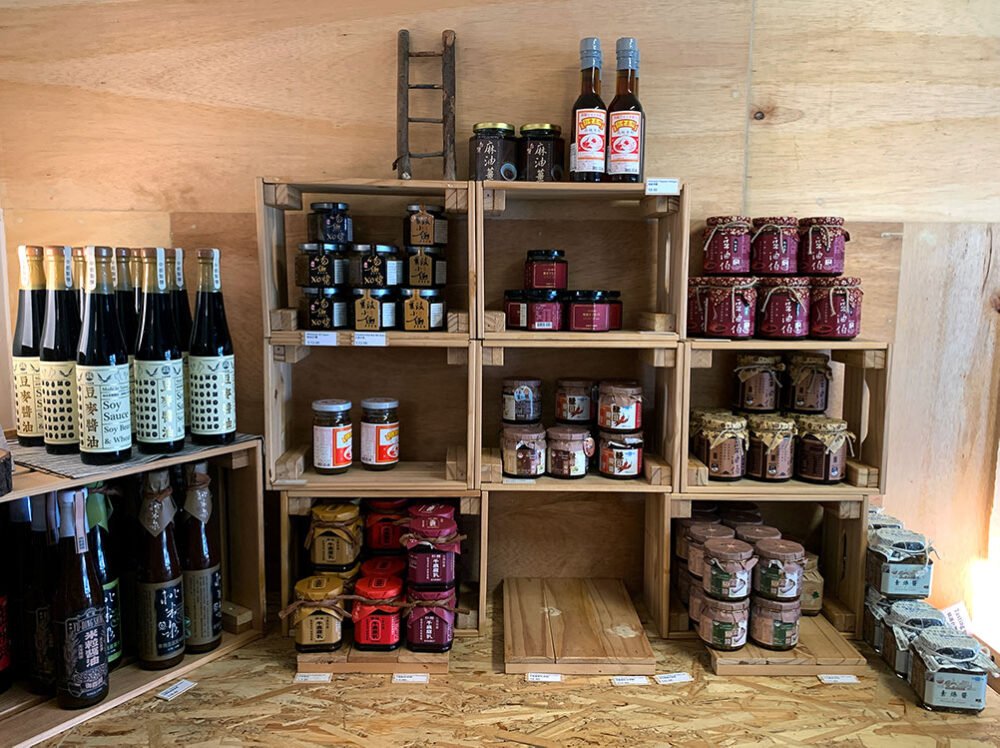 I bought myself some Aiyu seeds (from Alishan) and Uncle Lemon (juice extract from Pingtung lemons) and set about on an experiment to make Aiyu jelly for myself. Aiyu jelly is a distinctly Taiwanese dessert because the seeds from this creeping fig are mostly found in Taiwan, and it was there that they discovered how to make Aiyu. The method is simple sounding enough – put the seeds in a fine-mesh bag, stick them in some water and squeeze out the jelly slime for 7 mins, and after leaving it to set in the fridge you have jelly ready to eat!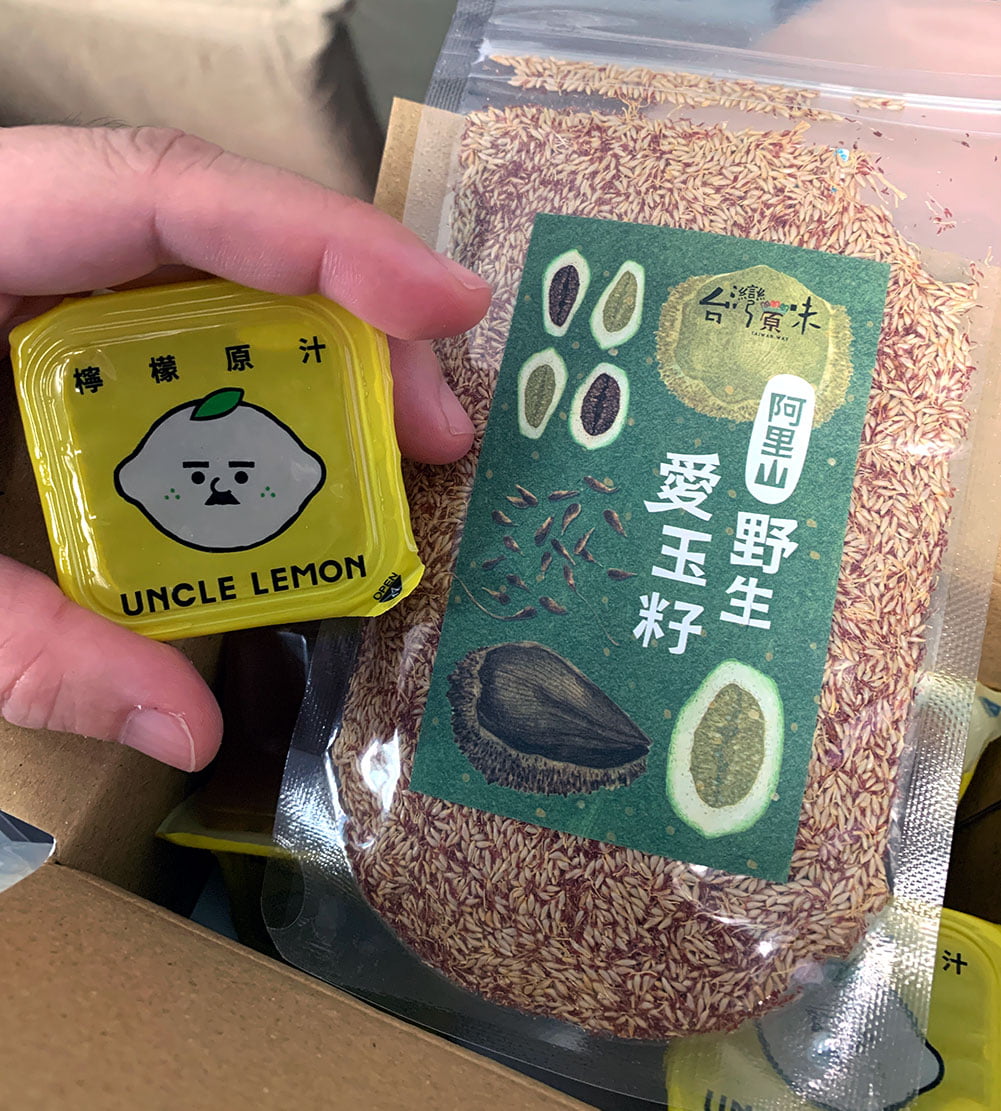 Check out Isle Provisions 食嶼商行 online or on whatsapp where they frequently update on new products
Paya Lebar Square / Plaza Singapura
5 Little Bears serves up some great homestyle Taiwanese street food, and also has a separate store section called BEARS that sells imported Taiwanese snacks and fresh handmade goodies like egg rolls, nougat crackers and pineapple tarts.
Tanjong Katong Road
This Taiwanese bakery has some other outlets in Suntec, Jcube an Hong Lim Complex, but the Tanjong Katong outlet is a nice sit-down cafe. They specialise in pastries like polo buns, cream puffs, egg tarts and more.
---
Chill with some chinese reads: Grassroots Book Room 草根書室
If you're a lover of Chinese books, one must-go place is Taiwan's 24-hour mega book store Eslite. This book chain can be found all across the country and is really more than just books, selling cute stationery and souvenirs, conducting workshops and even has its own hotel in Taipei"s Songshan Creative Park. Eslite also operates a pretty cool underground stretch at Taipei's Zhongshan MRT station known as Zhongshan Underground Book Street.
Eslite is apparently set to open in Kuala Lumpur in 2022 and while it hasn't made its way to Singapore shores yet, we do have some pretty cool Chinese bookstores to indulge in nonetheless. Grassroots Book Room草根書室 is a local bookshop with lots of Chinese books published both locally and from East Asia – there are shelves for China, Hong Kong and Taiwan as well as local publications in Chinese and even a handful in English too.
The decor and ambience really makes you want to linger even if you aren't much of Chinese reader (aka me), and they have lots of cute stationery for sale too. Look out on their Facebook for events and workshops that they conduct in their shop. Head further in and they run a little cafe where you can enjoy a cuppa, some small snacks and soak in the ambience of the place while you read.
草根書室 Grassroots Book Room: 25 Bukit Pasoh Road (near Keong Saik). Open 12pm-8pm (6pm on Sundays)
There are several other Chinese bookshops in Singapore that I need to check out, but here's another surprising spot with some Taiwanese links that's worth chilling in:
The Yishun outlet is located in the Tzu Chi Humanistic Centre, the Singapore branch of a Buddhist mission started in Hualien. The space is pretty serene and has a view overlooking Yishun Pond, and while they do have some books on sale written by their founder, the spot also serves up some tea and is a really chill place to read and relax.
Did I miss any cool spots in Singapore that make you feel like you're in Taiwan? I'm hoping to expand this list in future and include some of our local treks as well since Taiwan is all about the lovely mountains (even if ours are pretty tiny in comparison!), but in the meantime drop a note in the comments for more cool bits of Taiwan in Singapore that I should check out next.
---
Dreaming about that next trip to Taiwan? Gorge yourself on some amazing Taiwanese food in Singapore, or keep reading – I have plenty of guides to Taiwan especially for solo travellers or those looking or more unusual things to do: