When the Grand Mirage Resort invited me up to check out their hotel in Nusa Dua, they also extended me an offer to spend a night in their sister hotel – the Samabe Bali Suites and Villas in Sawangan. I didn't think too much about it, was just happy to have a new place to check out in Bali and left it to the good staff to fit into the itinerary.
This is a lesson in how sometimes being a lazy person and not doing thorough research can surprise you… in a good way!
How to get there
I did enjoy my time at the Grand Mirage (See the review here) and was a little sad to be leaving it behind. We hopped into a car and they drove us down to the far South-eastern corner of Bali, I noticed that our surroundings… didn't feel like Bali at all. In fact, it reminded me quite a lot of Singapore, specifically the Sentosa Cove area which is well known as a super fancy private housing estate. Lots of manicured green roads – unlike the choked dusty ones that lead you to Kuta or Ubud, discreet resort entrances with high hedge walls where you just know that there is a long driveway that leads you up to some fancy resort within.
And Samabe definitely looked like quite a posh resort right from the get-go – the entrance is a posh airy space filled with contemporary art, and as they sorted out our rooms and then brought us to our room in a golf buggy, driving past several villas with our personal butler.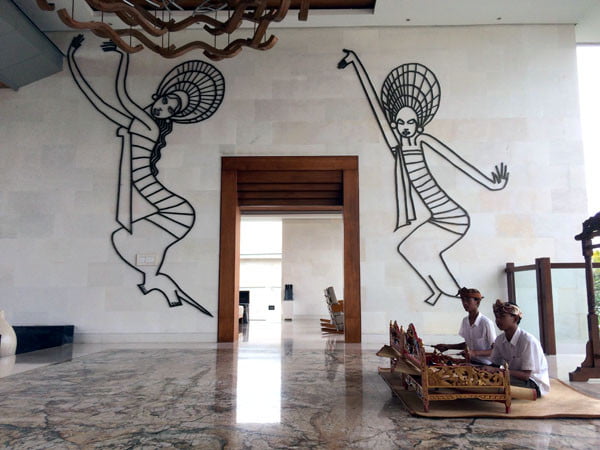 ---
THE ROOM
As we stepped into our Ocean Front Samabe Suite, look at the view that greeted us when our butler opened the door to our suite in the West wing. Like…
Apparently every room in the Samabe is ocean-facing, so you don't have to worry about a bad view! There were visible attempts by both A and myself to keep it together as the butler showed us around the room, and a lot of excited OMG squealing once she stepped out the door.
This place is seriously posh, and quite a large space as well. It's a bit of a struggle to decide whether you want to spend all your time luxuriating in the room or head out instead.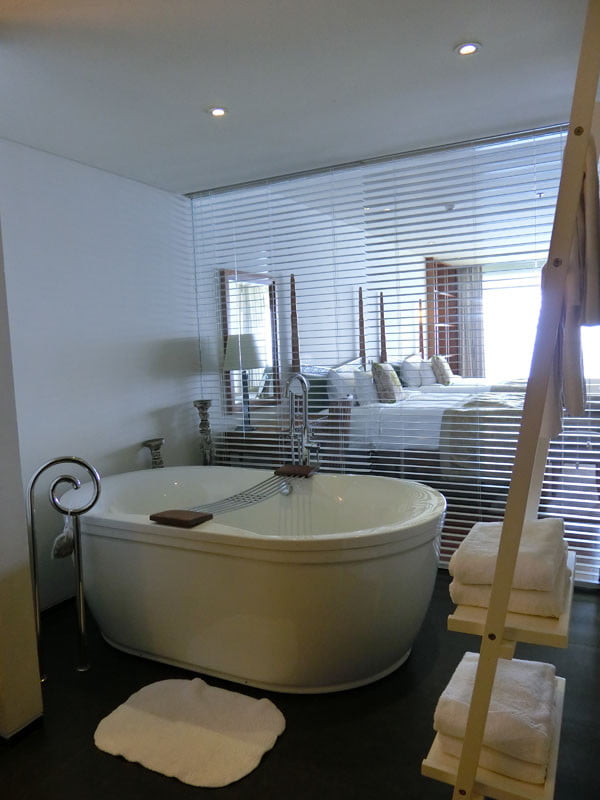 And of course the wonderful ocean-facing balcony, which for some reason has a very prominent monkey warning on the door. We did not spot any monkeys though.
Samabe is located on the South-eastern tip of the island and we were facing somewhat easterly, so we dragged ourselves out of bed on our last morning in Bali to catch the sunrise, and while the sky was pretty cloudy, it still managed some spectacular moments
---
THE HOTEL
With only one night's stay at this beautiful resort and sadly cloudy/drizzly weather, there wasn't much time to do stuff, but if you're looking for a holiday where you can just chill the heck out in beautiful surroundings, this is one place to consider. The guest profile also was quite different from Grand Mirage which had a lot of Caucasians and large family groups when we were there. This resort saw more Asian faces – still families but older/fewer and looking more affluent with considerably less children all around.
Samabe is situated on a cliff so the swimming pool has some spectacular views that you can take in while soaking in warm water. I'm pretty sure the water was heated slightly as I never felt like going in was going to freeze any of my bits off.
But if you have a hankering for salt water and enjoying that beautiful beach you can see from your room, it's a private beach which is relatively quiet and just a short walk/climb down from the swimming pool area.
Samabe Bali has the option of paying for an all-inclusive package or what they called Unlimited Privileges, similar to that of the Grand Mirage, and one awesome perk of that is being able to enjoy one Signature Samabe activity per day – with little time to spare, we opted for a 1-hr in-room back massage – our masseuse was a pint sized lady who set up her foldable table in our living room and gave the most amazing massages, just the right amount of pressure to knead those knots deeply without hurting too much! Sadly we didn't have time for a second massage the next morning, but do check out Galangan Spa on site if you have the time.
With the Unlimited Privileges, we also had a chance to try out meals around the resort. Dinner was at Crystal Blue Ocean Grill overlooking the pool area which has a rather unusual layout – our table was alone in a little nook with an ocean view sadly obscured by the dark night sky, but I can imagine this being quite romantic for the couples.
I was looking for comfort food that day so I had more boring grilled chicken while A had these amazing looking tiger prawns below, but the fun part was being able to pick 3 (!) different side condiments to go with your dish – I had mushroom and black pepper and some fruity mango salsa type of dip which was a lot of fun to eat. Adventurous A also tried their homemade ice cream, with really odd flavours like tomato and ginger which was.. odd (and I say this as someone who loves ice cream though yes I just had the flourless chocolate cake :p)
We had breakfast at the main dining hall Rempah-Rempah, which had quite an extensive spread of foods buffet style that you could also order a la carte to your table. I definitely ate my fill that morning.
And just before we departed, we ordered room service which turned out to be a little too much food because every dish came with rice! A finally had her nasi campur craving sated while I indulged in an Indonesian delicacy – oxtail soup, yum yum. Room service set up the table with proper place mats and cutlery so was quite impressed with that.
---
PRICE
You can tell from the level of service and the overall atmosphere that a stay here is not cheap – based on weekend stays for the room we stayed in – an Ocean View Samabe Suite (and also the cheapest rooms available), you're looking at around S$550 per night per room! You can definitely sleep a max of 3 adults + 1 child or 2 adults + 2 children quite comfortably in the room though so it's probably better for short stays, families or those willing to splurge a little. The All-Inclusive takes that price up close to S$800/night, so definitely make sure you make full use of the facilities and F&B perks if you're spending that sort of cash.
There are suite rooms with attached pools, or if you want to go all out in terms of privacy, go for the villas which have their own private pools and a much larger space compared to that of the suites, though you're looking at a minimum of S$600/night at least.
I really loved the place, but quite practically speaking I probably would only be able to afford it for a special occasion and a short period of time! If you can afford it or looking to splurge though, I definitely can say the service and experience are top notch and I would recommend it for couples looking to enjoy some time together in paradise or for people who want tranquility away from the kids.
If you are interested in checking out Samabe Bali Villas, click this link to take you to the booking.com page with more information. Note that this is an affiliate link and I may get a small % of the booking made, but at no additional expense to yourself.
Thanks again to Grand Mirage Resort for setting this up and the Samabe Resort Bali staff for the excellent stay :)
Looking for more posts on Bali? Or why not check out the rest of my posts on places to visit in Indonesia?