Another year down – let's see how much travelling this Occasional Traveller managed this past year. I love doing these round up posts because I always feel that I've not travelled enough when I'm on a lull, but then I look back on the year and have to marvel at how amazingly packed it was.
I'd intentionally left my schedule more open this year, choosing not to plan as far ahead as I had in 2014 and 2013, which I think played a big part in me being able to take on a lot more media trips and short stints this year as my leave wasn't tied up so early.
Here we go…
Hong Kong / Macau
It took me till March to head off on my first trip for 2015 where I spent a week with my friend A exploring the outskirts of Hong Kong's islands like Cheung Chau and Lamma. Ostensibly we timed it around Hong Kong Art Basel as A had VIP passes and so we could do some artsy stuff, but highlights include the local cooking lesson and dinner thanks to Traveling Spoon as well as chancing across street art festival HKwalls in Sheung Wan. I also spent a night in Macau and made it a point to check out the less glitzy stretch of Coloane and Taipa.
Recap>> all the Hong Kong and Macau posts
---
Koh Samui
It had been a bit of a travel drought before that first trip to Hong Kong, but little did I know that it was just the start of a rather crazy stretch of travel over the next 3 months. Right the next weekend I found myself back at the airport, this time heading up to a new part of Thailand for me – Koh Samui! Skyscanner flew me and fellow travel blogger Ally Off Duty up to check out this little island and put us up at the fancy Renaissance Hotel. Both Ally and I had full-time jobs to get back to, so this trip was over in a flash, but we did enjoy that small respite.
Recap>> What to do on a weekend getaway to Koh Samui
---
Nusa Dua, Bali
Another 2 weekends later I was back on the road, this time headed to Bali with A so we could check out the all-inclusive Grand Mirage Resort in Nusa Dua, and even stay at their ultra-swanky Samabe Resort in Sawangan! Both A and I were due to face really busy stints at work in the upcoming months, so it was a nice way to kick back and relax before the craziness.
---
Maldives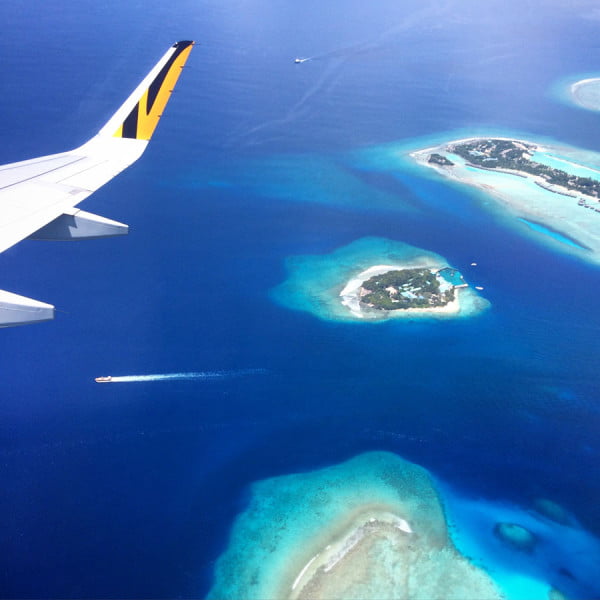 Barely a month had passed and another weekend trip where I was Maldives bound with my dive buddy P, where we celebrated our 100th dive in the clear blue Maldivian waters thanks to Club Med – something about the blue waters and white sand here that's just ultra relaxing. We didn't manage to do a proper dive trip these past 2 years, so this was a nice consolation. I did enjoy getting taken care off at Club Med, especially when we got upgraded to the more exclusive 5-trident room!
Recap>> Getting your all-inclusive on at Club Med Maldives
---
Ho Chi Minh City
Another 2 weekends went by, I started to see why my colleagues say it seems like I travel a lot even though as I remind them, we have the same amount of leave (some of them even have more!) – Vietnam budget airline VietJetAir invited me up on a trip with 7 other female media to check out Ho Chi Minh City. This was pretty fun as all the girls got on like a house on fire and even though it was just an extended weekend, we all had a ton of fun! I really loved the Vespa tour that we did, that was super fun :)
Recap>> all the Ho Chi Minh Posts
---
Phuket
And then comes a bit of a lull in travel – I was involved in the 2015 SEA Games so I spent the middle of the year furiously working and living vicariously through others on their mid-year breaks. It's only sometime in July after the peak that I manage another short weekend trip thanks to the Hari Raya Puasa public holiday. It's another short rest and recharge beach jaunt where I visited the luxurious Movenpick Hotel down in Karon Beach, and also where I got to eat insects for the first time.
Recap>> A welcome weekend getaway to Moevenpick Karon Beach
---
 Melbourne / Gippsland
Singapore's 50th year of independence resulted in an additional public holiday in August that I made full use of by heading up to Melbourne with a bunch of Singaporean media as we checked out Jetstar's business class in their new Boeing 787. I extended what was meant to be a 4-day trip and met up once again with travel buddy A to spend a little bit more time in Melbourne. I had met the Destination Gippsland folk at a networking event previously and at they set up an amazing we embarked self-drive tour so that A and I could discover a less-explored part of Australia, the Gippsland Region. I really enjoyed myself on this trip – There's so much more to post which I still have to work on, so stay tuned for that!
Recap>> all the Melbourne and Gippsland posts
---
Legoland, Malaysia
I was prepared for a long travel drought as the peak period for work kicked into high gear, but I managed an overnight trip with old friends to Legoland which is just about 2 hours away from home in Malaysia. We stayed in the Legoland hotel and rode on various roller coasters in the theme park, but other than that, nothing particularly remarkable, just a nice quick getaway with good company.
---
Seoul / Gyeonggi
I had a couple of leave days left as the year came to a close, and I was debating between taking a random solo trip somewhere, or carrying over those leave days to 2016 and avoiding the crazy prices of the year end holiday season. Happily, Tripzilla and Korea Tourism Organisation approached me at just the right time – we've been trying to work out some sort of partnership but my schedule was always booked up, but the stars just seemed to align properly this time around, and I found myself headed to Korea for a week!
I extended an additional 2 days for myself to explore Seoul a little more – if you've been following this blog, you'd know that I'm particularly fond of Seoul because it was the destination for my first ever solo trip, so being able to come back here 4 years later had me a little nostalgic, though it also gave me an opportunity to explore spots that I didn't manage to cover the first time
Recap>> All the posts from Seoul, Gangwon and Gyeonggi
---
So here's the summary of my trips for 2015 – somehow I managed 46 days of travel in total, which is quite a lot more than I thought! It's the same number of trips that I took last year, and this year I had a lot more. I didn't travel as far this year, the furthest I made it do was Melbourne, and I didn't have any super long trips like my Portugal one last year.
March: Hong Kong / Macau – Eat and Explore trip (8D7N)
March: Koh Samui, Thailand – FAM trip with Skyscanner (2D2N)
April: Bali, Indonesia – Grand Mirage Review (4D3N)
April: Maldives – Club Med Kani Review (4D3N)
May: Ho Chi Minh, Vietnam – FAM trip with VietJetAir (4D3N)
July: Phuket, Thailand – Movenpick Karon Beach Review (3D2N)
August: Melbourne / Gippsland, Australia – FAM trip with Jetstar / Destination Gippsland (10D10N) – PH
October: Legoland, Malaysia – Hangout with friends (2D1N)
December: Seoul/Gyeonggi, South Korea – FAM trip with Korea Tourism Organisation / Solo trip (9D8N)
Trips in 2016
Expect some change ahead in my 2016 travels – I can't say too much right now, but I've had a couple of ideas brewing which I'll talk about a little more in future when they are a little more firmed up. 2015 has been a pretty epic year in terms of working with various destination, accommodation and other corporate partners who have helped me travel more than I would have been able to on my own, so I'm definitely grateful for that, and hope the momentum continues!
Who's got epic travel plans for 2016? share them here so we can share the travel love!