Phuket, like Bali, is one of those places I'd never visited before 2013 and suddenly it's my third trip there in 2 years! Just 1.5 hours away from Singapore by plane, it is one of the more popular holiday destinations for Singaporeans looking for a quick getaway.
So when the folk at Mövenpick Resort and Spa Karon Beach Phuket invited me down to their property, I was quite keen to see how it would match up. I had quite a fun time here, including a rather memorable episode eating insects in the neighbouring temple market, but if you're looking for somewhere to stay when in Phuket, here's what you need to know about Moevenpick. Check out the Mövenpick Resort & Spa Karon Beach on booking.com for more info [booking.com affiliate link]
---
Getting There
As you can see from the map, Karon Beach is located on the southwestern cost of Phuket, a bit more than 1 hr away from the airport when traffic is good, so that needs to be factored in when you're planning your trip.
Note that your flight from Singapore to Phuket is about 2 hours – I flew via Tiger Airways:
SIN – HKT: 820am – 910am 3K533
HKT – SIN: 945am – 1240pm 3K534
While Karon takes more of a trip from the airport, it does put you closer to attractions like Promthep Bay and Phuket Town and the big Buddha, so it's not a bad base if you plan to explore Phuket's must-see spots in the Central/South area.
---
The Room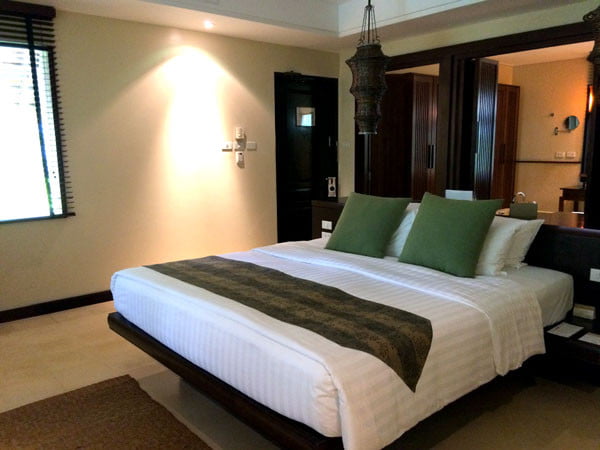 We stayed in a Plunge Pool Villa with a garden view – very spacious room with dark wood furnishings and quite comfortable.
It even had its own private veranda. Sadly I am also a mosquito magnet so just going outside to hang my towel draws the mozzies like a magnet >_<
The plunge pool was really more like a small outside area to soak yourself, which is decent if you just want to stay cool or sit in the water while reading a book, but not anything you could use to swim in!
Our guide Sasa took us to check out some of the other rooms on the property – here are my recs:
If you are looking for more of a view, the sea view rooms give you a good view of the sea from the balcony as well as a nice view of Karon village itself from the corridor.
If you rather be near the pool and don't mind having other people in the vicinity, the pool villas surrounding the private Coconut Pool are ideal
The best view in the house belongs to the private residences though – certain units are beach front so your entire living room (and sometimes your bathroom) faces Karon Beach just across the road. Definitely consider if you are sharing with a bunch of friends.
---
The Hotel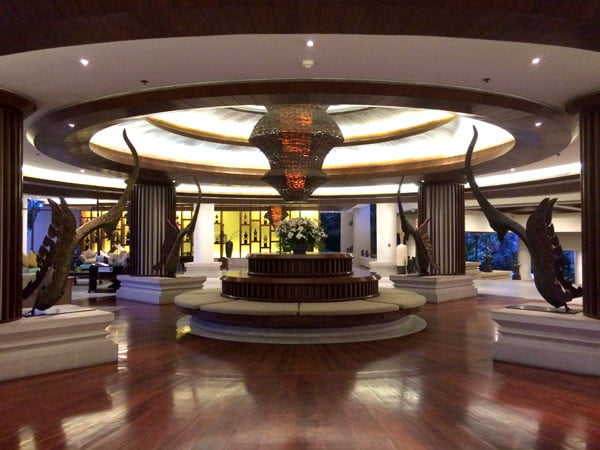 We flew in on Friday morning and were taking off on Sunday, so there was barely any time to explore Phuket. With such a short time there, the hotel folk arranged for some fun activities within the property for us to check out.
Thai Cooking Lessons
We had to earn our lunch the first day we were there by cooking it! I've experienced many different cooking lessons on my travels (and still my go-to at home is Instant Noodles because… I am lazy) and I really enjoyed this one – not too much work for casual cooks on a holiday, simple enough to prepare and you wind up with delicious Thai cuisine after that. We cooked outside at the in-house restaurant Pacifica with the help of their chefs.
Spa
Of course we had a go at their in-house spa as well – loved the decor overall. The 60-min Thai massage was also invigorating and just what I needed after a busy spate at work and being sick.
Pools
There are three pools within the compound: the main big one at the entrance with a slide and where most of the action happens, a rather exclusive infinity pool in the residences only for those staying there, and where we wound up the most – the Coconut pool which is much quieter and reserved for guests staying in the villas.
Hand Painting
One afternoon we encountered a spot of rain so that threw out any plans for the beach and pool. We popped into the kids play area where they have a bunch of upbeat staff to look after the kids while parents indulged in spa or beach time, and we entertained ourselves as big kids with some handpainting! I elected to paint an umbrella while A decided to go with a smaller fan instead.
It costs 400thb for umbrella painting, and 200thb for fan painting. The Kid's Zone actually has a whole suite of activities ranging from candle making to learning simple Thai culture and language. More here.
---
What's Nearby
While we didn't explore the island, here's what you can find around the area if you take the time to step out of the hotel grounds.
Karon Beach
The hotel's beach is technically a public one – it took about 5 mins to walk there from our room which is just across the road from Karon Beach Square. It definitely isn't as crowded as other beaches like on Patong. Great fine white sand, but really strong waves when we were there in July – not really for swimming in at that time of the year!
Karon Beach Square
Karon Beach Square was set up on the beachfront end of the resort to add to the nightlife – for people who don't want to be a part of the chaos that is Patong Beach, but still wanted to find somewhere nice to chill out at night.
We were extremely well fed in our time here – it felt like we got to try almost all the restaurants! Read on for a little more about each place: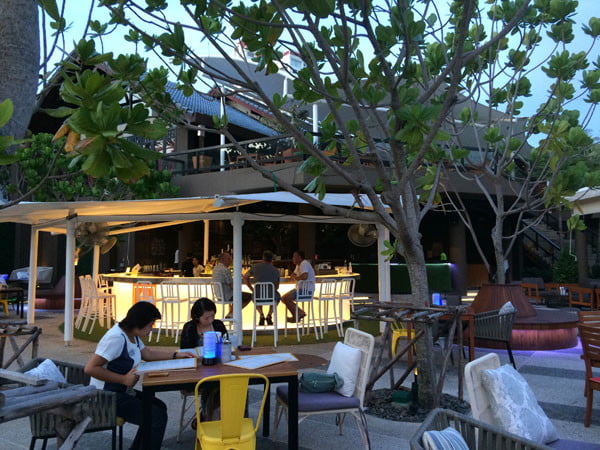 Wat Suwankiriket – Temple Market
Just down the road from the entrance of the hotel lies Wat Suwankiriket, and on weekend evenings the temple grounds are transformed into a vibrant night market. You might have seen me sample insects there, but there's a lot more you can eat and buy there for less adventurous appetites!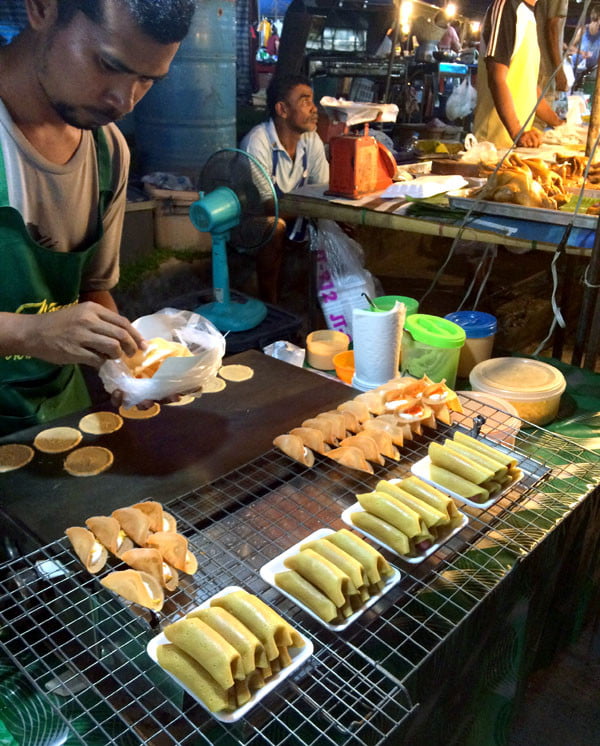 ---
The Cost
Based on a price check I made for a weekend stay in September 2015, the Plunge Pool Villa room that I stayed in was going at around S$368/night – the lowest price was around S$192/night for a Superior King Room, while the Garden villa was around S$282/night and the Private Residences (2 bedrooms) were going for S$682/night.
Check out the Mövenpick Resort & Spa Karon Beach on booking.com for more info [booking.com affiliate link]
---
Anyone else been to Karon Beach in Phuket? Would love to hear how your experience was like! I'd like to explore more of Phuket given the time and I like the Karon Beach vibe enough to go back in future!
I stayed up in Mai Khao previously at the Holiday Inn (and so did Y at Anantara), which was conveniently close to the airport but rather remote and isolated from anything else. The Bell Pool and Villa in Kammala was a lovely place but a tad too far to easily walk to the beach, but perfect if you intend to just relax in your villa.
Thanks to Mövenpick Resort and Spa Karon Beach Phuket for sponsoring the stay and activities.