I love budget airlines for the cheap prices – I'm willing to put up with some discomfort en route to save more money for the fun stuff, but when it comes to longer haul flights, the longest I've managed on a budget airline was a 5-hour flight up to Shanghai on Spring Airlines, or a similar length flight on Scoot to Perth.
So when Jetstar invited me up to Melbourne – a 7-hour flight away, I was a little apprehensive at first. 5 hours was manageable but I was already pretty fidgety by then, 7 hours would be challenging! But then the good news was that not only would I be flying up on their inaugural Dreamliner 787 flight from Singapore to Melbourne, they also sprung for… business class, yay!
Business Class on budget airlines has always been an unknown area for me – it's a step up from your standard budget seat, but is it equivalent to, below, or more premium than economy on a full-serviced flight? And is it worth paying the extra $$ for? Now I've had the chance to take my first business class ride on a budget airline, I can break it down for you.
Here's a brief look at my plane experience. Scroll down to the bottom for a side-by-side comparison of the 787's Business Class, Economy Class and equivalent flights on full-service airline Singapore Airlines' B777 and A330.
Thanks to fellow travel blogger Sy aka Sylistic for some of these photos. We were in full-on blogger mode when we first boarded the plane, happily snapping photos and posing, so much that one Aussie guy mused that it was like we'd never taken a flight before :p
The Dreamliner 787 Flight
SIN – MLB: JQ8 >> 2100 – 0645 (+1)
MLB – SIN: JQ7 >> 1100 – 1650
For working folk, the red-eye flight to Melbourne means you can save on a day of leave, but if you can't sleep on the plane, make sure you plan for an easy first day. Despite the comfortable seat I didn't manage to sleep very much (I need to be lying flat on a still surface to really sleep properly), and was a little bit zonked out on the first day.
The return flight timing means you can check out and head straight to the airport – you'll reach back in time to have dinner and rest for the evening so you can head into the office tomorrow if you have to.
The Dreamliner 787 Seat and Amenities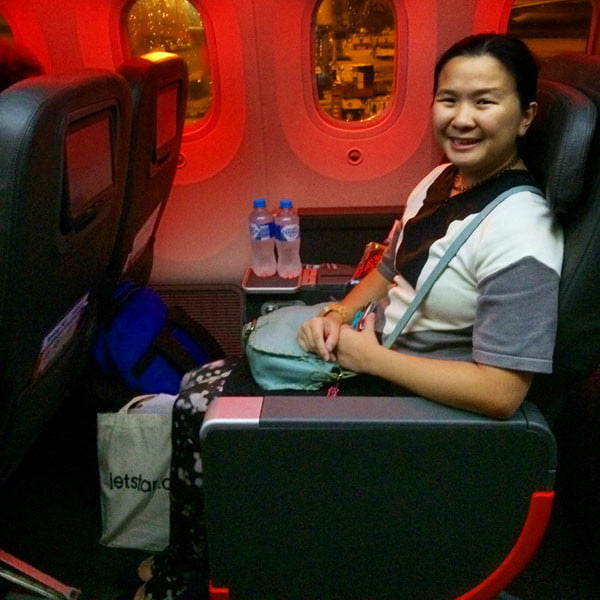 The seat of course was quite comfortable. Leather seats with a decent enough recline. It's a bit of a squeeze out if the guy in front of you has his seat reclined fully though. I'm 1.63m tall so this was quite sufficient space for me. Being able to lean back is helpful for catching some zzzs, especially on a red-eye flight!
You might notice that the windows are quite a lot bigger than your usual plane windows, which makes for better views if you aren't at the window seat. Also, no window shades – there is a fancy button with 5 levels of tint that you can adjust to block out the sunlight. It's a nice change between all-or-nothing light options.
Intangible things that I can't quite show here are that the cabin is quieter overall. Also despite the water served, I was a lot less parched than I usually get on planes – the air isn't quite as dry as it tends to be on other planes. The lighting is supposed to be more natural and less harsh
The food
Off the plane
What I thought was an excellent feature is the express pass through immigration that you get as a business class passenger where you can skip the long queues and go through the express channel. I was pretty lucky that the airport wasn't crowded so I didn't have to make use of this pass, but this is definitely a bonus. Also, priority boarding at the gate doesn't hurt either.
NOT SO GREAT STUFF
Not much was bad about my experience, save for the fact that you are still subject to budget airline flight delays whether it's a fancy Dreamliner 787 or not. My flight back got pushed back to 4pm (a delay of 5 hours, not enough to claim flight delays from my travel insurance which calls for a minimum of 6 hours, ugh) and I ended up reaching home late at night, without the evening rest period I had initially planned for.
On the plus side, the delay gave me a bit more time to see Melbourne's weekend markets which I was quite glad for, but flight delays are still a bummer, especially if you need to go in to work the next day! I did get the flight delay notice 2 days early via email and sms so I managed to make plans in advance.
The other journos who took the earlier flight back weren't so lucky – somehow they didn't get the notification of delay early and only found out when we reached the airport. While they qualified for flight delay insurance, the only compensation they had was an A$8 food voucher for the airport, so most of them decided to head back into the city to wait out the delay.
Jetstar is a budget airline after all – if you buy a cheap ticket there isn't much you can complain about, but if you are paying the extra $$ for business class, one would expect the compensation to be of a higher standard as well, even if on a budget airline.
Comparison with Full Service Planes
For an easy comparison, here's a look at how the Dreamliner's Business class compares to that of its economy seats, and to that of SIA's economy seats. For SIA, both the B777 and A380 fly to Melbourne so we'll just compare both these seats.
Jetstar




Dreamliner




787-Business

Jetstar
Dreamliner
787-Economy
Singapore Airlines
Boeing
777-Economy
Singapore Airlines
Airbus
330-Economy
 Seat Pitch
 

38″

 30″
 32″ – 34″
 32″
 Seat Width
 

19″

 17″
 17.5″
 19″
 Seat Layout
 

2-3-2

 3-3-3
 3-3-3
 2-4-2
 No. of seats
 

21

 314
 220-290
 255
Meals

 yes

 pay upon request
 yes
 yes
Amenities

 yes

 pay upon request
 yes
 yes
Inflight Entertainment

  yes

 pay upon request
 yes
 yes
Perks
 Express pass, priority boarding

 no
 no
 no
 Round Trip Price*

 $2,565

$830
S$1,080 – $1,351
S$1,080 – $1,351
*Price was calculated based on the arbitrary dates of 7-16 Jan 2016, a Thursday to Sunday similar to that of my own trip. These may include promo fares automatically given on website.
Just based on the table above:
Dreamliner Business Class wins in the seat pitch department – you get way more recline than being in economy, even in a full-service airline.
Where it also prevails is in the seat layout and number – 2-3-2 is a much more comfortable layout, and with just 21 seats in business class, you'll have much better service and a quieter time overall.
Price wise is a bit harder to compare – my actual biz class ticket was around $1.9k, whereas this calculation clocked in at $2.5k. It's quite a bit pricier than the SIA ticket even, but comparing the perks and exclusivity you get… Just for reference, the SIA Biz Class ticket for this flight is around $3.7k, which puts the Jetstar Biz Class at premium economy level if you compare it against full-service flights.
I had a pretty good experience overall in Jetstar's Business Class, but would I take budget airline business class for future flights? Frankly I'm still very much of the 'tough it out' breed when it comes to flying so probably only if a really good deal comes up or I want to treat myself a little… However I can see this being a good option for those who want a better experience but still don't want to spend as much as on full-service business class.
This trip to Melbourne was sponsored by Jetstar Asia, but all opinions within this review are my own.
Looking for more about Melbourne? Why not check out nearby regions like Gippsland or Daylesford as well for something different?