2 years ago I headed to the Maldives on a dive trip which was memorable not just because I saw whale sharks and manta rays in the wild for the first time, but because there's something about the Maldivian waters that's absolutely… blue. There's just something about this place that's not quite like anywhere else in the world. I've seen beautiful seas and islands from around the world, but the Maldives has always stood out.
So when Club Med offered to put me up at Club Med Kani in the Maldives, I was STOKED. How could I say no to spending some quality time in one of the most beautiful places on earth? I definitely wasn't disappointed – prepare yourself for a boatload of pix of some amazing sunsets and blue, blue, blue waters. Dive buddy P joined me in enjoying Maldives from land instead of living on a boat this time.
Thanks also to the folks from Casio who loaned me the EXILIM EXZR3500 camera which I also used in the last trip to Nusa Dua. I had to edit my phone and underwater shots a bit, but the EXILIM ones are pretty much untouched. You might have seen some of these shots on Instagram already, also because the wifi capability of the camera makes transferring photos between camera and phone a breeze.
PICTURE PERFECT MALDIVES

The Maldives is made up of a collection of little islands, with each resort usually occupying its own island. Club Med's main resort and facilities are located on the island of Kani, but more recently Club Med has set up some pretty exclusive villas over at the neighbouring island of Finolhu.
You know from the moment you land that you're in for something special when you are greeted with this sight right outside the airport. No taxi stands, but the lovely blue ocean as you await your boat. I arrived at night last time around, so this was a pretty awesome welcome.
I don't know about you, but apparently I had somehow forgotten how pretty the Maldives was from the previous visit, so I spent most of my first day just marvelling at the sun, sand and sea.
Which room to pick?
Deluxe Room on the beach vs Exclusive Lagoon Suite on the water
Deciding which room you want to book? Club Med put us up in the Deluxe Room #52 for the first two nights, and then upgraded us to the Lagoon Suite #157 on the last night, so I had a taste of both room types. Both rooms were sunrise facing – there are sunset facing rooms as well so you probably want to specific your preference when you book.
DELUXE ROOM
The rooms are roomy enough to move around in, and I like that you have direct access to a very large stone-tiled bathroom/shower right at the doorway so you can clean up without trampling sand and water through your room. While the 'hut' looks rustic from the outside, it has air-conditioning and is sealed so you don't get random creepy crawlies coming into your room… mostly.
The room lighting was pretty dim at night though, and frankly you don't really want to spend your afternoons in here when you could be outside lounging on the beautiful beach. I somehow feel like it's designed for people who don't plan to spend much time in their rooms!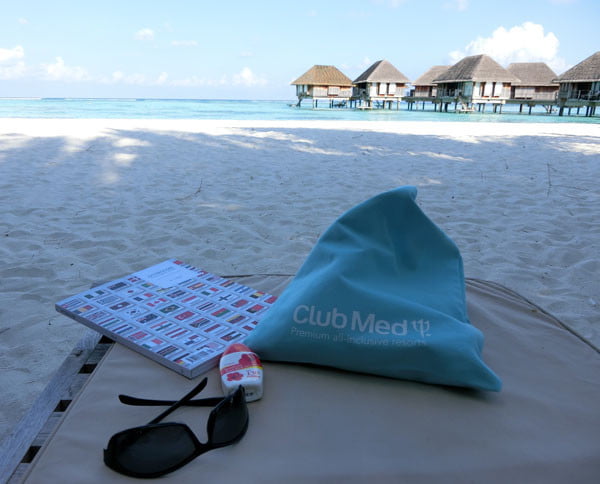 LAGOON SUITES
If you want some exclusivity and luxury, consider springing for the Lagoon Suites – while they are  a further walk from the main activity areas because they are located at the ends of the island, you probably aren't going to leave the suites much once you're checked in!
The Lagoon Suites definitely feel more spacious, and one big difference is that there is a lot more natural light coming into the room. Also, the suite's toilet is HUGE and there's a living area as well.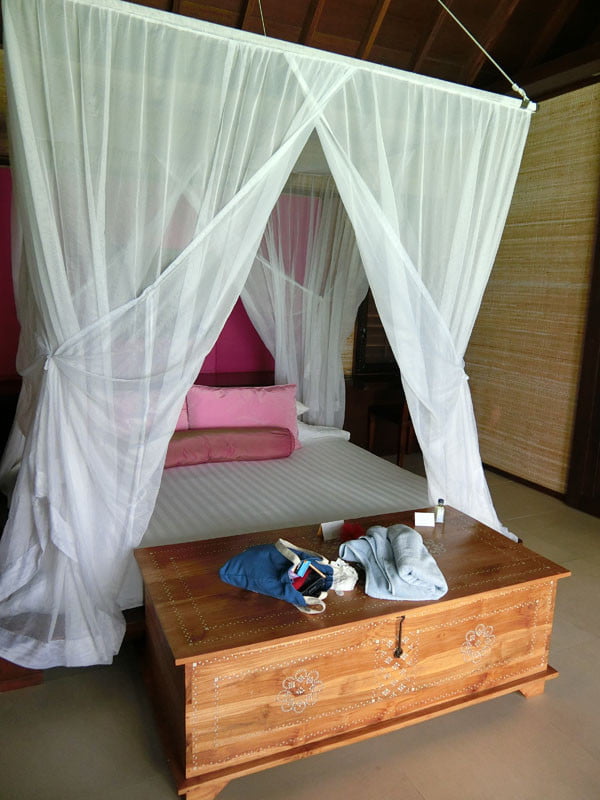 The big highlight is being able to walk down into the shallow waters from the balcony – there's a little wooden stairway that descends to sea level and you can climb down your own mini jetty into the water. There's even a shower so you can wash up after you emerge from the water! The water doesn't get too deep (Waist to shoulder-high) – it's a relatively flat current that can be quite strong though, and the sea bed can be a bit rocky and poky with corals.
Summary: if you plan to spend most of your time lounging outside on the beach and just want a decent place to sleep at night, the deluxe room should be sufficient for you. But if you're going all out for luxury and don't plan to be very sociable, consider springing for the suites.
THE CLUB MED EXPERIENCE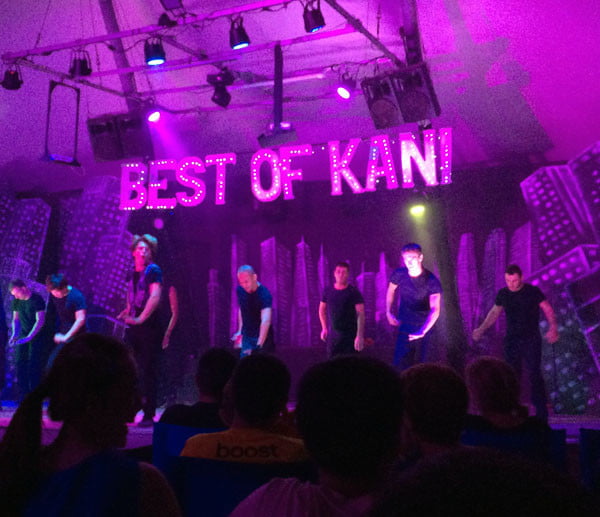 Club Med is well known for it's warm sunshine service, which translates into really perky guest relations officers . It takes a bit of getting used to (I'm speaking as a rather reserved Asian) to have random people chirp good morning at you and ask to sit at your table during a meal. They're pretty decent about it if you prefer not to have their company, though it's nice to get different company if you're staying for awhile or with a group of friends.
Also, the staff range from young to well-travelled, but one thing they have in common is a whole lot of energy, because they put up a show every night for guests which usually involves a whole lot of dancing and partying, and still get up the next day to take care of you.
Club Med is also one of the more well-known resort chains that has been offering all-inclusive packages, which basically means that your basic meals, drinks and activities are all paid for already. There is something awesome about just sitting down at a place and eating whatever you want and as much as you want! Then again you don't have any other food options for a remote island like Kani!
The main dining area has quite a wide international selection of food, with several live stations where the food is prepped for you alongside the buffet spread. Quite decent quality overall – the dining hall can get crowded.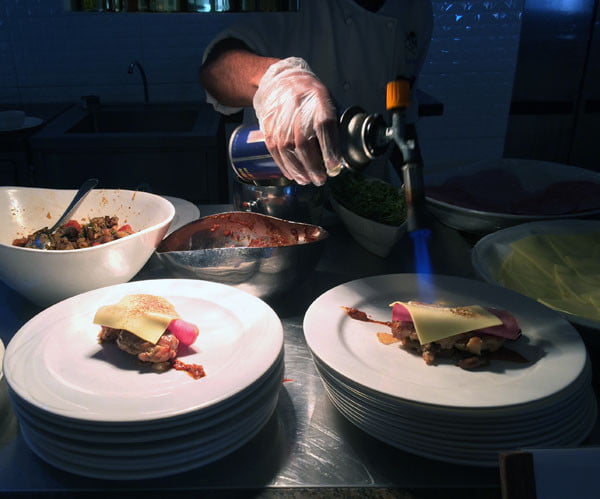 Besides keeping you well-fed, the resort (being on a remote island) does have plenty of activities planned every day to entertain guests. Very early on when they first launched Maldives, it was pitched as a no-kids adults-only place, but these days they are very family friendly as we saw lots of families there. It's also a popular destination for couples – my sister spent her honeymoon there – but for singles and friends, you don't feel too out of place.
Some activities (all covered in the all-inclusive package) we got up to – snorkelling at a nearby reef. It was pretty choppy that day though the weather was fine and the water was clear. Great coral but the most interesting animal we spotted (other than the usual reef fish) was a moray eel.
Sailing on one of their catamarans – you can either sail yourself or have someone take you out onto the water, which was what we did. You don't go very far of course, so it's a nice way to enjoy the sea without doing too much work.
and of course most of our time was either wading in the waters (the waves are surprisingly stronger in different spots – adults should be fine if they don't go out too deep but don't leave your kids unattended even in the shallows) or basking on the beach with a beer or mojito in hand.
Thanks also to the Club Med folk who managed to arrange for us to spend one day scuba diving with Euro Divers who are based in Kani – it was quite special because it was dives #99 and #100 for P and me!
P and I didn't pack my own gear as we usually do since we were only going to do a day of diving – Euro Divers provided the equipment and took us out for two dives – #99 and #100 for P and me!
in terms of the dive experience, it was great as the Euro Diver crew were very professional and very thorough in briefings – any diver would feel safe with them. But perhaps we just didn't click or there wasn't much time to get to know them in just one day – I thought they seemed a tad aloof, but they were nice enough when making small talk during the dive trip.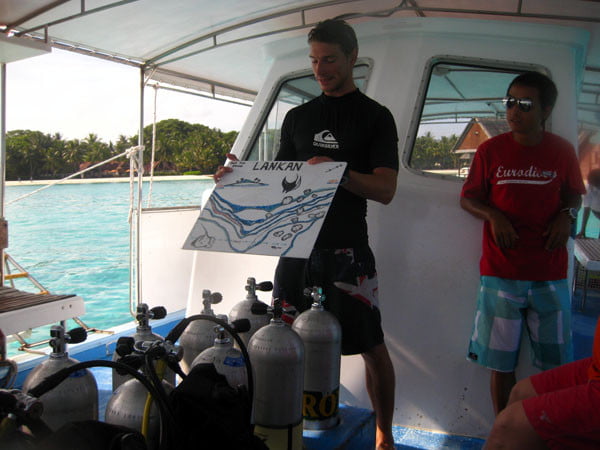 No fancy creatures this time around, but the waters were still very beautiful and clear, and the underwater world teeming with life. Here are some favourite shots:
WHAT NEEDS WORK
The wifi connection was quite bad when we were there. For some reason you couldn't get connection in the deluxe rooms, so you had to be at the main area to use wifi, and even then with your unique passwords (which change every few days), you would get kicked off the network when too many people are on it. It can be pretty frustrating if you're online a lot like I am, but the Club Med folk have received this feedback and assure me that they are upgrading the network very soon.
I KNOW you're not really supposed to be using the internet so much when you're 'stranded' on an island in the middle of the sea, but sometimes when you just want to instagram that beautiful picture of the sunset… argh! Alternatively just use this as an opportunity for a digital detox!
All in all, I had a very nice break thanks to Club Med – I think it offers a great experience for the more sociable sort who might get bored cooped up in a private villa, but it does give you the option of a more exclusive experience where you can easily get away from the crowds and find a nice quiet corner to relax in this beautiful paradise.
So if you're looking to getaway, July might actually be a great time as Club Med has some awesome promos – the list price of $1,326 per person for a 3-night stay has been slashed to just S$756 (though it ends really soon, hurry!) and even prices for the later part of the year are down to about S$1k, definitely worth checking out!
GETTING THERE
From Singapore, we're quite lucky that Tiger Air now operates direct flights to Maldives and at quite decent timings as well. It cost us around S$380 for a roundtrip via Tiger Air – airfares usually goes for $600+ (promo price) on Singapore Airlines! The flight isn't too long (about 4.5 hours) and it's direct which is great – The last time I went by Malaysia Airlines which was a pretty stellar experience, except that we had to transit in Kuala Lumpur which was an extra 2-3 hours.
Kani is about 40mins from the Maldives airport island by boat – you look out for the little booth in the arrival hall, and someone will come along to mark your arrival and tag your backs. 40mins later once you reach the island, you're whisked off for a quick orientation briefing and given your keys while your bags head to your room.
Thanks to Club Med for kindly sponsoring the all-inclusive package and scuba diving. To book your own Club Med holiday, check out www.clubmed.com for more!