As a working person with a limited number of leave days, I love a quick weekend getaway – it may be short and doesn't leave much time for exploration, but sometimes you just need that quick rejuvenation. Thailand is a favourite destination because it takes just 2-3 hours to fly there and offers up great beach vacation spots. Here's a guide to a weekend getaway in Koh Samui and things to do there.
Thanks to Skyscanner Singapore who sponsored this trip to Koh Samui.
---
24 Hours in Koh Samui: Things to do
Since we technically only had 1 full day to do any sort of sightseeing, our hotel the Renaissance (more about the hotel below) arranged for us to tour the island using their RNavigator programme, which basically involves a guide (the Navigator) creating a customized programme to bring you around the island.
I like that it's not a fixed itinerary and there's no need to liaise with a separate operator, and our guide Aod managed a pretty good mix of touristy and more local things to do here, so I quite enjoyed our day tour around the island!
You can visit most of these places on your own if you hire a driver to get around or take private tours, but according to Aod, the hotel does offer pretty competitive prices so definitely something for consideration. Here's where Aod took us:
Chaweng Viewpoint
Aod explained he usually liked to stop at this viewpoint for guests coming from the airport to enjoy a great view of the island as a warm welcome. It was pitch black by the time we reached Koh Samui the night before, so it was nice to take in quite a majestic view of the Eastern shore of Samui. To the left, you can actually see a hint of Chaweng Beach.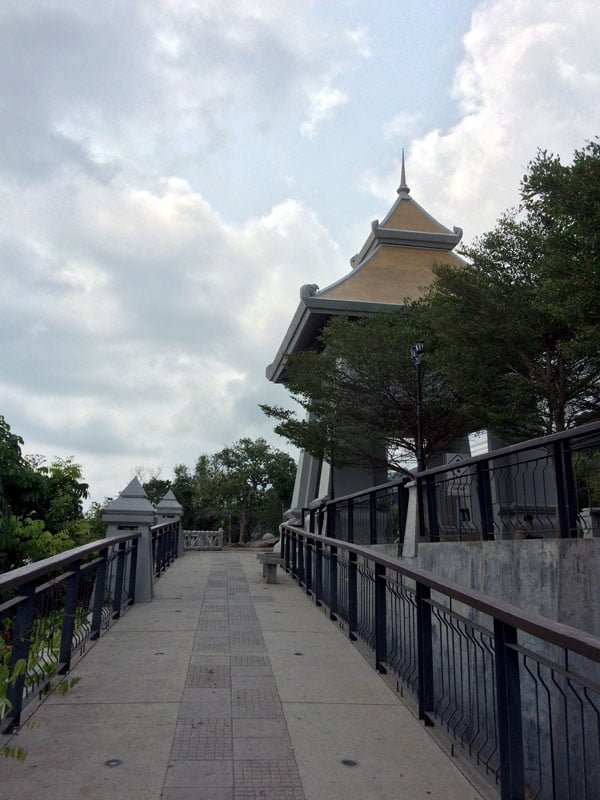 Hin Ta and Hin Yai
We headed back south past our hotel till we reached Lamai to see the famous Hin Ta (grandfather) and Hin Yai (grandmother) rocks. There were lots of tourists there – you had to enter a rather narrow lane which led to the beach, and as with all tourist attractions, a little lane of shops surrounds the entrance to the area.
There's a whole love story legend about how these rocks came to be named, but lest you think that you are going to look at rocks shaped like loving little old people, I'll warn you first that it's a little more graphic and genitalia like than that… The rocks are the main attraction set amidst a beautiful sea view, but other than that and poking around the little shops, that's not much else to do here.
Namuang Waterfall
We drove further inland, leaving the sand and sea behind and headed to Namuang reserve, a forested area which was pretty humid in the afternoon. There are two waterfalls located here, and we headed to #1, a short walk from the car park. Aod used to live around here and talked about how he used to swim in the waterfall pool here quite frequently as a child. You can still do that, and we spotted the more monkey-like people climbing around the trees there. The pool makes a nice respite from the humidity of the forest!
Peak Eye View Restaurant
Moving even further away from the beaches, Aod took us up towards the central more hilly parts of the island. We headed up, up, up along winding roads until we came to the Peak Eye View Restaurant. Perhaps it was the odd timing, but there was no one there that day but us. The restaurant is famous for its location perched on top of the hills which gives you a fabulous 360 view of the island below.
It was kinda cloudy when we were there unfortunately so our view wasn't great, but on a properly sunny day I can imagine it being quite impressive. You can have lunch there and the view comes for free – if you're just there to go up to their viewing platform, there's a small charge.
Think & Retro Cafe Lipa Noi
Finally, it was lunchtime, and we headed over to the cutest little cafe over on the west coast of Samui called Think & Retro Cafe (not a typo there). From the outside, it looks like a bunch of containers stacked together, but it really is quite a charming place by the beachside with an absolutely beautiful white sandy beach. The water was super calm and glass-like, so of course, I had to have a bit of a paddle.
Magic Alambic Rum Distillery
Something a little bit unexpected in Thailand is the Magic Alambic rum distillery (now going by the name Koh Samui Rum Distillery as per their website) in Ban Thale, the southern bit of Samui. It doesn't seem to have any official tours and it was quite empty when we were there – you can taste the rather unusual rums that they make on site though.
I tried several different flavours – coconut, pineapple, orange and lemon rum. I liked the pineapple best of the lot, but I think it tastes even better when mixed with this special homemade cane sugar juice (you can buy it in a bottle – our guide did!). They also serve up French food here, though we didn't get to try this time around, so it makes a nice spot to consider having a meal and some rum tasting.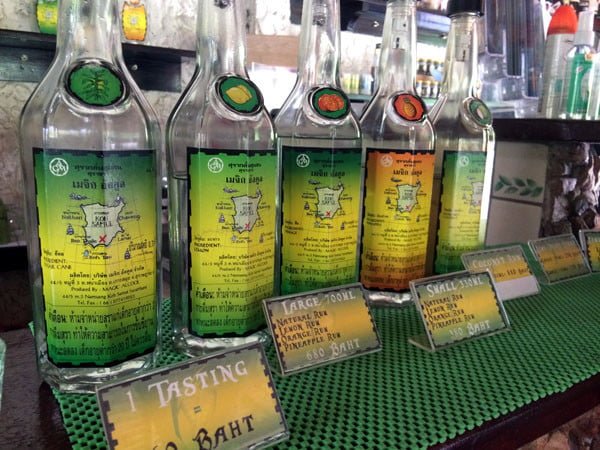 Coconut Farming
I have no idea where this place was, but it doesn't look like very much from the outside, just a whole pile of coconuts alongside a few huts. You'll see a few monkeys nearby the trees on a leash, and they are trained to pluck coconuts from the trees and loosen it. One of the owners gave us a bit of a demo – they train the monkey to hang off your arm and using its feet, it spins the coconut and tadah! One loose coconut falls to the ground. The unhusking work still is a matter of human labour, and it remains one of Koh Samui's top exports.
Fisherman's Wharf
Finally, we end the tour by heading up north to Fisherman's Wharf or Fisherman's Village in Bophut. They've built a very fancy open air mall called The Wharf which makes for nice shopping if that's your thing, or you can walk down the road to the 'original' Fisherman's Village stretch, which is a row of bars/restaurants facing the beach so you can enjoy a great view with your nosh. We were pretty tired from all that travelling (we literally covered all ends of the island!), so I happily sat down for a Chang Beer.
Here's my handy dandy map of all the places we visited. I didn't list the Peak Eye View and Coconut Farm because I couldn't find any location information on them >_< If anyone has recommendations on what else you can do in Koh Samui with just a weekend to spare, drop a comment and share! I'd love to go back there again, it's so nearby and so, so lovely :)
---
How to get from Singapore to Koh Samui
Koh Samui (aka Samui Island) is just 2 hours away from Singapore along the southern tip of Thailand, so it makes for a convenient spot for a quick weekend jaunt. Surprisingly though, not many airlines fly direct to Koh Samui from Singapore, so prices aren't as competitive as spots like Bali or Bangkok which have many more options for you.
I flew up courtesy of Bangkok Airways on Friday evening around 9pm after work and reached Singapore on Sunday evening around dinner time, with time to unpack and rest enough to head back to the office the next day. Ideally, I would take an additional day off on Friday morning so you have more time to relax, but this is helpful if you're out of leave days to take!
Bangkok Airways PG 0962: SIN > USM 2010 – 2105hrs
Bangkok Airways PG 0961: USM > SIN 1630 – 1920hrs
Even if you're booked on another airline, it's pretty likely you'll end up on Bangkok Airways as they have the most flights to Koh Samui (they do own the airport after all) and code-share with several of the larger airlines. It was my first time flying this boutique airline (read: boutique does not equal budget) and I was quite impressed overall with the service.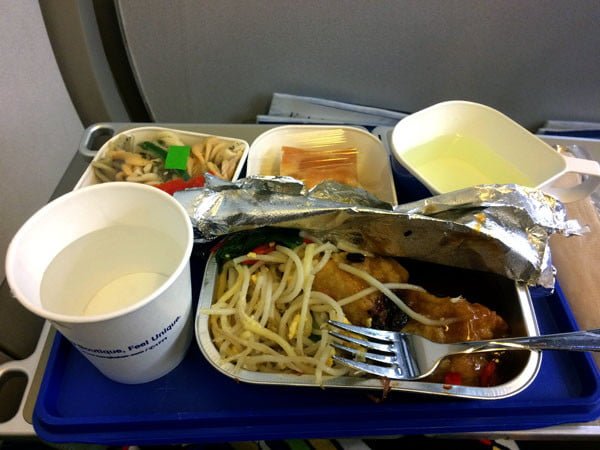 Also, Samui International Airport is adorable – the moment you step off the plane, you feel like you're in a resort already, from the open-air, little hut like buildings, to the very happy looking trams that transport you to and from the planes. Also, they have complimentary food both on and off the plane for guests, which is always a plus point!
---
Where to stay in Koh Samui
Skyscanner kindly put me up at the Renaissance Koh Samui Resort & Spa which is a quick 20 mins drive south from the airport. It was at the hotel lobby where I met my fellow travel blogger Ally of Allyoffduty who would be my travel companion for the weekend.
I was in Room 310, a Deluxe Garden View room, and this room was pretty large and comfortable, spacious enough to walk around. There's a bedroom with a separate open concept bathroom. There is also a balcony with some chairs and a jacuzzi! I spent a lovely time that first night reading and soaking in an absolutely hot bath. If there had been a sea view, I probably wouldn't have wanted to leave my room at all…
In case you're wondering, internet room rates for Deluxe rooms are going at about 4,900 – 6,800 THB last I checked over the weekend, which is about S$200 – S$280 per night depending on whether you want breakfast or a sea view. If you spring for a villa, you're looking at 8,000 – 22,800 THB (approx S$300 – S$950). One odd thing though is that they charge for wi-fi (in this age? I know right) unless you're a Marriott Rewards member, so sign up before you go (it's free to sign up)
Service at the hotel was very pleasant, very polite and cheery staff. They also kept us very well fed on this trip – every time I'm in Thailand, whether it's Bangkok or Phuket or Koh Samui, I always leave feeling like I've put on a few kilos from eating awesome Thai food. We ate breakfast and lunch at Banana Leaf Restaurant and had dinner outdoors at TawaNN to the setting sun.
I managed to explore the hotel grounds a little on Sunday morning when we had a bit of time to ourselves. Sadly the sun was not so cooperative so it was pretty grey all around, only choosing to get sunny as we were leaving, boo~
---
Thanks again to Skyscanner and Pamela for sponsoring and organizing the entire trip. Also to the lovely Stephanie from Renaissance who took good care of us throughout the trip, and Aod our trusty navigator who knows all the shortcuts on the island. Thanks to Golf from Bangkok Airways who also took the time to hang out with us.
Love beaches in Thailand? Phuket is popular, but check out the lesser-known Khanom near Krabi, or beach town Hua Hin. See all my Thailand posts.