One of my favourite things about Taiwan is that they are full of hot springs or Wēn Quán 温泉. I have to have a soak every time I visit no matter how hot the weather is, and it is the absolute perfect activity when the weather is cold. What's amazing about Taiwan is not just the sheer proliferation of hot springs, but the variety of hot spring minerals and environments you can find all around the country. I put together a list of some of my favourite Taiwan hot springs that I have personally visited for you to check out on your next trip.
This is not an exhaustive list of course – there are plenty of places that I have yet to visit like Zhihben and Yangmingshan. Tell me in the comments which ones you recommend that I check out the next time I'm in Taiwan and I'll add them here when I eventually do.
Here's everything on a map:
---
Hot Spring Bathing Etiquette
Here in Singapore where our closest claim to a natural hot spring is a single tap in Sembawang, you should know that there are certain rules to follow when bathing in hot springs in Taiwan. Here's what you need to know:
What to wear (and not to wear)
The public hot springs that I visited in Taiwan generally don't require you to strip down like those that I've encountered in Japan (more about Japanese Onsen etiquette here), but you had to be in proper swimming gear (i.e. no t-shirts) and they are usually unisex
People don't wrap their bodies in large towels like you see on travel shows (that's mostly for broadcast regulations and modesty). Most of the time they just bring a small towel along with them to wipe their faces when getting in and out of the pool
What I've seen people do is wet the towel and put it on top of their heads, which I was told was supposed to help you stop fainting by lowering the difference in temperature between your body in the hot water and your head at room temperature. It's also the most convenient place to keep your towel dry when there are no hooks around I guess!
Don't bring or wear items into the pool with you. This keeps the pool clean and also prevents your jewellery from corroding or rusting, which they are more prone to because of the minerals in the water
At the pools
Bring a water bottle around with you and drink often as soaking in the hot water dehydrates you very quickly
Wash or rinse your body before you enter the pools, and again when you get out to keep the pools clean and your own hygiene. There are usually showers or taps nearby
Don't soak for too long at one go. You can spend the whole afternoon at the hot springs if you like, but pop in and out of the water every few minutes or so you don't overheat or faint. I usually soak for a max of 10mins at a go, rest for about 5 minutes before going back into the water
Hot Tip: Take note of the cleaning time for the pools. Normally they close the hot spring pools for a short period in the middle of the day to clean. It can range from half an hour to a few hours, so find out the times beforehand if possible so you don't get caught waiting. I missed out on checking out Yang Ming Shan's hot springs because we arrived at pool cleaning time.
---
Taipei / New Taipei City
Beitou 北投: Millennium Hot Springs 千禧湯
The Millenium Hot Springs or Beitou Public Baths are a nice open-air collection of pools. These are sulphuric waters, and there are 4 pools with varying levels of hotness with the hottest one right on top. I can sit in Level 2 and 3 quite comfortably but Level 4 feels really, really prickly. There are also 2 cool pools – hopping back and forth between the cool and hot pools is supposed to be good for your blood circulation.
These public baths feel like a public swimming pool complex – you get all sorts of people sharing the baths, though most of the people I saw there were older folks though. There are plenty of private bath and hot spring hotels around the area that can give you more privacy and exclusivity, but I personally like these public baths as it's a cheap and easy way to be introduced to local hot spring culture.
Around Xinbeitou
The Beitou Hot Spring Museum 北投溫泉博物館 is just before the entrance to the Hot springs and is free to enter. It gives you the history of hot spring culture in Taiwan and little old lady volunteers act as guides in this 2-storey museum built in a restored building. The upper level talks about the history of the Beitou area and is styled after old Japanese houses while the lower level talks about hot springs in general, the science and global history, and is completely different looking for the other level as it is styled after the western baths. It's good if you are interested in history or just need to kill some time waiting around for the baths to be cleaned.
Further down the road from the hot springs is Hell Valley 地熱谷 (In my head I kept calling this place Hell's Kitchen or Devil's Valley) and the closest you can get to the source of the hot spring water. It's a geothermal pool of steaming sulfuric water that you DON'T want to be soaking in as it's steaming HOT. Read about my experience in Beitou or see how you can fit this into just 48 hours of exploring Taipei
Jinshan 金山: Huoshanyu Hot Spring Hotel 火山浴溫泉館
The Jinshan Hot Spring area has 4 hot spring sources with different mineral contents – most are common: sulphur, carbonic acid and iron, but it also has a rather rare submarine sulphur hot spring which draws from waters beneath the ocean bed thanks to the volcanic Datun mountain range.
My Jinshan hosts brought me to Huoshanyu hot spring hotel 火山浴溫泉館, just one of many hot spring hotels in the Jinshan district. It was a pretty rainy evening when we visited, so it was nice to be bathing in these indoor cabins. The bath itself wasn't particularly unique – a typical stone bath with a seat and hot and cold hot spring taps that thankfully filled very quickly. There was a separate hose with non-hot spring water which was cold.
Chilly autumn nights are great for a hot spring bath – bring your own toiletries and towel or you'll have to buy them at the counter which was staffed by rather brusque ladies. There were also some massage chairs and a cafe of sort in the lobby area – you can book hotel rooms that come with hot spring baths here as well.
Around Jinshan
Jinshan is most famous for its historical Jinbaoli Old Street where most people like to eat Jinshan Duck and other local delicacies like taro, sweet potato and grilled corn. Also famous around this area is the Mysterious Coast, a short stretch of coastline that appeared in a Martin Scorcese film. Check out my detailed guide to Jinshan on Taiwan's North Coast.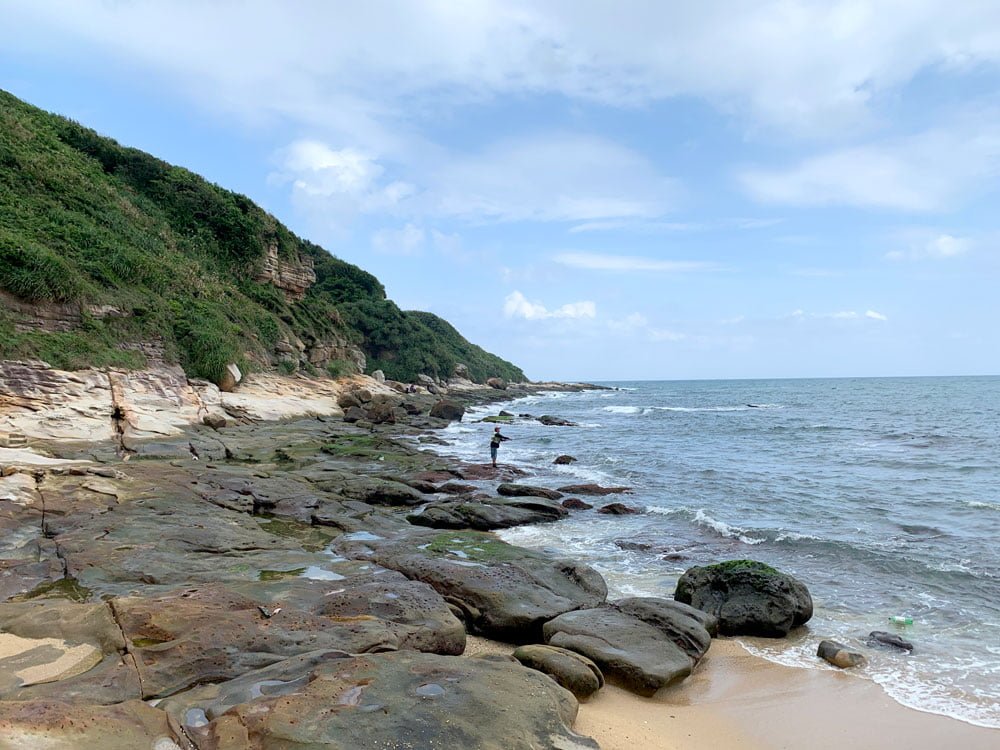 Yilan
Jiaoxi 礁溪: Hot Spring Onion 蔥澡
I finally visited Yilan's famous hot spring district in the north called Jiaoxi. It's one of those towns where hot springs can be found in abundance, from free footbaths in the park to more classy private rooms and hotels, but I decided to check out this one that I saw on Klook called Hot Spring Onion which touted itself as an art bathhouse, something I had only encountered previously in Naoshima.
I didn't make any pre-bookings, just drove down to Jiaoxi from Toucheng on my scooter and rocked up to this pretty hipster looking building. There were only 2 rooms available when I arrived, and I chose the cute cat mural room 池畔春光 over the monochrome grey decor one. What was interesting was that because I was alone, they asked that I dropped them a message every half hour via LINE just to make sure I hadn't fainted in the room.
I was given a woven basket with large reusable bottles of shampoo, soap and a hair dryer as well as a keycard for my room on the 5th level (no lift!). My room was a brightly lit, cheery room with a lovely cat mural on the wall (I think I was subconsciously missing my cat when I picked it), with a toilet, dry changing area, wet shower area and the actual bathtub, along with a ceiling fan and a window you can open or close for ventilation.
The water here is sodium bicarbonate which is odourless, colourless and one that people believe is good for your skin and often put on the face. I definitely enjoyed a lovely leisurely soak here, especially welcome after the 2 days before that where I hadn't had a proper hot shower in a camping area. The only disturbance perhaps is the very loud sound of water draining from the neighbouring rooms which is unavoidable, but only for a short instance.
Around Jiaoxi
You can explore Jiaoxi for other Hot Spring options – I grabbed a bite at Jiaoxi Babao Dongfen 礁溪八寶冬粉 quite randomly and it turned out to be quite a famous place that I had stumbled upon. Good soupy glass noodles which was perfect for a post-bath meal.
During the day, you can also check out Wufengqi Waterfall nearby which is supposed to be pretty nice for a hike. I had come from Toucheng where the Lanyang Museum and Wai'ao Beach which is popular for surfing as well.
Su'ao 蘇澳: Su'ao Cold Spring 蘇澳冷泉
Hot springs are quite common, but have you ever visited a cold spring? I first visited the Su'ao Cold Spring complex in 2016 – Read more about my Su'ao Cold Spring Experience – but since then it's undergoing some major renovation. The private cabins are still available where you have your own little cold pool to soak in. The water here is quite special – Carbonic acid water, and you can actually drink it directly, and it's kinda bubbly and sticks to your skin when you soak in it.
I met an old man here who used to sell drinks made with this cold spring water mixed with some flavouring. When I revisited the area in 2018, I found that there was a new and free public cold spring area nearby, and that same uncle selling drinks still.
Around Su'ao
There are some hikes that you can do behind the cold spring area or head to nearby Nanfang'ao to eat some seafood and enjoy the coastal view. Check out my Nanfang'ao guide here.
Taitung
Green Island 綠島: Zhaori Hot Springs 朝日溫泉
Zhaori Hot Spring is probably my hot spring not just in Taiwan, but perhaps of all time. It's located in Green Island, an offshore island off the coast of Taitung, and the hot spring itself is situated outdoors, right by the sea. Most people go early to catch the sunrise while soaking – get there a little earlier so you can hop into the pool before the tour buses arrive and save yourself a good spot.
What makes Zhaori special is that it is a saltwater hot spring, a mix of the coastal sea waters and underwater hot springs heated by the volcanic Green Island lava, which is quite a rare occurrence and one of the few saltwater hot springs that exist in the world.
The pools are mostly outdoor, though there are some indoor ones that I didn't bother to check out. The highlight pools are the round ones that are located close to the shoreline and have varying temperatures. Pick one that suits you best and sit facing the sea so you can see the sunrise. There are lockers and also baskets that you can use to tote your things around easily. You used to be allowed to swim in the natural rock pools by the coast, but sadly they don't allow that anymore due to too many injuries. Those waters were perfect body temperature and felt neither hot nor cold and you get the occasional fish nipping at your toes.
Come prepared with raw eggs and some netting so you can cook your food at the troughs where they pipe up the boiling hot spring water. Make sure to bring some extras – nothing is more heartbreaking than dropping your only egg. Hot spring cooked eggs are a lot springier than hard boiled eggs! You can also cook prawns, corn and vegetables.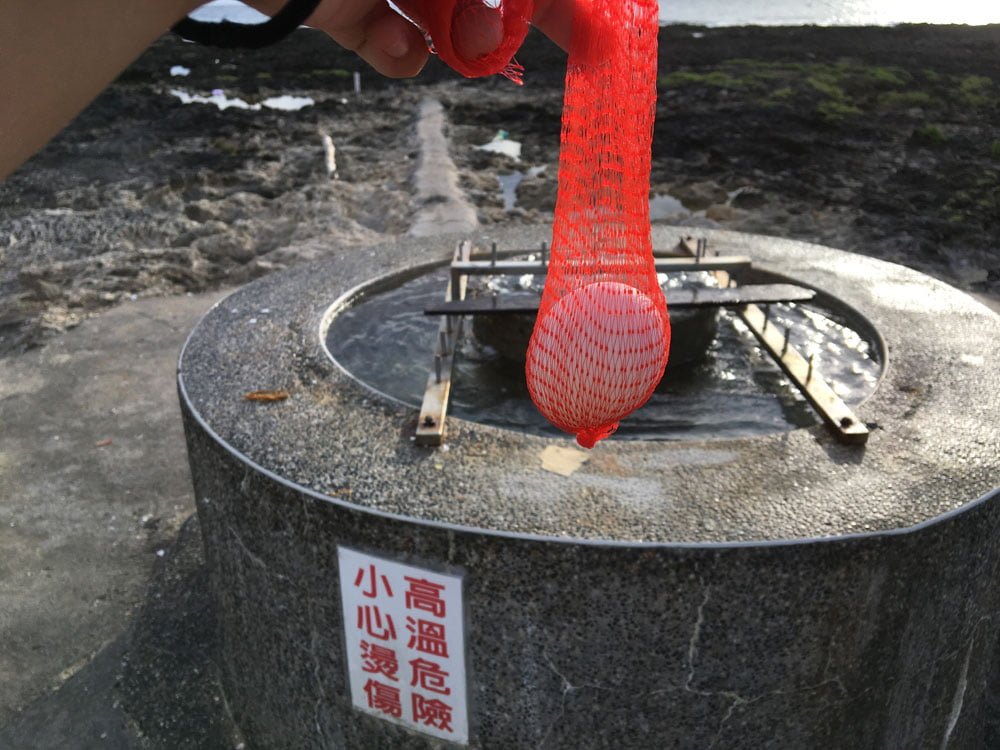 Around Green Island
Fanchuanbi 帆船鼻 is located right next to the hot springs and is a great lookout point of the coast and gives you a bird's eye view of the hot springs as well. Check out my detailed guide about Lyudao to learn everything you need to know.
Tainan
Guanziling 關子嶺: King's Garden Villa 景大渡假莊園
Guanziling 關子嶺 is a small mountainous village area in Tainan at the peak of Zhentou Mountain near the border with Chiayi. It is home to another rare hot spring in Taiwan, this time an alkaline mud-based hot spring, the only one in Taiwan. The mud makes the water looks kinda murky and dirty but is said to be very good for the skin.
I visited King's Garden Villa 景大渡假莊園, a hot spring hotel that is quite popular with visitors with a whole European inspired cottage vibe. There are hotel rooms on site but I only spent a few hours here using the spa facilities.
The spa has indoor and outdoor pools of varying temperatures, and some even have different 'ingredients' like a black tea bath. There are lots of spots to lie down and chill out throughout the spa, as well as those skin-nibbling fish if you fancy a fish spa. There's even an area where you can rub some mud onto your face and body.
Around Guanziling
Nearby the hotel, I stopped to check out the Fire-water Union 水火同源. This phenomenon looks like there is a flame perpetually burning on top of a small spring, the result from the perpetual emission of methane gas from the ground. Manage your expectations – the flame isn't very big but it's an interesting stopover en route to Guanziling and there are several eateries around here if you want to stop for a break.
I first wrote about Guanziling while on assignment looking for unusual things to do in Taiwan, travelling from Kaohsiung up to Taipei.
Pingtung
Checheng 車城: Qing Quan Japanese Hot Spring Hotel 清泉日式溫泉館
We stayed in Qingquan Hot Spring Hotel in Checheng, Pingtung, a recommendation by our lady guide who brought us around Kenting (there's a great backstory about how we met this lady completely randomly and how she ended up taking us around Kenting). It turns out that this hotel is actually quite famous not only for its stellar Sodium Bicarbonate waters from the Sichong spring 四重溪, it was also beloved and frequented by Japanese royalty.
Each room also comes with its own attached personal hot spring bath. You can use the hot spring facilities till 11pm – 4 outdoor pools of varying temperatures with nice rock garden features. We only saw the place at night as we had spent most of our day exploring Kenting, and while I found it quite serene, just know what because it's an outdoor pool with lots of flora, look out for flying insects…
Around Checheng
On the way from Kenting up to Checheng, we stopped by a spot called the Chuhuo Scenic Spot 出火 near the remains of the Hengchun East Gate (Dongmen). Here, there are holes in the ground where natural gas leaks out and fires perpetually burning. [Google Maps]
Bonus: Local secret hot spring spots revealed
If you make friends with the local people, they might just show you where to find some of their hidden hot springs that aren't on any map!
Somewhere in Luye, Taitung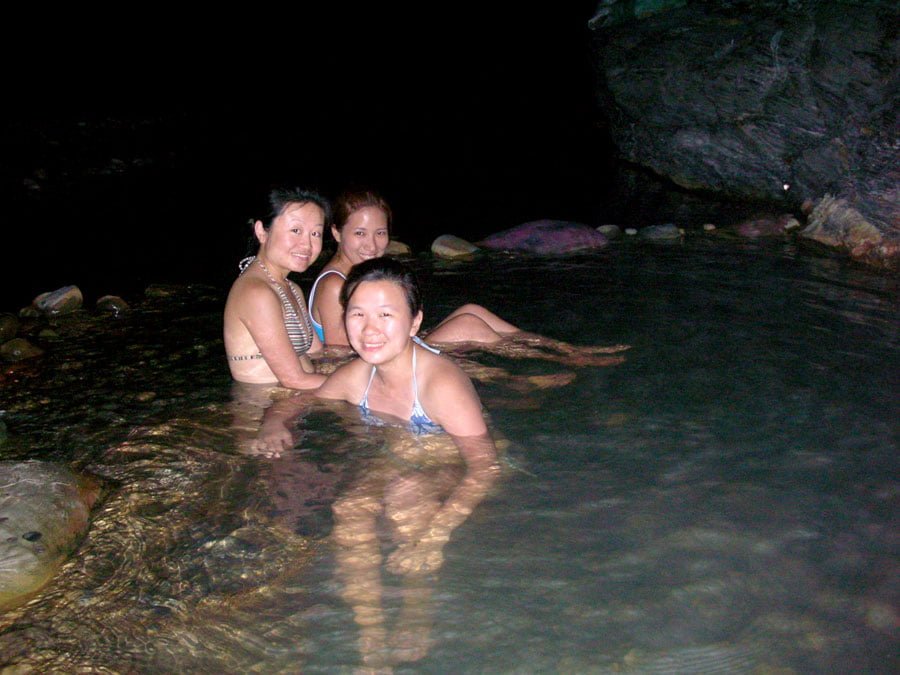 My first encounter with Taitung back in 2007 was completely unplanned. We were unprepared backpackers on a grad trip who were directed from our Green Island host to their friend in Luye, Taitung, but it turned out to be a really fun local experience that you can read more about here.
One highlight was the night that our host XP brought us to a secret local hot spring bathing area along the river that was dug out and created by the locals. It was pretty dark out and we only had the light of torches to see by, picking our way along the pebbly river bank until we reached the river.
Unlike your usual hot spring baths, the temperature of the water is caused by the mixing of the boiling spring water and the cool river waters, so you had to continuously wave your arms in the water to get the optimal temperature for yourself! This is definitely a memory I will always keep with me.
Somewhere in Su'ao, Yilan
At the Su'ao Cold Springs area, I ran into 2 other Singaporean guys, and somehow we ended up making friends with a local uncle who lived around the area. He invited us to go check out his private cold spring pool nearby that we could walk to. It was situated up a small slope, and he doesn't actually live in this house – he stays in the place next door but owns this particular piece of land. He made this pool all by himself, and we had a pretty good conversation learning about his life and the cold spring culture in the area.
---
I'll love to hear about any awesome hot spring spots in Taiwan that you have to recommend. Drop a note in the comments!
Want to read more about my Taiwan adventures? Head this way for posts on all things Taiwan.