Travellers looking to indulge in some arts and culture in Singapore should check out the Bras Basah – Bugis precinct in the Civic district. Besides being home to some of Singapore's more prominent museums and cultural institutions, you'll also find some pretty cool murals and art on its walls and streets. Here's my guide on where to find street art in Bras Basah Bugis (BBB).
Last Updated on 16 August, 2022
More information about the Bras Basah Bugis precinct can be found at the BBB website, and I've included a Google Map here as well. I've tried to split up the works into different clusters so it's easier for anyone visiting those areas to look for artworks.
---
Fort Canning
Armenian Street
Location: low wall in front of carpark next to Peranakan Museum
This artwork was a collaborative effort by the RSCLS crew that was commissioned by the National Heritage Board in celebration of their 20th Anniversary in 2013. Located in front of the carpark right next to the Peranakan Museum, the low wall is emblazoned with a rainbow coloured artwork depicting the cultural flavour of the Bugis Bras Basah district. The little mosaic pieces depicting famous buildings in the area amidst the artwork remind me of Invader.
The (former) Substation
The Substation is Singapore's first independent contemporary arts centre and occasionally has some pretty avant-garde performances or exhibitions on show. Naturally, its walls are also home to various interesting artworks, some of those on the side alley lower walls rotate often enough, but others have been there for a long time.
Unfortunately in 2021, the arts company had to move out as the space was taken back and will be undergoing some renovation.
For some live music by Singaporean musicians and a drink or two, head to the original Timbre outlet at the back of the Substation – just follow the sound of live music by Singaporean musicians!
Location: Side Alley between Peranakan Museum and Substation
This SpeakCryptic work high up on the wall from 2019 is called Sing Along If You Know The Words and based on the idea of a mosh pit. It's done in his signature black and white style.
Location: Side alley (lower walls)
These works here seem to rotate fairly frequently. Some of the works that I saw in 2020: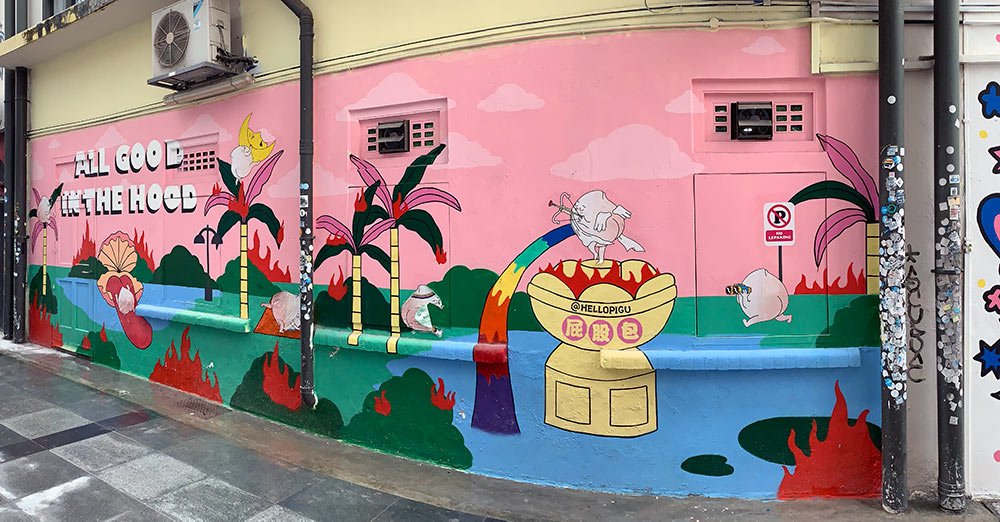 Here's a look at some older artworks that were painted over:
Location: Back wall of Substation next to Timbre entrance
Towards the back of the alley is a large collaborative mural called the Solidarity Project by Singaporean crew RSCLS with an Indonesian crew in 2013.
Location: Side wall facing SMU / Stamford Road where Le Bistrot du Sommelier is located
In recent years, Armenian Street has been pedestrianised and underwent some major revamps. When it reopened in 2019, local art studio LABSIXFIVE was commissioned to do this piece called Rasa Sayang (translated roughly to 'feeling of love') to showcase a stylised interior of a traditional Peranakan shophouse. They've worked the windows into the design, and you can see the traditional majolica tiles as well. I love the fun plants!
---
Bras Basah
Bencoolen Street
Location: NAFA Campus 3, 171 Bencoolen Street, alleyway between buildings
This particular mural is a part of the series that 8EyedSpud was commissioned to create for Bugis Bras Basah Precinct in 2021. This one is a little out of the way compared to the rest – look for it in an alleyway between the buildings Nanyang Academy of Fine Arts (NAFA)'s campus 3. Titled Art School and showing different types of artists at work, it's a reference both to the many schools that were historically located in this area, but also to the fact that many of Singapore's art colleges (La Salle and SOTA) are also located nearby.
Location: NAFA Main Campus near junction of Middle Road and Bencoolen Street
This wall was a bit of a surprise for me to stumble upon when I was searching for the theatre at the Nanyang Academy of Fine Arts (NAFA). It's located just behind the Objectifs Gallery and popular restaurant Artichoke in a narrow alleyway.
The first time I found this wall, it seems more like an organic space for expression but unfortunately at some point, the graffiti was painted over.
Waterloo Street
Location: The Theatre Practice, 58 Waterloo Street
Waterloo Street is home to a number of smaller arts institutions. This particular mural can be found at the entrance to The Theatre Practice and is based on the Chinese idiom 青出于蓝而胜于蓝, which basically translates into it's rather unwieldy english title Green is Born of Blue, but Outshines Blue. The green bits form the logo of TTP – this work is meant to pay tribute to the fact that TTP is the longest running bilingual theatre institution.
Location: 51 Waterloo Street, side of entrance of Catholic Centre
This striking face of Jesus was painted in late 2021 to celebrate the Catholic Church's 200th year anniversary. The artist is Andrew Paton, and the work was painted by Boy's Town and Assumption English School students.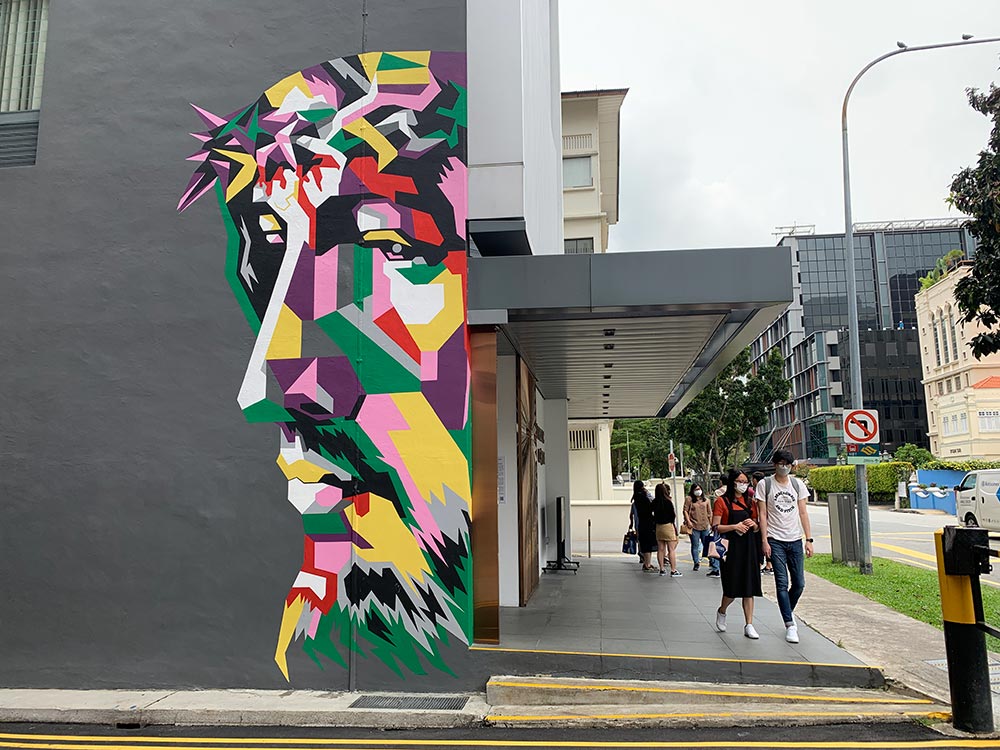 Location: wall at entrance of SCWO along 96 Waterloo Street
The Singapore Council of Women's Organisations compound has a plant-inspired mural at its entrance. I can't find exactly who painted it though.
Waterloo Link
Location: Alleyway between 222 Queen Street and Hotel Oxford that connects Queen Street and Waterloo Street.
This wall is another Solidarity Project by RSCLS, but this time a mash-up of Singaporean and Thai artists from Bangkok that dates back to March 2015. Recognise any Thai artists by their works? Check out my Bangkok Street Art post and see if you can match any works – I spotted Alexface and Bon because of their distinct characters, other Thai artists involved were Bang, Bonus, Gong and Leo. On the Singapore side we had Antz, Demo 365, Hegira, Hastwo, Klax and SKL0.
In July 2014 it had a lovely feature by an all-female artist collab called the Rebel Daughters.
Bras Basah Complex
Bras Basah Complex is an older shopping centre where most people head to for cheaper and quick printing options. Among its more popular tenants are Art Friend for all your DIY art supplies, the largest Popular Bookstore outlet for all your stationery needs, as well as Basheer Graphic Books which carries design and visual arts publications. It has a bunch of different murals all around the building.
Location: Bras Basah Complex, next to Level 1 Toilets, 231 Bain Street
This particular artwork "Rainbow Lands" is part of a larger street art campaign called 50 Bridges, an initiative by the Australian Commission of Singapore in celebration of Singapore's 50th year of independence which had 50 pieces of street artworks all across the island. Singaporean street artist Sheryo and Aussie partner Yok created a series of rather distinctively colourful artwork, and Bras Basah Complex was one of the locations.
There are a lot of other murals around Bras Basah Complex, largely from the Central Singapore CDC's project 'Painting Smiles' initiative with NAFA students to create murals from 2018 onwards. I haven't seen all the works, but you can see some here.
Seah Street
Continue heading down towards Nicoll Highway to find this funky piece on the side of boutique hotel Naumi created by home-grown street artist Trase One – the alleyway that the artwork faces connects Seah Street and Purvis Street and is often the site of illegal parking, so this piece is a pretty good reminder to exercise caution while parking in that area!
To get your art kicks here, check out the rather unusual private toy museum aka Mint Museum of Toys along that same stretch of Seah Street, or head on over to Raffles Hotel
---
Bugis
Cheng Yan Place
Location: Above Popeyes at 229 Victoria Street, facing Bugis+
8EyedSpud are an illustrator duo Jackie and Nat who created a series of murals for the Bras Basah Bugis Precinct in late 2021 who painted this in about a week. This vibrant graphic piece is called River Trade and calls back to Singapore's early trade days. The Bugis people were traders, bringing with them goods like coffee, ceramics and fabric. This area was where a lot of that trade happened.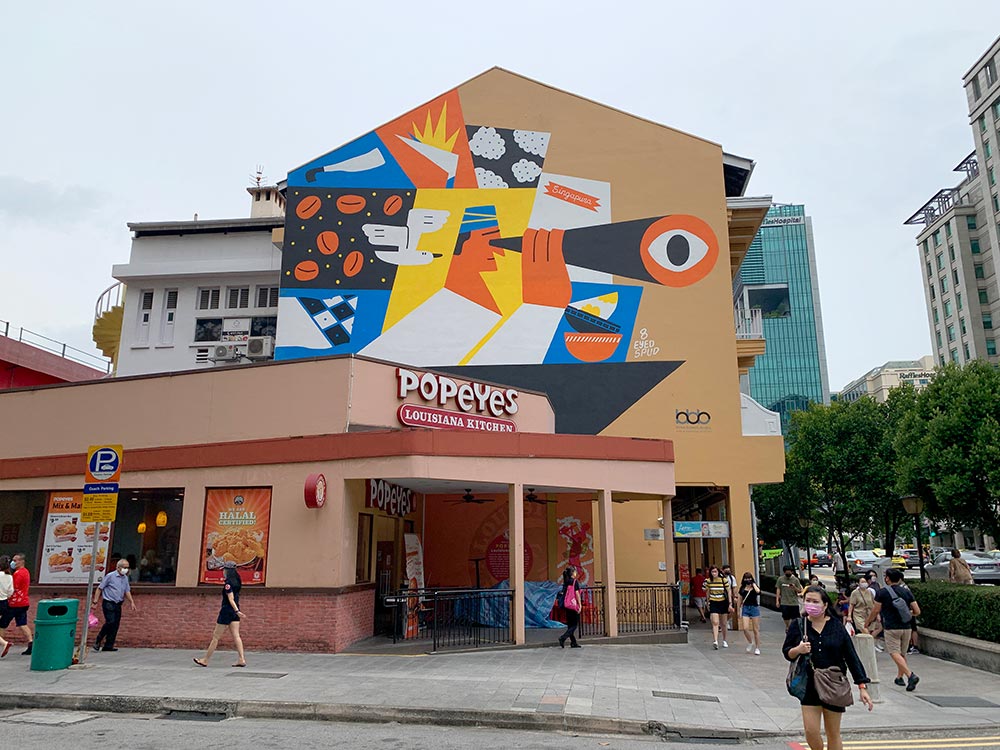 Location: in between Popeyes and Bugis Village is a small alleyway
If you walk down Cheng Yan Road from Popeyes, there's a tiny space between Bugis Village and the back of Popeyes where you'll find this pretty run down piece of work. I'm fairly sure this is Zero from RSCLS, but also couldn't find any info about it.
Bugis village
Location: 3 New Bugis Street, back alley near the east entrance of Bugis Village
Bugis Village is where you can find a whole cluster of shops selling generally cheap stuff. It's a bit too cramped for my liking but reminiscent of overseas street markets, which are actually not that common in Singapore as we mostly prefer shopping centres. It's also where you can find these prettily coloured spiral fire escapes, and another mural from 8EyedSpud also for the BBB precinct. This work is called Diverse Neighbourhood and meant to showcase multiracial Singapore.
---
Looking for more street art in Singapore? Read a little about the evolution of street art in Singapore or check out my other Singapore street art posts in various neighbourhoods. I also run @singaporestreetart on Instagram and have many other street art guides to other cities in the world.