WIP: Am tidying up this post so things are a little messy right now!
Travellers looking to indulge in some arts and culture in Singapore should check out the Bras Basah – Bugis precinct in the Civic district. Home to some of Singapore's more prominent museums and cultural institutions, you'll find some pretty cool murals and art on its walls and streets as well. Here's my guide on where to find street art in the Bras Basah – Bugis precinct in Singapore.
If your taste runs to quirkier types of museums, check out some of my favourite small niche museums in Singapore.
Street Art in Bugis-Bras Basah District
More information about the Bras Basah Bugis precinct can be found at the BBB website, and I've included a Google Map here as well. Most of the murals are in the Bras Basah area, but I've also included a category for Fort Canning as well.
---
Fort Canning
Armenian Street
Armenian Street has some pretty interesting buildings in its vicinity, like the Peranakan Museum and Singapore Philatelic Museum (both currently closed for major revamp). It's usually one of the major venues for the annual Singapore Night Festival and in recent years, it has been converted into a pedestrianised street and is home to some pretty cool murals as well.
Location: low wall in front of carpark next to Peranakan Museum
This artwork was a collaborative effort by the RSCLS crew that was commissioned by the National Heritage Board in celebration of their 20th Anniversary in 2013. Located in front of the carpark right next to the Peranakan Museum, the low wall is emblazoned with a rainbow coloured artwork depicting the cultural flavour of the Bugis Bras Basah district. The little mosaic pieces depicting famous buildings in the area amidst the artwork remind me of Invader.
The Substation
The Substation is Singapore's first independent contemporary arts centre and occasionally has some pretty avant-garde performances or exhibitions on show. Naturally, its walls are also home to various interesting artworks, some of those on the side alley lower walls rotate often enough, but others have been there for a long time.
For some live music by Singaporean musicians and a drink or two, head to the original Timbre outlet at the back of the Substation – just follow the sound of live music by Singaporean musicians!
Location: Side Alley between Peranakan Museum and Substation
This SpeakCryptic work high up on the wall from 2019 is called Sing Along If You Know The Words and based on the idea of a mosh pit. It's done in his signature black and white style (Like his piece in Little India).
Location: Side alley (lower walls)
These works here seem to rotate fairly frequently. Some of the works that I saw in 2020: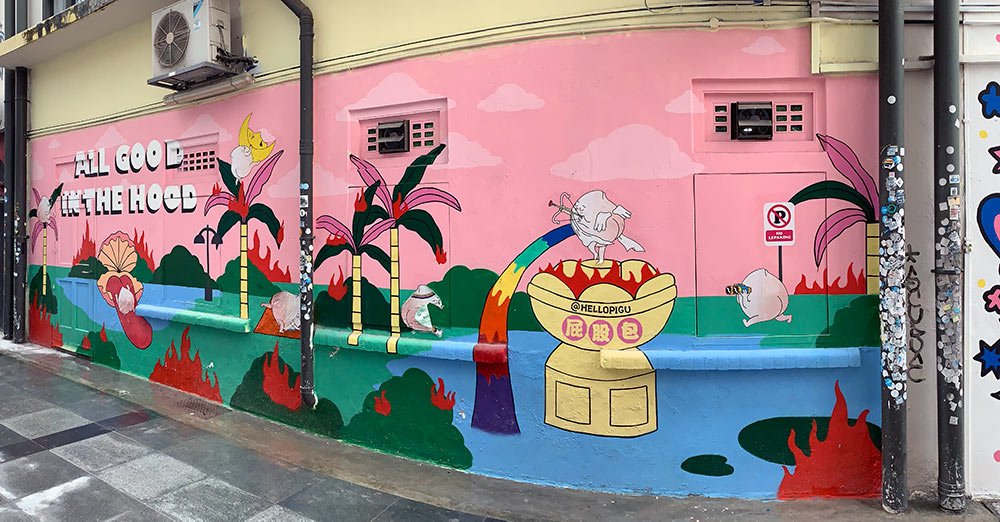 Here's a look at some older artworks that were painted over:
Location: Back wall of Substation next to Timbre entrance
Towards the back of the alley is a large collaborative mural called the Solidarity Project by Singaporean crew RSCLS with an Indonesian crew in 2013.
Location: Side wall facing SMU / Stamford Road
---
Bras Basah
Bencoolen Street
This wall was a bit of a surprise for me to stumble upon when I was searching for the theatre at the Nanyang Academy of Fine Arts (NAFA). It's located just behind the Objectifs Gallery and popular restaurant Artichoke in a narrow alleyway.
The first time I found this wall, it seems more like an organic space for expression but unfortunately at some point, the graffiti was painted over.
---
Queen Street
Location: Alleyway between 222 Queen Street and Hotel Oxford that connects Queen Street and Waterloo Street.
This wall is another Solidarity Project by RSCLS, but this time a mash-up of Singaporean and Thai artists from Bangkok that dates back to March 2015. Recognise any Thai artists by their works? Check out my Bangkok Street Art post and see if you can match any works – I spotted Alexface and Bon because of their distinct characters, other Thai artists involved were Bang, Bonus, Gong and Leo. On the Singapore side we had Antz, Demo 365, Hegira, Hastwo, Klax and SKL0.
In July 2014 it had a lovely feature by an all-female artist collab called the Rebel Daughters.
---
Waterloo Street
Location: 51 Waterloo Street
[COMING SOON]
---
Bain Street
Location: 231 Bain Street, Bras Basah Complex, next to Level 1 Toilets
Bras Basah Complex is an older shopping centre where most people head to for cheaper and quick printing options. Among its more popular tenants are Art Friend for all your DIY art supplies, the largest Popular Bookstore outlet for all your stationery needs, as well as Basheer Graphic Books which carries design and visual arts publications.
This particular artwork "Rainbows" is part of a larger street art campaign called 50 Bridges, an initiative by the Australian Commission of Singapore in celebration of Singapore's 50th year of independence which has 50 pieces of street artworks all across the island. Singaporean street artist Sheryo and Aussie partner Yok created a series of rather distinctively colourful artwork, and Bras Basah Complex was one of the locations.
Seah Street
Continue heading down towards Nicoll Highway to find this funky piece on the side of boutique hotel Naumi created by home-grown street artist Trase One – the alleyway that the artwork faces connects Seah Street and Purvis Street and is often the site of illegal parking, so this piece is a pretty good reminder to exercise caution while parking in that area!
To get your art kicks here, check out the rather unusual private toy museum aka Mint Museum of Toys along that same stretch of Seah Street, or head on over to Raffles Hotel
---