Last Updated on 6 June, 2021
Recently I've been working on a commissioned project to uncover interesting spots in Singapore's heartland areas, and one of the neighbourhoods that I explored and really surprised me was Sembawang. Located in Singapore's north and probably most famous for the Sembawang Hot Springs and Sembawang white beehoon, I was intrigued by how much history and nature you could find there. So for other Singaporeans like me who never took the time to explore our own country, here's a look at some of the cool things to do in Sembawang.
---
Historical Sembawang
I never used to think of Sembawang as a historical place as most of Singapore's historical landmarks tend to be concentrated down south near the Singapore River. Also, Sembawang is considered a non-mature residential estate in Singapore – I noticed the HDB blocks here are generally quite new looking.
But a large part of the historical relics found here today are because Sembawang was once home to the Singapore Naval Base, which was later converted to the current Sembawang Shipyard. Built by the British forces in Singapore at the end of WWI and christened 'Gibraltar of the East', you can see the historical influence in the architecture and road names around Sembawang today.
Black and White Bungalows
Singapore's colonial-style black and white bungalows are a far cry from the neat rows of HDB blocks that most Singaporeans live in today, and Sembawang is one of the last remaining clusters where you can see this iconic architecture in all its glory. Built by the British in the 1920s to house the higher-ups at the nearby Sembawang Naval Base, these bungalows can be found in the estates on either side of Admiralty East Road – note that the road names here are all of Commonwealth countries or cities.
The cluster south of Admiralty East Road at St John's Road, Montreal Road, Canada Crescent, Lagos Circle, Durban Road, Kenya Crescent, Canada Road and Pakistan Road has some sprawling green spaces with large compounds well spaced out. The sheer size of these bungalows is quite something to behold. There are people still living in these houses today.
North of Admiralty East Road, you can find more Black and White bungalows at King's Avenue, Queen's Avenue, St Helena Road, Cyprus Road, Malta Crescent and Gibraltar Crescent. Here there are more trees and foliage that hide the bungalows. 128 King's Avenue is Woodlands House – this house belonged to the Commodore Superintendent of the Dockyard, recognisable by the small red arch bridge on its lawn which was built by Japanese POWs after WWII. This area is also connected to Tuah Road which where Carpark 2 of Sembawang Park is located.
There are more bungalows at Wellington Road, Auckland Road and Falkland Road that I didn't detour into.
You could walk these roads for a closer look at the houses, but I drove and it wasn't crowded on a weekday. Not sure about the weekends, but some of the roads are quite narrow so make sure not to block any of the entrances/roads because this is still a residential estate after all.
WWII Relics: Machine Gun Pillboxes / Air Raid Shelters
Amidst the compounds, you'll spot occasional random half-buried concrete structures in the ground covered with grass. Some of these are machine-gun pillboxes, built as defensive structures by the British forces probably in the lead up to WWII. It is likely that those pillboxes in these area were built for the defence of the nearby naval base.
I've had a reader comment below that these structures aren't pillboxes but are actually air-raid shelters shared by various bungalows in the vicinity to hide in in the event of bombing, which is also quite plausible especially for those structures without the windows. Many of the bungalows have their own shelters as well. Whatever they are, these structures have been sealed up and are buried half-underground these days so you can't enter them.
One of the places that I want to check out in future is Old Admiralty House along Old Nelson Road as it is under construction and being integrated into the future Bukit Canberra. This house on the hilltop is a gazetted national monument and belonged to the Commodore Superintendent of the Royal Navy Dockyard back in the day, and was also at various points in history a clubhouse and even a school.
Heritage Tembusu Trees
The particular Tembusu tree that appears on Singapore's $5 bill is located at the Botanic Gardens, but here along Lagos Circle, you can see 3 other Tembusu trees that have also been awarded heritage status by NParks. I'm not much of a tree expert, but I can appreciate how absolutely massive these trees are, ranging between 20-30m tall. I love are the weird way the branches happen so low in the tree. Tembusu trees are native to Singapore and apparently produce very hard wood.
---
Nature in Sembawang
Did you know that Sembawang is named after a tree? The Sembawang tree aka Mesua Ferruginea is a tree that grows by rivers and while they used to be quite abundant in the area, there aren't that many left in Sembawang. You can find them in Sembawang Park though – the lone tree in Carpark C1 is a Sembawang Tree, as are some other smaller ones that have been planted in the park's premises.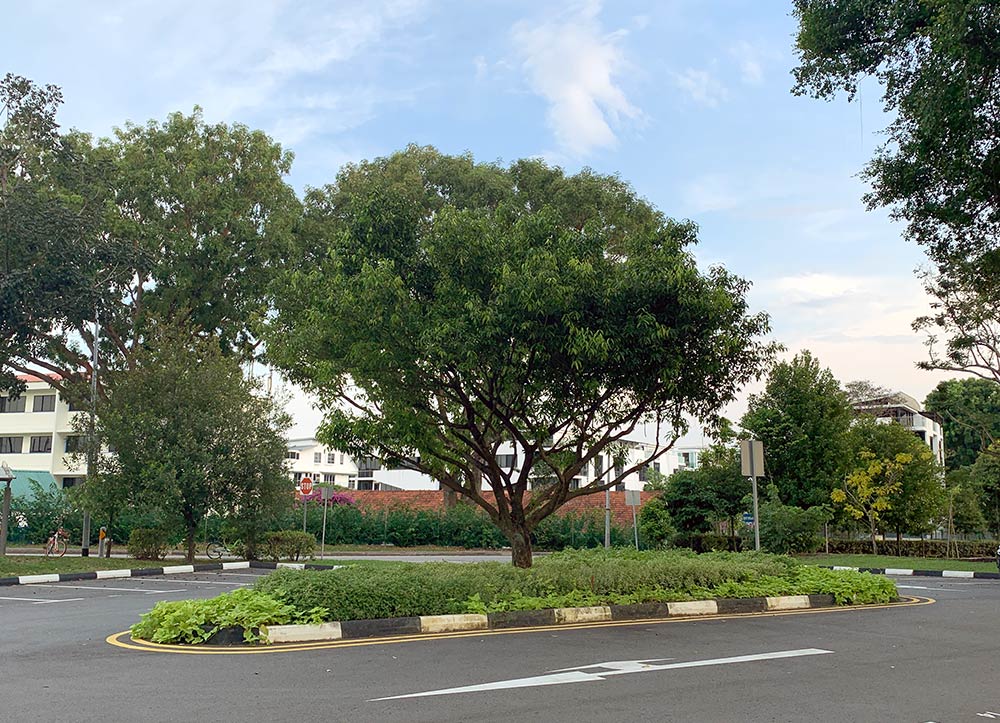 Sembawang Park
Sembawang Park located along the northern coastline right next to Sembawang Shipyard. From the fishing jetty which was quite busy when I visited on a weekday, you get a closer view of the humongous ships in repair at the shipyard right next door, quite a different view from the down south where you mostly see these container ships at a distance, parked neatly in a grid.
Right in front of the jetty is this conserved black and white bungalow called Beaulieu House that used to house the senior staff who worked at the Naval base, and was later turned into its current incarnation as a seafood and western food restaurant with a great view of the sea. It was closed in the afternoon when I visited, though most of the reviews I've seen online say the food is good though a tad on the expensive side.
Also nearby is this increasingly rare sand playground in Singapore – this one is dominated by a large battleship that pays tribute to the areas history as a shipyard and naval base.
Sembawang Beach
Most Singaporeans think of East Coast Park when they think about Singapore's beaches, or head down to Sentosa where we have nicer beaches thanks to imported sand, but did you know that Sembawang Beach is one of the few natural sand beaches left in Singapore? I'll admit I never knew there was a beach up here. It was very uncrowded on a weekday and actually looks pretty nice.
I've not tried this for myself, but this half-day kayaking tour that starts from Sembawang Beach [Klook affiliate link] does look like a fun way to see the beach from a different perspective.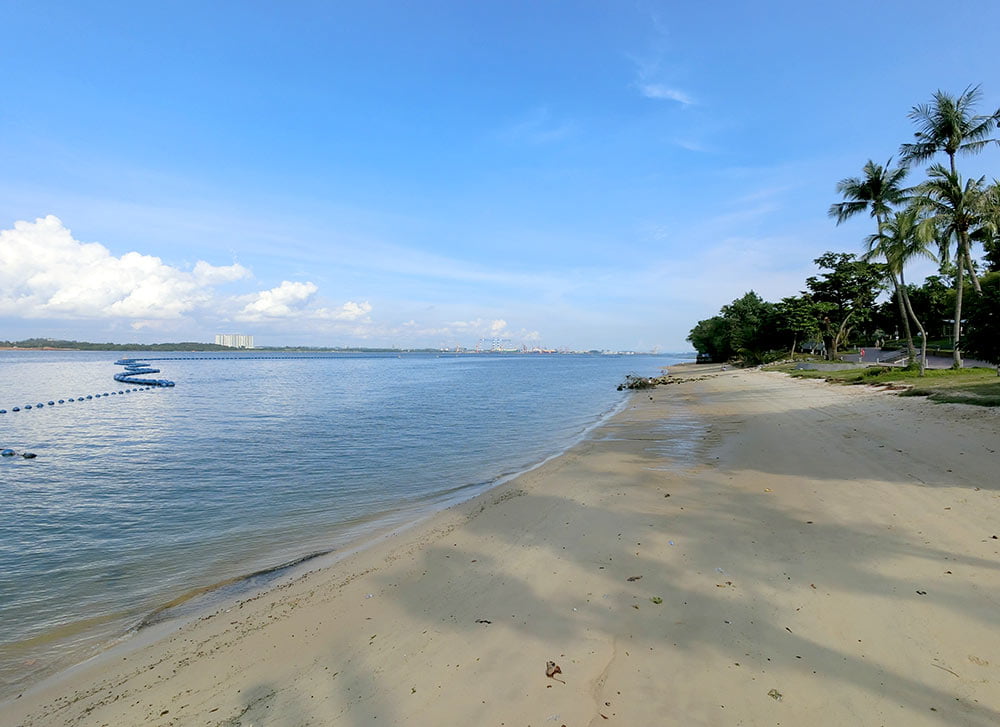 The main beach area is right next to the fishing jetty, and we decided to walk the length of the beach and see where that would take us. There are a bunch of waterfront apartments here along Kampong Wak Hassan and a small park along Irau Drive – must be a nice seaview but I wonder if it gets crowded on weekends. We decided to follow the beach as far as we could go.
On a weekday afternoon this place was pretty deserted save for the lone intrepid fisherman or two. It also seemed to be low tide then so there was quite a lot of beach to walk on. Nature lovers would probably enjoy scouting around the intertidal area and do some birdwatching, but we kept walking on to see where the beach would lead.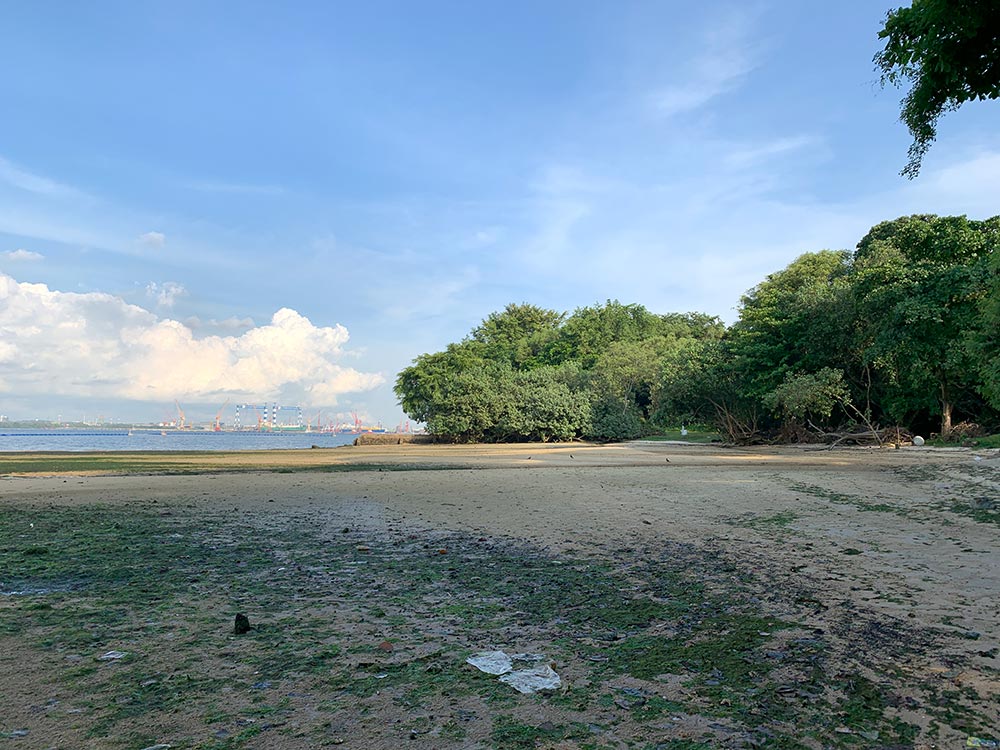 After walking along the beach, we reached a more grassy area and then… boom, suddenly civilisation – a PAssion Wave building where they conduct water sports activities from.
Jalan Mempurong Gateway
The coastline is truncated by Sungei Simpang Kiri, a canal that leads inland and according to Google goes all the way to the Sembawang Hot Springs. The opposite side of the river bank was marked as a protected area by the Singapore Police Force – Google shows it as the Simpang SAF training area. I spotted a very jubilant group of wild dogs dashing around the beach there.
I'd actually intended to drive over to Jalan Mempurong as this road looked pretty isolated on the map and I wasn't expecting to be able to walk here, but it really isn't that far or difficult. It took about 45 minutes for a very leisurely stroll from Sembawang Beach to Jalan Mempurong, and about 25 minutes if we're just looking at the walk from Irau Drive.
To my surprise, there was a mosque here as well – Masjid Petempatan Melayu Sembawang – just a short distance from the entrance to PAssion Wave. It has a nice garden and a very quaint Kampung feel to it. Remember Singapore has a pretty interesting article about the history of this mosque and the many kampungs that used to populate this area. Also cool: Mempurong means herring, a fish commonly found in these parts.
But what I was really interested in was a little further down from the mosque in the grass clearing – this random looking gate in the middle of nowhere apparently belonged to the seaside bungalow of the late Cycle & Carriage MD back in the day. While the house is long gone, this lone doorway remains surrounded by trees. The Long and Winding Road has a pretty good historical writeup about this gateway.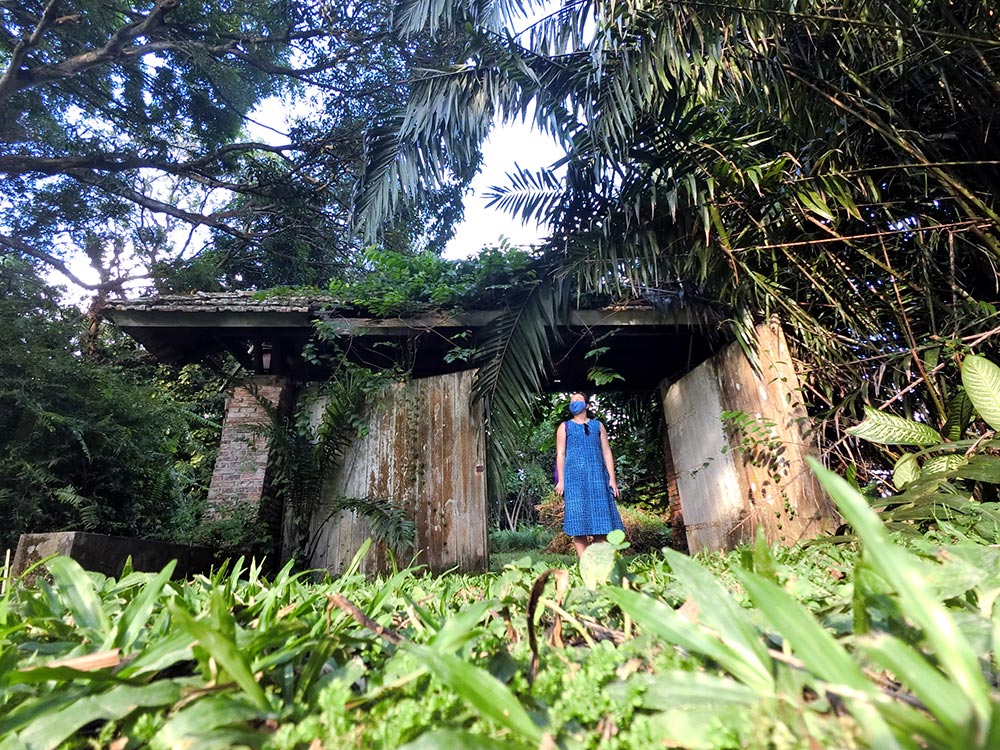 Sembawang Hot Springs
One of the more unusual natural features that you can find in Sembawang are the Sembawang Hot Springs located next to Sembawang Airbase off Gambas Avenue. Singapore's only accessible natural hot spring. It's been converted into a nice little park where you can have a foot soak surrounded by greenery, and the ever-present whirring of helicopters from the neighbouring airbase. Bring your own pail so you don't have to squeeze at the main pool, and some raw eggs if you want to cook them here!
Read my post about Sembawang Hot Spring Park for more details.
---
What to eat in Sembawang
Sembawang White Beehoon
One of the famous foods that have come out of Sembawang is the Sembawang White Beehoon, a seafood vermicelli dish stepped in a light ('white') gravy. The original restaurant who created this was called You Huak Restaurant but eventually changed its name to White Restaurant because that's what they were famous for. They have several outlets now, but I visited the original outlet at Jalan Tampung, just across the road from Sembawang Shopping Centre.
Besides the beehoon, the restaurant serves up lots of other dishes like a typical zhichar restaurant. Since I was on my own that day, so I just ordered a small portion of the White Beehoon (S$6) and washed it down with a Lime Juice (S$2.50). It's definitely not very cheap – the small portion was enough for one person, I'd actually thought it might have been a bit small and was considering ordering more, but it turned out to be sufficient after sitting for awhile. It was very savoury despite looking pale and felt like my type of comfort food, and I slurped up all that gravy.
After my meal, I popped into Just Because Creamery which is a cute cozy cafe at the Victory 8 building for some chocolate truffle ice cream to cap my meal. There are a bunch of other food options around here if you'd rather not queue – Sembawang Traditional Claypot Rice is also quite well-known if you prefer burnt claypot rice over noodles.
Location: 22 Jalan Tampung, off Jalan Legundi and opposite Sembawang Shopping Centre.
---
So people of Sembawang or other visitors, what other cool things did I miss out on? Tell me in the comments so I can check it out in future! In the meantime, check out my Sembawang Hot Springs post or other cool and unusual things to do in Singapore: