Last Updated on 13 May, 2021
I love Singapore street art and have a whole series of street art guides to various areas in Singapore. This one for Ang Mo Kio was something I thought to put together after I learned that there were a whole bunch of murals commissioned to spruce up Ang Mo Kio Town Centre. It got me to doing a bit of research and besides murals, I realised that Ang Mo Kio is also home to some interesting sculptures and architecture as well, so I put together a broader guide for the art lovers or those who are just looking to explore a new neighbourhood in Singapore – here's my guide to art in Ang Mo Kio.
I've divided this guide up into 3 main areas so it's easy for you to plan where do go. Will also recommend some other things to do in Ang Mo Kio and other spots of interest worth checking out.
A quick look at Ang Mo Kio's history
Ang Mo Kio is a residential neighbourhood that was developed in the 1970s and consists mostly of high-rise public housing flats and is probably not a typical hot spot for overseas tourists given that it doesn't have any fancy attractions. Fellow Singaporeans may know that historically, this area was mostly farmland and plantations back in the day. Read more about Ang Mo Kio on infopedia – many of the neighbourhoods here have Hokkien names because the immigrants working in the plantations and farms then were largely Hokkien.
Fun fact: my parents bought their first HDB flat in Ang Mo Kio, and while I think it's a convenient location to live in today, back then it was considered quite ulu and out of the way and not very popular at first (For my generation, it was akin to Punggol). Funny how things have changed since then! Remember Singapore has a pretty interesting personal writeup by someone who grew up in Ang Mo Kio for a more intimate look at this neighbourhood.
---
Ang Mo Kio Ave 3
Ang Mo Kio Town Centre is found along this road and is the main heart of Ang Mo Kio where you'll find the Ang Mo Kio MRT Station and Bus Interchange. This is where the shopping malls are: the massive AMK Hub, Jubilee Square and Djitsun Mall.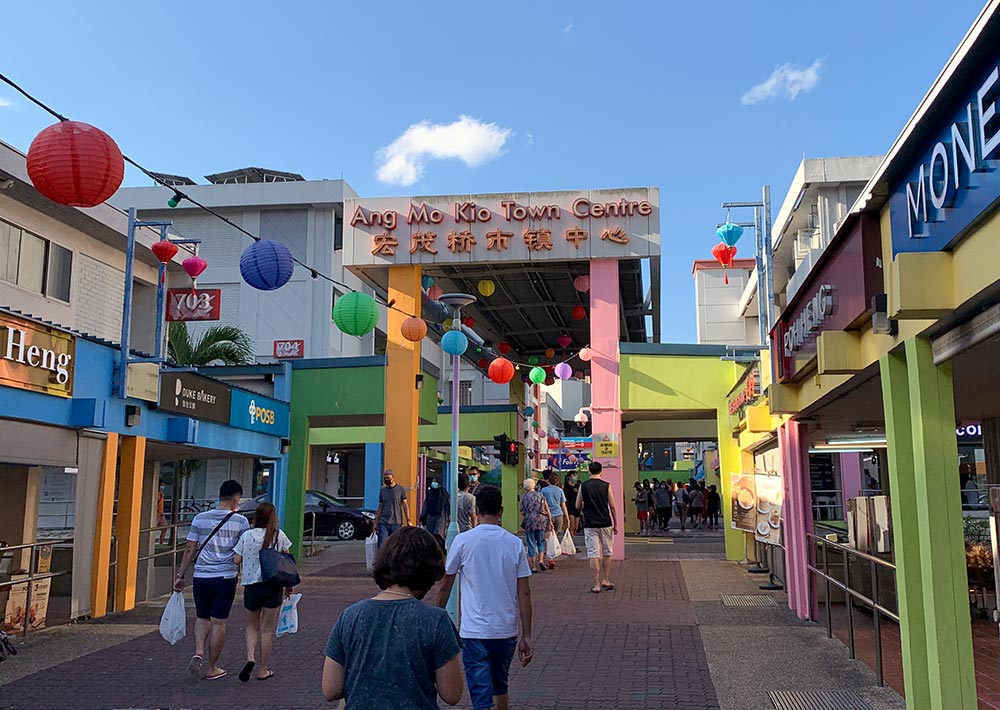 Ang Mo Kio Town Centre Murals
You can find lots of very large murals and artworks here in the colourful Ang Mo Kio Town Centre. Most of these were commissioned by the Ang Mo Kio Constituency Merchants Association to rejuvenate this older residential estate and attract more shoppers, and they certainly have made the busy town centre quite lively and colourful.
The works here are pretty varying, but generally are inspired by culture, history and food in Singapore. What's a little unusual is that most of the murals done in Apr 2019 were created by just two artists: Barry Yeow and Abu Jalal Sarimon with the input of an art therapist Jennifer Lim.
I haven't uploaded all the artworks yet because there are quite a lot, stay tuned.
In 2020, local illustrator Fresh Picturebooks aka Ah Guo Illustration aka KF Lee was commissioned by the same merchant's association to create three works that you can see at the Center Stage area. This series was inspired by the COVID and Circuit Breaker period as well as the National Day in August. You'll notice the characters are mostly wearing masks because he wanted his work to be a documentation of sorts. Here's a pretty cool video showing how he created these works.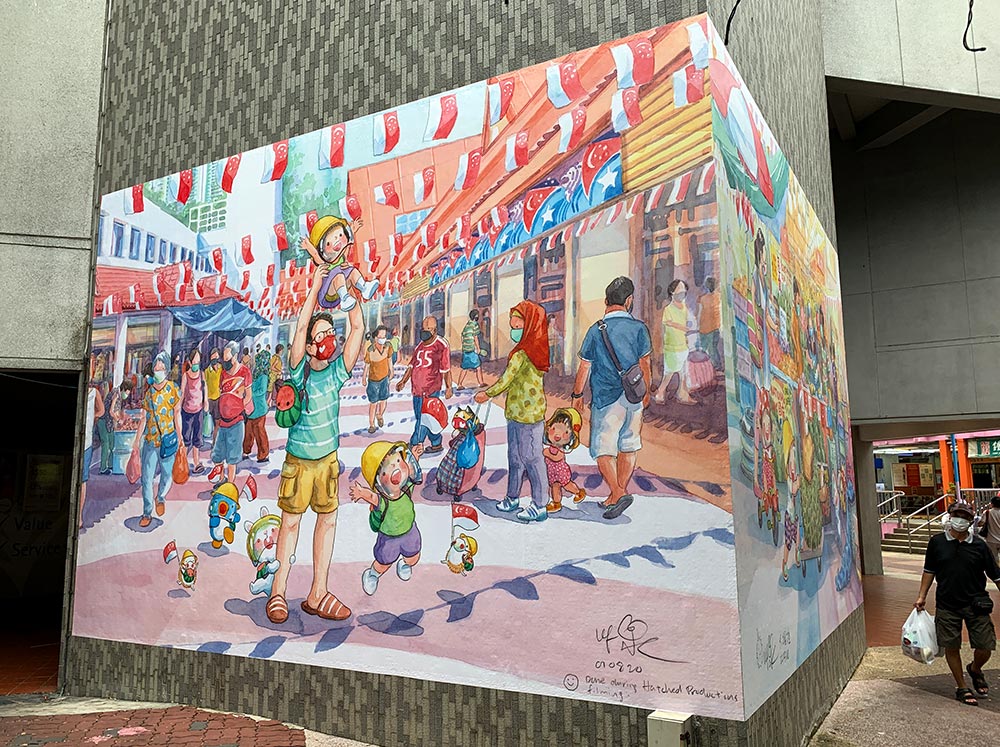 And those a little older might recognise the name Edmund Chen (Chen Zhicai), an actor who was pretty popular on Singapore's Free to Air TV back in the day – he's more active as an artist now and has some artworks on display near the Centre Stage as well.

Location: Start from AMK Hub and make your way down the thoroughfare to Ang Mo Kio Central Stage. Make a left towards Broadway Plaza – the walls around the Ang Mo Kio Central Market and Food Centre have some works. If you walk towards Blk 728, you'll find more works on the walls facing Ang Mo Kio Ave 6 as well.
Rubber Seed Sculptures
Ang Mo Kio Town Garden East is a quiet little oasis that's right next to Ang Mo Kio Town Centre and MRT Station. It's a little park on top of a small hill, and besides the usual jogging track and fitness equipment, you can also find some larger-than-life rubber seed sculptures scattered along the grass slopes like giant dinosaur eggs.
These sculptures are a tribute to the park's location on the site of a former rubber plantation which grew rubber trees as well as nutmeg and cinnamon trees. I spotted information boards for rubber and nutmeg trees nearby and you can spot some of these trees for yourself in this garden.
Location: Ang Mo Kio Town Garden East is located right behind Ang Mo Kio MRT Station, across the road from Ang Mo Kio Town Centre. It's elevated on a small hillock so you have to climb a few stairs to get here.
Dragon Playground
The dragon mosaic playground from the 1980s has become an iconic and nostalgic sight in Singapore, and while most people are familiar with the more popular one in Toa Payoh, there is actually a second located in Ang Mo Kio's Cheng San Court. This dragon consists of a dark yellow and green mosaic and has a sinuous metal yellow spine. The sand pit has since been replaced with foam.
Location: The Ang Mo Kio Dragon Playground is located between Blk 570 and Blk 571 Ang Mo Kio Ave 3 next to some multi-purpose courts. It's about 10 mins walk down Ang Mo Kio Ave 3 from Ang Mo Kio Town Garden East.
Reduce, Reuse, recycle
Well this isn't quite along Ang Mo Kio Ave 1, but from the Dragon Playground, you can turn and walk northwards along Ang Mo Kio Ave 10 to Cheng San Centre where there is a lively town centre and market + food centre. You can find two wall murals on Blk 528 where the Ang Mo Kio Town Council office is depicting habits about reducing, reusing and recycling in the past and present by Biddy Low.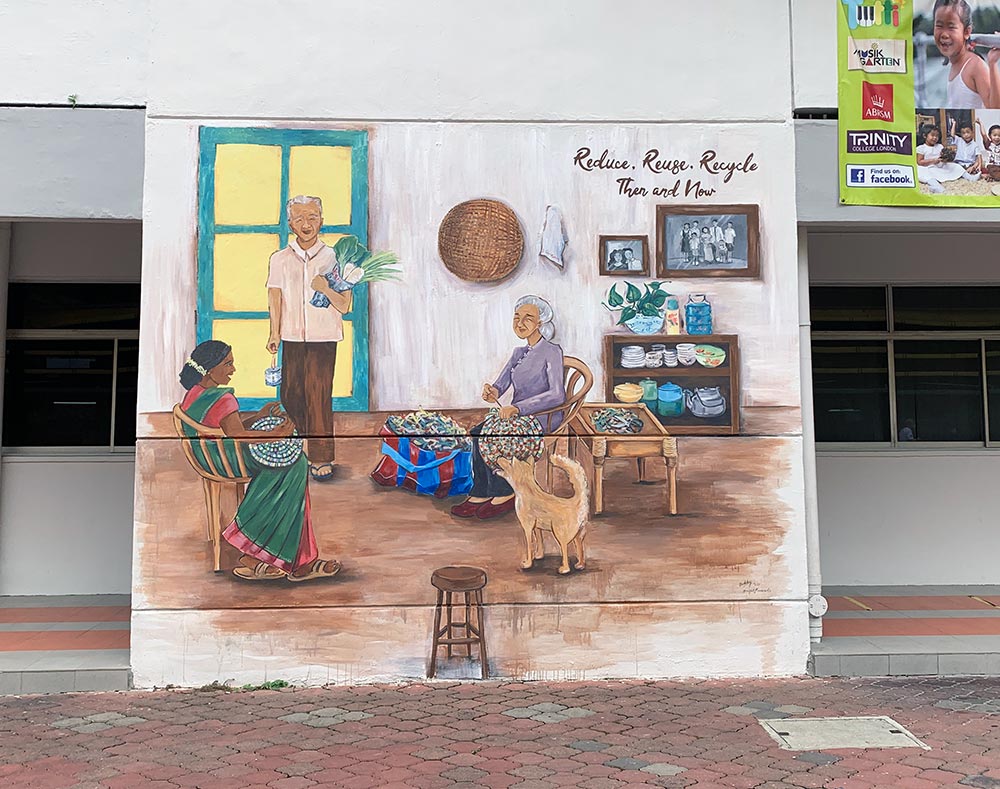 Location: The murals are located at Blk 528 Ang Mo Kio Ave 10 facing the market and food centre near the clock tower. It's about 10 mins walk down Ang Mo Kio Ave 10 from the dragon playground.
---
Ang Mo Kio Ave 1
This stretch of road runs parallel to Bishan – Ang Mo Kio Park, so what I'd suggest is walking or cycling inside the park, and then popping out to see the various sights as necessary so you can enjoy the greenery and a safer pathway away from the traffic.
You can start at whichever end you prefer, but in this case I'll start from the east near Bishan MRT depot (you're kinda smack between Ang Mo Kio and Bishan MRT stations) and move westwards, ending at Upper Thomson where Lower Pierce Reservoir is located
Recycle Hill Sculpture
One of the highlights of Bishan – Ang Mo Kio park is Recycle Hill, so named because the foundation of this hill consists of concrete slabs that were salvaged from the old Kallang Canal. Here you'll spot a large ribbon-y steel sculpture titled 'Enclosure for a Swing' by Kelvin Lim Fun Kit – It's pretty outstanding and hard to miss!
Location: The sculpture is located in Bishan-Ang Mo Kio Park's Recycle Hill in the southeastern corner. It's located near Blk 237 Bishan St 22
Teck Ghee Court Kampung Mural
This long mural is located next to the Teck Ghee Court Market and Food Centre and mimics the old Kampung houses and communal village life that existed here in Ang Mo Kio before modernisation came along. I love how it uses the existing overhanging roof and windows, making it look like the features of these kampung houses.
Street art lovers might recognise the style of Yip Yew Chong whose works show up in many of my street art guides around Singapore. Titled Reminiscing Ang Mo Kio, it draws upon a mix of Ang Mo Kio's farming history as well as his own memories growing up in Singapore. This is one of three murals that he did in Ang Mo Kio for the Public Art Trust. There were actually physical installations of kampung houses and the community helped to paint it as well.
What to eat: If you're grabbing a bite at Teck Ghee Court Food Centre, Eng Kee Bak Kut Teh is one of my go-tos and often sees long queues of people lining up for their peppery pork bone soup and pig's trotters – they're facing the main road, can't miss the queues. Another favourite stall for a snack is Belinda's Pancake where I usually eat the crispy peanut cone or mee chiang kueh (for my foreign readers, it's like slightly dense, spongey pancake sandwich with ground peanut filling).
Location: The mural is located at Blk 342 Ang Mo Kio Ave 1, on the walls of the Ang Mo Kio Town Council Office. It's right next to Teck Ghee Court Market and Food Centre.
Ang Mo Kio Merlions
Most tourists would have visited the iconic half-fish half-lion sculpture that sits along Marina Bay at One Fullerton, but did you know there are some other Merlion sculptures scattered around Singapore? Two of them stand guard here at Ang Mo Kio Grove, flanking the road that leads into the carpark.
These Ang Mo Kio Merlions were very nearly removed because the Merlion is considered a national symbol and the town council had not been authorised to make them. They must have sorted it out since they remain standing here to date.
Location: The Ang Mo Kio Merlions can be found at the entrance of the road leading to Blks 216-220 Ang Mo Kio Ave 1. This is a short distance from the junction of Ang Mo Kio Ave 1 and Marymount Road.
Kebun Baru Mall Murals
Yip Yew Chong's two other murals in Ang Mo Kio can be found here at Kebun Baru Mall. A note here that this 'mall' is really a neighbourhood centre where there are lots of shops and eateries and not the air-conditioned type of shopping centre like AMK Hub.
The mural at Blk 226C is a sepia-toned landscape of the old kampung life in Ang Mo Kio. Back in the day there were many rivers and small bridges that you had to cross to get around the kampungs in Ang Mo Kio.
Facing the mural on Blk 226F is a mural that shows the animals you could find around here – goats, chickens and ducks were some of the common farm livestock, while the caged birds are a callback to the Kebun Baru Birdsinging Club which I'll talk more about in the Ang Mo Kio Ave 4 section.
What to eat: If you are here in the evenings, head over to the original Melben Seafood outlet which is always awesome for crabs. I'm usually a black pepper crab fan, but if I'm here I have to eat the famous claypot crab beehoon soup. It's by no means cheap and gets insanely crowded on weekends though. In that same area you can also find Boon Tong Kee, another famous chicken rice brand in Singapore.
Location: The murals are located in Kebun Baru Mall on the walls of Blk 226C and 226F Ang Mo Kio Ave 1 and directly facing each other. There's a POSB ATM nearby. They're a short walk away from the Merlions.
Singapore's only circular HDB block
Singapore's ubiquitous HDB blocks may seem all the same at first glance, but you get some pretty unique ones that are the results of experimentation. This particular point block stands out because of its 4-leaf clover shape. Not surprisingly, it's called The Clover @ Kebun Baru.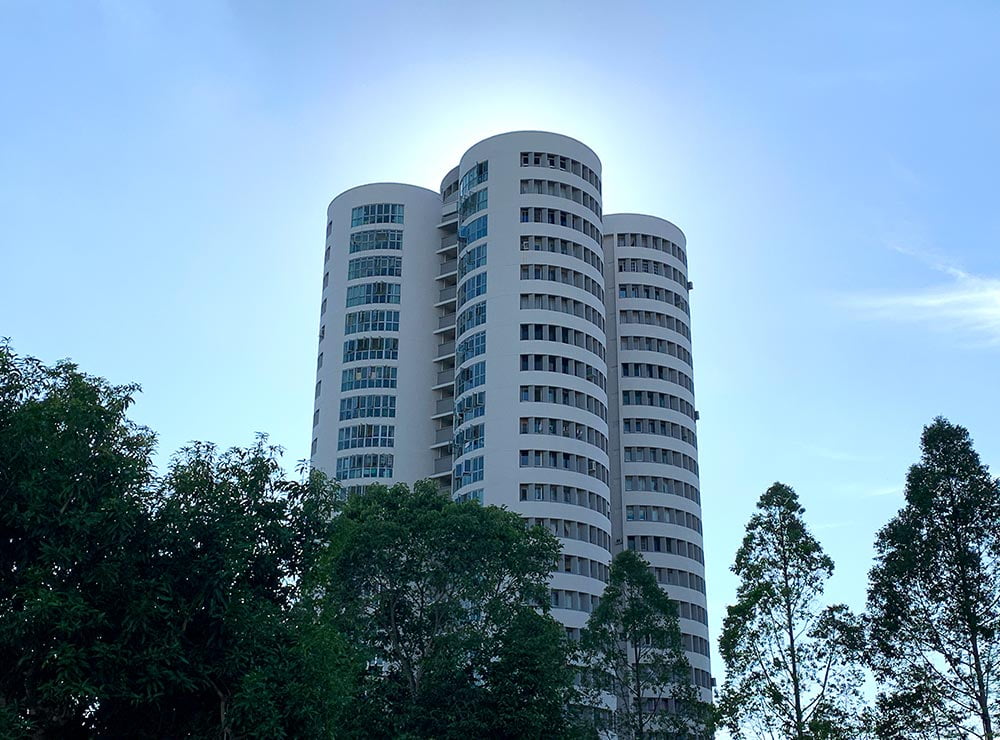 Built in 1981 as a part of HDB's plan to create unique IDs for different estates through architecture. While there are blocks with some rounded wall features, this is the only block that has fully curved walls. I've never had a chance to visit a unit for myself, but I've seen pictures that show even the inside walls are curved as well. Perhaps not the most practical when most furniture tends to be oblong, but definitely a unique sight.
Location: The Clover @ Kebun Baru is located at Blk 259 Ang Mo Kio Ave 2, at the junction with Ang Mo Kio Ave 1.
---
Ang Mo Kio Ave 4
In Ang Mo Kio, the odd number avenues run east-west while the even number avenues run north-south. Ang Mo Kio Avenue 4 connects Ave 1 to Yio Chu Kang Road and mostly runs through the Kebun Baru neighbourhood.
Wayfinding Project Murals
I love street art for the way it can rejuvenate a neighbourhood, but this Wayfinding Project by the Alzheimer's Disease Association (ADA) shows that murals can be used for practical purposes as well. In a bid to transform the Kebun Baru neighbourhood into a dementia-friendly neighbourhood – anyone who's visited an unfamiliar HDB estate knows that sometimes the uniformity of the pillars makes it pretty difficult to identify where you are, imagine how much harder that must be with dementia!
The Wayfinding Project painted distinct, brightly coloured objects on selected void deck walls of each block in Kebun Baru View and Kebun Baru Heights to help folk with dementia and their caregivers easily identify their location and find their way around independently. They've used retro objects like the tingkat carrier for takeout, saucer and teacup from a coffeeshop as well as food like satay and Ang Ku Kueh which the older folk would recognise, and apparently even the choice of colours was a distinct choice to help the older folk see them more clearly.
Location: The Wayfinding Project murals can be found at Blks 102 – 116 Ang Mo Kio Ave 4. Each picture is linked to a distinct block as a unique identifier.
Mayflower Market & Food Centre Murals
The murals at Mayflower Market & Food Centre date back to a 2015 project for Singapore's 50th Jubilee celebrations by the National Environment Agency. Called the NEA Our Hawker Centres – An Art & Heritage Project, 6 murals were painted by students from Ang Mo Kio Primary School and ITE College Central (Ang Mo Kio) for SG50. The murals mainly reflect major landmarks or historical events that took place in Ang Mo Kio – see how many you can recognise!
What to eat: If you are looking to grab a bite at Mayflower Food Centre, popular stalls that have perpetual long queues are the Ang Mo Kio 453 Wanton Noodle stall and Zhen Ming Pork Rib Prawn Noodles.
Location: Mayflower Market is located at Blk 160 Ang Mo Kio Ave 4, and Mayflower Food Centre is right next to it at Blk 162. The murals are located in the centre of the market and near the covered walkway leading to the food centre, and near the toilet.
Kebun Baru Birdsinging Club
The clearing at the foot of Ang Mo Kio Town Garden West features a rather unusual sight: a neatly aligned grid of thin metal flagpoles on a grassy field. It might seem weird at first, but this is actually the Kebun Baru Birdsinging Club, one of the last remaining bird singing corners left in Singapore. An activity more popular among older men, nearby residents typically bring their bird cages down to this corner in the morning and hoist their bird cages up to give their pet songbirds a little fresh air and sunshine. Then the men proceed to sit around on the benches and chat while enjoying the birdsong in the air.
There are some bird singing corners in other estates, but this one is one of the most active. I've been down twice at random times in the afternoon on weekends and spotted small groups of bird enthusiasts with their cages hoisted up.
Bonus: a funny mural I spotted as I walked over from the Mayflower Market.
Location: Kebun Baru Birdsinging Club is located behind Blk 161 Ang Mo Kio Ave 4, at the foot of Ang Mo Kio Town Garden West which is on a hillock. It's a short distance from Mayflower Market & Food Centre.
---
Any other art in Ang Mo Kio worth featuring? Tell me about it in the comments below. In the meantime, here are some other nooks and crannies of Singapore worth exploring: