Looking for more interesting ways to explore the outdoors and see the wilder side of Singapore? I went on intertidal walks at Pulau Hantu and Changi Beach with the nature experience group The Untamed Paths to see for myself the kinds of creatures you can find on Singapore shores, and thought I'd share with you what my experiences were like.
My thoughts on nature in Singapore
I've lived in Singapore most of my life and honestly never really thought of it as a place with much wildlife, but that changed after a nature walk I took some years back where I joined a guided walk around Bukit Batok Nature Park at night. We encountered some creatures I never thought you could find in Singapore, like the endangered pangolin just ambling out of the bushes by the pathway, or the sloth-bat creature called the colugo gliding silently above our heads.
Since then I have made the effort to seek out more of Singapore's natural corners, visiting spots like Sungei Buloh Wetland Reserve in Kranji and Chek Jawa in Pulau Ubin, and even going scuba diving in Pulau Hantu. But while I like the freedom of wandering on my own, I thought it would be a bit more educational to have someone knowledgeable actually tell me what I'm looking at instead of guessing and doing some furious googling after. I'd seen a bunch of friends post about The Untamed Paths on IG and it seemed like a cool idea so I decided to jump in and check it out for myself (i.e. this is not a sponsored post), and show you some of the cool critters and landscape that you might be surprised to find in Singapore.
A reminder at this point to everyone that nature is awesome but also fragile. During these COVID times when travel is limited, more Singaporeans have taken to exploring Singapore's outdoors, which is great in some ways for education, but also pretty taxing on the natural landscape which isn't used to all that interest. Please be kind to nature and try to leave as little trace as you can, don't wantonly disturb nature and stress the ecosystem, don't touch anything as far as possible, and clear any trash you find along the way.
---
Nature experiences with Untamed Paths
I did my first walk at Changi Beach at the crack of dawn, right around sunrise, and some weeks later I signed up to do a night tour at the offshore island Pulau Hantu. Both were quite different experiences and I thought I'd share a bit more about to expect and what animals you might be able to spot as well.
The Untamed Paths organises several of these mainland intertidal walks every month with different timings depending on the tides, ranging from evenings to dead of night and pretty damn early in the morning. Check their website for the latest schedules. They do have some night experiences that take place in the parks away from the water if you rather stay on dry land.
How The Untamed Paths works is that you can book via their website and they'll whatsapp you details for payment via Paynow, or via Klook (affiliate link) if you want to use your SRV. When I made my bookings in Aug 2021, the Changi walk cost S$100 per adult, though as of right now the promo price on Klook is S$90 and on the TUP website it's S$79, so check first before you book. My Pulau Hantu walk cost S$120.
You head down to the meeting point and look out for the people in the dark green shirts. During the intertidal walks, The Untamed Paths keeps the group size relatively small (1-5pax usually) and assigns a facilitator to each group who keeps an eye on their group and explains things to them, what to look out for and what to avoid. There may be several groups at each session, but they do space them out accordingly. The facilitators I had were all pretty knowledgable on the environment and wildlife based on their own studies, interests and encounters, so I definitely learned a lot on these walks. We also helped pick up rubbish at the end of our walk at Changi Beach.
---
Intertidal walk at Changi Beach (morning)
About Changi Beach
Changi Beach Park is a pretty out of the way coastal stretch located north of Changi Airport. It's apparently one of the oldest coastal parks in Singapore and a well-known intertidal walk area – there were another 1 or 2 other groups at the same spot that morning. At other times, it's a nice, relatively quiet stretch of beach and trees, but there's not much else around there.
Duration
Because I did this during my 'week in Taiwan holiday', I opted for a 7am timing as I had more stuff to do later on that day. That meant that I reached Changi Beach Park just about the time the sun rose, which was quite pretty, but it did get quite hot as the sun got higher in the sky.
The pros of intertidal walks during the day time means not needing a torch and it's easier to get photos. The cons though are that different creatures emerge depending on the light, and I personally think you'll see weirder things in the night when it's dark.
Critter Watch
We definitely saw more stuff in the earlier hour before things got too hot (for us and the critters) – lots of sea sponges and sea cucumbers, shelled creatures and creature sheddings and carcasses which was quite cool to see.
Things to note
The meeting point Changi Beach Carpark 6 is pretty ulu – there are public buses that go there (SAF Ferry Terminal, 9,19, 89, 89A) but the easiest way to get there would probably be to drive or take a Grab, especially if your tour is happening at a weird midnight timing. There is a toilet where you can wash up at the end of the tour.
This might also be more suitable for older kids with a real love for nature or a decent attention span. Because of the 7am timing, my group had a young parent couple with a toddler (maybe around 5/6 years old?) – he did pretty ok at the start and the facilitators were pretty good with him, but in the end had to resort to taking out his toy cars and boats to be entertained because even for me, it does get quite tiring actively searching for creatures towards the end of the 2 hours.
---
Intertidal walk at Pulau Hantu (night)
After experiencing Changi Beach during the day, I knew I definitely wanted to try a night intertidal walk instead, so when the opportunity to do a night walk AND do it at an offshore island came up, I decided to make another booking with The Untamed Paths, and even pulled my sister and fellow diver along with me this time.
About Pulau Hantu
The offshore intertidal walk took place at Pulau Hantu, which is part of Singapore's southern island archipelago and translates as Ghost Island, and is really 2 islands instead of just 1 – Pulau Hantu Kechil (Small) is on the North/East end facing the much larger and industrial Pulau Bukom where all the oil refineries are, and where the jetty is located. We didn't step foot on Pulau Hantu Besar (Big) which is on the South/West side.
I've been scuba diving around Pulau Hantu and off the jetty in the past, but this was the first time I'd actually stepped foot onto the island. There is literally nothing on this island but trees and greenery, a trashbin near the jetty and a small pavilion in the distance, but that's about it. We headed to the beach area facing Besar – the islands encircle a bay between them during high tide but when the tide drops, the water just empties out and you can walk around the intertidal mudflats between the islands, which is what we did that night and honestly pretty surreal.
On the beach where we started out there were mangrove trees and some mangrove roots poking out of the sand. As we walked further west, the rest of the intertidal area was a mix of sand and clusters of corals, with occasional pools of water where some creatures were stuck in waiting for the tide to come back in. Closer to the seawall, it was more rocky and the corals more dense but don't wander out too far because there's a pretty steep drop off if you're not careful!
Duration
The Pulau Hantu intertidal walk lasted an estimated 5-6 hours. Here's roughly the breakdown of my tour time:
6pm: meetup time at West Coast Pier
615pm: boat departed West Coast Pier
645pm: boat reached Pulau Hantu Kechil
11pm: boat departed Pulau Hantu Kechil
1130pm: boat reached West Coast Pier
Tours aren't always at night – it depends on the tide timings so it can be in the morning as well. There was a tour that ran from 3am-8am but I figured that would just ruin me for the rest of the day, I'm much more functional at night. Check their website for the latest schedules.
Critter Watch
What surprised me is that even in the dead of night with no other people around, the intertidal reef is not a quiet place at all. All around me were the sounds of wildlife amidst the coral, intermittent clicks and pops that startle you into thinking you stepped on a crab, or a whole bunch of leaping fish when you cast your light in the distance.
Armed with a torch, I spent most of my night scanning the mud flats in search of some sudden movement, some wayward shape. But honestly the best way to spot creatures is to stop, stoop and stare for a bit – what looks like a nondescript pool of water can turn out to be teeming with tiny creatures, revealed only after some careful study and patience. The bottom is pretty sandy so if you kick up the sand, you need to wait for awhile to let it settle down again
We definitely saw a lot of unusual little creatures that night, some really small ones you need a macro lens to truly appreciate. A lot of muck diving favourites like nudibranchs, pygmy squids, scorpionfish and even some frogfish! We did spot some bigger creatures like octopi and rays, though no big pelagic sightings unfortunately. My best find was a teeny baby frogfish, spotted completely by accident while I was observing some other crab nearby.
I tried taking some shots with both my camera and iphone – I think video is actually the best way to capture most of these creatures when you don't have a macro lens on hand, but here are some of my favourite shots: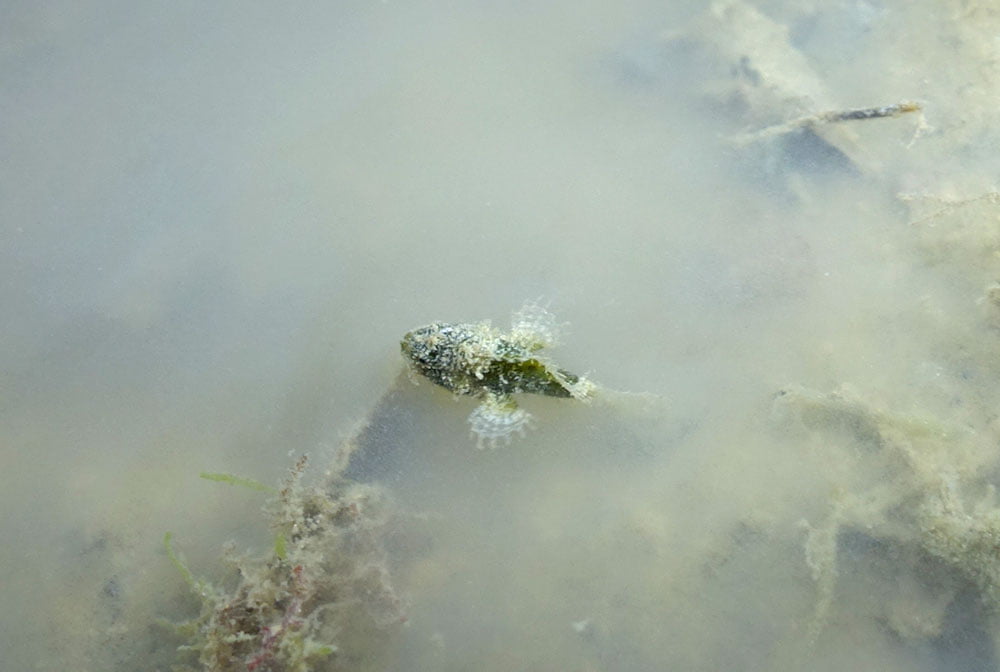 Things to note
Some items you must bring for offshore intertidal walks at Pulau Hantu:
IC/Passport: you need this for security checks at West Coast Pier. They're pretty strict about you having your physical card and not your Singpass version
Torch: there are no lights on Pulau Hantu (other than the blazing lights of the refinery on Bukom next door), so it'll be impossible to spot critters without a torch. Consider carrying a spare torch just in case batteries run out
Water shoes/Booties: you need to keep your feet covered because you never know what might be lurking in the sand, especially at night when there are some big ass crabs, or well camouflaged (and poisonous) scorpionfish
If you're prone to sandfly bites like me, definitely cover up and wear long pants that you don't mind getting wet. I wore shorts so as not to get my pants wet and ended up with a bunch of of sandfly bites on my legs and some on my hands (started itching the next evening). Next time I'm covering up with long pants and higher booties/thick socks! I did have some repellent on but you're in water up to your ankles at least half the time so it's hard to keep it on, and also repellent might not be good for the critters.
A reminder that this isn't a sponsored post: I went with The Untamed Paths because I'd seen some other friends walk with them and it looked like fun so I wanted to share my experience here. If you're interested to learn more, check out the The Untamed Paths website or Instagram for more details and updated tour schedules. They also do nature walks on land if you rather stay away from the water.
---
Have you been on an intertidal walk in Singapore? Share your experiences with me – I'm no expert and this is just what I've experienced so far, happy to add in any tips by my nature loving readers.
Looking for more posts about outdoor things to do in Singapore? Here are some of the interesting places in Singapore to explore and some activities to do: