While 2020 was a bit of a bust in terms of travelling, I did end up exploring more unusual corners of Singapore and realised we have a lot more reservoirs, quarry pools and green spaces that I'd never really taken the time to explore before. This time I headed down south to the Keppel and Telok Blangah area to find the once-forgotten Keppel Hill reservoir and the hidden Seah Im Bunker dating back to WWII.
Most people come to this area to visit Mount Faber, head to the theme park island of Sentosa, or even take a hike along the famous Southern Ridges, but if you're looking for something a little more unusual, check out this reservoir and bunker while you are here. The best part is that they really aren't difficult to get to at all.
---
Keppel Hill Reservoir
Keppel Hill Reservoir appears on Google Maps these days, but did you know this reservoir was actually forgotten for about 60 years or so? While it was first documented in Singapore's maps in 1924, it somehow became unlisted in the 1950s, and it was only in 2014 when the National Heritage Board 'rediscovered' its location and put it back on the map again.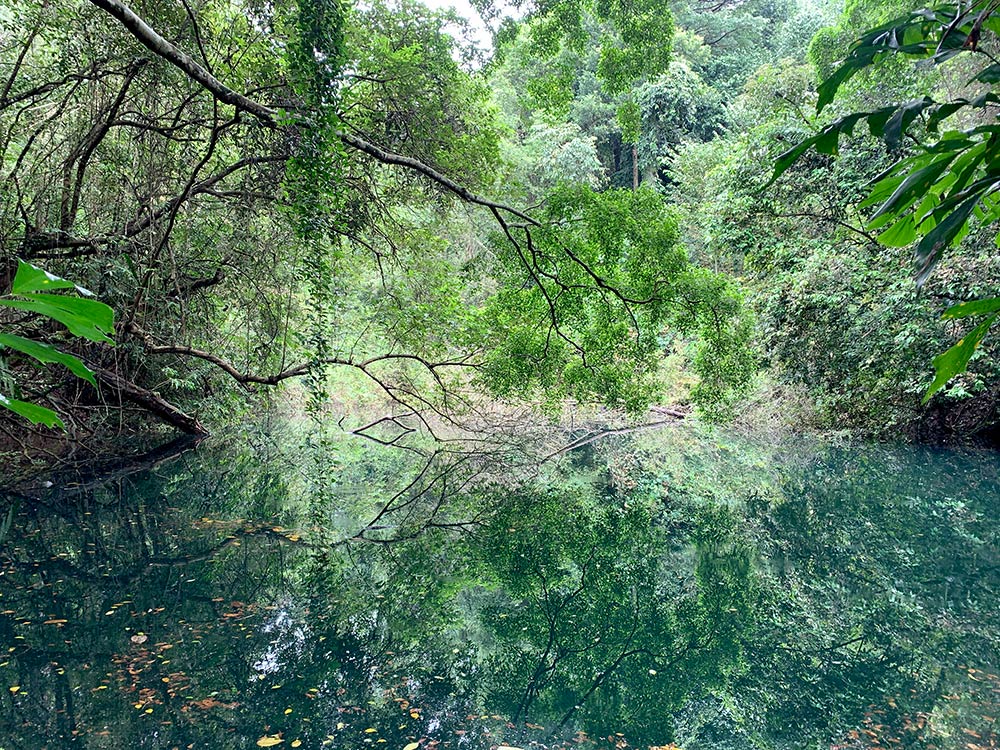 The pool is said to be 2m deep and about 1/3 the size of an Olympic swimming pool. While it started off as a reservoir collecting water, its relatively small size soon made it fall out of use, which is probably one of the reasons it became forgotten. Local residents never forgot the place and used it as their swimming pool, evident in the remnants of the diving board and steps left behind today. I wouldn't dive in now though – there really is no telling what's in the water or how deep it is exactly!
Keppel Hill Reservoir today is a quiet place surrounded by lots of dense foliage and an interesting oddity to check out while in the area. On it's own it's not much of a proper hike as it's not really along any proper hiking routes per se, but you could check out the Seah Im Bunker as well (more below), or walk the Marang Trail or Mount Faber which are in hiking distance.
No. 11 Keppel Hill
Curious about the interior of No. 11 Keppel Hill? Check out this Youtube video by PIREX, someone who managed to enter No. 11 Keppel Hill while they were doing some maintenance in late 2019 – his video shows the size and not completely antique layout of the interior of this Colonial house. Also interestingly, someone in the comments actually worked in an architect's office which was based in the building alongside their home.
How to get to Keppel Hill Reservoir
Getting to Keppel Hill Reservoir is surprisingly easy, albeit quite a muddy affair so I highly recommend hiking shoes if you have them, and to pick a drier period if you can. It took me about 15-20 mins of walking from where I parked my car at Wishart Road to get to the reservoir, so it really is quite easy to get to.
There aren't any proper signs though – I relied on other people's blogs to find the location, so I'll help you guys out here too: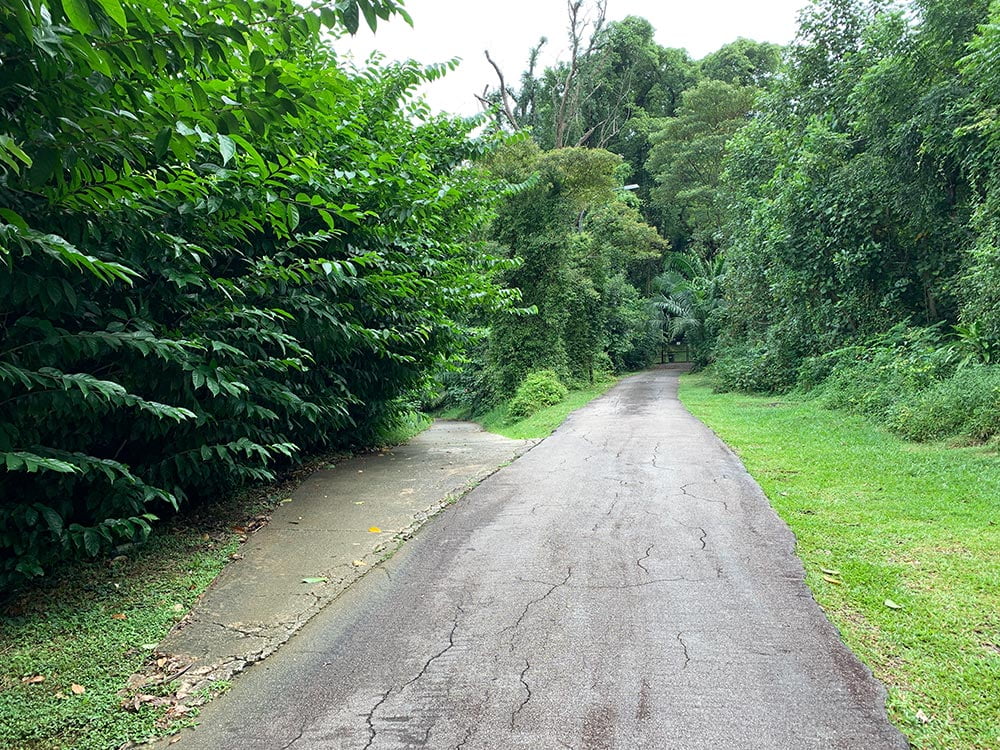 ---
Seah Im BUnker
Just down the road from Keppel Hill is the Seah Im Food Centre, which is where the Harbourfront MRT entrance is located and right across the road from Vivocity Shopping Centre. The carpark is notable for a very tall heritage-status Kapok Tree (the national tree of Puerto Rico), and right behind it is the mysterious Seah Im Bunker.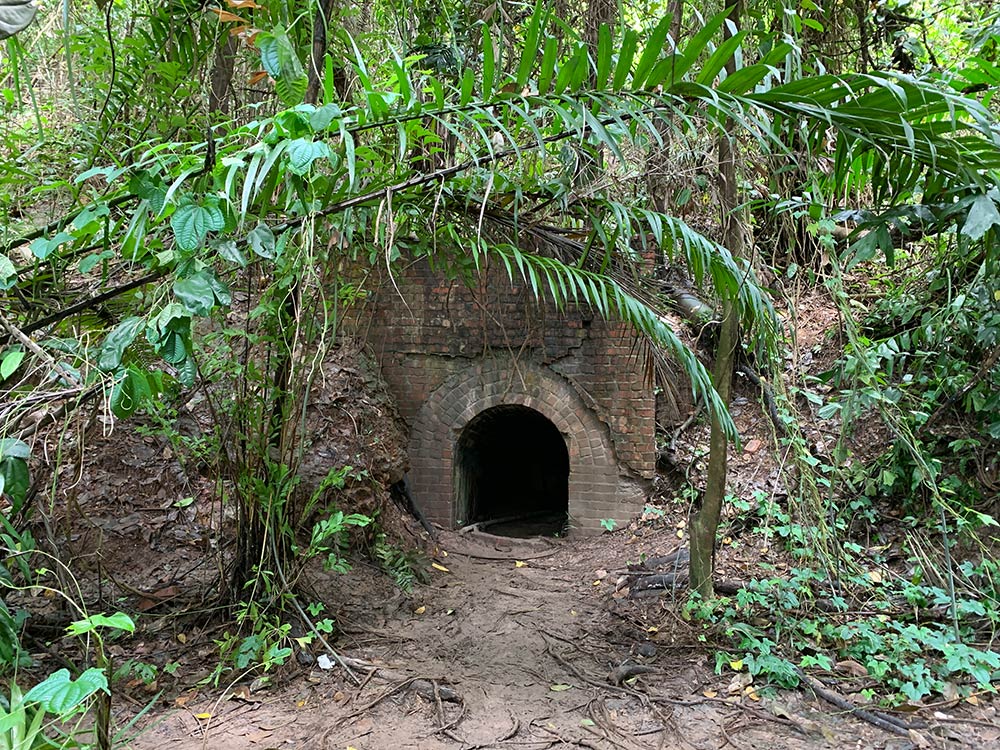 Not much is known about this bunker or why it was built, just that it was likely around the time of WWII and possibly used for weapons storage or housing prisoners of war. The bunker was surprisingly easy to get to – I was expecting to do a bit more hiking, but it's literally 5m away from the tree once you slip past the fence. I didn't go into the bunker (accounts I'd read said there were a ton of lizards on the bunker walls and roof which… I do not fancy falling on me) but it's not that deep and doesn't have any particular furnishing.
If you're curious about the history of Seah Im Road, Remember Singapore has a pretty good post detailing some of the history and landmarks in the surrounding area.
How to get to Seah Im Bunker
There are 2 carparks on either side of Seah Im Food Centre – you'll want to head to the larger Seah Im Carpark off Seah Im Road (NOT Marang Road Carpark). The carpark here is quite large and has accommodations for large trucks and vehicles as well.
Look out for the really, really tall Kapok tree – there's a fence on either side of the tree but just enough space to slip through. The bunker is right behind it.
What some people do is hike from the Seah Im Bunker over to Keppel Hill Reservoir, and it is possible, though it does require clambering up a rather steep slope and some more muddy trekking. I didn't do it because I was on my own (also, lazy), but apparently there is a grave of a Japanese soldier somewhere around this area as well if you are inclined to do a little bit of searching.
---
Have you been to Keppel Hill Reservoir or Seah Im Bunker? Tell me what I might have missed in the comments.
Looking for more posts about Singapore? Check out all my posts about Singapore's lesser known corners to plan your next exploration of Singapore.