Most people only focus on Taipei when they visit Taiwan but for those who are seeking out somewhere more relaxing, I usually recommend nearby Yilan County as an alternative. Just an hour away from Taipei on the northeastern end of Taiwan, it's great for a day trip from Taipei, but you can easily spend much more time there. Here's a guide to Yilan Taiwan that I put together about my favourite things to do in Yilan's northern half: Yilan City, Toucheng, Jiaoxi and Yuanshan for your next Taiwan trip.
My Yilan Guide was so massive I had to break it up into two parts: Check out my Yilan southern half guide that covers Luodong, Wujie, Dongshan and Su'ao.
Where is Yilan, Taiwan?
Yilan can refer to Yilan County 宜蘭 that covers the larger northeastern region in Taiwan, but it can also refer to Yilan City 宜蘭市 which is one of the main hubs in the northern half of Yilan County, which is divided by the Lanyang River. This guide focuses on the towns in that northern half.
How to get from Taipei to Yilan City?
By Bus
Yilan is about 50 minutes away from Taipei City by express coach or car thanks to Highway 5 and the Xueshan tunnel that cuts through the mountains. I usually take a comfortable coach from the Taipei Main Bus Station direct to Yilan City – a 1-way ticket costs 140 NTD (~S$6.30).
By Train
I usually prefer taking trains over buses, but it actually takes longer and costs more to take a train from Taipei to Luodong. You can take a Ziqiang or Puyuma Express from Taipei Main Station to Yilan Train Station that will take around 60-75 mins and cost about 238 NTD (~S$11.25).
Transport in Yilan
Trains and buses connect Yilan to Taipei, Keelung up north or Hualien along the Eastern Coastline, and a highway cuts through the mountains in the central region and links to Taichung and Nantou.
In Yilan itself, you can take public buses to get to major sights, but if you can I highly suggest you rent a car or a scooter to get around as it will make exploring that much easier. Because Yilan is less crowded, bus frequencies are not as high so you might end up waiting quite long for the bus if you miss it.
You can flag down a taxi which is not too expensive in Taiwan overall – these are easy to find at the main train/bus station or popular tourist spots, but you may need to call or get someone to call a taxi for you if you are going somewhere more remote. You can also consider Tripool Taxi which works like Uber or Grab.
---
Yilan City 宜蘭市
Yilan City is the transport hub of northern Yilan and the most convenient jump-off point for most things in Yilan.
All things Jimmy Liao 幾米
Jimmy Liao is a Taiwanese artist and writer famous for his whimsical illustration style and stories – the most well known book being Turn Left, Turn Right 向左走, 向右走 which became a film in 2003 starring Takeshi Kaneshiro and Gigi Leung. I actually have several of his books in my shelves, having first been introduced to his works by my friends in secondary school. I was captivated by his poetic writing and fantastical illustrations, so I was pretty stoked to finally visit Yilan City which pays major tribute to his works with life-size dioramas and recreations of his most popular characters and scenes around the city.
Jimmy's works are front and center the moment you step out of the Yilan Train Station in Jimmy Plaza 幾米廣場 – this stretch south of the train station used to be the old railway dormitory and now has many large statues of his works.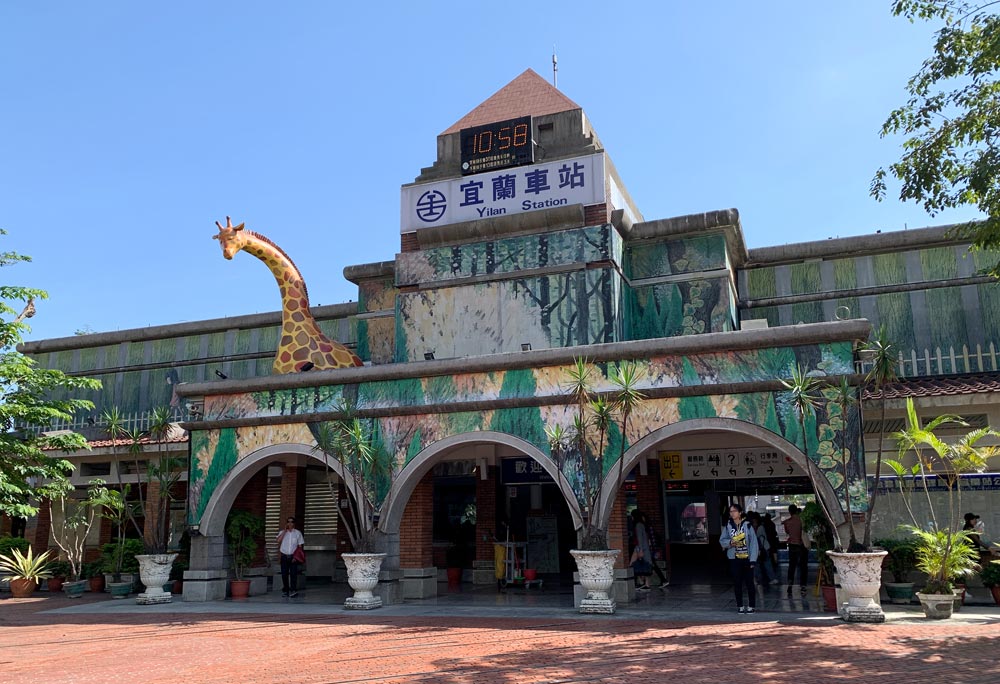 Across the road from the station is the Diudiudang Forest 丟丟噹森林, a large plaza with a green roof and the train from one of his books Starry Starry Night suspended above.
Turn left from the station and head south and you'll come across the Happy Station 幸福轉運站, featuring a whimsical elephant and giraffe playground structures as well as his works from Kiss and Goodbye.
How to get there: Everything is within 5 mins walk from Yilan Train Station.
Dongmen Night Market 東門夜市
Most people in Yilan will head to the more famous Luodong Night Market, but if you prefer somewhere a little less crowded, Yilan City's Dongmen Night Market is conveniently located close to the Yilan train station, somewhat tucked under the Donggang Bridge flyover. Most of the food stalls are located on Shenghou Street while the shopping and sundry is along Hemu Road.
This night market is definitely a lot smaller than Luodong's, but here are some of the stalls that were drawing crowds that you can check out:
Peng Cong You Bing 彭蔥油餅: Crispy freshly fried pancake with Scallions with the options to add an egg
Dongshan Laodian Ya Tou 老店東山鴨頭: For those of you guys daring enough to eat duck head, tongue and other spare parts, pick what you want and it's deep fried for you on the spot to snack on
Yaoyao Bing 搖搖冰: this old-school shaved iced dessert stall has just a few selections (green bean, milk, lemon, passionfruit) but was super popular, but it's a great way to cool down quickly
Duhaoshao 嘟好燒: this stall has quite a long history and sells duhaoshao, a stick of fried donut balls stuffed with taro and red bean
30-year old store LongFengTui 30年老店龍鳳腿: Another long-time local favourite, this stall basically sells chicken and longfengtui (translates to Dragon-Phoenix leg, it's really pork and cabbage stuffed into intestines) skewers as well as spring rolls.
How to get there: Dongmen Night Market is located at Shenghou Street. It's a 5-min walk from the Yilan Train Station and open from 5pm-12am daily.
Yilan Distillery 宜蘭酒廠 / Chia Chi Lan Wine Museum 甲子蘭酒文物館
The Yilan Distillery is the oldest wine distillery in all of Taiwan dating back to 1909. This distillery focused on producing an award winning red rice wine made from red yeast. It is also known as the Chia Chi Lan Wine Museum – Chia Chi Lan being one of the old names for Yilan back in the day.
Currently it's been converted into a museum cum market of sorts were you can buy the red rice wine and lots of other red-yeast infused products – I got myself some unusual sweets with the red yeast flavour as well as other souvenirs, but other than that there's not much else to do here, so I wouldn't plan on spending too much time here.
How to get there: The Yilan Distillery is located at 3 Jiucheng West Road. It's about 15mins walk westward along Wuying Street from Yilan Train Station. Alternatively, take a longer path along the Jiucheng South Road past Zhongshan Park and the Memorial Hall of Founding of Yilan Administration for a more scenic route. Open daily 8am – 5pm.
---
Yuanshan 員山
The main reason to visit this rather rural part of western Yilan is for the Whisky Distillery.
Kavalan Whisky Distillery 金車噶瑪蘭蘭威士忌酒廠
Whisky might not be the first thing that comes to mind when it comes to Yilan, but the pristine water from the adjacent Snow Mountain (Xueshan) has apparently contributed to the high quality whisky that is made here in Kavalan Whisky Distillery and has been winning international awards in recent years.
You can visit the museum part of the distillery which shows you the machines and walks you through how whisky is made – free tours in English and Chinese are available, but the part most people are excited about is the free whisky tasting session that happens ever hour on the hour. This is where all the tour groups converge so it can get pretty hectic. No one is quite paying attention to the person talking and are mostly focused on sampling what they have on their table.
If you prefer something a little more exclusive, pay to do a smaller private tasting where you can choose some of the more premium options. I did a paid workshop where I got to make my own blend of whisky from 3 different whiskies, which I thought was quite fun!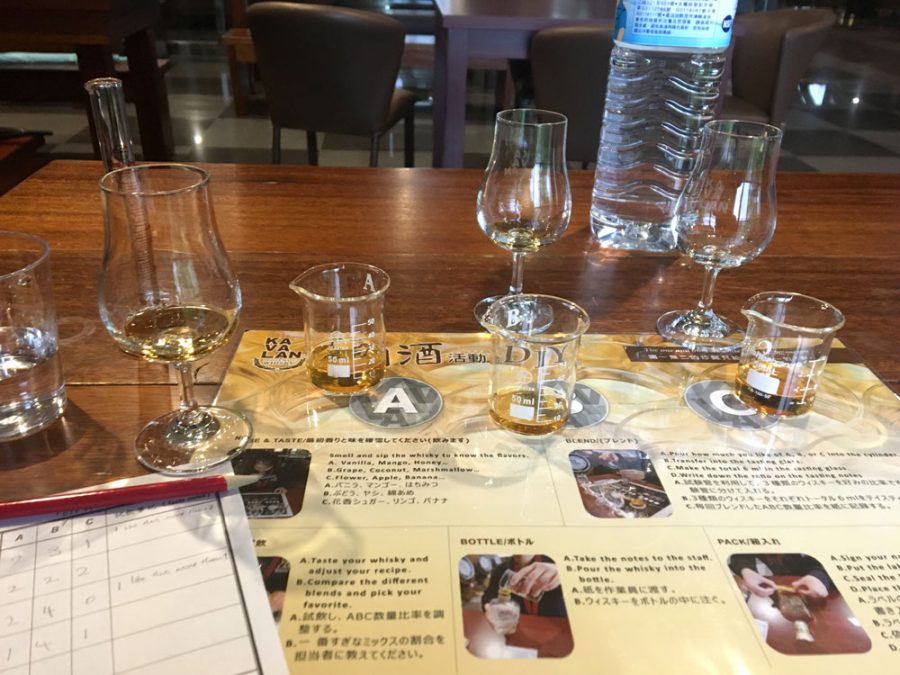 I last visited in 2019, but in 2020 they launched the fancy looking Kavalan Whisky Bar which I hope to visit soon! The selection of whisky-based cocktails looks really nice. If you're curious about the name Kavalan, that's an old name for Yilan County derived from the indigenous people.
How to get there: No. 326, Section 2, Yuanshan Road, Yuanshan. It is a little bit out of the way amidst agricultural land – I rode there on a scooter but if you are taking public transport, you can take the E-Lan Bus #752 from Yilan Transfer Station and stop at Yuanshan Farmers' Alliance Cheng Kung Branch 員山農會成功分部.
Read my original post about bottling my own customised whisky bottle at Kavalan Whisky Distillery
Jim and Dad's Brewing Company 吉姆老爹啤酒工場
If you prefer craft beer over whisky, just further down the road from the whisky distillery is Jim and Dad's Brewing Company which is worth checking out since you are all the way out in this rather rural spot already. It looks like a large mansion with a 5-storey rotunda viewing tower. It's mostly a place where you can eat and drink craft beers – the main hall has lofty ceilings and a warm wooden finishing, but you can book a brewery tour beforehand if you have a large enough group.
If you're on your own and driving yourself, you can pick up a few bottles to enjoy at your own leisure back at your accommodation which is what I did – J&D sell their beers all around Taiwan as well.
How to get there: No. 411, Section 2, Yuanshan Road, Yuanshan. I rode there on a scooter but if you are taking public transport, you can take the E-Lan Bus #752 from Yilan Transfer Station and stop at Xiashengou (Fengcaiguan)下深溝 (蜂采館).
---
Jiaoxi 礁溪
Two words describe Jiaoxi: Hot Springs.
Hot Springs
I headed to Jiaoxi on a rather cool evening to check out the hot springs that they had to offer. This town is famous for its sodium bicarbonate hot spring waters which have made it into quite a touristy hot spot. Everywhere you turn is a hot spring hotel in this town!
I was looking for a bit more privacy than the public hot springs at Tangweigou Hot Spring Park 湯圍溝溫泉公園, so I found this cute hot spring facility on Klook [affiliate link] called Hot Spring Onion 蔥澡. Unlike your traditional hot spring bath facilities which tend to be very dark and grey stone-based, this one was youthful and hip, and I enjoyed my hour or so soaking in this lovely bath.
How to get there: No. 77, Section 5, Jiaoxi Road, Jiaoxi Township. Hot Spring Onion is a short 5-minute walk from the Jiaoxi train station. I rode on a scooter so I simply found the nearest parking and walked over.
Soaking in hot springs gets you really hungry, so the rest of the town is dedicated to feeding the hungry. I wandered down a nearby street and found myself at Yu Jen Babao Bean Thread 玉仁八寶冬粉 – which really translates into Yu Jen 8 Treasure glass noodles, the star dish in this little eatery. The hot bowl of noodle soup packed with 8 different yummy ingredients was the perfect end to a rainy night and a good hot soak.
How to get there: No. 131, Section 2, Zhongshan Road, Jiaoxi Township, Yilan County. Near the junction with Deyang Street and very close to the Jiaoxi Train Station.
Read about Hot Spring Onion and more about my favourite Hot Springs in Taiwan. I'd recommend checking out Su'ao Cold Springs in the southern bit of Yilan as well.
---
Toucheng
The northernmost county of Yilan
Lanyang Museum 蘭陽博物館
One of the places I definitely wanted to visit in Yilan is this rather unusual building that houses the Lanyang Museum. Lanyang is a name that refers to the plains of Yilan and its people, and this museum was built to look like the mountains that surrounded the area.
Inside the building are several floors of exhibitions that show you the history and geography of Yilan which I found very interesting – mountains, oceans and the land come together in a unique natural combinations here in Yilan. There are English translations as well, so if you felt a bit lost while exploring spots like Su'ao or Turtle Island, the museum does a great job of explaining their origins and history in interesting ways.
How to get there: No. 750, Section 3, Qingyun Road, Toucheng Township, Yilan County. Take the train to Toucheng Station and either take a 20min walk or local buses 1766, 1767, 1877 or GR18. The museum is located right next to the Wushi Harbour and Wushi Harbour Bus Interchange.
Wai'ao Beach 外澳沙灘
Wai'ao Beach is a stretch of black sand beach located just north of Wushi Harbour and the Lanyang Museum. This is a popular spot for surfers, though when I visited in November it was pretty rainy and kinda choppy, so no surfers and swimming happening while I was there. I imagine during the warmer summer days, this would be a nice spot to chill out.
This is the furthest north I got in Yilan so far though – I was on an electric scooter and a bit concerned about running out of electricity if I went too far. Also, it got dark quickly in winter. I would like to see some of the other smaller towns along this stretch some day.
How to get there: No. 6, Section 2, Binhai Road, Toucheng Township. You can walk over from the Lanyang Museum / Wushi Harbour or take a train that stops you at Wai'ao Train Station on the northern end of this long stretch of beach.
Guishandao / Turtle Island
One of Taiwan's offshore islands, Guishandao actually does look like a turtle and makes for an interesting day trip with several activities like cruising through undersea sulphur hot springs that change the colour of the water, exploring an abandoned village, or climbing up the 401 Peak. If you love nature and up for something quite local, I highly recommend visiting Turtle Island.
NOTE: you need to apply for a permit/tour to visit the island, but it's really not difficult to get, especially now that you can book directly through services like Klook [affiliate link] – this wasn't available when I visited, so my guesthouse owner made the calls for me. If you go to the visitor centre at Wushi Harbour they can help you too, but you might need to prebook during peak holiday periods to guarantee a spot.
The island which is usually only open from March to November and most people like to combine it with a dolphin or whale watching tour and typically takes about 4 hours. I did something a little different and signed up for the 401 Peak tour which saw me climb up over 1,600 steps to the 401m high peak of Turtle Island – read more about that experience.
How to get there: Head to Wushi Harbour in Toucheng. You can book a tour at the harbour or prebook online via Klook [affiliate link] to take the boat to Turtle Island.
Here's everything you need to know about how to visit Guishandao or Turtle Island as well as more on the Lanyang Museum
---
Other things to do
There's still a lot of Yilan left to see! Here's a list of things that I have yet to check out – tell me whether I should go see them or not:
Toucheng north of Wai'ao: there looks like lots of scenic hiking spots around Dali and Beiguan. I'm just curious to see this quieter coastal stretch of Yilan
Wufengqi scenic area: I didn't have time to visit these natural spots around Jiaoxi, like the Linmei Shipan trail and Wufengqi waterfall
Toucheng seaside forest park: there's an interesting 8-sided tower people like to take pictures with here
Best time to visit Yilan
When it comes to the best seasons to travel in Taiwan, Spring (April-May) and Autumn (October-November) are usually a little cooler and less wet – check out this article I wrote for Skyscanner about the best times to visit Taiwan. For Yilan though, you have to be prepared for rain at anytime because of its coastal valley surroundings which makes the weather a bit more unpredictable.
Also another note about Yilan's coastline: be very careful on the beaches at all times, particularly during the monsoon periods around mid June to September as Yilan has experienced some extreme weather and rogue waves sweeping people away in recent years. I've been warned by locals about keeping an eye out even just walking along the beach.
Yilan Festivals
If you want to experience some of Taiwan's culture and Yilan customs, here are some unique Yilan festivals worth considering braving the crowds for:
Qianggu 搶孤 [July/August]: On the last day of the seventh month on the Lunar Calendar (usually July or August), Toucheng hosts a festival called Qianggu of the Ghost Grappling Festival, a unique tradition that sees people compete to climb up giant greasy poles, all in the name of scaring away the wandering spirits during the "ghost month". It sounds like an incredible bizarre sight to see but also gets immensely crowded.
Jiaoxi Hot Spring Festival [December]: Hot spring town Jiaoxi has a month full of hot spring promotions and packages, perfect when it gets chilly
See the full calendar on the Yilan Tourism website.
---
Where to stay in Yilan City?
Yilan City is of course the most convenient option in this part of Yilan because of connectivity with the train and bus stations. Jiaoxi which is a little further north is also quite well connected as it is a popular hot spring spot and has many hot spring hotels.
I've mostly stayed in Luodong to date, but recently found a cute hotel in Yilan City that I adore:
Hotel/Hostel in Yilan City: Hangkhau Hotel 行口文旅
This boutique hotel has a perfect hipster cafe lobby and dining area, and also has an excellent location right next to the train station in Yilan City, as well as the quieter Dongmen Night Market. There are private rooms, but I stayed in a shared 10-bed dormitory which had spacious bunk beds with curtains and individual plugs.

No. 14, Kangle Road, Yilan City, Yilan 260宜蘭縣宜蘭市康樂路14號 [Google Maps]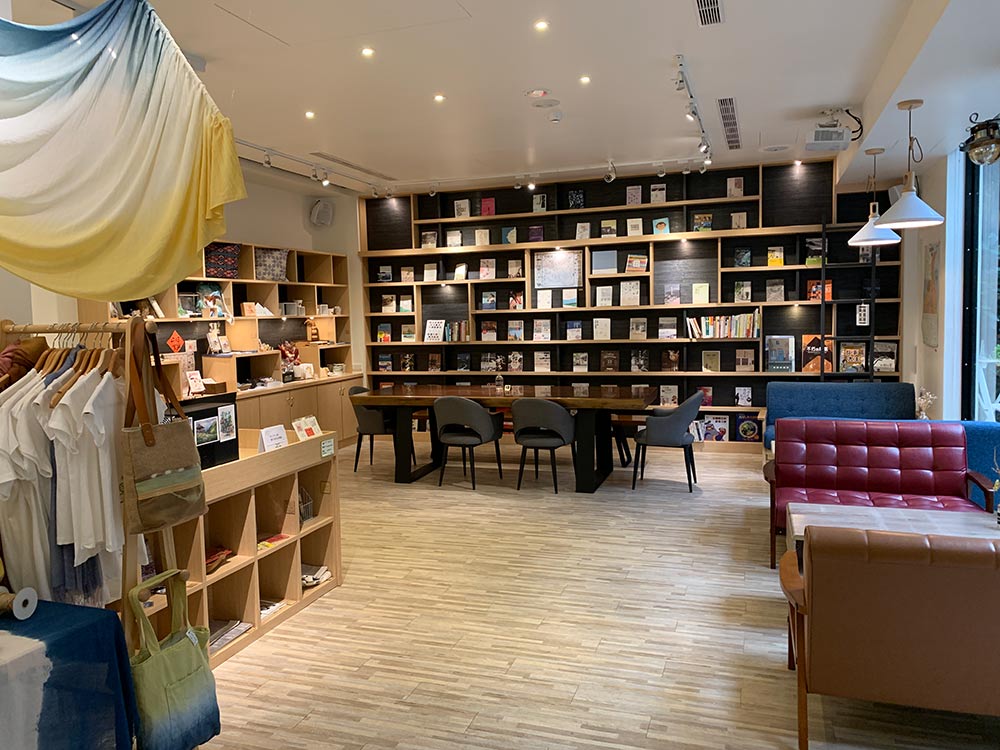 For the solo travellers in Taiwan looking for cheaper but still stylish accommodation options, read more about my favourite hostels in Taiwan.
---
Looking for more things to do in Yilan? Check out my other post covering the southern half of Yilan County, including Luodong, Dongshan, Wujie and Su'ao.
What have I missed out in Yilan? Tell me in the comments so I can check it out in future. In the meantime, some other Taiwan posts to check out: