One of the highlights of my time in Japan during my Career Break was getting to cover the Setouchi Triennale in 2016, an art festival that takes place on the islands of the Seto Inland Sea every 3 years. This unique arts festival gave me a chance to explore some of these islands as well, so I put together this little Setouchi Triennale guide with some tips on things to look out for when planning your own journey.
I covered the Setouchi Triennale 2016 with a media pass as a photojournalist for JapanTravel.com, and received a small stipend from JT that went towards my travel expenses.
---
What is the Setouchi Triennale?
The Setouchi Triennale is an art festival that happens every 3 years, but what's interesting about this particular one is that the artworks are spread out over several islands and locations in the Seto Inland Sea area, located between the Chugoku and Shikoku areas in Central Japan.
The works on display are mostly visual artworks, and what I like is how many of the artwork's themes are tied closely to the island on which they are installed. Beyond works in art galleries, there are also many large outdoor installations, and some have even become a permanent part of the island's infrastructure.
The Setouchi Triennale typically runs for 3 seasons: Spring, Summer and Autumn. I visited during the Spring season of April 2016 covering as many works as I could in 6 days – I ended up seeing over 80 artworks in total, but I still wish I had time to see more works.
Here's what my schedule looked like:
Fly to Takamatsu, Ferry to Ogijima & Megijima and back (overnight in Takamatsu)
Ferry to Teshima and back (overnight in Takamatsu)
Ferry to Shodoshima (overnight in Shodoshima)
Shodoshima (overnight in Shodoshima)
Ferry to Naoshima (overnight in Naoshima)
Naoshima (overnight in Naoshima)
Ferry to Uno
---
Setouchi Triennale Islands
Here's a closer look at the islands that I visited during the Setouchi Triennale 2016 and some of the artwork highlights then.
Ogijima
男木島
Ogijima is a lovely small island which is a little hilly but easy enough to explore on foot. I only had 2 hours there because I arrived in the afternoon and due to ferry timings, but I enjoyed walking around to see the various artworks here. Read my photo story on Ogijima's artworks over at JapanTravel for some quick thoughts on what I saw.
Megijima
女木島
Megijima is a larger island on the same ferry route as Ogijima, so I tackled them in the same afternoon, but 2 hours was way too little time, especially because stuff closed at 430pm so I really only had something more than an hour… they time the closing to let the gallery sitters leave with the last ferry out, so make sure you check the closing times if you are visiting in the afternoon! I feel like I didn't see enough of this island to get a good feel for it.
Teshima
豊島
Teshima was perhaps my favourite island of all, largely because of two works – the amazing Teshima Art Museum and Les Archives du Cœur. Also, I met two American girls randomly on the ferry heading over and we ended up spending the day exploring Teshima together which was really fun (Hi M and B!). Sometimes it's nice having other people to share your thoughts about artwork with :)
Shodoshima
小豆島
Shodoshima is technically named small bean island but there is nothing small about this place. It's a must-drive – taking public bus around like i did was a bit challenging, I managed with a bus pass, some help from the triennale folks and even hitched a ride from a nice Japanese family one time! I probably saw the most works here, 2 days is not quite enough time if you want to see the island's attractions as well.
Naoshima
直島
Read my detailed guide to Naoshima here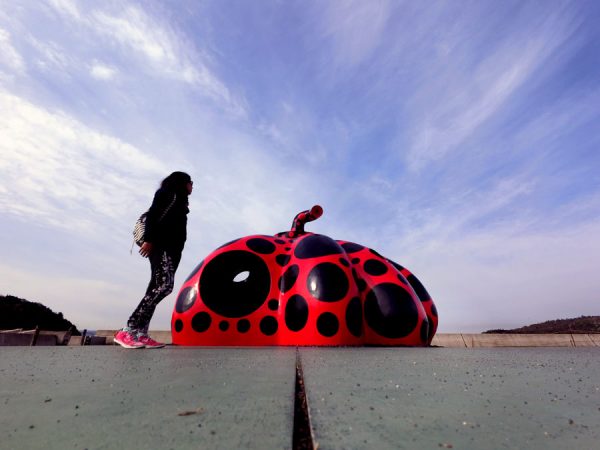 Naoshima is the famous art island, and I was glad I decided to spend 2 days here because my first day was a total washout – it rained and rained and was super gloomy. While i did get the Art House Projects done, just looking at my outdoor photos was depressing. Perfect weather the next day definitely made up for it, though I think ordinarily 1.5 days is more than enough for this island.
Takamatsu
高松

/ Uno

宇野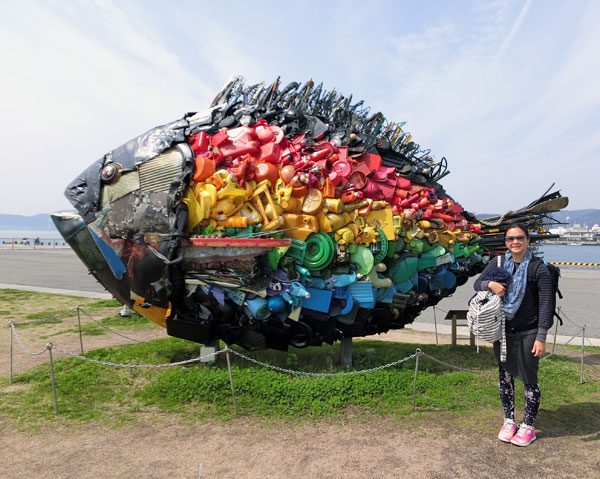 I started my journey from Takamatsu, though I didn't actually explore it much in my time there. Same for Uno where iI ended my journey, mostly wandering around the port area before catching my train… I apparently witnessed the launch of the new direct train service from Okayama to Uno by accident – It was super festive!
All in all, i really enjoyed the island hopping and art hunting. If you have some time in Japan or want to experience an arts festival with a difference, definitely consider checking out the Setouchi Triennale. There's still the summer and Autumn seasons to partake in, or for some islands the art is there year-round so you can go any time you want.
---
Tickets to Setouchi Triennale
Thanks to JapanTravel, I covered the festival as accredited media so that saved me some cash, but if you are keen to get tickets, they really aren't all that expensive given how much you can see. My Setouchi Triennale 2016 passport cost 5,000 JPY (~S$62) and came with a free festival map (200 JPY on site) that is printed with a wealth of useful information like ferry timings and rough locations of works that you can find online, but it's easier to plan when you have it at your fingertips.
Look out for early bird tickets where you might be able to save a little if you plan early. You can also plan to see individual works and pay individual entry prices if you are short on time.
Check out the Setouchi Triennale Website to see the latest ticket prices – in 2019 tickets cost 4,800 JPY for 3 seasons and 4,000 JPY for 1 season.
Note that for some works, you may still need to top up extra even with the Setouchi Triennale Passport. For works that require entrance, the passport entitles you to one entrance regardless of whether you attend in spring, summer or autumn. I have lots of friends who visited in spring and are planning to visit the other islands in summer or autumn.
---
Transport during the Setouchi Triennale
You can consider a 3-day ferry pass to see if it is worthwhile for you. It didn't work out for my timing/planning as it doesn't cover all the ferry services available – it's more useful if you are based in Takamatsu or Uno and travelling to each island from the port as day trips, but it also saves you the hassle of queuing for tickets as you can't make prior ferry bookings – you can only buy the ferry ticket on the day of your travel, usually half an hour before the ferry's departure, so make sure you go a little earlier to get that out of the way.
My ferry schedule/costs for reference (price for 1-way ticket, so make sure you factor for 2-way if you are headed back):
Takamatsu > Ogijima: 510 JPY
Ogijima > Megijima: 170 JPY
Megijima > Takamatsu: 340 JPY
Takamatsu > Teshima (Karato): 1,330 JPY (not eligible for ferry pass)
Teshima (Ieura) > Takamatsu: 1,330 JPY (not eligible for ferry pass)
Takamatsu > Shodoshima (Tonosho): 1,170 JPY (high speed)
Shodoshima (Tonosho) > Naoshima (Miyanoura): 1,200 JPY (only available during Triennale, not eligible for ferry pass)
Naoshima (Miyanoura) > Uno: 290 JPY
---
Where to stay during the Setouchi Triennale
If you have the time, staying on the islands is a nice option. You can also stay in the port towns as a base depending on where you are going. Takamatsu is the main festival base and serves all the islands, but the closest ones here are Ogijima and Megijima. It is also served by Takamatsu airport, and a limousine bus connects you from airport to the port Takamatsu Chikko.
Takamatsu
I stayed at Guest House Wakabaya in Takamatsu. It's 4 stops away from Takamatsu Chikko (the tram station for the port where you take the ferries) which costs 190 JPY per ride so factor that travel time and cost in. The guesthouse is in a more residential sort of area so not very much happening nearby in terms of food and activity, but it is nice and quiet.
Pretty good facilities – the house was renovated in 2014, lots of wood and the conditions and atmosphere are good. A friendly couple run the guesthouse and are happy to give suggestions or help if you need any. My 8-bed mixed dorm room cost 3,000 JPY per night.
Uno port is closer to Naoshima and Teshima, just 10mins to Naoshima by ferry and there are many Uno-Naoshima ferries, and you can connect from Naoshima to Teshima as well.
More about Guest House Wakabaya on booking.com [affiliate link]
Kurakare, Shodoshima
On Shodoshima I stayed at Olive Youth Hostel – it's closest to Kurakare Port which has a direct ferry from Takamatsu – take a bus a few stops to Olive Youth Hostel Mae which is along the coastline. The nice thing is there are more buses that ply this route. Or you can take a ferry to Shodoshima's other ports Tonosho, Ikeda or Sakate and then take a bus from there as well.
It's quite a big dorm – maybe I was there during a lull but it seemed pretty empty most of the time. You can get discounted tickets to the nearby onsen and bikes are free for use after 6pm. My dorm room cost 3,400 JPY per night and I made my booking via email.
Miyanoura, Naoshima
My Naoshima hostel was Domi Kowloon right smack at Miyanoura Port – you can actually see the building right from the port! This is supposedly the cheapest accommodation on the island at 2,900 JPY per night, space is pretty tight and I only saw the hostel staff once when I had to check in. If you are a bit paranoid about security, there are small lockers in the room, and the main entrance is a bit hidden, but everything else is based on trust.
The one thing I hated was that while you weren't allowed to smoke on the 2nd floor where the rooms are, they let you smoke in the first floor common area, so I hardly went in there! The location is what's key though – you're across the street from Miyanoura port so it's extremely convenient when you land or leave as you can leave your bags in the hostel even when you check out.
More about Domi Kowloon on booking.com [affiliate link]
---
Getting to the Setouchi Triennale
From Singapore, flying into Osaka is actually nearer than flying into Tokyo. I spent a week in Tokyo and thanks to Jetstar, I caught a domestic flight from Tokyo to Takamatsu Airport. From the airport, I took the limousine bus (710 JPY) into the main Takamatsu city where I caught the city tram (called the Kotoden) from Kawaramachi to Hanazono which is closest to my guesthouse.
From Tokyo, several options I researched on how else to get to Takamatsu. Check out this list on Japan Guide for more details.
By Plane
Jetstar connects Tokyo to Takamatsu and several other Japanese cities. Another option is the Japan Airline promo where internal flights are priced at 10,800 JPY for foreigners! My flight cost 8,410 JPY at time of booking. It's about 1.5 hours flight time.
By train
If you are planning to get the JR pass, then it may make sense to take the Shinkansen which clocks in at about 18,000+ JPY to get from Tokyo to Takamatsu and takes around 5-6 hours. It's about the same cost to take the train to Uno – use Hyperdia to figure out the costs/timings/transfers. There is an overnight train as well called the Sunrise Seto which has several price ranges – it can be covered with a JR pass if you are willing to 'suffer' a bit without a proper bunk, but can cost up to 9,500 – 17,000 JPY additional if you want a proper bunk.
By bus
There are overnight buses from Tokyo to Takamatsu for 9,000 – 11,000+ JPY which take about 12 hours – you leave at 850pm and arrive in the morning around 8am+
---
I have a more detailed breakdown of Naoshima, but if you have any questions drop them in the comments, I'll try and help as best as I can, but firstly check out the Setouchi Triennale website because they have a wealth of information there.
Check out more about the islands that I have visited in the Seto Inland Sea area.