Nowhere in Taiwan is there a better place to learn all about Chinese history than at the National Palace Museum 國立故宮博物院. Containing over 600,000 Imperial artefacts spanning the Song, Qing and Ming Dynasties, this is one of the most impressive historical Chinese collections on display outside of China. Many people know about the National Palace Museum in Taipei, but this time around I also got to check out the Southern Branch located down in Chiayi. Deciding whether to visit on your next Taiwan trip? Here are all the important things to know about the National Palace Museum (NPM) to help you plan your visit.
This trip to Taiwan to visit the National Palace Museum branches was sponsored by the National Palace Museum in conjunction with Tripool 旅步and Walk in Taiwan 島內散步 with wifi sponsored by Jetfi and accommodation sponsored by the Sheraton Grand Taipei Hotel and Nice Prince Hotel.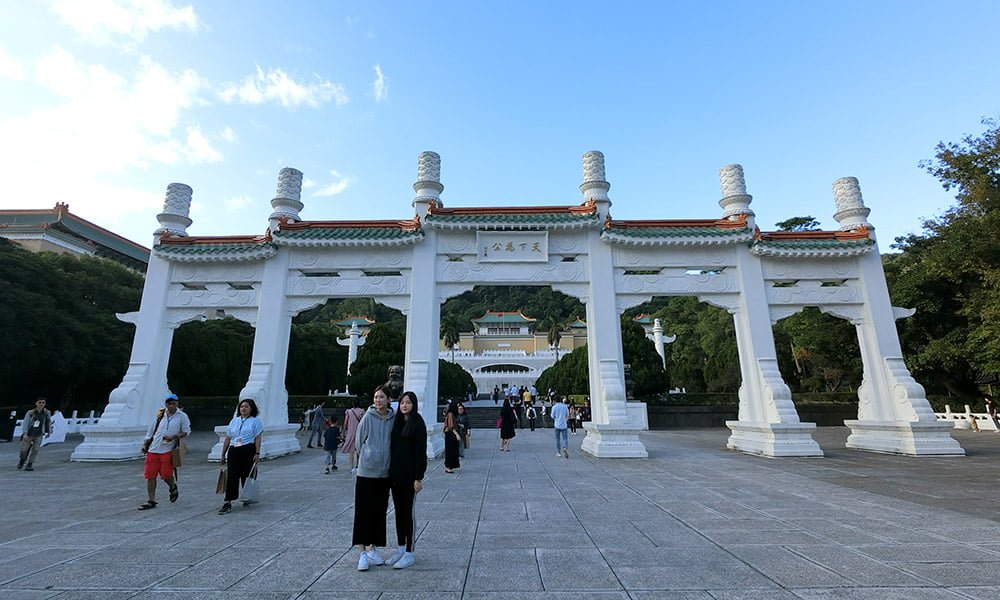 Now I visited the NPM independently a few years back when I was in Taipei – back then I found it somewhat interesting but also overwhelming in terms of things to see and dealing with the sheer number of people on-site, so I didn't spend too much time there. This time around when NPM invited me up to have a closer look at the museums, I definitely found it more meaningful because we had good English-speaking guides who helped to give a lot of context to the various artefacts, and made Chinese history that much more interesting and insightful to a layperson like me.
The NPM collection in particular has a rather colourful history – most of the artefacts were part of the imperial collection and were moved from the Forbidden Palace in Beijing for their protection, first from the Chinese Civil War in the late 1920's, and then again when the Japanese invaded during WWII. Close to 3,000 crates of artefacts were moved through China and finally to Taiwan, with the first of the collection shown to the public when the NPM opened in 1965.
I know museums may be intimidating for those of y'all who don't see yourself as 'artsy' or 'cultural', and we're all busy people with limited time, so I'll give you the lowdown on some of the must-sees and things to look out for, along with some top tips from my own experience.
---
Northern Branch 故宮 – Shilin, Taipei
Simply known as the Gugong 故宮, this museum is a must-do on most Taipei itineraries and sees massive crowds every day of the week. There's a feeling as you walk around that you will never be able to finish seeing the entire collection – which might be true because our volunteer guide herself with many years of experience hasn't even accomplished that herself.
Top tip: it tends to be less busy after 430pm as the museum closes at 630pm, so if you want to avoid the crowds, try and visit later in the day. Also, the museum does open late till 9pm on Fridays and Saturdays and is generally much less crowded then as well. Buy your tickets online or use the self-service kiosks at the entrance to avoid having to queue.
So if you love museums, take your time to wander the galleries – you could easily spend a whole day there. But if you only have limited time to spare or just aren't that into historical relics, here are some of the museum's most prized treasures worth checking out.
That famous Jadeite Cabbage 翠玉白菜
There are several main treasures in the NPM collection and this jadeite cabbage is one of the more popular ones. While it may seem odd that such an everyday food is considered a treasure, these cabbages were often carved for newly married wives to bring along to their new homes, with the vegetable representing fortune (because vegetable cài 菜 sounds like fortune cái 財), the locust and katydid on it representing fertility, and the white stalk representing purity.
The NPM actually has three such jadeite cabbages in its collection, but this particular one is considered the finest – the colouring is all-natural and this one belonged to a royal consort of the Qing Dynasty.
The cabbage has its own room that sees a constant stream of people so prepare for it to be very crowded. Just to manage your expectations, the cabbage isn't very big, perhaps about the length of your palm. It is sometimes exhibited with the Meat-Shaped stone (which was at the Southern Branch when we visited, more about that below).
Eat your art at Silks Palace Restaurant 故宮晶華
Right next to the museum block is the Silks Palace Restaurant where you can grab a bite and rest after exploring the museum. The restaurant is on the first level but it was booked for a wedding reception, so we ate in the food court in the basement instead.
Since many of the treasures at the museum are food-related, the museum also has a special menu where you can eat what they call 'Classics' – dishes inspired by some of the artworks in the NPM collection.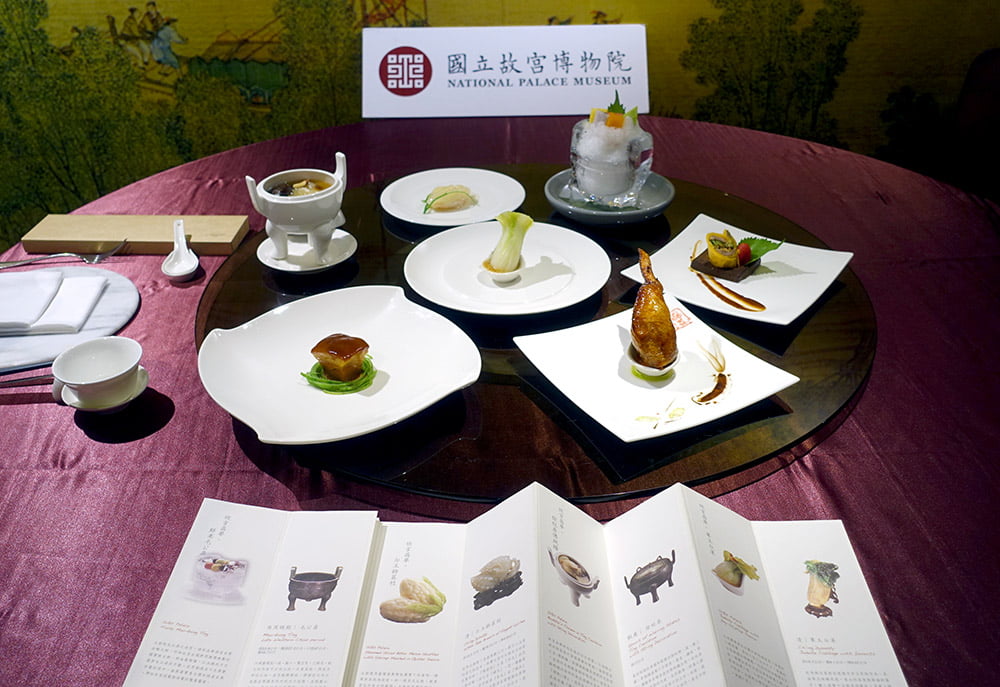 How to get to the National Palace Museum in Taipei
Open daily 8.30am – 6.30pm (closes at 9.30pm on Fridays and Saturday). English tours at 10am and 3pm. Details here.
No. 221, Zhi Shan Rd Section 2, Shilin District, Taipei City, Taiwan 111台北市士林區至善路二段221號
Most people take the MRT (Tamsui-Xinyi Red Line) to Shilin station and then take the public bus from there which stops right in front of the museum. You could also take a bus from Jiannan or Dazhi Stations. More details here.
If you aren't a fan of public transport or are travelling in a group, you could also pre-arrange for a Tripool car pick up to take you to and from the museum – the app is pretty easy to use and you can pre-pay by credit card. A quick check shows that the ride from the Sheraton Grand Taipei to the National Palace Museum takes about 20 minutes and costs 565 NTD (S$25)
Where to stay in Taipei: Sheraton Grand Taipei Hotel
The National Palace Museum is located in a more out-of-the-way area for a general tourist to Taipei, so I would suggest that you stay somewhere more central so you can experience the vibrancy of Taipei city life. A very convenient option would be the Sheraton Grand Taipei Hotel which is very close to Taipei Main Station. Not only do you have easy access to Shilin MRT Station along the red Tamsui-Xinyi MRT line, you are right in the midst of downtown Taipei and a perfect hub to getting to other parts of Taipei with the bus and train stations nearby.
I only wish I had more time to enjoy the hotel – we only stayed here for one night and I arrived only around dinner time. I missed out on a rooftop pool that looks pretty amazing.
Check out the Sheraton Grand Taipei Hotel 台北喜來登大飯店 for more info on their website or at booking.com [affiliate link]
---
Southern Branch 南院 – Taibao, Chiayi
The Southern Branch of the NPM also known as the Nanyuan 南院 is much larger than the one in Taipei, covering over 70 hectares of land area. It also has quite an impressive and modern looking structure inspired by Chinese calligraphy and animals.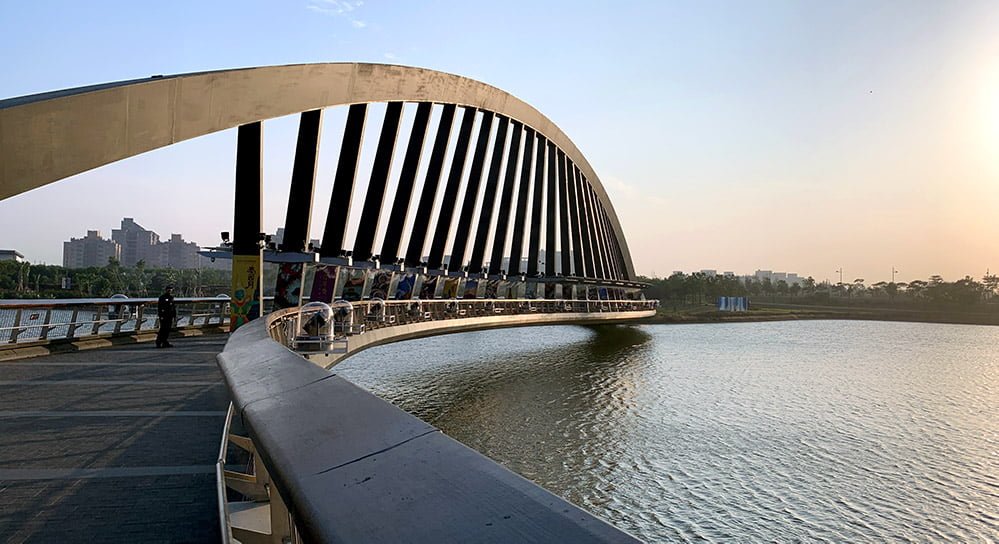 While the Northern Branch focuses on its Chinese history, the Southern Branch has a curatorial focus of Taiwan's influence and impact of its Asian neighbours. When we visited, there was an exhibition focused on Thailand for example. What I liked was how much less packed this museum was, by virtue of the fact that it's in rural Chiayi, but I definitely felt less overwhelmed here.
Meat-Shaped Stone 肉形石
Here's another food-related treasure – the meat-shaped stone is actually made of jasper but was a real show of carving mastery by some unknown Qing dynasty artisan just to show that he could do something amazing. He took a piece of layered rock, carved it to look like a piece of fatty dongpo meat 東坡肉 and somehow painstakingly dyed the surface to make it look even more realistic.
I do appreciate that not all art has to be meaningful especially if you've managed to showcase some kickass skill, though sadly we will never know who exactly decided to make a meat-shaped stone just because.
Light and Sound show
After the Southern Branch closes for the day, it's worth hanging around for a bit until it gets dark to catch the 10-minute light and music show. Chiayi is a pretty rural area so this might be the only exciting thing to do at night besides eating dinner.
How to get to the National Palace Museum in Chiayi
Open Tuesday to Sunday 9am – 5pm (closes at 6pm on weekends and Holidays). English Tours 10.30am and 2.30pm. More info here.
No. 888, Gugong Boulevard, Taibao City, Chiayi County, Taiwan 612 嘉義縣太保市故宮大道888號
Chiayi is a 1.5 hour High Speed Rail ride from Taipei. From the HSR, you can catch a free shuttle bus from Exit 3 or public buses from Exit 2. There are buses from the Chiayi Railway Station as well. More info here.
More info at the Southern Branch National Palace Museum website.
Where to stay in Chiayi: Nice Prince Hotel
After a long day of walking at the Southern Branch, we headed over to the Nice Prince Hotel. This hotel has a rather unusual history, having been built on the site of a former shampoo powder factory (that's still in production today! They gave us some to try) and is known to be one of the fanciest hotels in the Chiayi region. I was pretty impressed with the giant King sized beds and the little balcony with an amazing view of the surrounding Chiayi city.
The buffet spread in their Fusion Restaurant on the 7th floor was also pretty impressive, with a good mix of local and international delights. You can try some typical Chiayi food along with more familiar international fare – I was bursting to the seams at the end of dinner.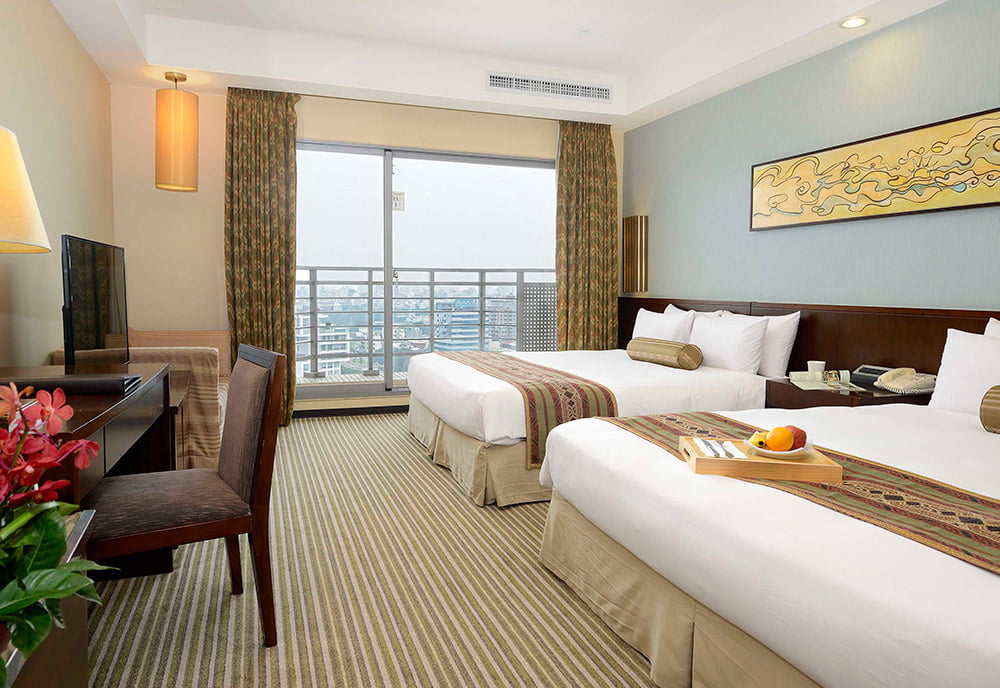 Check out the Chiayi Nice Prince Hotel 嘉義耐斯王子大飯店 for more info on their website for more info or on booking.com [affiliate link]
This trip to Taiwan to visit the National Palace Museum branches was sponsored by the National Palace Museum in conjunction with Tripool 旅步and Walk in Taiwan 島內散步 with wifi sponsored by Jetfi and accommodation sponsored by the Sheraton Grand Taipei Hotel and Nice Prince Hotel.
---
Looking for more things to do in Taiwan? I have a ton of Taiwan content that you can check out. See all my Taiwan posts or some recs below: