Baseball is one of the most popular sports in Japan, so one of the things I really wanted to do during my time in Tokyo was to either catch a live baseball match or watch some Sumo wrestling. It wasn't sumo season in April, so I ended up getting tickets to catch my first live baseball match in Tokyo's Meiji Jingu Stadium: the home team Tokyo Yakult Swallows versus the Hanshin Tigers! Here's a look at my experience watching baseball in Japan and how you can go about it on your own.
A quick disclaimer here that my tickets to the baseball game were sponsored by Voyagin – Honestly I was at a loss trying to figure out how to buy my own tickets because of the Japanese language barrier, and I found an English website for Japanese baseball game tickets but the cost of delivery was way more than the price of the ticket itself! I happened to be in conversation with the Voyagin folk at that time, and they helped me get these tickets in exchange for sharing with you guys about what they do. I'll talk about more methods to get tickets below. Voyagin has since rebranded to Rakuten Travel Experiences and they don't seem to offer this experience anymore.
I had spent most of that week in Tokyo hunting Hanami hotspots, and I knew I was going to spend the week after that walking even more as I checked out the Setouchi Triennale, so this was a nice change of pace.
The fan experience
Baseball in Japan isn't just about watching the match – everything leading up to the game is an entire experience in itself. That evening, I took the subway to the Swallows homeground at Meiji Jingu Stadium, which is very centrally located in the Shinjuku area.
How to get to Meiji Jingu Stadium: Take the Subway to Gaiemmae on the Ginza Line and head to Exit 3.
As soon as I emerged from the train station, I didn't even have to figure out where to go – all I had to do was to follow the crowds. When you emerge from the exit, there is a whole line of food vendors set up along the street where you can pick up all manner of snacks and drinks to munch on while watching the game. Unlike stadiums in Singapore that usually don't allow you to bring your own food in, there were no such restrictions at this particular stadium. I picked up some kaarage chicken to munch on.
It was about 10mins walk to the stadium from the subway, and there was a little booth outside the stadium gates where I scanned my barcode and exchanged it for a ticket. The tickets Voyagin got for me were pretty swanky – S Class tickets behind the home base and slightly to the right, so we had a pretty good view of the batting action. However, this section was much quieter compared to the outfield seats where the die-hard fans are. Those seats are further-away and cheaper, but you might get better atmosphere there.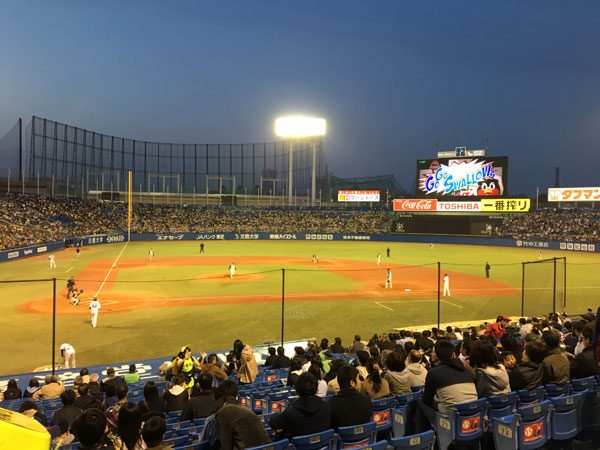 The Hanshin Tigers fans also turned up in full force – considering they are based in Nishiyoma which is close to Osaka, it was a pretty impressive away team crowd and an extremely vocal one.
Watching the game
You have no lack of food and drink in the stadium as various drinks and alcohol sellers patrol the seats regularly, ready to give you a squirt of beer or hot tea – all you need to do is hail them down as they walk by you. There are food stalls on the first level as well but prepare to queue for awhile. No rush though, Baseball has 9 whole innings to be played so it can take awhile.
I played a little bit of softball back in university so I know the basic rules of baseball, which made it more fun for me. But even if you don't you can probably pick up the basics just by watching – your team scores points when they are batting, and every time a person completes a full run around the 4 bases of the diamond (i.e. a Home Run), that's 1 point. My companion J wasn't that familiar with the game but he was having a good time. My advice – just cheer when your chosen team fans are cheering, and have some beer!
The Swallows were doing pretty well that day and scored a couple of home runs. Each team has a different ritual when they celebrate a home run. The Tokyo Yakult Swallows do the cutest thing where all the fans break out little umbrellas and bob them around while singing. It's pretty mesmerising to watch.
Of course I couldn't leave without a memento – I was considering a jersey but they were going at about 9,000 JPY, a little too pricey for me! I ended up getting a Tokyo Yakult Swallows towel for 1,000 JPY when I popped out of the stadium during one of the innings for a break – there are a bunch of souvenir shops located just outside the stadium.
Also, it was April and it can get a bit cold when you are sitting outside and not moving for awhile, so make sure you bring a good jacket to stay warm. You can duck into the building or get a hot drink, but I recommend just having a good jacket on hand.
---
How to get tickets
With Voyagin
My tickets (S Class, Basic) cost 4,700 JPY (about S$57) on the website, but on Voyagin they are listed as 6,300 JPY (about S$76) – is the markup worth it?
The experience was truly hassle-free and it does save you the time and hassle from having to go down to the stadium to buy the tickets yourself. I received a barcode in the email from the Japan Voyagin concierge a few days before the game, so I just turned up at the stadium, scanned my code in exchange for a ticket and I was done.
The premium is definitely worth it for those who want to save themselves the hassle or worry about the language barrier, and great for advanced planning – More on Voyagin here.
On your own
For the more gung ho, the Swallows now have a pretty comprehensive how-to buying guide on their website and you can buy your tickets online with a credit card.
Alternatively, the most straightforward way is to either head down to the stadium directly, or to the Harajuku Tourist Centre to buy your tickets. They also sell tickets at kiosks in some convenience stores, but you need to be able to read Japanese to do that.
My tickets to the baseball game were sponsored by Voyagin
Check out my Japan posts from my Career Break in 2016, or see all my Japan Posts.