Ohayo Gozaimasu! Japan gave me a helluva welcome when I visited during my career break, with the Sakura trees blossoming right on schedule during my first week in Tokyo. I spent most of my week exploring various parks and hot spots for Hanami – it's my first time seeing the Sakura in full bloom and I'm starting to understand what the big fuss is about. I wanted to share more about my experience and observations of the Hanami tradition in Japan, what visitors should expect and how to have the best time enjoying the Hanami in Japan.
A version of this post was first written for JapanTravel where I was a photojournalist intern in 2016.
What's the big deal about Hanami?
Hanami 花見 refers to the Sakura or Cherry Blossom period where the Japanese people all head out to admire the blooms and celebrate the arrival of spring. It is Japan at its most picturesque, with vibrant bursts of pink and white colours throughout the city parks and countryside, creating picture-perfect moments as these small flower petals dance in the breeze.
To the locals, it's more than just flowers blooming – the locals have an extreme passion for Hanami and all the outdoor spots where the trees are in bloom are absolutely packed with people. The Hanami season is taken super seriously in Japan, with full-blown news reports on bloom dates, live video coverage and updates so you know exactly where and when the flowers are blooming.
The idea of it can honestly be a bit bewildering to foreigners, but it's a great way to enjoy a local custom. It does make travel more expensive during this period, but here are some of my tips from my own experience.
---
When does Hanami happen?
While Hanami literally translates into 'flower viewing', it typically refers only to the Cherry Blossoms blooming which typically happens in late March to early April, though it really depends on the weather conditions and which part of the country you are in.
In the weeks leading up to Hanami, you will see news reports and maps with Cherry Blossom Forecasts predicting the weeks where the flowers are likely to bloom based on prevailing weather and temperature. It typically starts from Okinawa and the south where it is warmer in mid March, and makes it way up north towards Hokkaido in April and even early May.
Tip: Make plans early and give yourself some time
For tourists, Sakura season is when accommodation and transport costs get more expensive because of the sheer number of tourists and locals flocking to Sakura hotspots. Book your major stays and transfers in advance if you can to avoid disappointment, though you will have to rely on past forecasts and make an educated guess, and hope the weather isn't too freaky that year.
Typically once a few trees start blooming, it takes around 3-4 days for everything to be in full bloom, so it helps if you give yourself a bit more time in a specific spot so you can hopefully witness the full bloom. I was in Tokyo for a week, and I was pretty lucky that the first sprouts happened right when I visited. I could see the difference in density in just a few days.
---
Where are the best Hanami spots?
Locals and tourists alike are willing to queue for their chance at Hanami as it only happens once a year, so expect any Hanami spot you visit to be absolutely packed with people. The crowds start to grow once a few trees are in bloom – it is slightly ridiculous watching how everyone crowds around to photograph that one blooming tree. Once full bloom hits, that number goes up exponentially, especially on the weekend.
My Hanami experience mostly took place in Tokyo. I did some of my own research and also got recommendations from friends and locals, here are some of the Hanami spots that I visited in Tokyo:
Tip: Stay updated with live feeds
During the Sakura seasons, you can actually monitor the flowers blooming via live feeds. My hostel receptionist usually helped me to check these feeds every morning before I headed out to make sure that I could enjoy full blooming glory at my chosen park for the day. I don't actually know whether these sites are available in English though?
Ueno Park 上野公園
Ueno Park (Ueno Koen) is a centrally located park that's one of the more popular Hanami viewing spots in Tokyo. There is a lovely avenue where Sakura trees flank both sides to create a Sakura tunnel of sorts, and you can row a boat on the Shinobazu Lake for a lovely picturesque view. I popped by on the first and last days of my week in Tokyo and was surprised at how different and lush the blooms were in just a few days.
How to get there: Ueno Park is located in Taito City next to the University of Tokyo, and the grounds are home to the Ueno Zoo and many museums including the Tokyo National Museum as well as the Ueno Zoo. The closest subway stop is the JR Ueno Station.
Yanaka Cemetery 谷中霊園
My favourite less-crowded Hanami spot that I found was in a rather unusual location – Yanaka Cemetery (Yanaka Reien). It may seem like an odd choice for Hanami viewing, but there is an avenue in the cemetery lined with cherry blossoms that is absolutely beautiful. Obviously, there is no picnicking or Hanami revelry since it is a cemetery, so you can admire the blooms in quiet and without too much jostling.
How to get there: Yanaka Cemetery is located just north of Ueno Park. The closest subway stop is Nippori Station.
Sumida Park 隅田公園
The Sumida River was located close to my hostel and it is flanked on both sides by the Sumida Park (Sumida Koen). The Sakura trees line the river and are really pretty both in the day and at night when the lanterns are lit up. I walked along the river and my hostel organised a Hanami Party under the boughs one evening, but you can apparently take a boat ride to enjoy the blooms as well.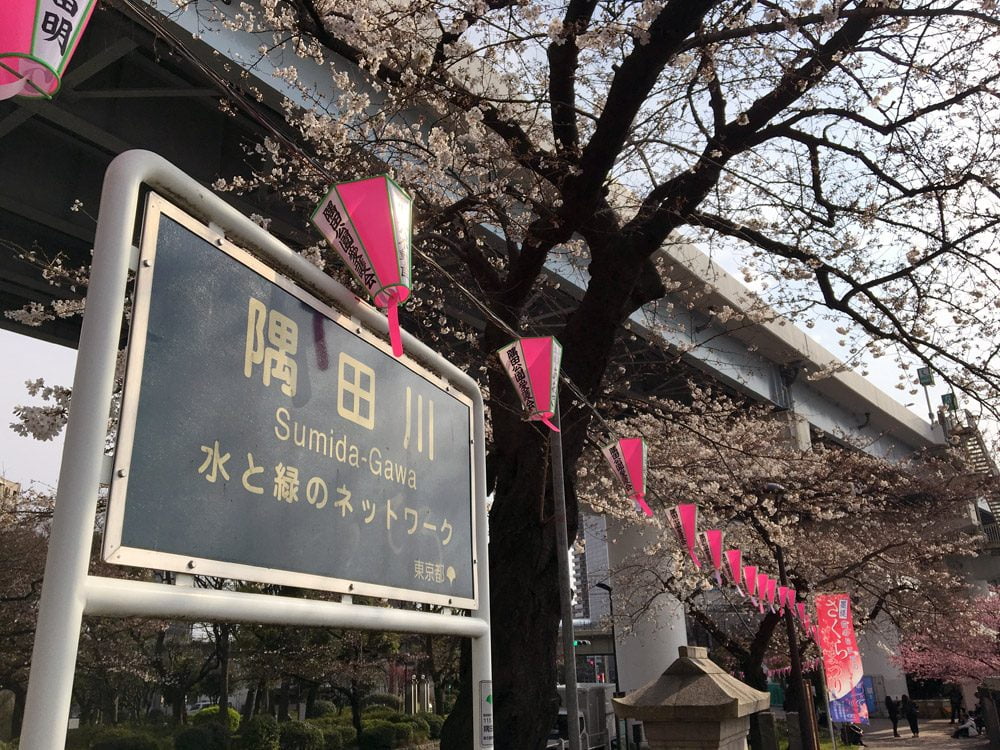 How to get there: Sumida Park is located along the Sumida River near Asakusa and the famous Sensoji Temple. Closest subway stops are Asakusa and the Tokyo Skytree Stations.
Yoyogi Park 代々木公園
I visited Yoyogi Park (Yoyogi Koen) on a Saturday afternoon and it was absolutely packed with people – the sea of heads in all directions was pretty overwhelming. I attended a Hanami party here with the JapanTravel folk, and despite the crowds there was a really great vibe. We had lots of food, alcohol and the people next to us were apparently buskers or part of a band so we had lots of fun live music as well. We even ran into some ravers with their own DJ console and disco lights.
For ladies – empty your bladder as much as you can before entering the park. The toilet queues were crazy long from all the Hanami revellers eating and drinking all day long. I queued 40-minutes just to use the toilet >_<
How to get there: Yoyogi Park is located in Shibuya next to the Meiji Shrine. Closest subway stops are Yoyogi Koen, Harajuku and Meiji Jingumae Stations.
Koishikawa Korakuen 小石川後楽園
One of the oldest Japanese Gardens in Tokyo, Koishikawa Korakuen garden has some unusual weeping Sakura trees, but also makes for a lovely place to stroll as it has lots of pretty landscaped corners. This garden is also popular in other flower viewing seasons like in February with the Plum Blossons, and in Autumn where there is a sea of beautiful red and orange foliage.
How to get there: Open 9am-5pm, 300 JPY entrance fee. Koishikawa Korakuen is located next to the Tokyo Dome. The closest subway stop is Korakuen Station though Suidobashi and Lidobashi Stations aren't too far away either.
Imperial Palace East Gardens 皇居東御苑
The East Gardens of the Imperial Palace (Kokyo Higashi Gyoen) is where you can find sakura trees amidst the remains of the Edo Castle. I mostly walked around this park which was HUGE.
How to get there: Koishikawa Korakuen is located next to the Tokyo Dome. The closest subway stop is Korakuen Station though Suidobashi and Lidobashi Stations aren't too far away either.
Nakameguro 中目黒
Just south of Shibuya is Nakameguro, a residential district that is also one of the prettiest Hanami spots thanks to the beautiful trees that line the Meguro River that flows through it. The Sakura trees reach across the river and form a tunnel of sorts above the water. This area is apparently a bit of an upcoming hipster area, I definitely do want to go back and visit again in future.
How to get there: Nakameguro is located in Meguro City south of Shibuya. The closest subway stop is Nakameguro Station.
---
Hanami Parties
Hanami season is practically a festival in Japan and comes with its own traditions. Besides viewing and avid photography, Hanami season is most well-known for its Hanami parties where you will see large groups of locals sitting on a large ground mat strategically placed underneath the blooms for a picnic with lots of food, drink and revelry.
I had the pleasure of attending two Hanami parties in Tokyo – one was at the super-busy Yoyogi Park with the JapanTravel folk, while the other was organised by my hostel located along the Sumida River. The place looked completely different from when I visited in the day time, and it also didn't hurt that we had free sake and plum wine all night :p
Some tips for anyone thinking about organising their own Hanami party:
Food and drink – buy your own snacks and drinks to feed yourself while admiring the Sakura, whether it's a fancy Sakura bento or normal snacks from the convenience store largely depends on your budget. Not all places allow picnics and parties, so check first and also remember to clean up after yourself at the end of your party
Ground mat – keep your bottoms dry, and you need the mat to physically reserve your space. I also suggest an additional jacket because sitting down without moving for awhile in prime Hanami weather can get chilly
Group of like-minded friends – most important for a fun time and for taking turns to reserve spots! If you're flying solo and still want the Hanami experience, either make some new friends on the fly (look for fellow travellers or friendly folk with some space to spare!) and share their mat, or just walk around instead and explore the various hanami spots instead of getting stuck in just one location
Happy Hanami and don't worry if you missed it this year, there's always another year of new blooms to look forward to. Also, Japan is more than just Sakuras – if you can't visit in spring, there are plenty of other flower seasons worth checking out.
In the meantime, here's a little more about my adventures in Japan. Besides Hanami viewing, I've also cycled across the Seto Island Sea and visited the Setouchi Triennale Arts Festival.