Jeju is described as an island, but it really isn't very small at all – in fact it's more than twice the size of Singapore. I spent 10 days exploring Jeju on my recent solo trip and dedicated a few days just to northwest Jeju which is about an hour away from Jeju City. Most English Jeju guides tend to cover things to do around the whole island which is great if you're short on time, but if you have some time to spare, here's my guide to Aewol and Hallim with a recommended 2-day itinerary to help you explore Northwest Jeju more thoroughly.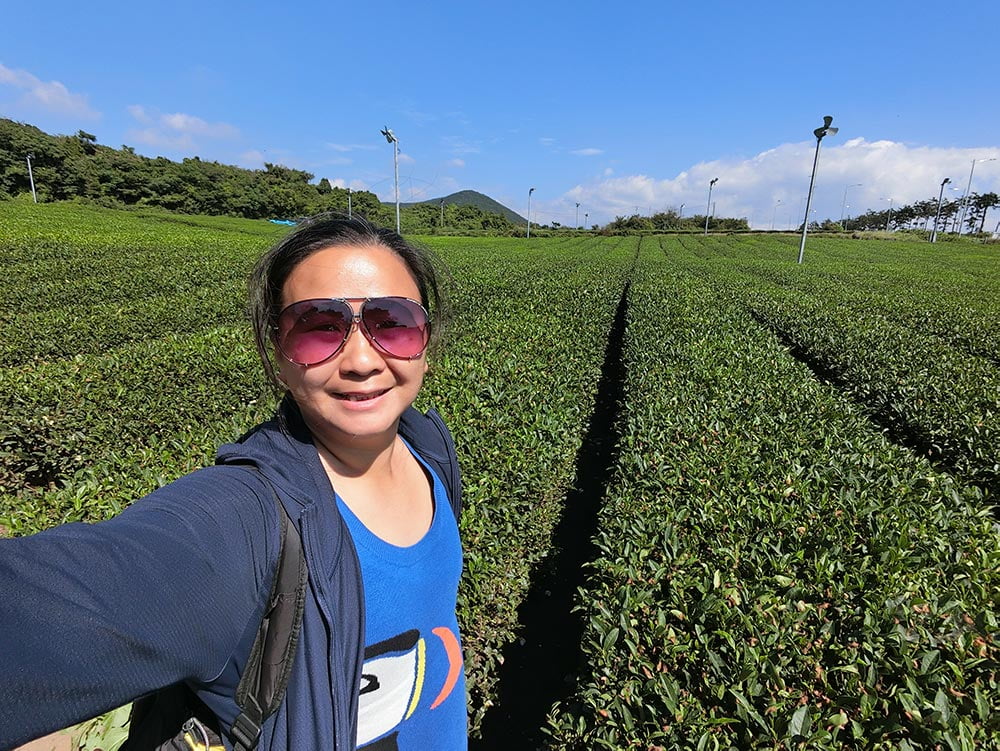 Why Northwest Jeju?
With 10 days in Jeju, I knew I had a bit more time to explore slowly and decided to base myself in different parts of Jeju. Jeju City where the airport is located is logically the best place to base yourself if you are exploring the northern region purely for its bus accessibility, but I wanted to be near the coast and was swayed by the pretty Airbnb options, so I ended up in Aewol, about an hour west of Jeju City by bus.
I can't say I chose this region for any specific reason other than I intended to go anti-clockwise around the island, but there turned out to be plenty to see here! Here's a map on my Wanderlog trip planner showing you the places in this guide, but I've also included Naver Maps links and Korean names/addresses because those links are more accurate and up to date – Google maps isn't great in South Korea as a whole – definitely download Naver maps to navigate.
How to get around Jeju
Most people rent a car to get around Jeju, but as a solo traveller, I took a combination of Jeju's public buses and taxis booked via Kakao T. Read more about navigating Jeju by public transport.
Flight from Singapore to Jeju
I've been to South Korea several times and visited its major cities Seoul and Busan, but never got around to visiting Jeju Island. Jeju features heavily in a lot of Korean variety shows that I watch for its beautiful coasts, awesome food and unique culture, so I definitely was keen to go check it out, but I had the impression that Jeju was very much a driving/road trip sort of destination, and I don't like driving solo so I passed it over when it came to solo trips. Also the hassle of domestic flight transfers was something that made me opt for other locations on the mainland that I could get to more easily by train or bus.
But in late 2022, Scoot launched flights 3 times a week that go directly from Singapore's Changi Airport to Jeju International Airport (CJU) that takes about 5.5 hours – previously you'd have to transit in Seoul or Busan, so I figured I'd just go for it! It's a red-eye flight so you'll reach Jeju bright and early in the morning – arrange for an early check in or to leave your luggage if possible.
SIN – CJU: TR812 0135 – 845
CJU – SIN: TR813 0945 – 1435
Note that there's a 1 hour time difference between Singapore and South Korea.
I bagged this flight during a promotion, and including seat selection and check in baggage, paid S$470+ for my round trip tickets which I thought was a pretty damn good deal.
---
Day 1: Aewol 애월
Gwakji Beach 곽지해수욕장
My exploration starts from Gwakji Beach because that's where my Airbnb was located (more on that below). Gwakji Beach is a lovely white sand stretch that is busy with swimmers and fishermen in the day, and attracts newbie surfers and wedding photographers in the evening when the sun sets and the sky is aglow. The sand is lovely and fine and the water oh so blue.
I imagine summers here must be amazing, but even when I visited at the end of September to early October, it seems like I caught the very last vestige of summer with temperatures at a perfectly balmy 24ºC on most days, though some days dropped to about 20ºC when cloudy, so while I didn't go into the water, I did enjoy many lovely walks along this stretch.
One thing I didn't get to check out was the freshwater springs bathhouse on the west end of the beach called Yongcheonsu Nocheontang 용천수 노천탕 which are open air and the perfect place for a dip to rinse off the salt water after you're done enjoying the beach.
How to get there: 곽지해수욕장 gwagji haesuyogjang [Naver Maps]. Closest bus stop is Gwakji Beach – blue bus 202 takes about 40 minutes from Jeju City.
Handam Coastal Trail 한담해안산책로
The coastal stretch between Gwakji Beach and Handam Village in Aewol is known as the Handam Coastal Trail, or officially the Jang Han Chul Promenade 장한철산책로 for a famous Jeju-born writer who wrote about Korea's maritime history. This trail is a lovely easy walk along a well paved path with lovely scenery – definitely stop by at sunset if you can! It takes about 20-30 minutes to walk depending how fast you are.
It's part of the Jeju Olle Trail 15A which takes you from Hallim to Gonae.
Along the way, you can spot or even partake in a little glass boat kayaking – the kayaks are built for two and the price is around 10,000 KRW for 30 minutes with life jackets provided. I enjoyed watching them bob around the little cove though.
How to get there: 한담해안산책로 handam haean sanchaeglo [Naver Maps]. The trail is between Gwakji Beach and Handam Beach (where Aewol Cafe Street is located).
Aewol Cafe Street 애월카페거리
Aewol Cafe Street is a little area in Handam Village which is just full of cafes and is a real hipster paradise. Koreans absolutely love their cafe culture and they do it so well – you have a myriad of fancy brand name establishments to quirky nooks to choose from in this district. It's perfect for some downtime in between sightseeing or if you just want to while away an afternoon somewhere nice with a great view.
Some cafes are quite famous: the sleek glass panels of Monsant cafe aka the one owned by Bigbang's G-Dragon is perhaps the most well-known name, while the coffee house Bomnal 봄날 in a little house right by the water was also very popular.
How to get there: 애월카페거리 aewol kape geoli [Naver Maps]. Closest bus stop is Handam-dong 한담동 served by blue bus 202. There is some parking here, though there aren't many lots and the roads here are terribly narrow..
Here are some places in Aewol Cafe Street that I personally checked out:
Nolman 놀맨
Aewol Cafe Street was one of the first places I visited upon landing in Jeju, and I was HUNGRY from that red eye flight. I was hoping for something more substantial than cafe food and hunting around for a nice place to eat when I found this little restaurant in a typical Jeju-style stone hut called Nolman that looked like it served actual food. Turns out they serve just one dish – Seafood Ramyeon (해물라면 Haemul Ramyeon) for 10,000 KRW (S$10).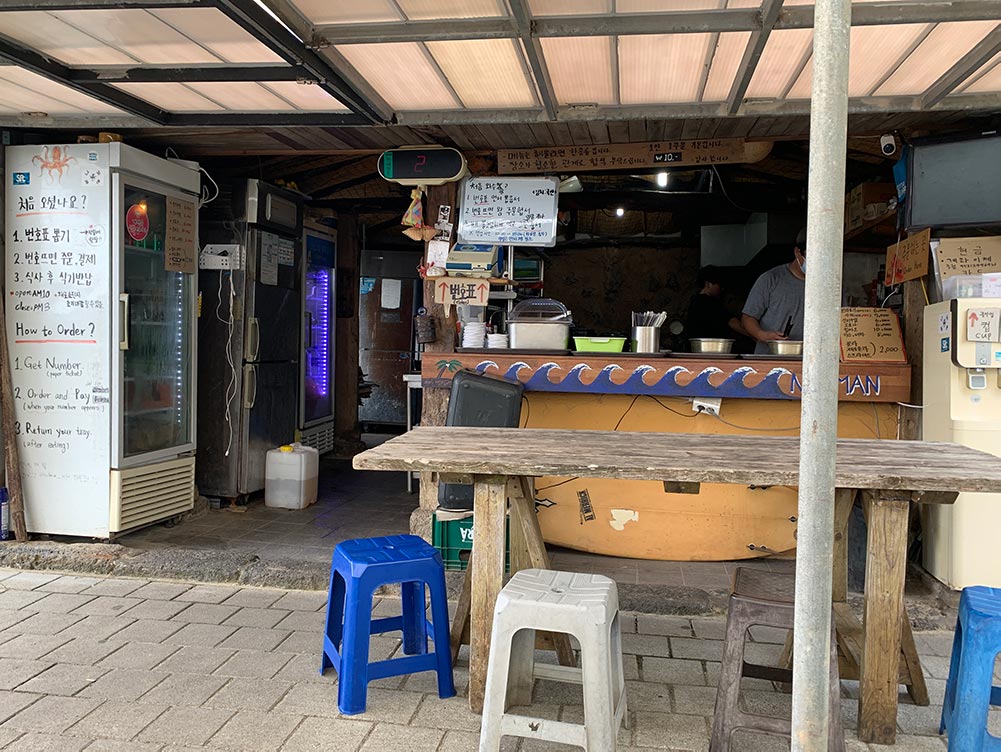 You can't even choose what goes into your seafood ramyeon because it apparently depends on what they have on hand for the day. I place my order and wait eagerly for my ramyeon to be ready and lo and behold, a dish of beauty which was absolutely what I was craving for. Spicy Korean-style ramyeon topped off with a ton of super fresh Jeju seafood: at least 10 mussels, a giant prawn and a whole-ass crab. This meal was the best way to kick off my Jeju food adventure. Highly recommended!
Visiting info: Open for lunch 10am – 3pm, closed on Tuesdays and possibly when the weather is bad. Check out Nolman on Instagram.
How to get there: Nolman is located in Aewol Cafe Street near the water [Address: 애월로1길 24] [Naver Maps]. They are near the entrance of the Bomnal cafe.
Cafe Team Blow 카페팀블로우
After my lunch, I was searching for a nice place to chill and ended up at this cafe high up called Cafe Team Blow, with a nice panoramic view of the Aewol Cafe Street and coast. The deck chairs in its garden area caught my eye, and I enjoyed the scenery while sipping on their signature Blow Ade – I honestly can't tell you for sure what this drink is, but it's kinda lemony and sure is pretty! They serve coffee and some snacks as well but I was mostly looking for a cold drink to wash down that spicy ramyeon.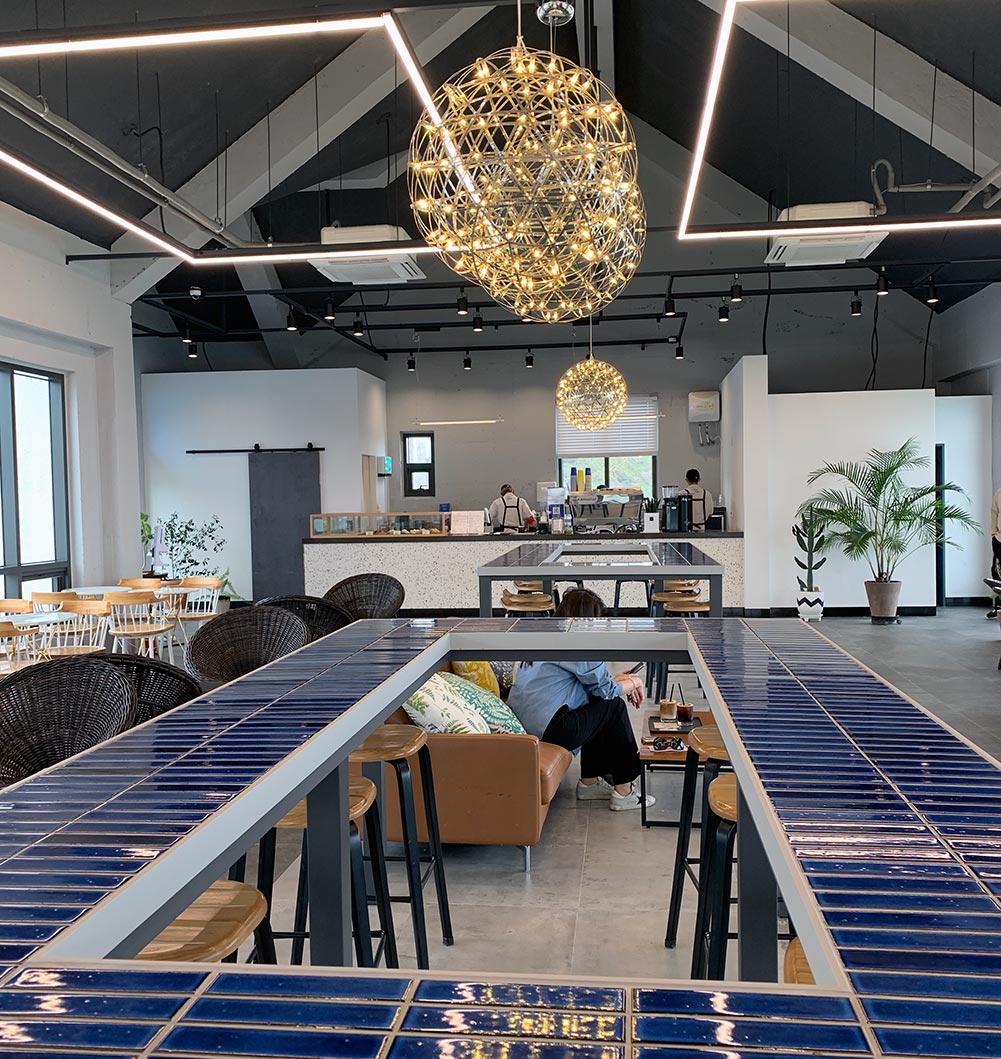 Visiting info: Open daily 8am – 8pm. Check out Cafe Team Blow on Instagram.
How to get there: 카페팀블로우 Cafe Team Blow [Address: 애월로 19-5, 1층] [Naver Maps]. It's technically a bit south of the main Aewol Cafe Street area, and you have to climb a small slope to reach it.
Sukseongdo (Aewol Branch) 숙성도 애월점
The problem with being a solo traveller is that some foods are quite hard to eat on your own, like Korean BBQ, because the portions are just not made for 1 person. I had the great fortune of meeting up with a Korean friend while in Jeju and she recommended that we check out Sukseongdo – it specialises in the famous Jeju black pork so I could get my fill of local specialities and Korean BBQ all in one. Their pork is apparently aged which makes it taste better – I'm not much of a connoisseur so I'll just take their word for it – here's a review on Middleclass with more info.
There are several Sukseongdo outlets in Jeju, but the closest one to me was at the Aewol Cafe Street area. This restaurant gets pretty crowded so you do need to take a queue number – I will admit my Korean friend made all the arrangements through her phone so I don't quite know how to do it, but you can get a number at the counter too. If you have the chance to eat there, the pork really is something delicious!
The staff will come around and cook the meat for you so you barely have to lift a finger except to put more food in your mouth. There was mushroom, veg and even a kimchi jiggae in the set and tons of dipping sauces, though I was happy enough with just salt and pepper.
Visiting info: Open daily for lunch and dinner 12pm – 930pm (break from 330-430pm)
How to get there: 숙성도 애월점 sukseongdo aewol-jeom [Address: 애월읍 애월로1길 24-16 1층] [Naver Maps]. You have to walk along a road behind the coastal properties at Aewol Cafe Street to get there. Near Saddler House which is another famous Korean cafe.
Arte Museum Jeju 아르떼뮤지엄 제주
Jeju's outdoors are what draws most visitors but it also has some pretty interesting museums around with the sex museums being the most notorious. I decided to do some artsy things and headed to one of their newer museums that opened in 2020 called the Arte Museum, which calls itself the largest immersive art museum in Korea – basically instead of traditional paintings and sculptures, you get light and sound moving image projections very akin to anything TeamLab.
This type of artwork is familiar to me, but I was still blown away by the 10 different rooms of projections with various nature and art themes. My favourite rooms would probably be Beach (a surreal night scene of waves crashing on the shore with the Aurora Borealis above) and Wave (a crashing wave that magically turns into a whale). It doesn't sound impressive when I write it out, but it's much better to see in person.
Expect it to be crowded and having to queue or do some creative angling to avoid the crowd in your shots. I was there quite early when it opened at 10am so I think it wasn't as crowded as it might have been later on. It's also quite dark overall, and the mirrors can make it quite confusing to figure out where you are or whether there is actually a wall or not.
Visiting info: Open Mon-Sun 10am – 8pm. Standard adult ticket costs 17,000 KRW (S$17) – I bought my ticket at the door (there are manned counters and machines) but you can buy tickets online too from Trazy [affiliate link], though make sure you purchase more than 1 hour in advance. More at the Arte Museum website.
How to get there: 아르떼뮤지엄 제주 Arte Museum Jeju [Naver Maps]. I recommend taking a taxi here because the nearest bus stop 어음2리 is a 20 minute walk away and the museum is located up a slope.
Saebyeol Oreum 새별오름
The majestic Hallasan is the reason why a lot of people visit Jeju, but I'm not much of a climber so I opted to just admire it from afar and skip the hike up. Instead, I decided to climb one of the island's many Oreums, a local name for the volcanic cones found all across the island because of Jeju's seismic activity.
I picked Saebyeol Oreum in Bonseong-ri to climb because it's supposed to be extra beautiful in autumn when the silvery Eulalia covers the mountain and blows in the breeze. Also it was quite easy to get to.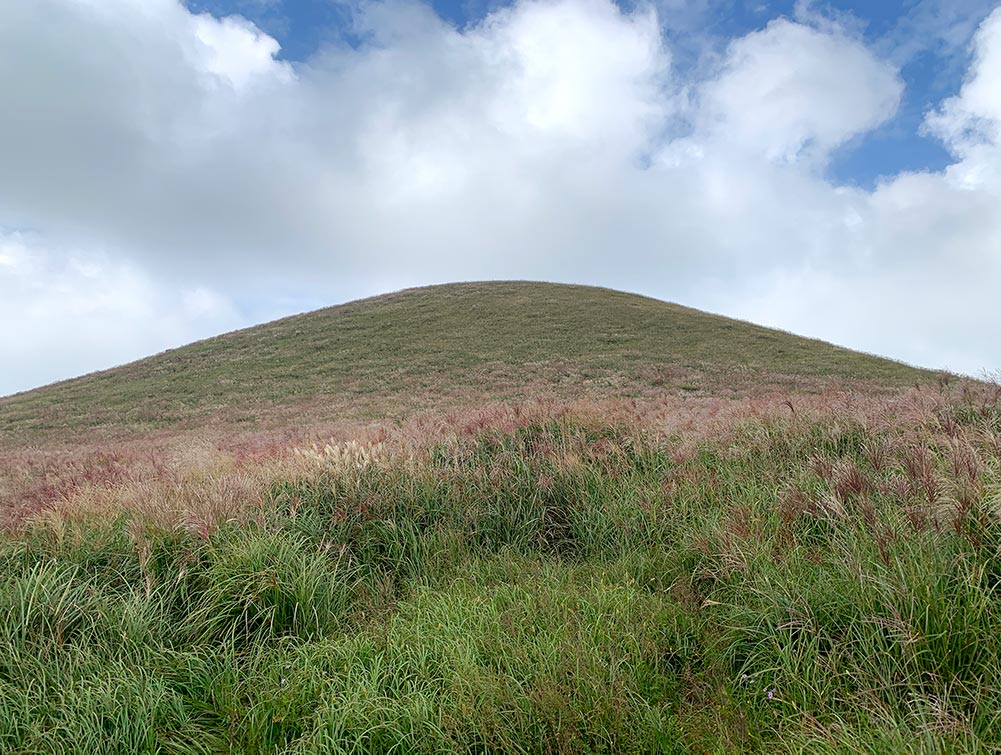 Something I've realised about Korean mountain trails is that they tend to just build them right up the side of the hill – things can get pretty steep climbing Saebyeol Oreum, but thankfully it's a short climb – it took me about 20 minutes to get to the top.
Saebyeol Oreum actually has a couple of different ridges that are connected by a path on top. The panoramic view of the surroundings is pretty spectacular, and you can see how mountainous Jeju really is from up there!
At the base of the oreum is a huge carpark where there are a couple of food trucks with a few tables and chairs – I sat down for a corn dog and some hallabong juice here.
If you don't mind a little walk towards the main road, there is a cafe there called Saebil 새빌 which not only has a larger selection of food and drinks, it also has a big patch of pink muhly grass, another Autumn flower favourite, that you can take photos with. I was pretty spent from the climb up so I skipped this.
How to get there: 새별오름 Saebyeol Oreum [Naver Maps]. Closest bus stop is Saebyeol Oreum where a bunch of blue buses stop at, but if you're coming from Arte Museum or the Aewol area, it's much faster to just take a taxi and not that expensive either.
Day 2: Hallim 한림
Biyangdo 비양도
Biyangdo is the youngest of Jeju's volcanic islands, formed in 1002 after a volcanic eruption.
I love a cute little offshore island, so when I found out about Biyangdo off the west coast of Jeju while having lunch one day, I decided to return the next morning and visit it for myself. it turns out this island isn't just small – it's absolutely tiny. You can walk around the entire circumference of the island at a very easy pace in a single hour. You honestly wouldn't even need to take a day trip as just 2-3 hours is sufficient to see everything, though there are a handful of guest houses if you want to experience the quiet island life here.
Check out my Biyangdo post for more indepth information about this island.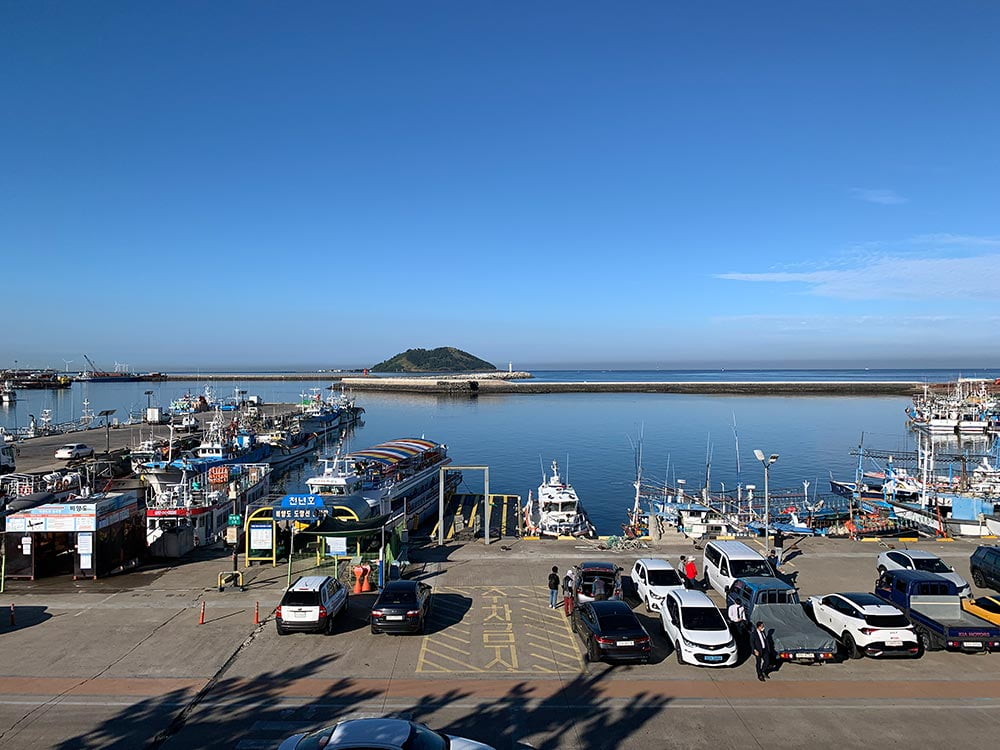 The ferry ride takes just 15 minutes from Hallim Port and once you are on the island you can opt to do one of three things: ascend to the peak, grab a meal or talk a walk around the island. Most people seemed to be heading to the peak first, so I turned right and decided to walk around first.
The path around the island is flat but scenic, but there's not a lot of shelter so make sure you have a hat or some shade. There are some 'rocks of significance' which I wasn't too fussed about – I was mostly enjoying the coastal scenery.
After circling the island in an hour, I made the climb up to the peak where the lighthouse is located. It was a little bit steep at points, but the trail is well maintained so it wasn't too bad. Stunning views of Jeju's west coast and Hallasan in the distance, and there were some trees and bamboo plants along the way for some shade.
Going up and down the hill took me about an hour and I was famished, so I stopped in this small restaurant called Bomal Iyagi 보말이야기 and ordered some Jeonbokjuk 전복죽 aka abalone porridge to recharge. Homestyle cooking comfort food, this was a nice way to recharge after all that walking. I even had time to pop into a cute cafe called 쉼그대머물다 swimgeudaemeomulda (which translates into something like 'stay still') for a cold drink before catching the ferry back.
Visiting info: Biyangdo is a 15 minute boat ride from Hallim Ferry Terminal. There are 2 companies that offer ferries to Biyangdo at the same office, so pick the timing that works best for you. One company does Hallim-Biyangdo at 9am/12pm/2pm/4pm (return time is 15 minutes after), the other company does 920am/1120am/120pm/320pm. I booked a 9am going and 1215pm returning time so I had a little over 3 hours to explore which was sufficient time in my opinion.

Buy your ferry tickets on the day itself. You need to bring along your passport and fill up a passenger card indicating your ferry times there and back. A roundtrip ticket costs 9,000 KRW. Read more in my Biyangdo post.
How to get there: The ferry to Biyangdo leaves from Hallim Ferry Terminal 한림항도선대합실 hanlim hangdoseondaehabsil [Naver Maps]. The closest bus stop is a short walk away – Hansuri 한수리 served by blue bus 202 [Naver Maps]
Hallim Sea Pollack Village Restaurant 한림바다생태체험마을
If you're looking for a more substantial meal after your return from Biyangdo, there's actually a nice seafood restaurant not far from the Hallim Port ticket office worth checking out. I visited it with my Korean friend and we had their special seafood set (there's a big banner saying that President Moon ordered and loved this set) which is pretty enormous and I think could feed 3-4 pax quite easily – it was a little too much for 2 people but the seafood was so fresh and so good.
The first course is basically all the starters – seafood includes super fresh mackerel sashimi, sushi, abalone and conch (a must eat in Jeju), deep fried prawns and a soup.
Part 2 was an entire gravy slathered fish. Very yummy but man I was completely stuffed just from the starters alone.
Visiting info: a small set costs 70,000 KRW. They do have some other smaller meals for one pax like a fish stew, rice with sashimi etc. See their menu here (use papago to translate!). Closed on Wednesdays, Open for lunch and dinner 11am – 9pm (break 4-5pm, last order at 8pm)
How to get there: 한림바다생태체험마을 hanlim badasaengtaecheheomma-eul [Naver Maps]. They're close to Hallim Port, closest bus stop is Hansuri.
Osulloc Tea Museum 오설록 티 뮤지엄
One place everybody seems to visit when they go to Jeju is the Osulloc tea Museum and Innisfree Jeju House (located in the same compound). In my opinion, neither place is that special and they really are glorified experiential shops to buy souvenirs from. It can get pretty touristy and crowded, but it's ok for a quick stop if you want to pick up Osulloc tea and make some soap. I didn't spend very long here!
Innisfree Jeju House 이니스프리 제주하우스
Innisfree is a Jeju brand – I personally love the volcanic mud masks a lot, but quite frankly you can pick up Innisfree products all over Korea and even here in Singapore with not much price difference. What's special to this location is the handmade soap area (20,000 KRW to buy a DIY kit and mould/customise your own soap here) and the cafe which also has some more substantial meals other than the usual cafe fare.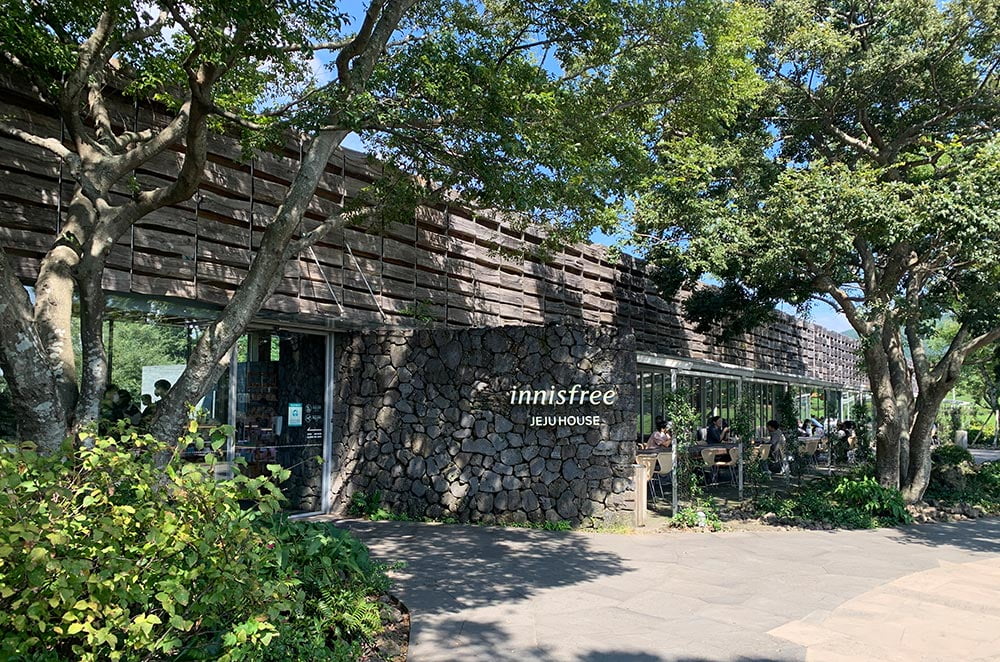 Visiting info: Both Osulloc and Innisfree are open 9am-6pm. More at the Jeju Osulloc Tea House website and Innisfree Jeju House Instagram.
How to get there: 제주 서귀포시 안덕면 신화역사로 15 오설록 [Naver Maps] Technically this is in Andeokmyeon which is a part of Seogwipo in the south, but because it's fairly inland, it was just 20 minutes by bus/car from Saebyeol Oreum (Take blue bus 255). There are several different bus stops around here: 오설록 Osulloc (red 151 bus) and 제주오설록 티뮤지엄 Jeju Osulloc Tea House (some green and yellow buses) and another 제주오설록 티뮤지엄 Jeju Osulloc Tea House (blue bus 255) 5 mins walk away.
Jeju Contemporary Art Museum 제주현대미술관
It was a lovely blazing hot day so I wanted to hide out from the heat for a bit, so I hopped on a bus from Osulloc to the Jeju Museum of Contemporary Art (JMOCA) near Jeoji Artist Village – I took the yellow tourist shuttle bus 820-2 as this is part of the west side route (See the bus routes here).
The museum was a lot larger than I thought it would be. It's a short walk to the main building where an exhibition on Jeju born artist Kim Bohie was on show. I'd never seen her works before, but I enjoyed her renditions of Jeju's nature, in particular the colours of her horizon paintings of sea and sky really do bring to mind Jeju for me. I'm not much of an art connoisseur but her stuff was nice.
This wing of the museum covers two floors which was just nice for a wander, and the outdoor area had lots of greenery and some strange outdoor sculptures as well. When it comes to art, I don't believe you need to see everything and just look at what interests you, so I didn't hang about for too long.
JMOCA is actually a part of Jeoji Art Village, so if you wander around, there are other museums and galleries to pop into as well. The Kim Tschang Yeul Museum named for an abstract artist who died in 2021 at 91 years old actually sounds pretty cool, would like to check it out in future.
Visiting info: Entrance fee 2,000 KRW. Open 9am-6pm, closed on Mondays and some public holidays. More at the Jeju Contemporary Art Museum website
How to get there: 제주현대미술관 jeju hyeondae misulgwan [Naver Maps]. Closest bus stop is 제주현대미술관, 김창열미술관 JMOCA, Kim Tschang Yeul Museum of Art (Green local bus 784, 786, Yellow tourist bus 820). JMOCA building is a short walk inside a large park-like area.
Hallim Park 한림공원
Jeju's Hallim Park is located right by the two famous beaches in this region – Geumneung and Hyeopjae (more on these spots below), and its various botanical gardens are very popular with tourists. The park has several sections featuring landscaped gardens, greenhouses and plants from all over the world – you'll encounter lots of people taking photos everywhere in this park because it really is quite pretty and some bits don't feel like Jeju. There are marked routes around the park that you can follow.
Hallim Park is most famous for its two caves Hyeopjaegul 협재동굴 and Ssangyonggul 쌍용동굴 right at the far end of the park. These lava tubes are designated national monuments and are chilly throughout the year, even in summer! They're quite unusual because even though the caves are mostly dry, you somehow feel like you're underwater from the moisture dripping from stalactites and the shells and sandy bits around you. The caves are well paved and easy to walk though it can get a bit dark in spots, but it's a nice contrast to all the flowers and greenery outside.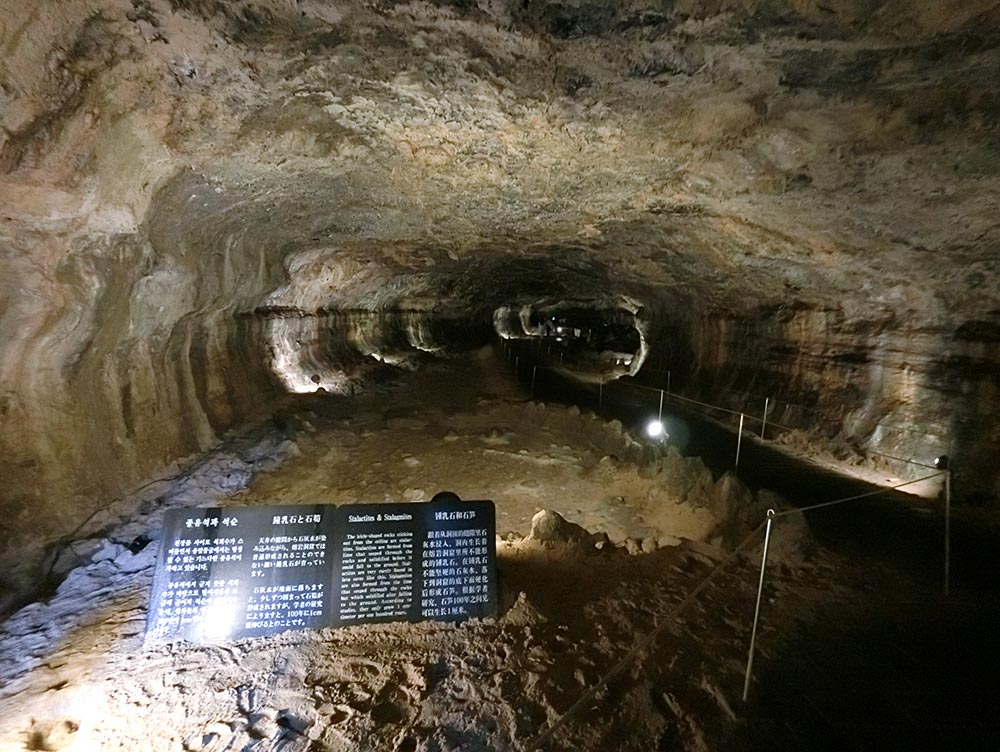 Visiting info: Tickets cost 12,000 KRW for adults, and the park opens from 9am-430pm/550pm depending on the month, more at the Hallim Park website. You can buy your tickets online at Trazy [affiliate link] but note that you have to buy them 2 hours in advance. It is recommended to have at least 1.5 hours to view the park.
How to get there: 한림공원 hallim gongwon [Naver Maps]. Nearest bus stop is Hallim Park served by blue bus 202 and green bus 784.
Geumneung Beach 금능해수욕장
Two of the most beautiful beaches in northwest Jeju can be found right across the road from Hallim Park. Geumneung Beach is the quieter of the two and what I think is the epitome of a perfect Jeju beach with powdery white sand and crystal blue waters along with the black lava rock found all over Jeju. In the distance is lovely Biyangdo. This beach is prettiest at sunset.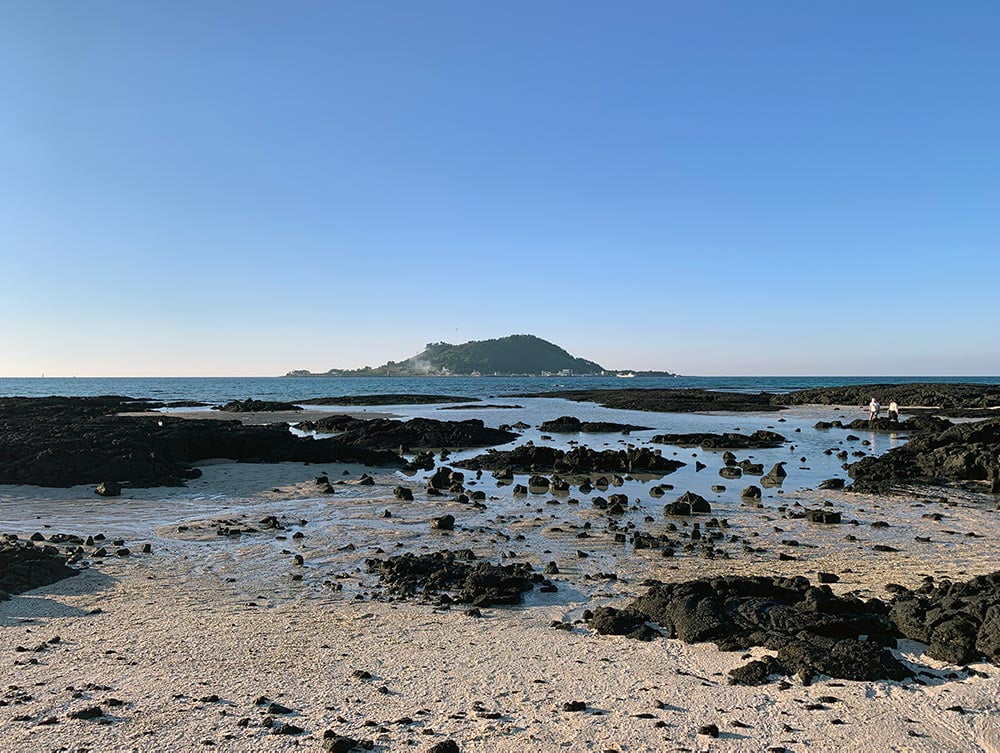 I spent a little time at Geumneung Beach just enjoying the sea breeze and view and slowly meandered eastwards towards the next beach.
How to get there: 금능해수욕장 geumneung haesuyogjang [Naver Maps]. Closest stop is Geumneung Beach served by blue bus 202 and green bus 784 and it's right opposite Hallim park entrance.
Hyeopjae Beach 협재해수욕장
Further east is Hyeopjae Beach, and by virtue of the beachside restaurants and bars in this place, it was definitely a lot more crowded here. I visited at sunset so a lot of the parasol/float rental services were closing up, but it was still crowded overall. I spotted a few paragliders here too. If you're looking for a beach with more facilities, this seems to be where you should go.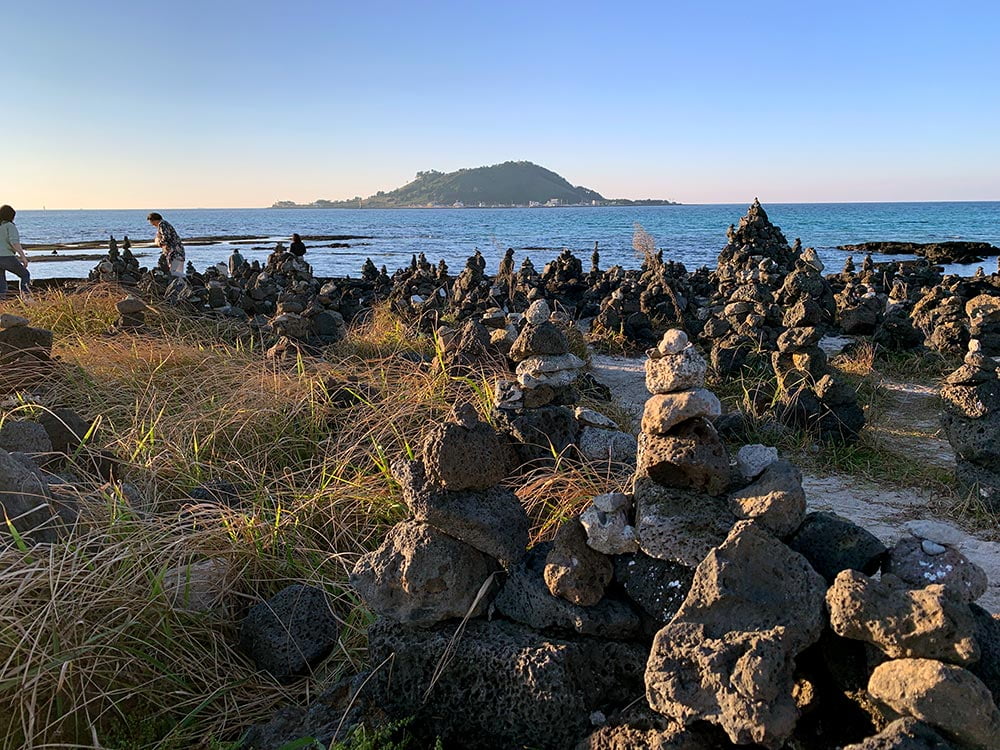 The plan was to hang around Hyeopjae Beach and watch the sunset, but I was way too hungry so I decided to have dinner first, but even after dinner I managed to catch the last glimpses of the glowing sky before it got dark.
How to get there: 협재해수욕장 hyeobjae haesuyogjang [Naver Maps]. You could stop at either Hallim Park or Hyeopjae Beach bus stops which are served by blue bus 202 and green bus 784.
Hyeopjae Ondajung 협재온다정
I hadn't had time for a proper lunch that day so I was starving by the time evening rolled around. I did a quick map search while wandering around Geumneung and Hyeopjae Beach and decided on Ondajung, a restaurant not far from Hyeopjae Beach that specialised in Black Pork Gomtang (rice soup) 흑돼지맑은곰탕 – that was such a comforting dish to eat. A really clean clear broth and rice with a whole pile of boiled black pork. So good.
I like a restaurant with a small menu because it usually means they specialise in making that dish as good as they can. Besides black pork gomtang in a regular 10,000 KRW portion and a larger 14,000 KRW portion, you can also find 저염명란 jeoyeommyeonglan cod roe and 고기만두 gogimandu meat dumplings here.
Visiting info: Open daily 830am – 830pm (break from 3-5pm). More at Ondajung on Instagram.
How to get there: 협재온다정 hyeobjae ondajeong [Naver Maps] 한림로 381-4. It was about 5-10 mins walk from Hyeopjae Beach.
Jeju honestly has a whole bunch of things to do that can't be covered in a single trip or guide. This list of things to do in Northwest Jeju were what I experienced and I thought were interesting and that you can cover reasonably in 2 (rather packed) days. I'm happy to hear on what I missed out – drop your recommendations in the comments and maybe I'll have the chance to visit them in future!
---
Where to stay: Airbnb at Gwakji Beach (Balobaswi Pension)
I contemplated staying in Jeju City because there are more bus options for exploring the island, but ultimately wanted something more beachy so I decided to look at Aewol instead. Also, I usually use booking.com, but airbnb had a lot more options for Jeju, so I ended up at the lovely Balobaswi Pension which I think ended up being my favourite accommodation of this trip.
Location: The pension is a 3-storey building just off Gwakji Beach which is just across the road. Since my room was up on the 3rd floor, I could actually see the sea from my balcony. There is a CU convenience store nearby if you need any last minute snacks and amenities, but it's not really that close to anything else unless you walk along the Gwakji Beach stretch. The bus stop Gwakjimomul is also right by the pension/across the road.
Room: I stayed in a room up on the 3rd floor – no lifts so be prepared to haul your bags up the steps, but I had intentionally picked a higher floor so that I could enjoy the view. I had a balcony as well with a clothes rack which was useful for drying clothes, but since there weren't any comfy chairs I mostly enjoyed the view while lying on my bed.
The room was quite spacious overall and had kitchenette facilities so you could prep your own food if you wanted to. That bed was soft and comfortable and even came with a heated pad! The toilet seemed on the small side at first, but actually fairly spacious compared to all the other toilets I encountered on my trip AND it comes with the full works of shampoo / conditioner / soap and even toothpaste.
Booking info: Here is the Airbnb listing for the room I stayed in (#302). The pension has 5 rooms available in total, so the room that you book is the one you will stay in. It cost me S$236.58 for 3 nights (almost S$80 per night).

The Airbnb host was great, a friendly lady though we didn't talk much, but I could leave my luggage before check in and after check out, and most communication was done through the Airbnb chat where she gave detailed instructions on the door code, wifi, and even how to get here by bus when I asked. Very fuss free, I highly recommend staying here.
How to get there: Balovash or Balobaswi Pension 발로바쉬펜션 [Naver Maps] [Google Maps]. Closest bus stop is Gwakjimomul 곽지모우물 (Buses 202 and 795 stop here) right in front of the building.

Getting there from the airport was a bit of a pain because there isn't a direct bus – I had to take the red bus 102 to Aewol and then hop onto blue bus 202 from there. Next time I'll just take a taxi!
Some other properties you can consider:
---
Looking for more posts about travelling South Korea solo? Check out all my Korea posts for more and stay tuned for more from Jeju.