On my recent trip to Jeju, I spent some time in northwest Jeju's Aewol and Hallim region, and while having lunch with my Korean friend at a restaurant located at Hallim Port, I noticed a picturesque island in the distance. This little island was Biyangdo 비양도, the same island I'd spotted at Hyeopjae and Geumneung Beach the night before, and it turns out the ferry terminal to Biyangdo was a stone's throw from where I was eating.
So naturally I got curious and decided to go visit this tiny island and had a lovely morning exploring this island that's so small, you can walk around it in just 1 hour. Here's my guide on how to visit Jeju's Biyangdo with tips on how to get there on your own and things to do on the island.
A little about Biyangdo
Biyangdo is the youngest of Jeju's volcanic islands, having exploded and appeared way back in 1002, which makes it about 1,000+ years old. The island basically consists of one large hill in the middle and black volcanic rock coast around it. To be quite honest in terms of sights to see, there is nothing particularly unusual about Biyangdo that makes it a must-see, but you do get some lovely views of Jeju island from it and it does make for a nice few hours of walking and enjoying Jeju's nature.
If you want to check out more islands in Korea, head to Oedo Island if you're in the south near Busan, or maybe Odongdo if you are in Jeollanam's Yeosu?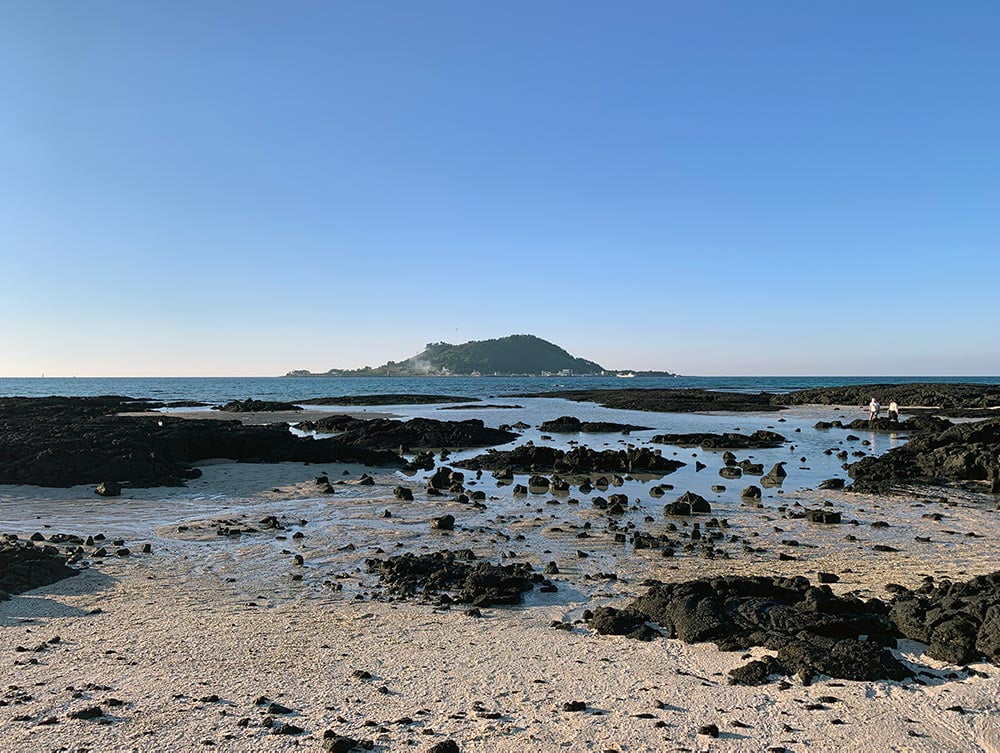 Where is Biyangdo located?
Biyangdo is located off the northwest end of Jeju close to Hallim. It's a distinct scenic feature along the Aewol and Hallim coastline, particularly if you are at Hyeopjae Beach or Geumneung Beach.
A note that there technically is more than one Biyangdo in Jeju – if you visit the offshore island of Udo on the east coast of Jeju, it is connected to another even smaller island that's also called Biyangdo. More on that in my upcoming post on Udo.
See Biyangdo location on Naver Maps
How to get to Biyangdo
Biyangdo is a 15 minute ferry ride away from Hallim Harbour on the northwest side of Jeju, about an hour away from Jeju City and a short distance north of Hyeopjae Beach.
Buy ferry tickets at Hallim Harbour
If you're taking the bus in Jeju, take blue bus 202 and stop at Hansuri 한수리 [Naver Maps] – it's a pretty small quiet village that makes you feel like you're in the middle of nowhere. From there it's a 5 minute walk towards the water where you can find Hallim Harbour 한림항도선대합실 hanlim hangdoseondaehabsil [Naver Maps]. Alternatively, you can drive and park at Hallim Harbour.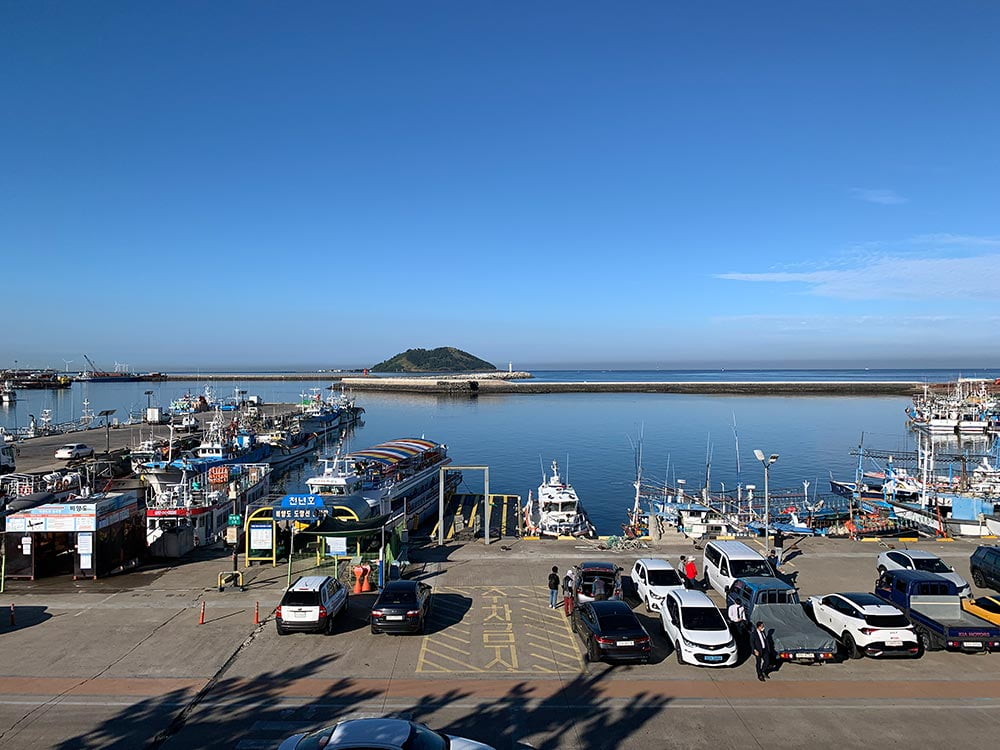 There are two ferry companies selling tickets to Biyangdo. The prices are the same (9000 KRW for a round-trip ticket) and the counters are right next to each other. I suggest you just pick whichever timing works best for you. Regardless of the company you pick, you still need to fill up the same forms in the ticket office, just a matter of where you pay at.
You buy your ferry tickets on the day itself. Bring along your passport to show at the window and fill up a passenger card indicating your personal details and the ferry times that you want to book for your trip.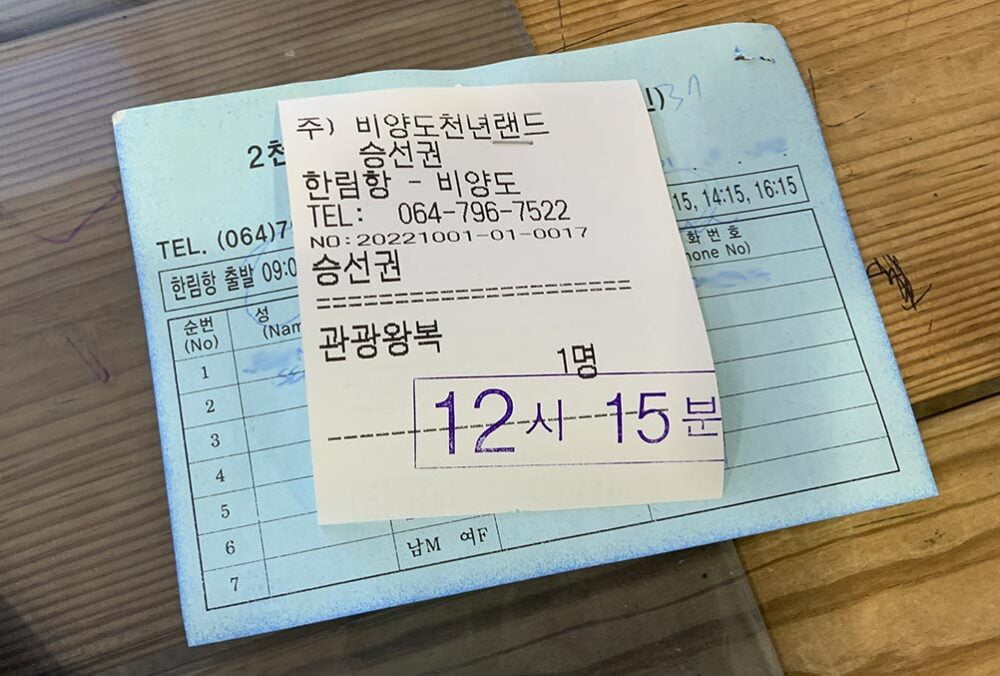 Ferry from Hallim Port to Biyangdo
There are a couple of seats outside the ticket office to wait around, or you can go chill at the eateries or cafes in the vicinity, just be back 20-30 minutes before. They let us board the ship early, so I headed to the upper deck to snag a good seat. Sit on the right side of the boat if you want a nice view of Biyangdo as you approach the island. The boat ride takes just 15 minutes anyway…
Things to do on Biyangdo
Very quickly I found myself disembarking at Biyangdo port at the southern end of the island. You basically have 3 options on things to do on Biyangdo. I've marked some of them out on the map but here's a run down and my recommendations.
See Biyangdo port location on Naver Maps.
Walk around the island by the Coastal Trail
Most people made a beeline towards the peak trail (most probably to avoid the heat later in the morning), so I decided to take a walk around the island first. There is a well-paved road that circles the island which is mostly flat and offers lovely coastal views. If you are lucky, you might spot some haenyeo (Jeju's famous women divers) at work off the coast, or fishermen reeling in their lines.
This coastal trail should take you about an hour to walk at a comfortable pace. There are shops where you can rent bicycles from shops around the port if you really want to zip around the island.
There is also a list of 'significant rocks' that can be found around Biyangdo. I personally don't think any of them were that convincing, but in case you are interested, this particular hornito (hollow chimney-like rock structures formed when escaping lava cools quickly) in the northeast that looks like a mother with a baby on her back has been designated a national treaure: Natural Monument No. 439.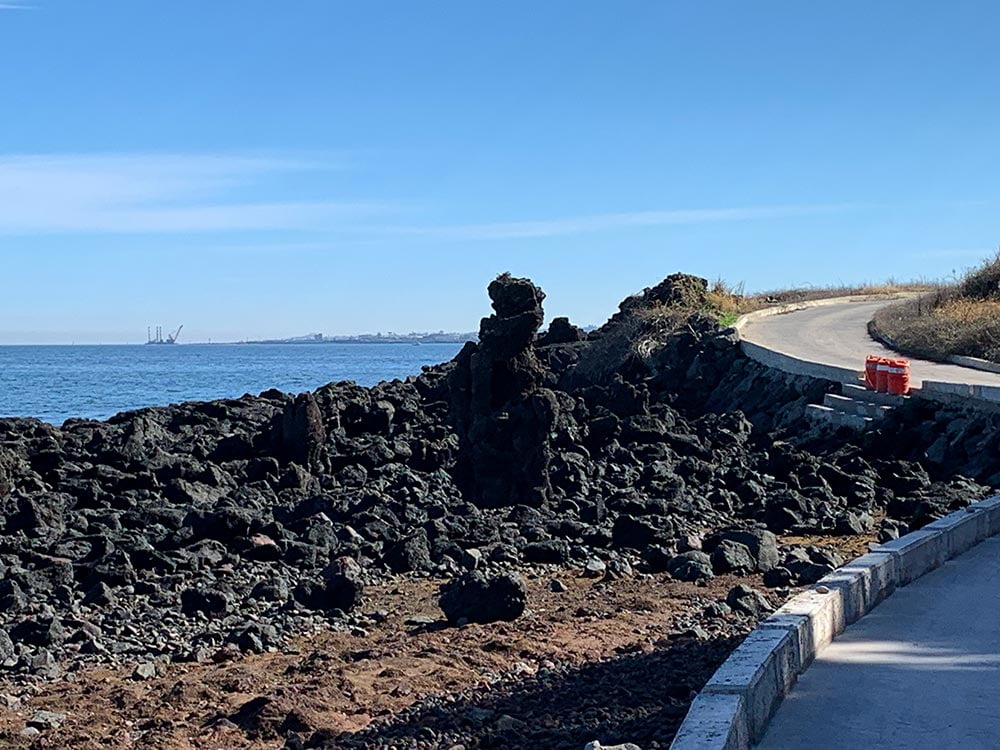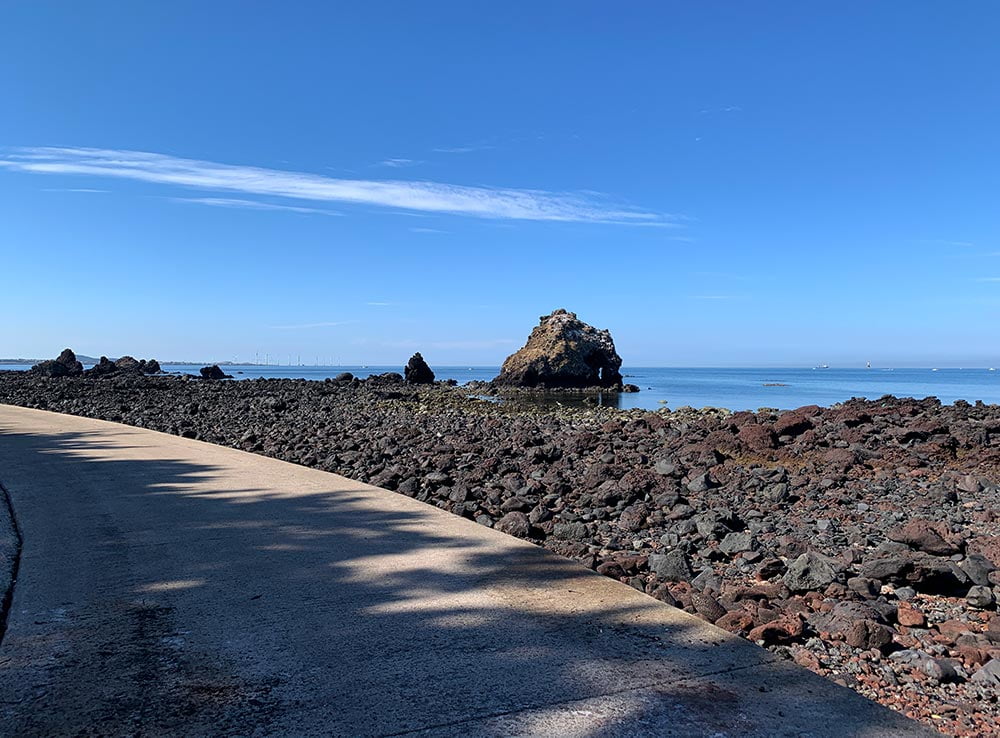 Climb to the top of Biyangbong 비양봉
Biyangbong is 114m tall and you can scale up to its peak to enjoy the view of the volcanic crater and the surrounding coast. There are 2 entrances to the peak trail – 1 from near the port in the south, and another on the southwest side of the island. They both lead to the same stairway that you need to climb to get to the peak. It took me just under half an hour to get to the lighthouse right at the top, and that involved a pretty slow climb and lots of photo taking along the way.
See Biyangbong location on Naver Maps
Biyangdo Lighthouse 비양도 등대
The viewing platform isn't quite the top of Biyangbong. There is still one last stretch to climb to get to the Biyangdo Lighthouse (비양도 등대 biyangdo deungdae). This path is unpaved but reinforced for some tread because that incline is pretty damn steep – I have decided from all the slopes I've climbed in Korea that the locals just don't believe in switchbacks.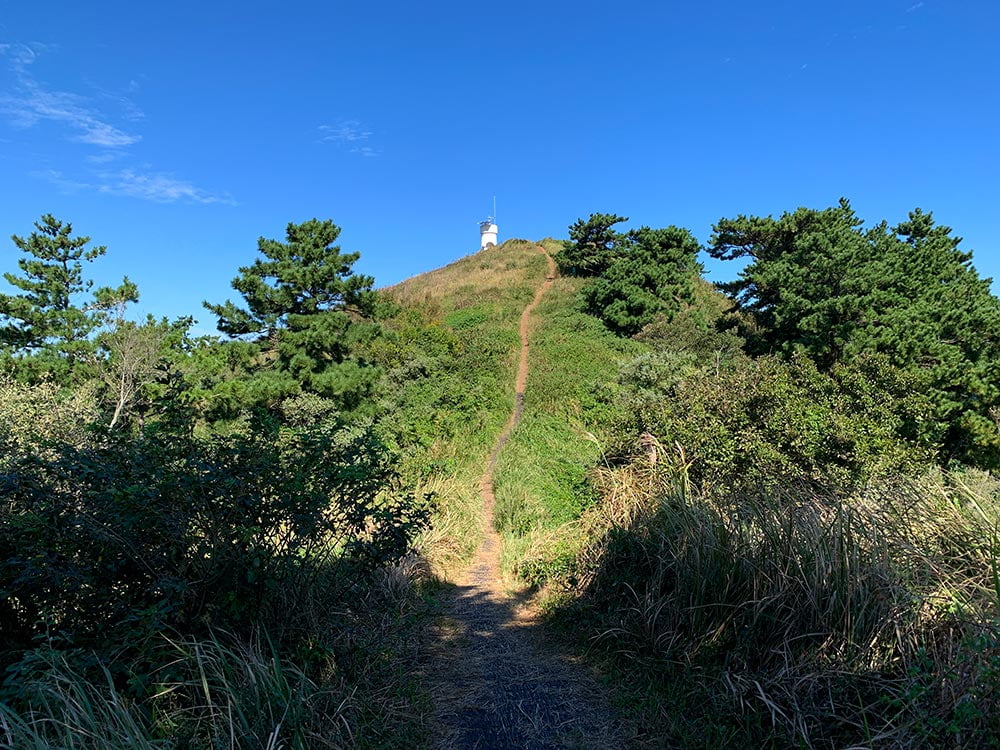 Eat at Biyangdo village
After all that walking and climbing, I was definitely in the mood for something to eat. There is a small village area in the south of the island near the port where there are a handful of eateries and cafes. Apparently Biyangdo was known to have just 2 restaurants in the past, but now they have more options.
Bomal Iyagi 보말이야기
Jeju is famous for fresh seafood, so that's what you get here. Bomal Iyagi specialises in Bomal or conch, one of the must-eat foods in Jeju. You can order it in different forms here – bomal kalguksu 보말칼국수 (with noodles), bomal jeon 보말전 (fried in a pancake), bomal barley bibimbab 보말보리비빔밥 (mixed with barley rice) – I chose to get mine in rice porridge aka bomal juk 보말죽 aka conch porridge. It's pretty similar to Jeonbokjuk (abalone porridge), but it was warm, hearty and felt like a nice home cooked meal.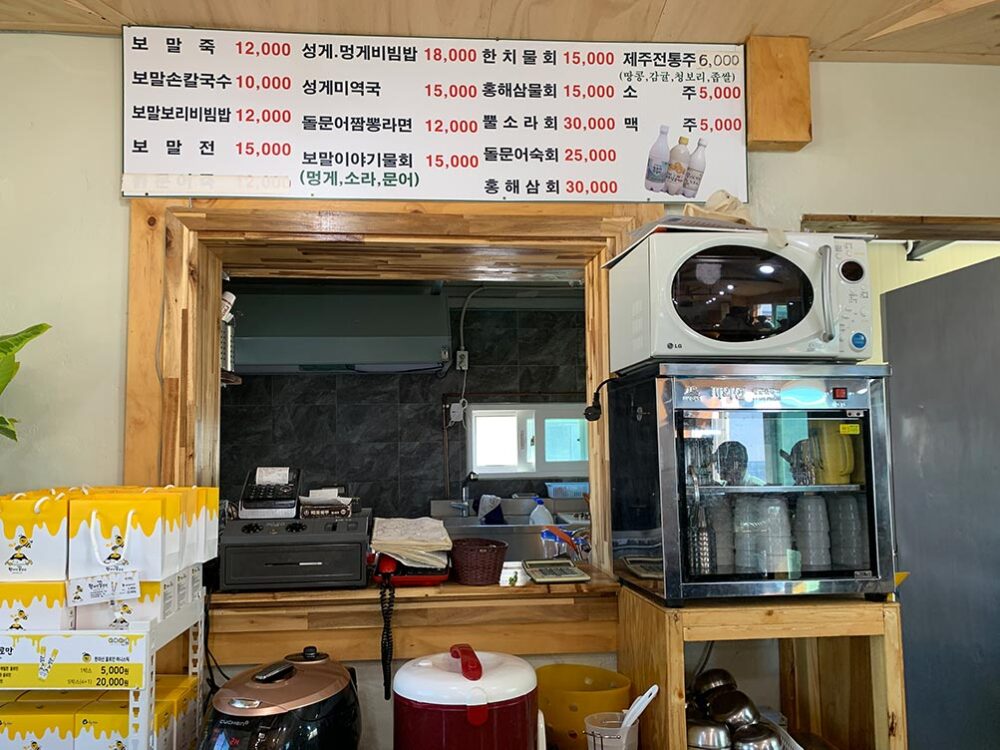 See Bomal Iyagi location and menu on Naver Maps. Open 8am – 6pm.
쉼그대머물다 Cafe (swimgeudaemeomulda)
I still had time to kill after lunch, so I walked back to this newish cafe that I saw along the coastal route to get a drink. The name of the cafe translates to something like 'Stay Still Cafe' and it was great because it was air-conditioned so I could get out of the sun for a bit and enjoy a fancy drink. The signature dessert here is mugwort which isn't my thing so I had a refreshing grapefruit ade instead for 6,000 KRW.
See Stay Still Cafe location and menu on Naver Maps. Open 9am to 4pm on weekdays, to 9pm on Friday and weekends.
Bonus: Eat at Hallim Harbour
If you're planning to visit Biyangdo in the afternoon or are still hungry after you return from Biyangdo, there are some decent spots to eat near Hallim Port as well.
Hallim Sea Pollack Village Restaurant 한림바다생태체험마을
This seafood restaurant near the port is where I was having lunch with my Korean friend when I discovered I could visit Biyangdo. We visited so I could check out the speciality Jeju seafood – the restaurant has a special seafood set made famous by a past president who apparently really liked it. We ordered it (70,000 KRW for a small set) and man it was a lot of food for 2 pax!
The first course is basically all the starters – seafood includes super fresh mackerel sashimi, sushi, abalone and conch (a must eat in Jeju), deep fried prawns and a soup.
Part 2 was an entire gravy slathered fish. Very yummy but man I was completely stuffed just from the starters alone.
Hallim Sea Pollack Village Restaurant 한림바다생태체험마을 hanlim badasaengtaecheheomma-eul – See location and menu on Naver Maps. Closed on Wednesdays, Open for lunch and dinner 11am – 9pm (break 4-5pm, last order at 8pm)
Egg in Sunset cafe
We took a walk north up the coast to find a cafe to chill at after that super filling lunch and found this cute little place called Egg in Sunset Cafe. It's either very new or not listed in Naver Maps as it's part of this homestay called Some Stay 썸스테이, but it's got a nice view of the coast and was very chill.
See more info about Some Stay 썸스테이 on Naver Maps.
I recommend spending a morning here, and then checking out the rest of the Hallim area later in the afternoon. Keep heading west along the coast (hop on the blue 202 bus for the cheapest option!) to get to Hyeopjae Beach and Geumneung Beach, as well as the Hallim Park botanical gardens with its famous lava tube caves. Read more about northwest Jeju.
---
Looking for more posts on Jeju? Check out my latest posts or see all posts on South Korea.