In my 10 days exploring Jeju, I based myself in different areas of the island so I could better explore different areas without too long a commute everyday. I spent 3 nights in Seogwipo 서귀포 in the south, and one of my more intensive itineraries involved taking public transport to see Seogwipo's main sights in the southwest and Seogwipo City in slightly more than a day – many of these sites contributed to Jeju's status as a UNESCO Global Geopark. Here's a little guide I put together covering things to do in Seogwipo and southwest Jeju and how to get around here.
Seogwipo technically covers the whole southern half of Jeju including the famous Seongsan Ilchulbong sunrise peak in the east, but this guide covers sights between Sanbangsan in the southwest to Seogwipo City in the centre of the South Coast. I'll also include Naver map links and transport tips to help you plan your trip.
My Jeju journey
I arrived in Seogwipo in the afternoon and spent my 1st day seeing Cheonjiyeon Waterfall, Jeongbang Waterfall and grabbing food at Seogwipo Maeil Olle Market in the evening. The 2nd day was an intensive journey from Seogwipo City all the way to Sanbangsan in the far southwest corner before taking a long, long bus ride back to Seogwipo City.
Seogwipo City 서귀포시
Seogwipo City is the 2nd biggest city after Jeju City in the north, and it's also where my hostel was located. It's very busy overall and feels a lot more touristy than smaller towns like Aewol and Hallim in northwest Jeju, but like Jeju City, most of the city's amenities can be found here along with a large night market and shopping streets.
Cheonjiyeon Waterfall 천지연폭포
My hostel was located right above the Seogwipo port area, so I was within walking distance of one of the three main waterfalls in Seogwipo called Cheonjiyeon Waterfall. It's located in a park that you need to pay a small fee to enter, and in the late afternoon there were lots of people strolling around these gardens. Follow the path a short way along the river to reach the waterfall.
My first impression was overall it's a pretty touristy spot as there were lots of people there trying to take pictures with/of the waterfall. The foliage and paths are well taken care of though. Also, it had been pretty dry in the previous days so the waterfall wasn't very large – they generally are grander after there's been some rainfall.
Don't be fooled by the lack of people in the shot because it was crowded! You'll have to time it right or angle yourself artfully if you want a shot without people in it.
There's not much else to see here besides a nice nature walk and the waterfall so I didn't spend too long here. It's apparently also open at night and lit up then, so something you can consider squeezing into your itinerary if you're short on daylight.
Cheonjiyeon Waterfall 천지연폭포 cheonjiyeon pokpo [Naver maps]. Entrance fee 2,000 KRW. Open 9am – 10pm (last entry 920pm). There is a bus interchange here.
Saeseom Island 새섬
The Seogwipo port area is quite pretty so after visiting Cheonjiyeon Waterfall, I took a walk to the next nearest landmark – Saeseom Island which is connected via Saeyeon Bridge 새연교와 with its distinctive white sail.
Saeseom Island is supposed to be a nice natural spot and a good place for birdwatching but unfortunately it was closed for some reason that day, so I only got to walk across Saeyeon Bridge before having to turn back again. The bridge shape is supposed to be inspired by Tewu, a traditional longboat in Jeju.
Saeseom Island 새섬 [naver maps]. Open 6am – 10pm.
Jeongbang Waterfall 정방폭포
The waterfall that I was particularly interested in seeing was Jeongbang Waterfall, touted as the only waterfall in Asia that falls directly into the ocean. It's one of the top sights to see in Seogwipo and there are some legends behind it but I was mostly interested in enjoying the scenery.
You have to walk through a park and past the Seobok Exhibition Hall to get to the ticket office. From there, it's a short climb down some stairs to the base of the waterfall where unfortunately, you will see lots of other people there trying to enjoy the same view as you. What's cool about Jeongbang Waterfall is that you can actually get right up close to the base of the waterfall and feel the spray on you.
I happened to visit late in the day not long before closing time, and that turned out to be a blessing in disguise. There were so many people and I had trouble getting a good shot, but at closing time, staff came to chase people and tour groups out and I managed to dally till most people were gone before snapping a couple of quick shots with some sunset lighting and nobody posing in the background.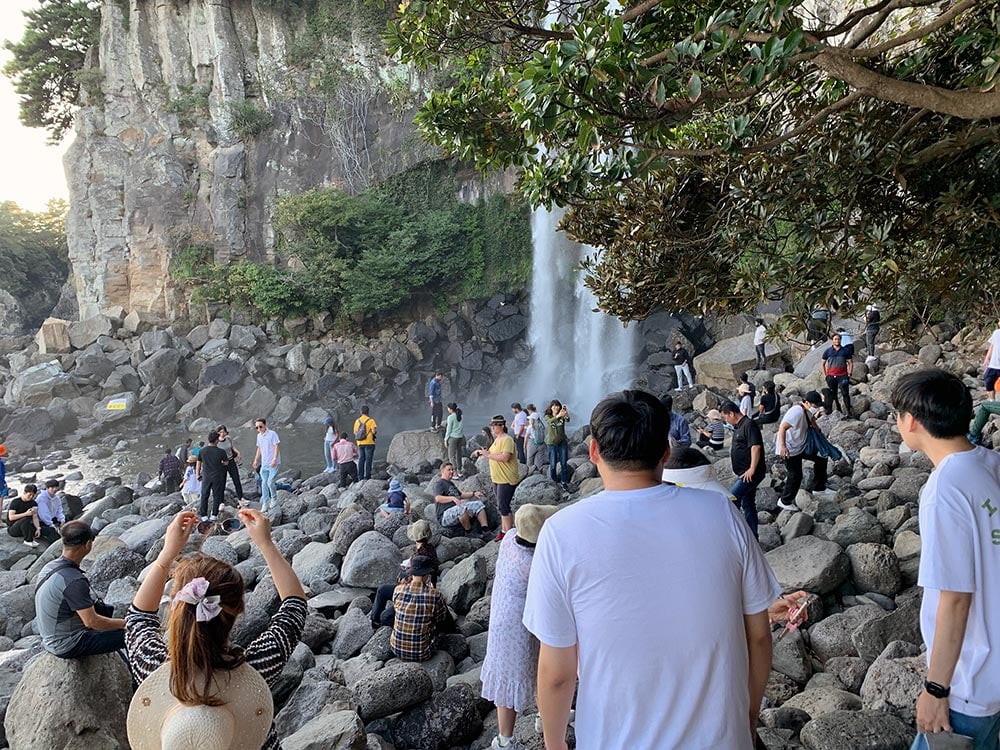 Jeongbang Waterfall 정방폭포 jeongbang pokpo [naver maps]. Entrance fee 2,000 KRW. Open 9am – 6pm (last entry 520pm). I took a taxi from Oedolgae here because I was a bit lazy, and the closest bus stop is Seobok Exhibition Hall 서복전시관 (green bus 651 & 652).
From Cheonjiyeon Waterfall you can take green bus 641 or yellow bus 880 and walk 10-15 minutes to get to Jeongbang Waterfall.
Oedolgae 외돌개
The next morning, I decided to a do a little hiking to get from Seogwipo's port area where Cheonjiyeon is located to Oedolgae along the coast. Luckily it wasn't too hot because there was a stretch where I had to do a bit of stair climbing, but ultimately it was nice just to walk along the coast line.
Oedolgae is basically a 20m tall stone pillar along Seogwipo's coast. There are varying legends about it being a grandma waiting for her fisherman husband to come back from sea or a general used to deceive an opposing army, and it was also the backdrop in a scene of the famous Kdrama Daejanggeum. Come in the evenings if you want nice fiery skies for pretty sunset photos.
Besides that one pillar of rock, you can also take a stroll along the coastline which is nice and shaded and has lots of greenery and coastal views. I walked eastwards towards the natural rock pools or fairy pools aka Seonnyeontang 선녀탕.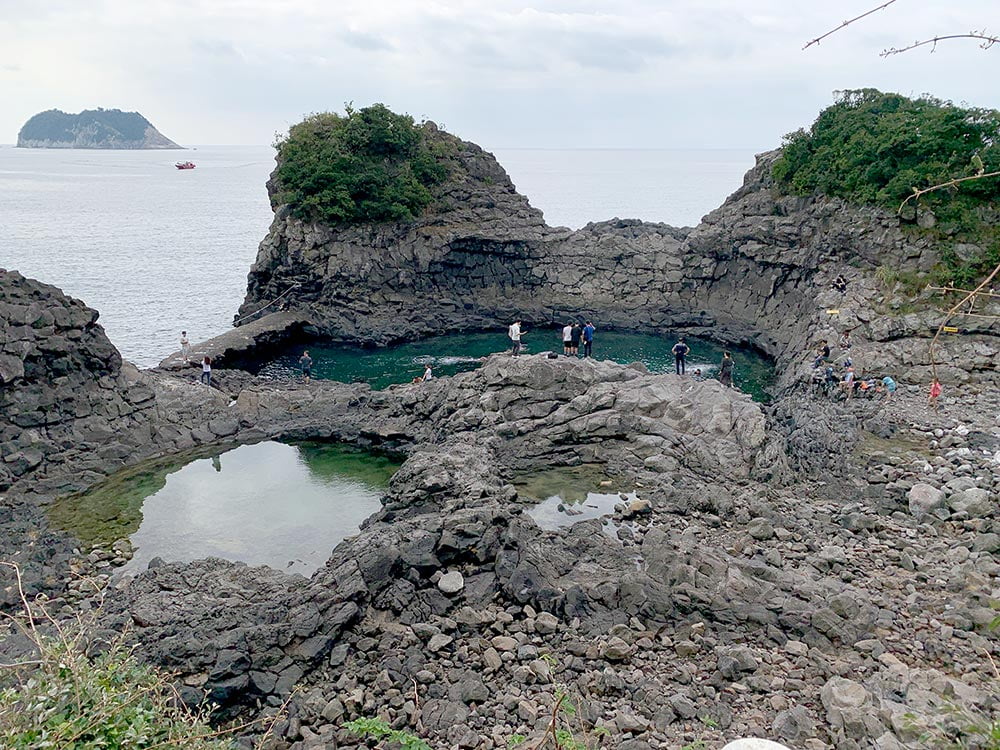 Oedolgae 외돌개 [naver maps] is along Jeju Olle Route 7. I walked here from Cheonjiyeon Waterfall because taking a bus was too troublesome.
Seogwipo Maeil Olle Market 서귀포매일 올레시장
The equivalent to Jeju City's Dongmun Night Market, Seogwipo Maeil Olle Market is where I ended up getting dinner most nights in Seogwipo. It's a large covered market with lots of food, shopping and souvenir options. My hostel was walking distance away (albeit up a sloping road) and this market was always crowded. Lots of the typical Jeju seafood and hallabong shops can be found throughout the market.
What to eat at Seogwipo Maeil Olle Markt? Just follow the queues! I noticed these long queues at a shop called 네거리올레 올레시장점 (translates to Crossroads Olle Market) which is a shop selling black pork gimbap – instead of rolling rice in seaweed like typical gimbap, they use a thin layer of Jeju black pork to hold everything together and deep fry that instead! I gave it a miss on my first night but decided to see what the big deal was the following night when the queues were not as scary. I did still have to wait for about half an hour.
Seogwipo Maeil Olle Market 서귀포매일 올레시장 [naver maps]. 네거리올레 올레시장점 negoriolre olresijangjom [naver maps]. It's in the city centre with quite a few bus options.
Jungmun 중문
Jungmun is another district west of Seogwipo City where you'll find another cluster of coastal attractions and waterfalls. It's also famous for the World Cup Stadium, International Convention Centre.
Jusangjeollidae 주상절리대
One of the natural rock formations I was amazed by as a kid was the Giant's Causeway in Ireland which are naturally forming hexagonal pillars that look like a staircaes of sorts, and I was quite surprised that there was something similar here in Korea. Known as Jusangjeolli cliff, these are cooled lava from Mount Hallasan erupting a long time ago.
They've turned this area into a park of sorts with a small entrance fee and a nice viewing deck with some shops, but there's not much else around here. It was also very crowded!
Jusangjeollidae 주상절리대 [naver maps]. Entrance fee 2,000 KRW. Open 9am – 5pm. Closest bus stop is Jeju ICC about 10 mins walk away.
The bus routes between Oedolgae and here were a bit convoluted or required walking from another bus stop almost 30 mins away, so I took a taxi which cost me about 13,000 KRW.
Cheonjeyeon Waterfall 천제연폭포
This is another of the major waterfalls to see in the Seogwipo area and consists of three waterfalls (note: CheonJEyeon is not the same as CheonJIyeon (in Seogwipo City). It's not far from Jusangjeollidae so I decided to take a walk over to check it out. The waterfalls are located in a nice valley of sorts with lots of greenery and a part of the larger Jungmun Tourist Complex which consists of a number of hotels and attractions in the Jungmun area.
I popped by Cheonjeru Pavillion 천제루 right next to the bridge in side the entrance of the park for a break – lovely views and architecture.
This bridge is Seonin Bridge or Seonimgyo 선임교 which you cross to get to the main waterfall area. It's also known as the 7 nymphs (which is related to a Korean legend) bridge because of the carvings on the side of it.
There are 3 waterfalls to visit here, but I was pretty pooped out from all the walking I'd done that day so I opted to see just two of them.
Waterfall 1 was just a pond because it hadn't been raining recently – these falls only show up when there has been heavy rainfall! Still a lovely deep blue pool though.
Waterfall number 2 is smaller, and there is some other story here about soldiers practicing their archery by shooting into the falls.
Cheonjeyeon Waterfall 천제연폭포 cheonjeyeon popkpo [Naver maps]. Entrance fee 2,500 KRW. Open 9am – 5pm.
Andeok 안덕
The last stop of the day involved me hopping back onto the bus and travelling even further west along the southern coast line to the looming bell-shaped Sanbang Mountain aka Sanbangsan, one of the three most prominent mountains in Jeju along with Hallansan and Seongsan Ilchulbong. It's pretty hard to miss because the landscape around here is mostly flat. The mountain offers some spectacular views of the Yongmeori Coast and Sagye-ri.
Sanbangsan 산방산
Yet another of Jeju's mountains formed by volcanic activity, Sanbangsan has a temple on its southern slopes known as Bomunsa temple 보문사 which has traditional Korean architecture and lots of big statues, including a large golden Buddha – read more about this temple at Korean Temple Guide. But this isn't the reason most people come to visit Sanbangsan…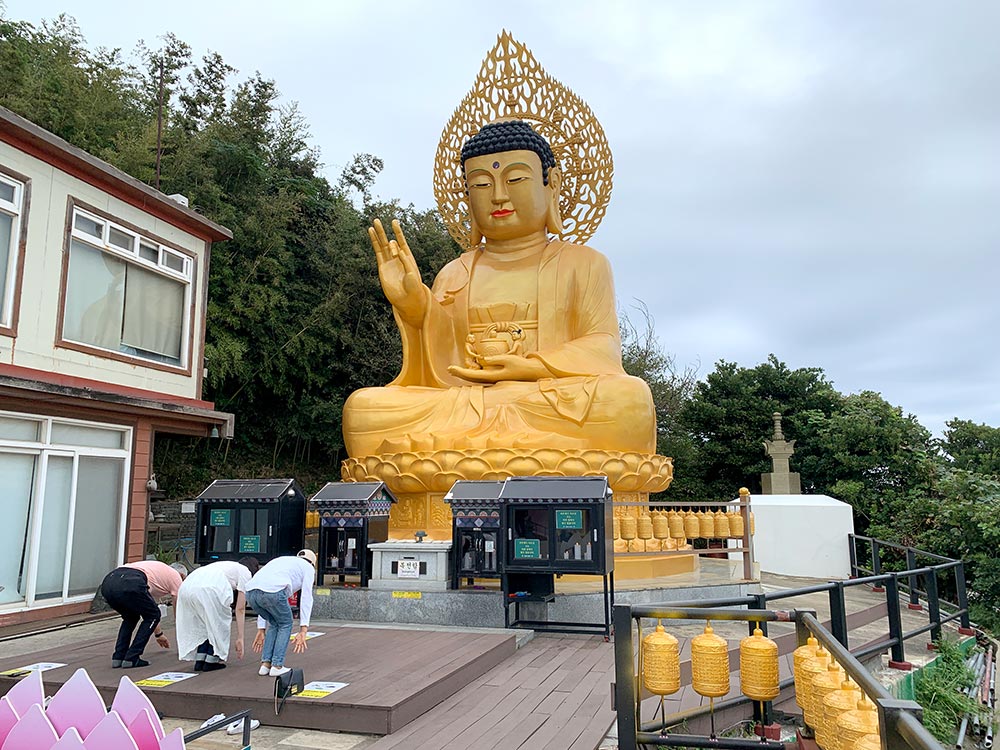 Sanbangsan bomunsa 산방산 보문사 [naver maps]. Take bus 202 or 752-2 and stop at Sanbangsan stop.
Sanbangsan's name translates into something like 'cave in mountain', and that's because if you make the effort to climb those stairs up about 150m, you can visit its sea cave grotto temple Sanbanggulsa 산방굴사 where you can also enjoy some lofty views of the coastline. I was curious to see what it looked like – it was quite a small cave at the top of the stairs filled with statues, candles and offerings. The views from up high were also very nice.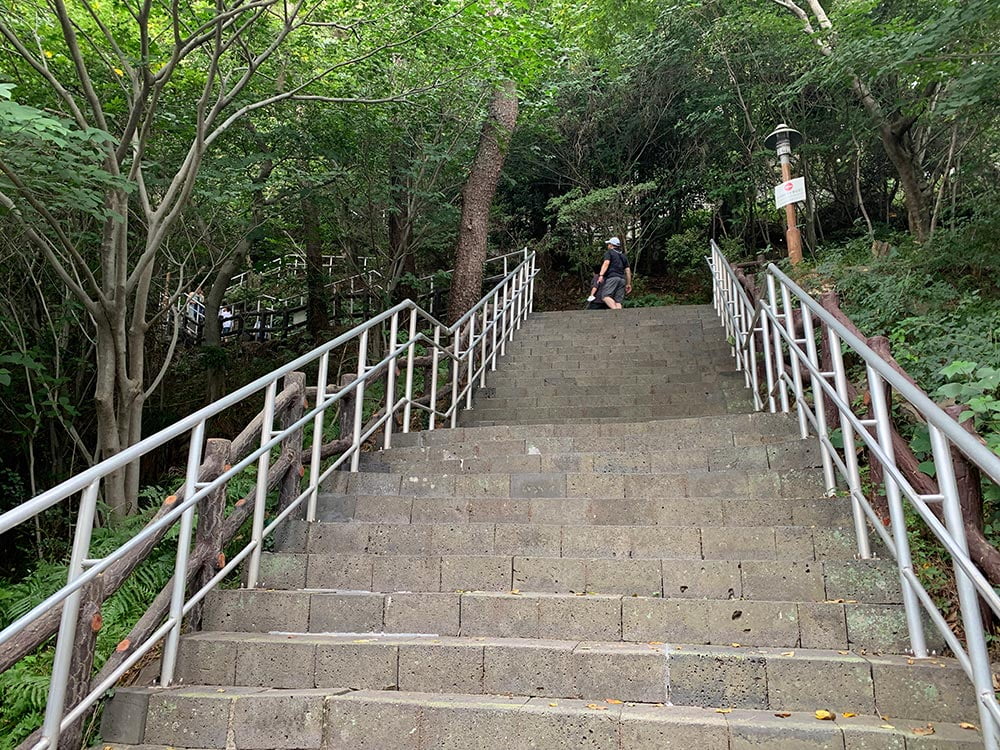 Sanbang gulsa 산방굴사 [naver maps]. Entrance fee 1,000 KRW (2,500 KRW if you're combining with the Yongmeori Coast ticket). You will have to climb a lot of stairs!
Yongmeori Beach 용머리해안
After descending from Sanbanggulsa, I headed across the road and down towards Yongmeori Beach, named because it apparently looks like a dragon's head and known for some amazing coastal rock formations that have been awarded UNESCO status. Here's the thing though – Yongmeori Beach can only be visited when the tide is low, so definitely check the tide timings and weather forecast before you visit or you'll end up unable to visit like me >_<
Yongmeori Beach 용머리해안 [naver maps]. Entrance fee 2,000 KRW (2,500 KRW if combined with Sanbanggulsa). Only open when tide is low and weather is good.
Despite not getting to see the coastal rock features, I did pop by some other things in the area, like this 1600s ship which is a replica of a Dutch ship that Hendrick Hamel was on when it was shipwrecked en route from Japan to Taiwan. Hamel was the first to document about Korea and this ship celebrated the 350th anniversary of his unexpected arrival.
You can actually go inside – it's 2 floors of exhibits about the shipwreck and Korea's history along with some rather creepy looking dioramas. Entrance is free – I wouldn't go out of my way to visit but since it was there I just strolled in for a look.
Yongmeori Hamel Merchant Marine Exhibition Hall 용머리하멜상선전시관 yongmori hamel sangsonjonsigwan [naver maps]. Free entrance. Open 8am – 6pm in summer (5pm in winter).
There also seemed to be some sort of mini funfair happening here, with some theme park rides, horse riding, game and food stalls. Not too sure if this is a permanent feature but it's something to entertain the kids if you need to.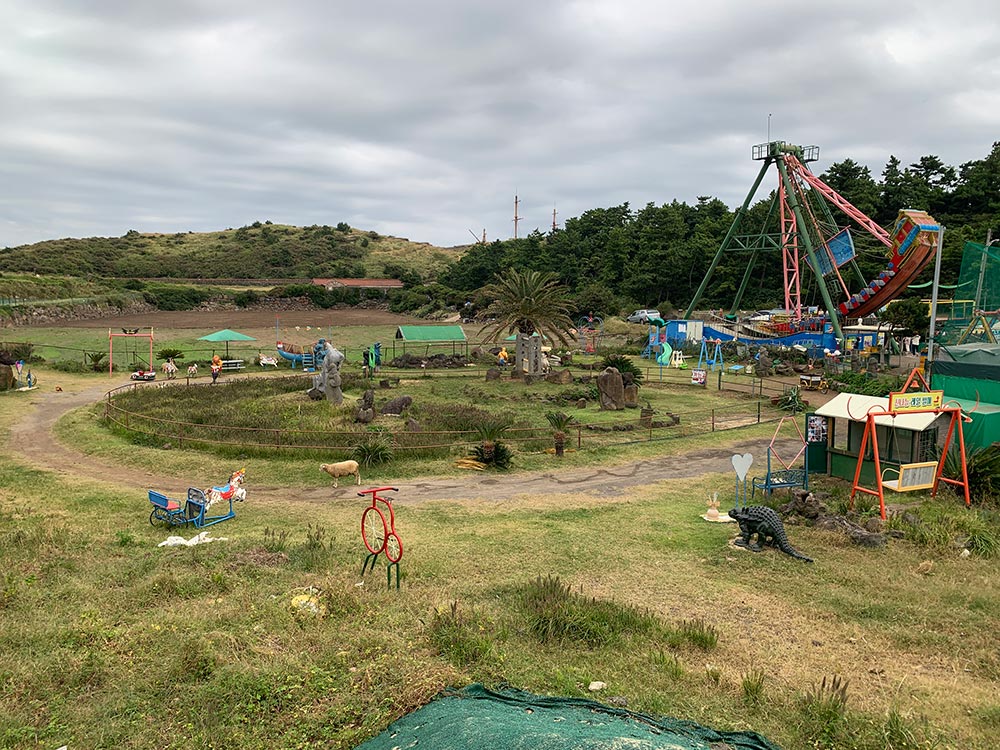 ---
Where to stay in Seogwipo City
I based myself in Seogwipo City to explore these parts a little better. Seogwipo is actually a fairly large city and staying close to the bus station and Olle Market would probably have been the most convenient, but I chose to stay a little nearer the coast.
Gudeok Guesthouse 구덕게스트하우스 (Jeju Hiking Inn)
I stayed 3 nights in Gudeok Guesthouse which is also known as Jeju Hiking Inn. It's walking distance to Cheonijyeon falls and the port area, as well as Olle Market.
Gudeok Guesthouse is one of the older guesthouses that has been around for quite awhile, and they get a lot of guests who are planning to climb Hallasan here. It's 7 storeys tall and unfortunately there's no lift so make sure you can haul your luggage up there stairs! I had a single room on the 5th floor with a little bit of a view of the harbour area.
Overall the room was sufficient with all the usual amenities and had an attached bathroom, but the furnishings are a bit old though most things are clean and well taken care of.
It's got a nice hostel communal vibe though – climb up to the rooftop where there is a pantry and also a lovely lounge area with great views. I sat up here on some evenings and made friends with fellow travellers from both Korea and overseas.
It cost me about 107,000 KRW (about S$110) to stay here for 3 nights (about S$36/night), which is definitely quite affordable especially for a private room!
Check out Gudeok Guesthouse aka Jeju Hiking Inn Check out Gudeok Guesthouse on booking.com [affiliate link]
Another place I was considering was Slow Citi Guesthouse [affiliate link] which is nearer the bus station and market and has both dorms and private rooms.
Good Day Pension [affiliate link] looked like quite a pretty spot with studio apartments and larger family apartments but it's not quite near the main town area. It reminds me a little of the place I stayed in Aewol.
---
How to get around Jeju
Most people rent a car to get around Jeju, but as a solo traveller, I took a combination of Jeju's public buses and taxis booked via Kakao T. Read more about navigating Jeju by public transport.
Seogwipo's sights are quite spread out along the coast so driving gives you the most flexibility for sure, but expect traffic jams around the Seogwipo City area during peak hours.
Flight from Singapore to Jeju
Scoot currently flies 3 times a week that go directly from Singapore's Changi Airport to Jeju International Airport (CJU) that takes about 5.5 hours – previously you'd have to transit in Seoul or Busan and buy a domestic flight to get to Jeju. It's a red-eye flight so you'll reach Jeju bright and early in the morning – arrange for an early check in or to leave your luggage if possible.
SIN – CJU: TR812 0135 – 845
CJU – SIN: TR813 0945 – 1435
Note that there's a 1 hour time difference between Singapore and South Korea.
I bagged this flight during a promotion, and including seat selection and check in baggage, paid S$470+ for my round trip tickets which I thought was a pretty damn good deal. Scoot also flies to Seoul so you could consider an Open Jaw if you wanted to visit Seoul as well or see if they are running any joint promos.
---
Want to see more of Jeju? Check out my latest Jeju posts below or see all my posts about South Korea