When you visit Jeju Island's famous Sunrise Peak Seongsan Ilchulbong 성산일출봉, you'll notice an island nearby as you admire the ocean view around you – that island is Udo 우도, a popular day trip option for those visiting the east coast of Jeju. I love little islands and decided that I wanted some chill out time on this trip, so I spent 2 nights on Udo which turned out to be quite an interesting experience. Here's my guide to Udo and what you can see, and whether you really need to stay overnight to experience the island fully.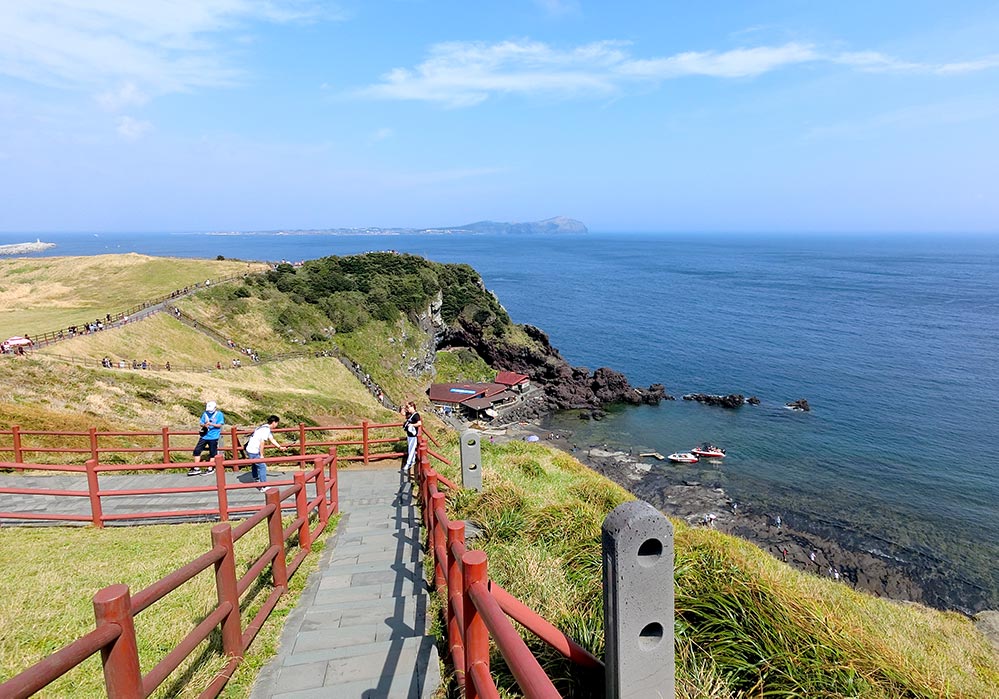 Looking to see other parts of Jeju? Check out my guide to Northwest Jeju where Aewol and Hallim are, or check out the island off its shore called Biyangdo.
A little about Udo
Udo is the largest of Jeju's 63 offshore islands. Its name translates into 'Cow Island 牛 島' because the island's topography with its squarish hill apparently makes it look like a sleeping cow. Other than that, Udo is also pretty famous for all things peanut – as you explore the market places in Jeju, you'll notice lots of food stalls touting 'peanuts from Udo'. In Udo itself, peanut ice cream is the thing to eat, ad you can get all sorts of interesting peanut food too including peanut beer and peanut makgeolli!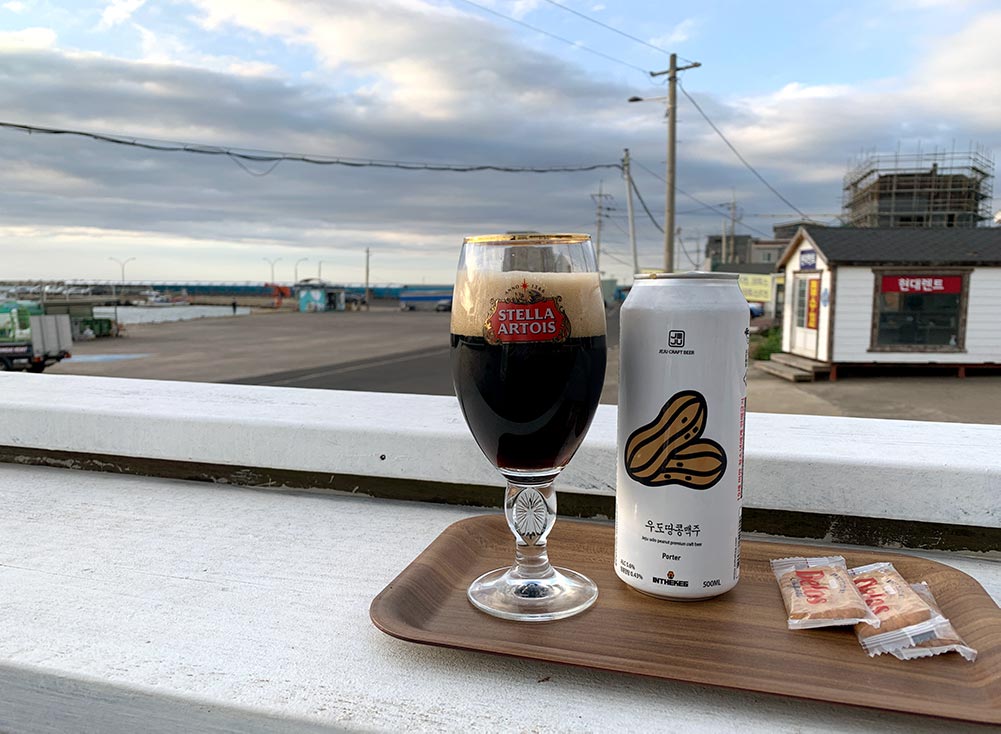 How to get to Udo
Seongsan Ferry Terminal 성산포항
Udo is a short 15-min ferry ride away from the mainland of Jeju. I took the ferry to Udo from Seongsan Ferry Terminal, which is about a short 20 minute walk away from Seongsan Ilchulbong. You could take a bus, but there's actually quite a nice path along the coast to get to the ferry terminal which I recommend checking out.
Most people day trip to Seongsan so you have the option of leaving your luggage at the ferry terminal where there are lockers. If your bags are too big, the people at the convenience store will keep your bags for you for a small fee, but you will need to pick them up before they close. The last ferry leaves at 530pm so everything kinda shuts down after that.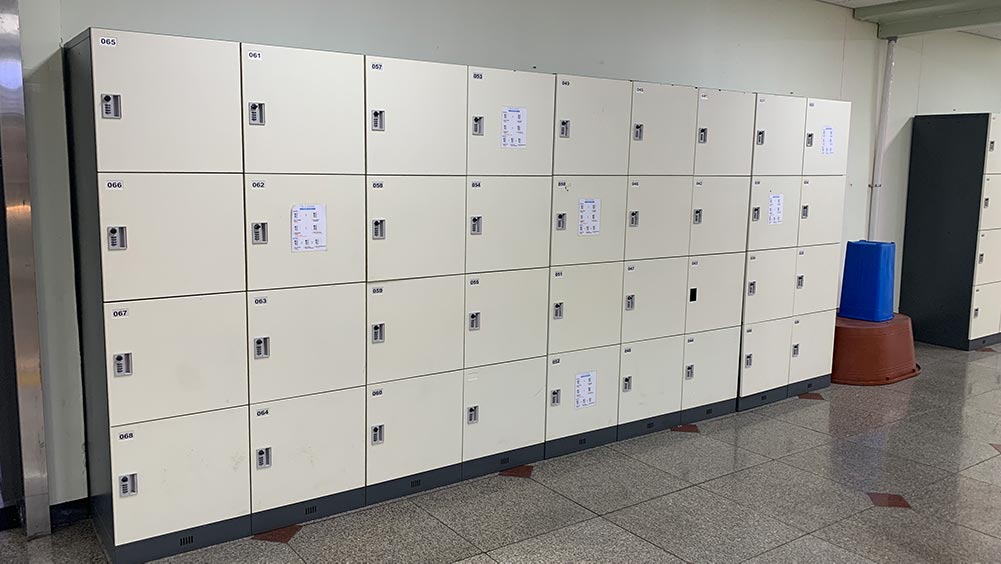 Seongsan Ferry Terminal 성산포항 Seongsan pohang [Naver Maps]. Closest bus stop is Seongsanhang 성산항 (blue 211, 212, 295 / green 111 / red 111, 112) is a short walk away. A taxi ride from Seogwipo to Seongsan cost me about 46,000 KRW.
How to buy ferry tickets for Udo
You can buy your ferry tickets for Udo on the day itself. If you're planning to do a day trip, you can buy your round trip tickets at one go. Since I was staying overnight, I just bought my ticket one way, and bought my return ticket on the morning that I headed back to the mainland.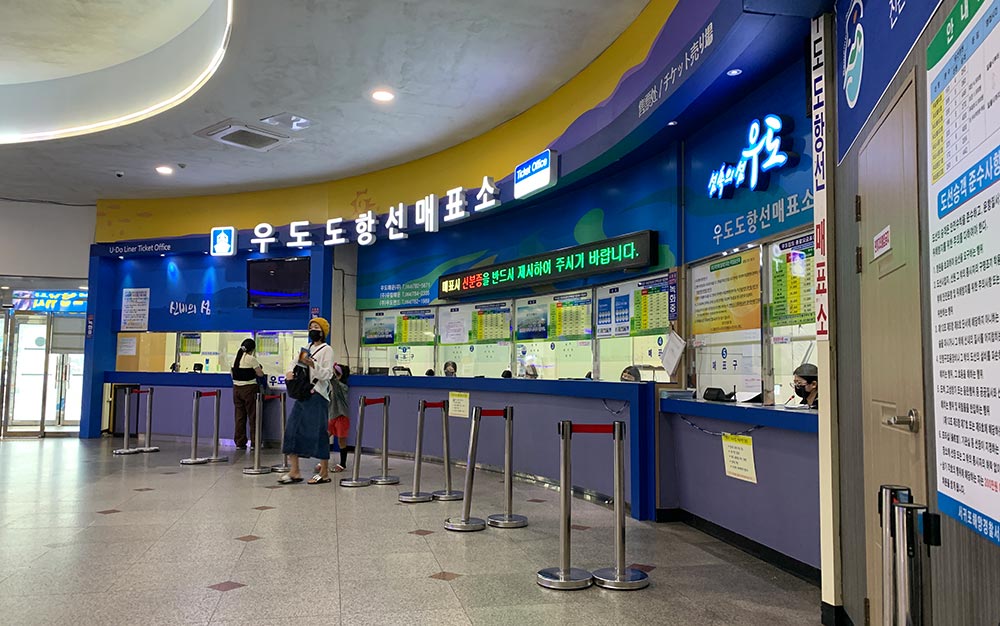 Step by step instructions on how to buy tickets – fill up the boarding card with your details, show your passport, then pay for your ticket (4,500 KRW one-way, 9,000 KRW return).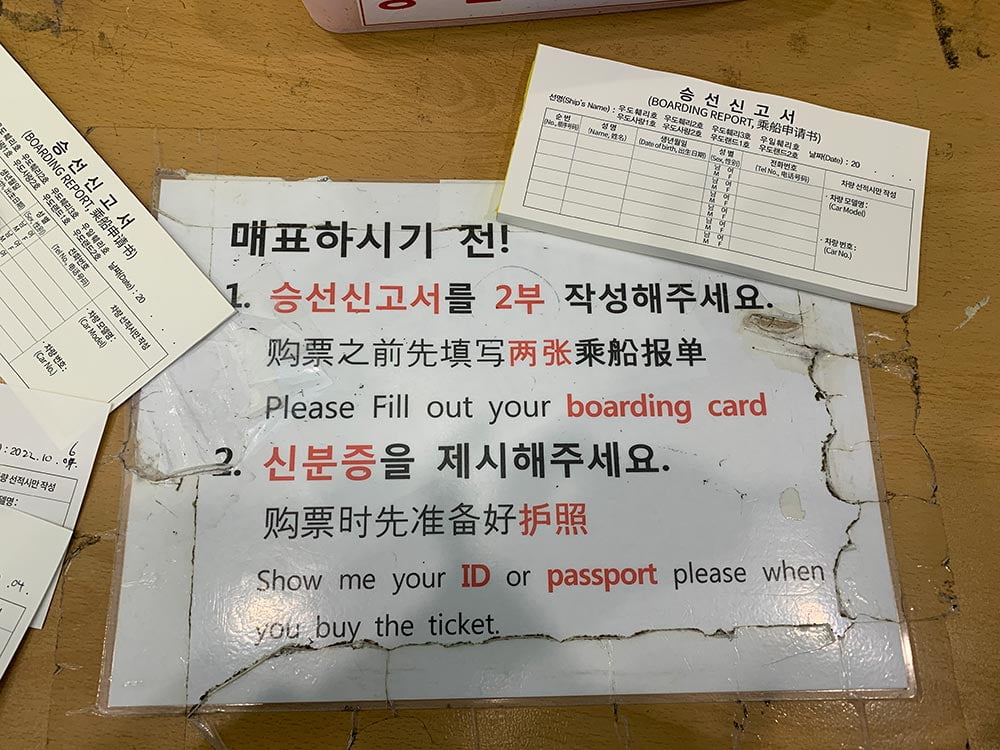 There are 2 ports in Udo that you can take a ferry to – Cheonjin Port 천진항 in southwest Udo [Naver Maps] or Haumokdong Port 하우목동포구 in northwest Udo [Naver Maps].
The timings are different for both ports, and if you're on a day trip it doesn't really matter where you end up because both ports have a bus station and bike rental shops nearby. Since I was staying overnight and my guesthouse was right on Haumokdong, so that's where I made sure I bought tickets for.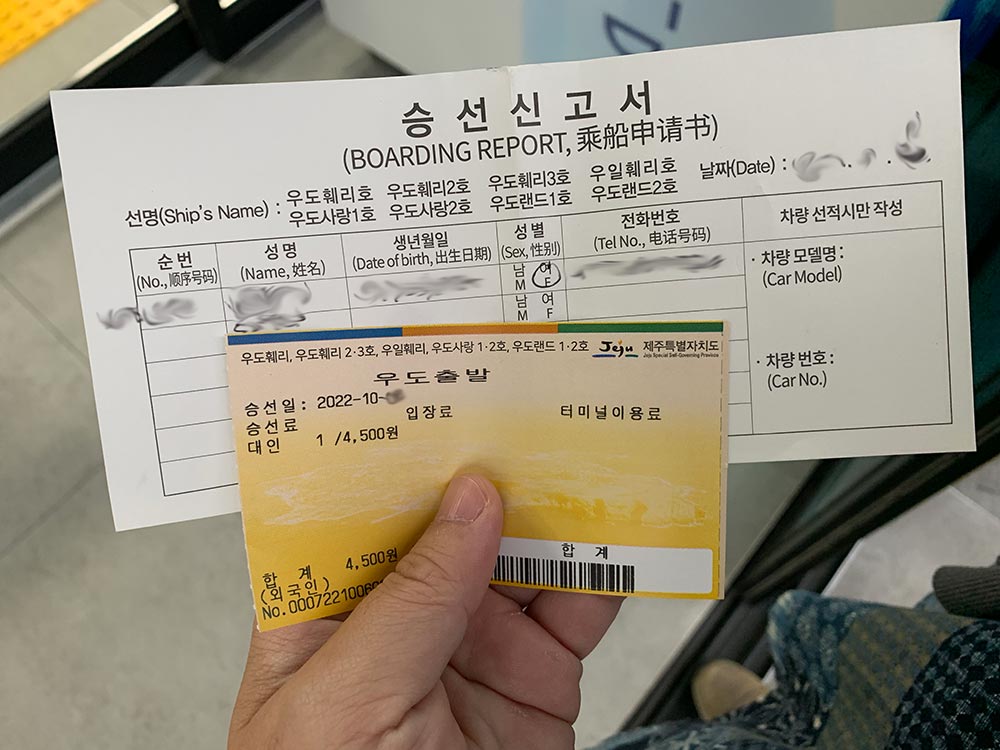 Jeju Seongsan to Udo Haumokdong
The boat journey from Jeju mainland to Udo is pretty short – just 15 minutes on a large ferry that can take cars as well. Cars are parked on the first level while passengers sit on the second and third levels.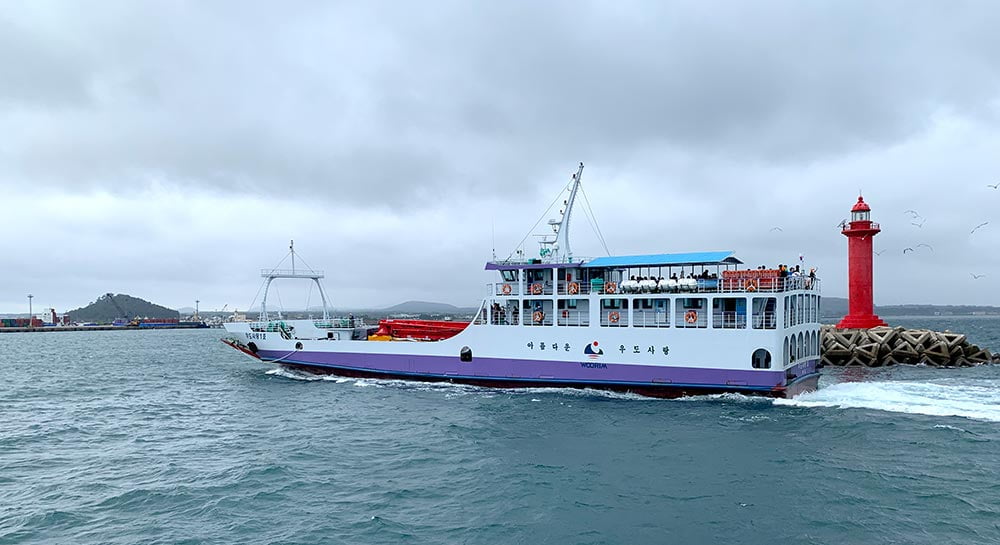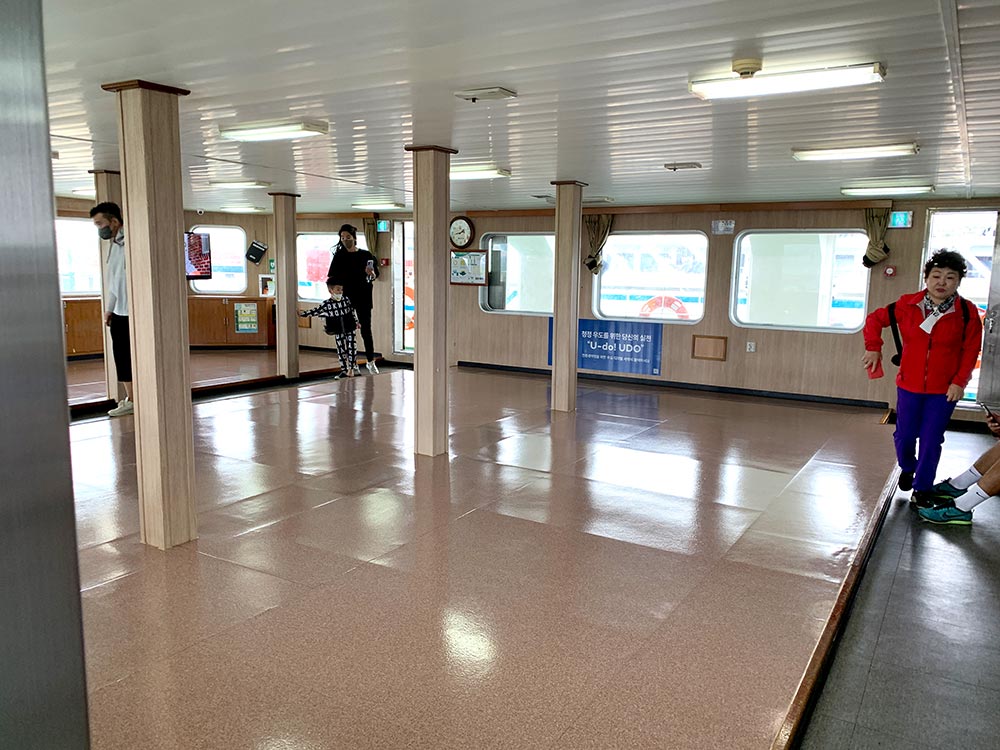 Things to do in Udo
Most of Udo's sights are along the coast – there basically is one main road that goes all around the island, and you'll barely cross inland (which is mostly fields and farmland) unless you need a shortcut across the island for some reason. You can circle the island's circumference (17km) on bicycle in about 1-2 hours if you cycle non-stop, but take the time to chill out and enjoy the scenery and stop in the many little shops and eateries along the way.
I organised this guide starting from Haumokdong Port and going northwards, circling the island in a clockwise direction.
Udo's 8 great sights 우도팔경
Udo also has 8 special 'must-see' sights or Udopalkyeong 우도팔경 – I didn't see all of them but I'll point them out in the guide.
Juganmyeongwol (주간명월/晝間明月)
Yahangabyum (야항어범/夜航漁帆)
Chunjinguansan (천진관산/天津觀山)
Jiduchungsa (지두청사/地頭靑莎)
Jeonphomangdo (전포망도/前浦望島)
Huhaesukbyeok (후해석벽/後海石壁)
Dongankyeonggul (동안경굴/東岸鯨窟)
Seobinbaeksa (서빈백사/西濱白沙)

Dapdanitap Lighthouse 답다니탑망대
On the northern end of Udo you'll probably notice the white Dapdanitap lighthouse first standing tall along the coastline. You can't enter or climb it, but the tower is close to the water and rocks and is overall quite picturesque.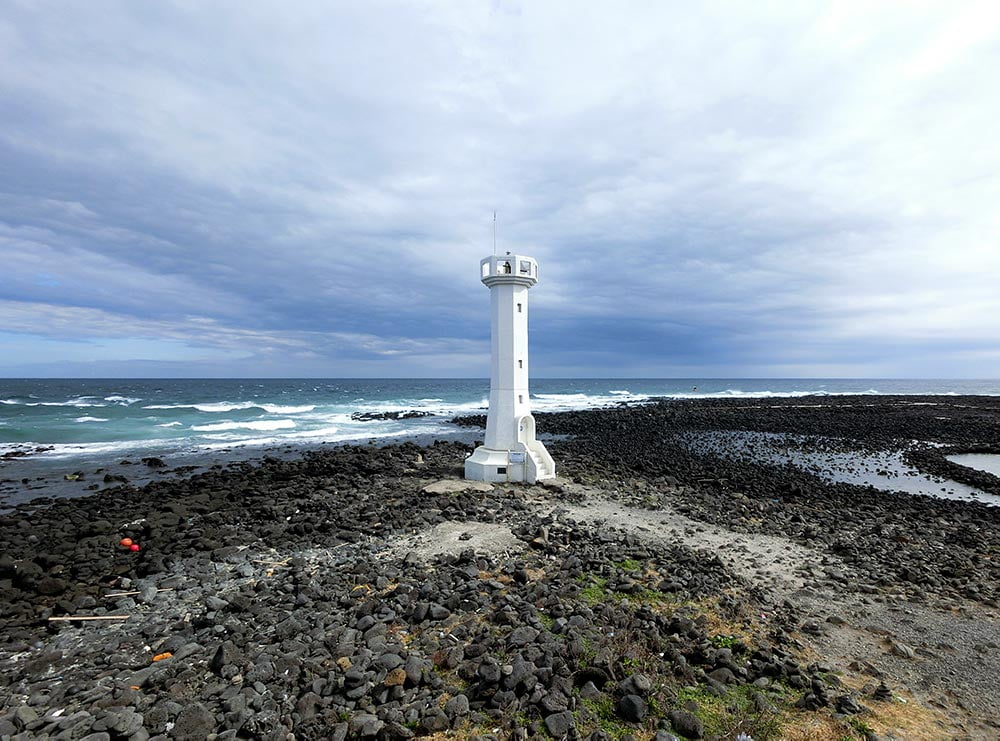 But what's of more interest is next to it – these mini pyramids of sorts built with stone are known as bongsudae 봉수대 (Jeju people call them mangru) or beacon mounds that were used for military communication as far back as the Joseon dynasty.
Also nearby is this bronze statue of a haenyeo or traditional Jeju woman diver.
답다니탑망대 Dapdanitap Lighthouse and Bongsudae 봉수대 beacon are right next to each other on the northern end of Udo [Naver Maps]
Hagosudong Beach 하고수동해수욕장
There is a nice stretch of white sand beach at Hagosudong on the northeast end of the island. The waters here are quite shallow so it's a popular family beach, but it used to be the prime anchovy fishing beach back in the day. In the summer nights, you might be able to see the Udo Top 8 sight Yahangeobeom 야항어범 here, which is when the fishing boats light up the waters of Udo at night.
I imagine this beach will be more crowded on hot summer days, but since it was getting cool already, it was still nice to sit down and chill there for a bit. Lots of little shops and restaurants around this part, I would have spent more time here but they were refurbishing a part of the beach so didn't hang around for too long.
Hagosudong Beach 하고수동해수욕장 hagosudong haesuyokjjang [Naver Maps] is located on the northeast side of Udo.
Biyangdo 비양도
Not far from Hagosudong is the entrance to another small offshore island called Biyangdo – note that this is NOT the same Biyangdo I visited when exploring the Aewol/Hallim region in northwest Jeju. This is somehow an even smaller island off the east coast of Udo. Because of its eastern orientation, it was named for and famous for beautiful sunrises, and is also where you can find haenyeo divers at work.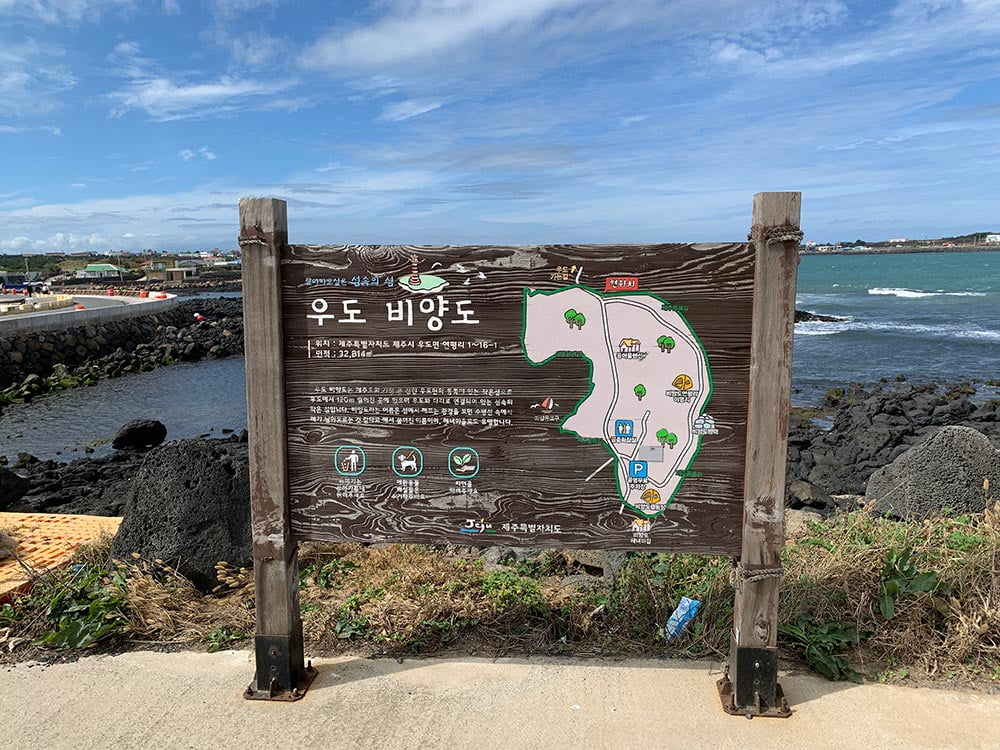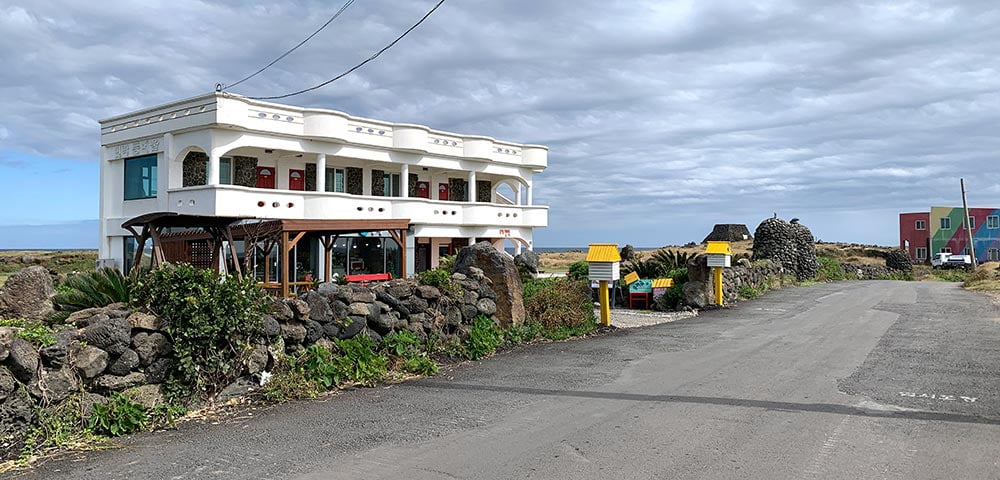 Biyangdo 비양도 [Naver Maps] on the east side of Udo.
Geommeolle Beach 검멀레해수욕장
As you round the southeastern corner of Udo, you'll notice the peak Udobong and the headland jutting into the sea. The road suddenly starts sloping upwards and there's a busy stretch of shops here where you'll find a staircase leading down to the black sand Geommeolle Beach.
This beach is very small, barely 100m in length and the black sand is super fine and soft – I was sinking into it as I walked along. One of the things you can do here is take a boat ride where you can see one of the top 8 sights called Juganmyeongweol 주간명월, which basically is when the reflection of the sun in the sea cave around 10-11am looks like a glowing moon – obviously you need to time it right if you really want to see this.
Also only visible from boat during low tide further from the shore is another top 8 sight called Dongangyeongul 동안경굴, a cave that's also nicknamed the Whale's Nostril and was created by lava flow. Apparently it's big enough to hold 500 people and they hold concerts in there some times!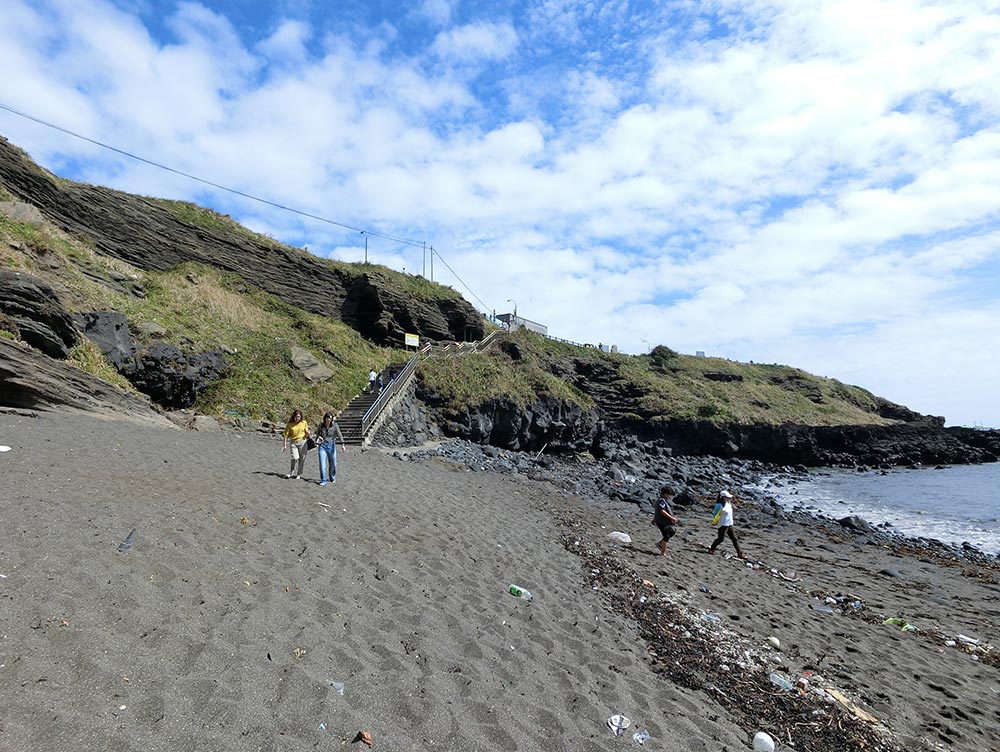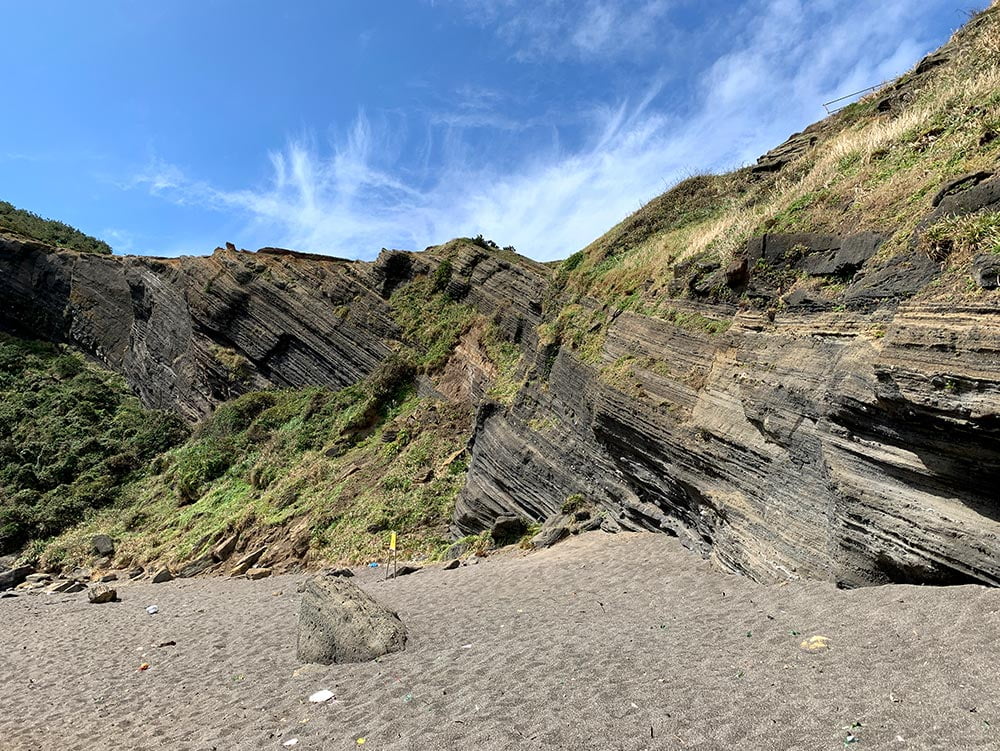 Geommeolle Beach 검멀레해수욕장 gommolre haesuyokjjang [Naver maps] is located on the southeastern end of Udo.
Udobong 우도봉
As you continue along the road, there is a staircase that leads up towards Udobong 우도봉 – I wasn't in the mood for an unknown length of hike so I kept cycling on. As the road started sloping downwards, there was a turnoff that led to Udobong peak (which is also where the bus will stop you) which looked like a much less strenuous option, so I parked my bike there and took a walk to explore the peak area.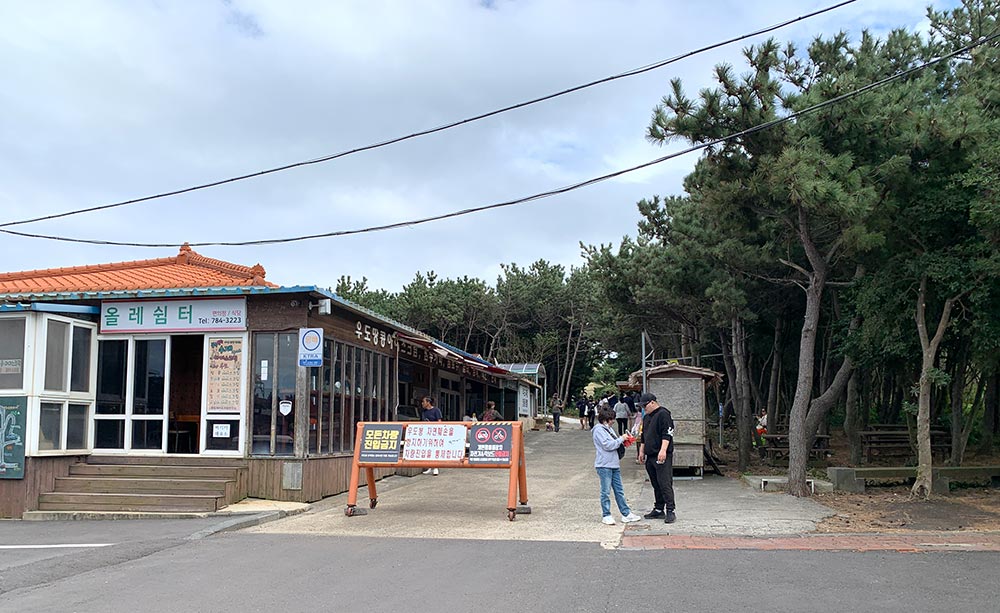 Udobong is also known as Somori Oreum 소머리오름, with oreum being the name Jeju gives the many volcanic cones found across the islands. The peak area is really scenic and there's lots of open space to enjoy the view. Mostly nice paved paths to walk but expect a little bit of a climb if you want to climb up to where the lighthouse is.
The Udo top 8 sight here is called Jiducheongsa 지두청사, which is specifically the view of the sky, sea and grass from the top of Udobong about 130m+ high.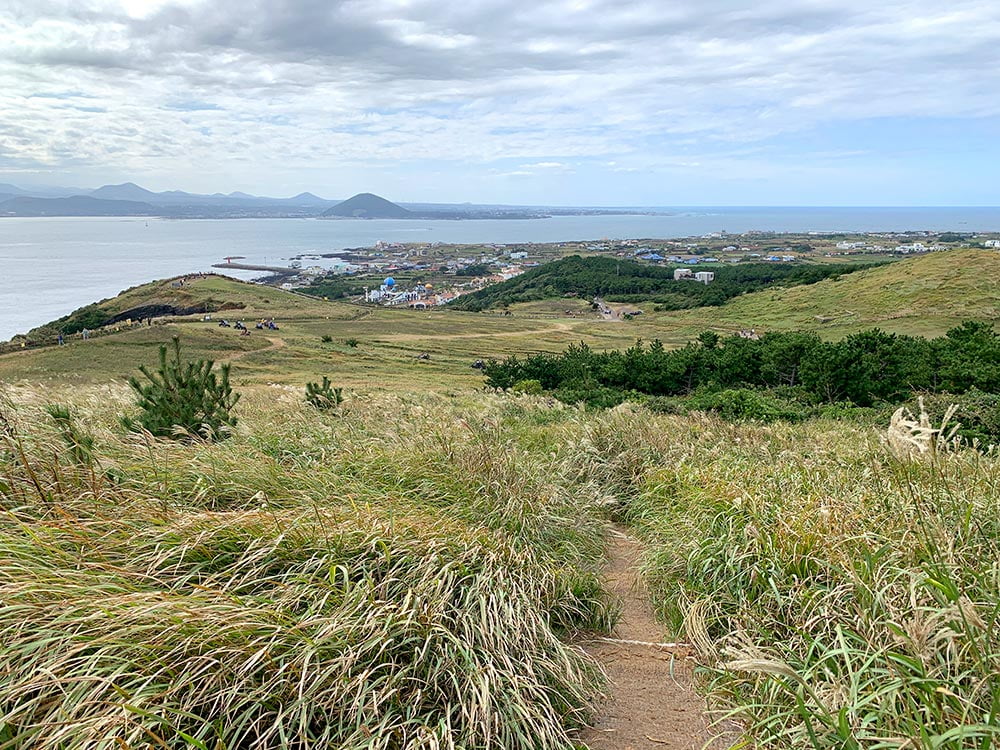 You can actually visit the Udo Lighthouse from up here – I missed the sign pointing to the lighthouse while hiking and thought it had been closed off to the public, but apparently I just missed the turn. Ah well, gotta give myself something to come back to in future :)
Udobong Lighthouse Park / Somori Oreum [Naver Maps] is on the southeast end of Udo.
Tolkani 톨칸이해변
On the southern end of the island on the opposite side of Udobong is a little bay area called Tolkani 톨칸이, which apparently has something to do with cholkani or a trough/manger used to feed cows. Can't say I really see anything, but it's a lovely little stretch of coastline and there is a nice pavilion to enjoy the view of Seongsan Ilchulbong from here.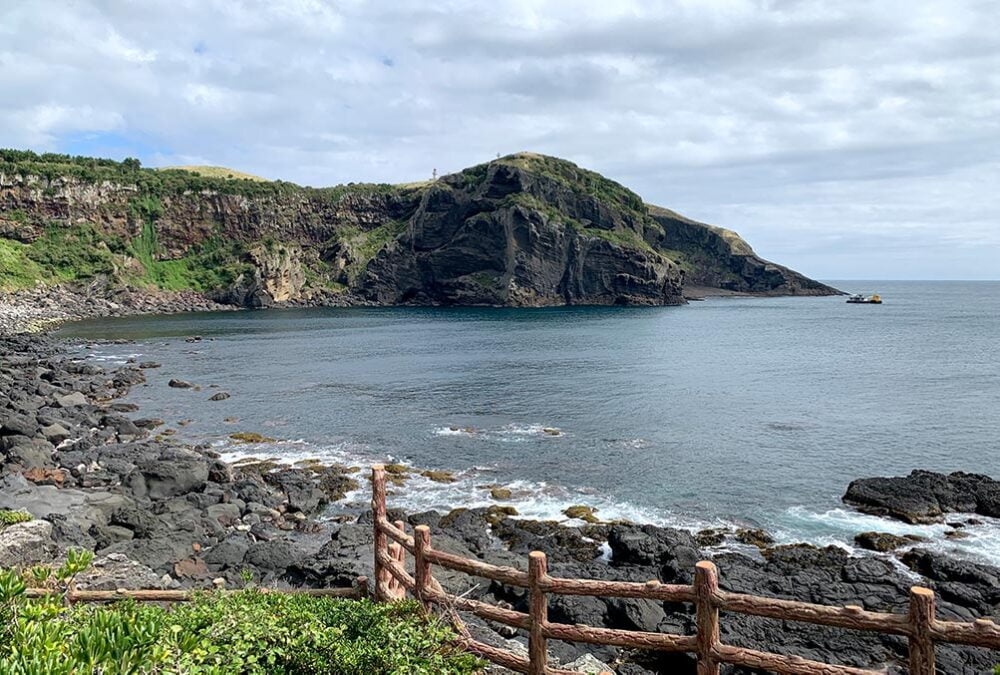 Tolkani 톨칸이 [Naver maps] is found in the southern end of Udo Island. It's a turn off the main road near Udo Donut – cars/trikes can't go in this road though bicycles can.
Cheonjin Port 천진항
This port on the southwest corner of Jeju is the other port you might start your Udo adventure from depending on the ticket you buy at Seongsan. Cheonjin Port 천진항 is similar to Haumokdong in that there are lots of bicycle and tricycle rental shops nearby.
Also here is where you're supposed to see another Top 8 sight Cheonjingoansan 천진관산, which is the scenic view of Hallasan on the Jeju main island – the weather wasn't great the first time I was here so I skipped this.
Cheonjin Port 천진항 Cheonjinhang [Naver maps] is located on the southwest end of Udo
Sanho Beach 산호해수욕장
There are several beaches on Udo island, but Sanho Beach on the west coast is arguably the most unique one. While it looks like a white sand beach like Hagosudong, the 'sand' here is actually bits of coral called Rhodolith. This is actually a pretty rare thing and the beach is protected and classified as one of Korea's national treasures.
This beautiful beach is also an Udo Top 8 sight known as Seobinbaeksa 서빈박사.
Sanho Beach 산호해수욕장 Sanho Haesuyongjang [Naver maps] is on the west coast of Udo
What to eat in Udo
Peanut Ice Cream 땅콩 아이스크림
Peanuts are one of the main exports and things that Udo is famous for, so one of its most popular snacks is peanut ice cream. I had a couple of different peanut ice creams in my time there and these are my favourite.
Jimmy's Natural Ice Cream [Naver maps] is prominently located near Geommeolle Beach and the ice cream itself comes with lots of crushed peanuts. The peanut ice cream costs 5,000 KRW.
PoYoYo Cafe 뽀요요 [Naver maps] near Cheonjin Port was another one I enjoyed – instead of soft serve, their version is actual ice cream and I think it's a mix of peanut and vanilla? It comes with crushed peanuts and two cute cookies for 6,000 KRW.
Bongkkeurang Bakery & Cafe 봉끄랑
While I was looking up info on Udo, I saw a bunch of posts about this cafe with cute burgers, including this very instagrammable rainbow burger. Would it taste as good as it looked? I drove around and found Bongkkeurang Cafe 봉끄랑 on the west side.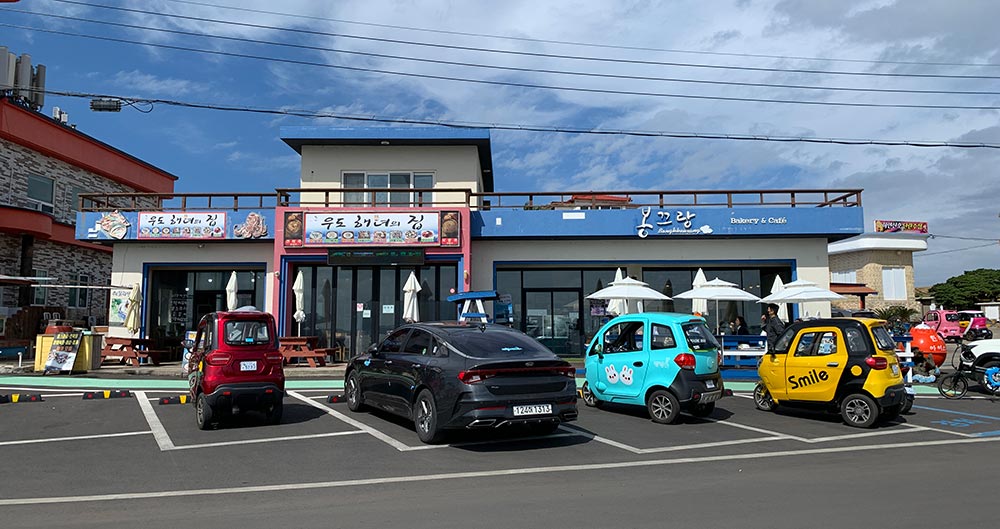 The main menu has just 3 burgers – the aforementioned rainbow burger, a peanut burger which is a nod to Udo's peanut obsession, and a black burger which has squid ink buns.
Since there is only one me, I decided to try the rainbow burger, which had a really bright beautiful buns sandwiching a handmade Jeju black pork patty, bacon cheese, tomato and pickles with some salad on the side. It was really tasty! The burgers cost 13,000 KRW each. I liked the outside seating (with umbrellas for shade from the sun) where I could admire the sea view at the same time.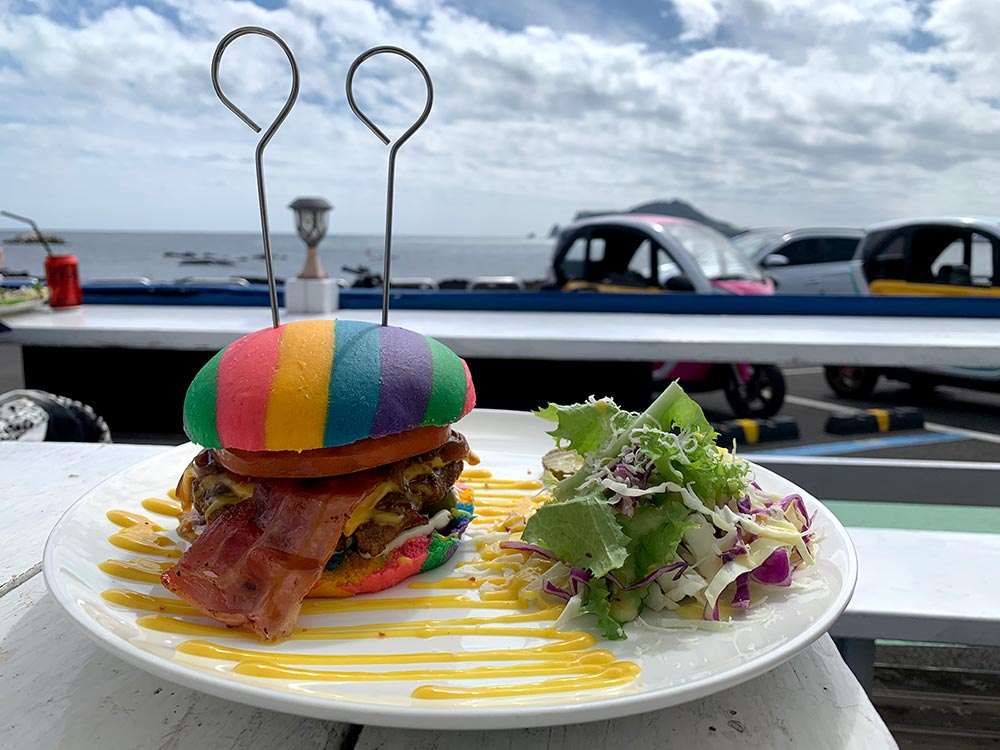 Bongkkeurang Cafe 봉끄랑 [Naver Maps] is on the west side of Udo.
Udo Auntie Restaurant 우도이모네식당
Here's the thing about Udo – because most people only visit for day trips, practically everything shuts down about the time that the last ferry leaves at about 5-530pm. If you are planning to stay overnight, make sure your accommodation has meal options, that you have your own food on hand or according to one kind restaurant owner who was closing shop told me, head to the main town area (inland) where there are like, 3 eateries open for dinner.
Luckily the town is just up the road from my guesthouse so I biked up the road and found the first local eatery that was open, but as rural places go there was absolutely no English to be found whatsoever. Having to order without being able to speak or read Korean definitely isn't a first for me, but I knew enough to see the words 'jiggae' (stew) on the menu so I just pointed to the first thing right on top. That usually is their best item… right?
That jiggae did turn out to be kimchi jiggae, a nice spicy bowl of stew served with rice and of course lots of banchan side dishes. Most of the other people eating there were Koreans.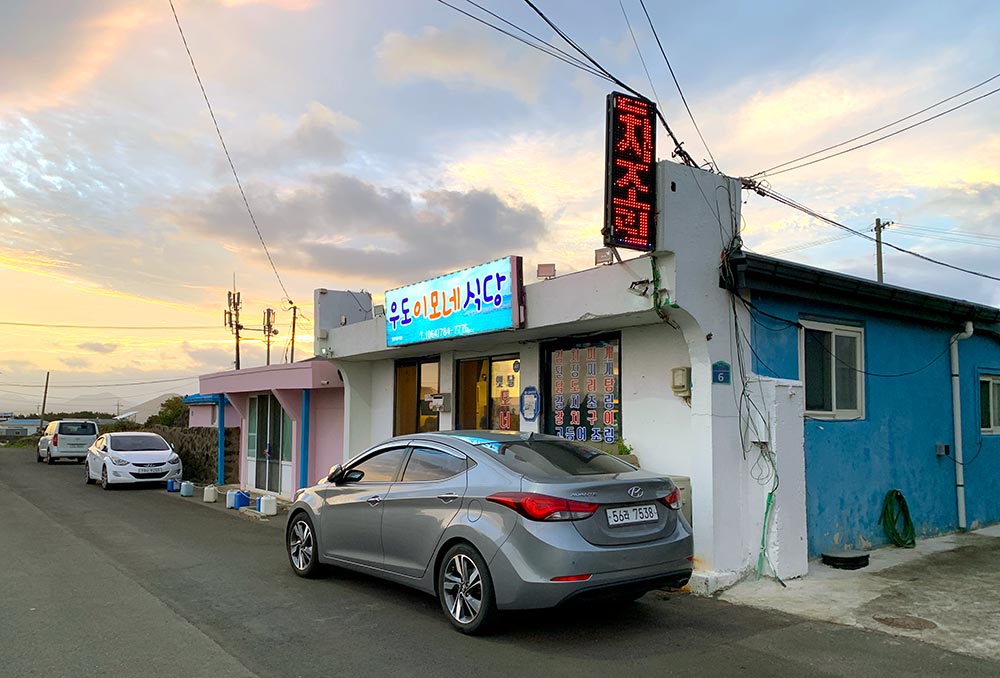 Udo Auntie Restaurant 우도이모네식당 Udo imone sikdang [Naver maps] is in Udo's main town area, about 10 minutes away from Haumokdong.
Staying overnight on Udo
Given the short ferry ride from Seongsan, most people visit Udo as a day trip and to be honest, the island pretty much shuts down at night so it's not like you'll miss out on any nightlife here.
The main reasons to stay overnight in Udo would be to do some hiking or exploring of the island before the first ferry arrives at about 8am. In general, it's pretty quiet in the morning and things start getting more crowded towards lunch time and after.
I stayed for 2 nights but I think 1 night would actually have been sufficient, but it was nice to just kick back and relax.
Where I stayed: Jonwon Minbap 전원민박 (Airbnb)
I found a guesthouse on airbnb which was right at Haumokdong Port. It's a pretty simple guesthouse that's clean and comfortable and very conveniently located. The guesthouse has several room options, mine was room #5. There's a kitchen downstairs where you can do some cooking and there is free breakfast in hte morning! I had Jeonbokjuk (abalone porridge). It's run by a family who live on the 1st level and though I didn't see them much, they were friendly and very responsive on the app messenger.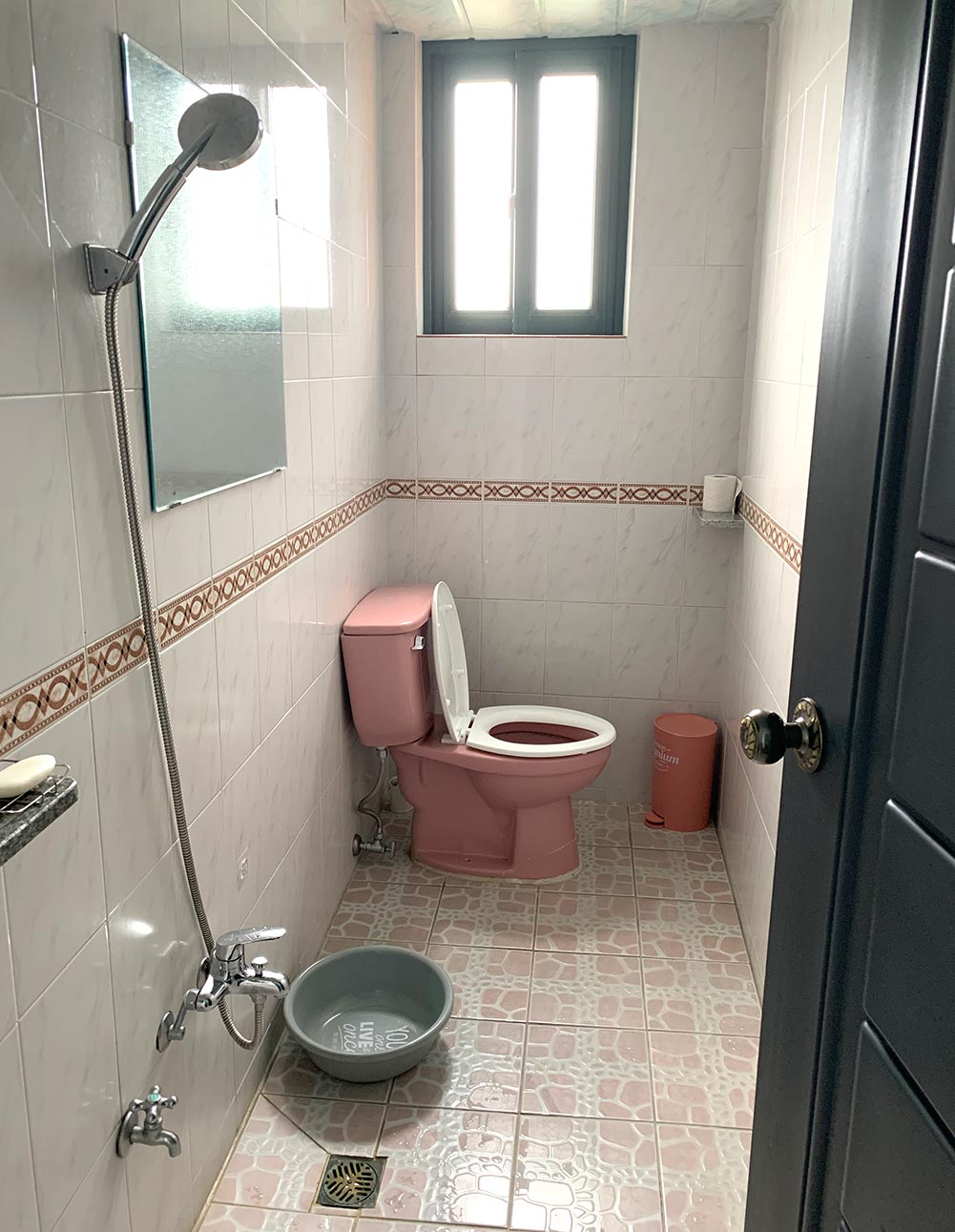 전원민박 jonwon minbap [Naver maps] See the Airbnb listing here. They have three other rooms available that you can check out. I paid S$175 for 2 nights ($87/night).
How to get around Udo
Udo is a smallish island and you could technically walk it in about 4-5 hours – the whole island makes up Jeju Olle Trail 1-1, it's definitely easier to rent a mode of transport or hop on the bus. Here are your options.
Electric bicycle
I rented a bike for about 1.5 days to get around Udo Island independently. Most of the shops near Haumokdong port only had the e-scooters, but a bit further down I found a bicycle shop and rented an electric bicycle for 30,000 KRW (from about 3pm on Day 1 and returning the bike at 5pm on day 2).
I highly recommend renting an electric bicycle because Udo can get quite windy, and you do need the extra power when riding against the headwind or upslope when you are at Udobong on the southeast side. The great thing about a bicycle is you don't have to worry about parking or traffic, but you are subject to the wind and rain so be prepared for that.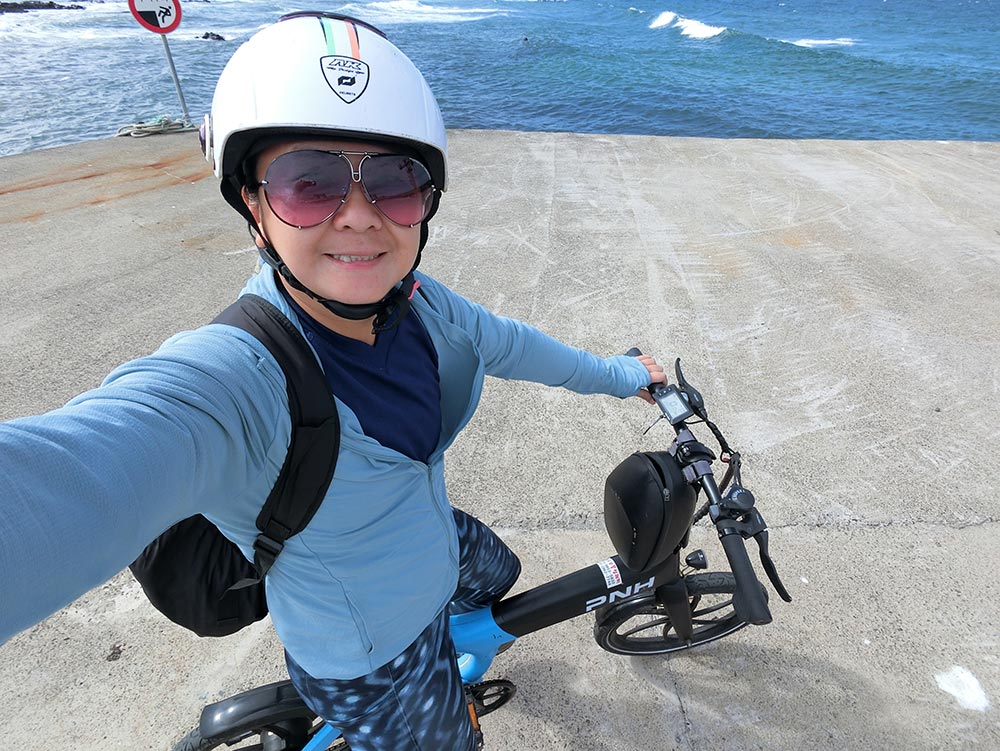 Udo Treasure Island Leisure 우도보물섬레저 udo bomulssomnejo [Naver maps]. 5-min walk from Haumokdong port. Usually costs 20,000 KRW to rent for a full day.
Electric Tricycle/Motorbike
The primary way most people get around the island is via these cute little covered trikes, but it's really only open to Koreans as they only require a Korean driving license to rent one of these cute little trikes. For foreigners, rules are extra strict and you'll require an International Driving Permit (IDP) with the A class for motorbikes specifically. I have a standard car driving license so I only had B class so this was completely out for me – they're very strict and shops won't even bother talking to you without the right license.
The tricycle is useful if you're a couple or have one small kid with you perhaps, and also it's sheltered from the elements, but you do have to park more responsibly.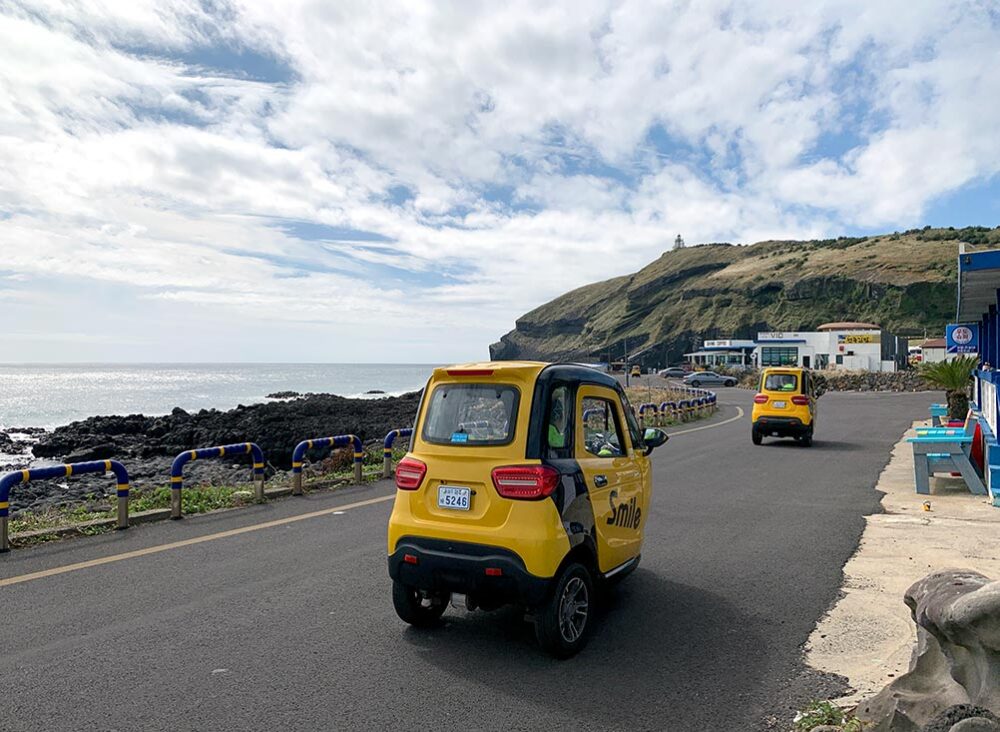 Electric Car
Another option I considered was renting an electric car, but woo boy this was an expensive option. was quoted about 130,000 KRW for 1.5 days which was just… nope. Might make sense if you have 4 pax to split the costs, but it's also the most cumbersome option in my opinion as you'll need to find parking and worry about the rest of the trikes/bikes on the road.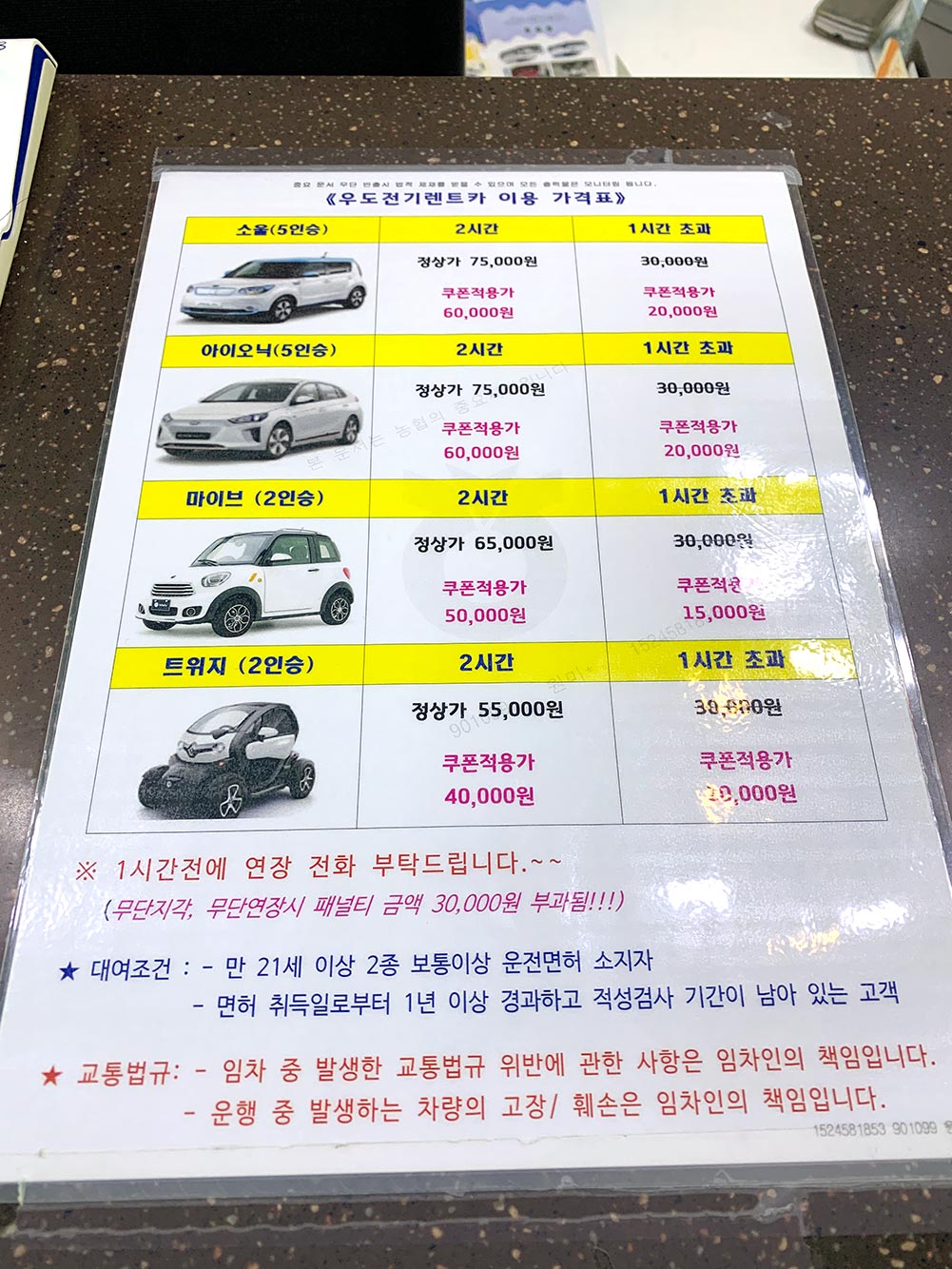 The car rental place is located a short walk north of Haumokdong port
Public bus
If you can't drive or cycle, no worries because Udo has a pretty good public bus that you can take around the island. The route brings you around the circumference of the island and stops at major points – it goes counterclockwise on odd dates and clockwise on even dates, but otherwise there is really only one route. There are buses every 15-20 minutes so it's not a bad option if you don't want to walk, ride or drive.
The public bus station where you can buy bus tickets can be found at Haumokdong and Cheonjin ports. General tickets cost 6,000 KRW per pax.
---
Looking for more things to do in Jeju? Check out my Jeju posts or see all my South Korea posts for more.