Tired of busy Seoul? Head down south and chill out in Busan, South Korea's most famous port city known for its laidback atmosphere, happening beaches and amazing seafood. For my busy readers who only have a long weekend to spare, here's my guide on how to see Busan's highlights in just 3 days, and for the solo indie travellers some tips on how to do so using Busan's public transport.
---
Why Busan?
I've spent a lot of time in Seoul in my previous visits to South Korea, so I was pretty stoked to finally head to Busan in May 2019 when Silkair opened up a nonstop route from Singapore to Busan's Gimhae Airport. I had miles to use and when a great opening promo popped up, I booked a ticket on a whim and found myself with about a week to spend in the southern region of South Korea.
Some of this time I spent in the South Jeolla or Jeollanam region – in Suncheon and Yeosu, the rest of my time was spent wandering around Busan without too much of a plan beforehand. There's something about the air in Busan that feels different from Seoul, and there's a lot to do even if you have just a long weekend to do it. Everything is quite spread out though so getting to everything quickly can be challenging – here's how I recommend you do it in just 3 days.
---
Day 1 – Yeongdo 영도
You'll be arriving early in the morning, so I made this a much more chillax day so you have time to take a nap in the afternoon.
Huinnyeoul Culture Village 흰여울문화마을
Dubbed Busan's Santorini, Huinnyeoul Culture Village is a pretty chillax little area along the west coast of Yeongdo overlooking the sea. There are lots of cool little cafes to hang out in and enjoy the view (on a really clear day, apparently you can see Japan's Tsushima Island from here), or take a stroll along the Jeoryeong Coastal Walkway by the water.
This area was a settlement where refugees from the Korean war came to live and was kinda derelict and half-empty until they revamped the area in 2011 by turning it into a creative space and adding lots of murals on the walls of the houses here. I didn't really check out the murals because I was too lazy to climb back up the stairs again once I was on the coastal walkway.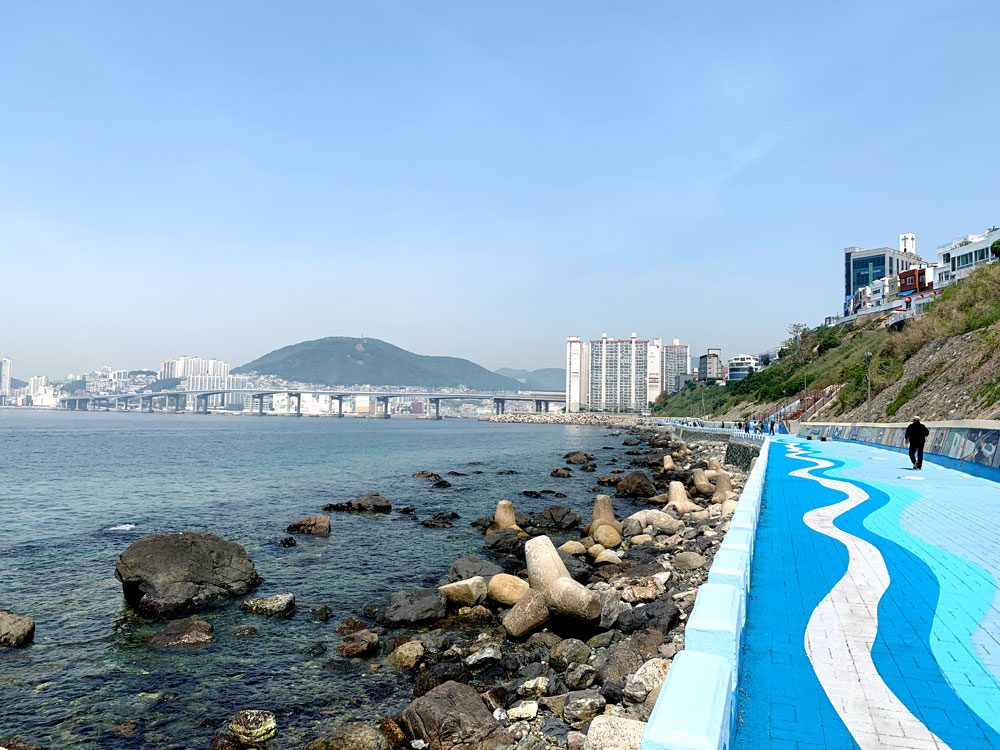 I walked along the coastal path and eventually climbed back up the slope. I ended up at a spot called 75 Square, named because it was built in 1975. There is a nice resting pavilion where you can sit and relax here. I took a bus to my next stop Taejongdae from here.
Details: More details at the Yeongdo-gu website. Read a little about the Jeoryeong Coastal Walk and 75 Square.
How to get there: Take Bus 7, 70, 71 or 508 from Busan Station and stop at Huin Yeoul Culture Village stop. There is another bus stop nearby where 6, 9, 82 and 85 also stop at. From the bus stop, head towards the coast line to find the Jeoryeong Coastal Walk.
---
Taejongdae 태종대
Taejongdae Resort Park is a popular scenic spot to soak in Busan's natural forests and admire the coastline with some spectacular cliff views, especially during sunset.
Before I even entered the park, I took a small detour at the main entrance to Taejongdae and headed to Gamji Beach, a crescent-shaped cove with a grey pebble beach. If you love seafood, make sure to hit the long stretch of tents also known as the Taejongdae Jagalmadang 태종대 자갈마당 where you can get super-fresh seafood. I was tempted to get some for lunch, but alas the woes of dining as a solo traveller – there wasn't much English happening and I'm a bit leery of eating weird seafood and it wasn't that cheap, especially for just 1 person.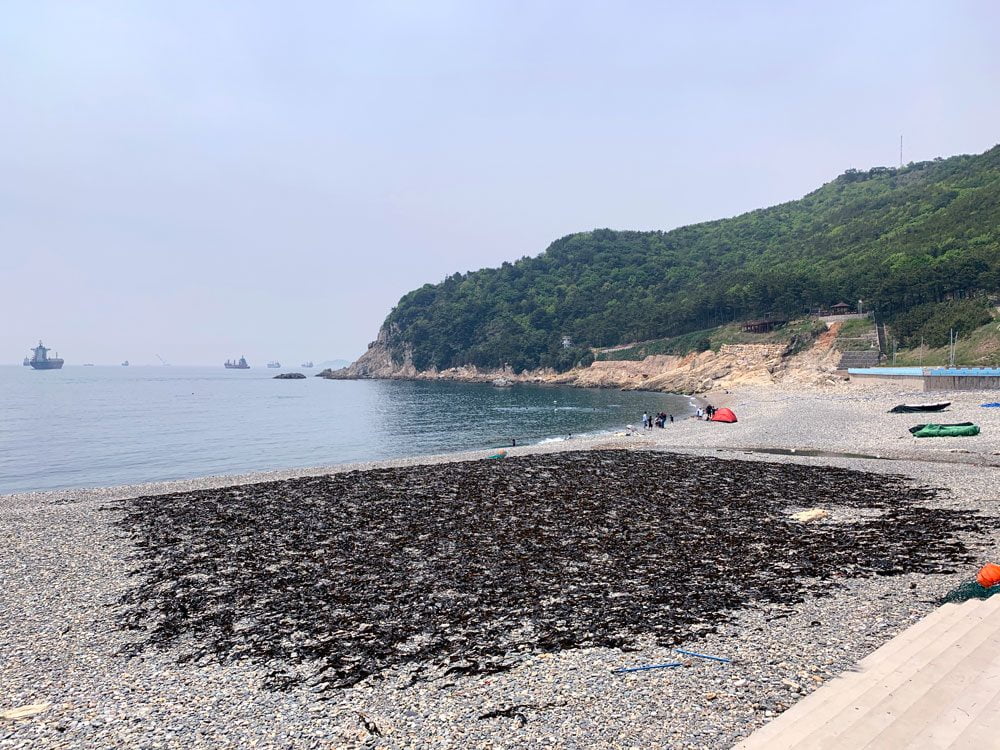 When I entered Taejongdae park, there were some pretty long queues for the Danubi tourist train, so I decided to save money and walked the entire route instead. It is a scenic walk and while I say it is doable for the average person (aka me), you need some fitness to do it as it gets quite steep at certain points.
Hot tip: If you plan to walk, make sure you take the clockwise route from the entrance (Go up the slope towards Taejongsa/Taejong Temple). You might be tempted to take what looks like the easier route (that goes down towards Taewon Pebble Beach), but trust me, you will regret it as there are longer uphill steep sections further along the route.
Details: Open 4am/5am – midnight. Free Entrance. The Train only runs from 9am – 530pm and costs 3,000 KRW. More at the Taejongdae Resort Park website (Korean)
How to get there: I took Bus 1006 from 75 Square to the terminal/garage. From there it's a 5-10 minute walk to the entrance of Taejongdae Resort Park. Other buses that go here include 8, 13, 30 – if you're coming from Busan Station take 88 or 101.
---
Seomyeon 서면
If you still have energy after a long day out, head up to Seomyeon in the evening for some happening nightlife. Seomyeon isn't actually near Yeongdo – it's sort of the way to Haeundae, but it is quite a central location for getting around Busan and I thought it would be a pity to skip.
Busan Citizens Park 부산시민공원
While there aren't many tourist sights to see around the area, it's where you go to eat and shop a lot, which is exactly what I did with my friend B. We took a walk at the Busan Citizens Park for a walk around in the afternoon. Lots of local people were enjoying the park and good weather that day – we found a hedge maze to get lost in and lovely streams to stroll by.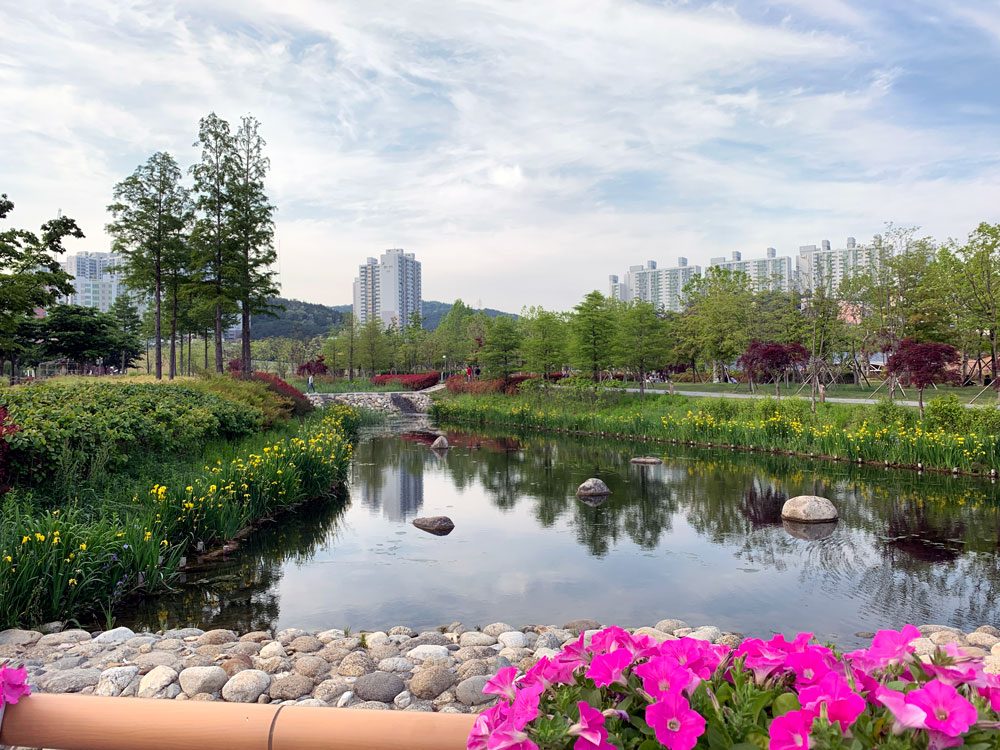 Details: Open 5am-11pm
What to Eat in Seomyeon
One of the must-eats in Busan is Dwaeji Gukbap 돼지국밥 or Pork Bone Rice-Soup, and while there are several well-known stores around Busan, Seomyeon has a legendary Dwaeji Gukbap Alley lined with a ton of Dwaeji Gukbap stalls.
I also had to indulge in some ChiMaek or Chicken and Beer (Maekju) while in Korea. We headed to a cute little place in Seomyeong called Oksang Dalbit 옥상달빛 – it wasn't crowded because we were there in the late afternoon but it started to get much more crowded as dinner rolled around. Kloud draught beer and yummy cheesy boneless chicken… yum!
And because the weather was starting to get hot, I had to get some Korean Bingsu. B directed me to this popular Bingsu chain called Sulbing 설빙. We shared an Injeolmi bingsu, which is a very finely ground light brown bean powder that they cover the ice with. It is practically impossible to eat this neatly, but it's so delicious! If you love cafes, make sure to hit Jeonpo Cafe Street nearby as well.
How to get there: Take the MRT up to Seomyeon Station on orange Line 1 with its distinctive 5-point junction. Busan Citizen Park is closer to Bujeon Station than Seomyeon.
---
Day 2 – East Busan
You can't talk about Busan's highlights without mentioning Haeundae Beach – I've planned a day where you can see some of the major sights around the Haeundae area and Busan's eastern coast.
Haedong Yonggung Temple 해동 용궁사
There are plenty of temples in Korea and Busan, but Haedong Yonggungsa in Gijang is special as it is one of the rare temples in South Korea that isn't located up in the mountains but situated by the sea instead. It's the perfect spot to kickstart your exploration of East Busan.
I visited Haedong Yonggungsa on a weekend which also happened to be Korea's Children's Day so the place was PACKED. Also, it was the weekend before Buddha's birthday, hence all the pretty and colourful lanterns on display. The temple faces east so it's a popular spot for viewing the sunrise, especially on New Year's morning. Spiritual Travels has a pretty detailed post about the temple's layout for those who want more detail.
Details: Open 5am to sunset. Free entrance. I suggest going earlier in the day as it is generally less crowded in the mornings. If you are ambitious, you can try to catch the sunrise over the ocean as it does face east.
How to get there: Take the MRT to Haeundae Station Exit 7, and then take Bus 181 to Haedong Yonggungsa stop. From the main road, there's a short 5-10 minute walk to get to the temple complex.
---
Haeundae Beach 해운대 해수욕장
One of Busan's most iconic spots, Haeundae Beach is the perfect place to just hang out and relax. In summer the beaches are absolutely packed with beach-goers, but when I visited in late spring it was less crowded as it was still too cold to swim even though the sun was out.
Haeundae Beach is also popular for food – you can't miss the queues lining up at some of the famous Dwaeji Gukbap (Pork Soup + Rice) restaurants along the main thoroughfare. You can also check out Haeundae Market, a long stretch of restaurants and eateries. I had Eomuk (fish cake) and Tteokbokki (rice cake) here for lunch.
Haeundae is a pretty hip nightlife spot as well, if you want a funky place to hang out at night, you could come back here again in the evening – there are plenty of bars and restaurants by the beach.
Details: Swimming time from 9am – 6pm. More at Haeundae Beach Website
How to get there: from Haedong Yonggungsa, take bus 181 to get back to Haeundae. Haeundae Beach is a short walk from the Haeundae MRT station.
---
Mipo Railway Track 미포철길
The Mipo railway track is a disused scenic coastal rail line that used to be a part of the Donghae Nambu train line which was closed. It was reopened as a walking path with wooden boardwalks and connects Haeundae Beach to Songjeong Beach further north.
Expect to see a ton of couples and Instagram-happy hipsters setting up their shots along the railway tracks here, it gets pretty crowded on the weekends especially. It's a nice place for an easy stroll with a great view.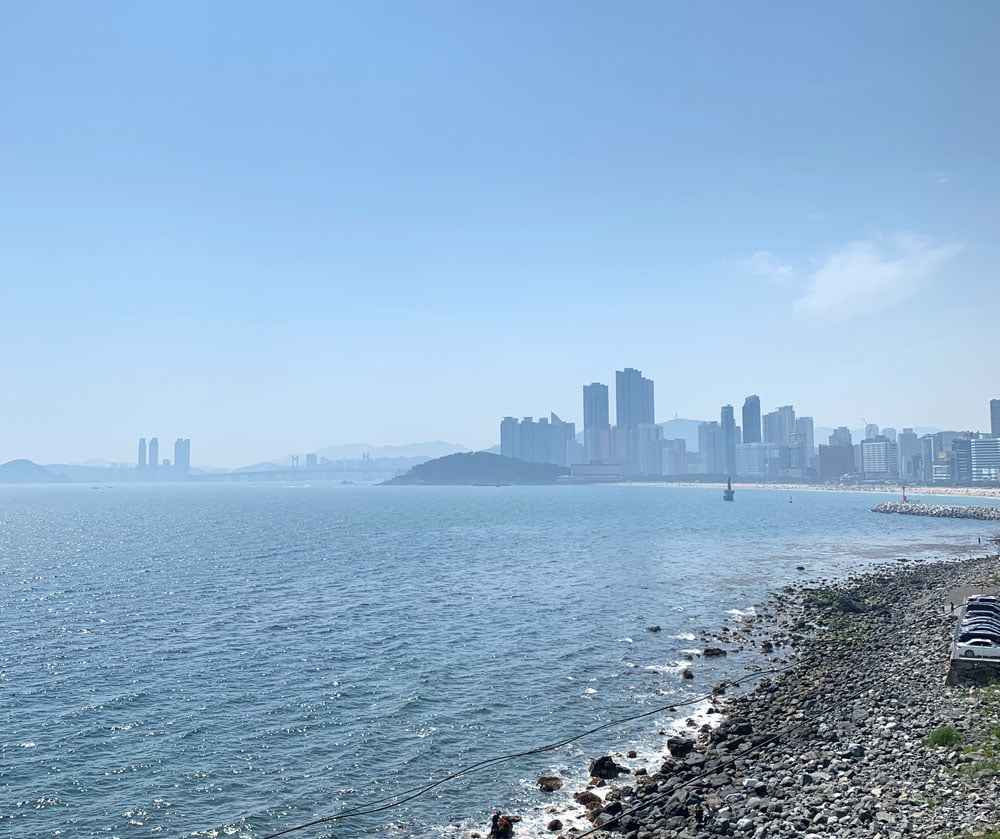 How to get there: From Haeundae Beach, keep walking eastwards until you hit Dalmaji-gil. Turn inland and walk up the slope till you get to this entrance when you can see the railway tracks and all the couples taking their selfies there.
---
Dalmaji Road 달맞이길
Dalmaji Road is a stretch of road winding up Dalmaji Hill that's shaded by large tree canopies and considered one of the prettiest places to be during the cherry blossom season in Busan.
Besides soaking up the atmosphere and admiring the view from up here, Dalmaji has also become one of those cafe hotspot areas where you can just hang out for a cuppa. Art lovers will also find lots of little indie art galleries to pop into around this area.
How to get there: From Mipo Railway Tracks, there is a stairway that leads you up the hillside directly to Dalmaji Road.
---
Gwangalli Beach 광안리 해수욕장
Another famous beach in Busan is Gwangalli Beach located in Suyeong, renown for fine white sand and a view of the imposing Gwangan Bridge that spans the cove. I visited at night when the bridge was all lit up and was even treated to some impromptu fireworks on the water and the beach.
The atmosphere is really nice in the evening, with lots of buskers and night lights and even some projections onto the sand all around. There are plenty of eating and drinking places along the beach so you can while the night away.
Details: Swimming time from 9am – 6pm. More at Suyeong Website.
How to get there: Take the MRT and get off at Gwangan Station – the beach is a short walk from the MRT station.
For dinner, I checked out Galmegi Brewing, an American-style craft brewery just off the main Gwangalli Beach stretch. Perhaps it was a weekday, but only the 2nd level was open and you had to go up by the fire exit stairs. But the bar itself was very hipster chillax and I had some beer and Spanish-style prawns for dinner that night. I visited the main brewery and original location, but they do have several outlets in Busan, including one on Haeundae Beach and another in Seomyeon.
---
Day 3 – South Busan
Check out the Nampodong district in Busan and head further south to see the famous Gamcheon Culture Village and a quieter beach at Dadaepo.
Bonjeon Dwaeji Gukbap 본전 돼지국밥
My Korean friend B introduced me to this famous Dwaeji Gukbap restaurant near the Busan Train Station. Bonjeon normally sees very long queues, but we were there quite early for lunch so we got a seat quite easily.
This pork bone soup is savoury, hearty and perfect in colder weather. I expected it to taste like Singaporean Bak Kut Teh but it's not as peppery. You are supposed to add different proportions of the side dishes to the soup to change up the flavour.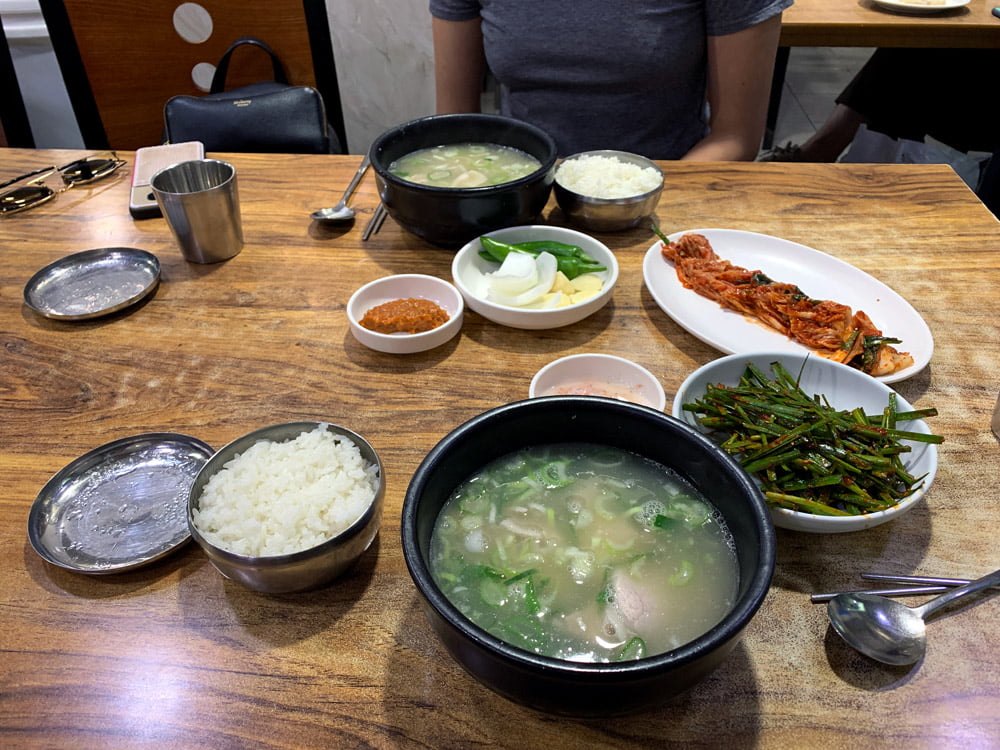 Details: Open 830am-930pm. There are some good details over at purple eats.
How to get there: From Busan Station Exit 7, walk up Jungang Daero 215 Beolgil. The store is just 5 mins from the main Busan train station.
---
Nampo-dong 남포동
Jagalchi Market 자갈치
Jagalchi Market is where you go to enjoy Busan's abundance of amazing seafood. Check out the wet market in the massive indoor complex or the stalls lined with all sorts of seafood along the little lanes outside. It's a great place to just wander around in whether you plan to eat or not.
Details: Open 5am – 10pm, closed on 1st and 3rd Tuesdays of the month.
How to get there: Take the MRT to Jagalchi Station and walk about 5 minutes to approach from the south.
Gukje Market 국제시장
Gukje Market (International Market) is one of the largest markets in Korea and you can buy just about anything here. There are a whole bunch of covered and outdoor markets in this entire area that are interlinked – Bupyeong Market, Kkangtong Market, etc.
There are a lot of food options around this area – Gukje Food Market Street is famous for Chungmu Gimbap
Details: Open 9am – 8pm, closed on 1st and 3rd Sundays of the month.
How to get there: Take the MRT to Jagalchi Station and walk about 5 minutes to approach from the south. Buses 15, 40, 81, 86, 126, 186 stop you a little closer on the northern end
BIFF Square BIFF 광장
BIFF Square is the main site of the annual Busan International Film Festival – look on the ground for handprints by your favourite Korean directors and actors, and catch a film at one of the many movie theatres in the area too. Otherwise, it's a hip area with a ton of retail shops and eating spots and a great vibe for walking around in the evening.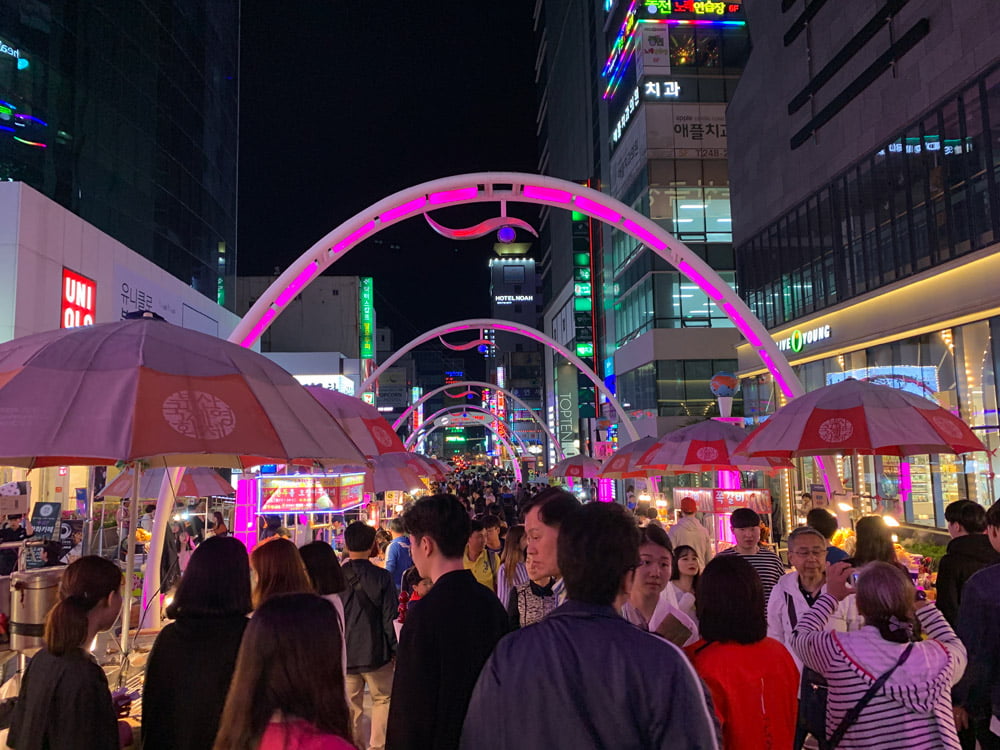 One of my favourite street food finds was something called Ssiat Hotteok:
How to get there: BIFF Square is located next to Jagalchi MRT station, or you can walk over from Gukje Market as well.
Bosu-dong Book Street 보수동 책방골목
Bibliophiles will want to pay a visit to Bosu-dong Book Street which stands on the site of the original Gukje Market. It developed over 70 years ago when Korea became independent and Busan took in many refugees who set up book stalls to make a living. Today it is lined with myriad bookstores selling a mix of new and used books that may be cheaper than mainstream stores – you can even find English titles here.
I didn't spend a lot of time here but there are lots of cute looking cafes that you can pop into as well, so you can enjoy a cuppa after you get a good book bargain.
How to get there: Bosudong Book Street is across Daecheong-ro road from Gukje Market. Or walk over from Toseong MRT station.
---
Gamcheon Culture Village 감천 문화마을
Colourful Gamcheon village used to be one of the poorer areas in Busan that housed refugees from the Korean War, but with a fresh coat of paint from local artists, this hillside slum was transformed into a tourist attraction in 2009 that draws the Instagram-loving crowd in droves today.
There are lots of murals, art and little shops along the lanes – it's a very picturesque place to stroll around in though it is a bit touristy nowadays – pick a weekday to visit if you can to avoid the crowds.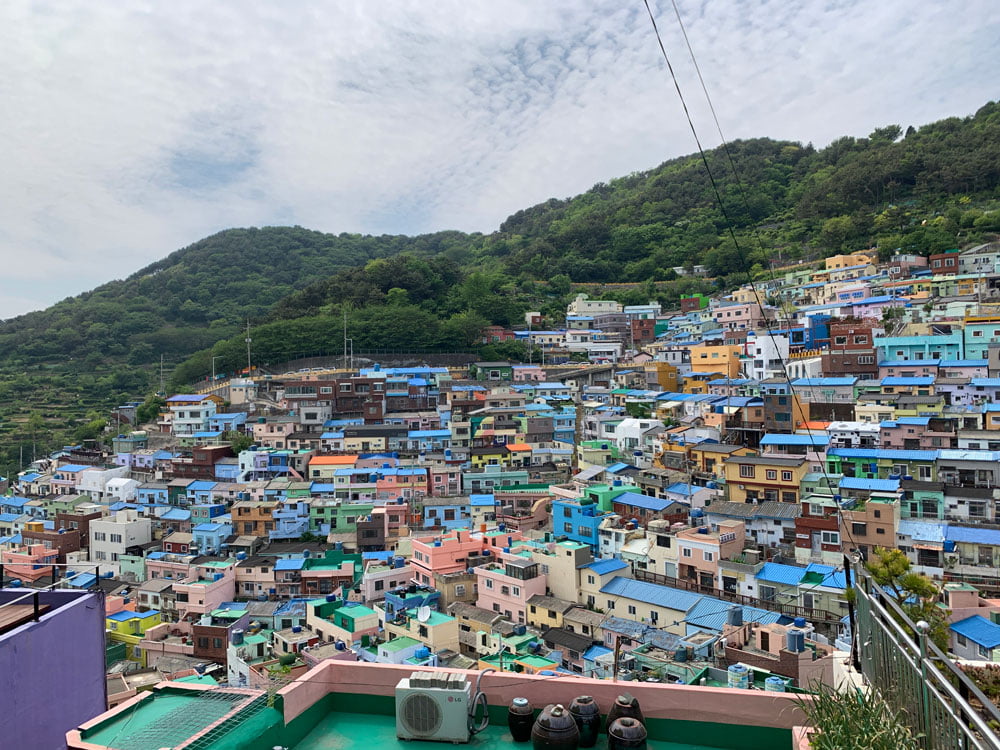 From the main bus stop, I explored the main shopping stretch before taking a stroll to quieter parts on the outskirts. You can pick up an official map for just 2,000 KRW and collect stamps for a reward. I opted to just wander and ended up finding the 148 Stair to See Stars named because that's what you see when you try climbing up them – thankfully I went down them instead.
Details: Open 9am-6pm (5pm from Dec-Feb). More at Gamcheon Village Website [Korean]
How to get there: I took Bus 87 from Busan Train Station to the base of the hill, and changed to a feeder bus up to Gamcheon Culture Village. You can walk up but I highly recommend taking a feeder bus as it is located up some pretty steep slopes. Alternatively you can take the MRT to Toseong MRT instead and then take a feeder bus.
---
Dadaepo Beach 다대포 해수욕장
End your day at a much quieter beach in the south of Busan where you can enjoy an unblocked sunset view. There's a nice park to stroll around in with a famous Sunset Fountain of Dreams, and trails where you can do more serious trekking and admire the Morundae Cliff view. I mostly wandered along the beachfront and boardwalks along the coastline and just enjoyed a scenic sunset view.
How to get there: Take the MRT Orange Line 1 to its southern-most end Dadaepo Beach station and it's a short walk to the beach
---
Hostels in Busan
My preferred choice of accommodation on my solo travels is hostels, and Korea has some of the best hostels that you can stay in for a relatively affordable price. If you are one of those people hesitant about the quality of hostels, let me just say that from my experience, East Asian hostels are amazing. There are powder rooms with free amenities for crying out loud. Western hostels definitely aren't as fancy.
---
K79 Guesthouse
Location: K79 Hostel is located in the Nampodong area close to Gukje Market and within walking distance to Jagalchi and BIFF Square. You do have to walk a little to get to the nearest MRT station (Jungang), but if you use the buses, they can drop you very close to the hostel. You are just a few stops away from the Busan Train Station.
Facilities: This hostel is pretty fancy and clean. I stayed in a 6-bed dorm on the female level that was large and had its own curtains and plenty of storage space. The toilets and the showers were separate and they had a separate powder room area for you to dress up and put on makeup.
Cost: I paid about 19,000 KRW (~S$22) per night for a 6-bed female dorm. Prices on booking.com range from 25,000-28,000 KRW (S$28-32) last I checked.
Check out K79 Guesthouse on booking.com [affiliate link]
---
Mozzihostel
Location: Mozzihostel has an excellent location right next to the Busan Train Station, so it's extremely convenient if you are taking the train/KTX around Korea. There are also plenty of buses and the MRT right on your doorstep, as well as the Airport bus shuttle bus stop.
Facilities: There's a lift to bring you up to the 5th level and a common room area with large windows overlooking the train tracks and bay area, especially pretty in the evenings. I stayed in a 4-bed dormitory for about 18,400 KRW (~S$22) per night, and the bed was large, comfortable and came with its own outlets and curtains. The doors to the rooms are electronically operated, and the shower amenities are all free for you to use.
Others: Breakfast is pretty basic, and the owner does have a dog that you might see in the common area during working hours, so that might be a pro/con depending on how you feel about animals. You are also next to the railway tracks so if you are sensitive to noise, bring some earplugs.
Cost: I paid about 19,000 KRW (~S$22) per night for a 4-bed female dorm. Prices on booking.com range from 20,000-24,000 KRW (S$23-27) last I checked.
Check out Mozzihostel on booking.com [affiliate link]
---
Flights from Singapore to Busan
Silkair launched the nonstop direct route from Singapore's Changi Airport (SIN) to Busan's Gimhae Airport (PUS) in May 2019. It flies 4x a week. For this 3-day itinerary in Busan, you have 2 options:
Dep Fri late night, return Tue afternoon (Sat, Sun, Mon) – 2 days leave
Dep Wed late night, return Sun afternoon (Thur, Fri, Sat) – 2 days leave
---
Singapore to Busan
SIN>PUS: MI876 2315hrs – 0700hrs (+1) [Monday, Wednesday, Friday and Saturday]
The red-eye flight to Busan is great for weekend warriors trying to maximise their trip but minimise leave needed, but the downside is you'll probably be pretty tired when you land early in the morning and not be able to check-in until later in the afternoon.
---
Busan to Singapore
PUS>SIN: MI875 0815hrs – 1415hrs [Tuesday, Thursday, Saturday and Sunday]
The flight would require you to get to the airport pretty early in the morning, so sleeping overnight in Busan and catching the Airport Limousine bus (bus runs every half hour, takes about 45 minutes, 6,000 KRW) would probably be the easiest option. You can take the MRT to/from the airport but may involve 1-2 transfers at Sasang and Seomyeon. More info at Gimhae Airport website.
---
Navigating Busan by public transport
Maps
When in South Korea, skip Google Maps and download Naver Maps instead for a more accurate map that even gives you live train and bus information on an English interface. I used this on my own travels and highly recommend it. You might need to use the original Hangul names if you can't seem to find it spelt correctly in English though. Kakao Maps is another popular option that some prefer or say is better – pick what works best for you.
Transport
Pick up a T-Money transport card (2,500 KTW or S$3) from any convenience store or MRT station, load it up and use it to tap in and out of buses, trains and even make payment. Transport fares are discounted when using a transport card, you can transfer discounts when taking multiple buses/trains within half and hour, and it's also less hassle fiddling with loose change or having to queue for tickets. Cashbee is also similar and widely used, or tourists can consider a Korea Tour Card (4,000 KRW or S$4.60) which can give you discounts to other tourist attractions as well.
Check out the KTO site for a detailed rundown on the use of transportation cards in Korea.
Roaming Data
If you are using maps intensely, you will also need to have data on the go. I usually like having a SIM card with unlimited data because of the ease of having it in my phone, but for this trip I ended up renting a KT-Olleh portable wifi device (unlimited data) from Klook [affiliate link] for 9 days that cost S$27.45(S$3.06/day, I had some credits and there was a sale) instead because it was cheaper than getting a 10-day SIM card (around S$35-40 on average).
Some other options to consider [affiliate links below]:
---
Have I missed out on any of Busan's must-sees and must-dos? Tell me what I've missed about Busan in the comments.
Exploring the southern region of Korea? Check out my post about Suncheon and Yeosu in the Jeollanam region, or see all my South Korea posts.