Cordoba has been on my list of places to visit for a while, having missed out on it on previous trips to Andalusia. The main thing I wanted to see in Córdoba was the famous Mezquita-Cathedral with its distinctive red and white arches, one of three UNESCO World Heritage sites you can find in this historically important Spanish city. I was also looking forward to trying the unique Cordoba cuisine – Here's my guide on travelling solo in Cordoba and what you can see, eat and explore on a weekend trip.
Looking for other cities I visited on this Andalusia trip? Check out my posts on Seville and Cadiz.
How to get to Cordoba
By train
The train journey from Seville's Santa Justa Station to Cordoba takes about 45 minutes, which means you could do a day trip from Seville, but I think at least 2 days/1 night in Cordoba is ideal to get a better feel of the city. I stayed in Cordoba for two nights so I had a bit more leisure time overall.
If you are coming in from Madrid, the high speed rail takes just under 2 hours between Madrid's Atocha station to Cordoba Station.
The Cordoba train station is along Avenida de America and is about 15-20 minutes walk away from both the Centro and Old Town areas.
My train ticket from Cordoba to Seville cost about 22 Euros. Read more about my Spain trip planning here.
Map of Cordoba
Historic Centre of Cordoba
The old town is one of Cordoba's 3 UNESCO heritage sites and lovely to explore on foot. Founded by the Romans, you'll find remnants of their presence here along with the Andalusian style Mudejar-Christian architecture and the presence of the old Jewish quarter.
Mezquita Cathedral (Mosque Cathedral)
The main reason people come to Cordoba is to see the UNESCO Heritage site Mezquita Cathedral (Mosque Cathedral) and its unusual fusion of architectural styles. Mudejar architecture can be found throughout Andalusia, but the Mosque-Cathedral is the one of the best examples of this mishmash of cultures and how conquering empires literally built on top of each other which I personally find fascinating.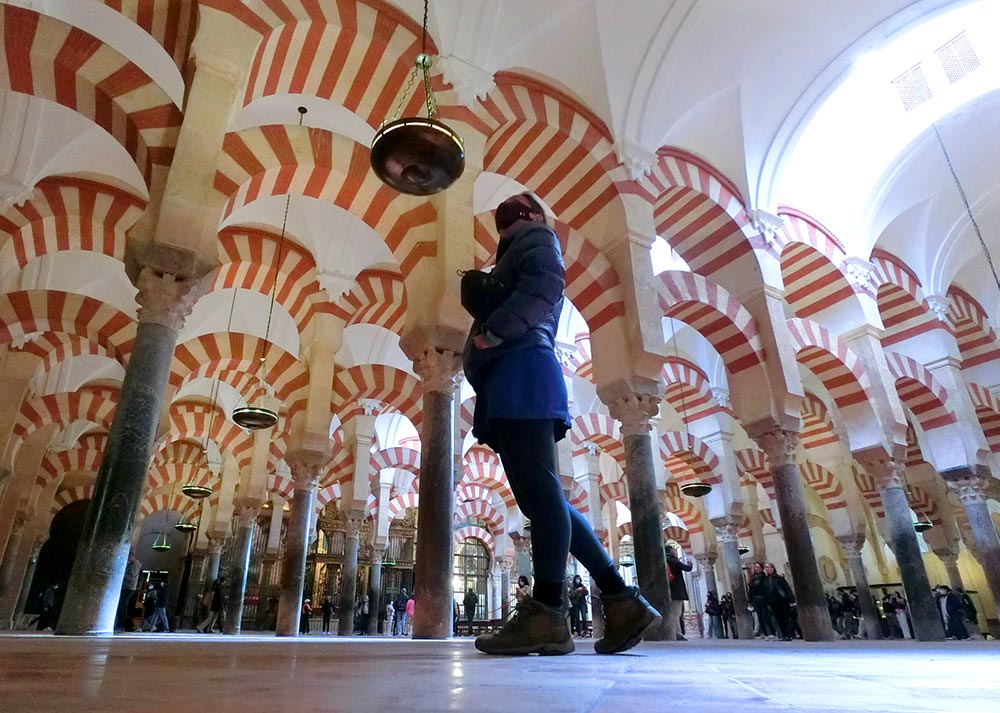 This site was most well-known as a lavish mosque in the 9th century, though more digging has shown that this site was predated by a Visigoth temple. When the Christians took over in the 12th century, they liked the original mosque enough to keep a lot of it, but decided to build a Renaissance style church smack in the middle of the prayer halls. It's honestly a little bizarre walking through the compound and finding a completely different architectural space in just a few steps.
Take your time to look up and admire the intricate architecture. This particular attraction is crowded all day long, though less so in the mornings. There are some plaques to read around the space but if you want more historical information, I suggest taking a tour with a guide.
The entrance area is particularly crowded and dark because everyone is wowed when they first enter the space, so don't rush to take your shots – for better pictures of the arches where there is a bit more light, move further inside the compound.
Bell Tower Climb
Besides buying the ticket to enter the Mezquita Cathedral, I also opted to do the Bell Tower climb. This was the former minaret that the Muslims used for prayer calls, and you can even see bits of the original dome inside the tower as you ascend, but like Seville's Giralda, it was transformed into a bell tower after the Christians took over.
This tower climb visit is timed with a 20pax cap per group. There are 3 different levels of the tower that a guard will give you access to and the whole visit takes about 30 minutes, but no explanations or stories are given – I bought my tower climb ticket 30 minutes before entry into the main Mosque Cathedral so I could go straight in after the climb.
I recommend doing this tower climb on a nice day and you'll have amazing views of the surrounding countryside. I also liked seeing the external architectural features of the Mosque Cathedral before heading inside. It's a bit of a climb up the stairs, but I think the views are well worth it.
Visitor info: Get your tickets at the Mezquita Cathedral website – I recommend buying online so you don't have to queue at the door, and you can just scan your QR code. General tickets cost 11 Euros while the Bell Tower is a separate 3 Euros. If you want to see the building by night, you can do the Soul of Cordoba which includes some sort of light projection show, but apparently you're not allowed to take pictures of that. More about tickets here. Most days its open from 10am to 7pm and there is apparently free entry from 8-920am, but check opening times before you go as it's still a working church.
Alcazar de los Reyes Cristianos (Castle of the Christian Kings)
While the Mezquita-Cathedral is Cordoba's most famous building, the city is also home to its own castle known as Alcazar de los Reyes Cristianos, or Castle of the Christian Kings. This castle was a favoured residence for Queen Isabella and King Ferdinand after they overthrew the Moors and while it's not as sprawling or impressive as Seville's Real Alcazar, I think it's still worth popping into if you have some time to spare and if it's not crowded.
The main highlights of this alcazar are the intact Roman mosaics excavated from the surrounding area that are on display here, as well as its lovely gardens, so pick a day with good weather to visit. It's also quite cheap to visit at just 5 Euros for entry and I think I spent just half an hour here, it's really not very large at all, but the gardens are a nice respite if you want somewhere to relax after all the crowds at the Mezquita-Cathedral.
Visitor Info: It cost just 5 Euros to enter the Alcazar – buy your tickets online or at the door. Closed on Mondays.
Puente Romano (Roman Bridge)
Originally built by the Romans in 1st BC, this was the only bridge across the Guadalquivir River in Cordoba for a long time. This particular version of the bridge was a rebuild by the Arabs in the 8th Century. The Roman Bridge is located between the Mezquita Cathedral and Alcazar, so nice for a stroll in between visiting these spots.
There is a small museum called the Torre de la Calahorra on the non-old town end of the bridge which houses a small museum. I didn't go inside because the weather was so nice, mainly enjoying the view of the river from the bridge.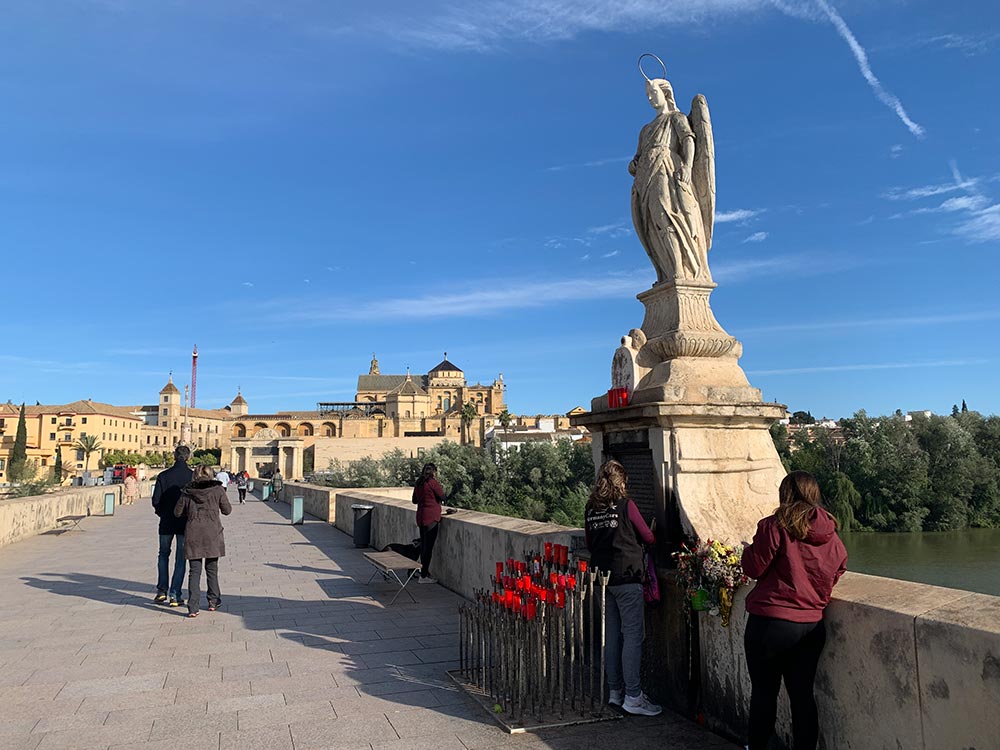 Free walking tour with Cordoba Tips Tours
I arrived in Cordoba in the morning and spent most of that time visiting the Mezquita Cathedral, so in the afternoon, I decided to take a free walking tour just to get a sense of what to see in the city. There are plenty of free walking tour options available, but at that point most of the English tour options started around 10-11am. Because of my timing, I ended up booking a tour with Cordoba Tips Tours which had a Free Monumental Tour with a 130pm start time (Check because timings can change in different seasons).
The 2-hour walking tour started at the Almodovar City Gate and covered the Old Town area, and was definitely helpful in giving some context as to what I was seeing. It's a free tour in that you choose what to pay based on tips at the end (I usually give 5-10 Euros), and I always recommend a walking tour as a quick way to get an overview of a new place quickly.
My tour guide was okay – I've been on many of such tours before, and generally her English was decent and she did know her stuff.
Centro
A short distance from Cordoba's old town are more modern plazas where all the buzz is happening, and some interesting sights worth checking out as well. I walked a lot in Cordoba!
Plaza de las Tendillas
This is Cordoba's main town square and very busy with people all the time. Most of the main retail brands and restaurants are located here. I mostly walked through this area but it has a great city vibe.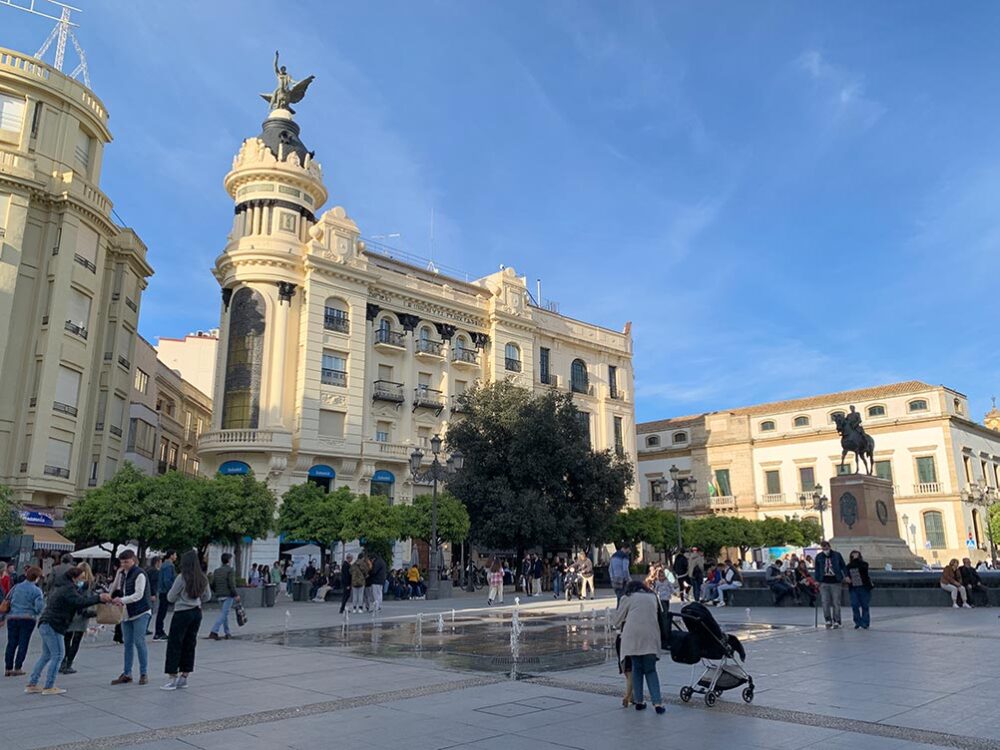 Plaza de la Corredera
Something about this square surrounded by buildings reminded me a lot of Madrid and is quite atypical of Andalusian architecture – restaurants and bars line this plaza and it feels like one of those hip places to see and be seen. Lots of food options here in the main square area where there is alfresco seating. It's very close to the Templo Romano ruins.
Templo Romano (Roman Temple)
These pillars just kinda spring out of nowhere, remnants of the city's early days as a Roman city and belong to a former Roman temple – some of the mosaics that were unearthed here can be seen in the Alcazar or the Archaeological Museum which I didn't manage to visit.
Palacio de Viana (Viana Palace)
If you visit Cordoba in May, make sure to time it so you can see the Cordoba Patio festival (Fiesta de los Patios), where local people decorate the inner courtyards of their homes and compete to have the prettiest ones. This festival was awarded UNESCO Intangible Heritage status and is a pretty cool way to see how the local people live.
Unfortunately because most of these patios are on private property and are only open to the public during the festival in May. However, one very good place to see Cordoba's beautiful patios throughout the year without trespassing is at the Viana Palace, a fancy mansion where there are 12 unique patios, each with its own theme and character.
I took a guided tour at Viana Palace that brought me to the upper levels of this house which are otherwise closed to visitors – the house has been owned through the years by several noblemen and there are lots of artefacts and old style furniture if you enjoy that sort of thing, but no photos are allowed so I don't have any pictures for you, and the tour was mostly in Spanish of which my grasp is rudimentary so I would say I understood about 40% of what was happening. See some pix of the upstairs from their website and consider whether you think it's worth checking out.
The rest of my time was spent exploring the patios on the ground level on my own, and I definitely enjoyed how different each one was. also because I had really good weather so being outside was nice if a tad cold in March (I was a little underdressed that day!).
Visitor info: The ticket for the patios only costs 6 Euros, but I got a combined ticket that included a guided tour of the upper levels for 10 Euros, but note that the tour is only in Spanish, and no photos are allowed on the upper levels. Book your tickets at the Palacio de Viana site. Closed on Mondays.
Plaza de Capuchinos
Not far from the Viana Palace is Plaza de Capuchinos, one of the more interesting plazas in Cordoba. You'll have to climb the picturesque Cuesta del Bailío (Bailio Steps) which then leads you to the plaza where you will find Cristo de los Faroles or Christ of the Lamps, a sculpture of Jesus on the cross surrounded by iron lamps. I visited in the afternoon, but it's definitely supposed to be prettier in the evening when the lamps are lit.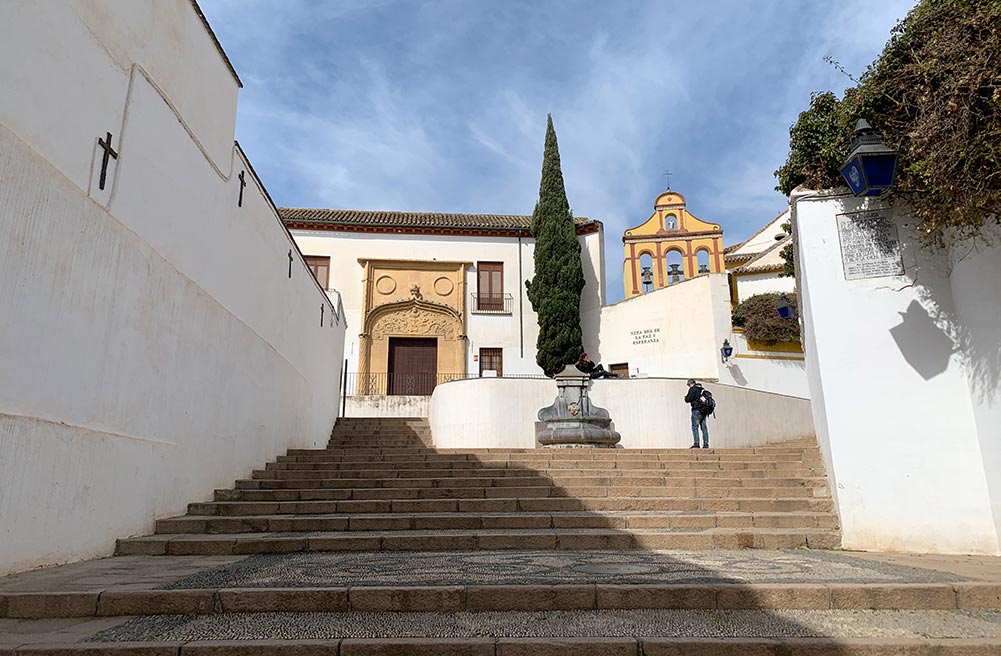 What I missed
Even with 2 nights in Cordoba, there are still a couple of things that I missed out on:
Medina Azahara is Cordoba's 3rd UNESCO heritage site, the ruins of the Caliphate palace located some distance outside the old town area. It's more of an archaeological site compared to other Mudejar architecture.
Cordoba Archaeological Museum looks interesting for history lovers with lots of artefacts on display.
Jewish Synagogue: I wanted to check out what is apparently one of the better preserved synagogues in Spain, but it was closed when I had some free time unfortunately. It's supposed to have some lovely Mudejar architecture
Palacio de la Merced: I walked by this and while it's mostly a government building, it does have some exhibitions. Pretty building not far from the Viana Palace.
What to eat in Cordoba
I love eating tapas in the Andalusian region and had plenty of that in Seville and Cadiz, but Cordoba has some pretty interesting local specialities that they are known for worth trying. You can get some of these in other cities, but they are most closely associated with Cordoba.
Salmorejo
Salmorejo is a classic starter and while I'm not that big a fan of Gazpacho, it turns out that I really like Salmorejo which is a thick, cold tomato soup with bits of boiled egg and ham. It's savoury, doesn't have unnecessary bits of vegetables in it, and is surprisingly filling.
Flamenquin
Flamenquin is the other meat lover option and is basically jamon serrano ham wrapped in pork loin and deep fried with breadcrumbs into a sausage roll of sorts. The perfect meaty snack food!
Rabo de Toro (Oxtail Stew)
Rabo de Toro was a tradition from the days of bullfighting in Andalusia but soon became a Cordoba staple. It's a hearty meal and the oxtail meat is stewed until it's soft and slathered with a savoury gravy. Pretty yummy stuff!
Another iconic Cordoba food to try: Berenjenas con miel (fried eggplant drizzled with some honey) – I saw them serve this in a huge plate so I wasn't about to try this on my own given that I don't even like vegetables!
Where to eat in Cordoba
Casa Pepe de la Juderia
This restaurant in the Jewish Quarter near the Mezquita-Cathedral is popular as it is listed on the Michelin Guide site. I decided to visit on a whim and splurge a little bit more on my last Andalusian meal before flying back up to Barcelona – I spent 33 Euros on my meal. I didn't make any reservations but managed to get a seat for 1 pax – remember that Spanish people tend to eat late, so I went a bit earlier and maanged to get a table as long as I left in time for the next booking.
I liked the interior of the restaurant where they converted the inner courtyard area into an indoor space with an alfresco feel that almost felt like you were eating outside.
Instead of eating more Salmorejo, I decided to try something else called Mazamorra, yet another thick cold soup but this one is made from almonds and bread. Sweeter and less savoury than Salmorejo – I personally prefer the latter.
For my main I picked something called Arroz Meloso, or creamy rice which is not too different from a risotto in my opinion, and this one comes with a bunch of yummy iberico ham pieces.
Check out more at Casa pepe de la Juderia. Opens for lunch 1-430pm and dinner 830-1130pm.
Taberna La Montillana
This little tavern is located in between Plaza de las Tendillas and Plaza Corredera and where I tried Flamenquin and Salmorejo (see the food pix above) along with 2 beers. I was seated near the bar area and had a high table to myself.
Check out more at Taberna La Montillana. Open for lunch 1-5pm and dinner 8pm-12am (Mon-Thur) and 1pm-12am (Fri-Sun).
La Siesta Ribera
For lunch one day I decided to do the local thing and eat at an al fresco spot near the river. La Siesta is a fairly popular restaurant among several others along this stretch, and it was nice sitting outside on a sunny day. Pretty good oxtail too!
Check out more at La Siesta Ribera. Open for lunch 1-4pm, dinner 8pm-1am (2am on Fri/Sat).
Bar Natali
This unassuming place was a recommendation by my Seville tapas tour guide whose hometown is Cordoba – it had a vibe that reminded me of HDB kopitiams and the people working there were pretty friendly. I spent a long day walking and was pretty happy to tuck into the calamari and my beer. It was my cheapest meal in Cordoba costing just 7 Euros for both items!
See Bar Natali's location on Google Maps – they are close to La Juderia and the synagogue.
Where to stay in Cordoba
I wanted to be near the old town area so I stayed in the Jewish quarter (La Juderia) in a guesthouse called Hospederia Luis de Gongora. the location was pretty good – 15 minutes from the train station and another 10 minutes to the Mezquita-Cathedral. I had a single room on the 4th floor (no lift!) which was decent enough, but man that shower was tiny. Ok for a short stay but not the most comfortable. It cost me 66 Euros/night at this guesthouse.
Check out Hospederia Luis de Gongora at booking.com [affiliate link]
Some other options I was considering in Cordoba's Old Town area [booking.com affiliate links]:
Cordoba Carpe Diem was also a strong contender offering private rooms for about the same price range. Also very close to the Mezquita-Cathedral.
Hotel Plateros is closer to the archaeological museum at Plaza Seneca and costs a bit more but also looks quite decent
Pension Internacional looks like a nice modern place, close to Hotel Plateros so also centrally located
---
Looking for more on Andalusia? Check out the other posts from this trip, or see all my Spain posts.