Last Updated on 25 January, 2023
Running out of leave days and have just one weekend to spend in Taipei? You can cover a lot in Taiwan's bustling capital in just 48 hours. Here's a 2 day Taipei itinerary that I've put together for first-time travellers to Taipei that covers what I think are the must-sees and must-dos for that quintessential Taiwanese experience.
Taiwan is one of my all-time favourite countries and I've visited several times. This suggested Taipei itinerary is quite a packed schedule and it's not exhaustive, but I think it covers the essential spots for first-time visitors. If you've visited Taipei before, here's a post on more unusual things to do in Taipei over a weekend or check out my #TaiwanderingWithScoot series where I unearthed more unusual things to do in and around Taipei.
---
DAY 1
Learn about Taiwanese history at Chiang Kai Shek Memorial Hall 蔣介石國立中正紀念堂
If you don't know anything about Taiwan other than the fact that you have a plane ticket there, it might help to learn some Taiwanese history to get a little bit of context. Start with the iconic Chiang Kai Shek Memorial Hall dedicated to the Kuomintang leader of Taiwan in the 50's and 60's. This is one of Taipei's historical landmarks set amidst lovely Chinese architecture and gardens. Tick this off your Taiwan list of must-dos.
Opening Hours: 9am – 6pm everyday – the gardens are open from 5am – 12 midnight
Getting There: Take the MRT Danshui-Xinyi Red line to CKS Memorial Hall Station – details here
Eat local Taiwanese Food at Yongkang Street 永康街
From CKS Memorial Hall, grab lunch at nearby Yongkang Street which is a very popular foodie destination. I've heard good things about the Yong Kang beef noodles, but this is also where you can find the original Din Tai Fung restaurant on Xin Yi Street. This Chinese restaurant has branches worldwide and is one of my favourite places to eat in Singapore. I personally don't think there's a big difference between branches as the quality is pretty consistent – there are 6 Din Tai Fung outlets in Taipei City alone – but you can say that you visited the original Din Tai Fung restaurant.
Expect Din Tai Fung to be packed with people – grab a menu and place your orders to get a table number and just wait around as tables do move quite quickly. The soup dumplings or Xiao Long Baos are a must-try if you haven't already had them, but my favourites include the fried rice with pork chop, chicken noodle soup and the fried prawn pancake.
Opening Hours: 10am – 9pm everyday (starts at 9am on weekends and holidays)
Getting There: Take the MRT Danshui – Xinyi Red line to Dongmen Station Exit 5 – other outlets here
Shopping at Ximending 西門町
Walk off your lunch at one of Taipei's more famous shopping districts. Ximending in Wanhua district is not far away and has lots of shopping malls and little lanes to walk around in. The shopping here is more skewed towards the younger hipper crowd and while you could get cheaper stuff if you went to wholesale districts like Wufenpu, this is a more convenient option if you are short on time.
If you can still eat, my friends usually make a pilgrimage to the famous Ah Zhong Mian Xian 阿宗麵線 (Ay Chung Rice Noodles) – a bowl of vermicelli in a thick gravy with oysters.
You are also right next door to The Red House 西門紅樓 – it's an interesting building right opposite the subway station exit that's hard to miss. This very western-style or architecture (though the building is in the shape of a traditional Chinese Ba Gua/Octagon) was the first public market and one of the most well preserved historical buildings in the city. I found a nice local design and art market when I was there and bought myself a tunic from a local designer.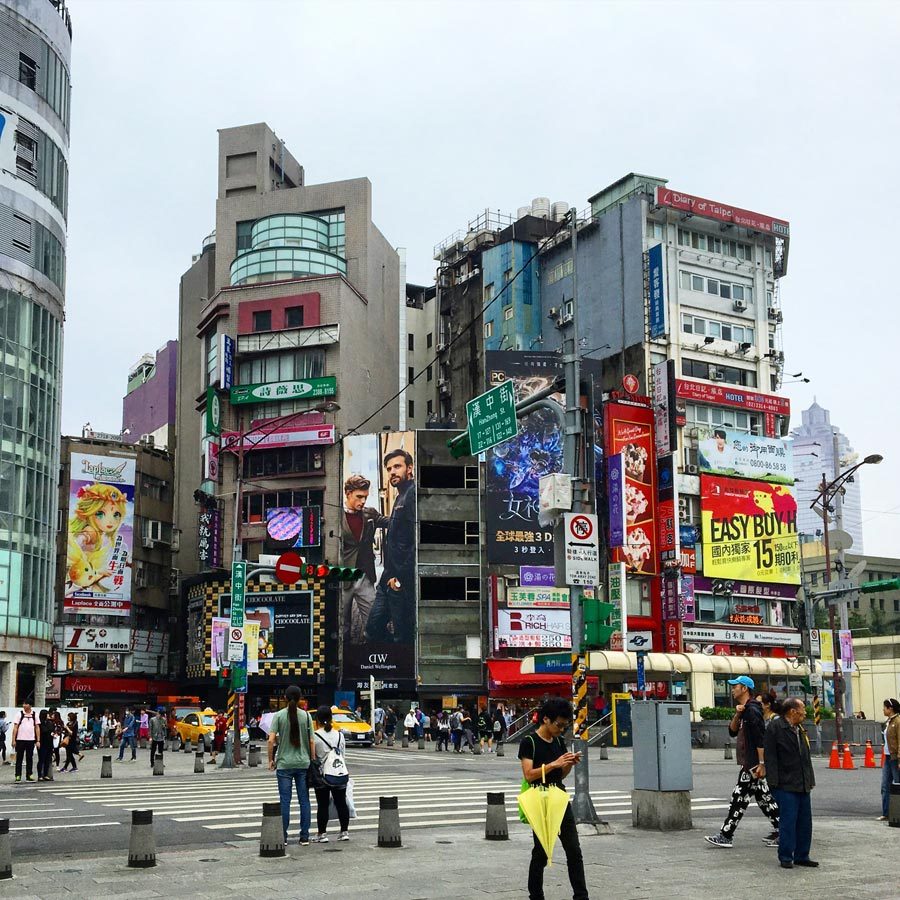 Getting There: Take the MRT Bannan Blue Line or Songshan – Xindian Green Line to Ximen Station
Soak in Hot Springs at Beitou 北投
To really relax after a hectic day, I suggest then taking the MRT up towards Xinbeitou where you can go for a nice relaxing hot spring bath in the late afternoon. Hot springs are one of my favourite things about Taiwan and I always make sure to indulge, no matter how hot the weather is.
Budget travellers can consider the Beitou Public Bath for a cheap and simple experience soaking in hot spring water, or you can opt for something more private in any of the surrounding hotels if you prefer. You only need about an hour maximum for the hot springs as you don't want to soak for too long anyway (don't overcook yourself!). Check the timings in case there are cleaning times where you can't use the pool.
I also suggest popping into the Beitou Hot Springs Museum 北投溫泉博物館 for a quick look around and to learn a bit about hot spring culture, or taking a short walk down the river to the thermal valley, also known as the Geothermal Hell Valley 地熱谷 where you can see the boiling hot springs (way too hot to bathe) and the steam roll across the water surface.
Opening Hours: Hot Springs – 5am – 10pm (temporarily closed for half hour every 2 hours for cleaning) | Museum – 9am – 5pm (closed on Mondays)
Getting There: Take the MRT Danshui-Xinyi Red line to Beitou Station and switch to Xinbeitou. Follow Zhongshan Road and you will first pass the Museum, then the Springs, and finally the Hell Valley at the end of the road.
I love hot springs, especially those in Taiwan. Check out my post on hot springs around Taiwan
Admire Sunset scenery at Tamsui 淡水
Take the train line further up north towards Danshui (Tamsui), at the mouth of the Danshui river that flows through Taipei. Tamsui has some charming old streets by the coast where you can stop to have a meal at, but what most people like to do is take a ferry from Tamsui further north towards Fisherman's Wharf along the coastline and watch the sunset from Lover's Bridge.
Getting There: Take the MRT Danshui – Xinyi Red line to Tamsui Station
If you are feeling adventurous, consider cycling through the riverside parks from Guandu to Tamsui or cross the river to Bali Left Bank instead.
Dinner at Shi Lin Night Market 士林夜市
If you still aren't completely knackered yet, make a stop on the way back at Shi Lin Night Market which is on the Danshui-Xinyi MRT line. There are plenty of night market options and everyone has a favourite one, but Shi Lin is one of the more famous night markets in Taipei and has a ton of street food and cheap shopping options. They have renovated and spruced up the place a few times since I've visited way back in 2007, but it's always slightly nostalgic for me – my favourite street food is the Hot Star fried chicken cutlet, but there are plenty of options here.
Opening Hours: 5pm – 12 midnight everyday
Getting There: Take the MRT Danshui – Xinyi Red line to Jiantan Station
Bored of the more popular and touristy night markets? Check out my post on underrated night markets in Taipei for a local experience and cheap good street food.
---
DAY 2
Climb Xiang Shan 象山 for a great view
Get a good look at Taipei city from up high – one of the nicer places to get a good view and a little hike in is at Xiang Shan or Elephant Hill. Check out some details on the trail at mytanfeet – you can take a longer trek that goes for over an hour or just a short 15-minute climb up to the viewpoint. This spot is especially popular during sunset but less crowded in the mornings.
Getting There: Take the MRT Danshui – Xinyi red line to Xiangshan station
Scale the iconic Taipei 101
Taipei 101 is an iconic building and hard to miss around Taipei because of its immense height. It is connected to a shopping mall, so if you want a place to cool off after your hike to Xiang Shan, this is not a bad option. Head up to the observatory for a panoramic view of Taipei City, and Starbucks fans will also want to check out the world's highest Starbucks located in this building – if you want to sit up there you need to make reservations in advance unless you're lucky enough that it's not fully booked on that day.
Opening Hours: 9am – 10pm everyday
Getting There: Take the MRT Dan Shui – Xin Yi Red line to Taipei 101 Station Exit 4
Eat some Lu Rou Fan 滷肉饭
One of the simplest and cheapest dishes you can get in Taiwan is Lu Rou Fan, or braised meat rice. It's really just white rice topped with minced meat and gravy and sounds very basic, but when it is done well it is so tasty and I can eat more than one bowl. Formosa Chang is a pretty well-known outlet around the Songshan area that specialises in Lu Rou Fan, Jin Feng braised meat rice which is close to Chiang Kai Shek is also very popular.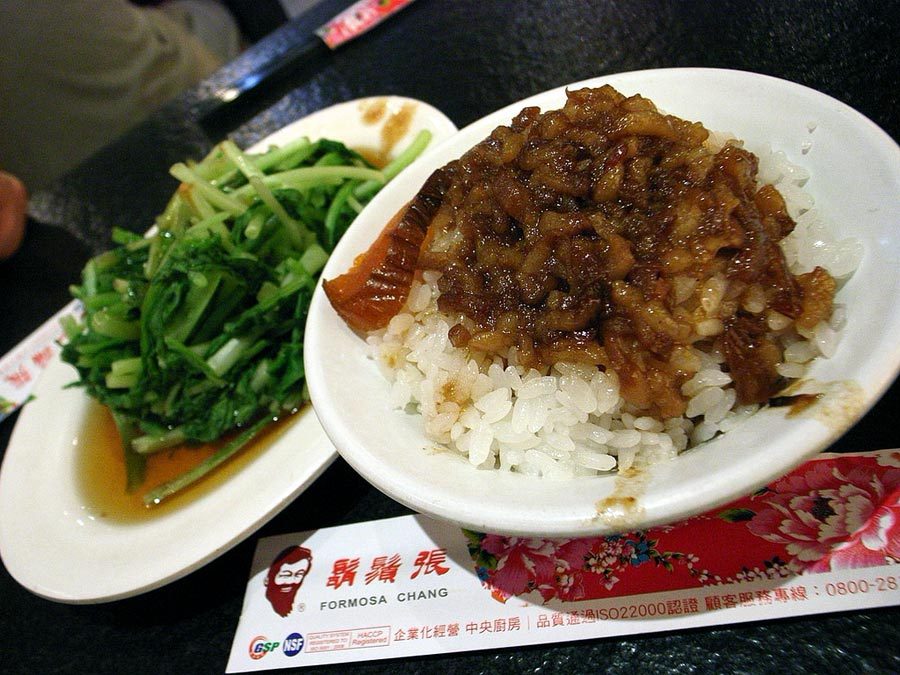 Opening Hours: 9am – 10pm everyday
Getting There: There are several outlets all around Taipei – I went to the one at Yong Ji street close to Wufenpu (Hou Shan Pi station), but the outlet along Tong Hua Street is within walking distance of Taipei 101 and makes more sense in this particular itinerary
History at Sun Yat Sen Memorial Hall 國父紀念館
Just north of Taipei 101 towards your next destination is the National Dr. Sun Yat Sen Memorial Hall which has a rather grand yellow curved roof that reminds me of a gold ingot. The aforementioned Sun Yat Sen was a revolutionary in his day and considered the National Founding Father of Taiwan. There are some pretty large statues of Sun Yat Sen around, and the compound is also home to exhibition and performance spaces, so you might be able to see some interesting art if you are lucky.
You will see most people enjoying the Chung Shan Park gardens outside the building, a nice green spot for a breather with a good view of Taipei 101 nearby.
Opening Hours: 9am – 10pm everyday
Getting There: Take the MRT Ban Nan blue line to Sun Yat Sen (S.Y.S) Memorial Hall Station
Get creative at Songshan Cultural Centre 松山文創園區
The Songshan Cultural and Creative Park was once a Tobacco factory during Japanese rule and has since been converted into a design and culture district. The exterior bit also includes a lot of greenery so you can go for a wander, but the compound itself consists of various arts and design related studios and exhibition spaces.
When I was there, many design colleges were having their final year projects exhibited which was pretty cool to browse alongside a ton of students. I also checked out the Taiwan Design Museum which also houses the Red Dot Design Area and saw some excellent examples of contemporary Taiwanese design.
Design and book lovers should also take this opportunity to check out Taiwan's famous 24-hour bookstore Eslite – the Eslite Spectrum Song Yan outlet is located here alongside the Eslite Hotel.
Opening Hours: various timings, but the info counter operates 9am – 6pm everyday
Getting There: Take the MRT Bannan blue line to Sun Yat Sen (S.Y.S) Memorial Hall Station and walk north
If you enjoy Taiwanese design, another area you can check out is Datong and Dihua Street
Wholesale Shopping at Wufenpu 五分埔
Want some really cheap shopping? If you haven't had enough of shopping at Ximending the day before, take a trip to the famous wholesale area Wufenpu where you should be able to find the cheapest prices for anything you want to buy. Avoid Mondays because that's when stocks come in, the shops are super busy and are more concerned with wholesale orders than selling you a piece or two.
Opening Hours: 11am – 12 midnight (till 9pm on weekends)
Getting There: Take the MRT Bannan blue line to Houshanpi Station
Pray at Ci You Temple 松山慈祐宮
There are many beautiful temples to check out in Taipei – the Song Shan Ci You Temple dedicated to the sea goddess Mazu has really beautiful and colourful detailing that is worth checking out. You can enter this temple that was first built in 1753 and climb the stairs to the top where you can get a better look at the roof. I'm not a religious person but I did enjoy just looking around this quite large temple and watching the people do their prayer rituals.
Opening Hours: 5am – 10.30pm
Getting There: Take the MRT Songshan – Xindian Green line to Songshan Station
Snacks at Raohe Night Market 饒河夜市
The Ci You temple is located right next to another famous Taipei night market – Raohe Night Market where you can spend another night gorging on more Taiwanese street food. The famous thing to eat here is the Hu Jiao Bing or Black Pepper Buns, which is a bun stuffed with minced meat in a black pepper sauce – be prepared to queue a little. I liked the feeling of this night market better, maybe because it's more traditional with stalls lining a street, whereas the Shilin food section has been into a more sanitised hawker centre like area.
Stroll across Rainbow Bridge 彩虹橋
And the last thing you need to do as you digest all the food from the night market is to pop behind it and walk along the Keelung River until you get to the 167m long Rainbow Bridge. It looks like a simple arc from a distance, but the bridge itself has an undulating wavy shape. The Rainbow Bridge connects Song Shan to the Nei Hu district across the river and is well lit up at night, a very pretty way for you to end a busy day and weekend in Taipei.
---
Where to stay in Taipei
My favourite area to stay in Taipei is in the Datong district near Taipei Main Station just for sheer convenience in getting around Taipei. Check out my post on favourite luxury hostels to stay in Taiwan for more.
For somewhere a little different, you can check out First Hostel in the Da An district close to the National Taiwan University. It's not the most central district as compared to somewhere like Xi Men or Song Shan where most of this guide is focused on, but I wanted to try something a little different.
Da An is a less touristy district and doesn't see as many foreigners, but the university crowd makes this area a bit more alternative and trendy. I enjoyed Shida Night Market which was really close by, and I could walk to the Song Shan – Xin Dian Green Line (Taipower Building) station quite easily as well.
The hostel was clean and neat and quite modern but cosy. A big plus point here was definitely the FREE LAUNDRY. I'd recommend it if you don't mind being a little bit out of the way (i.e. not walking distance to major attractions). If convenience is key, I would suggest finding something near the Taipei Main railway station area, or if you want a bit more life within walking distance, Ximending or Songshan
---
Day Trips from Taipei
New Taipei City
If you have a bit more time for a day trip, here are some popular options for first-time Taipei visitors in the surrounding New Taipei City area:
Yangmingshan is a mountain that offers food scenery, outdoor hikes and good food that's easily accessible from Taipei
Jiufen in the Ruifang district is a popular destination up in the hills to visit for local street food and sipping tea
Along the Pingxi railway line, most people head towards the cat village Houtong or Shifen to light paper lanterns and admire the big waterfall. For something more offbeat, check out Sandiaoling for waterfalls and hiking or the old coal village Jingtong

where you can see fireflies in the right season

Head to Taiwan's North Coast – most people go to see the natural coastal rock formations of Yehliu in Wanli, but I enjoyed the Jumiing Museum in the hills of Jinshan that showcases the works of one of Taiwan's esteemed sculptors
Around Taipei
Other places nearby to check out:
---
Where would you recommend for first-time visitors to Taipei to check out? I really love Taiwan and have travelled it quite a lot – check out all my Taiwan posts for more.