One thing I love about Taiwan is how easy it is to escape the busy city life. Drive for an hour out of Taipei city and you'll have mountains, beaches and cute little villages that make for a great day trip or weekend getaway. This time I head along the North Coast to check out Jinshan 金山 – most people pass by this area as they head to the famous rocks of Yeliu in neighbouring Wanli, but if you want a less crowded spot, Jinshan is worth adding on to your itinerary. Here's a little guide I put together on things to do in Jinshan.
My stay and exploration of Jinshan was sponsored by Gold Mountain Ranch and Resort who kindly invited me up to check out their property and showed me some of their favourite spots around the North Coast, a mix of tourist attractions and local secrets. All opinions are my own.
---
Things to do in Jinshan
I always like being shown around a new place by people who live there, because they can show you a very different side of a place versus the main attractions that the tourism boards are trying to promote. But what's commonplace to a local might be quite exciting and unusual for visitors, so in this guide I thought I'd share both opinions to give you a more balanced view on what to expect.
Jinbaoli Old Street 金包里老街
Local guide: "Everyone visits here, it's alright."
Jinshan's Old Street is one of the more famous things to do in Jinshan, and where tourists head to sample some of Jinshan's must-eats. Dating back to the Qing Dynasty over 300 years ago, it is also known as Jinbaoli Old Street, a name morphed from the original Ketagalan aboriginal name 'Kitapari' or 金包里堡. This stretch of road is lined with little stalls on both sides, and here are some of the more famous ones worth checking out:
Jinshan Duck 金山鴨肉
Local guide: "Not worth the fuss"
This duck restaurant in front of the Guang'an Temple has over 30 years of history and is a famous must-eat in Jinshan. Despite living in Jinshan, my hosts hadn't actually tried the duck for themselves either, so we joined the long queue to see what all the fuss was about.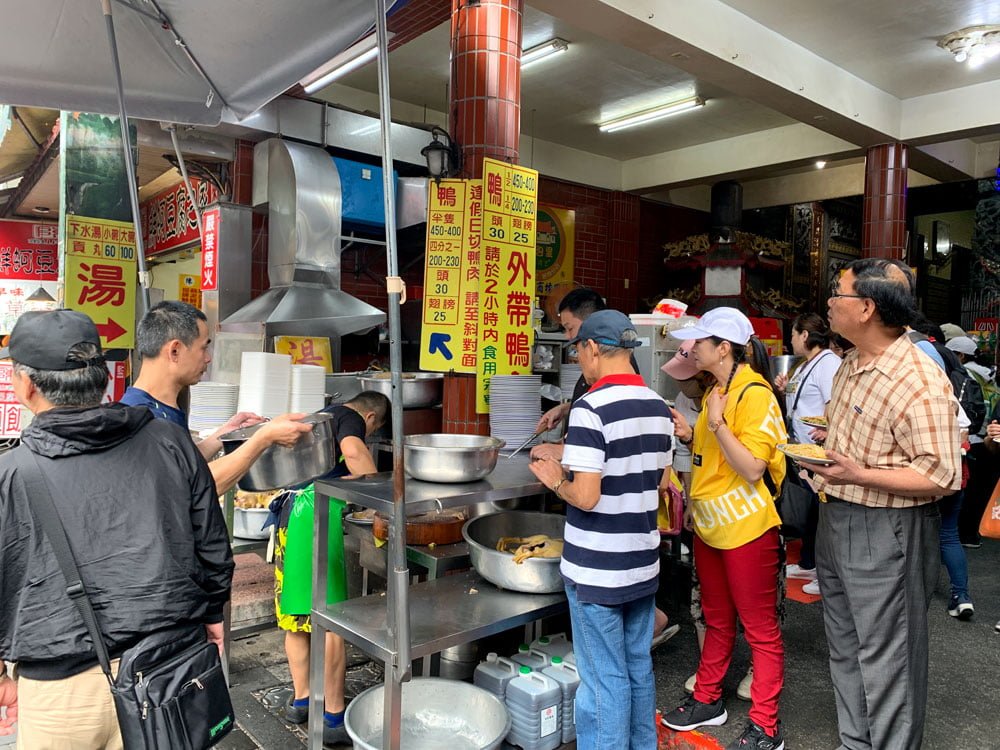 This restaurant system is rather unusual – there is a counter where you just order what you want from the dishes on display, as well as how much duck you want. Then you carry your plates across the street to the dining area where you are seated and your bill totalled at the end of your meal.
We ordered the famous duck, some fried noodles and deep-fried shrimp rolls to eat. I'll be quite honest – I don't see what the fuss is about and I didn't think the duck was particularly yummy or juicy, though it is quite reasonably priced. I guess it's one of those things to tick off your bucket list, but not something to fret about if you miss.
Taro Ball King 芋圓王
Local guide: "not bad, worth checking out"
Taro and sweet potato are some of the foods that Jinshan is famous for, and Taro Ball King makes some pretty good desserts featuring balls of fresh taro and sweet potato. I'm not a big fan so I didn't get around to trying this, but my hosts assure me this is one of the things to eat here.
Ayu Food 阿玉蔴粩
Local guide: "very popular, quite good"
Ayu Foods are famous for their handmade crispy ball snacks (Malao 蔴粩) made of Jinshan's specialities like taro and sweet potato. Each bag sells for 100 NTD and make for good souvenirs to take home as well as munch on while walking along the street. I didn't buy any for myself but I tried some samples and they were crispy on the outside and fluffy on the inside, pretty good stuff.
Mysterious Coast 神秘海岸
Local guide: "Why is this mysterious again?"
One of the famous sights to see in Jinshan that you will see pop up ever so often is the Mysterious Coast or 神秘海岸. It gained prominence internationally as one of the film locations used in Martin Scorsese's 2016 film Silence about Christianity during Edo-era Japan. The Mysterious Coast is located in Shuiwei Fishing Harbour 水尾漁港 at the start of the Lion's Head Mountain (Shitoushan 獅頭山) Park Trail.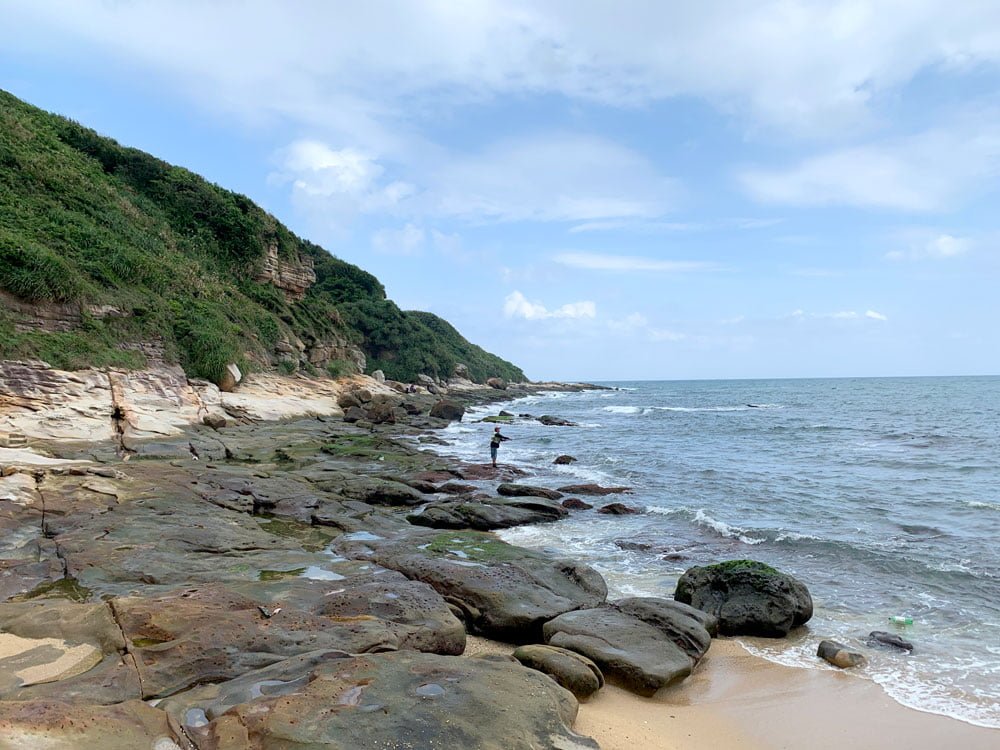 To get to the Mysterious Coast section, you need to pass through something called the Thread of Sky or 一线天, a narrow vertical hole between rocks. Be careful when clambering over the rocks – it can be quite slippery, and keep an eye on the tides as well to be safe as the sea can get pretty choppy out here. You'll also see a smaller version of the Laomei Green Reef with the rocks here all covered with green moss.
Besides other curious tourists, you'll most likely see local Taiwanese fishermen perched quietly on the rocks. You can actually walk quite far down towards Huang Gang Harbour and see the Twin Candlestick Rocks, but I didn't go that far.
How to get there: Take the Taiwan Tourist Shuttle Bus 862 (also known as the Crown Northern Shuttle Bus Line or 皇冠北海岸線) that goes from Danshui towards Guihou Fishing Harbour and drop at the Juming Museum Stop. Check with the bus driver whether the bus stops as there are certain buses that do not make this stop on their route.
Alternatively, there are free museum shuttle buses from the Jinshan District Office.
Open Tue-Sun 10am-5pm (winter) or 6pm (summer). A ticket costs NTD 280 / S$12.50
More at the Juming Museum website.
Jinshan Hot Springs 金山温泉
Local guide: "better than Yangmingshan"
Jinshan's hot springs are the northernmost hot springs that you can find in Taiwan, but they tend to be overlooked in favour of the more accessible Beitou and more famous Yangmingshan hot springs. In Jinshan, you can actually find not one, not two but four different types of hot spring waters here that originate from the Datun Mountain Range – sulphur, carbonic acid, iron and a rather rare submarine sulphur water source that comes from beneath the ocean floor.
One rainy evening my hosts took me to Huoshanyu 火山浴溫泉館, a 24-hour hot spring hotel where I got to soak in this special submarine sulphuric water for the night. I had a solo bath room that I could fill up to my pleasure and soak in for a leisurely 40 minutes at a very affordable 100 NTD.
The bath itself is large for one person but in terms of design it's pretty nondescript stone. Bring your own towel and toiletries or you will have to buy them at the counter. Unfortunately, the water from the normal water hose was cold so I only managed a rather quick scrub down that cool evening. But otherwise it was a pleasant soak on a cool wet night.
Address: No. 213, Jiatou Road, Wanli District, New Taipei City, Taiwan 207 新北市萬里區加投路213號
Open 24/7. A solo bath for 40 minutes costs 100 NTD while a room for 2pax costs 150 NTD
Juming Museum 朱銘美術館
Juming 朱銘 is one of the most established artists in Taiwan and known for his large sculptures where he transforms large solid blocks into surprisingly fluid humanoid figures with a sense of movement. He decided to buy a piece of land in the hills of Jinshan and spent 12 years building this private museum, now home to many of his iconic sculptures and it can be considered his biggest art work to date.
I actually visited the Juming museum back in 2016 on my Career Break, and again in 2018 while TaiwanderingWithScoot so I didn't visit it on this particular trip, but I highly recommend checking it out if you are going to be in the area.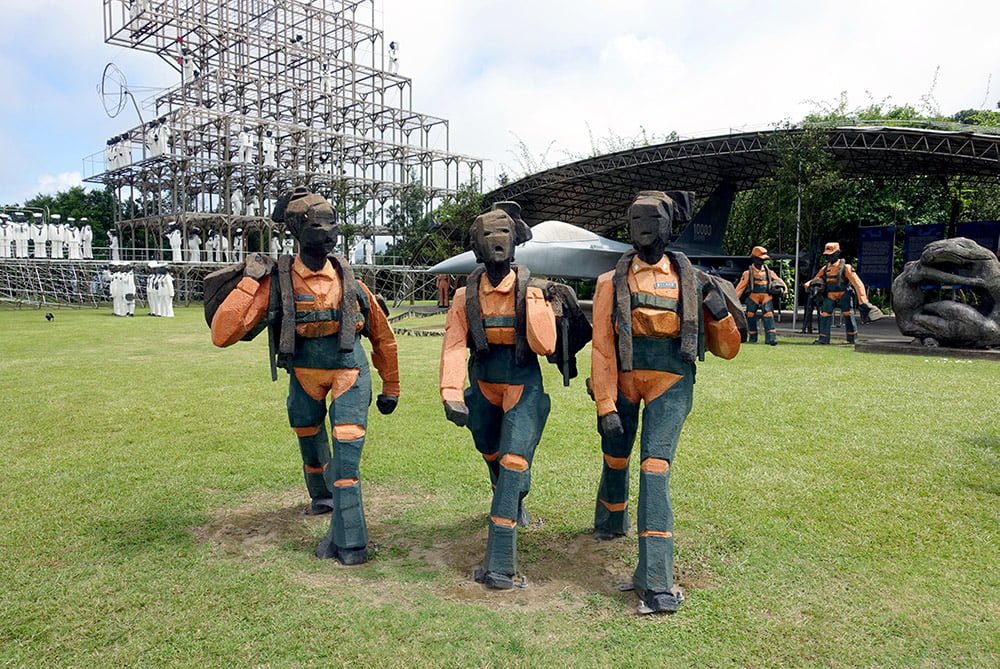 While there are some indoor galleries with rotating exhibitions, most of the sculptures are located outdoors so pick a day with good weather to visit if you can because this place is surrounded by mountains. I love how much open space there is in this museum – great for those who don't like being cooped up. Juming's works have a sense of whimsy that I think anyone can appreciate and it does makes for fun photos.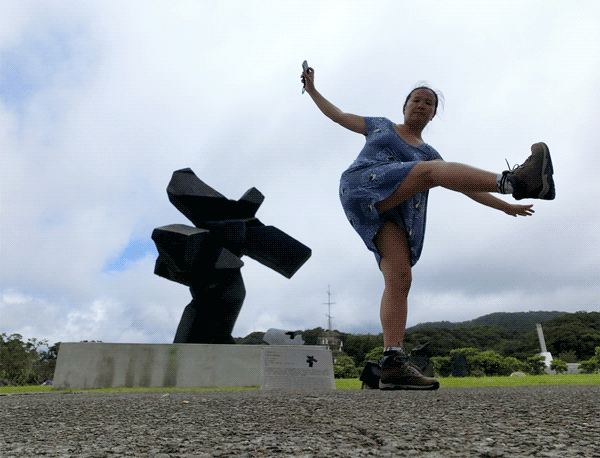 ---
What I missed
I spent 2 nights in Jinshan and didn't make it to everything, but here are a couple of interesting events and places to go that you can consider for your own trips in future.
Young Door Cafe: There are actually a bunch of different cafes sitting right along the coastline so you can enjoy a cuppa and the sea view at the same time. We tried going here twice – one time we had no parking, the other time it was closed so I have to go back again at some time.
Chin Pao San Cemetery: Located one bus stop before the Juming Museum, the Chin Pao San Cemetery may seem like an odd place to visit, but it is where mega fans of Taiwanese songstress Teresa Teng go to pay their respects to her grave.
Dharma Drum Mountain (Fa Gu Shan 法鼓山): Those interested in learning about Buddhism or meditation can come visit the Dharma Drum Mountain which offers some pretty spectacular views of the surrounding Jinshan mountains and coastline.
New Taipei City Wan Jin Shi Marathon 萬金石馬拉松: Marathon lovers should check out this marathon that has been around since 2003 and is Taiwan's only marathon with the IAAF Silver Label for Road Races, which they are gunning to move up to the gold standard in future. Races usually happen in March where it's still nice and cool, so expect it to be crowded during that period. Imagine going for a soak after a tiring race though, such bliss…
Sulphuric Fire Fishing: Jinshan was once famous for a very unusual traditional method of fishing that involves setting bits of sulphur a light on the end of a bamboo stick and using that to attract the fish in the water. It is a bit of a dying art and you can only really see it in action from May to July during the Fire Fishing festival – some good pix at this article at the News Lens, or check out the North Coast Tourism website for more info. This sounds pretty cool if you get the chance to witness it.
---
How to get to Jinshan
Jinshan is a part of New Taipei City, located along the northern coast of Taiwan. It's about an hour's drive away from downtown Taipei and about 40 mins from the port town of Keelung. To give a bit more context, it's right next to Wanli 萬里 which is where the famous rocks of Yeliu are, as well as where I went paragliding that one time. It's also about 40 minutes from Keelung which is the best big-town option around the area besides Taipei City.
Here's a map to show you where most of the things in this article are located.
I think Jinshan is good for 1-2 day escape from Taipei City, and I highly recommend driving or having your own transport so you can explore the whole North Coast at your own leisure. While there are public buses, they aren't that frequent and the sights here are pretty spread out.
From Taipei to Jinshan
Bus 716 – Crown Northern Coast Shuttle Bus 皇冠北海岸線
You'll need to take the MRT to Tamsui Station at the end of the Red Line (Tamsui-Xinyi). Head to the bus station and take Bus No. 716 – Crown Northern Coast Shuttle Bus. In Jinshan, you can stop directly at these stops:
Juming Museum
Jinshan District Office – stop here for Jinbaoli Old Street
Jinshan Visitor Centre (Shitoushan Park) – stop here for Mysterious Coast and Shuiwei Fishing Harbour
Jiatouli (Hot spring area) – stop here for the hot spring hotels
Buses leave every hour from 9am to 5pm on all weekends and in summer/autumn from May to October, and every 2 hours on weekdays from November to April. You can use your easy card to pay (NT15 per section) or a 1-day pass (160 or 180 NTD) for hopping on and off throughout the day. There are some interesting bundles that combine transport with entry tickets that you can consider as well. More info at the Taiwan Haoxing Website.
Bus 863 – Tamsui to Jinshan
Bus 863 takes you from Tamsui Station along the North Coast through Sanzhi and Shimen to Jinshan. More at the CS Bus website (Chinese only).
Bus 1815 – Taipei Main Station to Jinshan
Kuokuang Bus 1815 takes you from Taipei Main Station through Wanli and finally to Jinshan and takes about 1.5 hours. A full ticket costs 128 NTD. More at the Kuokuang Website.
---
Where to stay in Jinshan
Gold Mountain Ranch and Resort 金山驛境
The main reason I was up in Jinshan to begin with was because the Gold Mountain Ranch and Resort had reached out to me to come check out their place. I'd done a lot of research about places in and around Taipei, but the idea of an outdoorsy glamping spot as an alternative accommodation choice intrigued me.
After a windy drive up into the hills of Jinshan, I arrived at the ranch, a green clearing with white tents and sheds surrounded by trees and the sound of a flowing river in the distance. I would find out later that three years ago, there was literally nothing here but trees – this place was created mostly by hand by the owner of the ranch, which is no mean feat.
I had a choice between the more camping-style tents or the more sturdy hunting hut that's been done up with a bit of a cowboy and Wild West theme – I picked the hut. There is a larger toilet and shower block further away, but they had one toilet conveniently close by to use. Each hut also has an adjacent shed where you can host barbecues and have an outdoor meal – bring the mosquito and xiaoheiwen repellent or cover up because you are in the great outdoors after all.
The highlight of the ranch are the activities that you can do. Besides being set up for barbecues and group meals (stay tuned for their cafe coming soon! The boss worked as a chef for a long time and his food is pretty good stuff), you can participate in a number of different activities as well.
The ranch does conduct more formal horse riding lessons and trail walking activities for the more experienced riders, but for noobs like me there is a taster session where you get to try cantering around atop horseback under the supervision of a trainer. It is simultaneously harder and easier than it looks, but I think younger kids who are a bit more fearless will enjoy this.
Other activities to check out on the ranch – ATV riding, target shooting and even some archery. The owners tell me they have plans for more exciting stuff in future, stay tuned for that. Right now they offer activity and barbecue packages depending on what your group likes to do.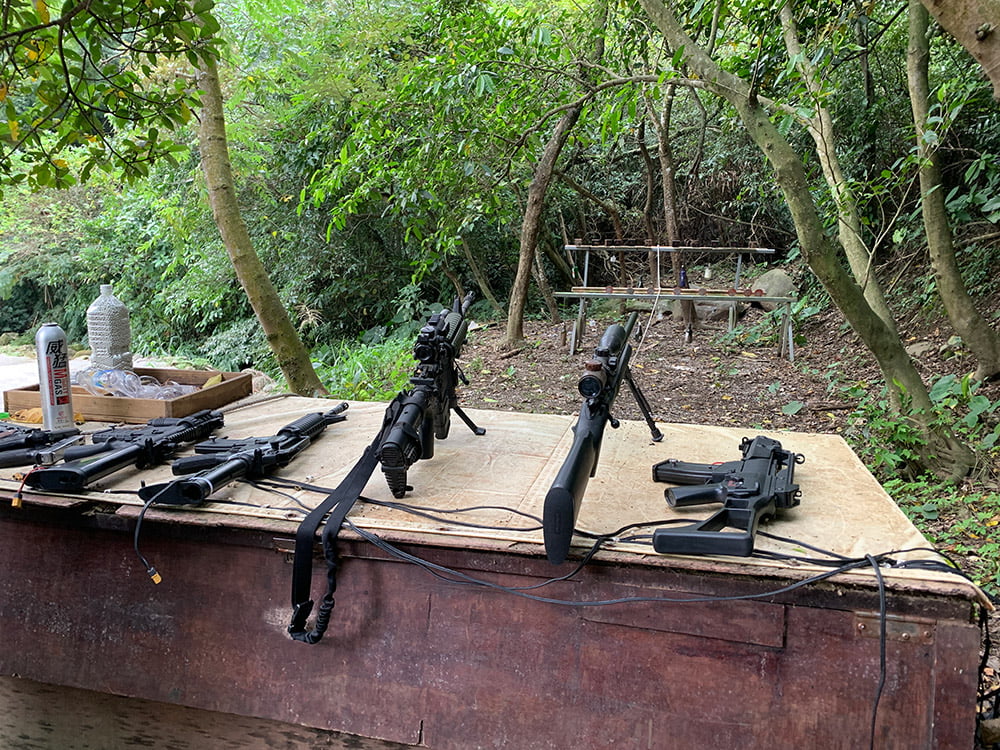 Ultimately the Ranch is more geared towards groups of friends and family groups and gets pretty packed on weekends and holidays – it was pretty empty on the weekday when I was there in November, and I think you do need your own transport as well otherwise you'll be stuck solely on the ranch, so definitely a big thank you to the Boss and his family for taking care of me when I was there solo.
My stay and exploration of Jinshan was sponsored by Gold Mountain Ranch and Resort – check out their page on Facebook for more details on price. It's mostly in Chinese but they can communicate in English so just drop them a note or an email if you need more info.
---
Looking for more posts on areas around Taipei? Check out these posts of areas just outside of downtown Taipei, or see all my Taiwan posts for more.