For Singaporean weekend warriors trying to maximise their holidays and minimise the need to use those precious leave days, Taipei is a great option given its relative proximity to Singapore and all the cool things you can do in just one weekend. I've visited Taipei several times and I've never been bored – here's my recommended Taipei itinerary for the repeat visitor who wants to see a different side of Taiwan outside of the main tourist sights.
Last Updated on 8 March, 2023
First time visitor to Taipei? Check out this post instead on how to see Taipei's main sights in just 48 hours.
This trip was sponsored by Scoot – they fly to Taipei several times a day. Check out my other posts about unique things to do in Taiwan in the #TaiwanderingWithScoot series or see all my Taiwan posts for more Taiwan tips.
Too lazy to read? Here is my itinerary in video form:
---
Day 1: Saturday
Morning/Afternoon
Discover the streets of Datong 大同
If you take the red-eye flight on late Friday night, you'll find yourself in Taipei early Saturday morning. You will technically be ready to start exploring from about 7am onwards. Take the Airport MRT to Taipei Main Station and head north to the Datong District.
The Datong district between Taipei Main Station and Daqiaotou station was one of the oldest commercial hubs in Taipei, largely due to the port at Dadaocheng which was the main trade area back in the day. While the businesses have since shifted to more modern districts, this area retains a charming mishmash of history and nostalgia and is a lovely area to get lost in.
Keep an eye out for the little indie boutiques and shops amidst the more traditional wares – I'll share with you some of my favourite places to check out.

Start right with some local breakfast
It's still early and not all the boutique shops open so early, so this is the perfect time to hunt down a breakfast joint and indulge in some local style breakfast while waiting for the rest of the shops to open. Here are some recommended places to check out in this area:
Rixin Xianzuo Breakfast Restaurant 日新現做早餐店 154 Taiyuan Road – This was highly recommended by my hotel staff (it's also right around the corner from them) that serves up typical breakfast items like omelette pancakes, noodles, turnip cakes and sandwiches
Sanyuanhao 三元號小吃 11 Chongqing North Road Section 2 – For those who love the Taiwanese thick soup and noodles or braised minced pork with rice (luroufan). Very yummy stuff.
Make your mark at Ri Xing Type Foundry 日星鑄字行
Ri Xing Type Foundry is one of the last remaining traditional movable typesetting shops in Taiwan and its old school sensibilities have only recently started pulling in the hipsters. The shop is filled with rows covered in millions of tiny metal pieces made up of Chinese characters of all shapes and fonts that you can put together to form your own custom stamp.
Naturally I had to get my name done – it only cost me just NTD 45 (S$2) to get 3 little metal bits comprising the characters of my Chinese name! You can pay a little more to get it fitted into a proper stamp, I wanted my stamp to have a bit of flexibility so I just got the pieces. I think it makes a cool personalised souvenir to take home with you. They have limited English characters available as well.
Check out Ri Xing Type Foundry on Facebook.
13 Taiyuan Road, Lane 97 / 太原路 97 巷 13 號
Open Wednesdays to Sundays, 9.30am – 12pm, 1.30pm – 5pm (6pm Wed-Fri)
Walk and read at Taipei's longest underground book street
If the weather is being particularly oppressive that day, head for the cool underground sanctuary of Eslite 誠品 R79, also known as Taipei's longest underground book street. Located between Zhongshan MRT exits R7 and R9 (hence the name), this Eslite bookstore branch opened very recently in 2017 and occupies what used to be retail outlets of Zhongshan metro mall.
More at Eslite website
16 Nanjing West Road / 南京西路16號
10am – 10pm
Chill out at Chifeng Street 赤峰街
Located between Zhongshan and Shuanglian MRT stations, the many narrow alleys of Chifeng Street are home to a number of cool indie shops and cafes, great for those tired of cookie-cutter shopping mall experiences or the chaos of shopping areas like Ximending and Shilin Night Market. Most of the shops here tend to open in the afternoon, so consider exploring a little later in the day.
My favourite shop here is probably local design and lifestyle shop 蘑菇 Mogu which sells some pretty cute items. Some of the clothing is kinda pricey, but others like these Taiwanese icon pins are quite affordable and very cute.
See the Mogu online shop here.
18-1 Nanjing West Road, Lane 25 / 南京西路25巷18-1號
Open 10am – 9pm (Cafe opens at 12pm). Other outlets have differing hours.
Eat, drink and shop at 61 Note/61 Beer
There are lots of lovely cafe options around here, but my hotel recommended that I check out 61 Note. It's one of those places that feels like it fell out of a Kinfolk magazine with its pretty and minimalist designer touch, but I particularly loved the cosy garden-like atmosphere that makes it homey and nice to just hang out in. Pop into the basement to check out its lifestyle shop of curated design goods.
This particular outlet is also called 61 Beer and has a great selection of craft beers on tap and in bottles – I had something called the Disco Macaw, a pale ale from local Taiwanese craft brewery Redpoint Brewing Co that was quite tasty.
More about 61 Note here.
6 Nanjing West Road, Lane 64, Alley 10 / 南京西路64巷10弄6號
Open Tuesdays to Sundays, 12pm – 9pm
---
Walk through time along Dihua Street 迪化街
One interesting stretch that I wish I had more time to explore in Datong is Dihua Street, one of Taipei's oldest streets thanks to trade from the nearby Dadaocheng Port. This stretch of road gets particularly crowded in the lead up to the Chinese New Year where they hold a famous New Year market in the lead up to the festivities.
But throughout the rest of the year, Dihua Street is also known for its many traditional Chinese medicine shops and eclectic architecture across different historical periods in Taipei. Throw in a bunch of indie shops and hipster eateries into the mix and you have a really colourful district worth exploring. There is plenty to see and experience in Dihua Street – you could easily spend an entire day wandering along the main street and its branch alleys.
There are some great boutique shops in this area if you make the effort to explore
Things worth checking out here if you have the time to explore:
AMA Museum – A look at the comfort women during the Japanese colonial times in Taipei. It's quite an unusual niche museum.
Taiyuan Puppet Theatre Company – They have shows from time to time as well as a museum of puppets from all around Asia
Yongle Cloth Market – Fabric lovers and crafters will love that they have 2 entire floors of cloth to browse through. Bit overwhelming for your average person but still a sight to see!
Cheap lunch alert – walk to the nearby Cisheng Temple where you can have cheap street food and beer in the temples courtyard. More in the Taipei summertime post here.
The closest MRT stations to get to Dihua Street are Beimen 北門站 on the green Songshan-Xindian line or Daqiaotou 大橋頭站 on the orange Zhonghe-Xinlu line.
Coffee in a clinic at Boan 84 保安捌肆 [NOW CLOSED]
Update 2019: The original space that I visited apparently closed down – the building is still there today but it's not the same cafe as the one that I visited for this article
Boan 84 looks like a nondescript art deco nouveau inspired houses from the outside, but transformed into a modern but welcoming den of wood inside. This house was once a clinic cum surgery, but is now a cafe, museum and gallery space all rolled into one that you are free to enter and explore.
Coffee drinkers should enjoy a brew here – they have quite a serious coffee menu that you can see pix of here (Chinese website), but it was a really warm day so I treated myself to a chilled Pineapple + Apple smoothie instead.
84 Bao'an Street 保安街84號
---
Saturday Afternoon/Evening
Catch the sunset at Bali Left Bank 八里左岸
In the late afternoon when it starts to get cooler and you need a break from walking around the city, most people like to spend the evening wandering along the riverside markets of Tamsui Old Town or take a boat further downstream to Fisherman's Wharf to catch the sunset – these hot spots can get quite jam-packed with people.
So rather than squeeze with the crowds, take a quick ferry ride across the Tamsui River to an area known as Bali Left Bank. Bali Left Bank offers equally great sunset river views, and when the tide retreats exposing the shallow muddy river bed and it is quite common to see people wading out and picking mussels.
When you hit the Bali Old Street area where the food shops are, go for anything mussel-related for some local grub, but if you aren't inclined towards seafood, pick up a traditional Twin Bun instead.
A popular thing to do around here is to rent a bicycle or one of those 4-wheel quadracycles and explore the surrounding area. I hopped onto a YouBike and cycled along the river bank, enjoying the park and water views. I made it all the way to Shihsanhang Cultural Park – there's an archaeology museum nearby for the history buffs – and cycled a little through the mangroves of the Waziwei Nature Park.
For the intrepid, you can go camping in a bubble tent at the Bali Cultural Park where you can find lots of open space and a surprising Miffy park of all things.
---
Saturday Night
Fuel up at local favourite Linjiang Street Night Market 臨江街夜市
The quintessential Taiwanese experience is to head to a night market, but there's no need for you to squeeze with the crowds in Shilin or Raohe if you've already seen those places. An alternative place to check out is Linjiang Street Night Market 臨江街夜市, also known as Tonghua Night Market 通化夜市 which is a smaller more chilled out market where you can feast on your requisite night market small eats without the oppressive crowds. What's also cool is that you're quite near to Taipei 101 so you have a nice view of the tower in the distance.
The thing about travelling solo is not having the stomach space to eat everything that you want, but just follow the queues and you'll find the good stuff. What's notable about this night market is the sheer number of massage establishments around the market area, so if your feet are aching from a long day of activity, pop into any of the massage shops around the area for a quick foot rub – it's not too expensive either.
Looking for more underrated Taipei Night Markets? Here's a post I wrote detailing what exactly you should be eating at these hidden gems.
Sandwiches and beer at Liquid Bread Company
If you want a place to sit down for a meal, you can check out Liquid Bread Company near the Xinyi Anhe Station that serves a selection of yummy hot sandwiches alongside a whole selection of local craft beers in bottles and draft. I had a tuna melt alongside a Taihu craft beer – it's a cool way to wind down after a long day out.
More about Liquid Bread Co. here
The closest MRT Station is Xinyi Anhe station on the red Tamsui-Xinyi Line.
No. 270 Yanji St., Da'an / 大安區延吉街270號
Get in line for trendy brown sugar bubble tea
I love bubble tea and was eager to get my hands on one of Taiwan's trendy bubble tea concoctions – milk tea made with thick cream milk 厚奶 and served with gooey tapioca pearls soaked in sweet brown sugar 黑糖 striped down the sides of the cup.
This super sweet concoction has proven very popular, resulting in up to 2 hour long queues during peak periods! Obviously I wasn't going to queue that long just for bubble tea, so I suggest you get your bubble tea early on in the day right after the shops open, or evening which is generally less crowded.
I tried two brands – Tigersugar 老虎堂 started out in Taichung and did so well they now have several branches here in Taipei. I visited the one at Taipei Main Station in the evening and there was very little queue so I got my drink quite quickly.
JLD Dragon or Ji Long Tang 吉龍糖 I encountered by accident – I was walking down the street near Xinyi Anhe MRT station on the way to Linjiang Street Night Market and everyone walking by me had a cup of this bubble tea in hand. So naturally when I stumbled upon the shop and there was no queue, I had to go check it out. The JLD cup shape is quite unusual with a rounded bottom, and the menu is very small and focused on milk tea with brown sugar pearls.
I personally thought that the bubble teas were both delicious and sweet but I didn't taste anything discernibly unique about their taste. You can't choose the sugar level because the pearls are steeped in brown sugar, so be prepared for a bit of a sugar overload, and remember to shake the cup so the sugar gets distributed evenly. I love the contrast of the warm gooey pearls and the cold milk tea.
Both the Taiwan teas were far better than the Liho one that I tried in Singapore when I got back – the pearls don't taste like they've been specially soaked like the Taiwan ones and aren't gooey – I was pretty disappointed!
---
Day 2: Sunday
Sunday Morning
Make your own souvenir at Inblooom 印花樂 DIY Bar
Scoot on over to Songshan Cultural Creative Park 松山文創園區 where you will find even more Taiwanese designers and their lovely wares. This was once an abandoned old space – a former tobacco factory dating back to the Japanese colonisation period in the 30s that has been given new life as a park and culture district. Most people come here for the beautiful Eslite Hotel, but for the artsy, there are usually some pretty good design exhibitions held in the old Tobacco storehouses.
In particular, I loved this section called the Songyan Creative Lab 松菸小賣所 – the name a callback to its Tobacco history – It's like a design department store of sorts. One of their tenants is Inblooom (yup 3 O's), a Taiwanese print maker that sells the cutest cloth accessories – I bought myself a cup holder and utensils case as well – but my favourite thing was the DIY Bar service that they offered where you can do a quick screen printing of your very own souvenir.
All you have to do is pick out your design from several templates, pick your item and your colour(s). The staff will set you up with the items you need and give you a very quick crash course on screen printing, walk you through the entire process. I picked a cute little blue bag to carry food in, a 2-colour design of Taiwanese food and yellow and black inks.
It was pretty quiet that afternoon so it took me only 30 minutes from start to end, and I ended up with a cool souvenir that I handmade! There are other designers in the Songyan Gallery that offer DIY type courses like jewellery design or leather crafting, but this is probably the most straightforward and easiest for most people to manage if you are tight on time.
---
Sunday Afternoon
Shop local at Huashan 華山 1914
If you still have the time and energy, you can pop over to Huashan 1914, an old wine factory that has since been converted into a cultural park and home to many cute indie shops, cafes and even an independent cinema. There are lots of local designer and curated pop-up shops and various little nooks and crannies for those photo opportunities, it's a great spot to hang out with friends or wander around.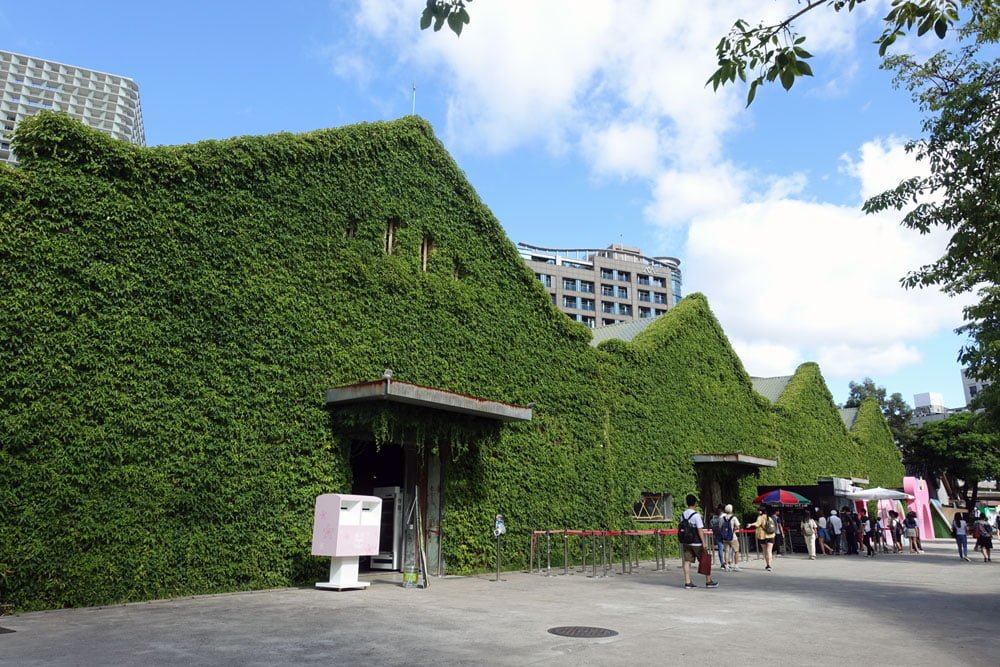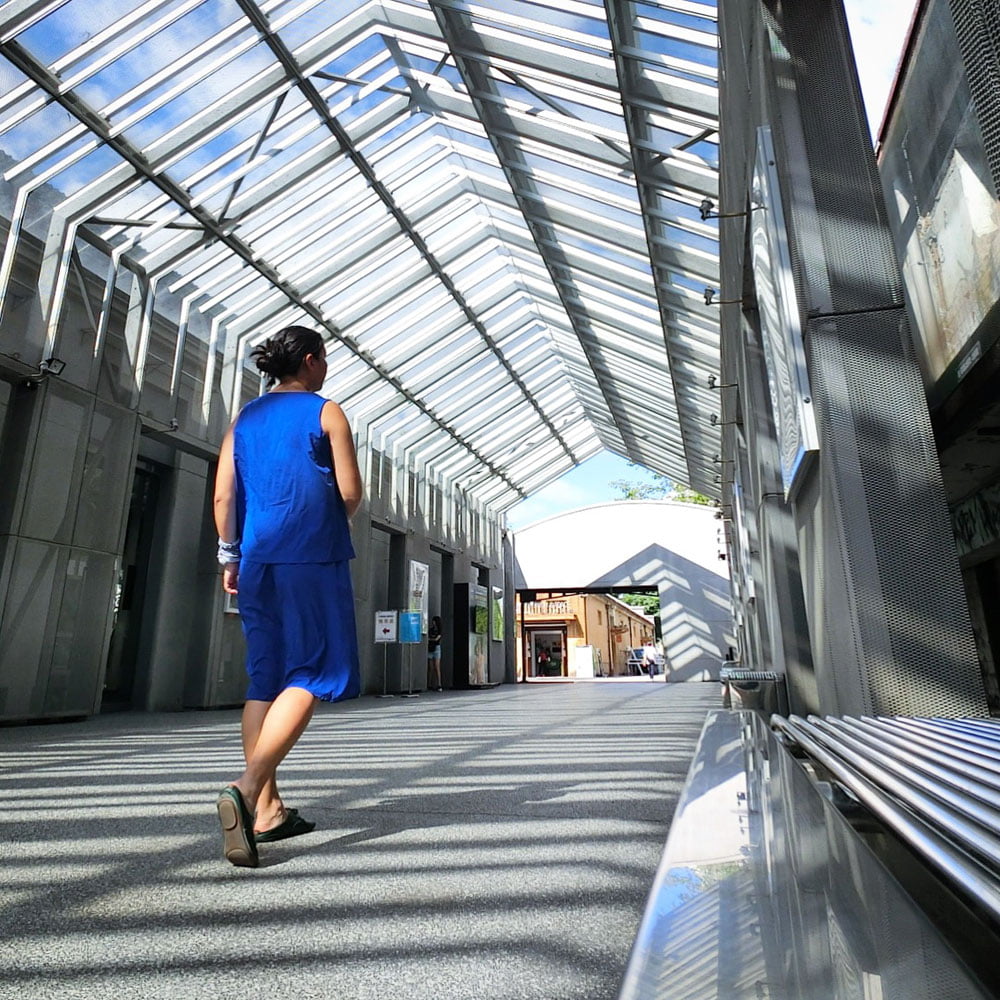 The outdoor compound is open 24 hrs, but individual shops have their own hours. There is no entrance fee but you do have to pay for a movie ticket and certain paid exhibitions.
1 Bade Road, Section 1, Zhongzheng District /中正區八德路一段1號
Closest MRT station is Zhongxiao Xinsheng 忠孝新生 on the Blue Bannan and Orange Zhonghe-Xinlu Line
---
Where to stay in Taipei
Design your own room at Play Design Hotel 玩味旅舍 [NOW CLOSED]
Update 2023: Unfortunately, Play Design Hotel had to pivot during the pandemic and in 2023 the owners have decided to shut the business
With such a short time to spend in Taipei, one way to really soak in the local flavour is to enjoy it right in your hotel room. I really loved my stay at Play Design Hotel 玩味旅舍. This small boutique hotel in Datong near Zhongshan MRT has just 5 rooms, but each room is decked out with carefully curated furniture pieces by Taiwan's top interior designers, each with their own theme.
I picked Room 501 aka the Guest Selection room, where you actually get to pick out most of your room's furniture. You scroll through a selection of cool Taiwanese designed furniture from lamps to tables and chairs, and mix and match your room's interior to your heart's desire.
When you turn up at the hotel, you get to see your designed room in real life (often with some extra goodies thrown in), and the staff are more than happy to tell you all the stories behind each work and designer. You are welcome, and even encouraged to interact with the furniture or move it where you like, and if you really like specific pieces, you can pick up some of the small pieces on site, or find out where to purchase the larger pieces to bring home.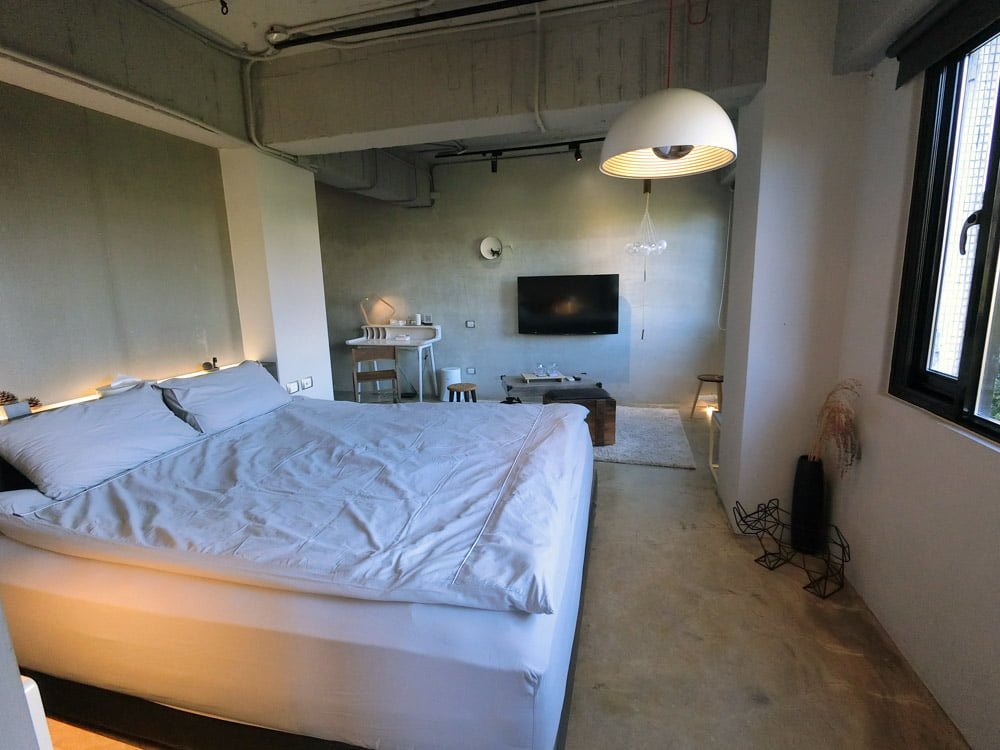 The hotel itself is a gem – located in a semi-residential and industrial stretch, it has a very local neighbourhood feeling, while still being quite centrally located close to Zhongshan MRT and if you don't mind a bit of a walk, Taipei Main Station isn't too far either. The Play Design Hotel has a specially curated map created by the staff that points out their collective favourite eating, design and sightseeing spots – there are usually 2 of them on duty during the day and they are really friendly. Shoutout to Beta who patiently walked and talked me through all the designers and work in my room AND the rest of the hotel!
Play Design Hotel probably rates as one of my all-time favourite stays (and I say this as someone who's spent over 350 nights in the last 2 years in foreign bed across Asia, Europe and South America) not only for its thoughtful design concepts, but for the way it lets you experience Taiwanese culture right in your own room and you actually get to 'live' a local experience. I also love the aesthetic of the place – hipster industrial concrete with lots of open spaces and neutral greys.
---
Tips to maximise your Taipei weekend
Pick the right flights
Stretch your weekend with strategic flight choices – the optimal option for the weekend warrior is one that either flies on Friday night or very early Saturday morning, and leaves Taipei in the late afternoon or evening. Scoot has several flights to Taipei everyday, the best ones for this itinerary are:
Depart Singapore: TR898 on Saturday (0055-0540) – you'll need to check in very late Friday evening and catch some sleep on the plane so you'll arrive bright and early in Taipei on Saturday morning with a whole day ahead of you.
Depart Taipei: TR899 on Sunday (1545-2020) – you can grab lunch and head to the airport, so you still have the morning to do stuff in Taipei, and you'll reach home in time to unpack and get a good night's rest.
My suggestion is that if you can manage a day off, fly up on Friday instead so you have an extra day to do stuff, or fly back on Monday afternoon where there's a TR993 flight (1730-2215) that lets you have a few more hours in the afternoon.
If you're the sort who can go straight to work right after a flight, you can consider returning on the red-eye TR875/TR893 flights that leave Taipei on Sunday around midnight (so you only head to the airport around 9-10pm, more time to explore) and reach Singapore about 0440hrs, just enough time for you to clear immigration, run home for a shower and to dump your bags, and then head to work in the morning.
You should probably try and sleep on the red-eye flights as much as you can, so consider whether it's worth forking out for ScootinSilence quiet zone or even ScootBiz. But if you need to stay awake to sleep better when you land, keep yourself entertained on board by checking out ScooTV. They have a pretty good selection – I caught up on popular shows like The Greatest Showman and there were even some TV series like Young Sheldon and Infinite Challenge.
Pick the right base
Pick the right location that will make getting around and to/from the airport easy. For Taipei, a base anywhere around the Taipei Main Station area like Datong and Zhongzheng is great because you can hop onto the Airport MRT directly. The express service takes just 30-40 minutes to cover that airport journey (an hour or more by car) and there are no traffic jams.
Or staying anywhere near an MRT Line also works – but Taipei's MRT system is quite extensive so you might have to do a little walking between stations, not the best if you pack heavy.
Pick a hotel that either lets you leave your luggage or check in early so you can spend the day exploring without having to lug your bags around with you. The bus and train stations at Taipei Main Station have lockers and left luggage services as an alternative.
Check out my post on some of my favourite luxury hostels around Taiwan to save costs but still enjoy your accommodation. I'll tell you more about why Taipei's Star Hostel is a personal favourite.
Book your stuff beforehand
With the internet, it's so much easier to just make your bookings beforehand so you don't have to worry about it when you are in the country, especially if you need small change or don't speak Chinese. Stuff I like to prebook for Taipei:
SIM Card: if your data roaming plans are kinda pricey like mine, pick up a cheap SIM card with unlimited data or a wifi egg. I usually like a SIM card these days (usually around S$13-20) so I have electronics to juggle, but portable wifi for 2 days may be cheaper if the per-day price drops below S$6. My go-tos are usually Klook's Unite Traveler SIM card [affiliate link] or the Welldone 4G Card by Chunghwa Telecom (with calls) [affiliate link]
Transport: I have an EasyCard that I use to get around Taipei's MRT and Airport MRT quite easily – it works for me as a solo traveller who packs relatively light, but for groups, taxi or car might be a better option. More from Klook here [affiliate link] – I use this but also find it especially useful for non-Chinese speakers planning their trips who might be worried about how to get around on their own.
---
This is a pretty packed itinerary to try and maximise your short time in Taipei, but it's meant to let you skip the typical sights you've probably seen and done before and still immerse yourself in all things Taiwanese.
What are your must-dos on a weekend trip to Taipei? Share them here with me.
This post is produced in partnership with Scoot. Check out the other posts in the series or see all my Taiwan posts. Scoot flies to Taipei multiple times every day of the week, which gives you many options to best maximise your time in Taipei depending on your schedules – check out the Scoot website for more.