Looking for hostels in Taiwan that are both affordable yet kinda cool? It's easy to find cheap accommodation in Taiwan whether you prefer backpacker hostels or budget hotel rooms that offer more privacy, and the best thing about hostels and hotels in Taiwan is that some of these are very nice and don't look budget at all! I've travelled Taiwan solo many times and found some amazing luxury hostels in Taiwan that have great design and ambience that won't bust your budget. Here are my reviews of my favourite Taiwan hostels that I have personally stayed in and highly recommend.
Last Updated on 13 May, 2021
A note: my recs are not the cheapest options on the market, but they aren't that expensive either. What makes these Taiwan hostels stand out to me are their strong design and personality, accessibility and service. Another plus point is that most of these are very pretty and instagrammable as well.
If you're wondering whether your tastes align with mine – I'm kinda past the age of roughing it out in the cheapest hostel on the market. I like more modern sleek designs and cleanliness, and appreciate if hostels can provide services to enhance my convenience.
I still remember my first hostel in Taiwan during my University days – definitely cheap but quite squeezy stay and basically looked liked someone's old apartment, and complete with a porta-toilet shower on the balcony and super hard beds. These places I picked on my later trips are nicer for sure :)
---
Taipei
Planning a trip to Taipei? I have lots of suggestions on things to do in Taipei.
Star Hostel Taipei Main Station 信星旅館
Location
Taipei Star Hostel has an excellent location right next to Taipei Main Station, which makes it very convenient for those coming off the Airport MRT, as well as getting to the main bus, train and MRT stations. Q Square Mall and the underground Taipei City Mall are just 5 minutes away, so plenty of food and shopping options. I love how convenient this place is for exploring Taipei.
There is another branch called Star Hotel Taipei East located near the Sun Yat Sen Memorial (Right next to Zhongxiao Dunhua MRT station) if you prefer being a little closer to the Xinyi district.
My room
I stayed in a Single private room for 1,450 NTD (S$67) per night that had an ensuite shower, toilet, air-conditioning and a TV mounted on the wall. I even had my own hairdryer and a free towel. The single room was very minimalist and not very large, but considering I was out most of the day, it was comfortable enough for me to rest in at night.
The dorm rooms beds actually look pretty comfortable and roomy from the pix, and at half the private room rate, they are an option I might consider on future trips back to Taipei.
Dormitories: 6-8pax/room at NTD 580-670 (S$25-30) per night
Private rooms: 1-5pax/room at NTD 1,400-3,100 (S$67-136) per night
Breakfast included
Facilities
The hostel actually occupies the 4th and 5th floors of the building it is in, and it is a lot bigger on the inside then it looks from the outside. You remove your shoes at the main entrance which helps keep the place clean, and use a keycard to access the hostel living area, and also to access your individual room.
The overall design is lots of clean white walls and wooden furnishings, which always feels to me like stepping into a Muji store. The lounge area is the centrepiece of the hostel and makes for an impressive welcome with high ceilings and lots of natural light, with lots of cosy nooks to sit around in the lounge. There is a communal kitchen for those who want to prep their own food.
Breakfast in the morning is a rotating menu that is prepared and plated by the hostel staff, with freshly cooked food and fresh fruits, it's worth waking up for. When I was there, they had a craft beer pop up bar in the kitchen where I made some new friends over Taiwanese craft beer.
---
First Hostel
Location
First Hostel is located in the Da'an district of Taipei, which is towards the southern end of Taipei City. The closest MRT station is Taipower Station on the green Xindian-Songshan line. This area is quite a youthful area as it is close to the National Taiwan University, and the hostel is within walking distance of Shida Night Market which caters to this crowd.
My room
I stayed in a mixed 4-bed dorm for $570 NTD (S$24) per night for 6 nights – I'd just been coming off a rather hectic itinerary from a month in Japan on my Career Break so it was nice to have somewhere comfortable to stay put for awhile.
My room was actually in the basement, so no windows, but there was air conditioning. Showers and toilets were communal on the level above and quite spacious and clean. I like that each bed had privacy curtains as well, even the top bunks. Each bed was also assigned a fairly large locker in each room. I stayed there in 2016, but from recent pictures it looks like they've updated the rooms/beds so they are built-in and larger, which is always great and less wobbly.
Facilities
The hostel had a nice communal living and dining room area on the first floor where the entrance is, but what I loved most were the freebies they provided. Free towel, shampoo, body wash and the best part for me – free laundry, a great boon when you've been doing the backpacking thing for awhile! They also provided a pretty simple free breakfast as well.
Other hostels in Taipei
Read more about these hostels that I first reviewed in this article about Summer in Taipei
Datong – Taipei City Home [booking.com affiliate link]: Located near the Star Hostel so it's also very convenient, but it is much smaller and has a homey feel and a great chatty host, great for those who like a more personal touch and a cosier setting – Star Hostel is pretty big and bustling.
Datong – Mudan House [booking.com affiliate link]: Close to the northern end of Dihua Street and a local hotspot Yansan Night Market. It's not far from Daqiaotou MRT Station but feels more like a service apartment/budget hotel than a hostel even if there is a common dining area.
---
Yilan
Yilan is perfect for a day trip or more from Taipei and a great escape from the city. Check out my detailed Yilan guides to the northern (based in Yilan City) and southern (based in Luodong) bits
Yilan Inspiration Hostel 霊感青年旅舎
Location
Yilan Inspiration Hostel is a 15-minute walk from the Luodong train and bus station and located in a residential area along a canal, though if you ride a scooter it's just 5 minutes away. It's a 20-minute walk to Luodong Night Market, but the owner does have bicycles that you can rent for free to save you the stroll.
Rooms
The dorm rooms each have their own concept – I picked the 6-bed dorm room with the tents because it looked the cutest, but just know that the mattress you sleep on inside the tent doesn't have springs – not the most comfortable if you have a bad back.
I got to peek into the 4-bed dorm which has little wooden houses for each bed like mini log cabins. Pix of the 10-bed dorm with sturdy built-in beds stacked up in 3 layers make me think of a cat's playground.
The bathrooms are shared and located outside of the rooms, with separate toilet and shower cubicles.
Dormitories only: 4-10pax/room at NTD 500-600 (S$22-26) per night
Buffet breakfast included
Facilities
Overall the hostel has a quirky and homey feeling. The welcome area has a cheery counter and there is a nice wooden communal area right in the front room. They have a little retail area selling stuff made by local Taiwanese designers. The rooms are located on the 2nd and 3rd levels up a rather narrow staircase.
---
Hangkhau Hotel 行口文旅
Location
Hangkhau Hotel is really conveniently located a very short walk away from Yilan City Train Station. It's also very close to the Dongmen Night Market so you have lots of food options in the evenings.
Room
Though it really is more of a boutique hotel than a hostel, it does have some dormitory rooms – I stayed in the 10-bed mixed dormitory for 2 nights for 710 NTD (S$34) per night. Unfortunately I spent a lot of time outside and only got to my room pretty late at night so didn't manage to get a good picture of the room, though the one on the website is pretty accurate. Good sized bed with its own plugs, curtains for privacy and light. The room had an adjoining bathroom with shower and sink.
Facilities
The lobby of the hotel is like a fancy cafe, with nice seating and selling local designer goods. Very chic place. They serve breakfast and other food at an additional cost, and there are books that you can read as well. The hotel staff also have a lovely map to show you some of the cool stuff around the area to check out.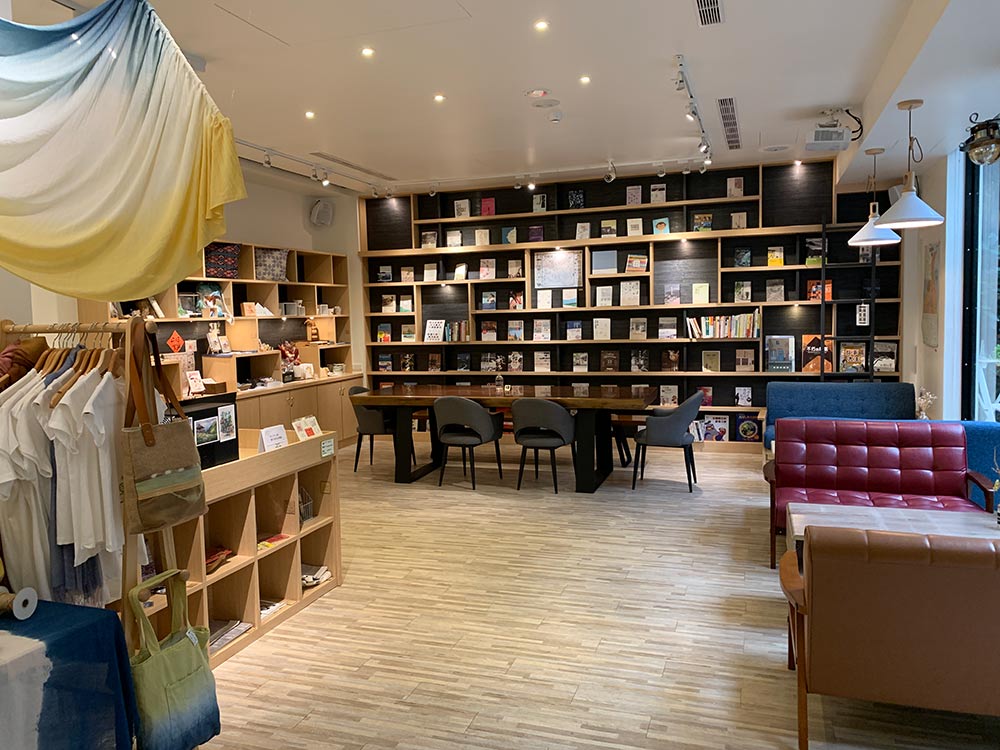 ---
Taichung
MINI Hotels Taichung Train Station
Location
MINI Hotels Taichung Train Station is located 5-min walk from the Taichung Train Station, making it very convenient to get to and around Taichung and Taiwan. Taichung City's attractions are more spread out, but you are within walking distance of the popular Miyahara Dessert place and the Painted Animation Lane.
Rooms
MINI Hotels isn't actually a hostel, but its private room prices are on par with some of the luxury hostel private room prices, which is why I included it in this list.
I had a single loft room which as advertised, was very snug but it was surprisingly comfortable. A staircase by the entrance leads up to the loft bed which could fit 2 people. There are a slim table and chairs, fridge, luggage rack and TV, as well as your own attached bathroom. It's honestly quite surprising how much they could fit into a small space.
Private rooms only: 1-6 pax/room at NTD 1,230-4,280 (S$55-188) – price fluctuates depending on season/date
Facilities
The hotel design leans towards Instagrammable, with popular props like a fake telephone booth and even a car in the lobby. Each level has its own colourful mural design splashed across the corridor walls.
Breakfast takes place in the dining area just above the lobby area. If you want some fresh air, there is a rooftop area where you can look at downtown Taichung City from above.
---
Tainan
艸祭 Caoji Book Inn
Location
艸祭 Caoji Book Inn is very close to the Confucius Temple Shopping Street and the Koxinga Museum. It's about 20 minutes walk or a short bus ride from the Tainan train station. It's right next door to the famous Narrow Door Cafe.
Rooms
The star feature in this hostel are the beds in the Mixed Dorms, little capsule beds built between and behind existing bookshelves. These beds cover 2 levels and aren't segregated by separate rooms and doors – you just have a curtain for some privacy and earplugs to block out sound, and a large locker under your bed to put your things in. Each area of the mixed dorm has at least 10 beds in it.
There is a separate wing with its own entrance strictly for female guests that costs a little more – I stayed in that female dormitory which had at least 20 capsule beds in it, also with its own curtain and capsule and lots of books all around. The room wasn't full that day so it felt pretty spacious and quiet.
They have smaller 2-6pax female only dorms as well for those who prefer more privacy.
Smaller 2-6pax/room female-only and 4pax/room mixed dormitories at NTD 1,080-2,560 (S$47-112) per night
Larger 10+pax dormitories at 1,080-1,280 NTD (S$48-57)
Facilities
The toilet is amazing – it reminds me of Japanese bathhouses and besides free shampoo and soap, they have free lotions and other skincare products as well!
The hostel is complete hipster heaven filled with random oddities and antiques in every corner. The ground floor and entrance is a quaint bookshop cum cafe with a nice quiet ambience perfect for reading with a cuppa. The back area has a reading room and a basement of sorts which doubles up as a gallery for mini exhibitions.
In the secured living areas, there is a lounge and breakfast space on the top level (Level 4 I think) with lots of table and chairs, and an outdoor patio as well.
---
Other Taiwan Accommodation Recs
I've stayed in plenty of hostels while exploring Taiwan, and while most of them were good stays, those featured in the list above really stood out for me. While my other stays might not warrant a detailed feature, I've compiled a list of budget hotels and cheaper accommodation that I would still recommend to my friends visiting Taiwan. [affiliate links]
Kaohsiung
Hengchun – Rainbow Wave: I made a lot of friends in this hostel which offers surfing lessons. The owner and his partner were really friendly and lovely people, and the breakfast is hand-prepped every morning at the counter and of excellent quality.
Read more about things to do in Kaohsiung here.
Offshore Islands
---
Are you a luxury hostel lover? Tell me about your favourite cool affordable hostel options to stay in Taiwan, or check out my many posts about travelling around Taiwan.