If you are looking for a quick city getaway, Vientiane is probably not the first place that will come to mind – The modern capital of Laos is sometimes overshadowed by the more historical and quaint Luang Prabang, but Vientiane has a quiet charm great for relaxing and is compact enough that you can see its main sights quite comfortably in a weekend and still have some time to grab a cuppa. I put together a little Vientiane weekend guide to of must-sees for an alternative weekend getaway.
I visited Vientiane and Luang Prabang with Silkair in 2016, but Scoot will take over the Singapore-Laos route from 1 April 2019 onwards, more details here.
Shortcut links:
Handy dandy Google Map here so you can plan your route!

---
WAT SISAKET
This Buddhist temple was built in 1818 and the oldest standing temple building in Vientiane built by King Anouvong, last king of the Lane Xang kingdom. Its peeling exterior and rather rough finish gives away its age (it was last restored in 1935) but also bestows a certain gravity that the newer shinier temples lack. These days it's no longer a working temple but a museum.
What's notable are the sheer number of wooden Buddhas statues all around the temple, over 8,000 as our guide informed us. Many other temples in Vientiane were destroyed by the Siamese Kingdom when they attacked back in 1827, and the statues that were rescued were stored here for safety.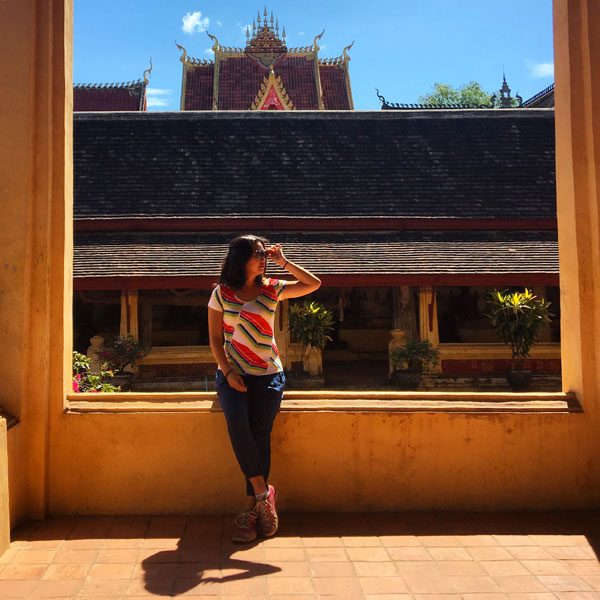 You won't take too long to wander around here as it's not very big and you can't enter the main sim! It's right across the road from the President's Palace (no entry, but you can gawk from outside) and Wat Ho Phra Keo.
Opening Hours: Every day 8am-12pm, 1pm-5pm
Admission: 5,000 Kip (2,000 Kip for Locals)
---
WAT HO PHRA KEO
Just across the road from Wat Sisaket and right next to the Presidential Palace, Wat Ho Phra Keo is named for the jade Buddha statue it once housed, but now currently resides in Thailand. It is a beautiful glittering place, lots of reds and golds and very grand indeed – we were lucky to visit it just weeks after it reopened from months of restoration and got to see it in full shining glory.
Ho Phra Keo is now a museum instead of a working temple – there is an inner chamber which houses one of the most extensive collection of Buddhist artifacts in Vientiane, but you aren't allowed to take pictures in there. Otherwise, you are allowed to roam around the grounds outside and take all the pictures you want outside.
This temple is actually older than Sisaket as it was built in 1560 by King Setthathirath when he moved the capital from Luang Prabang to Vientiane, but it was destroyed many times over – the last time it was rebuilt was in the 1930s when the French were in power. If you google Ho Phra Keo, it looks quite different and much duller compared to the vibrant freshly restored colours that I saw.
Ho Phra Keo is also famous because of Hillary Clinton – there's a widely circulated photo of her placing an offering during her historic visit to Laos as Secretary of State back in 2012.
Opening Hours: Every day 8am-12pm, 1pm-5pm
Admission: 5,000 Kip (2,000 Kip for Locals)
---
WAT SIMUANG
This is yet another Buddhist temple but has quite a different vibe from Sisaket and Ho Phra Keo. Firstly it's named for an ordinary young lady called Si Muang – legend goes that she sacrificed herself to angry spirits when the temple was built, which is why the temple was named after her, and there's an area where you can leave offerings just for her.
Also notable are the variety of statues you can see here – not just your standard Buddha images, but they seem to be inspired from Hinduism, with a variety of colourful animalistic deities alongside Buddha.
It also differs from Sisaket and Ho Phra Keo as it still functions as a temple and is one of the most popular ones in Vientiane where people go to for blessings and good fortune. The main hall is split into two rooms – one of which has a monk who will bestow blessings upon you, while the other room has a large altar where you can make your prayers and leave your offerings.
Opening Hours: Every day 6am-7pm
No admission fee
---
THAT LUANG
That Luang is supposed to be the most iconic stupa in Laos – it's all over the Lao currency – but alas they just put up the scaffolding a few days before we arrived in preparation for some restoration work, so we didn't get the full grandeur of the temple nor the chance to visit it.
The iconic stupa was built by King Setthathirath in 1566 in the same period as Wat Ho Phra Keo following the move of the capital from Luang Prabang to Vientiane, but the temple itself dates back to the third century AD and is believed to house a breastbone fragment of Buddha within its walls.
That Luang is significant for the Boun That Luang Festival, which tends to fall in November – the 12th month of the Buddhist Calendar, a 3-day festival that sees a procession go from Wat Simuang to That Luang.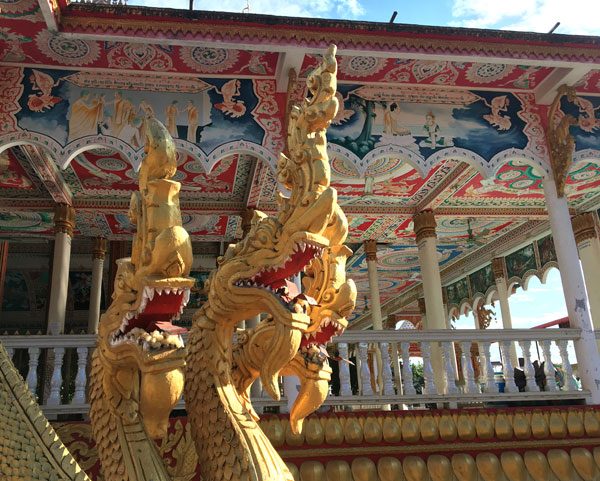 Opening Hours: Every day 8am-12pm, 1pm-4pm
Admission: 5,000 Kip (2,000 Kip for Locals)
---
PATUXAI / VICTORY GATE
As you go down the main Lane Xang stretch, you can't miss this large stone arch right in the middle of this busy road. The road circles around it, very reminiscent of the Arch de Triomphe in Paris though very much less busy, and very much more Asian in architecture.
The irony perhaps is that this war monument was built back in 1960s dedicated to Laos liberation from France. It was also meant to serve as a memorial for those who died in World War II. It's current name Patuxai (which literally translates to Victory Gate) only came after the current communist government came to power in the 1970s, abolishing the long reigning ancient monarchy.
It's a bit of a climb up to the viewing platform – about 197 steps in total but broken up by a few levels of tourist shops. From the viewpoint you'll have a 360 view of Vientiane, from the boulevard of Lane Xang to the neighbouring park with a musical fountain funded by the Chinese government.
Make sure you head right to the very top! Look out for the spiral staircase that leads to a tiny circular platform, the highest point of the tower.
Opening Hours: Every day 8am-4.30pm (5pm on weekends)
Admission: 3,000 Kip
---
COPE VISITOR CENTRE
A more sobering but no less important place to visit is COPE Visitor Centre, a place where you learn exactly how badly Laos was affected by the Vietnam war in the 60's and 70's – Laos is the most heavily bombed country per capita in history due to over 270 million bombies dropped on it by the US Army. A good percentage of it did not explode and lay dormant, resulting in quite nasty accidents in the post-war period. It's also one important reason you shouldn't walk on unmarked paths in Laos because there is still a very high risk of igniting unexploded bombs on areas that haven't been deemed safe.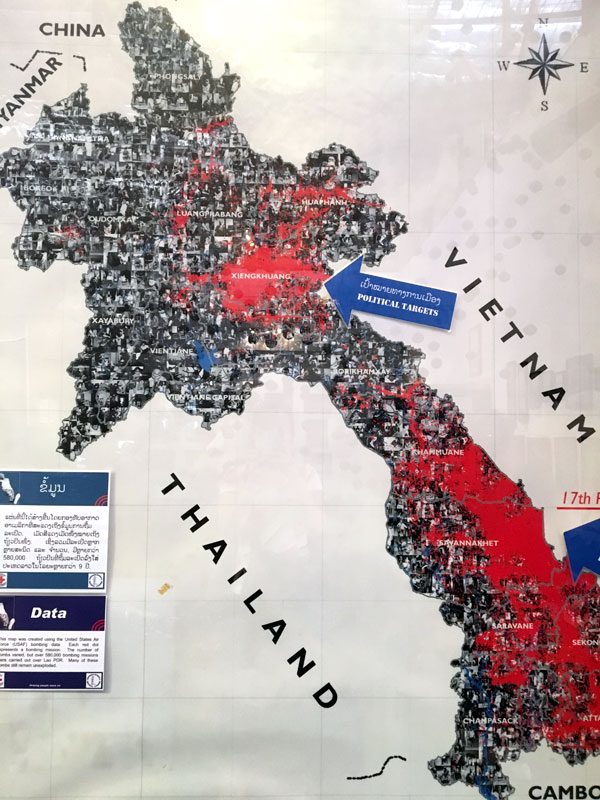 COPE stands for the Cooperative Orthopedic Prosthetic Enterprise, a non-profit organisation dedicated to helping survivors and those injured by these bombs. Laos isn't a country you would automatically associate with the war given that it is called the Vietnam War, but it was occupied by the North Vietnamese troops and the US heavily bombed this area to try and cut off supply routes during the war.
It's quite an interesting place with a lot of information – besides the interactive displays where you can read about the devastation caused by these bombs, there is also a documentary which goes into more heartbreaking detail about how some of these affected people live today. Stop by the gift shop – the proceeds go towards funding this programme.
Opening Hours: Every day 9am-6pm
No admission fee, but do consider leaving a donation or buying from the gift shop
---
RIVERSIDE NIGHT MARKET
Right next to the Mekong River along Chao Anouvong Park is the Riverside Night Market. It's a really long stretch along Quai Fa Ngum road, with shops that sell all sorts of cheap souvenirs, clothes, shoes and random whatchamacallit. There are a handful of foodcarts and some restaurants across the street, but the market mainly sells stuff.
As with most night markets, make sure you bargain a little – it may be cheap for you but this market is a bit touristy so expect prices to be inflated a little. Also, the stalls mostly tend to be selling the same sort of items, so hunt around a little for the best price or bargain. It's a nice place for an evening stroll regardless of whether you end up buying anything or not.
Opening Hours: 4pm-10pm – stalls may start packing up earlier!
---
WHERE TO EAT IN VIENTIANE
I honestly wish I had more time for eating street food in Vientiane! Alas, the perils of a packed media trip means that while we did go to some pretty nice restaurants, there wasn't much chance for roadside delights. Still, some places I'd recommend:
3yaek Parkpasuk Restaurant (say 'Sam-yak) was a recommendation from our hotel concierge and seemed to be a local favourite. There was an air-conditioned area downstairs but at night, head to the open air area on top where there are benches and a nice view of the Mekong River, ideal if you want to catch the sunset – watch out for mosquitoes though. I wish I had pix but it was a tad dark and I was having way too much fun – they have live music and some pretty fun drinks! We had a Beer Lao tower and one of the girls had those beer cocktails where they stick an upside bottle into the top of your mug of crushed ice drinks. I can't speak to food quality because we didn't have any – the TripAdvisor reviews are so-so but in terms of local atmosphere, 10/10 would recommend.
Opening Hours: I'm not sure but we were there on a Monday night

Location: At the corner of Quai Fa Ngum and Sithane Road, at the western end of the Riverside Night Market
Another night spot our concierge recommended but we didn't have time to try: Bor Pen Young Restaurant along Quai Fa Ngum, about 100-200m away from 3Yaek. You can see it as you walk along the riverside market on the 4th floor.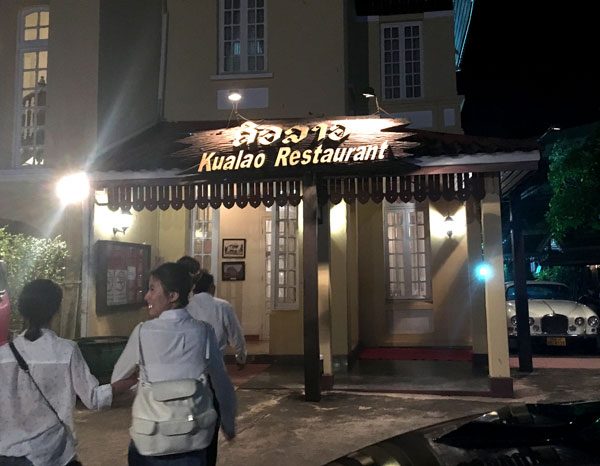 Kualao Restaurant is supposed to be one of the top recommended restaurants in Vientiane, serving up upscale local fare in a French colonial building, and the food here was quite good indeed. What's nice is that they have English menus that go into quite detailed explanations of local Lao fare, and have some pretty unusual stuff like fried crickets and red ant egg salad as well. It also has live dinner entertainment – traditional Lao dancers and music on a little stage in the restaurant, which mostly saw lots of tourists. See this Travelfish review for more details here.
Opening Hours: Everyday 11am-2pm, 6pm-9pm
Location: 111 Rue Sansenthai – At the junction of Rue Samsenthai and Rue Chanthakhoumane
Makphet Restaurant had some pretty interesting modern Lao food and is also a training centre for marginalized youth in Laos. There's a gift shop which has some nifty souvenirs as well. Dishes range from 40,000 – 80,000 Kip – no one was keen to try the giant aquatic beetle with me unfortunately! The food overall was quite good – save some room for their cocktails and dessert!
Opening Hours: Everyday 11am-1030pm (Kitchen closes at 930pm)
Location: 78 Ban Inpeng Vat Chanh Tha – off Quai Fa Ngum road
---
Where to stay in Vientiane
On a later trip, I stayed at the Chanthapanya Hotel [booking.com affiliate link]. It has a pretty traditional design and modern room facilities, and I thought it had a great location where you could walk to the night market along the Mekong River quite easily.
While I didn't stay in a hostel while I was there, I looked up some listings online and the Sailomyen Hostel [booking.com affiliate link] looks like somewhere I'd want to book.
---
Have you been to Laos? Share your favourite spots in Vientiane with me, or check out my post on my favourite things to do in Luang Prabang.
I was invited to Laos on a media trip with Silkair where I flew on their inaugural Laos flight to Vientiane and Luang Prabang in 2016. Scoot will be taking over the Singapore-Laos route from Silkair with changes to timing and route from 1 April 2019 onwards.