When Silkair* flew me up on their inaugural trip to Laos, I was pretty stoked to finally get to visit this little landlocked country, my 8th in Southeast Asia. We started off in the current capital Vientiane, but the historic former capital Luang Prabang has a certain charm and quaintness that made me wish I could spend a few more days there. Here's a look at some of my favourite things to see in Luang Prabang and its surrounding area.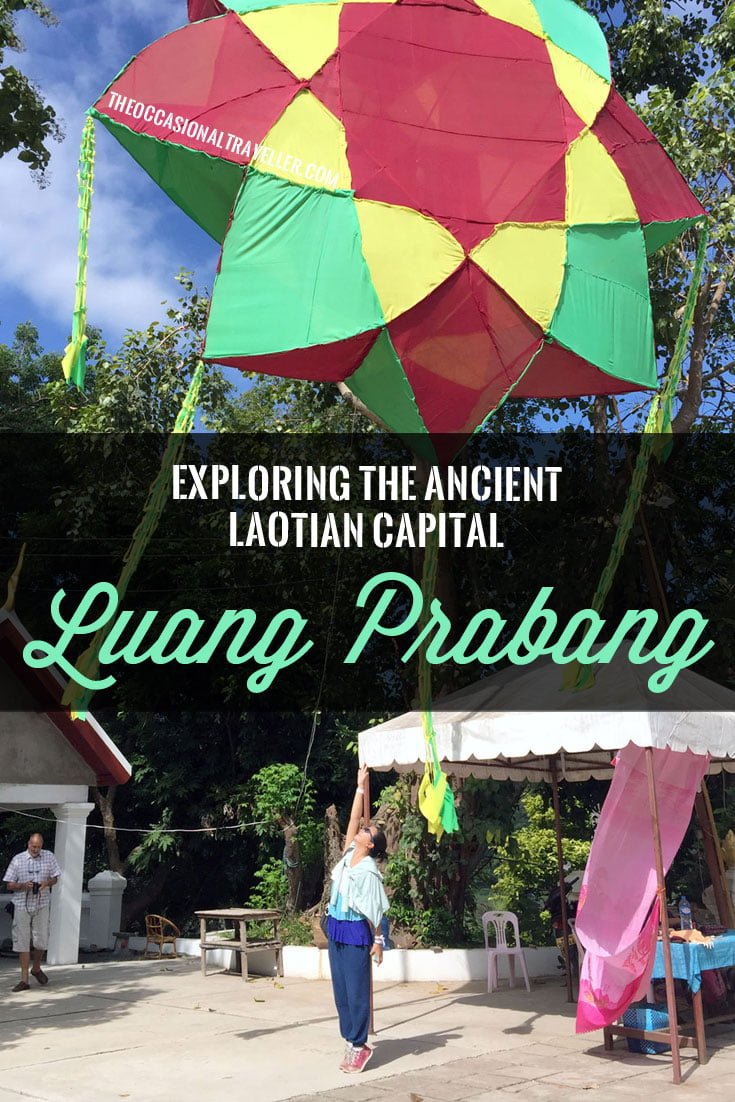 *Scoot will be taking over the Singapore-Laos route from Silkair from 1 April 2019 onwards. Check out my post to see the revised timing and route details.
Why should you visit Luang Prabang?
It's easy to overlook Laos when you are planning a trip to Southeast Asia – not surprising as this landlocked country is surrounded and dwarfed by China (Huge), Vietnam (omg the food), Myanmar (still pretty new to most), Thailand (OMG THE FOOD) and Cambodia (Ang Kor Wat!), all popular countries on the backpacker trail. Laos shares much history with its neighbours but also has its own unique culture that's worth checking out, and its relatively low-key nature means Laos hasn't become all too touristy… yet.
Luang Prabang is a designated UNESCO World Heritage site and was the old capital of the Lao Kingdom before it shifted to Vientiane, and downtown Luang Prabang is a compact walkable peninsular bracketed by the Mekong and Nam Khan Rivers that you can stroll or cycle around quite easily.
Check out this post about things to do in Lao's capital Vientiane, and here's a post I wrote for Yahoo Travel Inspirations about the must-see highlights of Laos worth checking out.
As always, handy dandy Google Map for you to refer alongside the blog post below:
---
Things to do in Luang Prabang
In Luang Prabang
Further away
---
Things to see in Luang Prabang
Wat Xieng Thong
If you only have time for one temple in Luang Prabang, then Wat Xieng Thong is your best option. First built in 1560 by King Setthathirat, this was the temple where Laotian kings were coronated and considered one of the most important landmarks in Laos for its historical significance and a masterpiece of Laotian religious architecture. I recommend taking some time to admire the intricate detail on its inner and outer walls – the temple has mostly kept its original form though it was repaired and restored extensively in the 1960s, but there is some beautiful art to be found all over the temple.
Ock Pop Tok
Ock Pop Tok is a social enterprise for women and by women that showcases the beauty of traditional Laotian textiles. Here you can see how the textiles are dyed and painstakingly woven into beautiful garments and buy them to support the local village women who produced those pieces, sometimes even showcasing their craft live at the Ock Pop Tok centre. I ended up buying a pretty cool reversible cap for myself.
Day and Night Markets
The morning market at Kitsalat Road runs for most of the day, though morning 5am – 9am is probably the most bustling time to visit as the fresh produce is on sale. This market gives you a look at local life and you get some weird stuff interspersed with the everyday sundry, like the wasp larvae filled nests… eek!
And when the sun goes down, the night market along Sisavangvong Road has a great atmosphere and also a good spot to score some Laotian souvenirs and craft stuff at very affordable prices. I bought a pair of backpacker pants for just US$3 and patterned drawstring bags for pretty cheap as well. My night photos are kinda shitty so I'll leave you with this shot of some street food that you can sample as well.
Bamboo Bridges
The bamboo bridges of Luang Prabang only appear in the drier months when the rivers are low and not flowing too fast or high. I saw 2 bridges in action while I was in Luang Prabang, and crossed one of them. They are a little rickety as they aren't meant to be permanent – they are swept away during the rainy season – so be careful when crossing!
Religious Traditions
Laos is a very staunchly Buddhist nation, and one practice worth witnessing is the Buddhist alms giving ceremony or Tak Bat. This is a tradition where devotees offer food and drink to the Laotian monks to consume in their one daily meal and takes place at sunrise.
It is quite a sight to see, monks of all ages in their orange robes walking along the streets en route to the temple, and people quietly putting food and drink into their baskets. The monks often take some of the offerings they have been given and donate them back to temples that they walk past, or give them to other people in need.
Beyond just watching like most of the other tourists, we were very lucky to be given a chance to actually participate in this ritual, where we each had a basket of sticky rice that we distributed to the monks that walked past us. I was surprised at how young some of these monks were. If this is something you might want to participate in, check out this experience offered by Backstreet Academy where a local will guide you through the ceremony and teach you more about the Buddhist culture.
Another religious ceremony we participated in was called Baci, a blessing ceremony that is often used as a welcome – ours took place at our Hotel Sofitel Luang Prabang.
Laotians believe that people are made up of 32 organs, each governed by a spirit or kwan. When you travel, you leave a bit of kwan behind and if your kwan gets too dispersed or goes wandering, that's when misfortune or illness happens. There is a prayer ceremony where the main centerpiece and the strings are blessed, and after that but the elders went around and tied a white string around every person's wrist, symbolic of them tying your kwan to you and keeping it from wandering.
---
Things to see around Luang Prabang
Kuang Si Waterfalls
The Kuang Si Waterfalls is about 45mins drive outside the town and one of my favourite things about Laos overall. This waterfall isn't particularly tall not spectacular, but it is very pretty and has a lovely teal colour that doesn't require too much of a hike AND you get the chance to swim in its lower sections.
The path to the waterfall is quite well trodden so you don't need special shoes. Make sure you have your swimwear and maybe pack some snacks so you can have a dip and picnic. Just to note that in the bits you can swim in, there are little crabby things in the water that will nip at your toes, so don't freak out too much when that happens. You can also pop into a little crevice behind the waterfall and pretend you are in one of those martial arts movies 'training' under the waterfall.
The upper bits are not for swimming and the highest drop here is about 60m. It can get pretty muddy because of the constant spray from the waterfalls, so watch your step. It's probably the prettiest bit of the waterfalls.
En route to the waterfalls is the Free The Bears Bear Rescue Centre, where you can see 38 Asiatic black bears (also known as moon bears) and other animals that have been rescued from poachers – bears are often targeted for their bile and innards that is used in medicine. We got a bit of a behind-the-scenes look at the bear sanctuary and even got to toss in some of those orange feeder balls.
Also worth checking out is the Butterfly Park, unfortunately we didn't have time for it but it's apparently a very pretty manicured garden and according to the internet, worth a gander.
Getting there
One way to get to Kuang Si Falls is to share a tuktuk or mini van – the ride is about 45 minutes and there are plenty of places that offer tours to this area. Or get your hotel to get a private driver or you can try and bargain with the taxi drivers yourself – it doesn't hurt to make some friends so that you don't have to wait around too long for them to fill the spaces. The shared option should cost about 50,000 kip and renting your own private vehicle will be about 200,000-300,000 kip.
There is an option to take a boat some way down the Mekong River and then swap to a land vehicle which might be nice if you don't have the chance to do the Pak Ou Caves (see below), or even trek through the mountains past local villages if are up to it.
Entrance fee to the falls is 20,000 kip.
Open Daily 8am – 5.30pm
Pak Ou Caves
Getting to the Pak Ou Caves requires you to take a ride in a traditional colourful long boat down the Mekong River, which is a really pleasant way to enjoy this landlocked country, especially when the weather gets sweltering. Strap in for a long ride though, it takes about 2 hours by boat each way.
At the juncture where the Mekong River meets Nam Ou River, there are two caves carved into the side of a steep cliff face called the Pak Ou Caves.
A short steep stair climb later finds you in a dimly lit cave, and as your eyes adjust to the dark you realise that the cave is absolutely packed with a variety of Buddha statues, which is simultaneously mesmerising and frankly kinda creepy. It turns out these caves were the end point of a difficult pilgrimage, and all the Buddha statues were left behind as a token by the pilgrims who undertook this annual journey – the collection accumulated over the years to what you see today.
If you head out of the first cave, there is a pathway that leads you up to another cave further up the hill that you can enter as well. You need your own torch because this one is pretty dark – borrow one from the entrance if you need one.
Getting There
Head to the longboat office near the Saffron Cafe to get tickets – the slow boat is 80,000 kip, though there might be faster boat options that cost more from private tour operators if you are short on time. It's a 2 hour boat ride up the Mekong River to Pak Ou Caves at the juncture with Nam Ou River. You can take a motorbike as well most of the way to Ban Pak Ou and then hop on the boat to cross the river.
Entrance to the caves is 20,000 kip.
Open daily 8am – 5pm
---
What did I miss out in Luang Prabang? Tell me what I need to check out when I go back some day.
Looking for more Laos inspiration? Check out this detailed post on things to do in Vientiane, or this post I wrote for Yahoo Travel Inspirations about some highlights of Laos you shouldn't miss.
I was invited to Laos on a media trip with Silkair where I flew on their inaugural Laos flight to Vientiane and Luang Prabang in 2016. Note that Scoot will be taking over the Singapore-Laos flight with changes to timing and route from 1 April 2019 onwards.